I have always gravitated towards natural attractions that could speak to my soul through bursts of colour. More than architecture, what takes my fancy is the spellbinding range of mellow and proud hues ever-present in Mother Nature. These colourways have made the wonders of our lakes, fields, and mountains even more precious to the eyes of the beholder. Such natural attractions should not be left unappreciated. And so, I'm grateful that the Internet and social media help keep these dazzling sights close, even if these places around the world are oceans away. 
Until the day I finally see these natural attractions in person, I'll let their vibrant colours linger in my thoughts — and I'll spread the light by inviting you to do the same. Add these earthly wonders to your bucket lists and decorate your 'gram. The most colourful natural attractions around the world are waiting for you!
1. Bluebonnet Fields, Texas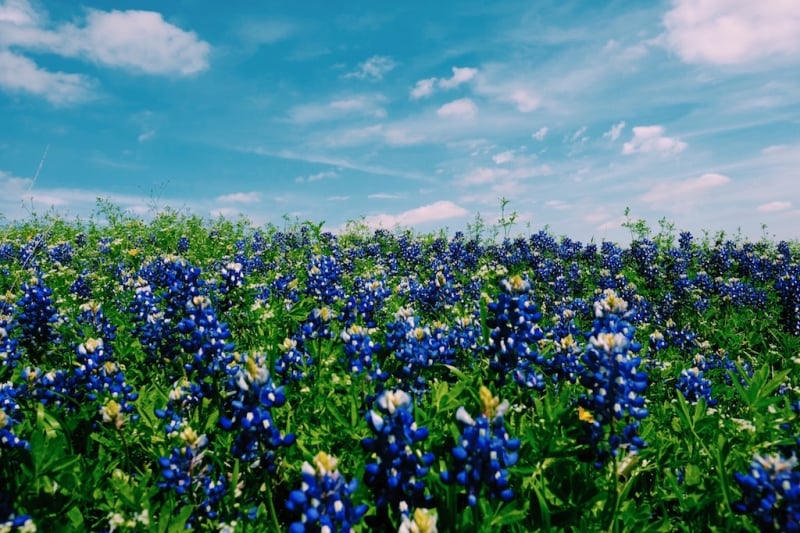 Did you know that Texas considers bluebonnet as its state flower? If you're one of the lucky travellers who has seen the state glittering with vibrant sapphire blossoms, we feel major travel envy for you! Bluebonnet flowers take full bloom from March to April, and fields of them are spread throughout several Texan towns. The locals take their bluebonnets seriously, so expect festivals and events thrown in their honour. The town of Ennis, in particular, hosts the annual Bluebonnet Trails and Festival every April. In the whole month, Ennis marks 40 miles of driving routes which lead to splashing bluebonnet pastures.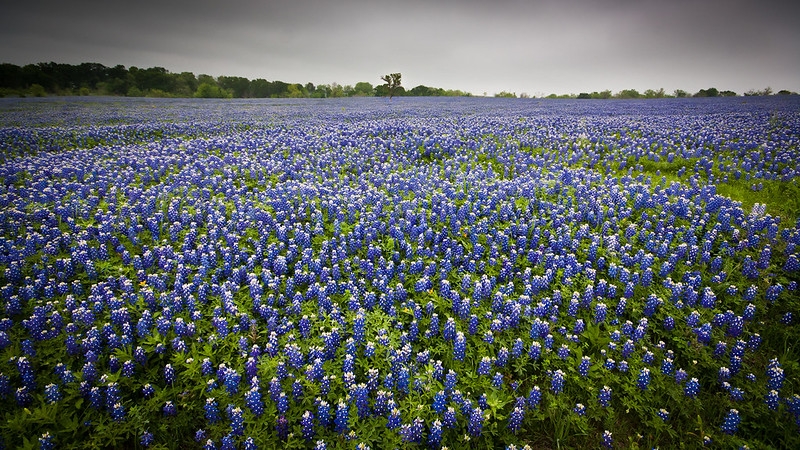 Around the same time, the town of Llano also displays refreshing roadside meadows where you can stop your car to take quick photos against the backdrop of these cerulean flowers. Drop by the town of La Grange as well, which reportedly had the most impressive blooming field of bluebonnets in all of Texas in 2018. Tucked behind an abandoned house near a broken barn to match, the cool 10-acre field of sapphire blooms almost seemed like a secret hideaway waiting to be discovered. Finally, visit Burnet, the Bluebonnet Capital of Texas. Their flourishing fields of bluebonnets are so healthy, they sprawl towards scenic hills and lakes!
2. Caño Cristales River, Colombia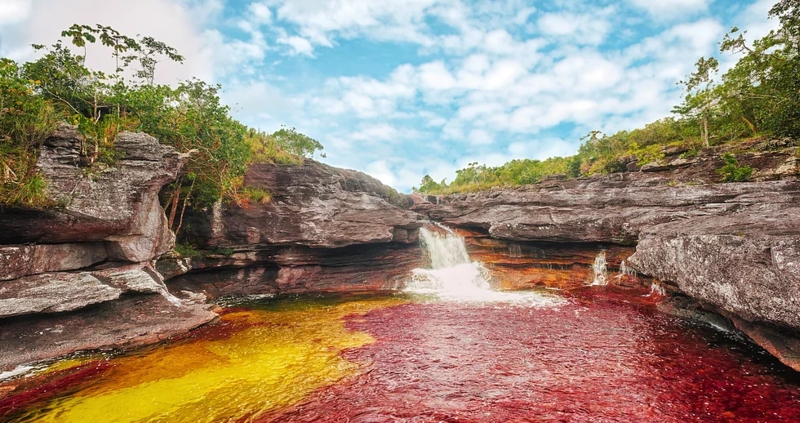 Let's deviate from crystal turquoise waters for once and marvel at the colourful wonder that is Caño Cristales River, nestled in Colombia's Serrania de la Macarena province. The first thing that's sure to pique your interest in this natural attraction are the flowing warm hues. The predominant colour of red stems from a red water plant called Macarenia Clavigera, endemic to the province. This tinted flora sticks to stones and rocks beneath the river, which ultimately colourises the body of water and makes it unique to all the rivers of the world.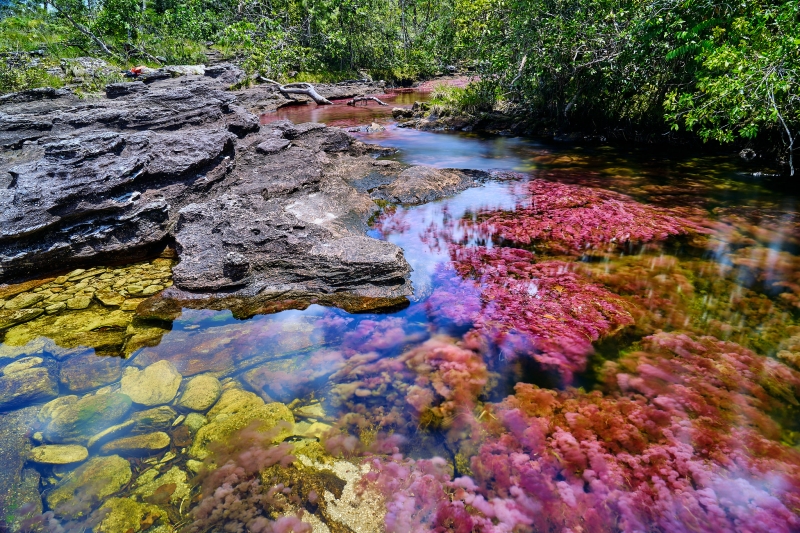 Bright colours such as orange, yellow, green, and blue are also present in the 100 kilometre-long river. You could credit this tantalising blend not only to the Macarenia Clavigera, but also to the surrounding rich ecosystems of the Andes, Amazon rainforests, and the plains of Eastern Llanos. Naturally, various breeds of flora and fauna manifest brilliantly in this rainbow-like river, which has earned it the local name of "River of Five Colors". The best time you can visit this pristine aquatic wonder to catch it at its most vivid is between June to December!
3. Grand Prismatic Spring, Wyoming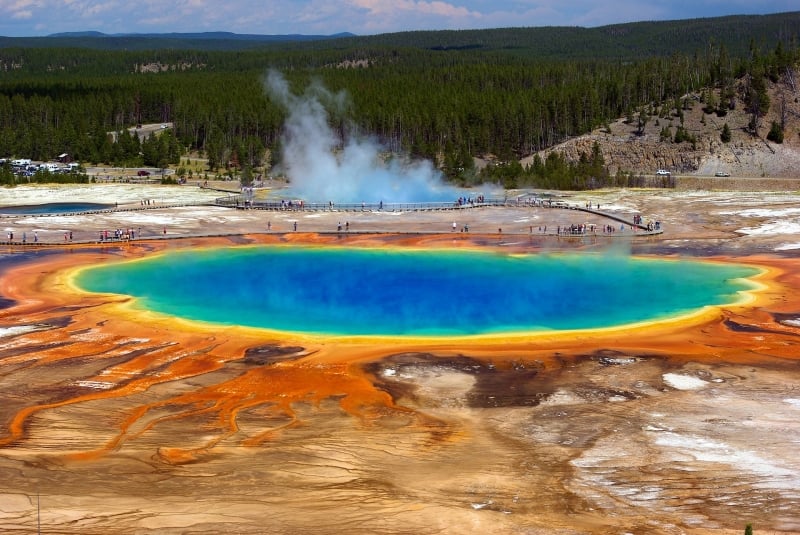 At Yellowstone National Park in the state of Wyoming rests a spring deeper than a 10-storey building and bears a multicoloured surface. This is none other than the Grand Prismatic Spring — the third largest spring in the world!
You're surely wondering where the spring gets its rainbow-like facade. Not to remove the element of fantasy from this natural attraction, but what brings out its pool of colours is actually the different species of a thermophile. In other words — bacteria. Thermophiles typically dwell in heated regions of the earth and even on decaying plants. But at this spring, they also lie around the edges of the water. From there, they produce an array of colours: green, red, orange and yellow. All of them embracing the blue wavelengths dispersed by the water, creating a deep cerulean hue at the centre of the spring.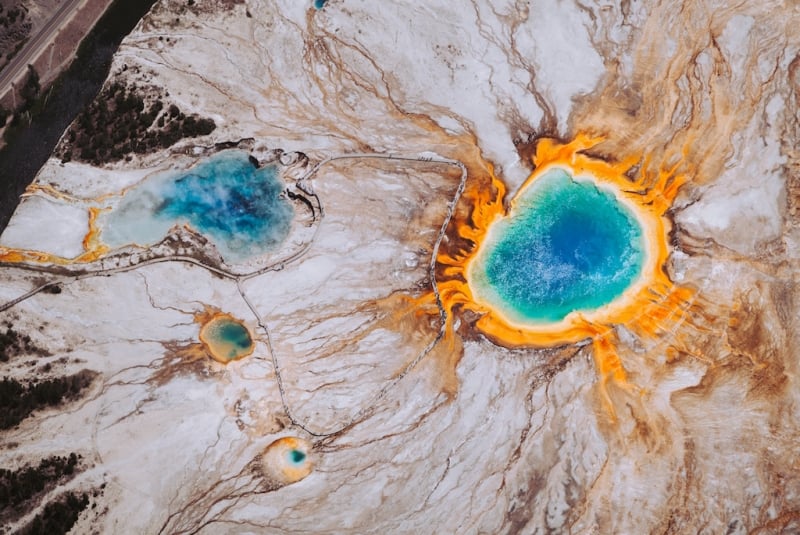 The Grand Prismatic Spring produces extremely high temperatures that can reach up to 87°C° and has a height that drops down to 160 ft from the surface. It's also worth noting that since thermophiles thrive in heat, their colours become less saturated in the winter. The colour of the hot spring then follows, so it's best to visit in the dry seasons like summer and spring. Still, if you're a tourist who's never seen anything like this, a visit at any time of the year would remain an eye-popping experience!
4.  Hitachi Seaside Park, Japan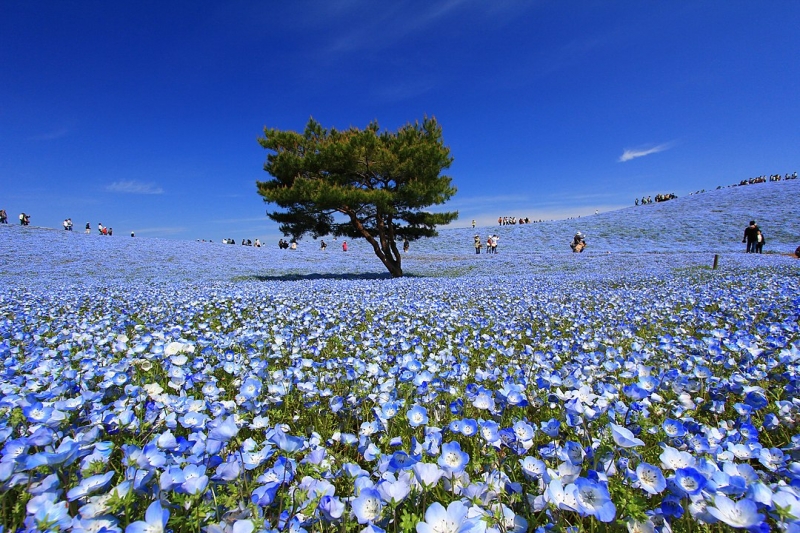 In my opinion, parks can easily be hits and misses. It's a miss when you can't even get a whiff of fresh air, and if children consider it utterly boring. But it's definitely a hit when you find yourself reaching for your camera to take snaps of the flourishing floral landscapes that seem to have no end. Such is Hitachi Seaside Park located in Ibaraki, Japan. This park is decked with natural attractions as well as interactive ones for the whole family, such as an air trampoline, a golf course, Ferris wheel, and cycling tracks. 
The highlight of the park, however, is certainly the overwhelming abundance of Nemophila and Kochia. Who wouldn't be charmed by the sweet baby blue sea of Nemophilas? This flower is considered somewhat as the park's icon. The sight of its pastures is all you need to feel like you're one step closer to the sapphire sky! The fields of Nemophila stretch towards Miharashi Hill and come to full bloom around April to mid-May.  
In the fall, these blue flowers are replaced by green Kochia bushes which gradually turn to red as the weather becomes colder in October. Imagine taking an afternoon stroll through this invigorating sea of refreshing blooms. Now that's what I call fresh air!
5. Kawachi Wisteria Garden, Japan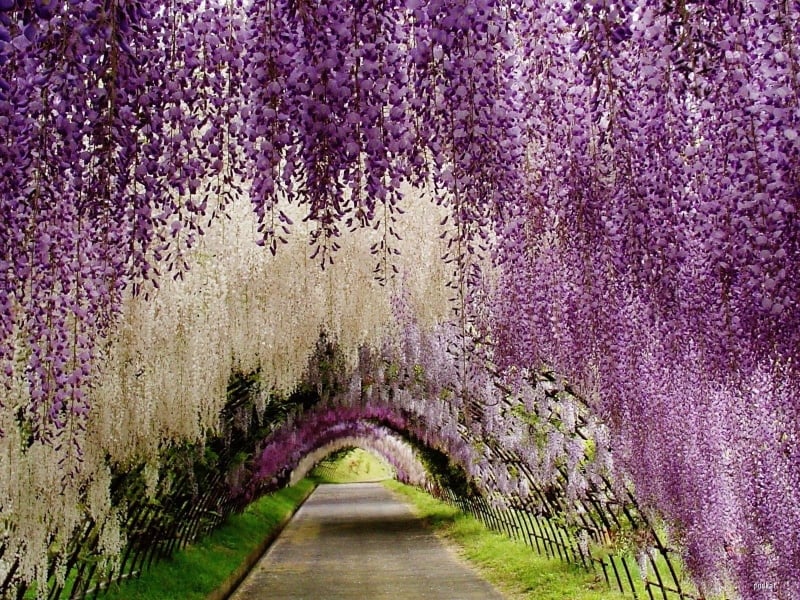 Continue your Japan floral escapade in Kawachi Wisteria Garden at Kitakyushu. No other flower is as otherworldly as wisterias. This plant is a climbing vine that produces ethereal-hued blossoms in washes of cream, purple, blue and pink. Just try to picture what it would be like to step into Kawachi Wisteria Garden's main attraction — the Wisteria Tunnel!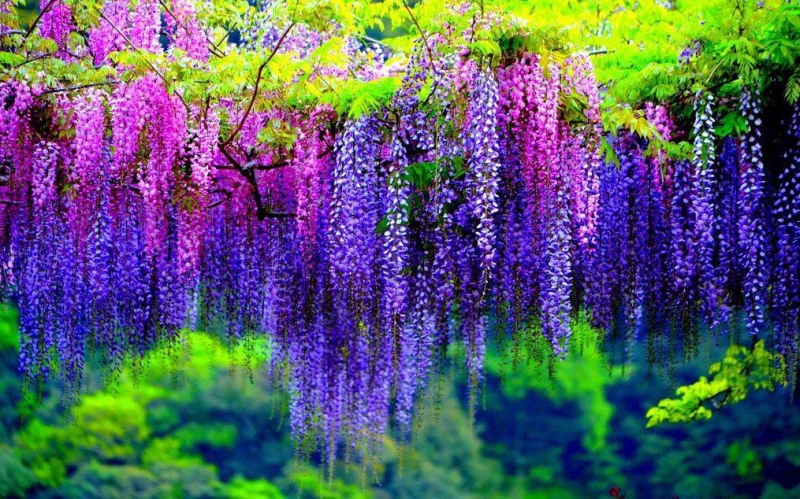 There are two tunnels, each essentially a 100-metre garland of colourful wisterias that flirt with you as you journey through its passage. With approximately 150 floral plants and 20 different species of wisteria to cover the whole garden, you'll feel as if you've been transported into a magical realm! Adding to the alchemy of these two tunnels is the large wisteria tree that forms a canopy of drooping blossoms assembled in a gradient fashion.
The idea of being surrounded by these enchanting flowers is simply intoxicating! There's a catch though. Make sure you visit from late April to mid-May to fully enjoy the colours of these captivating floras. Visiting at any other time may give you a disappointing scene of lifeless and crooked branches. 
6. Lake Hillier, Australia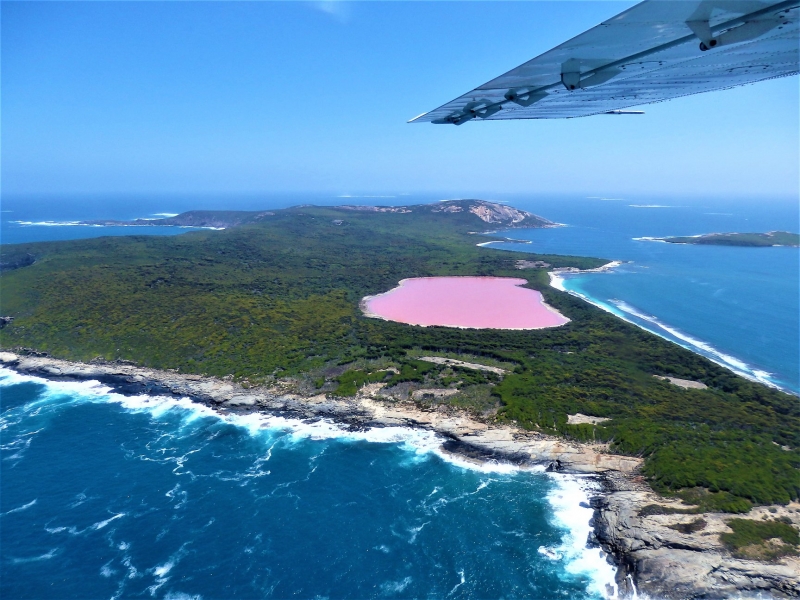 Warning: What you are about to see is only for the pink-hearted — no haters allowed! 
You have been warned, so let's dive in. This pink lake is found near Recherche Archipelago to the south of Western Australia, lying next to the Pacific Ocean. To this day, experts don't really have a solid explanation for the lake's sweet bubblegum exterior. But some scientists suggest that the microalgae that dwell in the lake play a significant hand in its charming tint.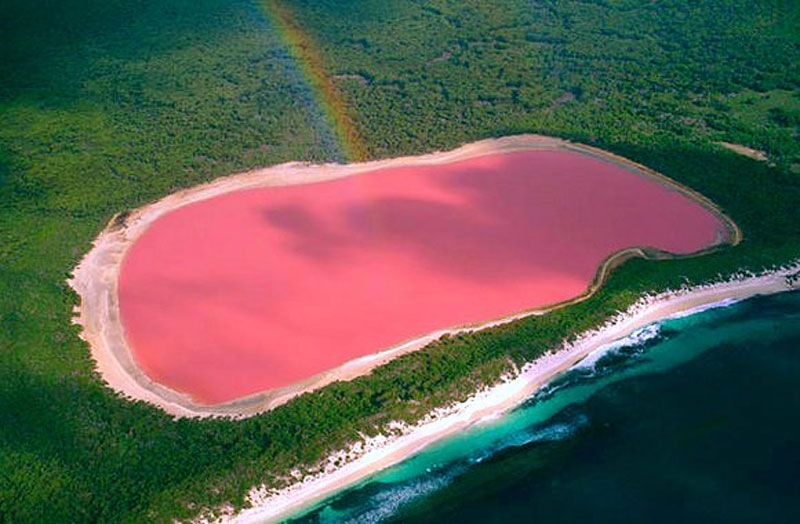 The microalgae are specifically named Dunaliella Salina which are salt-loving photosynthetic microorganisms. They produce beta-carotene which are said to create the lake's pink milkshake vibrance. Another speculated factor for the rosy tint is the presence of halophilic bacteria and archaea. But let's digress. 
Lake Hillier's water is permanently pink, which means it'll stay pink even when you cup the water in your hands. Get the best photos of this unique natural attraction from above, and see how the bright pink lake presents a stark contrast against the surrounding foliage. What's more, it's perfectly safe to swim in — so bring your bathing suits and strike a pose!
7.  Lavender Fields, France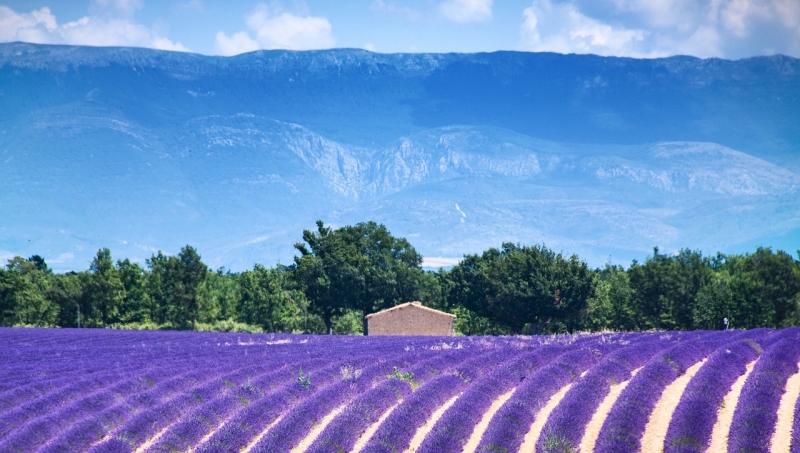 Sweet France — it is so easy to fall in love with its natural allure. And I'm not talking about Paris. If you want to see the most picture-perfect spots in this country, look to Provence. It is France's most endearing region. Dotted with quaint fairytale villages and rolling vineyards, you'll simply be spellbound by the end of your trip. Time it perfectly so that you can see Provence's most enchanting natural attractions in its lavender fields!
These inspiring blooms spring out from the last week of June to the beginning of August. As Provence is arguably the best place on earth to enjoy sprawling fields of lavender, it's no surprise that these flowers hold a special place in the region's culture. Not only does lavender provide sweet-smelling meadows and a boost in tourism, it also keeps local businesses afloat. Take this opportunity to buy lavender oils, honey, and even sorbets!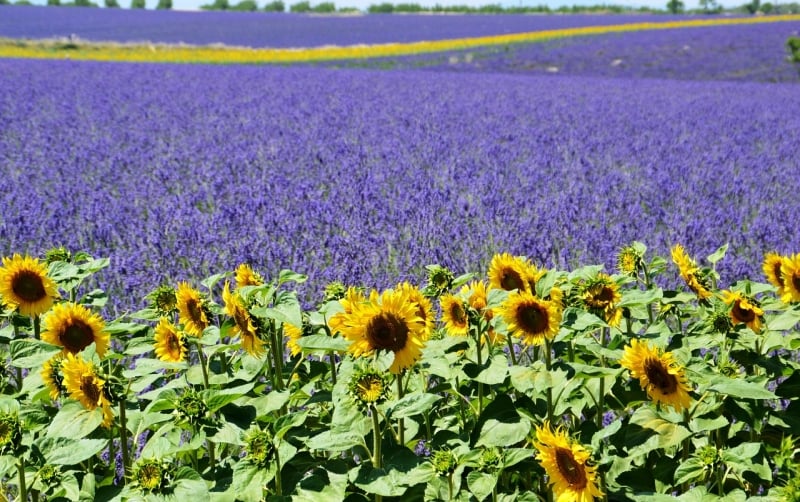 One of the best things about the lavender season of Provence is that it coincides with its sunflower blossoms. Such naturally stunning landscapes of lavender and yellow can only be worthy of a spot on your Instagram grid! See the best lavender fields at Valensole Plateau, Luberon Valley, and Sault Plateau. To make your stay even better, book accommodations in these areas to be a stone's throw away from Provence's best lavender fields!
8. Mendenhall Ice Caves, Alaska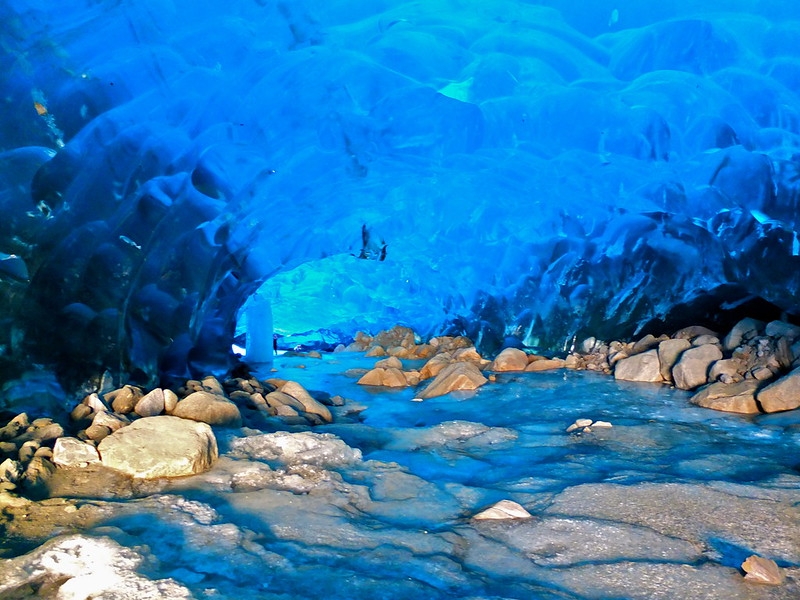 Regardless if you have an affinity for winter destinations or not, the Mendenhall Ice Caves in Juneau, Alaska will surely elicit your awe. These stunning blue ice caves lie inside a 12-mile-long glacier in Mendenhall Valley. Their frozen azure tunnels act as makeshift aquariums for the cold running water contained behind the cavern walls. This aspect of the cave in which you see each layer of the water cycle makes it one of the most surreal natural attractions in the world.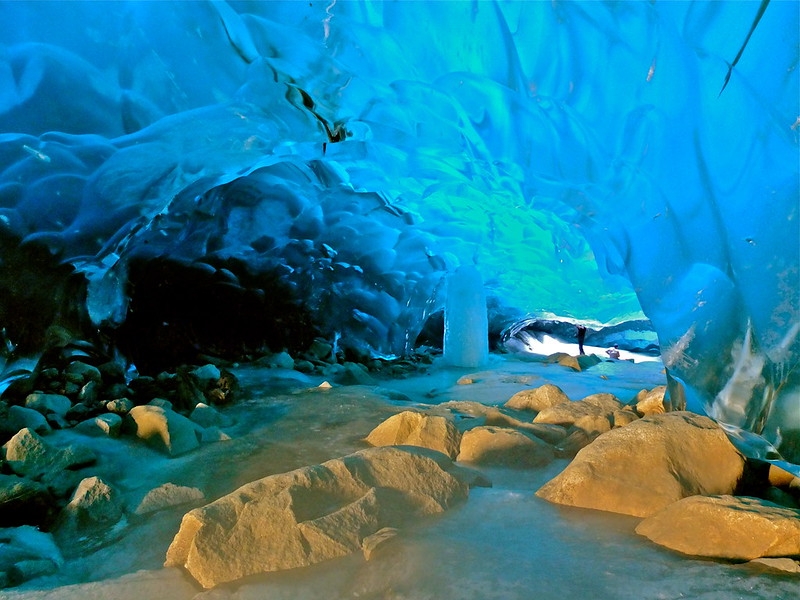 The caves are an embodiment of how you would imagine a giant blue kaleidoscope. Casts of sapphire, aqua, navy blue, among other cool tones permeate throughout this natural wonder. As you journey further in, you'll come upon areas that pour glacial rain into the cavern streams. Against the frozen walls of blue ombre, this natural occurrence makes for an ethereal and breathtaking scenery. 
However, it seems as though the Mendenhall Ice Caves are on borrowed time due to the alarming rate of climate change.  The Mendenhall Glacier in which the caves are located has reportedly receded two miles since 1958. This has brought about beautiful and terrible changes to its icicle formations. Catch these stunning caves before it's too late, and make sure to educate yourself on how you can help preserve such natural attractions!
Also read: Travelling Green: 10 Eco-Friendly Activities For Your Itinerary
9. Rainbow Mountains, China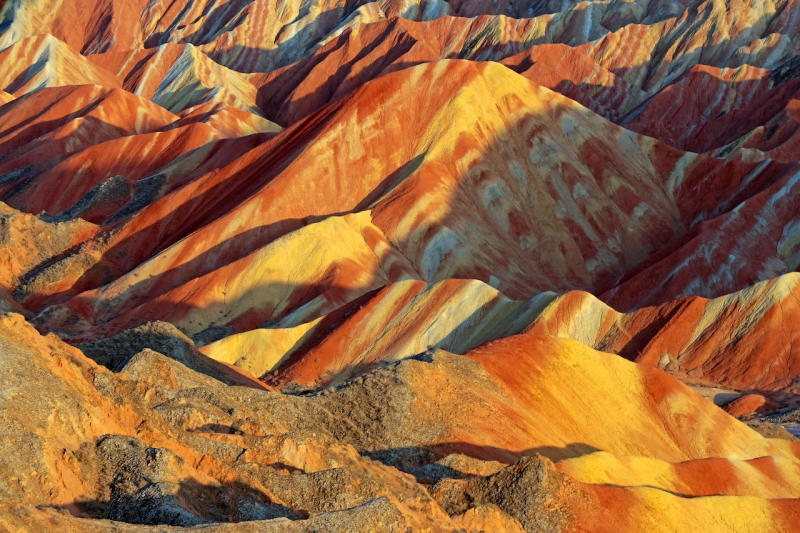 The Rainbow Mountains in Gansu, China look good enough to eat (surely, they remind you of a tasty rainbow cake?!). This terrain had to go through a complicated process to achieve such a mesmerising colouration. To put it simply, the mountains are a product of various coloured sandstone and minerals that have melded together over 24 million years. The predominant colour you see today is called deep red sandstone, but the view wouldn't be complete without the vibrant stripes of yellow, magenta, cerulean, and even emerald.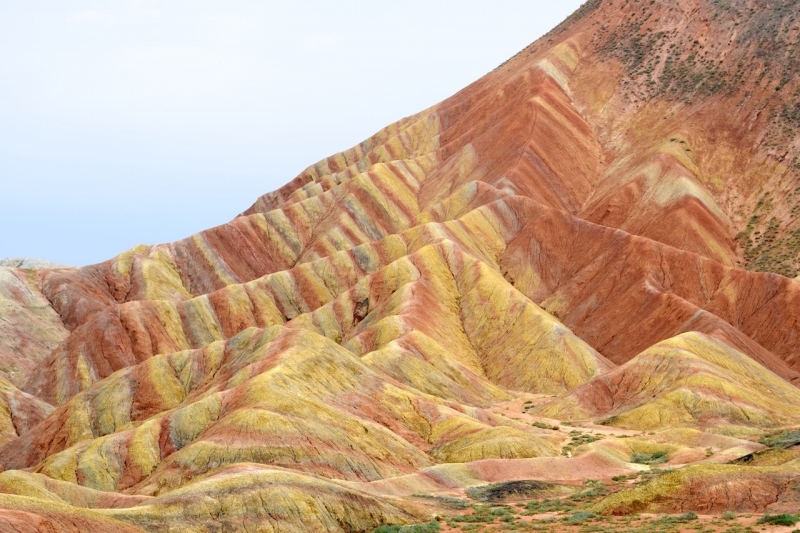 These mountains are found in Zhangye Danxia National Park and have been declared a UNESCO World Heritage Site since 2009. If you're planning to see this jaw-dropping view in person, it's ideal to visit between June to September when the colours of the Rainbow Mountains become more vivid thanks to the combination of sunlight and rain. Try timing your tour in the morning and night, it's when you can catch continuous colour variations!
10. Seven-Coloured Earths, Mauritius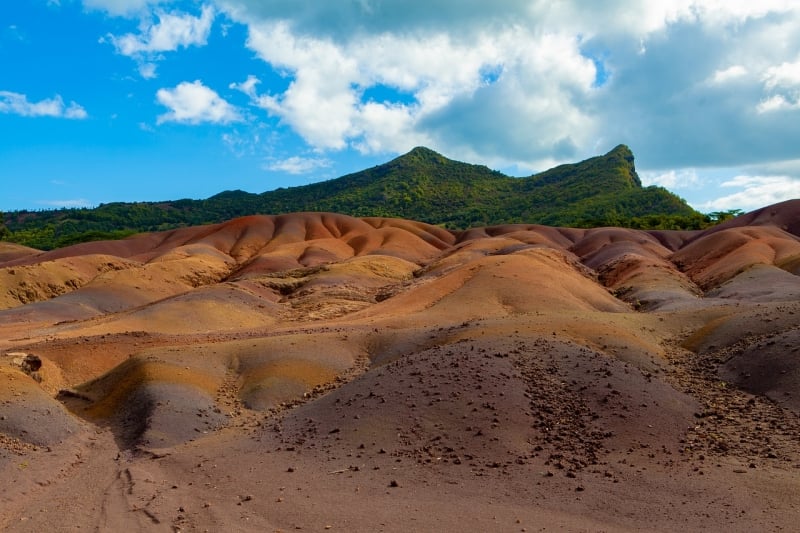 Who would have thought that a field of sand dunes could be composed of seven distinct colours? Red, brown, violet, green, blue, purple, and yellow — you'll be sure to see all of these at the Seven-Coloured Earths in Chamarel, Mauritius. These seven shades came to life in the sand dunes due to a molten volcanic rock that cooled down at varying temperatures. But here's the most interesting bit about this natural attraction: Sources claim that when you mix together the seven colours of sand in your palms, they eventually settle back into their own colour group!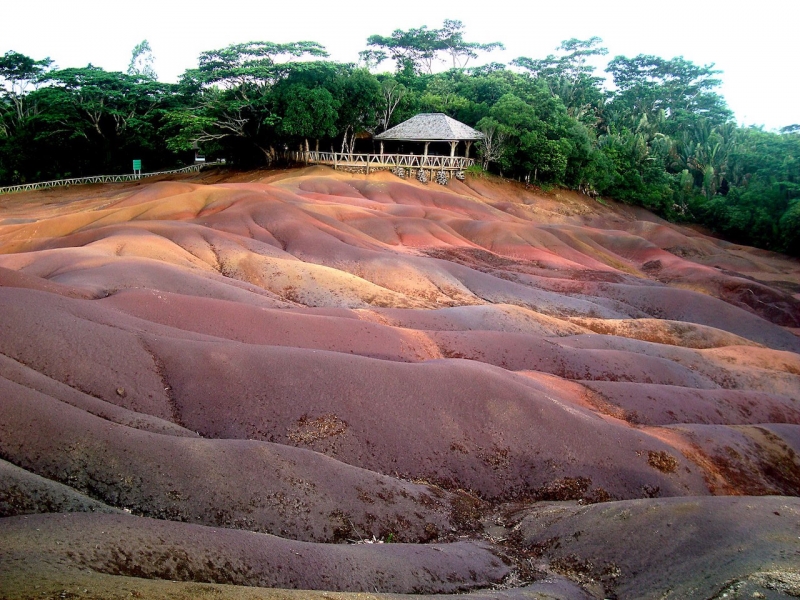 The Seven-Coloured Earths still amaze geologists to this day; despite all the weather conditions it has faced over the years, the multi colours have never eroded. See this natural phenomenon for yourself at sunrise, which brings out all the seven colours of this earthly rainbow. Will you be lucky enough to catch them at the perfect time?
11. Vinicunca, Peru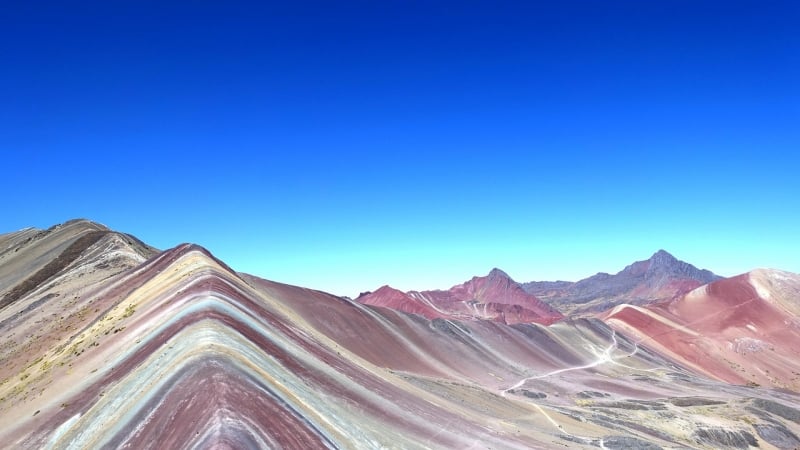 Yet another kaleidoscope-coloured terrain to transport us to rainbow land! Vinicunca in Cusco, Peru has slowly been giving Machu Picchu a run for its money in recent years. Without getting into the rocket science of how the striped colours were formed, let's settle with this: The coloured mountains of Vinicunca were only discovered in 2015. They had been hiding under thick layers of Andean snow which were, fortunately or unfortunately, melted away by climate change. And beneath all the snow, the magic of these rainbow mountains was waiting for its grand reveal.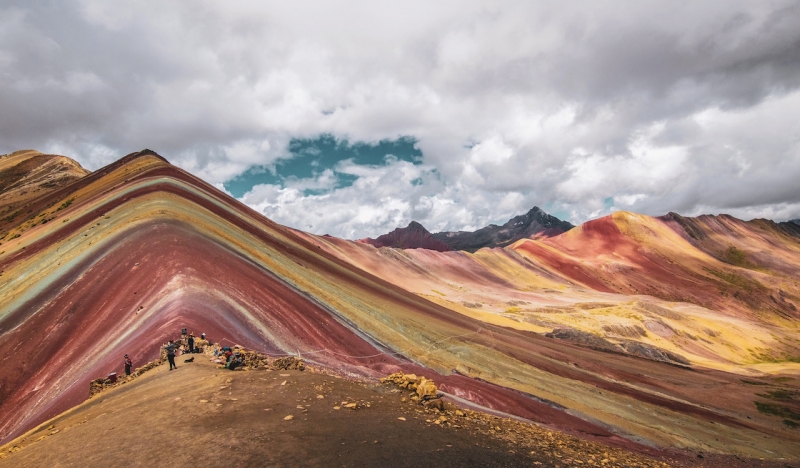 You'll mostly catch shades of red, yellow, purple, and green in these mountains. Similar to other rainbow terrains, it's best to visit right after sunrise or right before sunset to get the perfect lighting and witness the most vibrant colours Vinicunca can offer. However, like other natural attractions in Cusco, beware of the high altitude and breathing difficulties! The hike to Vinicunca's rainbow mountains has an altitude that starts from 4,600 and rises to 5,200 metres above sea level. Bring altitude pills and be sure to acclimate in Cusco for a few days before making the hike!
Also read: A Holiday In Peru: My Cusco & Machu Picchu Experience
12. White Sands Monument, New Mexico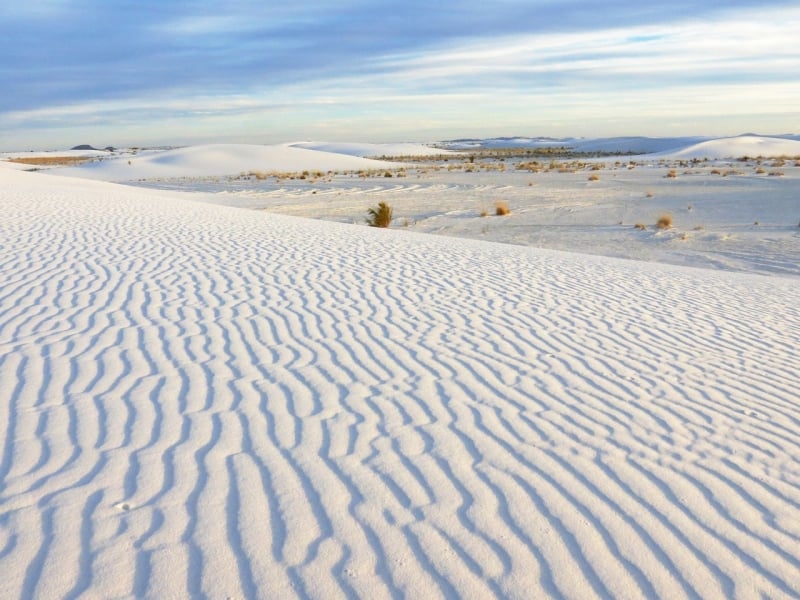 Finally, after all those prismatic natural attractions, we end with this — the White Sands Monument in Doña Ana County, New Mexico. Before you jump to conclusions, this white sand isn't made of silica minerals similar to what you've seen on beaches. The sands of White Sands Monument are purely gypsum — a mineral that easily dissolves in water. 
Here's what's more awesome — gypsum isn't actually white. It's a clear substance that reflects the rays of the sun. This makes the whole sand dune appear as white as snow. On top of the fact that it can't absorb heat, you wouldn't need any more encouragement to walk barefoot on these pure and precious sands!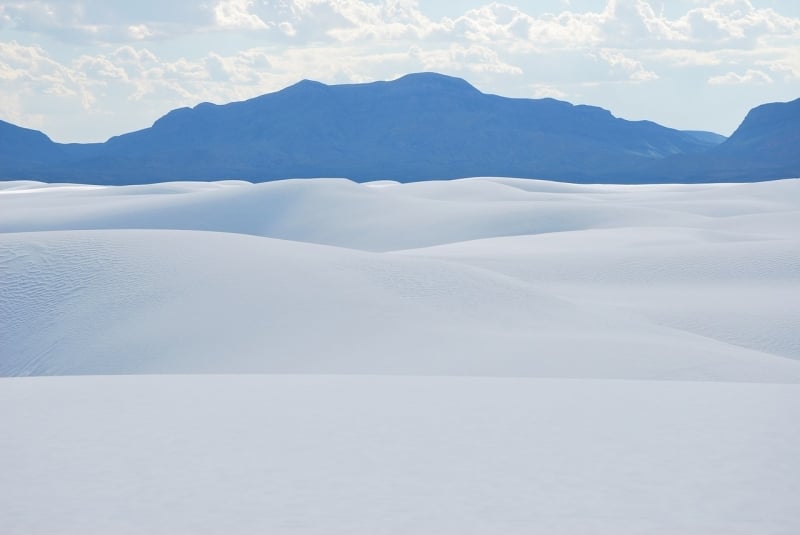 White can be as loud and proud as any other colourway on a photo as long as you understand what you're capturing. There are plenty of opportunities at the White Sands Monument for you to fully grasp its beauty. Embark on midnight hikes and sunset tours where you can make like Luke Skywalker while staring out into the horizon. Take your time, and savour the life-sized clean canvas that's right in front of you! 
What a breathtakingly magical world we live in for us to have these bright and inspiring natural attractions to treasure. Mother Nature truly works wonders and manifests her glory in the most surprising and clever ways. What did we do to deserve it?