Contributed by Just Go Abby
Southeast Asia is one of the most popular backpacking travel destinations. Aside from it is cheap, it is also accessible mostly by land. One popular route backpackers usually take is through Indochina that includes Vietnam, Cambodia, Laos and Thailand, which are right next to each other. The fact that direct flights from the Philippines to Vietnam and Thailand are cheap, it is a very inviting and affordable route for Filipinos who want to try backpacking for 15 to 30 days. In our case, we added one more country.
Also read: Backpacking Cambodia, Vietnam, Laos & Thailand: 11-Day Itinerary & Cost Breakdown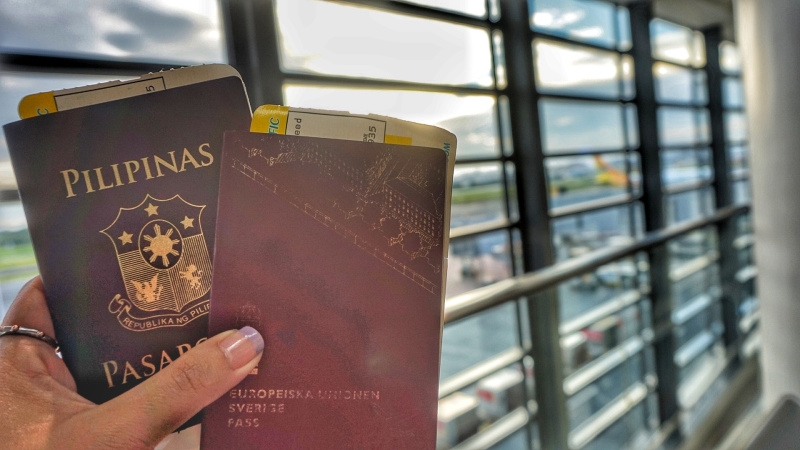 We started our journey by flying direct from Manila to Ho Chi Minh City, Vietnam via Cebu Pacific.
Ho Chi Minh City, Vietnam
This city in the south of Vietnam is home to Saigon Notre Dame Cathedral, a famous landmark built by the French colonisers during their occupation in Vietnam. For five days in this city, we spent around ₱7,500 for food, transportation and tours for two people. A decent fried rice meal, noodle soup or sandwich known as banh mi cost ₫20,000-50,000 (₱50-100).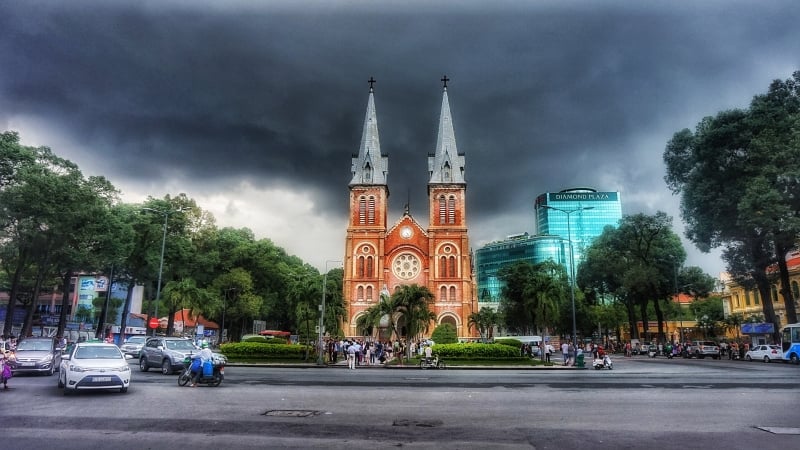 City buses are also available around the city for only ₫5,000-6,000 (₱10-12) while a motorbike ride (xie ohm) may cost ₫30,000-50,000 (₱60-100). A private double room costs ₫300,000 (₱600) per night but you can also book a dorm room which costs cheaper. One full day city or Mekong River tour with free lunch will cost $9-30 depending on the agency. I suggest that you pay your travel agency in US Dollar since it is accepted and also to be safe. There might be instances that the agent will give you a wrong conversion rate and you will end up paying more than the actual price. Believe me, I experienced that before.
After spending five days in Ho Chi Minh, we took a six-hour bus ride crossing the Moc Bai Border to Phnom Penh, Cambodia. We bought the tickets through a travel agency near our hotel.
Phnom Penh, Cambodia
The worst mistake we did in Cambodia's capital is booking our guesthouse far from the city centre. Accommodations in Phnom Penh are cheap but be sure to book it in the centre or near the visitor sites. Since city buses here are not used often, we were left with no choice but to hire a tuk-tuk (motor taxi) which costs $5 (₱250) each ride but be sure to haggle first as it can go down to $3-4.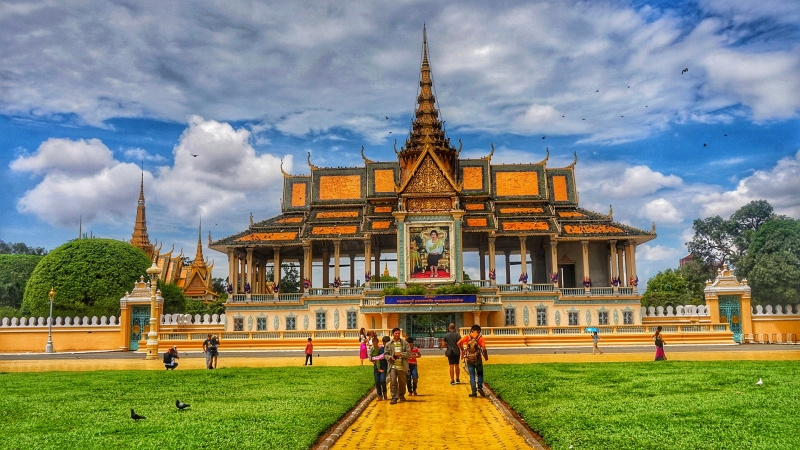 During our stay here, there was a week-long holiday which made the city seem like a ghost town. Most business establishments were closed and the prices of food were way too inflated. I remember seeing how two pieces of grilled fish in a local market cost $8 (₱400). The convenience stores were also out of stock of food supplies which made our food options very limited. Eating in a local restaurant or street food stall will cost at least $3-6 (₱150-300) per meal. I don't know if these price hikes were solely because of the long holiday since just for three days, we spent $70.4 (₱3,520) for food and transportation alone.
Note: Khmer Real (KHR) is the currency of Cambodia but USD is widely accepted everywhere.
From Phnom Penh, we took another six-hour bus ride to Siem Reap.
Siem Reap, Cambodia
The home of the UNESCO World Heritage site, Angkor Wat! Gladly, this city has a lower cost of living than Phnom Penh despite being more touristy. The average meal costs $1.5-3 (₱75-150) and street food choices only $1.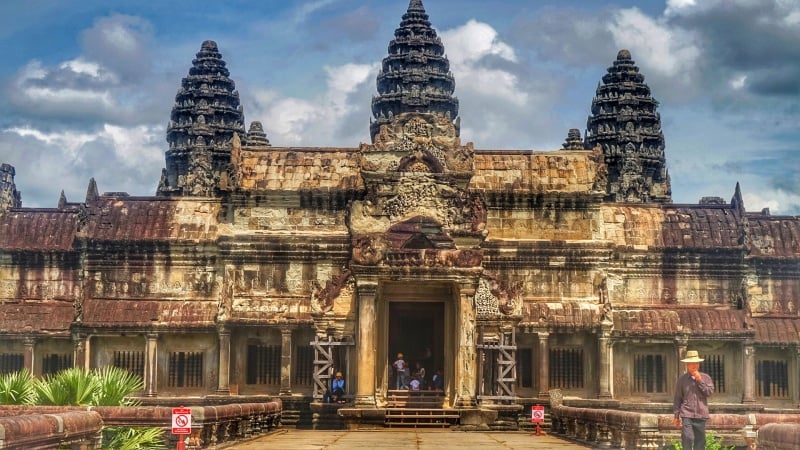 If you stay near the city centre around Pub Street, you won't need to hire a tuk-tuk because the markets and restaurants are only a few feet away. Half day or whole day tours are available through agencies or tuk-tuk drivers themselves for $13-35 each.
From Siem Reap, we took a bus to cross the border to Laos and a boat to reach the island of Don Det.
Si Phan Don (4000 Islands), Laos
I must say this island will have you disconnected from the outside world and there's nothing much to see here. Although activities such as kayaking, tubing and Irrawaddy dolphin watching are available, most travellers come to this place to enjoy the slow phase of time and lie on a hammock outside a bungalow. Laos is a more expensive country than the rest of Southeast Asia because most of their basic commodities, like diesel, are imported. Expect that the south of Laos is even more costly compared to the other parts.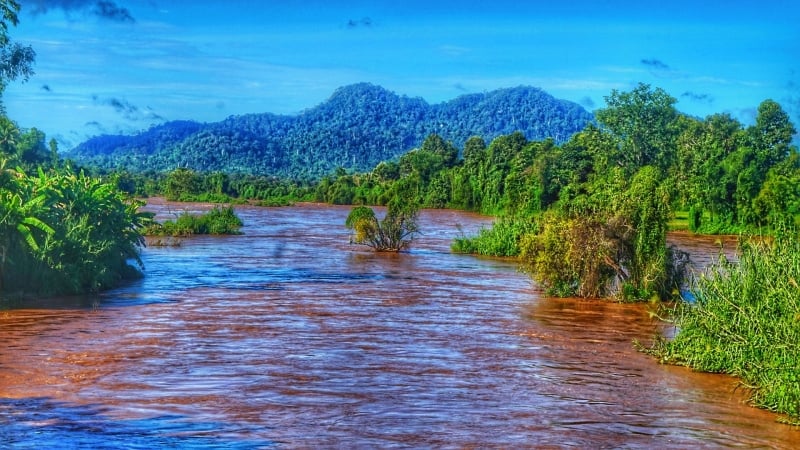 The food options are also limited consisting mostly of sandwiches, fried rice, fried noodles, soup and Indian food with a price range of ₭10,000-50,000 (₱60-300) per meal. However, since we went here during the lean season, our bungalow accommodation set by the river and providing a perfect sunrise view only cost ₭50,000 (₱300) a night. There are tuk-tuks in the island but travellers either usually rent a bicycle for ₭10,000 (₱60) or motorcycle for ₭80,000 (₱490) for a day or walk their way to the sites.
From 4000 Islands, we took a boat and a three-hour bus ride to Pakse.
Pakse, Laos
This city has also not much to offer but it is nearby Paksong or Bolaven Plateau which houses the 120-metre high twin waterfall, Tad Fane. Among the other parts of Laos, Pakse is the cheapest in terms of costs. A decent meal can cost ₭0,000-35,000 (₱60-215) with various food options, including street food. Tuk-tuks cost ₭10,000-20,000 (₱60-120) each ride depending on your haggling skill.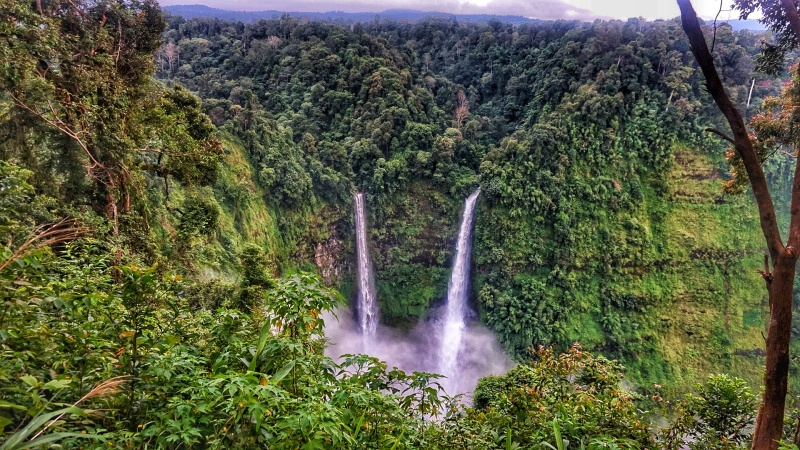 I would say I experienced the warmest and kindest people here. I never felt getting ripped off. People would smile at and would never take advantage of you. One best part of this part of our travel was when a family of six offered us a free ride from Paksong going back to our accommodation in Pakse. Despite the language barrier and being strangers, they still welcomed us in their van. We communicated through gestures and smiles until we said our goodbyes through handshakes.
From Pakse, we took an overnight bus to Bangkok.
Bangkok, Thailand
Originally, we planned to stay in Bangkok for just six days. Since we got short of budget in Siem Reap, we decided to take out some from our budget for Laos. But after we read on travel forums that the south of Laos is more expensive, we decided to cut our trip in the country shorter and spend longer time in Bangkok. We ended up staying in the latter for eight days.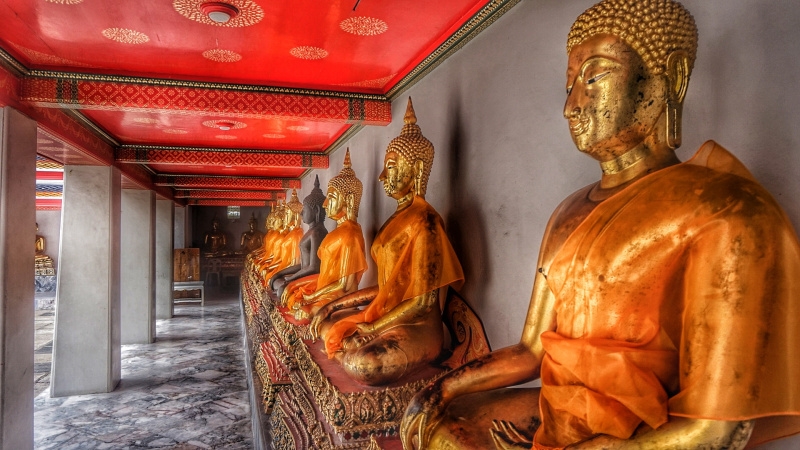 Bangkok is almost the same as the Philippines when it comes to cost of living. There are city buses that you can ride on for free and air-conditioned buses which cost ฿9-15 (₱14-25). Food is generally inexpensive, ranging from ฿30-100 (₱50-150) with various options to choose from. For an eight-day stay, our alloted budget of ฿6,400 (₱10,000) was able to cover our transportation, food and entrance fees to the tourist sites.
Also read: Exploring Vietnam, Cambodia and Thailand for Just ₱15K All-In
For our next stop, we took a direct flight to Bali, Indonesia thru Air Asia that lasted for four and a half hours.
Bali, Indonesia
I have to be honest, we totally love the place! Bali is such a paradise with picturesque views and amazing sunset. However, the lack of public transportation like buses and vans is a major drawback. Plus, the fact that in some tourist spots like the temples and waterfalls, Uber, Grab Taxi and Go-Jek are banned. The cheapest way to go around Bali is to rent a motorbike but for travellers who don't know how to ride a bike or a motorbike, prepare to spend more on taxis and private cars. The average taxi ride costs Rp100,000-300,000 (₱380-1,150) depending on the distance and again, your haggling skills.
We also experienced our Grab driver asking us to pay three times more of what was charged on the app. My tip for you, get a Grab driver that has a perfect five stars rate on their profile only. For cuisine, Indonesian food is close to Indian food, so better inform the restaurant staff ahead that you don't want your food spicy.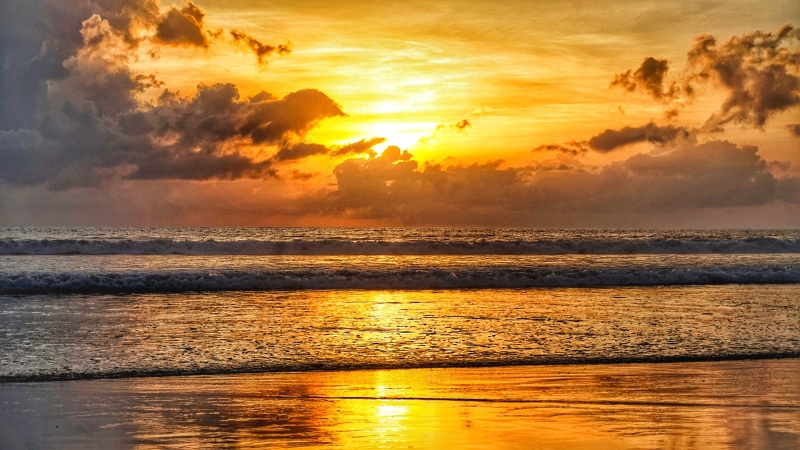 Expenses
Transportation
Manila to Ho Chi Minh via Cebu Pacific: ₱5,198 (no check-in baggage)
Ho Chi Minh to Phnom Penh via bus: ₱1,000
Phnom Penh to Siem Reap via bus: ₱800
Siem Reap to 4000 Islands via bus and boat: ₱2,000
4000 Islands to Pakse via bus and boat: ₱610
Pakse to Bangkok via bus: ₱2,700
Bangkok to Bali via Air Asia: ₱7, 560 (no check-in baggage)
Bali to Manila via Air Asia (with layover in Kuala Lumpur): ₱12,396
Total: ₱32,264 (₱16,132 each)
Accommodation (private double rooms)
Ho Chi Minh: ₱3,288 (Five nights)
Phnom Penh: ₱1,290 (Three nights)
Siem Reap: ₱1,196 (Three nights)
4000 Islands: ₱900 (Three nights)
Pakse: ₱700 (Two nights)
Bangkok: ₱3,348 (Seven nights)
Bali: ₱1,852 (Four nights)
Kuta: ₱1,053 (Two nights)
Total: ₱13, 627 (₱6, 813.50 each)
Pocket money
₱50,000 (₱25,000 each)
Overall total: ₱95,891 (₱47,945.50 each)
Also read: Backpacking Southeast Asia: 10 Days in 5 Countries with Just ₱25k (All-In)