Sometimes, the best trips with your barkada start with a simple "Tara?". That's exactly the case for our first friendship trip to San Juan, La Union! Home to an exciting food scene, a vibrant nightlife culture, and the best surf breaks in the northern Philippines — this coastal town makes for a laidback tropical escape with your besties.

Although there are tons of thrilling things to do in Elyu, my friends and I planned our trip to be flexible and not too packed with lots of activities. This way, we could take our time appreciating the surf town's delights. Our agenda: eat, drink, and enjoy the beach! If this sounds like something up your alley, feel free to take inspiration from my 3D2N La Union itinerary for your next trip to Elyu. 
Also read: 12 Airbnbs & Hotels in La Union for Your Next Elyu Trip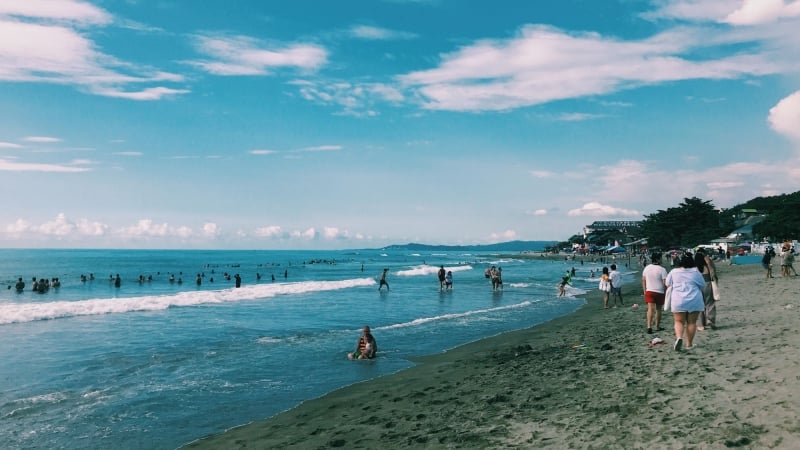 How to get to La Union
La Union is just a five-hour drive away from Manila. To avoid traffic and longer time travel, we opted for the Metro Manila Skyway route through the Buendia entry point. Alternatively, you can commute via bus from Cubao for just ₱530 (₱470 for students), which will take approximately six to seven hours. This way, you'll spare yourself the extra expenses for toll and gas.
Where to stay in La Union
For this trip, we decided to stay right at the heart of Elyu: Urbiztondo. Here, you'll find tons of lodges, from beachfront inns to luxe resorts to budget-friendly hostels. Rates per night can go as low as ₱600, so be on the lookout for those. Ultimately, the key is to find an affordable stay so that you can spend your money on food and activities.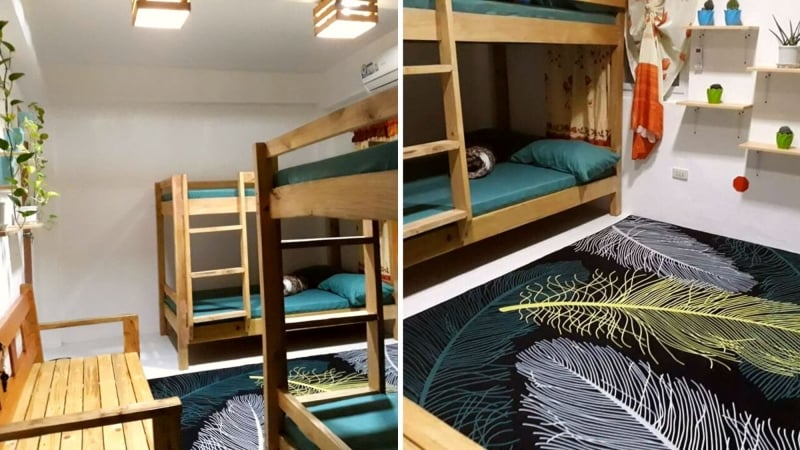 We opted for a tiny yet charming group accommodation called EMO Transient Inn, which costs only ₱700 each per night. Our hosts were very friendly and welcoming, making our stay quite memorable. Here, each room comprises two queen-size bunk beds and a private bathroom. It is also equipped with good air conditioning and a speedy Internet connection. Expect weak cellular signal, though, but you probably won't be needing that since you'll be on vacay mode! 
Getting around La Union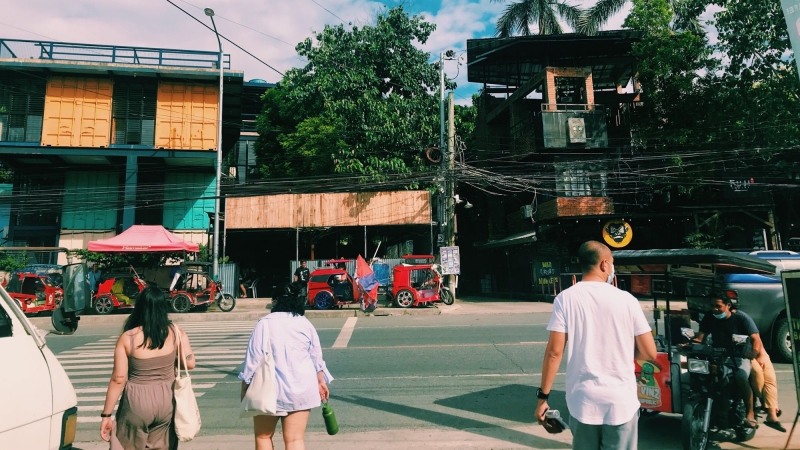 Getting around town was pretty easy for a first-timer! Apart from the fact that I went with friends who frequent Elyu, most establishments are lined up right next to each other, and the beach is just a short walk from our accommodation. So, walking is the best way to go! On that note, tricycles are available for a minimum fare of ₱20 if you wish to explore further spots. 
Our 3D2N La Union itinerary
Day 1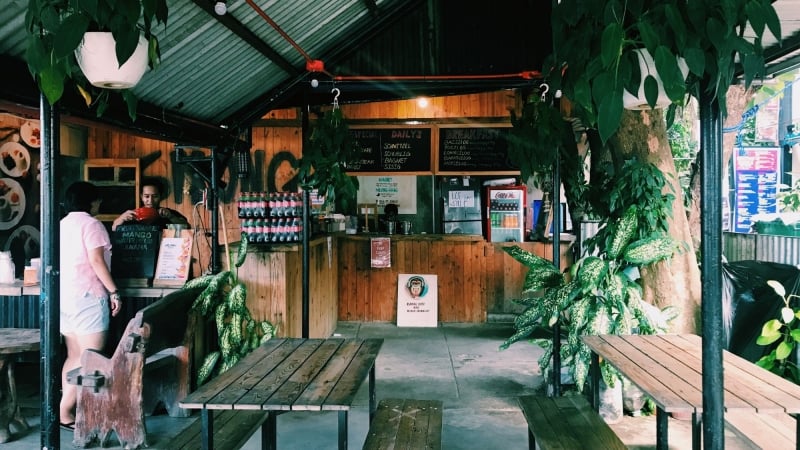 We departed Manila around 7am and arrived at La Union by 1pm,  just in time for our check-in. After settling down, we headed out to grab a quick meal at Silong Cafe, a nearby eatery serving up classic Pinoy dishes for around ₱120 to ₱310. Their sizzling sisig (₱120) was absolutely bomb and their fruit shakes were refreshing. Needless to say, it was the perfect welcome meal that set us up for more amazing eats in town! The best part? They're open 24 hours daily for hungry surfers and beach bums.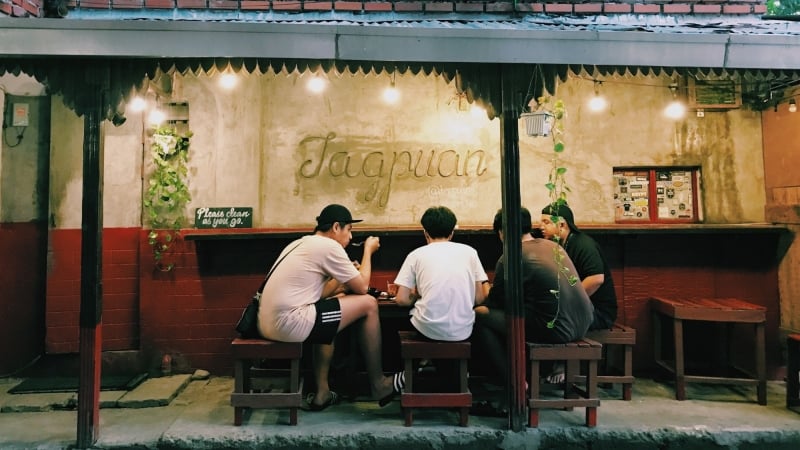 After spending the rest of the afternoon splashing around the beach (and taking tons of selfies), we wound up at Tagpuan for early dinner. They serve super sulit comfort Pinoy meals for as low as ₱40! To appease my hunger, I ordered a bowl of pares (₱105) served with steaming hot rice and topped off with an egg.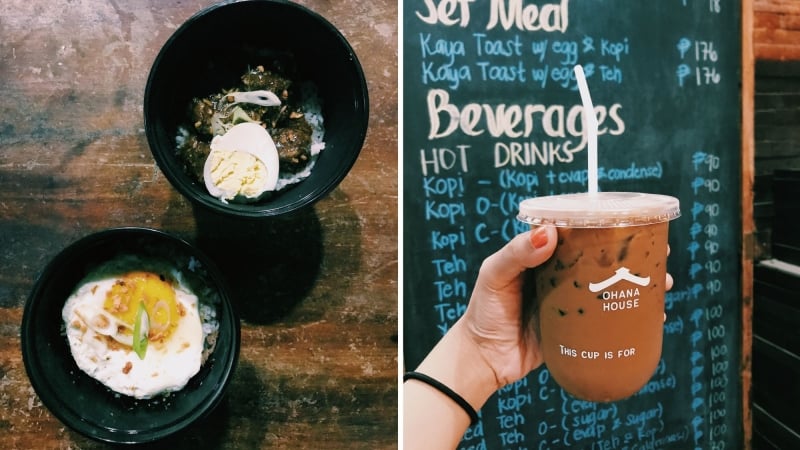 For dessert, I passed by Ohana House for a cup of iced kopi (₱100). I also took a few bites of my friend's kaya toast (₱176 w/ coffee), and it was quite a treat!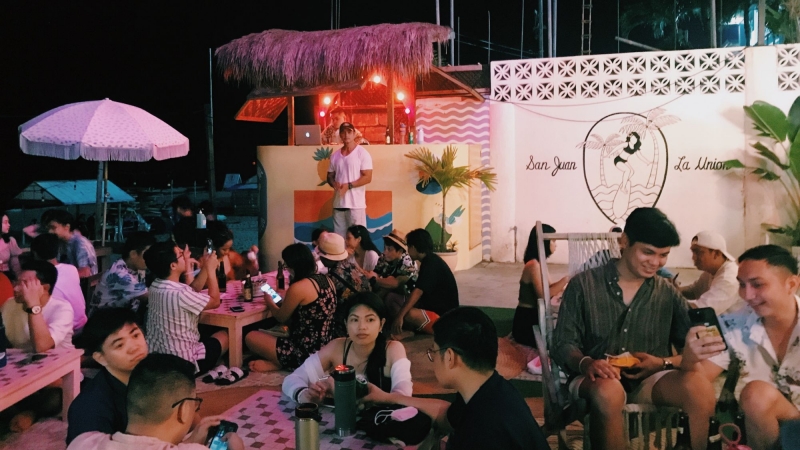 When evening rolled in, we decided to grab cocktails at Fatwave Surf Resort. By sundown, this beachfront inn transforms into a bustling enclave for partying and drinking. It boasts delectable bar chows and handcrafted mixed booze that'll fuel you all night.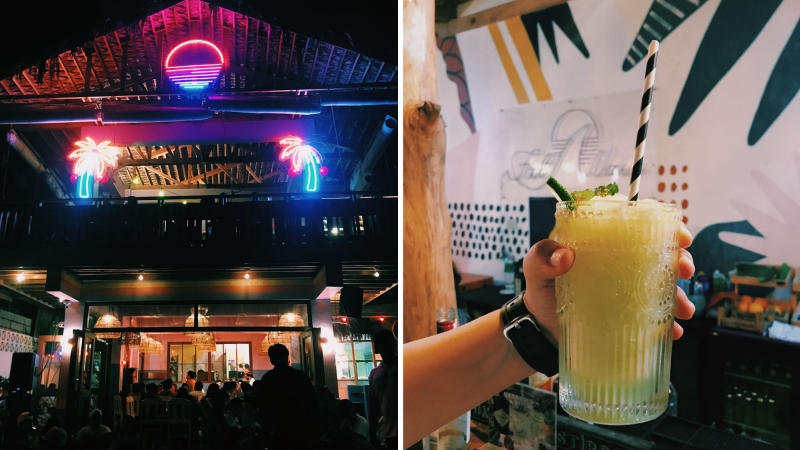 I opted for the Bittersweet Symphony cocktail (₱240), a sweet and tangy blend from their lineup of classic cocktails that's perfect for the social drinker. Otherwise, the Fatwave Mojito (₱225) is always a good option if you're not too sure what to get!

Also read: 20 Restaurants in La Union: Your Guide to the Best Eats in Elyu
Day 2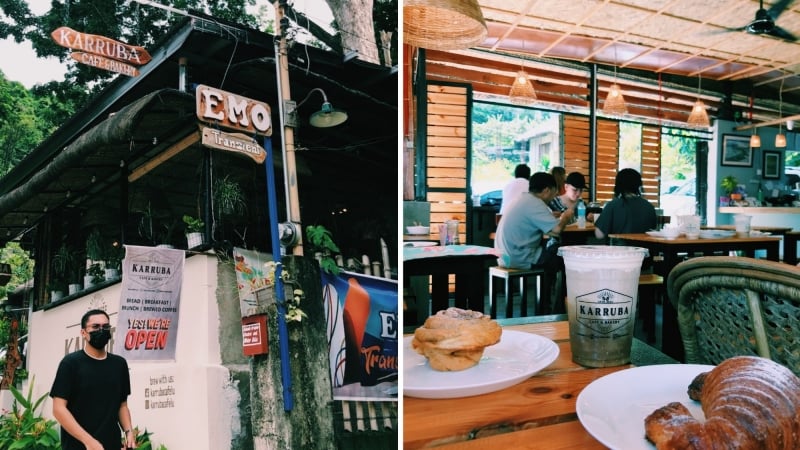 On our second day, we stepped into a nearby cafe (literally right next to our stay) called Karruba Cafe & Bakery for some brunch. Their sea salt caramel latte (₱145) paired with their homemade buttery croissants (₱92) were definitely worth it for me.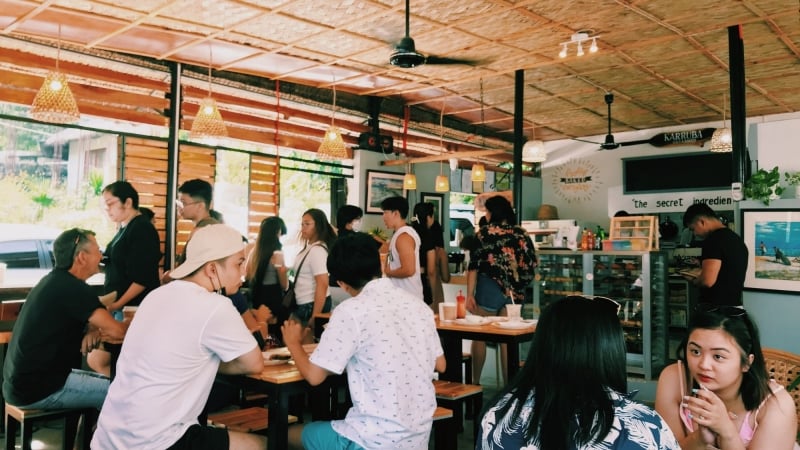 Afterwards, we walked to the beach to try our luck at surfing. The standard rate for surfing lessons with an instructor is ₱500, but you can also just rent a board for ₱250 per hour. If you're nervous about learning how to surf (same here), no worries! The local instructors are amiable and accommodating. You'll even get tons of tips and inside scoops about what to do and where to hang out around Elyu.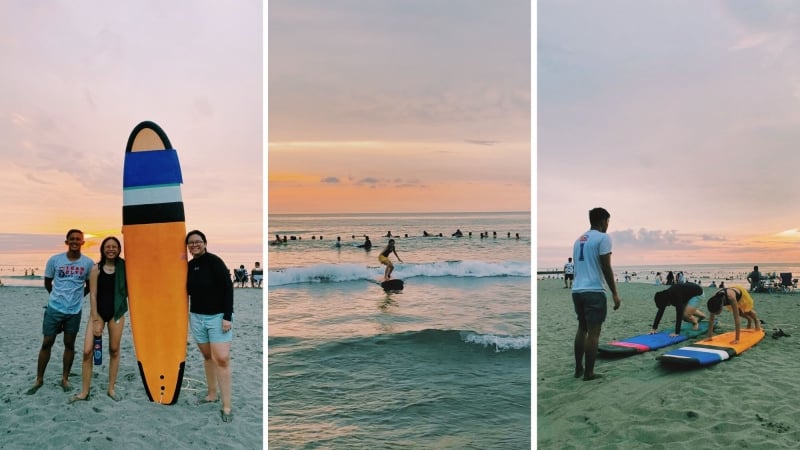 The thing about learning how to surf is that once you get the hang of it, it's basically impossible to stop. There's something unique about that experience, despite getting the jitters and constantly crashing down before reaching the shore. You'll always want to jump back on the board and catch the next wave. And the next thing you know, you're absolutely loving it. I know I did! (Salamat, Trainer Harold.)
Also read: I Spent Two Months at the Beach to Cure a Broken Heart & Here's What I Learned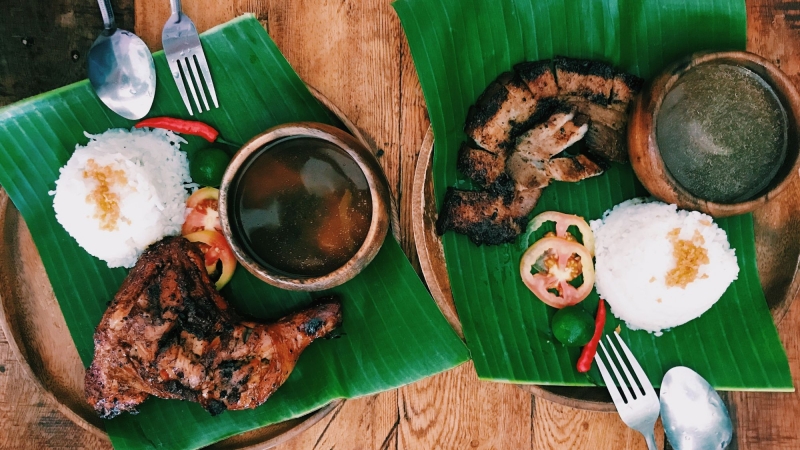 By lunchtime, we were completely famished. So, we headed to Elyu Inasal for the best chicken inasal (paa for ₱199 and pecho for ₱219) in town. You can also upgrade your meal with the inclusion of unlimited rice and sinigang soup for only ₱20! Other must-try dishes include tapa and sizzling tofu.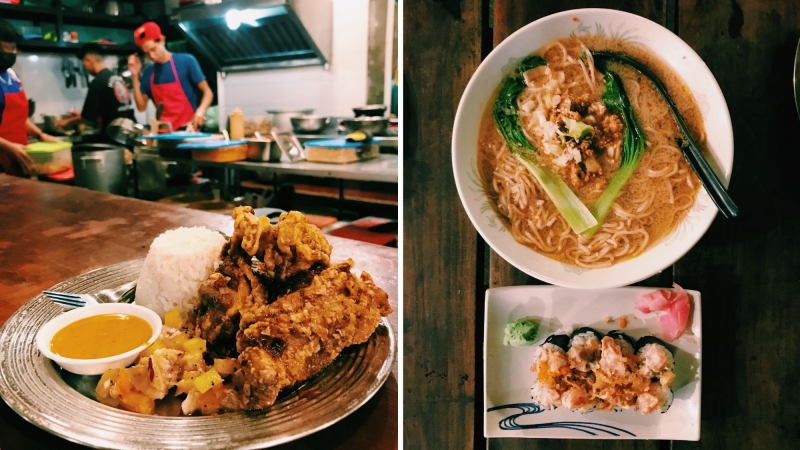 For dinner, we checked out The Great Northwest, a food park brimming with lots of mouth-watering dining options. Here, we ordered the honey bagoong glazed chicken (₱280) from Sabong, a bowl of tantanmen ramen (₱280), and a plate of spicy tuna rolls (₱240) from authentic Japanese resto Chu's Diner. To say the least, we were all left stuffed and satisfied!

Tip: If you want to save money, share your ulam and simply order an extra plate of rice.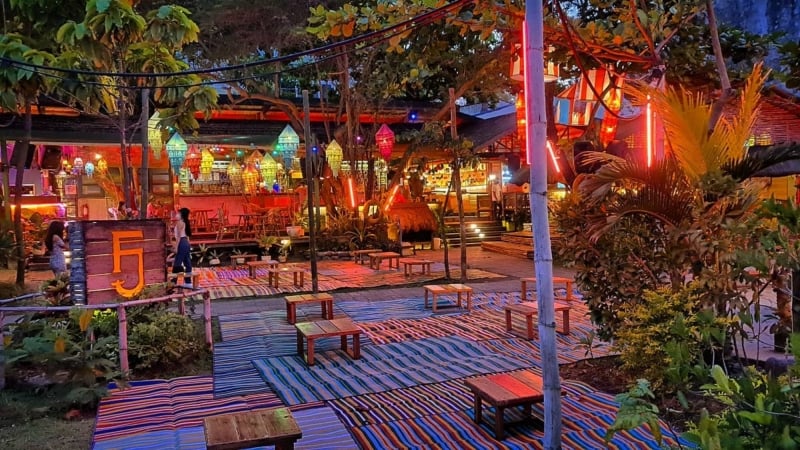 Later that evening, we grabbed a couple of drinks at Flotsam and Jetsam — Elyu's hippest and most popular party hub. As a matter of fact, it's usually the busiest spot in the area at night. For our last night, we couldn't pass up on witnessing its lively atmosphere, great music, and vibrant crowd. Here, a bucket of six assorted beers cost us ₱680. But, other than that, it cost us nothing at all for a great night out! 
Day 3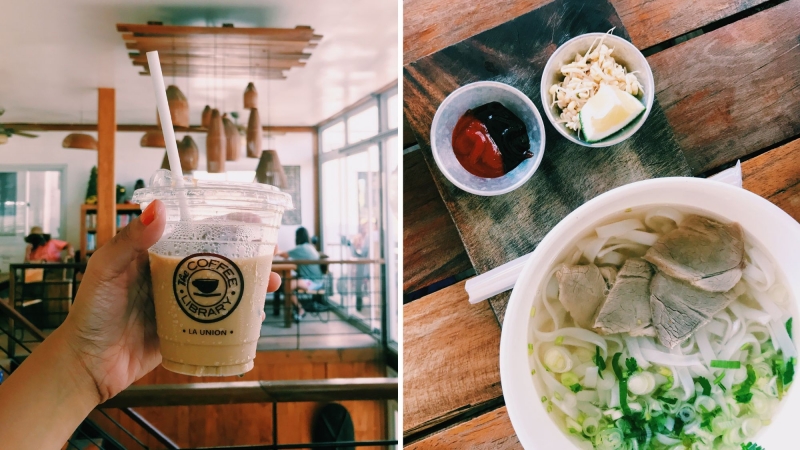 For our last morning in La Union, we opted for a hearty brunch at The Coffee Library. A bowl of pho bo (₱220) and a cup of iced caphe sua da (₱120) were more than enough to kickstart my day.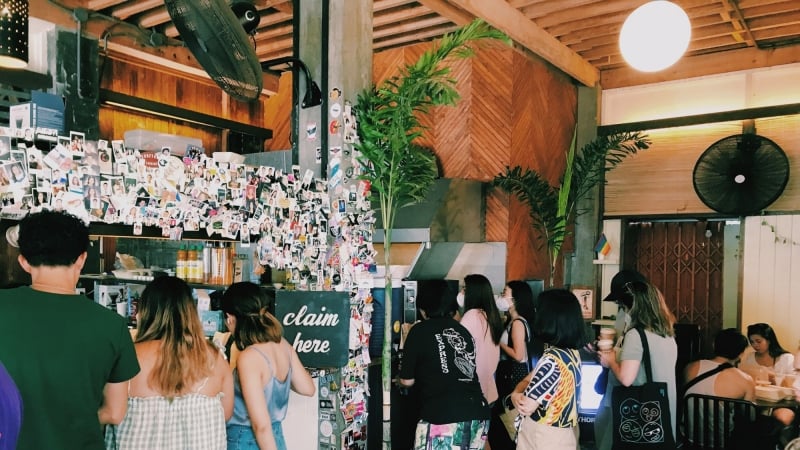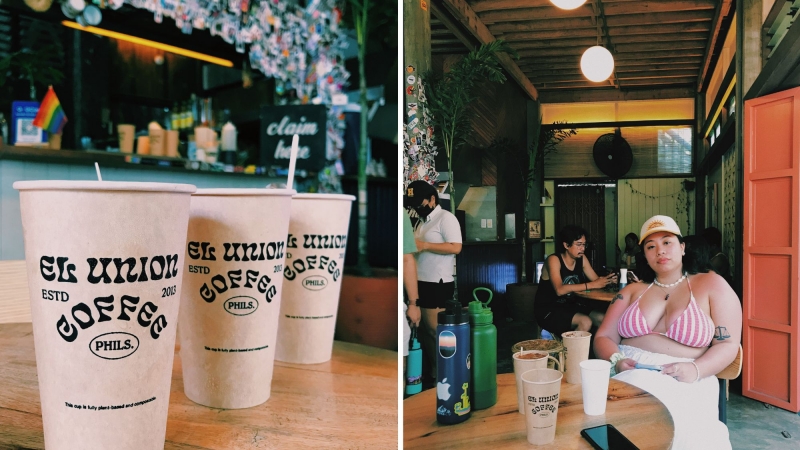 Afterwards, we hung out at El Union, everyone's go-to spot for freshly roasted coffee. Of course, I didn't want to miss out on trying their famous dirty horchata (₱160) for my second dose of caffeine. Other crowd favourites include their cold brew latte (₱160) and cold brew mocha (₱170). Although we didn't order any snacks, their spinach and mushroom melt is said to be an absolute must-try.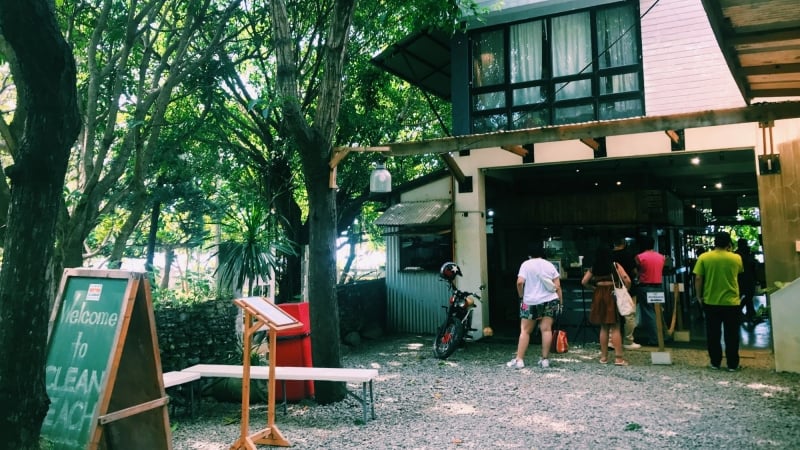 By the time it was 1pm, we had to check out and lug our stuff back into the car. But before heading home, we drove to Clean Beach to grab late lunch. I ordered their combo meal (₱360), which includes your choice of burger or sandwich, kamote fries, salad, and a glass of BCU iced tea.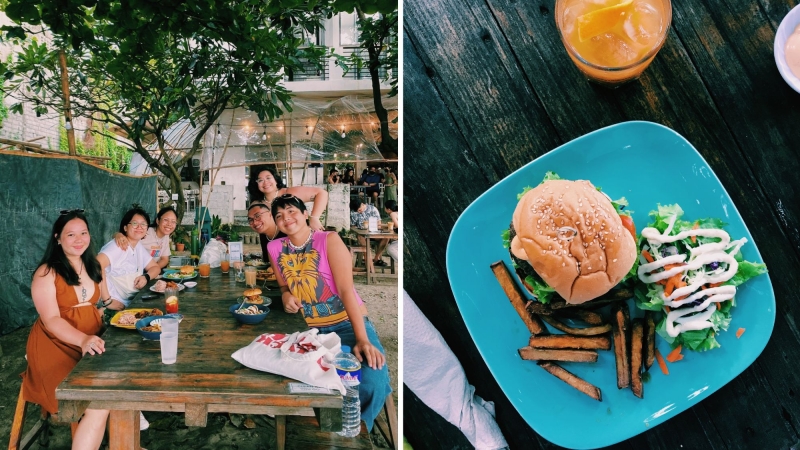 Apart from their hearty fare, Clean Beach is one of the best spots in La Union for digital nomads. Thanks to their fast WiFi connection and delicious selection of caffeinated beverages, it makes for the perfect workplace by the beach! 
The drive back to Manila took a little over six hours, considering the expected metro traffic. Nevertheless, we were entertained by road trip songs (shoutout to the High School Musical soundtrack) and fun brain teasers. Overall, it was truly a well-spent vacation with my best friends! 
La Union budget breakdown
Note: This budget breakdown excludes gas and toll fees to highlight the expenses during my stay in La Union. 
Accommodation: ₱1,400
Food and drinks: ₱2,671
Activities: ₱500
Souvenirs: ₱120
Total: ₱4,691 
Also read: La Union Travel Guide for All You Weekend Warriors
That about sums it up for this laidback 3D2N La Union itinerary! I'll definitely be back for more exciting adventures in this charming surf town. But, for a first-timer like me, this was more than enough to scratch my travel itch. Till the next time, Elyu!