Contributed by Where's Jason?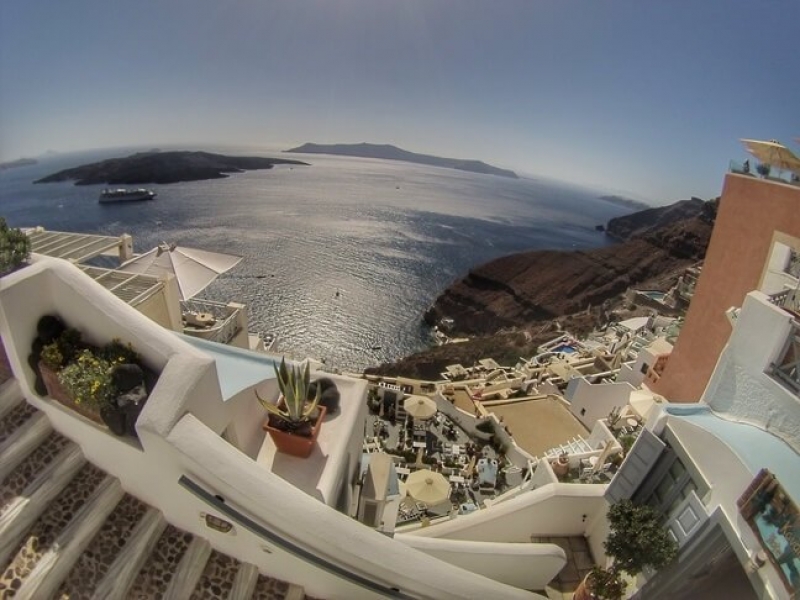 Before I begin with the Santorini travel guide, I want to tell you a little somethin'. I may look like a nerd but I like hip hop, rap and rock music. I'm a fan of the likes of Eminem and Linkin' Park. For someone who likes these genres, would you believe me if I said I watched a Mamma Mia show in London and enjoyed it? Man, those ABBA songs can be pretty tight. Please, agree.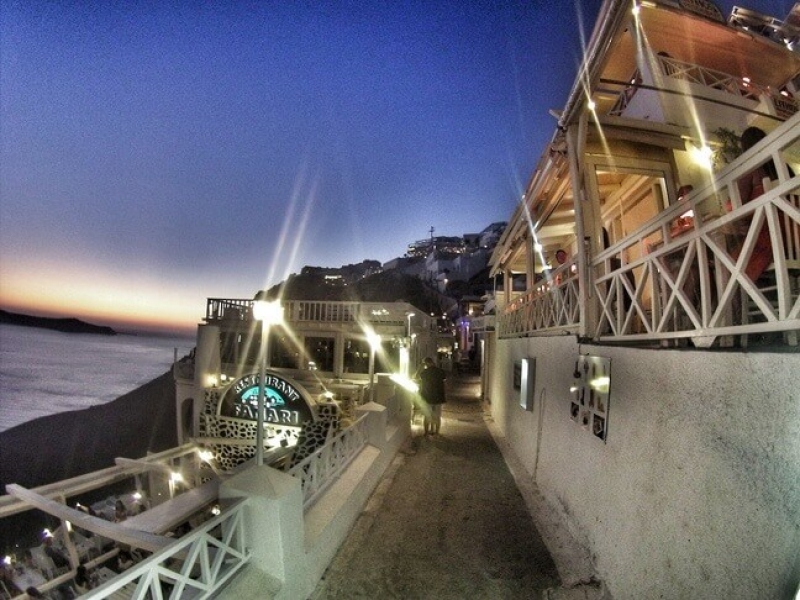 Now, the Mamma Mia movie was filmed in Skopelos, an island in Greece. The Hollywood film instantly made it a tourist hot spot. I read that this made some of the locals unhappy; they thought the island became famous for the wrong reasons since it is, of course, more than just a film location. Well… that's how powerful the entertainment industry is. On the bright side, opportunities for local businesses sprouted and tourism boomed.
Also read: Greece Itinerary: Witnessing The Magic of Athens, Santorini and Mykonos in 10 Days200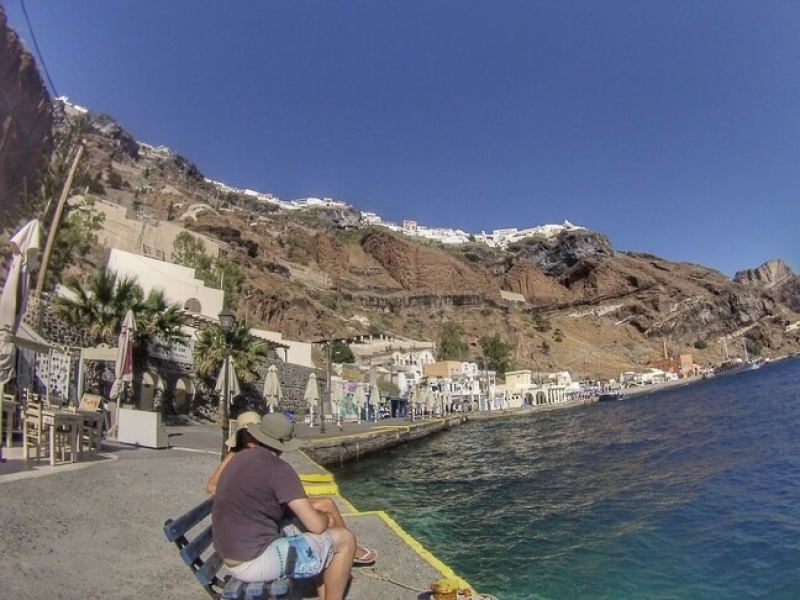 Going back to my point, I of all people caught the Mamma Mia fever. At first, I had wanted to go to Skopelos, but because of issues with the logistics, I ended up choosing Santorini instead — one of the most popular islands to visit in Greece.
And just like that, Greece became my second favourite country in the world (after Iceland)!
Why Santorini?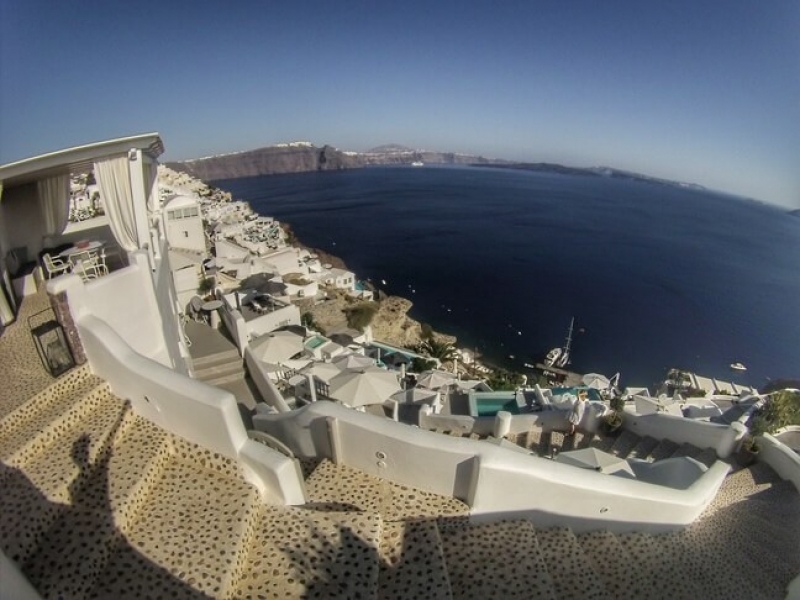 When someone asks me what Santorini is like, or any other place I've been to, for that matter, I'm almost always lost for words. How can I sum up my feelings when even just one picture that I take of the destination tells a thousand stories? All I can say is Santorini is definitely a honeymoon destination – both magical and romantic. But you can still visit it alone just because…why not?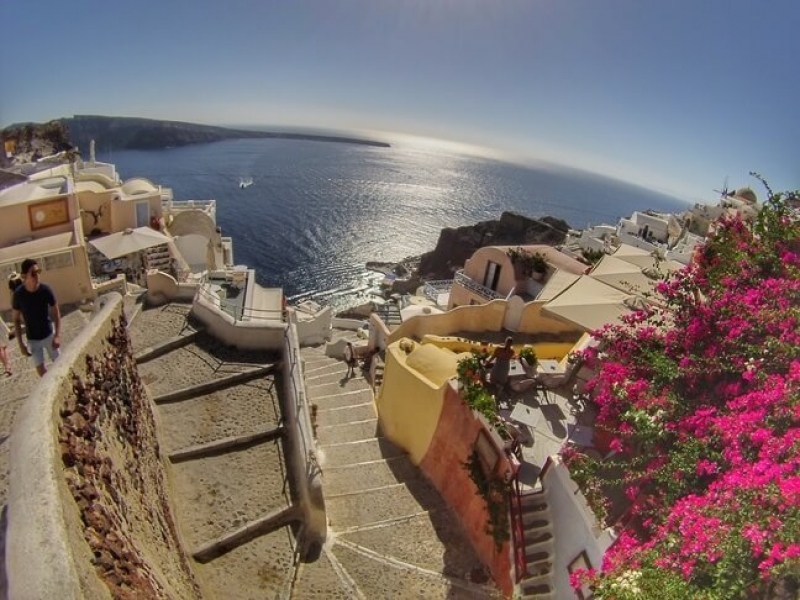 As you walk towards the famous view spots, the cool breeze will touch your skin and your eyes will be mesmerized by the view – the volcanic islands at the centre of the caldera, surrounded by the deep blue sea, all complemented by the white-washed establishments along the caldera wall. It's breathtaking. You have to go there and see it for yourself!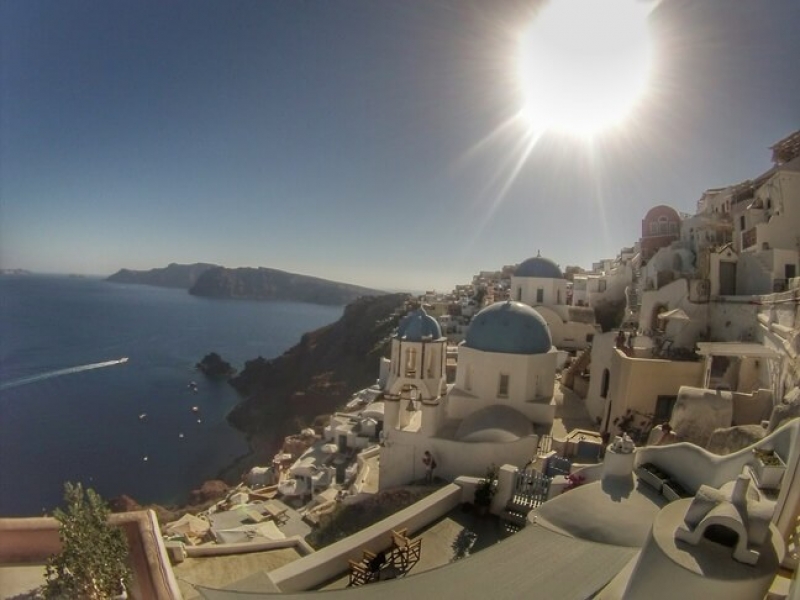 How to get there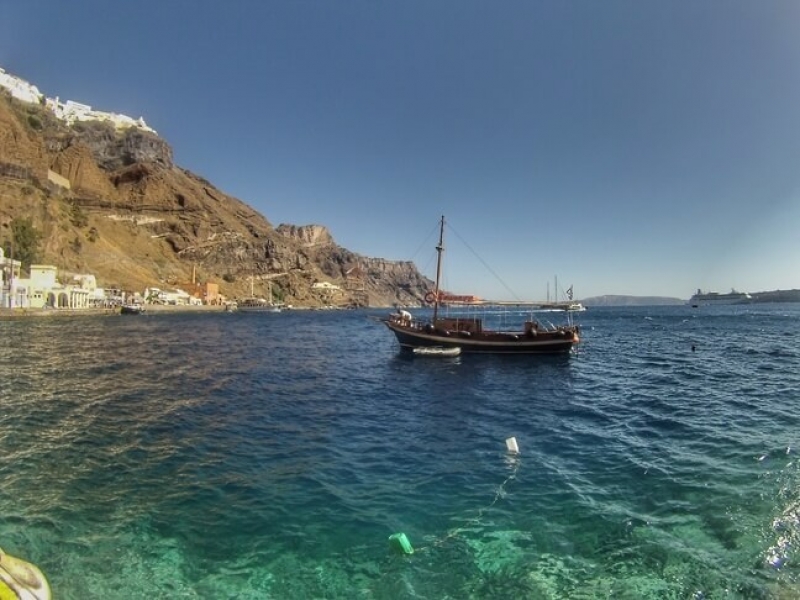 You can take a ferry boat from Athens to Santorini but the most convenient way to travel is by air. The regular ferries (€38-€70) can take up to 8 hours of travel while the high-speed ferries (€60-€76) take up to 5 hours. Plane rides will be just under an hour assuming you are coming from Athens. Otherwise, there are a number of direct flights from other European cities to the Thira airport. I recommend the following budget airlines: Ryanair, easyJet, and Vueling. In my case, I travelled from Rome to Santorini using Vueling (€128.74) and from Santorini to Milan using easyJet (€94.85).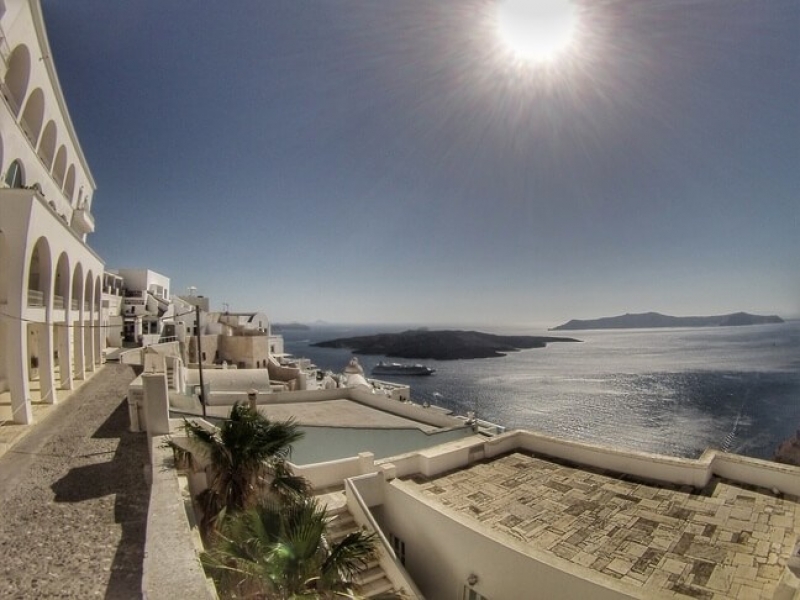 When using budget airlines, make sure to check the rules on checking-in online and baggage allowance. Budget airlines usually require online/self check-in and passport/visa check. For the hand luggage, be prepared to have only one piece for carry-on. But this depends on the airline. I travelled through Ryanair once before and was almost not allowed to board the plane – I didn't know that I was supposed to get my printed boarding pass stamped for visa checking. Whew.
Where to stay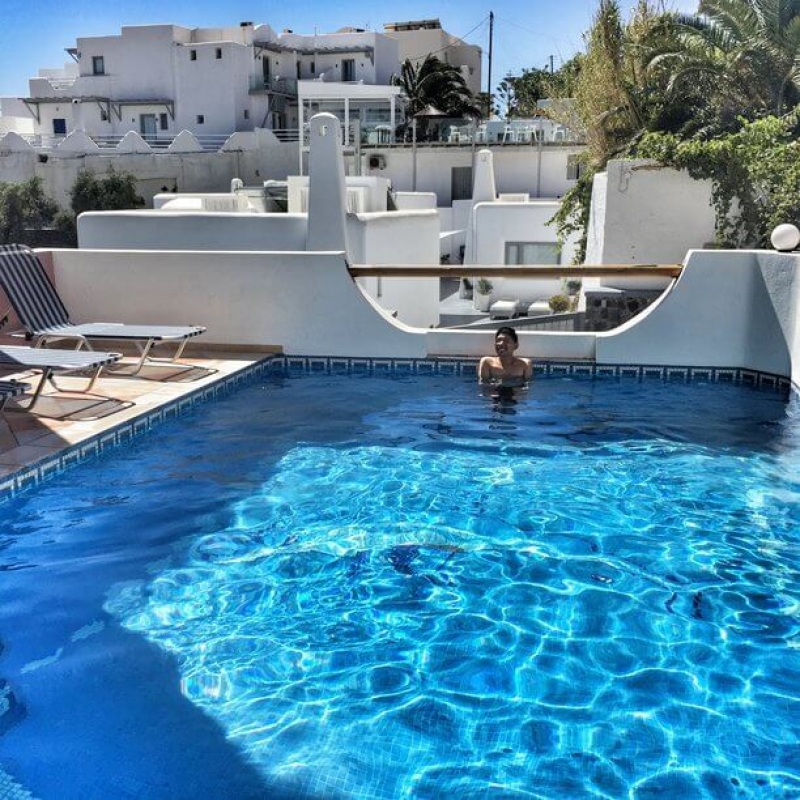 I recommend staying in Fira town because you can access the whole island from this area. There is a wide array of hotels and hostels to choose from. The closer you are to the view deck or caldera wall (aka what you see in all those popular Facebook pictures of Santorini), the higher the price is. I opted to stay a little farther away but within walking distance to the bus station. I stayed at Sea of Aegeon (€73.75 per night for a double room with patio) and Hostel Kykladonisia (€70.53 per night for a double bed with breakfast). A photo of your morning swim at the pool will be a nice addition to your Instagram feed; both have pools but I prefer the one in Sea of Aegeon. On the other hand, Kykladonisia has this interesting Flintstones cave-like feel but going there is a little harder due to the flight of steps going up and down the alleyway to the hostel.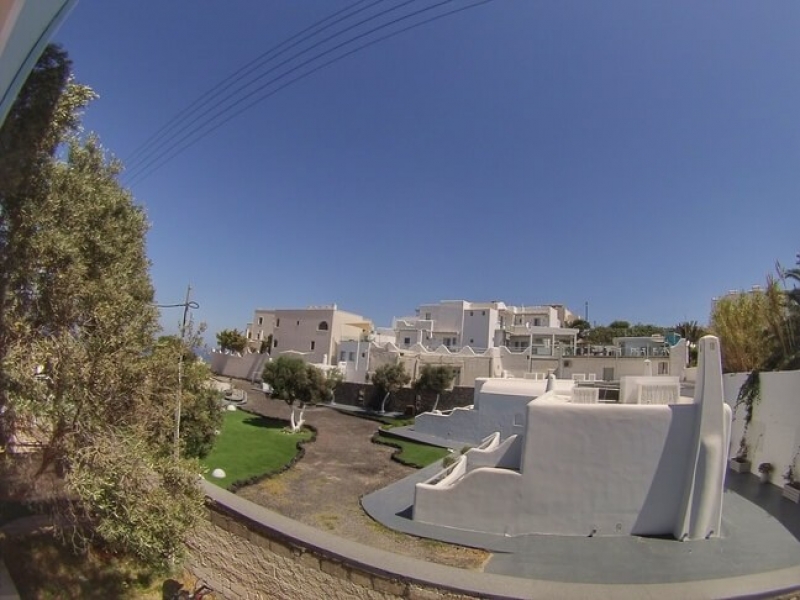 Going around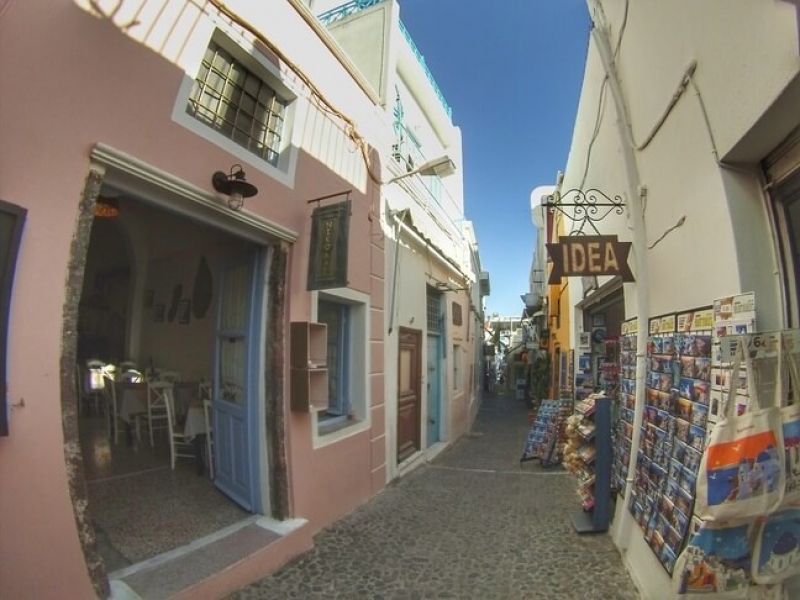 The cheapest way to go around the island is by public transport – which is riding the bus (one-way ticket prices are as follows: €1.80 Fira to Oia, €1.80 Fira to Kamari, €2.00 Fira to Akrotiri beach, €2.40 Fira to Perissa, €2.20 Fira to Thira airport). However, it doesn't operate for 24 hours. If you arrive beyond 10.10pm at the airport, you need to take a taxi to Fira town which costs about €30. Check the bus station for the timetable.
Feeling adventurous with some extra Euros to spend? You can opt to rent a motorbike (€25-€30 per day for a 125CC motor), an ATV (€35-€50 per day), or even a car (€42-€85 per day ranging from a Hyundai Atos to a FIAT 500C Carbio Auto) around the island. Just have your driver's license ready.
Things to do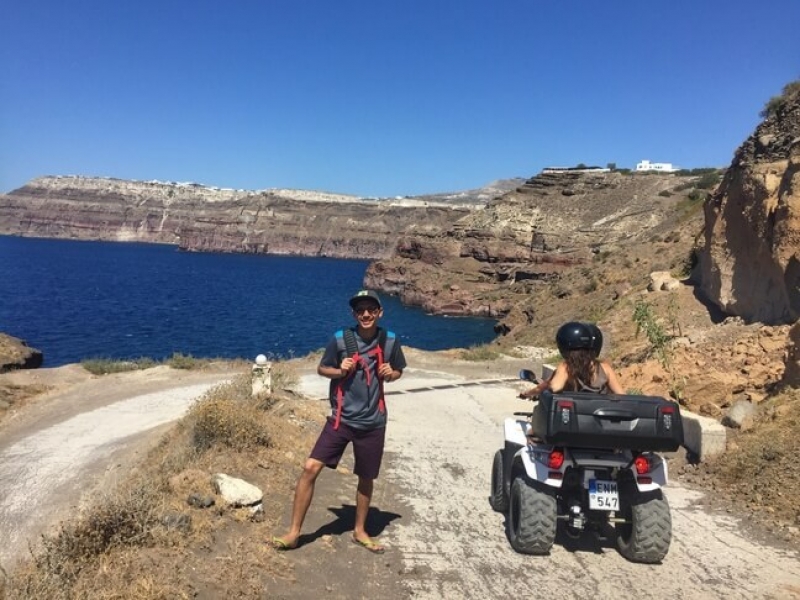 Take lots of photos, groufies, and selfies
Had to Fira and Oia. Walk towards the sea or edge of the caldera wall. Follow the crowd and you'll know you're there the moment you feel your jaw drop. See the iconic Santorini view deck in the flesh. Go get starstruck!
Also read: 5 Things to Do in Santorini, Greece
Head to Fira and Oia. Walk towards the sea or edge of the caldera wall. Follow the crowd and you'll know you're there the moment you feel your jaw drop. See the iconic Santorini view deck in the flesh. Go get starstruck!
Jason's hot tip: Bring your special someone to Oia, wait for the sunset, and then kiss to cap off the romantic experience.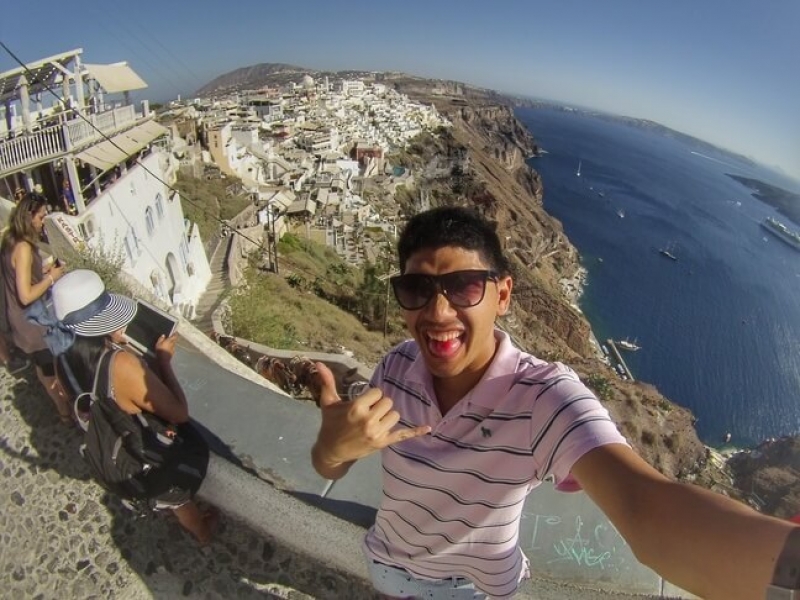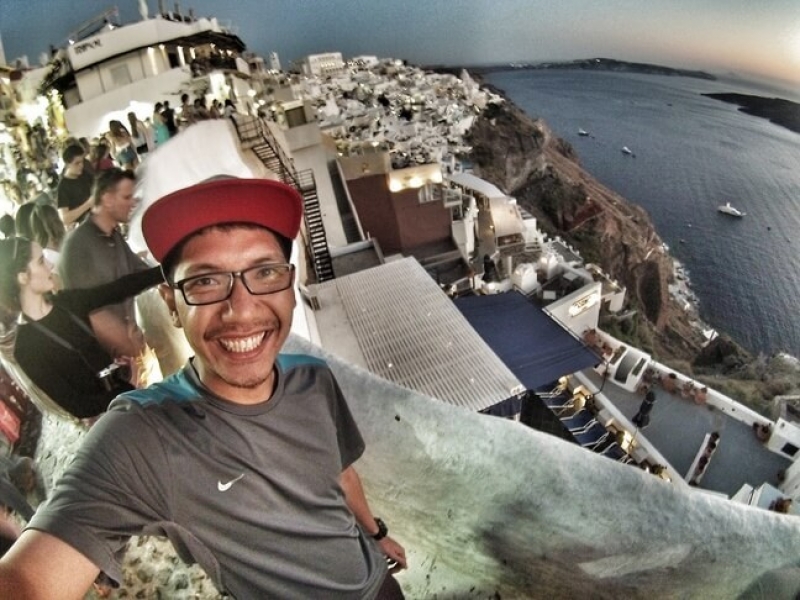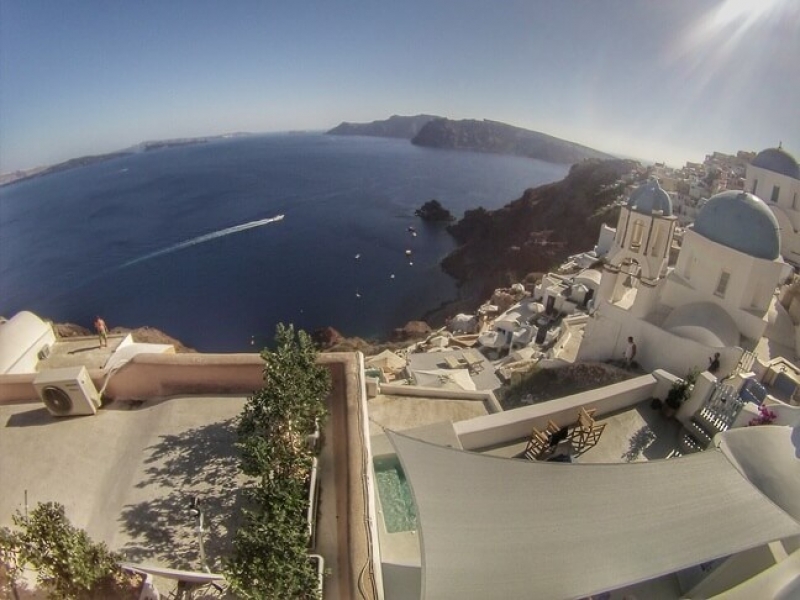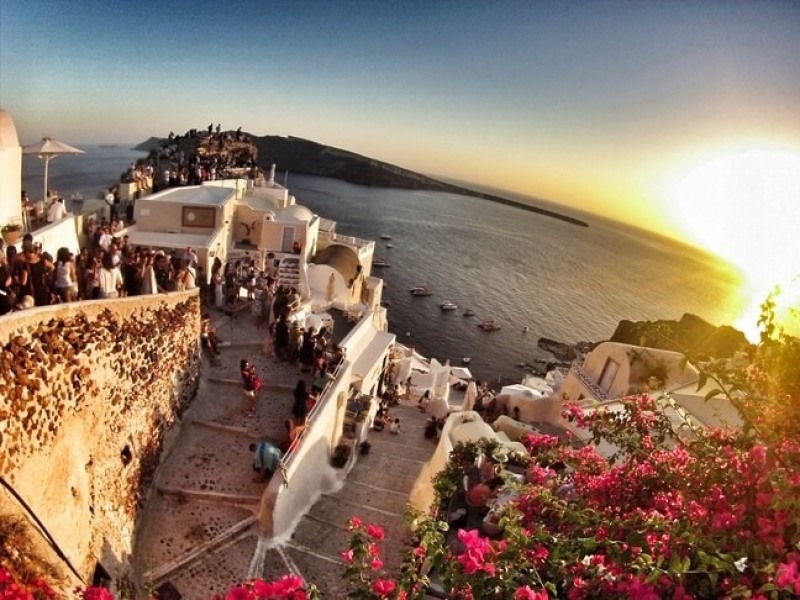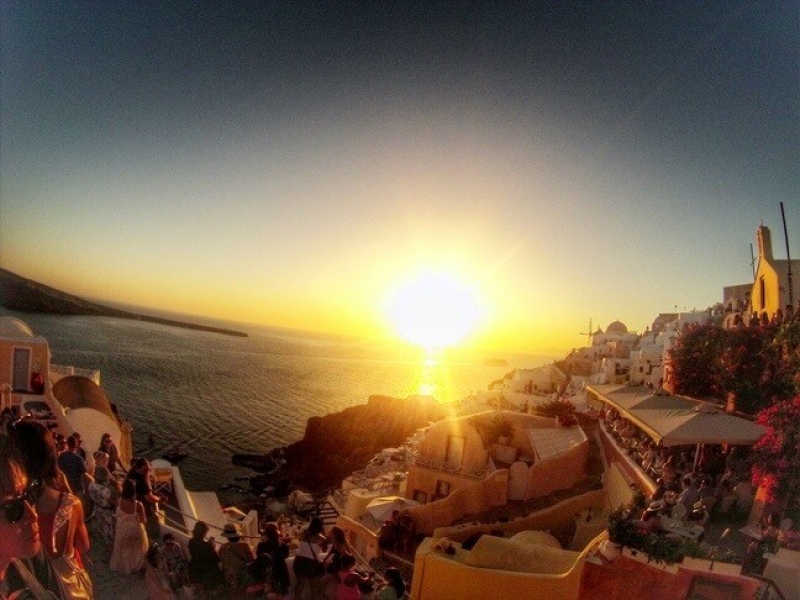 Beach bumming
There are a number of beaches in Santorini. There's the Kamari beach, Akrotiri beach, Red beach, and Perissa beach, to name a few. Relax and swim away. One thing that surprised me was the topless women sunbathing. It was a culture shock to me as I come from a relatively conservative country. You have to understand that Western countries are generally more open-minded than the ones from the East. Needless to say, it's rude to stare, so act normal and just enjoy being exposed to a different culture.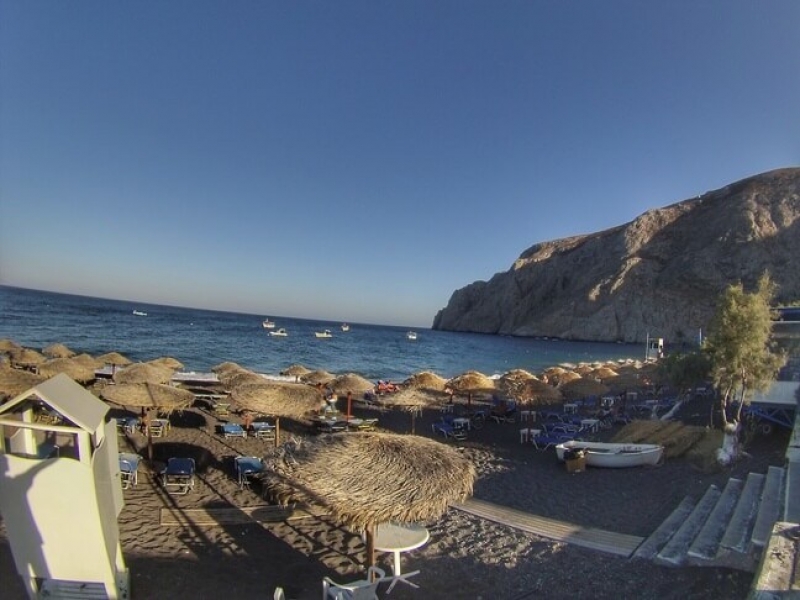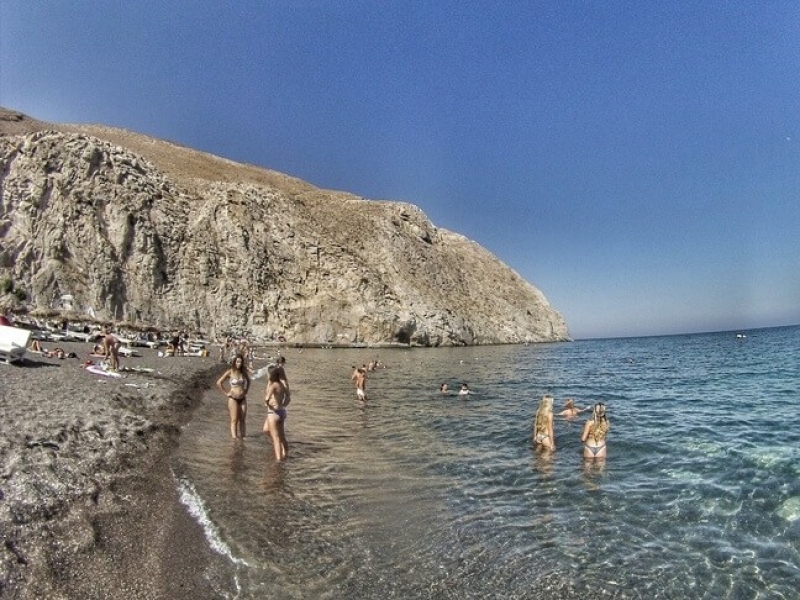 Catamaran boat ride
You can join a lot of boat tours but I recommend choosing the "ocean voyager 74 sailing in Santorini sunset tour" from Viator. It costs about €95.45 per person. You will be immersed in the sea with a group of people on a catamaran boat. There are three stops for swimming and snorkelling: the hot spring, the white beach, and the read beach. Life jackets and snorkelling gears are included. A delicious Greek barbeque meal is also included with a choice of pork suvlaki, chicken fillet or vegetarian with wine and soft drinks. The boat tour ends with watching the sunset near Ammoudi bay. The staff and hosts of the tour are very accommodating. They will entertain and assist you on and off board. You will be picked up and dropped off at your hotel.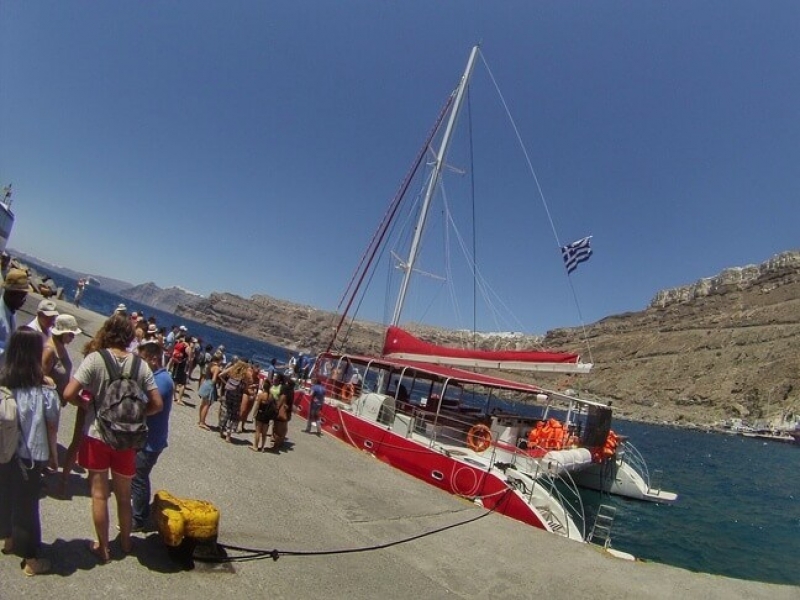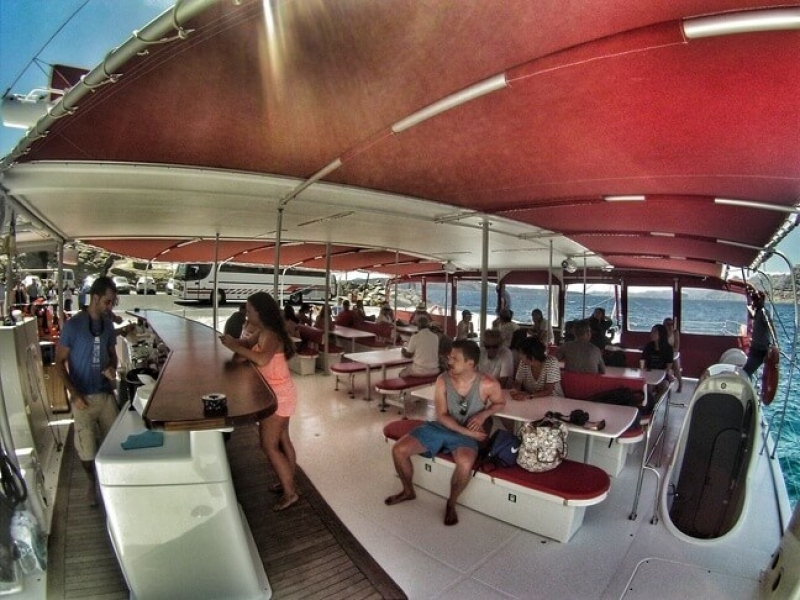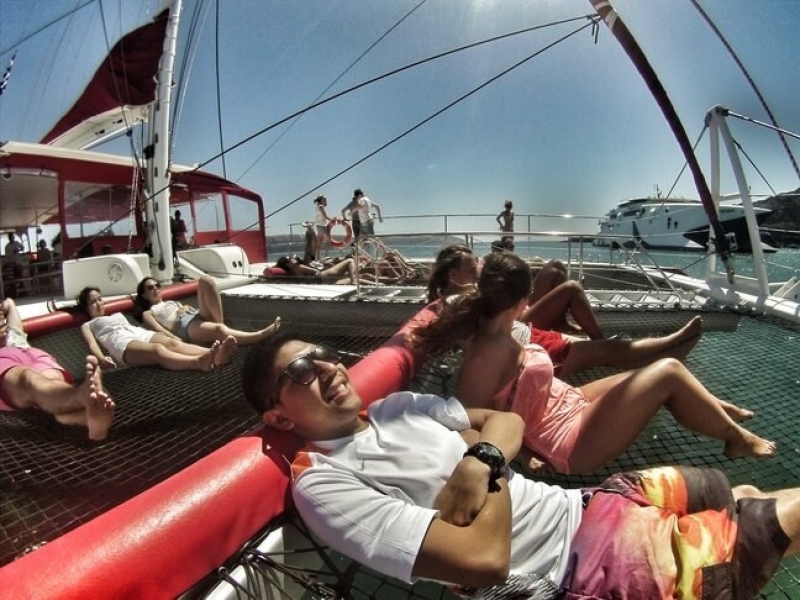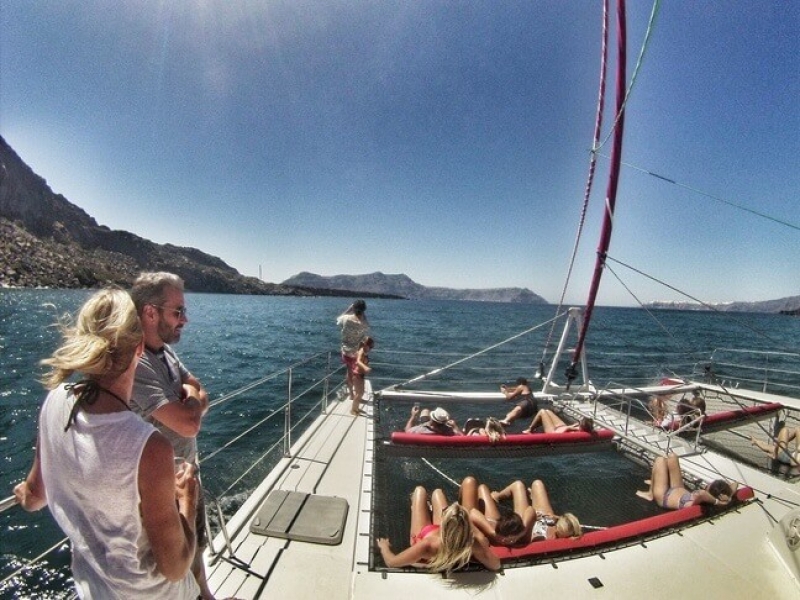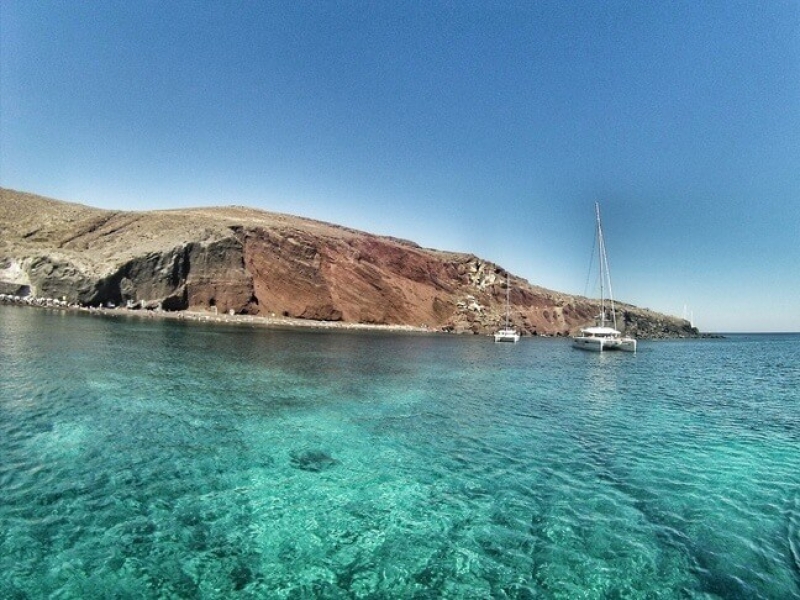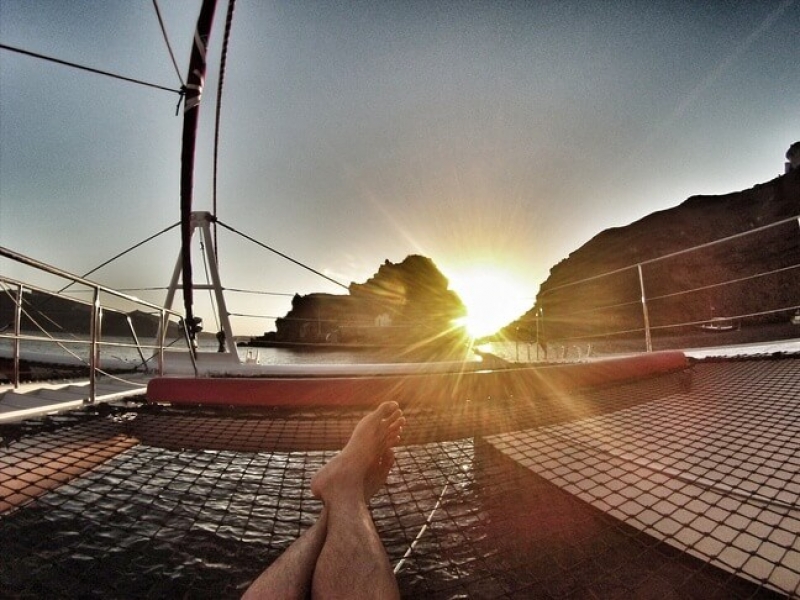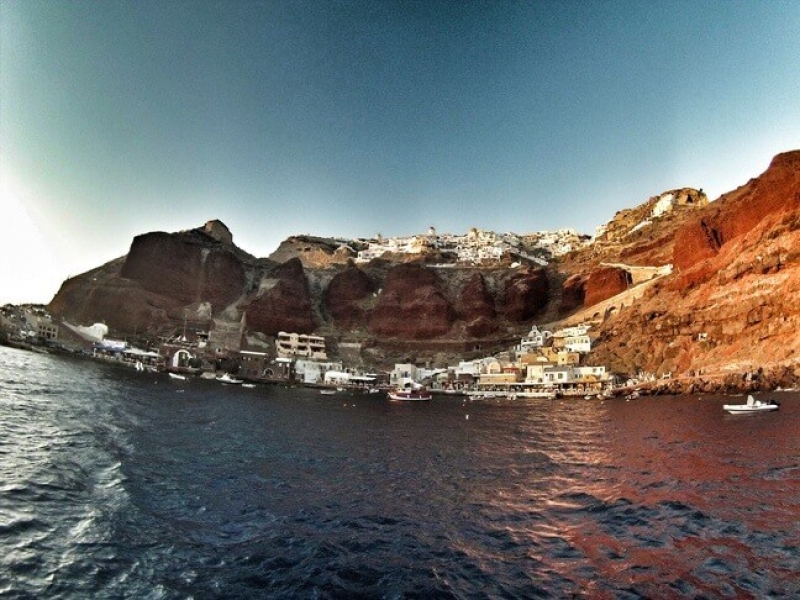 Scuba diving
I recommend booking a dive with Santorini dive centre. Take the bus to Atrotiki and tell the driver to drop you off the caldera beach (not the main Atrotiki beach). For certified divers, 2 tank dives cost €85. For beginners, a discover scuba diver costs €55.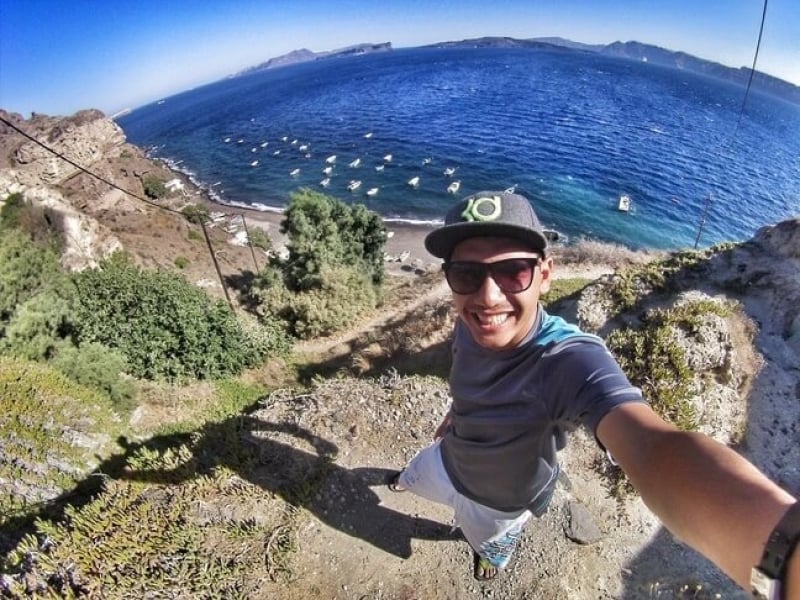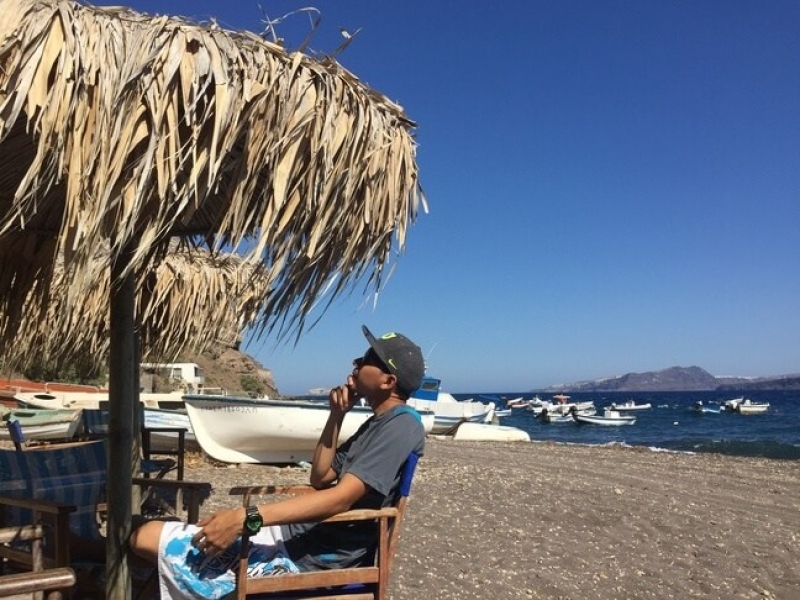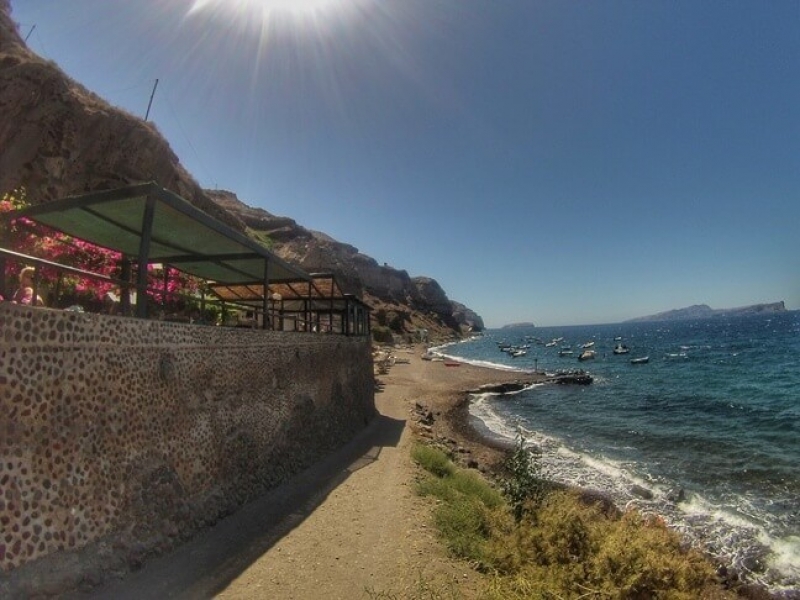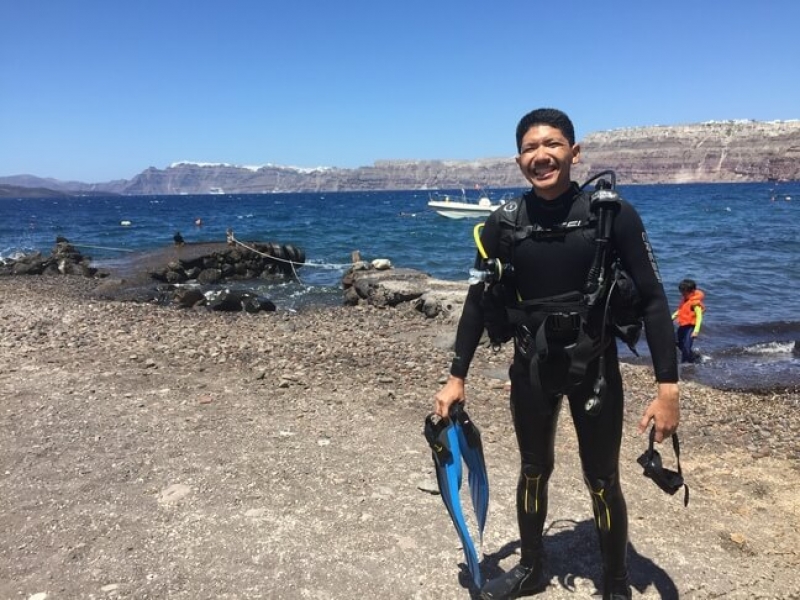 Akrotiri archaeological site
I'm not the type of person who enjoys museums, old artefacts, or archaeology in general. But curiosity strikes, and so I went into the Akrotiri archaeological site with a ticket that costs €12. I personally didn't enjoy it but a true archaeologist/history junkie/geologist might.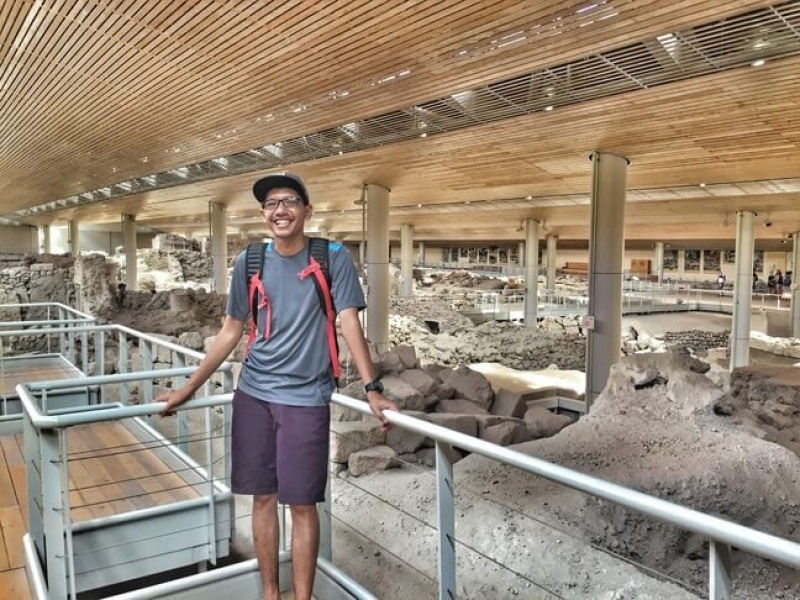 Kamari open air cinema
This is one of the top ten open air cinemas in the world. It's a very unique experience if you haven't tried one. There's no roof. You can hear what's going on outside. There's a bar so you can enjoy your popcorn with a beer or two while watching the movie. Be early and arrive at 8.30pm, an hour before the movie starts, because the place fills up quickly. Entrance fee is €8.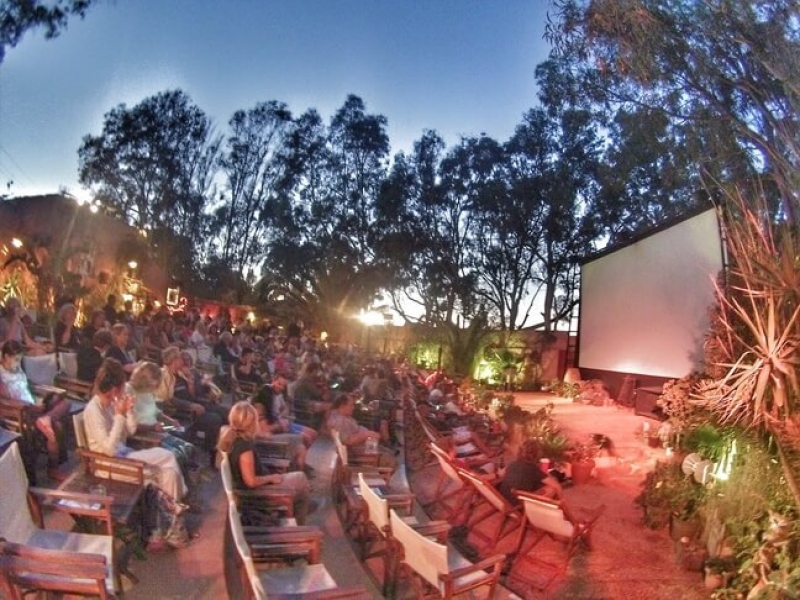 Must-eats
Greek salad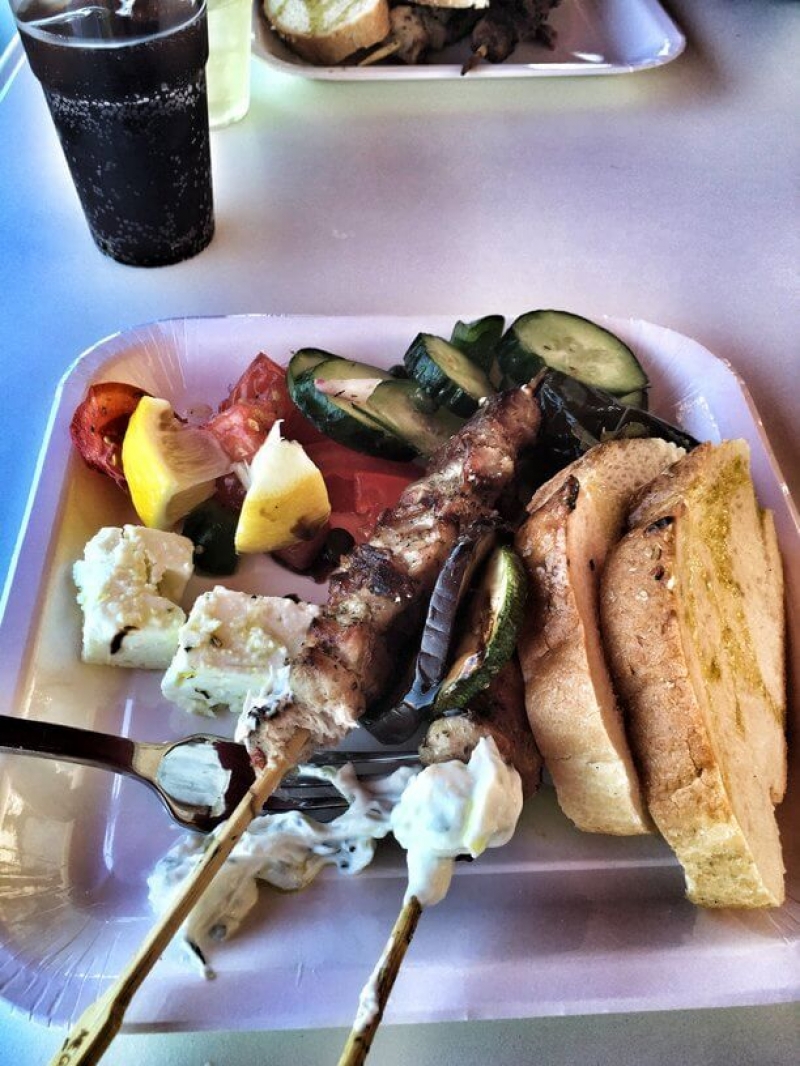 The freshest vegetable I've tasted. The tomato is very juicy and melts in your mouth like chocolate except that it doesn't melt and it's not chocolate. Does that make sense? The salty goodness and texture of the olives make me want to eat even more. Plus, feta cheese! Who doesn't like cheese?
BBQ
The best BBQ I've tasted are the ones served in the catarman boat tour. I tried another food joint in Fira and it tastes exactly the same – delicious and tender. Look for chicken or pork suvlaki.
Gyros
Try the gyros at Lucky's located in Fira. It is similar to shawarma.
Go now
Don't you want to experience those amazing views while you munch on authentic Greek cuisine? Step up your game and bring your lover to Santorini, and make sure to save this guide as your reference!
Have any questions? Ask me anything through my Facebook page and follow me on Instagram for more exciting adventures! See yah!
Sample itinerary and expenses
Day 0
Taxi from Thira airport to Sea of Aegeon – €30
Lights out at Sea of Aegeon (it costs €73.75 for a double room, I stayed with someone so we split this in half) – €36.88
Day 1
Fira sightseeing – €0
Bus from Fira to Kamari – €1.8
Kamari open air cinema – €8
Bus from Kamari to Fira – €1.8
Budget meals (Breakfast €6, Lunch €6, and Dinner €12) – €24
Lights out at Sea of Aegeon – €36.88
Day 2
Catamaran boat tour with BBQ meal – €95.45
Budget meals (Breakfast €6, Lunch €10) – €16
Lights out at Sea of Aegeon – €36.88
Day 3
Bus from Fira to Caldera beach – €1.8
Scubadiving 2 tank dive – €85
Bus from Caldera beach to Akrotiri beach – €1.8
Akrotiri archeological site – €12
Bus from Akrotiri to Fira – €2
Budget meals (Breakfast €3, Lunch €6, and Dinner €10) – €19
Lights out at Kykladonisia with breakfast (it costs €70.53 for a double bed, I stayed with someone so we split this in half) – €35.27
Day 4
Bus from Fira to Perissa beach – €2.4
Bus from Perissa to Fira – €2.4
Rest – €0
Bus from Fira to Oia – €1.8
Oia sunset – €0
Meals (Lunch €10, and Dinner €12) – €22
Lights out at Kykladonisia with breakfast – €35.27
Day 5
Bus from Fira to Thira airport – €2.2
TOTAL excluding air fare and visa fees – €510.63
Approximately ₱28,300 per person for 5 days.
References
For budget flights:
For accommodation:
For bus schedule: Santorini Public Buses
For catamaran boat tour: Viator
For scuba diving at Caldera beach: Santorini Dive Center
For the open air cinema: Kamari open air cinema
For Backpacking Europe in 8 days: Europe in 8 days