The Philippines consists of 7,107 islands. Yep, that's right. 7,107! So if the thought of planning a trip to this Southeast Asian archipelago overwhelms you, I completely understand. Heck, I'm a local and when I first thought of "exploring my own backyard", I got thrown off too! I had no idea where to start. There was just so much to see and do! But I came up with a strategy, which I proudly call, "The 7 Bs of the Philippines", and I'd like to share it with you.
These 7 Bs — Batanes, Banaue, Baler, Bicol, Bantayan, Bohol and Boracay — are great destinations to jumpstart your journey through this diverse tropical country. Here's what you can expect from each of them:
1. Batanes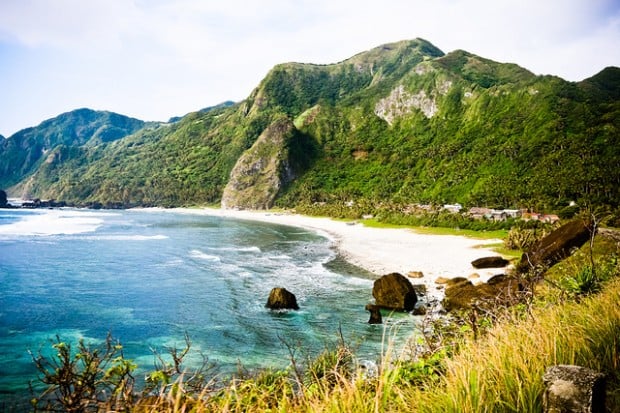 Image credits: Denver Vender
Batanes is the smallest and northernmost province of the Philippines. Its quiet, picturesque charm — clean air, friendly locals, stone houses, massive cliffs, rolling hills and practically zero crime rate — makes it a backpacker's haven.
The main challenge of planning a trip to Batanes is booking your flight. Airfare from Manila can be more expensive than flying to Hong Kong or Singapore! If you want to get a good deal — less than half the regular price, I suggest watching out for seat sales from Philippine Airlines. Although, once you get there, getting around is easy. You can rent a bike or hire a tricycle/van. Most inns/hostels offer affordable tour packages so you can choose that option too. You only need a day each to completely explore its 3 inhabited islands, Batan, Itbayat and Sabtang, but trust me, once you start enjoying the simple life, you'll find it difficult to leave! Plan your trip during the first half of the year so the weather will be pleasant.
2. Banaue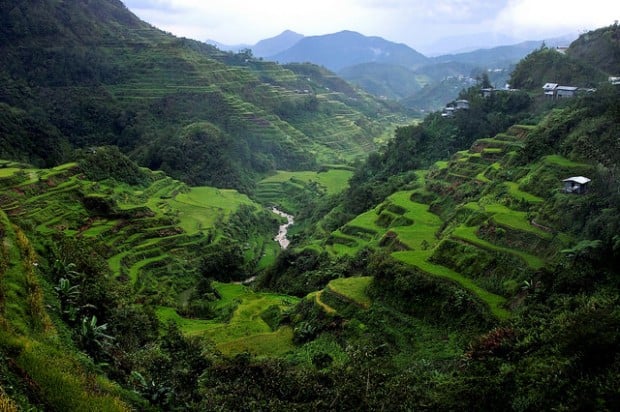 Image credits: Ma Poupoule
A trip to Banaue, an area in the province of Ifugao, is not for the impatient or faint-hearted traveller! That's because it's about 9 hours from Manila by bus. I suggest taking one that travels at night so you can just sleep the entire ride. Once you arrive, take it all in — the cool and crisp climate, which is rare in the Philippines, the smiling faces of the indigenous tribes and the beauty of the UNESCO-recognised Banaue Rice Terraces.
If you're an adventure-seeker, take a jeepney with fellow backpackers and head on to Sagada in Mountain Province. Here, you can go spelunking (cave exploration)! Conquering the cave connection in Sagada is a rite of passage for Filipino mountain climbing enthusiasts. So aside from being awed by the enchanting stalagmites and stalactites dotting the caves, surviving this extreme adventure will give you instant bragging rights!
3. Baler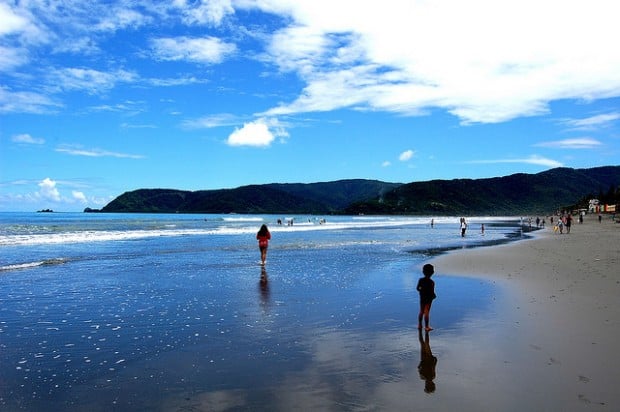 Image credits: Miko Alino
Massive, curling waves from the Pacific crash into the beaches of this municipality almost all throughout the year, undoubtedly making it a surfer's paradise! Intimidated? Don't be! Beginners are very much welcome to learn and practice with professionals. The sheer number of surf shops scattered all over the place is proof of that. To witness the best waves, September to March are the best months to go.
If surfing really isn't your cup of tea or if you happen to visit during off-season, you can try other water activities such as wind surfing, snorkelling and diving. Also, make a pit stop at the 600-year old Balete tree, the largest in Asia, when you go exploring Aurora, Quezon. Climb it, if you dare!
4. Bicol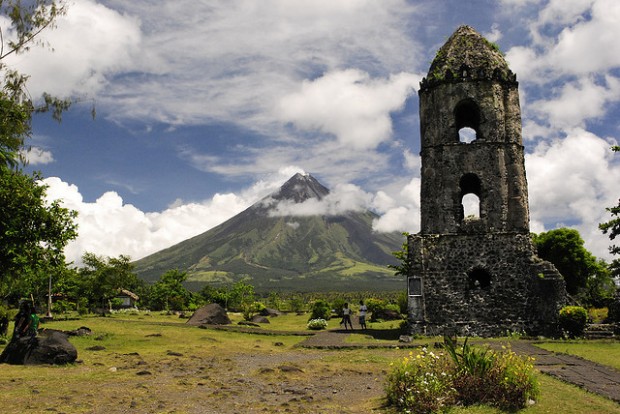 Image credits: J. Paolo Paraiso
The Mayon Volcano in Albay is the most famous landmark of the Bicol region due to its majestic height and conical shape. In fact, it is often dubbed as the world's most perfectly formed volcano! With its tip usually covered by clouds and fog, the best time to view all of Mayon Volcano's glory is early in the morning when the sky is clear.
Aside from the Mayon Volcano, Bicol is also known as the wakeboarding capital of the country so don't leave your rash guard at home!
5. Bantayan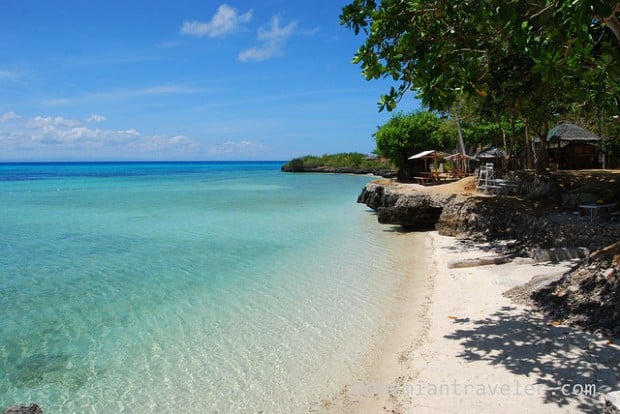 Image credits: Stephen Bugno
If Manila is the commercial centre of Luzon in the Philippines, Cebu is its counterpart in Visayas. Many visitors usually go to Cebu City on business, sampling lechon (roasted pig), dried fish and dried mangoes along the way, and then, they head south to Oslob to go swimming with whale sharks. They tend to forget about Bantayan Island, Cebu's northernmost municipality, which is a big mistake. This tiny oasis is lined with serene white sand beaches — great for sunbathing and relaxing — and is a sanctuary for abundant marine life — a dream for scuba divers and snorkelers.
Also read: 20 Best Islands in The Philippines for Beach Getaways
6. Bohol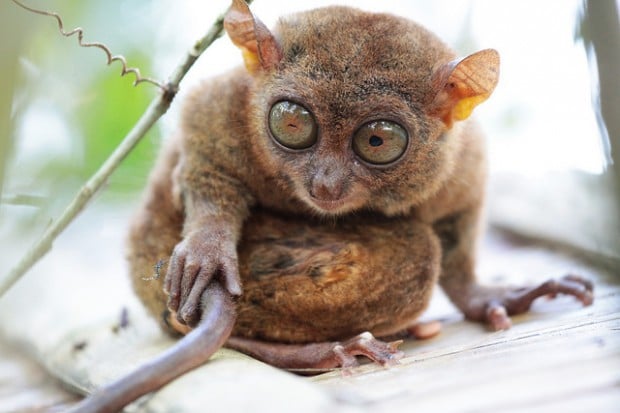 Image credits: Stefan Munder
I was deeply saddened when a 7.2-magnitude earthquake struck Bohol in 2013. Old churches, a bell tower and the Chocolate Hills observation deck were amongst the structures severely damaged.
I love Bohol because of its uniqueness. It is home to the Philippine tarsier, one of the smallest primates in the world, and the aforementioned Chocolate Hills, dome-shaped limestone formations that strongly resemble rows of chocolate kisses, hence, the name.
The island is currently rebuilding itself and is starting to attract tourists once again so now's a good time to visit. Don't forget to drop by the Bohol Bee Farm between sightseeing tours to indulge on healthy organic dishes that will surely make your mouth water.
7. Boracay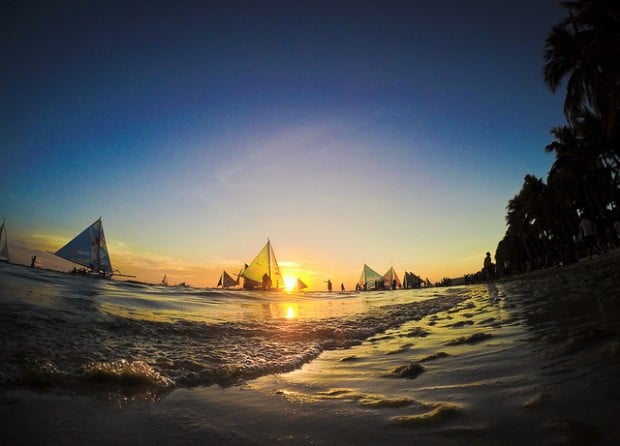 Image credits: Andy Enero
No island in the Philippines is as notoriously well-known as Boracay. Even though it takes quite a while to get there from Manila — you'll usually need to take 3 modes of transportation (plane, tricycle/van and boat), about a million tourists (both local and foreign) still flock to this island every year!
Aside from the fact the Boracay has powdery white sand, crystal clear blue waters and magnificent sunsets, it attracts so many visitors because it has something for every type of traveller. Adventure junkies can go parasailing, helmet diving, fly fish or banana boat riding. Foodies can pig out on yummy eats such as calamansi muffins from Real Coffee and Tea, four cheese pizza and oyster sisig from Two Seasons, fruit shakes from Jonah's and chori burgers from random stalls by the beach while party animals can go dancing and bar hopping from dusk 'til dawn.
Peak season is from December to April. If you want to avoid the crowds but don't want your trip to get ruined by bad weather, October and November are great months to visit.
So, what do you think of my plan? B for BRILLIANT, right? The best part is that you only need 3-5 days in each destination so it's ideal for long weekend getaways! If you don't know already, we're having 9 long weekends in the Philippines in 2016! Not as great as the 13 long weekends in 2015, but hey, I ain't complaining.
Also read: 5 Easy Weekend Destinations Outside Manila, Philippines
If you have other suggestions to add to this list, drop a comment below.