Christmas is just around the corner, and I bet a lot of you are still in the process of noting the things that need to be bought for Christmas. Last-minute shopping is more of a yearly thing, and there is something about the rush that we tend to do it over and over again (even if we intend not to do it the following year, history repeats itself).
Depending on what you are planning to buy and the budget you have allotted for buying gifts for Christmas, we've got you covered. So sit back, as we check around the favourite destinations of holiday shoppers when it comes to Christmas bargain hunting.
Also read: 7 Christmas Traditions that Will Always Be in Every Filipino's Heart
1. Divisoria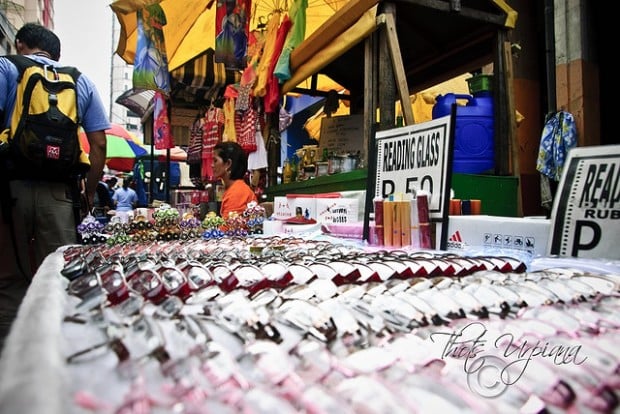 Image credit: incrediblethots
The most popular definition of "tiangge" and budget shopping, Divisoria offers a massive selection of things that can spark some gift-spiration. It is the destination from decorations, clothes, trinkets, party favours, toys, everything. It can be crowded most of the time, especially during the home stretch of the Christmas and New Year season. But one thing is for sure – you will never leave this place empty-handed because there are so many things to choose from.
2. Tutuban and Mall Clusters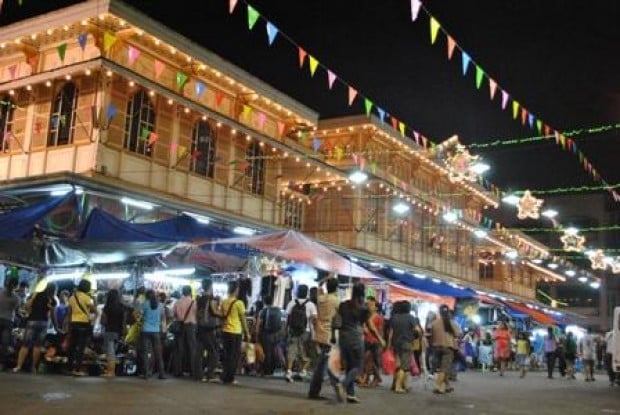 Image credit: Yom 248
The Tutuban Cluster is a series of adjacent destinations of malls adored by the masses, which include 168 and Tutuban Center Mall. These malls offer inexpensive gift options organised as segments depending on what you need. You can literally hop from one mall to another because they are quite near one another. There are a lot of indoor and outdoor stores here that primarily sell clothes and toys, and the surge of consumers is massive whenever there is a holiday.
3. Malls (SM Malls, Ayala Malls, Robinsons Malls)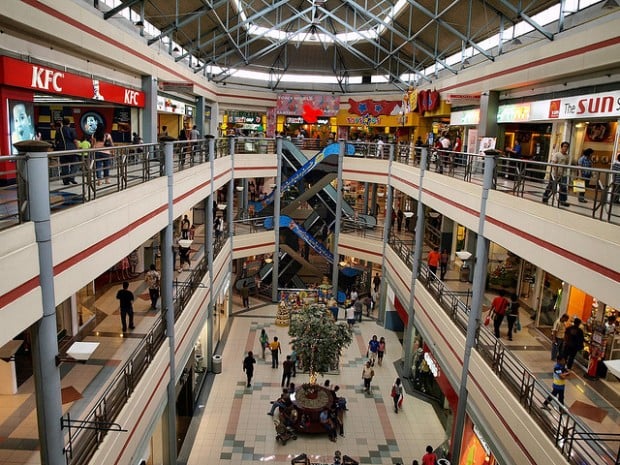 Image credit: Jun Acullador
Malls are scattered all over the country, and they usually hold Christmas and New Year sales to cater to those who live in cities and nearby towns. They offer complimentary gift wrapping to save you time and effort after purchasing the items that you will be giving away as gifts. It is also the more convenient and leveled-up way to shop.
4. Baclaran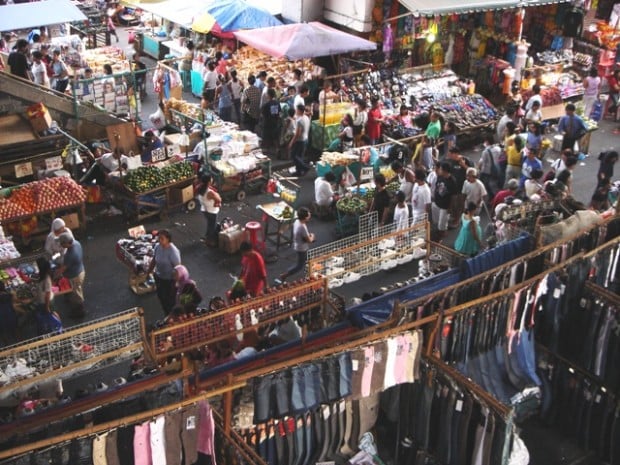 Image credit: (WT-shared) Shoestring at wts wikivoyage
Offering a Divisoria-ish vibe, Baclaran offers selections that focus on clothes (particularly those for children and pre-teens), affordable footwear, and colourful accessories during the Christmas season. This is one of the most visited spots for shopping on the last quarter of the year, aside from the regular "Baclaran Day."
5. Tiendesitas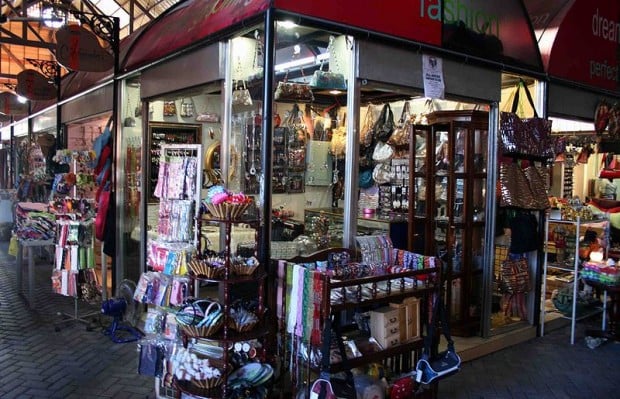 Image credit: Leonardo D. Santos
Tiendesitas offers homemade goodies, trinkets, pets for gifts, and other items that are not often found in malls or mainstream shopping districts. This can also be a great avenue to find more personalised and unique gift ideas if you want to give something new this Christmas (and finally graduate from giving away towels and picture frames).
Also read: 10 Proudly Filipino Christmas Gift Ideas
Schedule specific bazaars
Aside from these permanent establishments, there are schedule-specific bazaars around the Metro. Some bazaars start as early as July until November, while others start from November and extend until January of the following year. At the time of this writing, these are the remaining bazaars you can check out:
6. Shoppers Spot Bazaar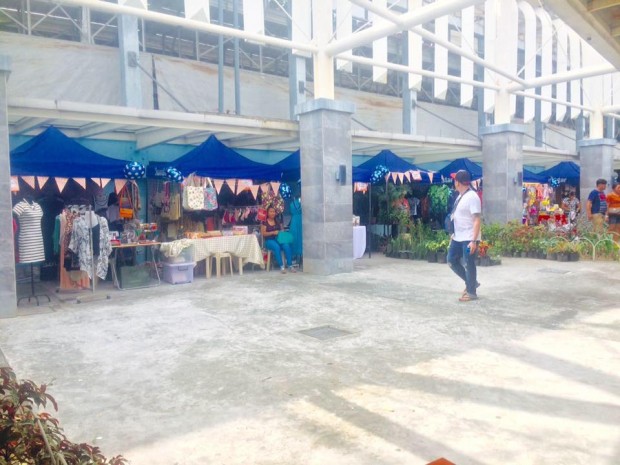 Image credit: ShoppersSpot Bazaar
Date: November 27, 2015 – January 5, 2016
Venue: Manila Ocean Park, Ermita, Manila, Metro Manila, Philippines
Time: 10:00am – 8:00pm (Mondays – Fridays), 9:00am – 8:00pm (Weekends and Holidays)
7. Christmassaya 2015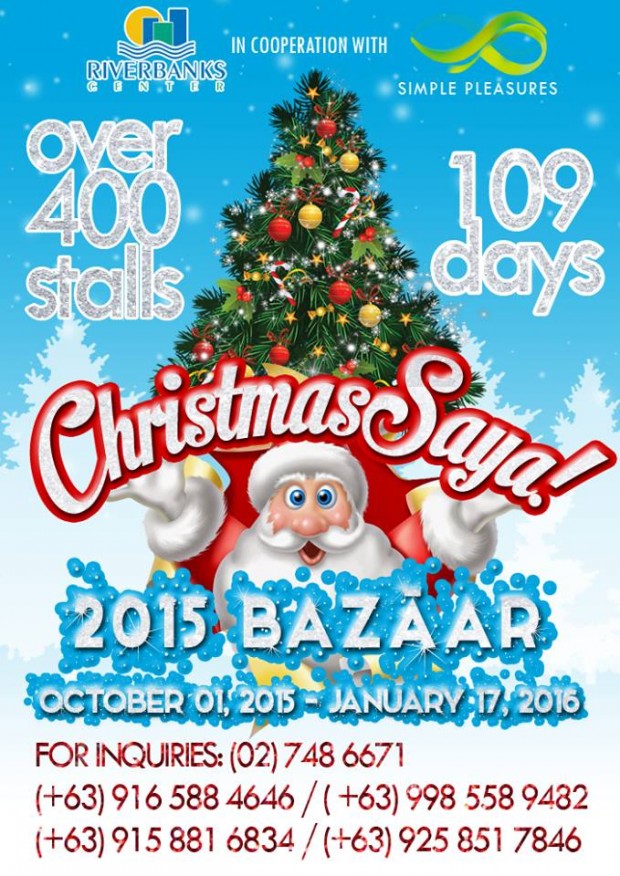 Image credit: Simple Pleasures Exhibit Organizer
Date: October 01, 2015 – January 17, 2016
Venue: 84 A. Bonifacio Avenue, Brgy. Barangka, 1803 Marikina City, Philippines
Time: 2:00pm – 12:00am
Also read: 7 Unique Ways to Celebrate Christmas in the Philippines
Done with your last minute Christmas shopping list? It's now time to head towards the nearest bazaar and stores to buy your stuff right in time for the holidays!