Contributed by Khaye_leidoscope
Going to a foreign country is not always as expensive as what other people think. You don't have to spend excessively for you to enjoy a place; you just have to be practical and smart in your choices.
I've been constantly travelling in and out of the Philippines with my fiancé for four years now. And through the years, we have mastered the ability of practical living. Many of our friends have been asking us how we manage to travel all the time (3 to 5 times a year) without spending too much. And I figured, why not start blogging so I could share some insights and practical tips?
My first blog entry is actually the most memorable trip we had so far. Last month, we went to Sydney, Australia and we got officially engaged. As the sun was about to set, with Sydney Opera House as our background and the Harbour Bridge on the other side, my boyfriend popped the question: "I want to spend the rest of my life with you. Will you marry me?". And of course, with so much joy in my heart, I answered YES. This sweet scenario made our eight days in Oz even more meaningful.
Also read: A Filipino Traveller's Diary: 5 Days in Sydney
So, how did we go about spending eight days in Sydney with just ₱30,000 each? These are my tips.
Airfare
When travelling, you need to secure your plane ticket first. Make sure to book your ticket ahead of time. We usually book our tickets six or eight months before the trip so that we can find the best promo fare deals. And, in order for you to pay less and save more, do not select a seat reservation, meal and baggage allowances.
We usually add baggage allowance when it's winter season to where we are going because coats and jackets are seriously heavy and bulky. And you might want to pack your boots, too. Since it's winter time in Sydney this time of the year, we added 20kg baggage allowance for this trip (back and forth). Another practical tip you can do if you are a couple, siblings or close friends travelling together, it is better if you combine your things in one luggage so that you only have to pay for one baggage allowance. You can save big time by doing this.
Visa application
Visa application to some western countries is very crucial and expensive for a Philippine passport holder. Sometimes, the best thing to do is to apply for a visa first before booking your plane ticket, just in case.
We took the risk of booking our plane tickets first before applying for an Australian visa. Fortunately, it was just easy. You can apply for a tourist visa online and you do not have to go through the hassle and bustle of lining up at the Embassy. You just need to make an account through their website, fill up the application form, secure the necessary documents and upload them to your account. Then, submit your application to the Embassy through your online account and pay the visa fee (we paid around AU$137) through credit card and wait for their feedback through your email.
My fiancé got approved two working days after our submission, while I got approved four working days after.
For your visa to get approved, you just really need to establish that you're coming back to your home country.
Also read: Easy Australian Visa Application Guide for Filipinos
Accommodation
Our go-to websites when looking for accommodations are Agoda and AirBnb because we find them very convenient and cheap. For this trip, we opted for AirBnb. One good thing about it is that you can instantly gain some friends through your hosts because of its homestay feature. Another thing is you can get a grasp of their everyday life, which will make you understand more about the culture of the country or city you are staying in.
When looking for accommodations in any website, you should always check and study the review section. Sometimes you can get the best deal based on those reviews.
The name of our lovely host in Sydney is Gurpreet Kaur. She is an Indian woman who migrated to Sydney with her husband and their four-year-old son. We love the little boy so much that we still miss him everyday. Such a very sweet and charming boy.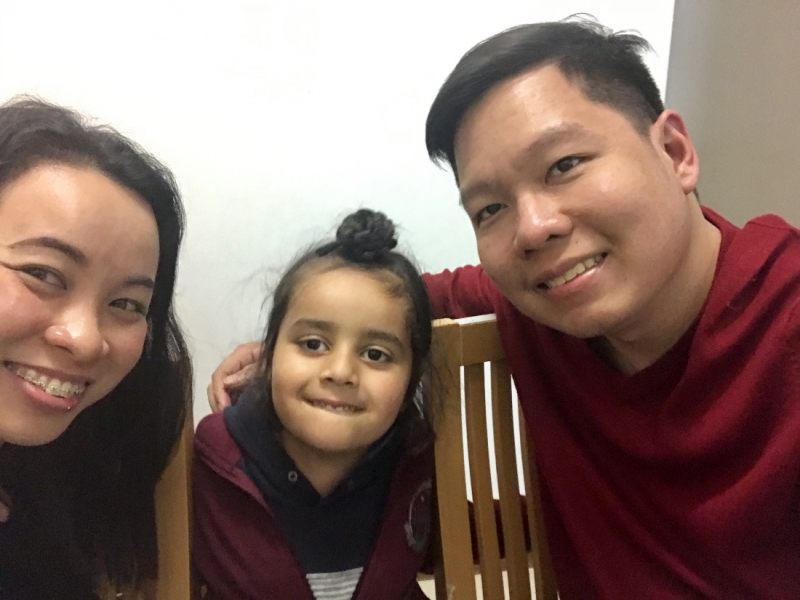 Their house is a three-bedroom apartment located within the suburb area in Bexley. It is a 10-minute walk from the bus and train stations – very convenient when touring around the city. They let their guests stay in the master bedroom with a queen size bed, a huge built-in closet and a master bathroom. They offer breakfast meals (bread, butter, oatmeal, eggs, coffee, milk, tea) which was a plus for us because we were able to save. And, if at night the winter breeze is freezing you down, you can make some warm milk and hot tea to fight the cold. Or if you have leftovers from your dinner the previous night, you can warm them up in their oven and enjoy them as your breakfast.
You can do anything in their house and they were very accommodating. One of the best hosts you can find.
I super love their neighbourhood. The houses are so beautiful that you would want to live there for good. You would feel the Australian vibe just by walking around the area. Actually, I love all the houses in Sydney. Almost every house is made up of bricks.
Travel tax
Unfortunately, travel tax is not yet included in the plane ticket so you still need to pay for it before checking in with your airline.
So far, the tax fee is still fixed at ₱1,620 per person. It's better to pay for the fee before falling in line to your aircraft's check-in counter. Just present your passport and plane ticket to the travel tax counter and pay through cash or using your credit card.
Itinerary
My fiancé and I are both laid-back travellers. I don't really make a detailed type of itinerary when travelling because we want to make it as spontaneous as possible. We find it more enjoyable and memorable, and we learn so much about ourselves and our relationship becomes stronger in return.
I do make some research beforehand to know what the best places are to visit or best things to do in that particular city we are going to. I have my wishlist and I also ask my fiancé if he wants to visit any particular place. And from that list, we design our itinerary depending on some circumstances such as the weather condition on that day, the location or travel time, if some spots are just near one another, bus and train timetables, etc. The more spontaneous we get, the better. Getting lost is always a part of a memorable trip, so when you get lost, don't freak out. Enjoy it instead and meet some locals.
Sydney itinerary
Sydney, Australia (June 1 to 8, 2017):
Day 1: Thursday
– Monomeeth Street, Bexley
Day 2: Friday
– Royal Botanic Gardens
– Sydneyland
– Sydney Harbour Bridge
– Sydney Opera House
– Opera Bar
Day 3: Saturday
– Bondi Beach
– Harvey Norman and Yes Optus and Coles Supermarket in Westfield Bondi Junction
DAY 4: Sunday
– Chinatown
– Broadmeadow (Harvey Norman)
DAY 5: Monday
– Featherdale Wildlife Park (Koala Bears and Kangaroos)
– Circular Quay
Day 6: Tuesday
– The Blue Mountains (Three Sisters and Echo Point)
– Circular Quay
Day 7: Wednesday
– The Grounds of Alexandria
– Mitchell Road Antique and Design Centre
– Manly Wharf
– Circular Quay
Day 8: Thursday
– Flight Back to Manila
There's a light show in Sydney Opera house every night from May 31 to June 17 this year and we were fortunate to have witnessed it. The whole Opera House is turned into an LED screen as well as the buildings around the Circular Quay. Even the Harbour Bridge is lit. One good way of viewing this light show is to ride a ferry going to Manly Wharf. Make sure to do it at night around 6pm so you could witness the lights dancing from your ferry ride.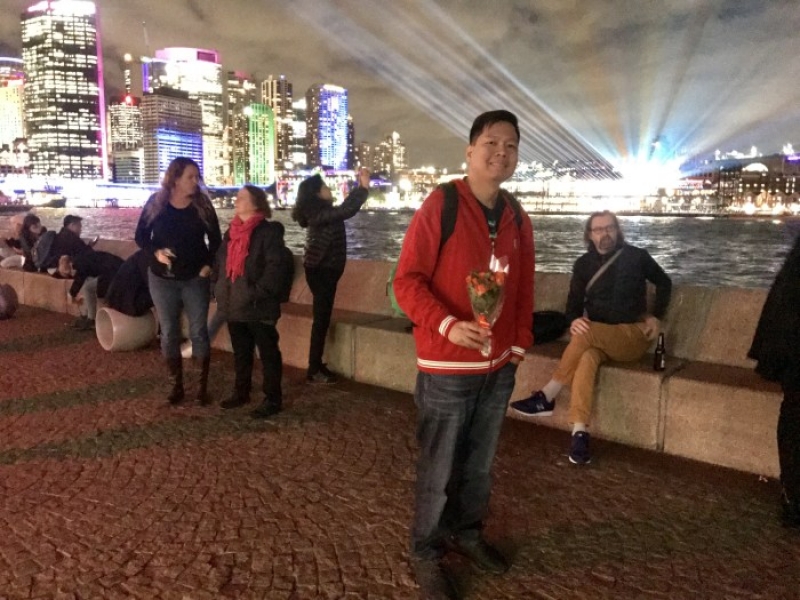 Transportation
When it comes to directions, I always check blogs on how to go to certain places. Blogs are so helpful. Our first choice of transportation is always the railway system because, most of the time, it is the most convenient and cheapest way of getting around. Good thing the train system in Sydney is very easy to understand.
Buses are also convenient in this city. To roam around New South Wales, you just need to purchase an Opal Card in any convenience store and you can use it to pay for your fares in trains and buses by just tapping it on and off the machine at the entrance and exit areas. The card itself is free so you just need to load money to use it. It is reloadable as well. We loaded our Opal Cards a total of AU$60 each during our entire stay and we still have AU$10 each left. One trivia in Sydney is that during Sundays, you can have unlimited access on trains and buses for only AU$2.50 each. Ferries are included, too. So, during Sundays, go as far as you can.
Another trivia is that fares depend on what time you ride the train or bus. They're cheaper when it's off peak so leave the house around 9am and go back home after 7pm. It's way cheaper.
When going to the Blue Mountains (Three Sisters and Echo point), I read in blogs that you need to purchase a ticket for the hop-on, hop-off bus at a store outside the train station. We were surprised to know that the ticket for their bus is AU$40 each because there are 26 stops in Blue Mountains. But of course, we did not pay that much and found a cheaper way of getting to the echo point. We don't plan to visit all 26 stops. We just want to get to the top and roam around the Blue Mountains on foot. Good thing there's a taxi lane around the corner and we just paid AU$8 for both. You see, sometimes you just need to be practical and smart in order to get the best experience and save you so much pennies.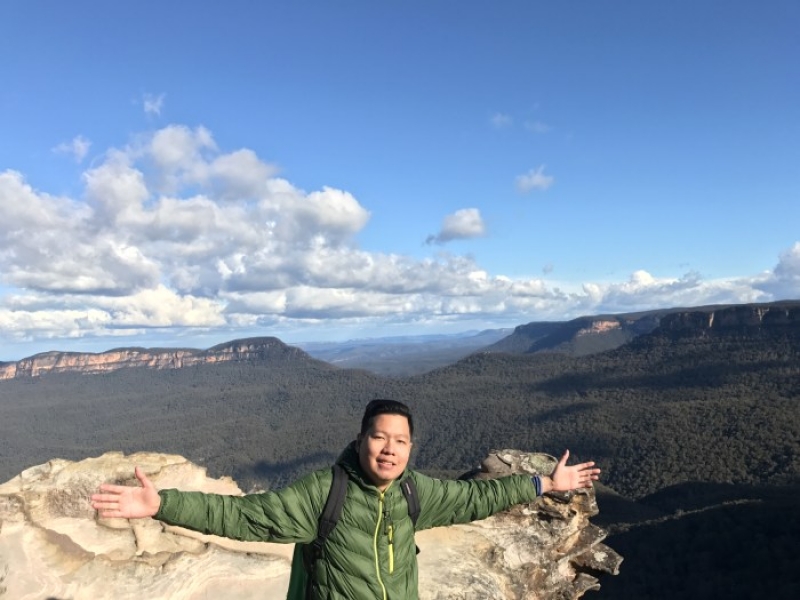 Food
We don't have any specific choice of restaurant when going to a city but we have specific foods in mind. However, Sydney is a very diverse city that even their food selection is so diverse. They don't have any specific cuisine, but they have a huge variety of food choices. You don't have to spend a lot just to enjoy a good meal. In order to make the most out of your money, eat like a local and not like a tourist. Go to local restaurants because, most of the time, their foods are more authentic and of course, affordable.
One practical way of saving on food costs is to share with one another especially when the serving is good enough for both of you. The regular cost of a meal in Sydney is AU$7-13. You can buy a whole roasted chicken for AU$8 only and a whole pizza (eight slices) for AU$8 as well in Coles Supermarket. They can reheat and cut the chicken and cook the pizza for you and voila! You can enjoy a sumptuous dinner for only AU$16. For drinks, we usually buy 1.5 litres bottled fruit juices for just AU$1.50  good for the both of us.
There are also times when we splurge on a luxurious dinner. For this trip, we dined one time at Sydney Opera Bar to celebrate our proposal. The cost of food is AU$27 just for one meal. Overspending is good for one night only.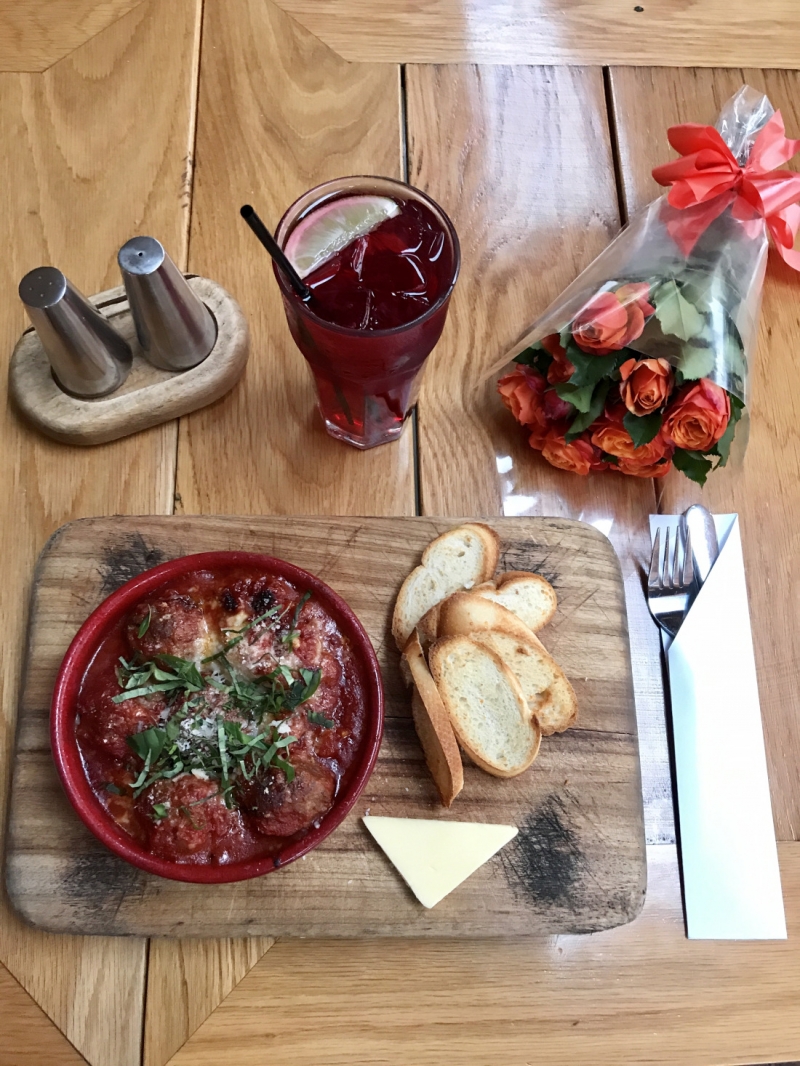 Souvenir and pasalubong
Photos and memories are always the best souvenirs. But in case your family and friends request for some pasalubongs from Sydney, TIMTAMS is the way to go. You can buy them from Coles Supermarket at AU$3.50 for each big value pack. We also buy refrigerator magnets wherever we go because I have a sister and some friends who collect them.
We don't really shop that much when travelling. We just buy a thing or two as souvenirs. Usually, it's a T-shirt or a jacket. For this trip, I bought a pink hoodie and my fiancé bought himself a jacket at AU$10 each. For good bargains, always go to Chinatown.
Pocket money
This is the trickiest part of planning a trip. It's hard to figure out how much money you need to bring to cover all of your expenses while you are on a foreign land. So what I do is simply follow my intuition on how much money we need to bring. Well, so far my intuition has not failed me yet.
However, you need to consider the cost of living in that city. Sydney is considered expensive if you are living in the Philippines.
I always set a combined budget for every trip. For this trip, our pocket money was around ₱30,000 converted already to AU$ (500) and US$ (200). When going out of the country, make sure to convert your Philippine Pesos to the currency of your destination beforehand to avoid difficulties along the way.
This is how I divide our pocket money. I set aside an emergency fund so that in any unexpected situation, we always have backup money. For this one, I kept the US$200. In case we are not able to use it, we will divide it into two and keep them as our savings. Fortunately, we did not encounter any emergency situation on this trip so we were able to save the US$200.
The amount of AU$500 was left as our budget for our expenses during this trip. What I always do is I divide the amount by the number of days of our stay in that country. By doing this, I can get our daily budget. In this case, our daily budget is AU$62.50. This makes it easier for me to monitor our expenses. If there are times that we did not spend all our daily budget, I add the remaining to the following day.
Fortunately, during our first day, there were a lot of good bus drivers who let us have free bus rides because we don't have our Opal Cards yet and there was an old Australian lady who was good enough to offer to bring us to our AirBnb address for free because we were getting lost. Upon arriving at the house, the previous boarders who were about to leave Sydney that day offered us some food for lunch so what a lucky day it was. We just spent AU$20 for dinner.
Another factor you should also consider while planning for your budget is the entrance fee of some tourist spots. The most expensive entrance fee we had to pay for this trip was at Featherdale Wildlife Park for AU$32 each. You also need to pay extra AU$20 for a close encounter with the koala bears.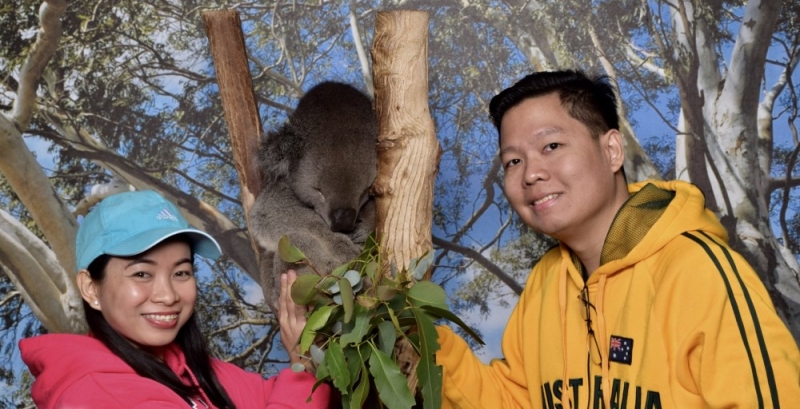 Summary of combined expenses
₱15,770.00 = Airfare (via Cebu Pacific Airlines)
₱3,600.00 = Baggage Allowance (20kg for one account only)
₱5,220.00 = Visa fee (thru Online Application)
₱13,606.00 = Accommodation for eight Days (thru AirBnb)
₱3,240.00 = Travel Tax (₱1,620.00/person)
₱18,500.00 = Pocket Money (AU$500) for food, transportation, souvenir, pasalubong, etc.
₱59,936.00 = Combined total expenses
Total expenses divided by two = ₱29,968 per person
If ever we'd migrate to a foreign country, we both think that we are most compatible to live in Australia. The laid-back vibe of Sydney suits us best. Almost everyone is home by 6pm, enjoying their family time. They have wide backyards and gardens outside their houses. You can live by day and night without having the need to own a car. You can live in a suburban area and go to the city centre anytime you want. These are the criteria we are looking for and Sydney is the place to be.