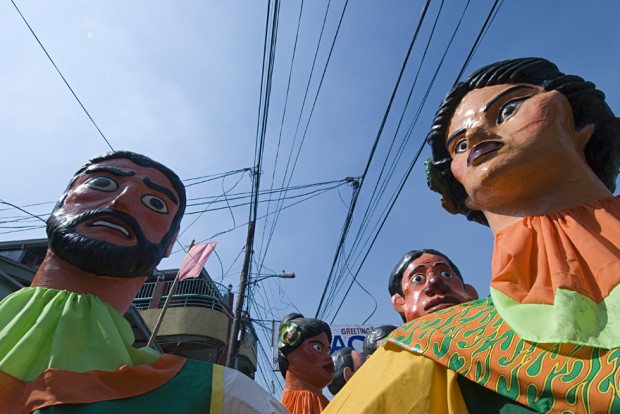 Every November 22-23, giants in colourful garb roam the streets of Angono, Rizal for the annual "Higantes Festival". The higantes (giants) tradition began some years ago, when Angono was still a Spanish hacienda.
Legend has it that hacienda owners were concerned about the expenses during fiestas and other occasions, which is why they prohibited all celebrations except for one annual fiesta. Because of this, the people of Angono decided to use the piñata technique from Mexico and created huge papier-maché figures which resemble and poke fun of their Spanish landlords. From there, the annual "Higantes Festival" was born.
If you are planning to visit Angono for this year's "Higantes Festival", might as well visit some of the must-see attractions and include them in your festival itinerary.
Also read: 12 Most Exciting Philippine Festivals You Don't Want to Miss
1. The Angono Petroglyphs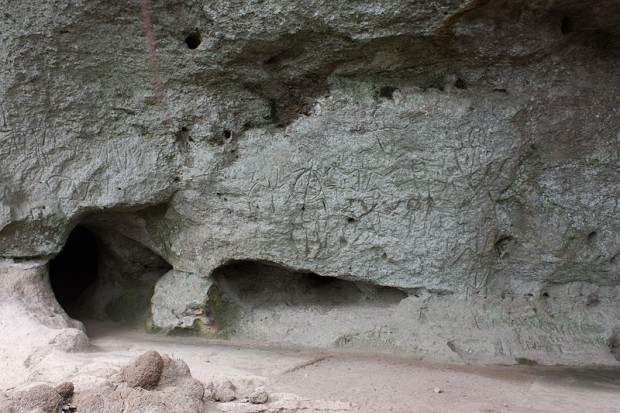 Although it has Angono in its name, the site of the Angono Petroglyphs is actually in the municipality of Binangonan, a mere three and a half kilometres southeast of Angono town proper. According to sources, the site was discovered in 1965 by National Artist Carlos "Botong" Francisco during a field trip with a troop of boy scouts.
Research shows that Angono Petroglyphs dates back to the Neolithic Period and were carved in a rock formation belonging to the Pleistocene Guadalupe Formation. Unlike other examples of prehistoric art, there is no indication that colours were ever incorporated in the drawings. Subsequent excavations in the cave and its vicinities also yielded fragments of earthenware, obsidian flakes and shells.
Presidential Decree No. 260 declares the Angono Petroglyphs as a  National Cultural Treasure. The petroglyphs are also included in the World Inventory of Rock Art under UNESCO. At present, efforts are directed for the sustained restoration and preservation of this national treasure.
2. Vicente Manansala Shrine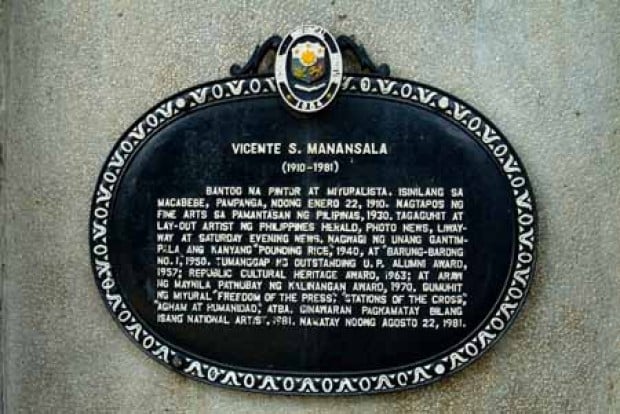 Vicente Silva Manansala (January 22, 1910 – August 22, 1981) was a Filipino cubist painter and illustrator. He is famous for transparent cubism which he developed using delicate tones, shapes, and patterns. Among his famous works are Madonna of the Slums and Jeepneys.
In honor of the late National Artist, his residence in barangay San Carlos (formerly barangay Tayuman) was declared by National Historical Institute as a National Landmark under Presidential Decree No. 260 on August 1, 1973.
3. The House of Carlos "Botong" Francisco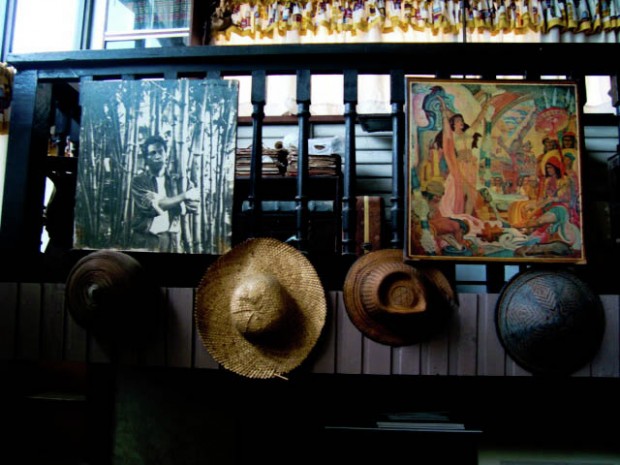 Located in Poblacion Itaas is a house built in memory of National Artist, Carlos "Botong" Francisco. Known as one of the first Filipino modernists who revolutionised Philippine art, Francisco's works certainly display his flawless skill in painting. Among his famous works are "The Blood Compact", "First Mass at Limasawa", and the "The Martyrdom of Rizal".  Apart from being a celebrated painter, he also designed costumes in film. In 1973, he was awarded the National Artist Award for Visual Arts.
On display inside the house of Carlos "Botong" Francisco are some of his memorabilia, paintings, self-portraits and different awards that he received during his lifetime.
4. Lucio San Pedro House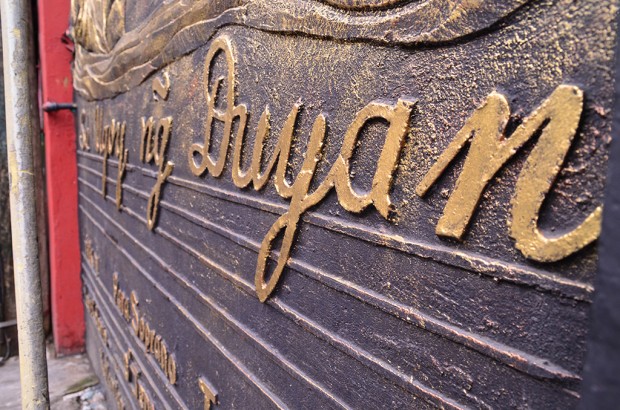 Situated in the same location as the house of Carlos "Botong" Francisco is the house of famed composer Lucio San Pedro. A cousin of painter "Botong" Francisco, San Pedro has produced a wide range of works ranging from concertos for violin and orchestra to choral pieces. He was the conductor of the much acclaimed Peng Kong Grand Mason Concert Band, the San Pedro Band of Angono (his father's former band) and the Banda Angono Numero Uno. In 1991, Maestro Lucio San Pedro was awarded the National Artist Award for Music.
It is not difficult to locate the Lucio San Pedro House as the facade is decorated with lyrics of his most famous work to date, the lullaby "Sa Ugoy ng Duyan" done in collaboration with Maestro Levi Celerio.
5. Blanco Family Museum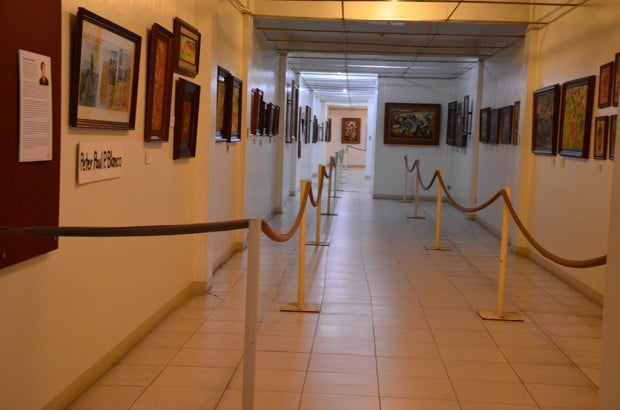 The Blancos are a well-known and celebrated family of artists in Angono. Most of the themes depicted in their artworks are everyday lives of the people of Angono. Their works are on display at the family museum located at 312 Ibañez St., Angono, Rizal. The museum accommodates an anthology of paintings by the members of the family as well memorabilia collected through the years.
The museum is open everyday from 8:00 A.M.- 11:00 A.M. and 1:00 P.M. to 5:00 P.M. with PHP 70 (SGD 2) entrance fee.
6. Nemi Miranda Gallery and Restaurant
The Nemi Miranda Gallery is one of the most visited local spots in Angono frequented by foreign and local tourists alike. The gallery was designed and constructed by the artist Nemi Miranda (popularly known as Nemiranda) himself using local materials like bamboo, sawali and old wood sourced from the old churches and convents in Angono. The Nemi Miranda Gallery also showcases the works of Nemiranda and his five children namely, Katrina, Zarah, Paul Greco, Don Nemesio III, and Chesca.
Not far from the gallery is the Nemiranda Café and Restaurant which is located along the town's main road. Here, one can enjoy good food while being surrounded by various artworks created by Miranda and his family as well as fellow artists from Rizal.
7. Yab Design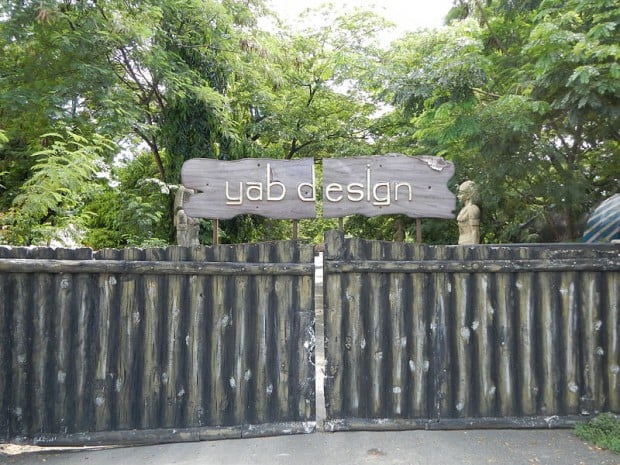 Yab Design is a Dutch-owned company operated by brothers Daniel and Jakob Van Der Hulst, which produces decors made of fiberglass and resin. Located along Angono national highway, the company is situated in a 1,200 metre showroom. Among the pieces on display are antique reproductions of vintage memorabilia as well as life-sized renderings of famous personalities.
Most of the items on display at Yab Design are for export. However, the showroom can be visited from Monday to Friday from 8:00 A.M. to 5:00 P.M. with an entrance fee of PHP 100 (SGD 3).
8. Scrapyard Cafe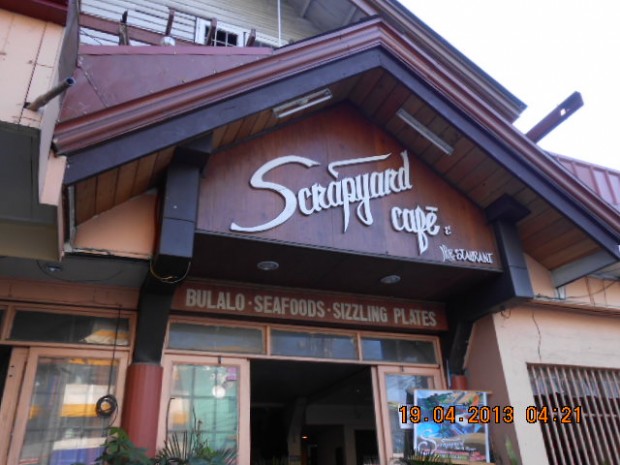 Located along Angono Hi-way, this place offers a wide range of dishes that is sure to satisfy someone's appetite. The place is decorated with vintage posters and furnitures made of wood, giving a casual yet homey vibe.
Among the items on the menu are lugaw (congee) and goto (congee with pork or beef innards) which are available 24 hours. They also serve lunch and dinner as well as desserts and packed meals. Among the must try at Scrapyard Cafe are Pork Binagoongan (pork sauteed in spicy shrimp paste) and Minalot (a selection of fish, pork and vegetables wrapped in banana leaves).
Also read: 5 Easy Weekend Destinations Outside Manila, Philippines
9. Balaw-Balaw Specialty Restaurant and Art Gallery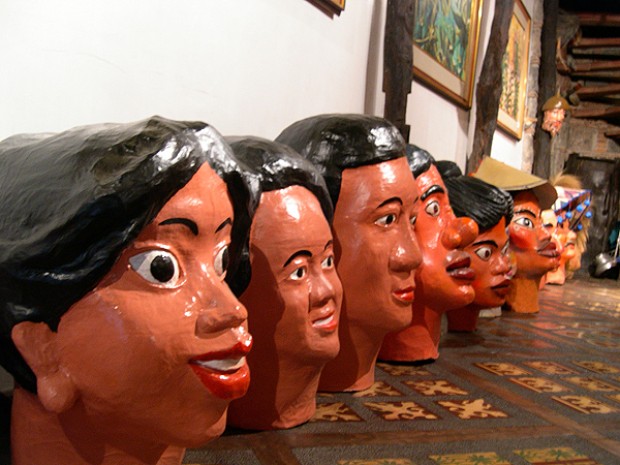 Perhaps the most famous restaurant this side of Rizal, "Balaw-Balaw" got its name from a delectable appetizer and sauce served with sinigang (tamarind-based soup). It is made from small shrimps mixed with rice gruel and "angkak", an herb that gives reddish colouring. The mixture is then preserved and fermented in a jar for 3 days.
Balaw-Balaw opened on October 30 1982 by Perdigon N. Vocalan, an Angono artist, and his wife Luzvimin L. Vocalan, a former high school teacher. The menu at Balaw-Balaw offers an extensive list of authentic Filipino cuisine cooked in a traditional way. An impressive array of dishes such as 12 kinds of sinigang, various fishes native to Angono such as kanduli, hito and dalag are on the menu.
Exotic dishes like Adobong Itik (native duck in soy vinegar sauce) Guinataang Kuhol (local Escargot in coconut cream) and Sinabawang Balut (fertilized duck egg in soup) are also served to showcase the extensive array of Filipino cuisine.
There you have it, 9 places to include in your itinerary if you visit Angono, Rizal. I hope that your first "Higantes" experience will be a colourful and memorable one.