Carefree rambles along the boulevard. Students whizzing past on their scooters. Enchanting sunsets by the sea. These are a few of the sights that anyone can encounter in Dumaguete, a sleepy university town in Negros Oriental that draws many visitors to its shores every year. 
Dubbed the "City of Gentle People," Dumaguete is blessed with natural beauty, an enigmatic history, and a rich cultural and literary heritage that leaves a spell on everyone who visits.
Whether you're hoping to soak up the sun or immerse yourself in creative work, we've gathered the best Airbnb homes in Dumaguete for your future stay. Feel like sneaking off to nearby islands in Central Visayas? We've got that covered as well. Look out for a handful of destinations you can bookmark along the way! 
Must-book Airbnb homes in Dumaguete
1. This serene villa for long walks by the sea
Listing name: Tropical Hideaway 6 BR
Listing type: Entire villa
Max. no. of guests: 13
No. of bedrooms: 6
Wake up to a sea breeze that beats the sweltering heat in this two-storey home — an escape from the city proper without being totally off the grid. Complete with a swimming pool and an outdoor BBQ grill, this Airbnb in Dumaguete is large enough to host your family reunions, barkada trips, and team-building excursions. But what makes the villa truly special is its seaside location, only around 100 metres from the waterfront. 
More than an ideal base to have in Dumaguete, the villa also serves as a jumping-off point for beach-hopping trips to Dauin, Apo Island, and Siquijor. Learn more about this Airbnb here. 
Also read: Dumaguete to Siquijor 4-Day Itinerary: Top Things to See and Do
2. This cosy nest for a restful vacation in the city
Listing name: "The Empire Suite" at Marina Spatial, Dumaguete
Listing type: Entire condominium 
Max. no. of guests: 4
No. of bedrooms: 2
Here's an elegant space that will make you think of the calmness of the sea. Filled with indoor plants and garden-themed wallpaper, this two-bedroom Airbnb in Dumaguete puts up a compelling argument for staying indoors. At once breezy and effortlessly serene, the condominium comes with couches where you can sprawl lengthwise and thick blankets for feeling cosy in front of the television. Meanwhile, a fully equipped kitchen is available for guests who would like to prepare their own meals. Learn more about this Airbnb here.
3. This modern family villa near the beach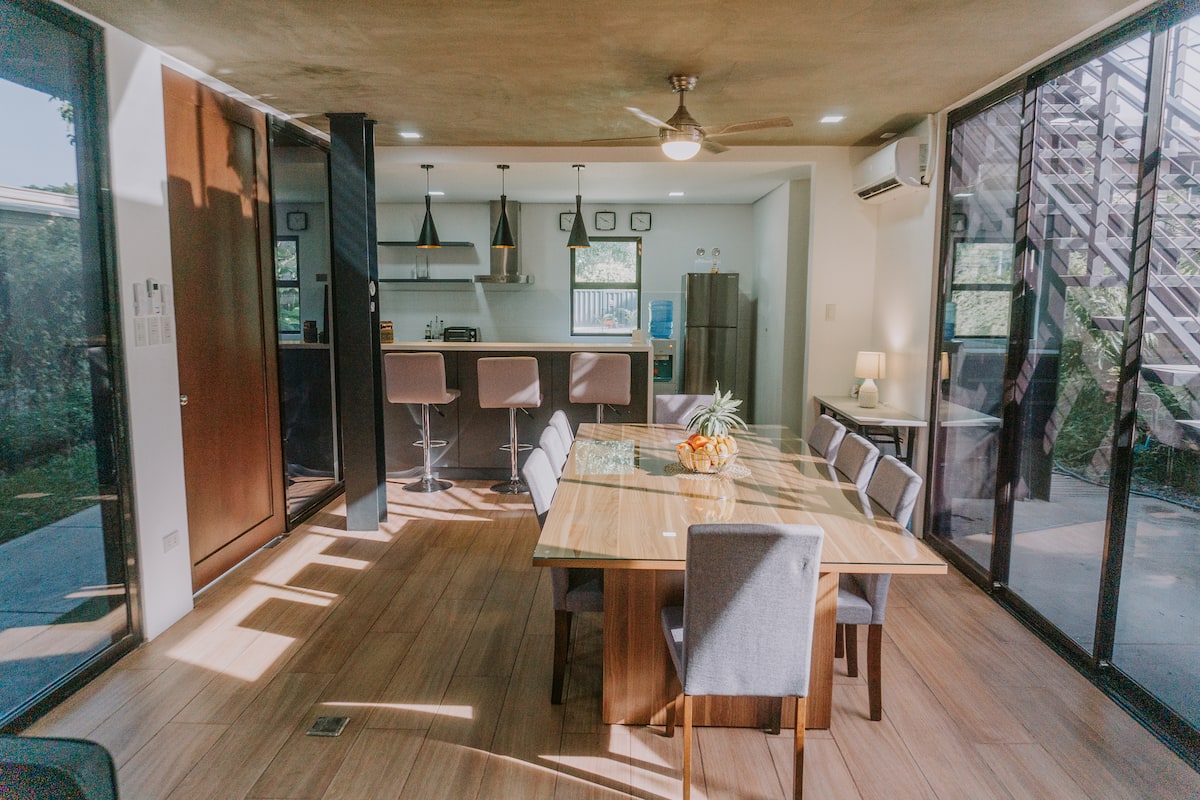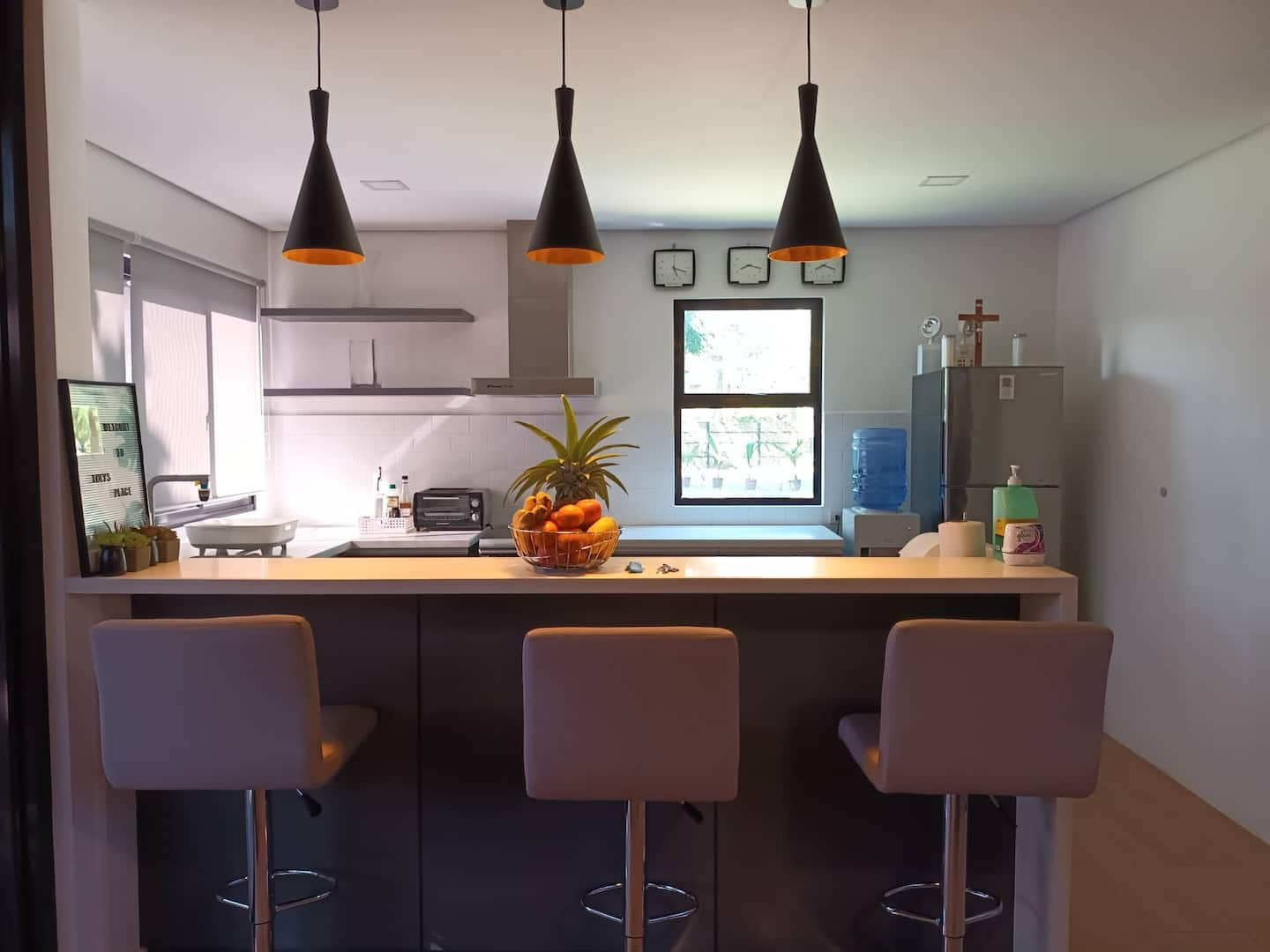 Listing name: Vacation like a local in a modern luxe villa!
Listing type: Entire villa
Max. no. of guests: 12
No. of bedrooms: 4
There's space for every member of the clan at this spacious Airbnb in Dumaguete known as Loly's Place. Four sprawling bedrooms, three and a half modern bathrooms, and a pristine kitchen makes for a family villa fit for a reunion. Even the parking space is spacious enough to accommodate four cars, promising late-comers don't have to scour the streets for a parking slot!
Additionally, this residence is well-positioned to make your Dumaguete sightseeing dreams come true. This vacation rental is in the heart of the city, just a few minutes' drive from the airport, Dumaguete Cathedral, and Silliman University, and a few steps away from great restaurants like Gabby's Bistro. Learn more about this Airbnb here.
4. The bright and preppy studio in the city centre
Listing name: Big Room for 2 💝Wifi🚿HotShower📺Netflix ready
Listing type: Private room in apartment 
Max. no. of guests: 3
No. of bedrooms: 1
Kick back and relax at this playful apartment where every nook and cranny screams: "artist looking for their next burst of inspiration, hopefully just around the corner!" Here, you can browse the page-turners in the bookshelves, or admire the owner's eclectic collection of coffee mugs. There's even a santol tree in the yard where you can pluck fresh fruit in the summer, and where you can glimpse Mount Talinis — the second tallest mountain on Negros Island.  
More importantly, this Airbnb in Dumaguete is only ten minutes away from one of the most iconic locations in the entire city: Rizal Boulevard. In your morning strolls down this dreamy street, you might want to stop by a few cafés along the way. Duck into Bo's Coffee, which brings out all the cameras in the café for its dazzling view of the waterfront. Better yet, sneak into Sans Rival Bistro for a box of silvanas. You know. For inspiration. Learn more about this Airbnb here.  
5. This stylish apartment with lush views of nature
Listing name: Kingswick's Family Apartment/Free Parking
Listing type: Private room in apartment 
Max. no. of guests: 6
No. of bedrooms: 3
Situated in a quiet neighbourhood, Hazel's apartment lets you start the day with a cup of coffee from the kitchen. Plus, a seat at your own balcony, where you can enjoy an impressive view of the trees and the mountains. This Airbnb in Dumaguete comes with an entertainment room, a well-stocked kitchen, a dining area, fast Wi-Fi, and a laptop-friendly desk — perfect for when you need to type away at your next big idea! Learn more about this Airbnb here. 
6. This vibrant townhouse near Silliman University
Listing name: Ocean View Beach Front TownHome In City Center
Listing type: Entire townhouse  
Max. no. of guests: 5
No. of bedrooms: 2
Right in the heart of the city, this homey Airbnb in Dumaguete features Japanese and Balinese-themed bedrooms, a garden patio, a bar area, and a roof deck where you can feel the breeze roll in from the sea. Past guests have commended the thoughtfulness of the host, Angelica, who likes to supply her visitors with coffee, tea, and organic fruits of the season. But if that doesn't lure you in, the alluring landmarks near the property certainly will. 
Only five minutes from this tastefully decorated home is Silliman University, the first Protestant university in the Philippines and the oldest American university in Asia. No trip to Dumaguete is complete without trying the cheese bread at the cafeteria or participating in a tour of its historic grounds of the university. Past the colonial American architecture and the giant acacia trees shading the sidewalks, you realise why it's one of the most beautiful campuses in the Philippines. Learn more about this Airbnb here. 
Also read: 14 Tour-Worthy Universities in the Philippines You Must Visit
7. This chic guesthouse pretty enough for your IG feed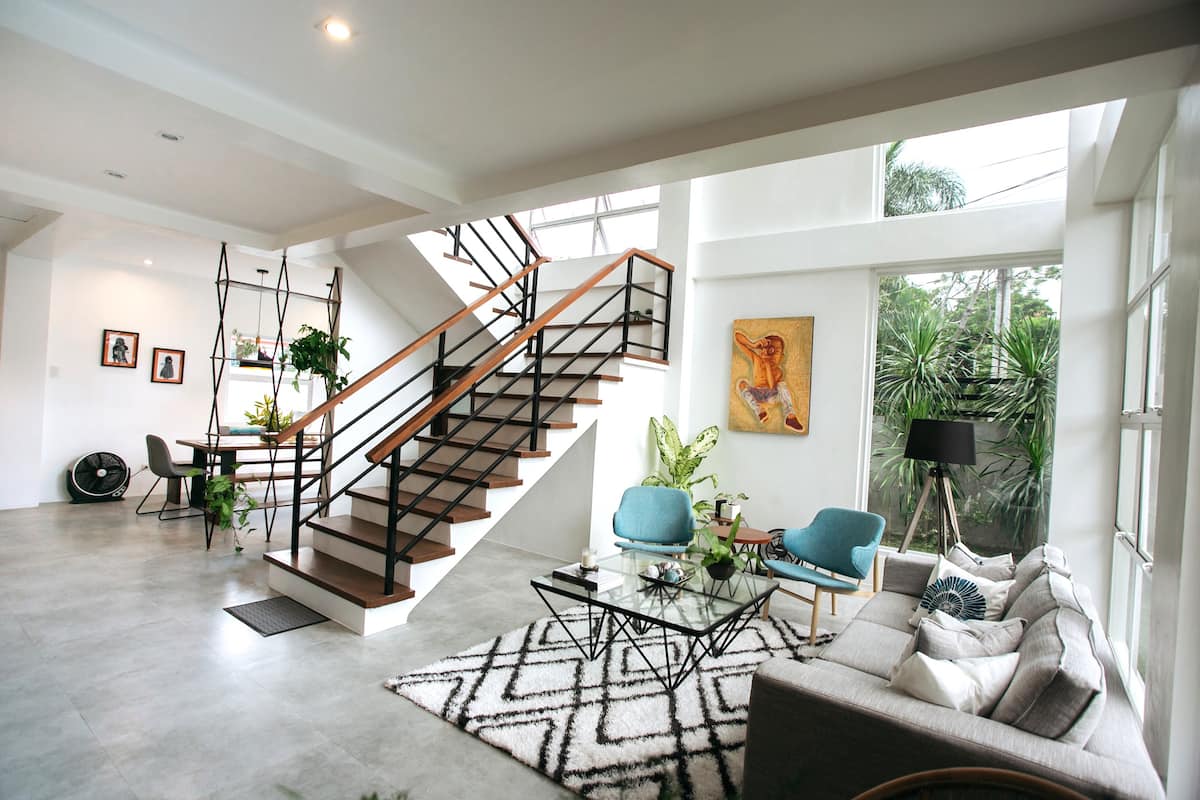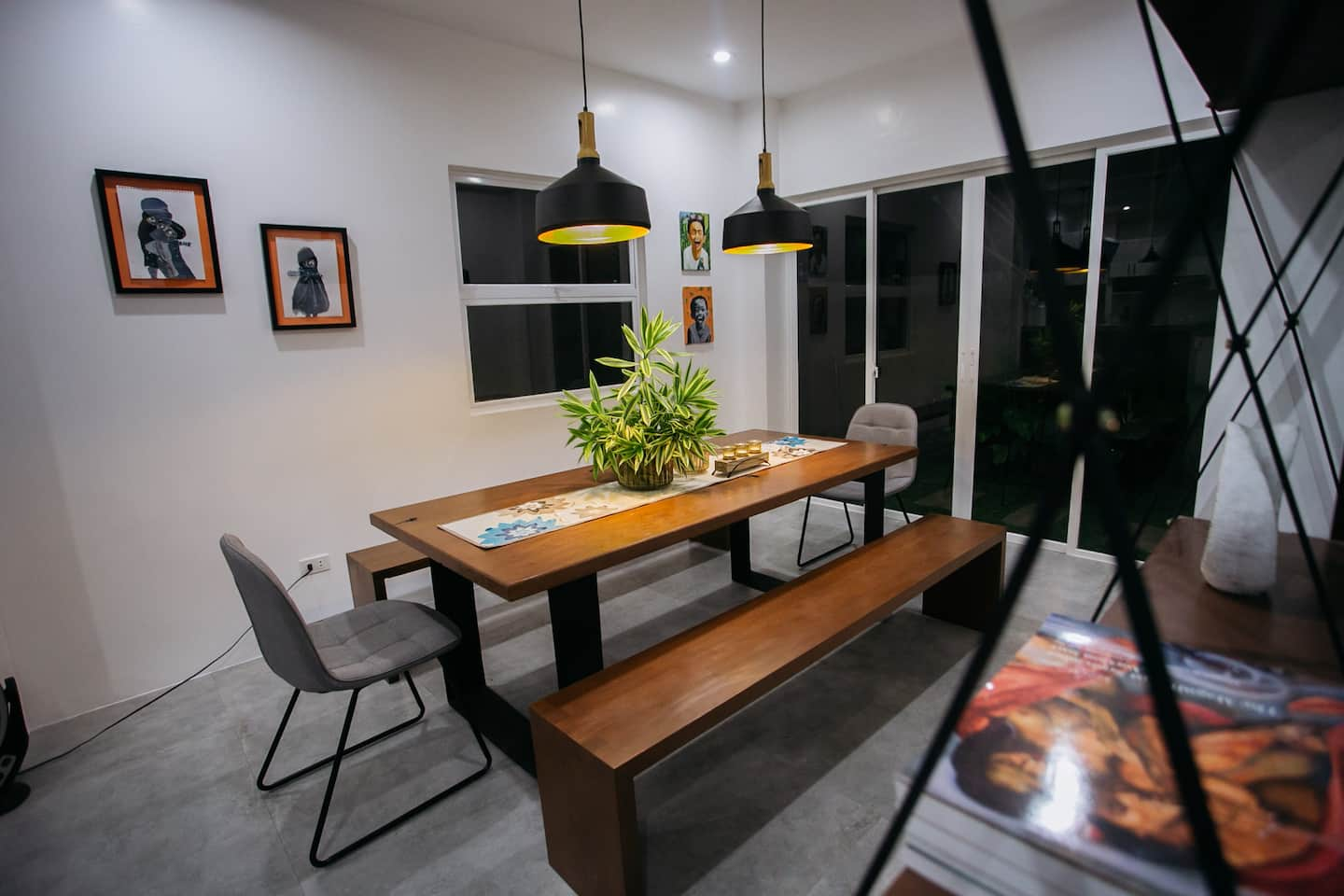 Listing name: CASAbianca~StylishGuesthouse~NearAirport
Listing type: Entire home
Max. no. of guests: 10
No. of bedrooms: 4
Thanks to a ton of windows, this two-storey Airbnb near Dumaguete Airport is light-filled and photo-ready 24/7. Modern furniture, tasteful décor, and impeccable Scandinavian-inspired architecture set an Insta-ready stage, whether you're planning a photoshoot for your feed or just a picturesque backdrop for your Dumaguete getaway. Vacationing during the scorching summer months? Air-conditioning in the living and dining area means you and your crew can chill out comfortably even when the temperatures outside are soaring. Learn more about this Airbnb here.
8. This bamboo retreat house near Casaroro Falls and Twin Lakes
Listing name: Pyramid Wellness Center
Listing type: Private room in house 
Max. no. of guests: 2
No. of bedrooms: 1
Many experiences are worth relishing in Dumaguete, but it would be a real shame if first-time visitors never explored what lies beyond the city proper. If you wish to take your time in discovering the nearby mountains of Valencia — as opposed to zipping back and forth between destinations, completely wiped out the next morning — this bamboo house saves you the trouble of hurrying back to the city just for a place to sleep at night. 
Sweeping mountain views, the gentle call of birdsong, and an uphill location near rushing waterfalls and forest pools — all of these make the Pyramid Wellness Center a well-hidden gem in the outskirts of Dumaguete. Cool down in the waters of Casaroro Falls, or take a tranquil boat ride across the crater lakes in Balinsasayao Twin Lakes Natural Park. By the time you head back to the city, you'll have plenty of stories to tell. Learn more about this Airbnb here.
9. This tropical home in Dauin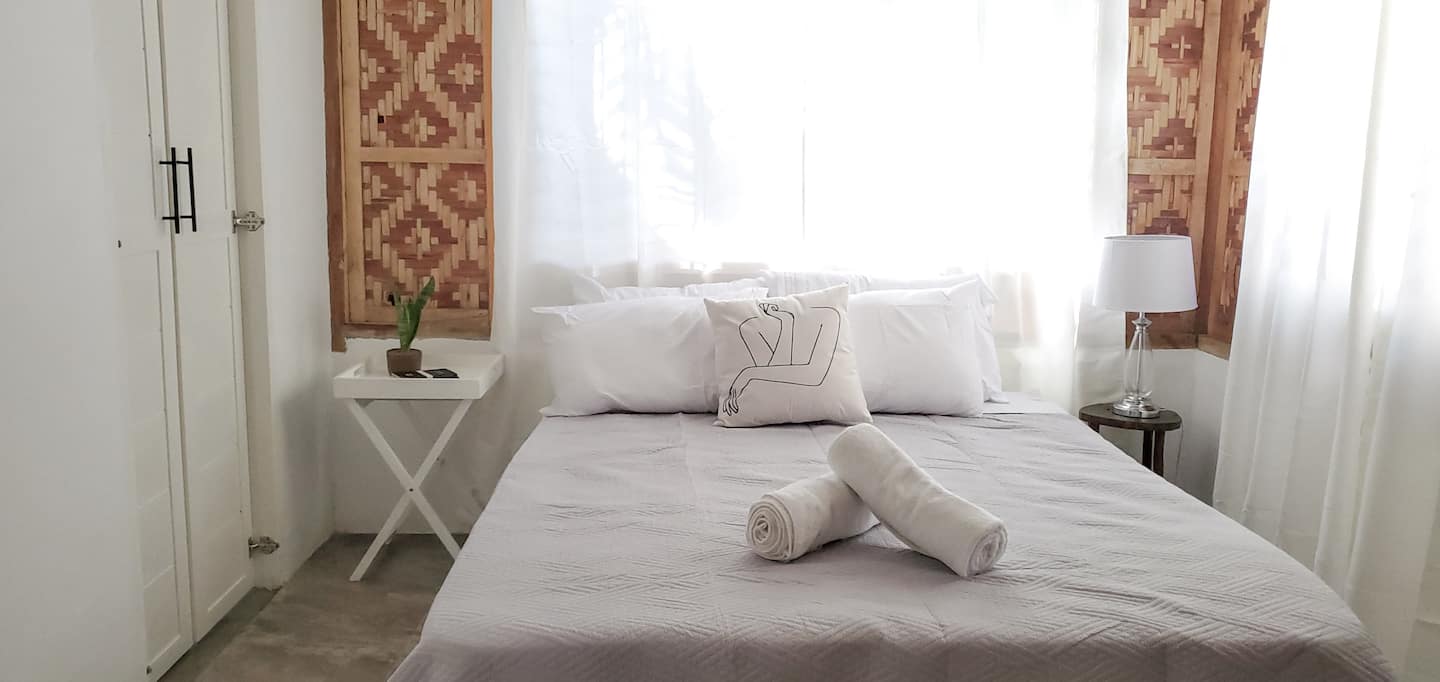 Listing name: 8 pax Beachfront Home in 1500sqm lush garden
Listing type: Entire villa
Max. no. of guests: 8
No. of bedrooms: 2
Another exceptional destination near Dumaguete is Dauin, the jump-off point to the famous Apo Island. And when you're in this coastal town, one of the best places to stay is Numa Beach Camp. This beachfront oasis that's a standout among Airbnbs in the area, with beautiful décor and a contemporary meets tropics aesthetic. It's well-equipped with modern amenities you need in a vacation, including a full-kitchen, pristine bathrooms, and a hammock overlooking the natural scenery.
Dumaguete is only a short drive away, so guests can rest assured they're never too far from the essentials. But best of all, the sun, sand, and sea are right outside the door. For staycations filled with swimming, snorkelling, and campfire singing, few vacation rentals are better than Numa Beach Camp. Learn more about this Airbnb here.
10. This family home in a quiet neighbourhood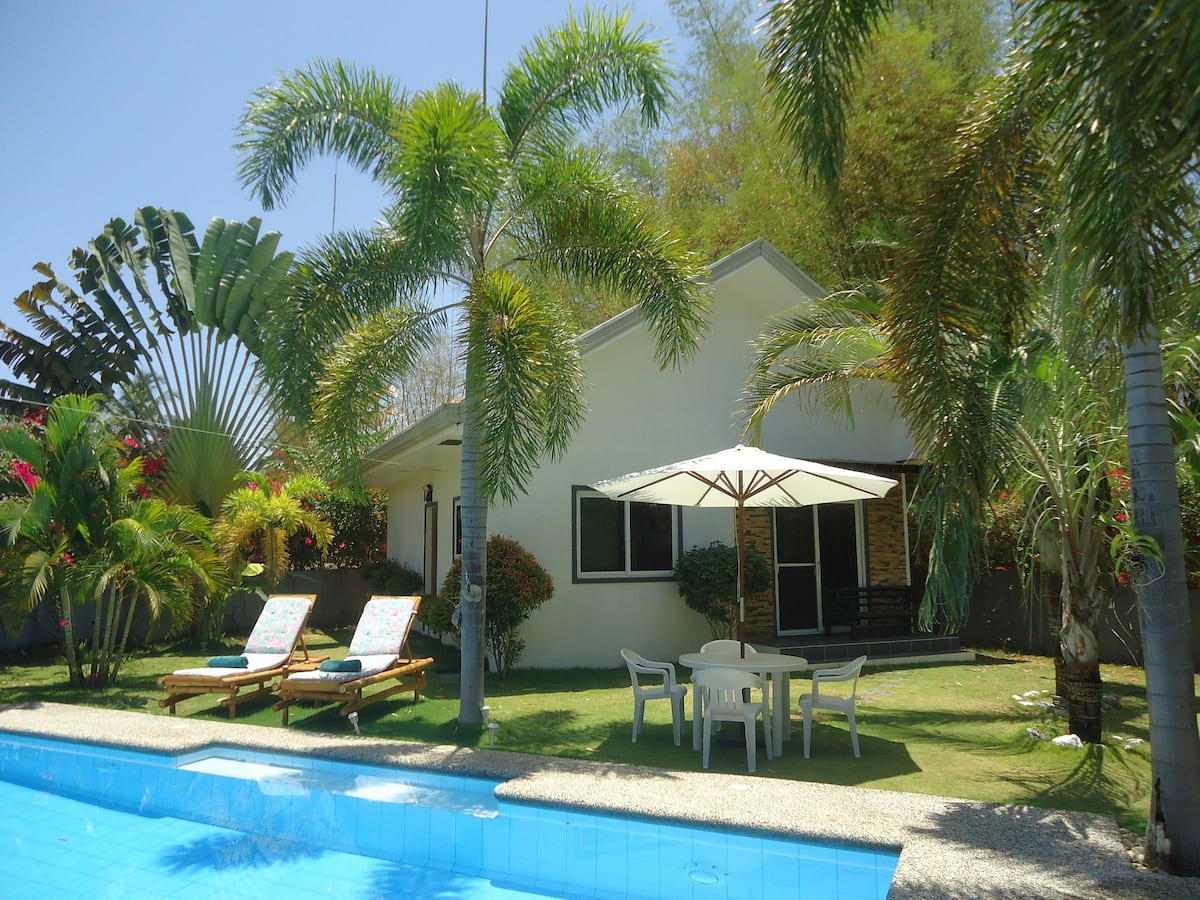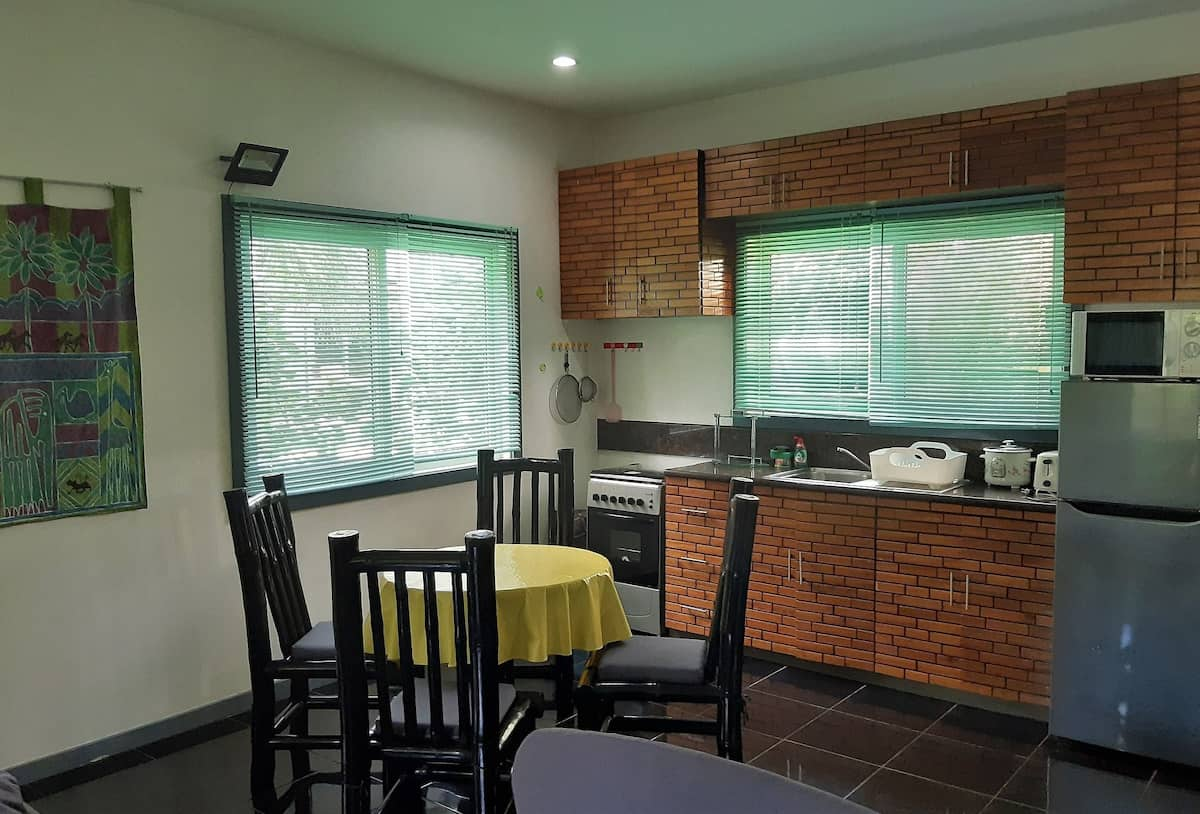 Listing name: A hidden jewel: Joy's Garden Guest House
Listing type: Entire bungalow
Max. no. of guests: 4
No. of bedrooms: 1 
Tucked away in the diving town Bacong is this charming garden guest house. Well-suited for couples or small families, it's quiet, comfortable, and surrounded by manicured gardens. The guesthouse sits right next to a private pool, so you can dive in for a refreshing dip whenever you want. Although this Airbnb is located away from the bustle of Dumaguete centre, a quick scooter ride will take you to the top tourist attractions around. Learn more about this Airbnb here.
Also read: 8 Fun Things to Do in Dumaguete — 2018's Best Place to Retire in the Philippines
More than a refuge for vacationers, Dumaguete is a destination that must be savoured at its own pace. We encourage you to make the most of your time with these Airbnb rentals in Dumaguete. No matter the duration of your visit, you'll certainly find something worth discovering in this city. 
And if the retirees who live here can tell us anything, it's that there's always a reason to stay a little longer in Dumaguete. Keep safe until the time is right to travel again!
Got a property you'd like TripZilla to feature? Inquire with us here.
---
This article contains affiliate links. When you book through these links, we may earn a small commission at no additional cost to you. All images courtesy of the respective property listings.