Can't get enough of the land of kimchi and K-pop stars? Bring your long-awaited Korean winter holiday to life at the All That Winter Korea Travel Fair, happening from this 15-16 Sep 2018 at the Glorietta Activity Center.
Organised by the Korea Tourism Organization Manila Office, Gangwon Province and Gyeonggi Tourism Organization, the weekend event will be a promising extravaganza of all things Korea. In two days, sought-after travel agencies, airlines and other tourism organisations will be offering exclusive tour packages and deals on flights and land arrangements in the country. Participating airlines include Korean Air, Jeju Air, Cebu Pacific, Air Asia and Philippine Airlines.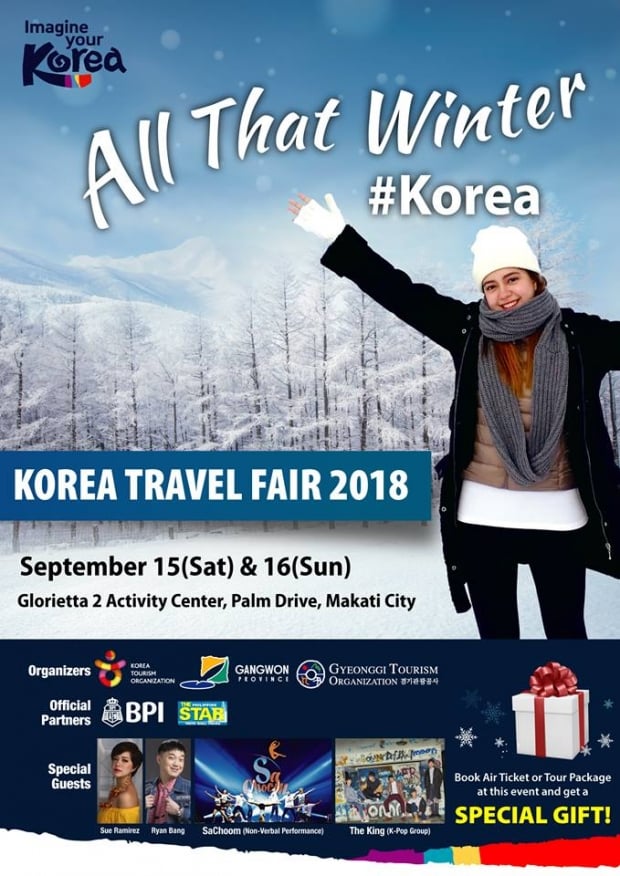 Apart from discounts, there will be a presentation on Korean Visa guidelines, Korean cuisine demonstration, Fire Noodle Challenge, K-Wave Dance Challenge and K-Beauty Makeover. You will get a chance to meet local celebrity guests Sue Ramirez and Ryan Bang, as well as a popular non-verbal performance group from Korea called SaChoom and the K-pop group, The King. Delegates from Gangwon-do, Gyeonggi-do and KTO's FIT Team will also deliver their respective presentations.
By purchasing any offers at the fair, you will receive special gifts from the organisers. In addition, visitors can participate in the Stamp Tour to win more souvenirs. This sub-event consists of having a photoshoot wearing snowboard gear, performing a virtual reality ski jump and playing a mini ice hockey game.
All That Winter Korea Travel Fair 2018 will be open from 10am to 9pm. For more information, you can visit the official Facebook page of the Korea Tourism Organization Manila Office.
Also read: More Korean Tourists To Visit the Philippines This 2018