Contributed by Wandering Ella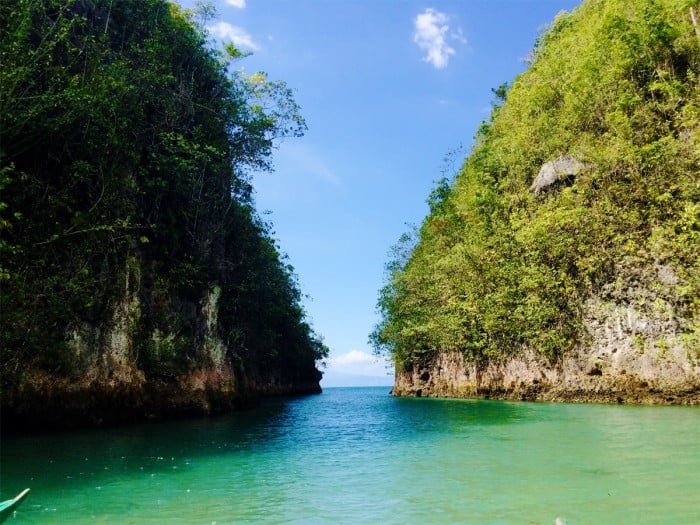 Two weekends ago, I finally had my very first travel and adventure for the year 2016. Together with my fellow travel bloggers, we went down south to Aloguinsan, Cebu to experience the Bojo River Cruise and Eco-Cultural Tour. The town of Aloguinsan is at the southwestern seaboard of Cebu and faces the island of Negros. It's a 2-3 hour trip from Cebu City but you can always have a quick stop at Carcar to buy your favorite lechon (roasted pig) and chicharon (deep fried pig skin)! Haha! Anyway, it was a very enjoyable experience for me since it was my first time to travel with my fellow bloggers as well. I hope you enjoy reading this post and I must warn you though, lots of photos ahead!
Also read: 15 Thrilling Outdoor Adventures to Conquer in Cebu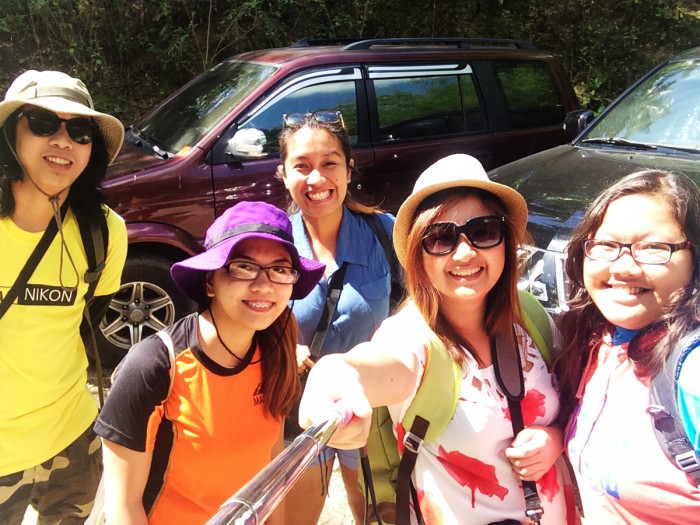 Left – Right. France of Eyes Of Niki, Hannah of Laagan Na Bata, Pam of Hey, Miss Adventures!, me, and Gay of Exotic Philippines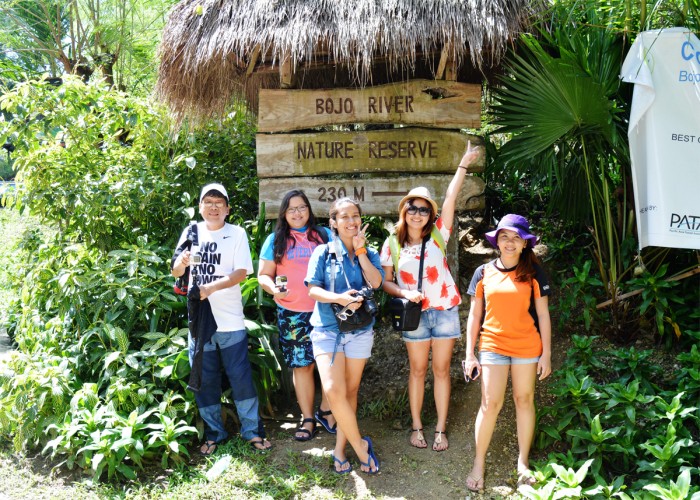 This trip wouldn't be possible without our amazing host, Sir Elroy. You can book him as your private driver and guide through WithLocals.com. We rode on his SUV car all throughout the trip. So if you guys, want to go to Aloguinsan for a trip like this, request to book Sir Elroy now! More details and rates are provided at the end of this post.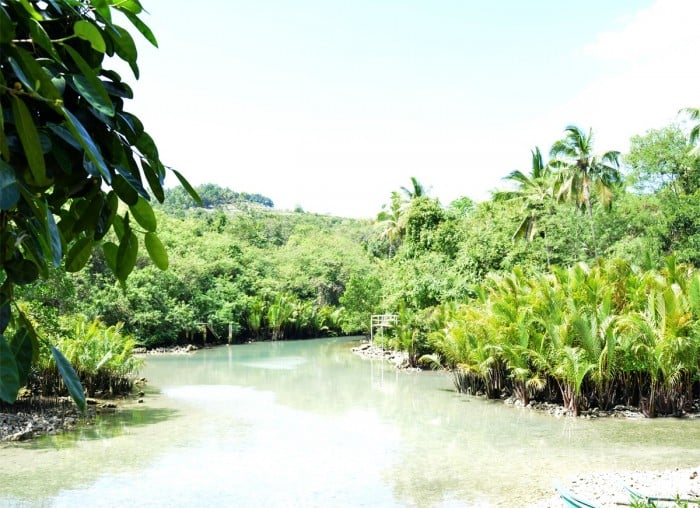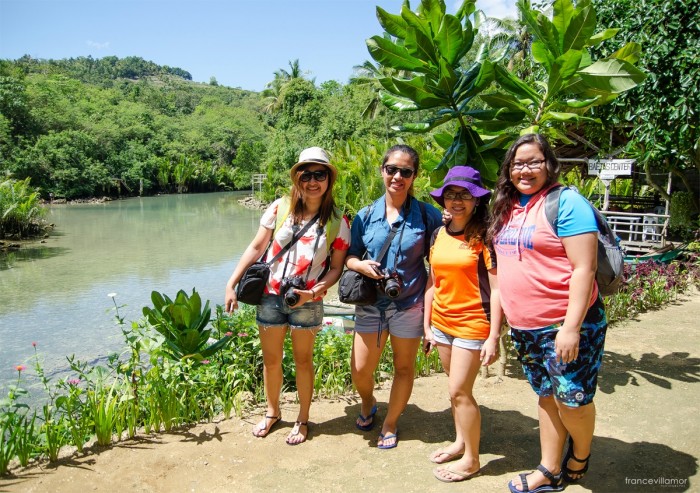 Photo by: France Villamor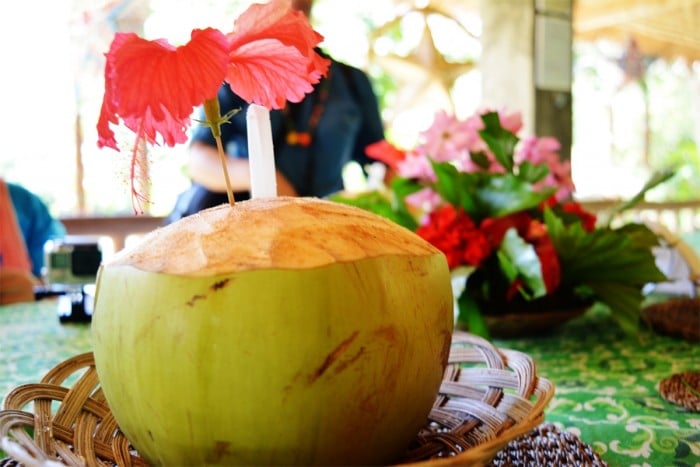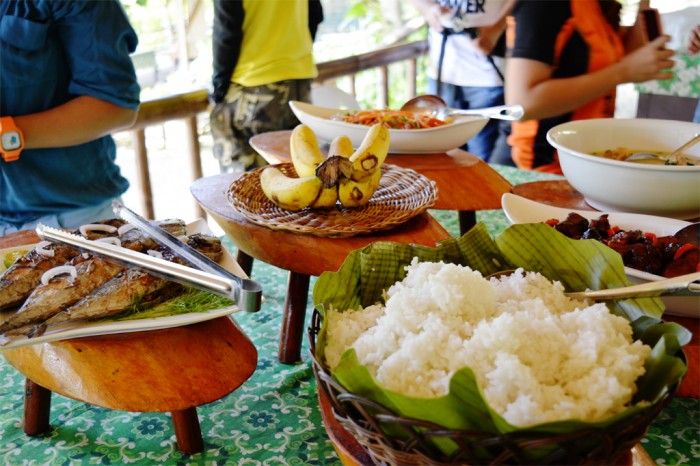 We had a short walk across the little forest going there. Upon arrival, we were greeted by the locals with a very warm welcome with a Visayan song number. Each of us were given a welcome lei, which was made of plant stalks and inedible fruits (for the lack of a better term), and fresh coconut juice as welcome drinks. We were also given a short orientation which was very interesting and informative. Here's some of what they have shared to us.
Aloguinsan and Bojo River Quick Facts: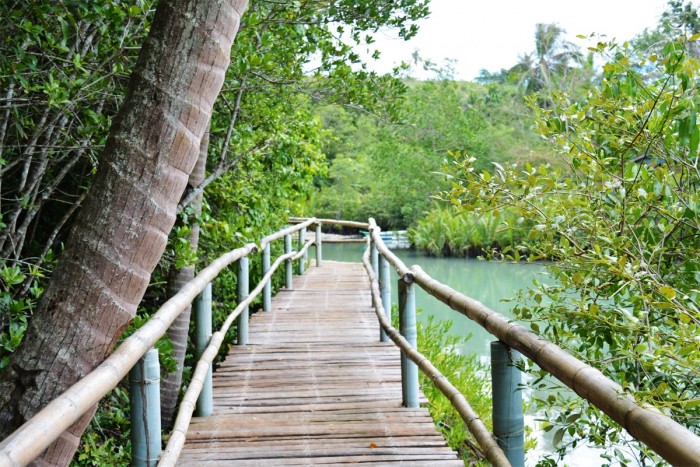 Aloguinsan was formerly a barrio of Pinamungajan but eventually separated and established its own town.
The name Aloguinsan had two versions of where it got its name but generally it's connected to the fish called "Kinsan" that is abundant in the place.
The term "Bojo" is actually a Spanish term which means "river ceiling". But in the Visayan dialect, it simply means a "hole" where the river exits the sea.
Bojo River is managed by People's Organization and the people who work there are Aloguinsan locals and members of the Bojo Aloguinsan Eco-Tourism Association or BAETAS. The BAETAS were trained by the local government to educate them on how to preserve the Bojo River.
The Bojo River is about 1.4 kilometers long. The river near the station is 3 metres deep during high tide and the river mouth is 8 metres deep.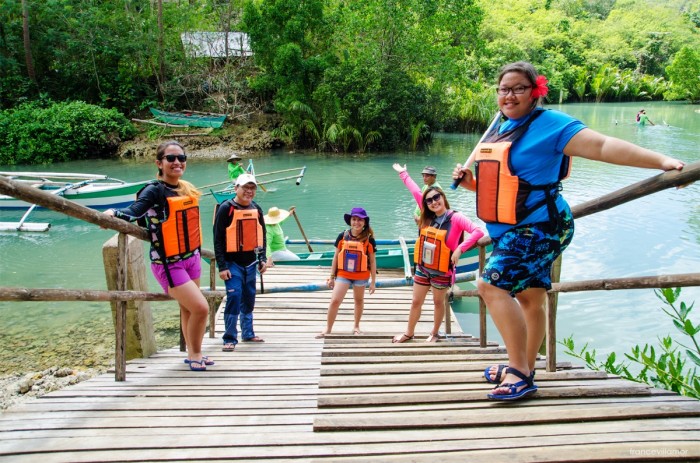 Photo by: France Villamor
Before the river cruise, we had a quick walk at their 400-meter boardwalk which cuts through the mangrove forest. Our guide identified different kinds of mangroves and a lot more of information that I never knew about. I didn't even know the importance of the mangrove trees to the river and the fish until this.
And now, we're river cruising! But before that, a local and a member of BAETAS performed a send-off ritual where he waved incense to each of us. This ritual is to bring us good luck and ward off evil spirits.
Also read: My South Cebu Trip: 4 Days of Great Adventure with My Barkada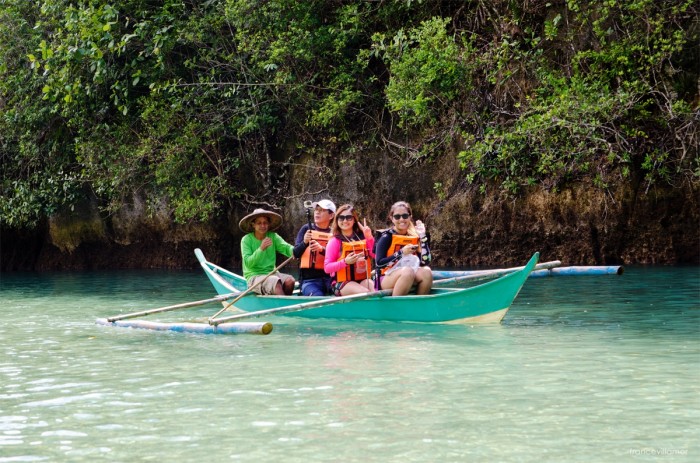 Photo by: France Villamor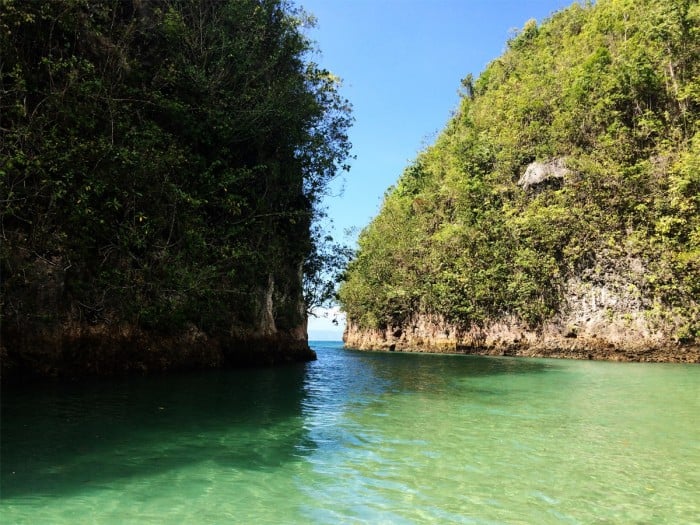 The river mouth. Looks like El Nido right? That's what I thought so too. Even our guide told us that almost all who has been there also had the same comment.
Also read: Travel Tips for Island Hopping In El Nido, Palawan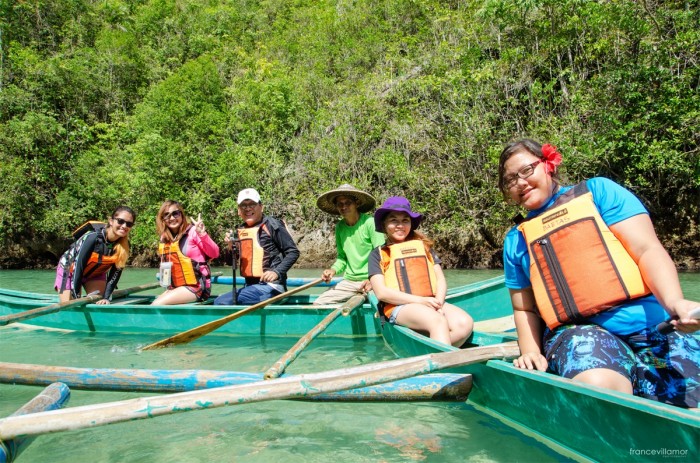 Photo by: France Villamor
We were divided into two bancas where it only accommodated 4 people including our guide. If you go with a bigger group, they have bigger bancas which can accommodate 6-8 persons.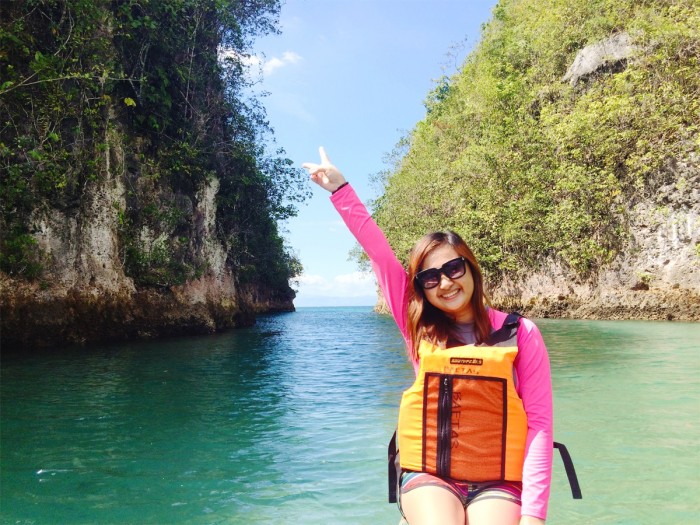 Photo by: France Villamor
After photo and video-taking sessions, we went down and had a dip at the river. The water was so cold and was actually salty because of the seawater coming in to the river mouth. The island across Aloguinsan is actually Negros which you can see from across the river.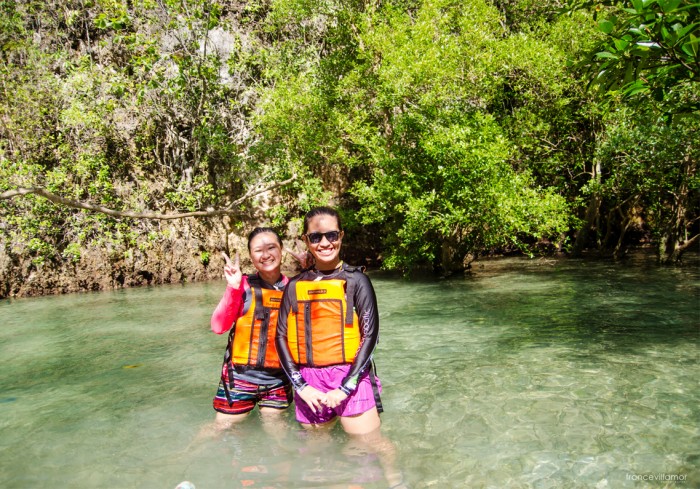 Photo by: France Villamor
With Pam, the wonderful mommy blogger behind Hey, Miss Adventures!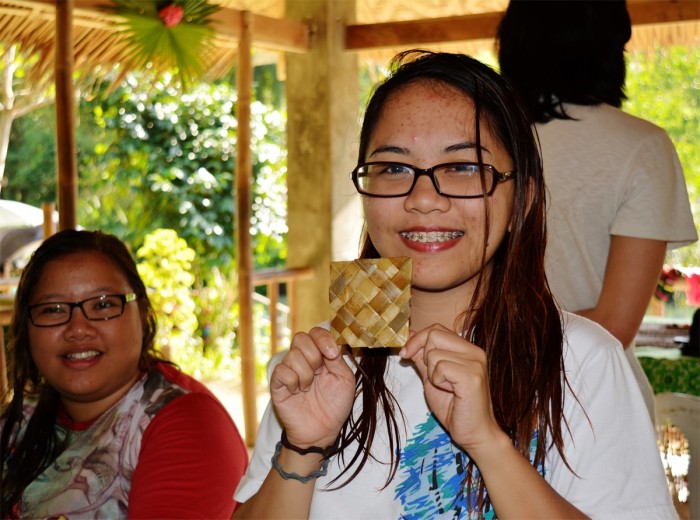 We also had a quick session of banig-making but it was actually only Hannah and Pam who did it because we were all taking photos and videos. Haha! Hannah is proudly holding her masterpiece!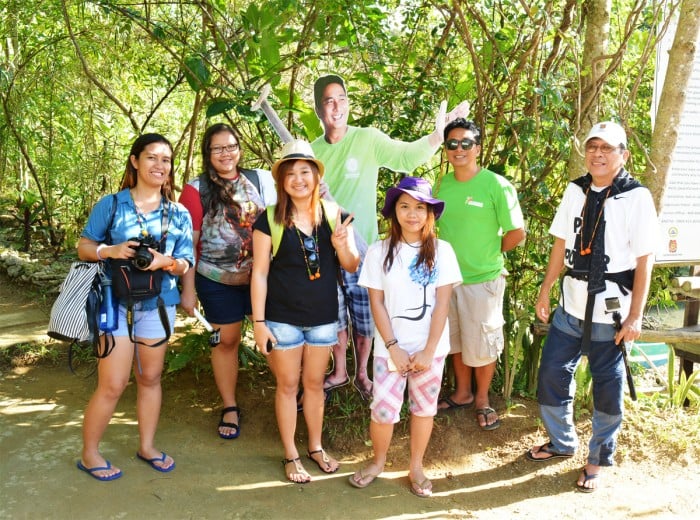 The Farm House in Aloguinsan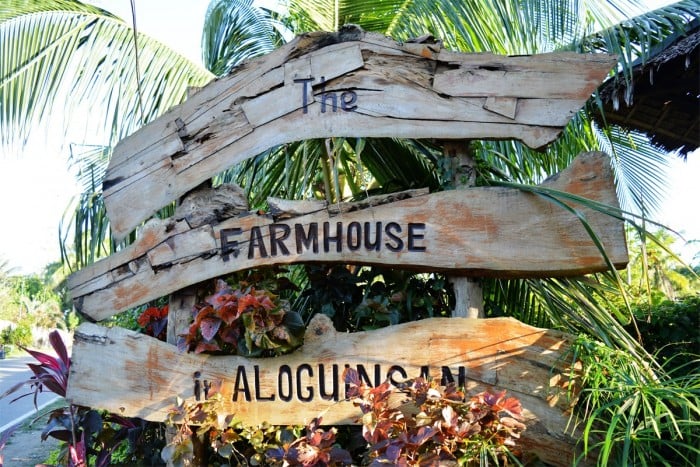 Our next stop, which was also part of the package, was a tour at The Farm House with free snacks! The farm house is run by a group of local farmers who adopted natural farming methods to produce organic food and use these to prepare traditional dishes. When we arrived, each of us were offered a delicious glass of lemongrass with lemon juice and it was really, really yummy! We even asked the ingredients and how to make it on our own.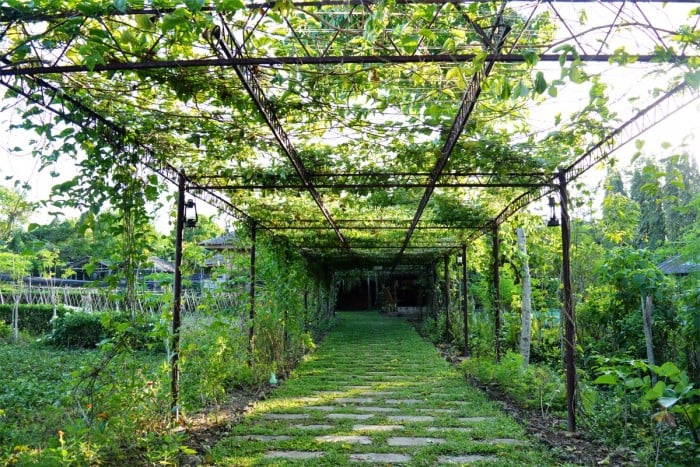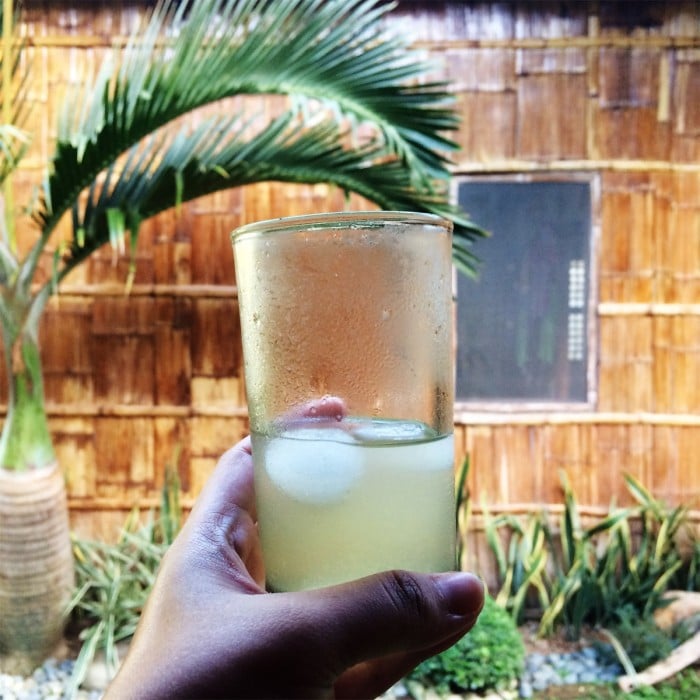 This is the lemongrass with lemon juice that I mentioned above. If you'd like to try, I'll share how to make it here. It's actually a very easy "recipe" where you just boil water, put in the lemongrass leaves, a glass of squeezed lemon, and brown sugar. Let it simmer then take out the lemongrass leaves, pour everything in a pitcher and serve cold.
Inclusions:
Guide Fee
Private Transportation (ride on an SUV car)
Welcome Lei
Welcome Drinks
Buffet Lunch
Board Walk Tour
Bojo River Cruise
Swimming at the River Mouth
Handicraft Demo
Local Organic Farm Tour
Snacks
I definitely had a good time with the group that I came with and of course with the trip itself. Sir Elroy was a very cool guide. You get to go to the destination via his private SUV and he shoots videos of you through his GoPro! Haha. We were all bloggers who all had blogger duties which made the trip more exciting because we all think alike. Haha!
Lastly, I know that sometimes photos are just not enough and it would be better to see something in action. That's why I attempted to make my very first "vlog" using just my iPhone and Windows Movie Maker. Lol. I know it's not that good and my hands are all shaky but I hope you still watch it! Haha. From now on, I plan to create vlogs everytime I travel. Anyway, I hope you guys check out my first ever vlog! Will be blogging about our side trip at Hermit's Cove soon!
Bojo River
Aloguinsan, Cebu
For inquiries and bookings, contact Sir Elroy via WithLocals.com
Facebook Page: Aloguinsan River Eco-Cultural Tour
Disclaimer: All photos are mine unless otherwise stated.