Cookies? Common. Cupcakes and tarts? A hit or miss. But what about polvoron? It's a classic Filipino pastry that many of us seem to gravitate towards when we want a quick pick-me-up. And when you're craving for something sweet, it's tough to say no to it. The only hindrance would probably be how messy eating one can be, with crumbs scattering beyond your control. And that's precisely why we think polvoron in a jar is quite an ingenious concept.
If the thought of enjoying this drool-worthy snack has piqued your interest, hop on the bandwagon and meet the two kids who actually pursued "polvoron in a jar" as a project while selling it at an affordable price. Fourteen-year-old Annika Mendoza and 11-year-old Tomas Sazon are cousins who ventured together in this new confectionery business that they named Annika's Polvoron. Here, they basically bake and sell crushed polvoron without compromising the quality.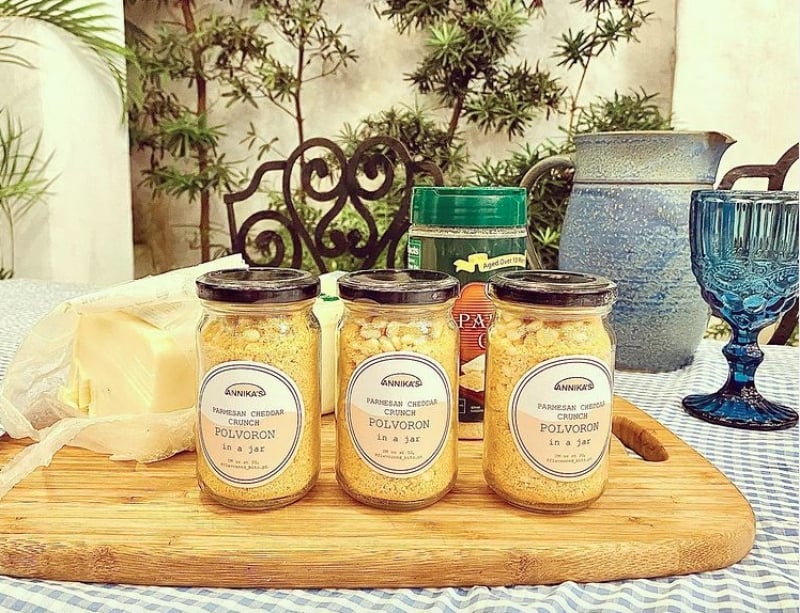 To further elaborate, their business takes the concept of serving polvoron that's mashed neatly in a jar which people can eat out of with a teaspoon (if they want to). This way, customers can savour each spoon and morsel down to the last crumb. With this, Annika and Tomas' new baking endeavour gives everyone an easier way to appreciate the classic Filipino polvoron!
And as someone who has tasted Annika's Polvoron myself, I can say that their polvoron perfectly maintains the sweet flavour and the nice crumbly texture we often look for when buying the typically wrapped version of this pastry. With all that said, I'll let Annika and Tomas answer more of your curiosities about their confectionery business with a little Q&A. 
Also read: What's it Like to Start a 'Quarantine Business' for Filipinos?
1. What inspired you to start this new food venture and business?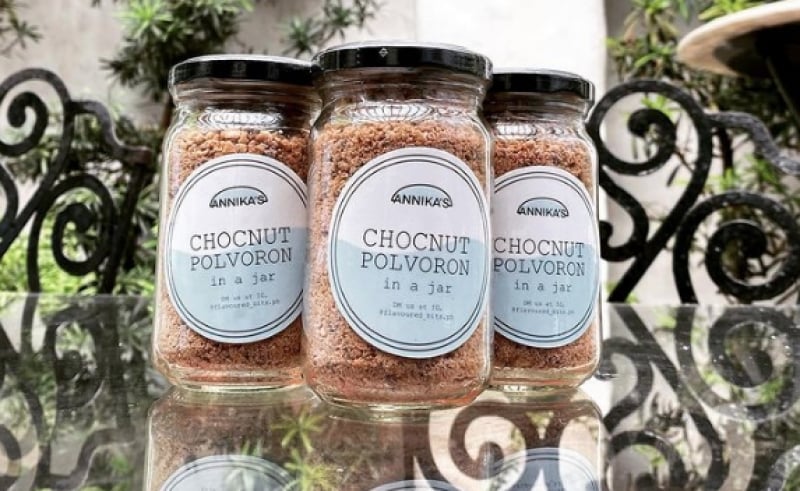 Annika (A): We once had a conversation about getting these cool jackets, then it switched to talking about getting a lot of anime merchandise. But they were all so expensive. We asked ourselves: How would we get all that money?
Tomas (T): Then an idea came to us: A business. We also thought that this would be an amazing opportunity to learn about managing sales, and being independent with our own money.
2.  Why did you pick polvoron out of all the other tasty and crumbly pastries?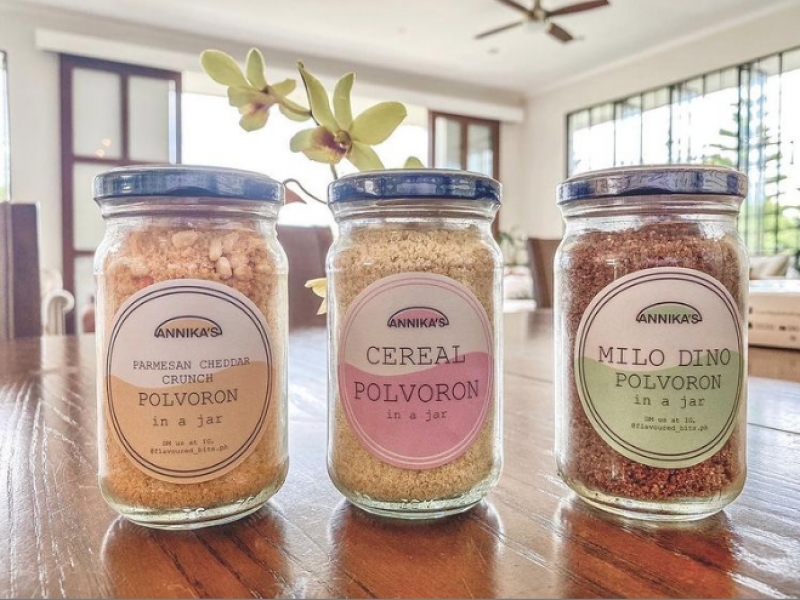 A: We actually had quite a difficulty with choosing a product to sell, but we figured that the best choice would be food — specifically pastries.
T: We finally came to the agreed on polvoron. We haven't seen a lot of people sell polvoron, and it's easier to obtain the ingredients.
Fun fact: Annika's Polvoron sells four flavours, namely, Cereal Polvoron, Chocnut Polvoron, Milo Dino Polvoron, and Parmesan Cheddar Crunch Polvoron. The Parmesan sells for ₱200, while the other flavours sell for ₱150. 
3.  How do you two split the work for Annika's Polvoron?
A: We don't work in the same kitchen because of the global pandemic going on. We figured it would be safer for us to work separately, though we do occasionally visit each other.
T: Annika designs the label, logo, and discusses different design ideas with my brother, Kuya Juan. They both handle our Instagram account; Annika and I both handle the orders. I help deliver, shop, make, and package the product. Our house helpers also lend a hand!
4. Since both of you are still in school, how are you managing running this project and studying?
A: We study in different schools. I usually have around two to three subjects a day (30 minutes each subject), and I actually don't have as much work as Tomas. Tomas, on the other hand, has school from morning to noon and handles most of the work for the business. It doesn't seem very fair, so we're looking for ways to split the work as much as possible.
T: We plan to continue this business until we've reached around our mid-20s, though we can't tell for sure. We'd be content if Annika's Polvoron reaches word around the country. If it reaches abroad, it will be more stressful, but we would probably accept the challenge.
5. What have you learned so far while pursuing this project and business?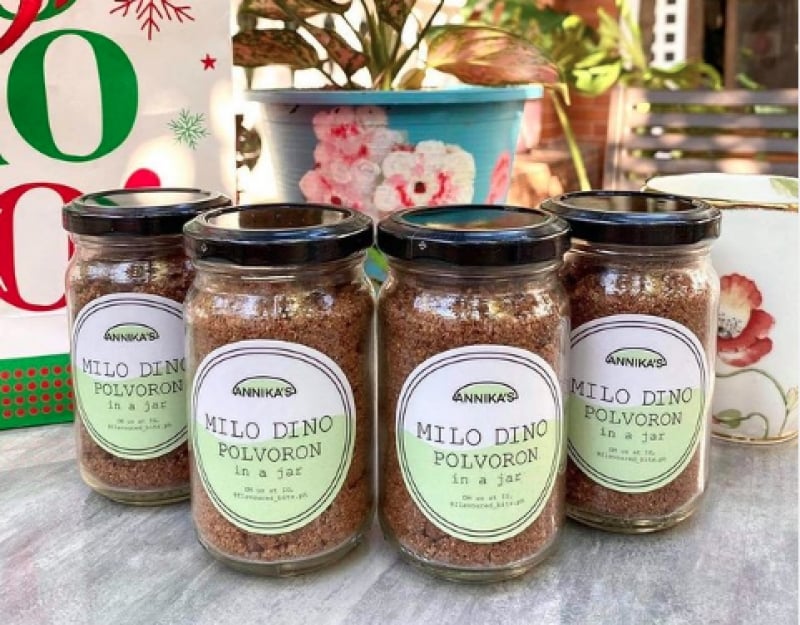 A: We learned how to talk properly to new people, and that we shouldn't be scared to explore new ideas and to take risks.
T: Time management is also a really important lesson we've learned, considering our situation.
6. What's it like working with your cousin and why did you choose to work together?
A: Working and having a business with Tomas is probably less stressful than with other people since he, his brother Juan, and I are really close. We all know each other really well so we're not hesitant to give out new ideas.
T: One of the reasons why we chose to work together is because we share the same goal: To buy anime merchandise. Our other relatives are also busy with their own work, and as Annika said, we're all really close with each other.
7. Any message for aspiring entrepreneurs out there that are in the same age group as you?
A: Before anything, you should always plan ahead. You don't have to rush into starting a business immediately, take your time. You should set up goals, so you know what you're looking forward to.
T: Before you choose a product or service, ask yourself first: Would I enjoy this? Am I willing to give up most of my free time? Can I easily obtain the resources I need for this? What are my goals?
Also read: 5 Ways You Can Support Small Online Businesses
Quite wise words and thoughts from (very) young entrepreneurs like Annika and Tomas. And to think their whole business started from the simple desire to buy jackets and anime merchandise with their own money. Not a lot of kids nowadays would even bother thinking about how they can make money to get what they want, especially during a pandemic. 
But Annika and Tomas prove that your ways of earning don't have to be extravagant or too ambitious right off the bat. You just need to start somewhere. So if you'd like to support these inspiring kids in their polvoron business, check out the Instagram account of Annika's Polvoron and order from there. Just send a DM of your name, address, mobile number, order and quantity, plus your desired pick-up date. 
Also read: Victory Liner Now Has their Own Provincial Delivery Rider Who'll Fetch Your Cargo for You
Once you've ordered this delectable comfort snack, make sure to post a photo of it in support of local businesses and tag us on Instagram, along with the Instagram account of Annika's Polvoron of course!
---
All product images credited to Annika's Polvoron official Instagram page.