Have you ever seen a place so utterly arresting, it seemed unreal? Such is the captivating charm of Innsbruck, Austria — "the heart of Tyrol", famed winter sports destination, "where people love to live", and the country's very own "Capital of the Alps".
Also read: Welcome to Innsbruck — Austria's Very Own 'Capital of the Alps'
Nothing quite like the visual allure of Innsbruck attractions
With these fascinating titles under its belt, one can only imagine the menagerie of distinguishing features this cosy yet thrilling city offers. But if there's one thing locals and tourists alike will proudly say about Innsbruck attractions, it's how unbelievably picturesque each scene is. From manmade marvels you'll spot in Aldstadt to the unspoilt wonders tucked in the Austrian Alps, Innsbruck makes quite the visual impression!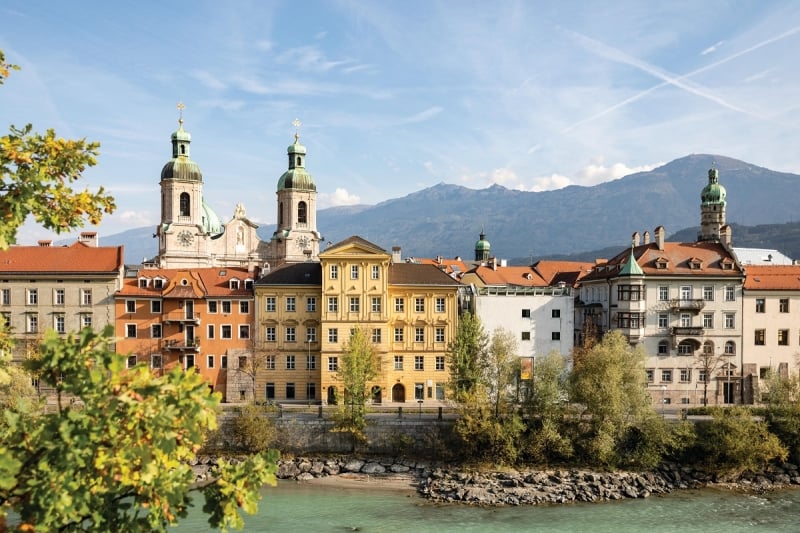 In fact, the very first time I ever laid eyes on Innsbruck, Austria, I was gawking at a photo of the cityscape taken from Adlers, a known rooftop bar and restaurant with unmatched views of the city. The pretty capture was all soft daylight with distinctly European architecture dotting the ground below. And beyond, the glorious Alps — its snow-capped mountains towering over the locale. Truly, Innsbruck attractions look spectacular even with #nofilter.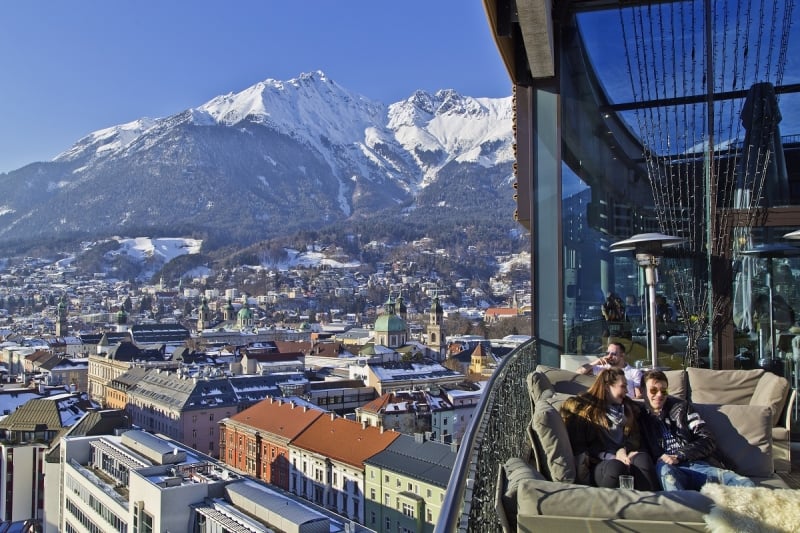 Which brings me to the day's agenda: Let's have you pining for Innsbruck at the end of this piece. Whether you're just passing through for a couple of days or lingering longer, the heart of Tyrol makes for your most picture-perfect Eurotrip yet! Just be sure to include these Innsbruck attractions and must-do activities on your go-to list for a scenic escape that's one for the books.
Stunning structures you'll have to take snaps of
1. Ambras Castle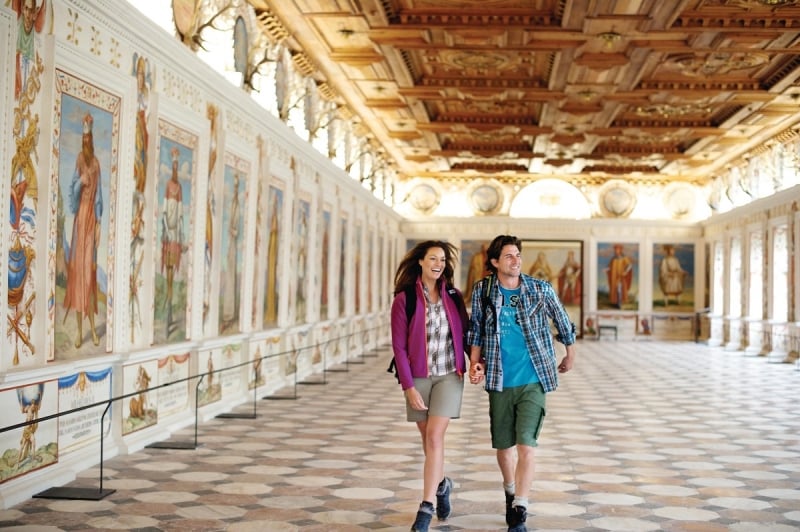 The Ambras Castle or Schloss Ambras is one of those sights that take your breath away from the inside out. Its location alone is a photogenic treat; you'll find it atop a hill, where the castle grounds are adorned with perfectly manicured greenery. When the weather permits, a leisurely stroll outdoors will reveal a quaint duck pond and playground that are sure to entertain children and even the young at heart.
Inside, visitors are quickly transported to the Renaissance — as seen through the castle's architectural style, interiors, and its massive collection of artworks and antiquities. Although Schloss Ambras bore witness to the Habsburg rule (when it was then more medieval in style and aesthetic), Archduke Ferdinand II transformed the castle into the Renaissance wellspring that it is today. Don't miss Ambras Castle's armoury and its notable Habsburg Portrait Gallery, which houses more than 200 paintings that allow us a peek into the power and staggering wealth of the Austrian monarchy. You'll even spot an ornate altar, which was once a prized possession of Emperor Maximilian I.
2. Hofburg Innsbruck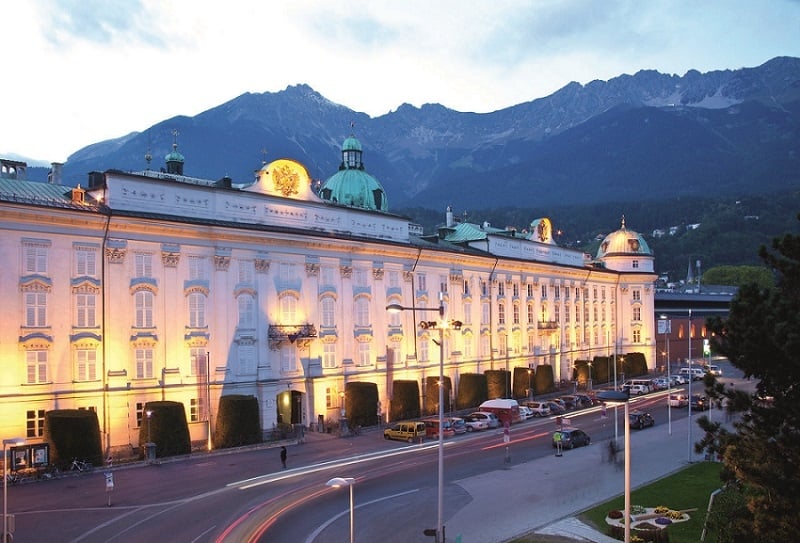 By now you've probably noticed Austria has no shortage of imperial palaces. If you're looking for a destination where you can live out your fairytale dreams, know that you've found your happily ever after! There are many Innsbruck attractions we consider palatial, but Kaiserliche Hofburg or the Imperial Palace, is a cut above the rest because it's "one of the three major historic-cultural monuments in Austria," alongside the Imperial Palace of Vienna and the Schönbrunn Palace (also in the Austrian capital). Emperor Maximilian I himself had Hofburg Innsbruck completed in 1500. More than 250 years later, Maria Theresa — the only female ruler in the history of the Habsburg Dynasty — chose it as the wedding venue for her son, Leopold II. 
Needless to say, it was an extravagant affair forever etched in Innsbruck's storied past. The merrymaking welcomed at least 2,000 guests and lasted two full weeks! To deepen your knowledge on Austrian monarchs, don't miss the splendid Giant Hall and the Imperial Apartments, which visually narrate how Austrian royalty lived during their reign.
3. Court Church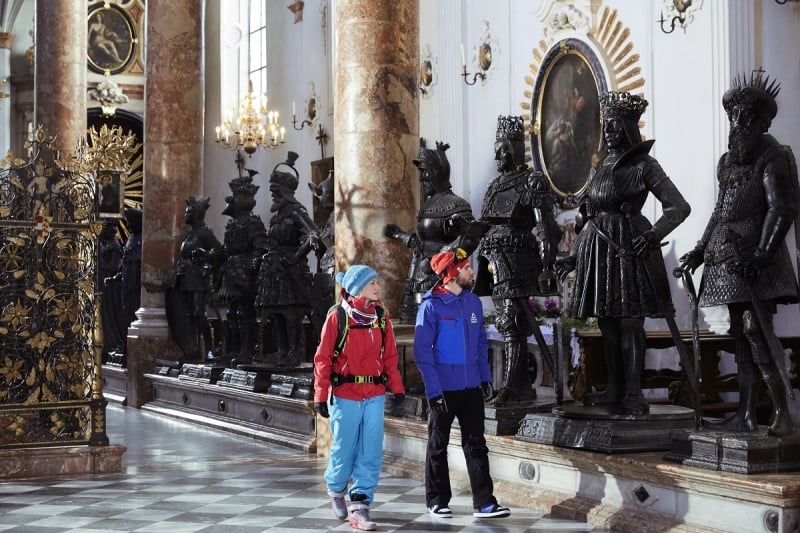 Locals have another name for this Innsbruck attraction called Court Church or Hofkirche — Schwarzmander Church. Schwarzmander translates to "black men," which describes the 28 life-size bronze statues guarding an intricately crafted cenotaph that honours Emperor Maximilian I. These bronze figures were commissioned by the Habsburg ruler himself long before his death, but his final resting place (a church in Wiener Neustadt) wasn't sturdy enough to hold the weight of the ornamented tomb. 
So yes, the cenotaph that visitors see inside Court Church was built for Emperor Maximilian I, but it remains empty to this day. The Court Church still serves the same purpose, though, for a few individuals who made their mark in Innsbruck history. The place houses the remains of celebrated soldiers and even local hero, freedom fighter Andreas Hofer. Court Church is also the resting place of Archduke Ferdinand II and his wife, Philippine. Don't forget to pose by the Schwarzmander, which actually embody Emperor Maximilian's loved ones, revered ancestors, and historic figures. Music lovers would do well to note that Court Church also boasts of "the largest, best-preserved Renaissance organ in Austria." To hear that being played would be extraordinary indeed!
Natural sceneries for adventures that are as exciting as they are visually striking
4. Klettersteig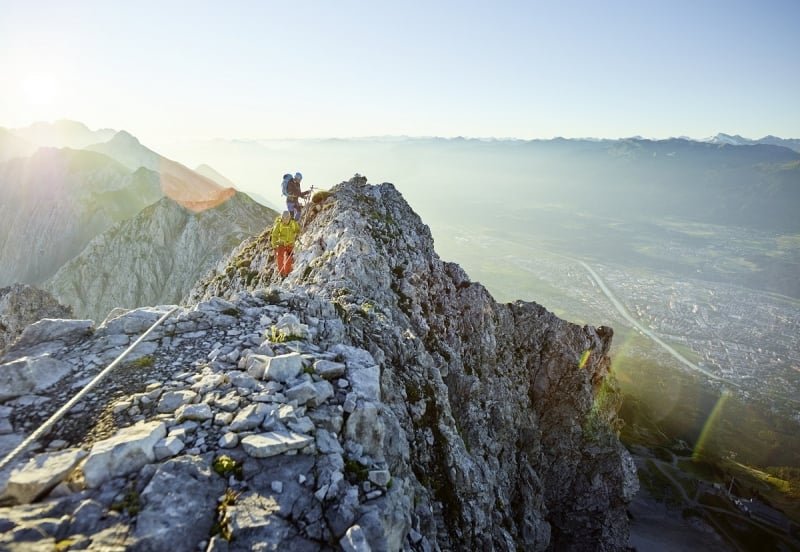 For adrenaline seekers, witnessing the Austrian Alps in all its glory isn't merely enough. Some brave the climb to fully experience this natural wonder, and this mountain adventure called Klettersteig is among the more daring of Innsbruck attractions that allow you to do so. Klettersteig or the Innsbruck Via Ferrata is an elaborately mapped out climbing route designed for the ease and enjoyment of visitors. The path leads guests through several peaks as well as the ridge of the Nordkette mountain range — which boasts of incomparable views of Innsbruck. 
If you're preparing to conquer the Klettersteig during your trip, we'd recommend training first. Even with steel cables and handrails, the path has been tagged as a challenging one for casual climbers. According to the Nordkette's official website, "a good level of fitness, sure-footedness and a head for heights are strictly necessary" for taking on this unique climbing path. To give you an idea, you'd begin your journey a few minutes away from the Nordkette cable car's topmost station, Hafelekar. After that, expect two climbing sections that all in all add up to seven hours of trekking — so it would be best to set aside a full day for this particular excursion. Don't you think that makes the perfect excuse in planning an extended Innsbruck stay?
We promise you, though, what lies ahead is worth it; don't miss the postcard-perfect scenery only Karwendel offers! After all, it's a well-visited portion of the Northern Limestone Alps, so breathe in the fresh air and the view. You worked hard for that! 
5. Goetheweg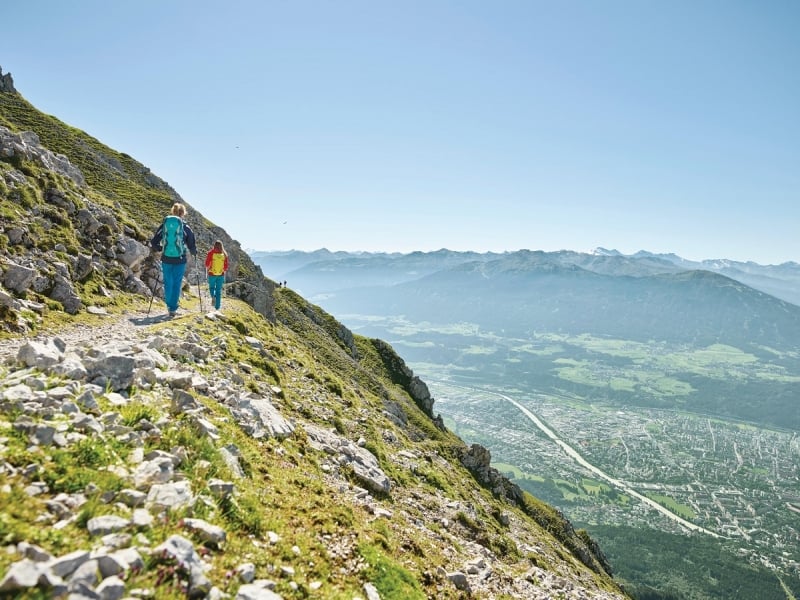 Beginners and budding climbers, don't fret. You'll have your fair share of the great outdoors, too! A much less taxing option to enjoy the same awe-inspiring Alpine views is to take a guided hike along the Goetheweg mountain trails. It will take about two and a half hours to hike up, and the same amount of time to make your way down. If you spend an hour or two taking breaks, your hiking adventure will total seven hours — another full day trek! Sightseeing starts as soon as you travel from the city centre aboard the Nordkettenbahn and transfer to the Nordkette lifts and cable cars to get to Hafelekar Station. If your memory serves you well, then you'd notice it's the same drop-off point for Klettersteig-goers.
From this altitude, hikers are treated to a remarkable panorama featuring several Innsbruck attractions. Among the sights you'll have an eyeful of are the bustling city below, the Inn Valley, the Wipp Valley, the Stubai Valley, and even the sight of Praxmarer Spitze Peak from a distance. Don't miss the Arzler Alm Mountain Hut on your descent — it offers a fantastic vista synonymous to the Karwendel Nature Park, but with refreshments to boot. Sit down and let your tired feet rest, while making friends and chatting with the locals. If you choose to have a guide with you, we're pretty sure you're in for some very interesting stories that scratch beneath what you know about the Austrian Alps.
6. Höttinger Alm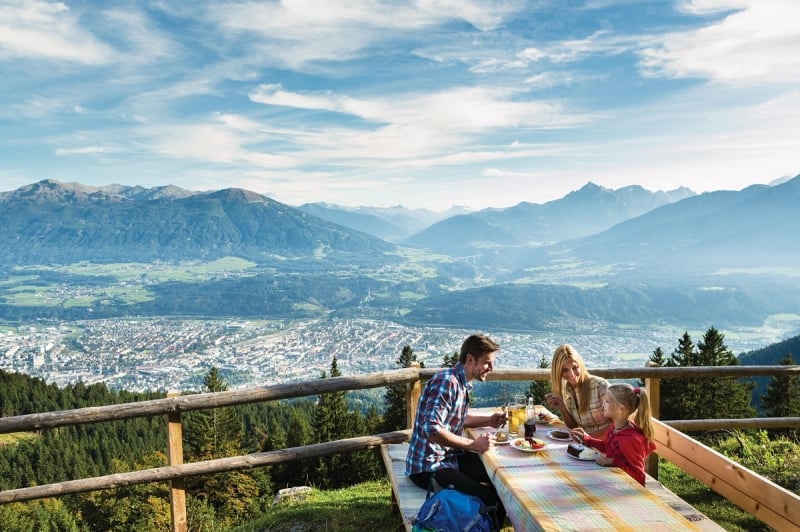 Speaking of mountain huts, one of the most popular sights for locals and tourists alike is the Höttinger Alm. You can definitely reach it by foot coming from the Goetheweg trail and the spot is the perfect viewpoint for appreciating the same vista that Arzler Alm boasts. Can you imagine the scenery it offers at almost 1,500 metres above sea level?
Take the opportunity to bike around the area and taste authentic Tyrolean home cooking at the sun terrace. You can even choose to stay the night, as Höttinger Alm offers accommodations for those who want to delay the trek down. If you simply have time to spare, we say go for an overnight escapade! One can only picture the stars come sundown in a place like this.
Prominent landmarks that belong in your photo albums
7. The Giant's Head at Swarovski Crystal Worlds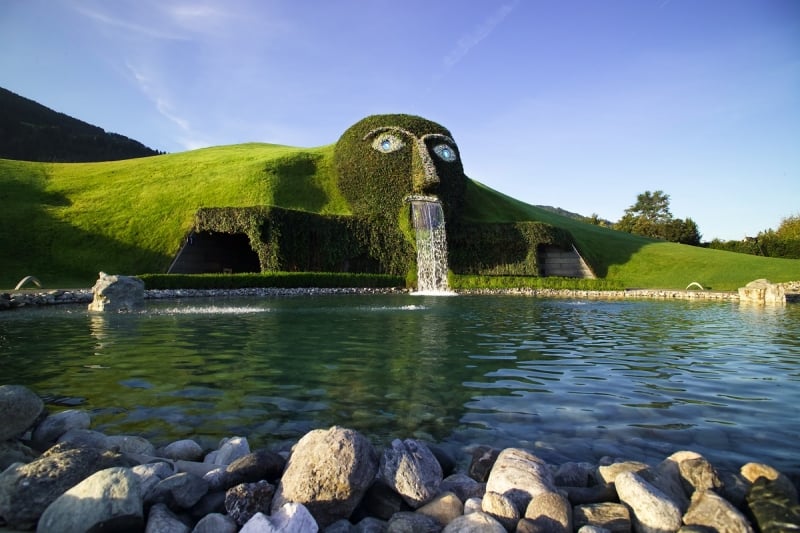 If theme parks are more your thing, you'll be ecstatic to know that Innsbruck is home to a dazzling one. Swarovski Crystal Worlds or Swarovski Kristallwelten is a wonderland that revolves around the celebrated brand. It was opened in 1995 to commemorate Swarovski's centennial anniversary.
Also read: Inside the Dazzling Realm of Swarovski Crystal Worlds — What to See & Do
But if there's one thing you cannot, by all means, miss at the bedazzled nature park and museum, it's the Swarovski encrusted head located at the Giant's realm. After taking photos with the unique landmark, step into the 17 Chambers of Wonder that the giant guards. Inside, see the intricacies of the Chandelier of Grief, a permanent illusion installation created by Yayoi Kusama. The display tricks your mind into thinking that you've just entered a room housing endless space. It's so mesmerising, you'd wish your time in Innsbruck was endless as well!
8. Golden Roof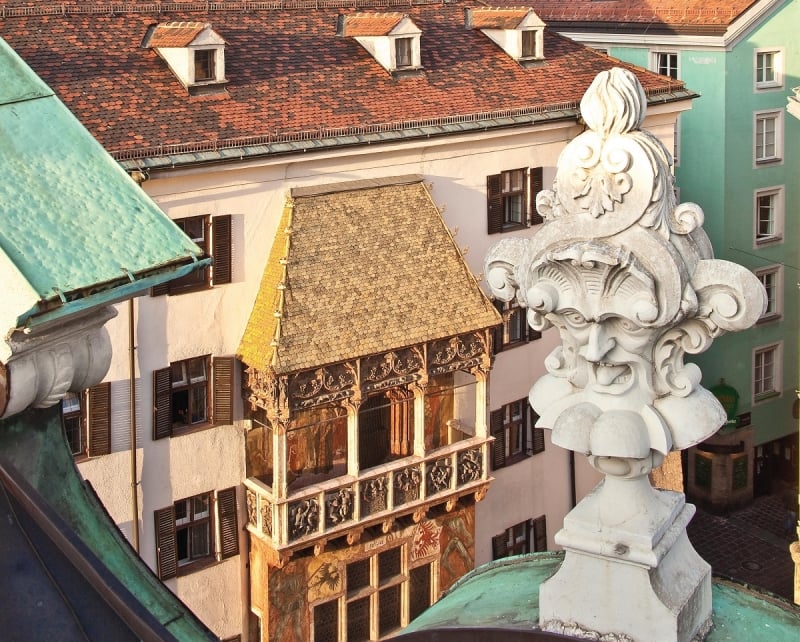 Having reigned over Europe for almost 800 years, it comes as no surprise that most historic spots bear markers of the ostentatious Habsburg rule. The Golden Roof or the Goldenes Dachl is an excellent example, among well-loved Innsbruck attractions. Yet another one of Emperor Maximilian I's initiatives, the Golden Roof was constructed in the year 1500 for the Habsburg Emperor's personal use. 
Fashioned out of 2,657 fire-gilded copper tiles, the opulent verandah gleams a bright gold when exposed to sunlight — hence its name. It is said that Maximilian often occupied the Golden Roof when he was in town to enjoy an unobstructed view of Innsbruck. The Habsburg Emperor made sure it was a perch like no other, so that people may be reminded of his incomparable influence and affluence each time they fixed their gaze upon the spectacle. You'll find the Golden Roof in the Old Town or Aldstadt, where you'll also chance upon cultural, shopping, and dining centres such as Maria Theresien Street. Don't miss the coffee shops in the area, as well as Golden Roof Museum, which can help you trace the origins of the structure.
9. Bergisel Ski Jump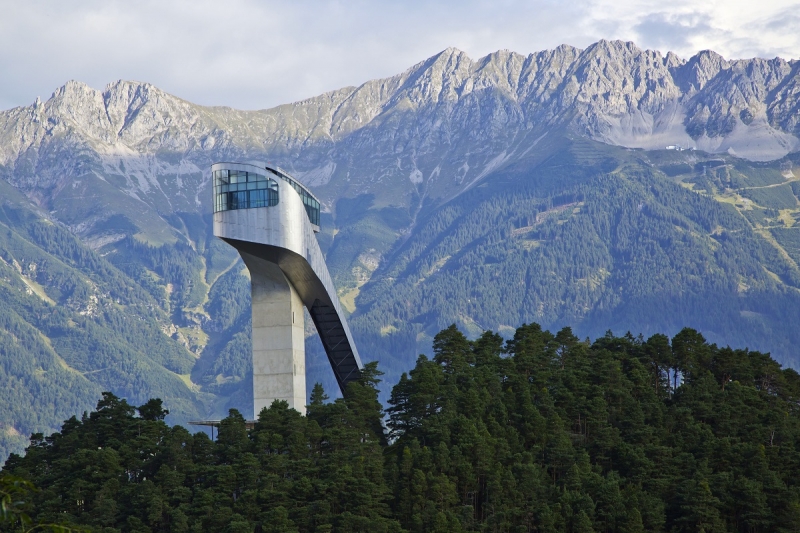 Aside from being Austria's "Capital of the Alps," Innsbruck is also the country's famed winter sports hotspot. The city, after all, hosted the Winter Olympics, not once but twice — in 1964 and 1976. It also hosted the Winter Youth Olympics in the year 2012. Because of this recognition and the popularity drummed up during these momentous occasions, Innsbruck takes pride in its Olympic heritage. The Bergisel, Innsbruck's iconic ski jump is where you should start to know more about the burgeoning of professional winter sports in the country through the years. 
Snap away as athletes show off their skills while training between May and October. Don't miss the in-house restaurant, which treats guests to unforgettable scenery. The Bergisel is surrounded by the Austrian Alps, so you can pretty much take photos of the vista from any angle. Did we mention a visit to the Bergisel also grants tourists access to a viewing deck that overlooks the city? Out of all the attractions in Innsbruck, perhaps this is the only one that gives you a glimpse of what professional ski jumpers see right when they zoom through the Bergisel.
Breathtaking views for your dream Instagram feed
10. Mariahilf-St. Nikolaus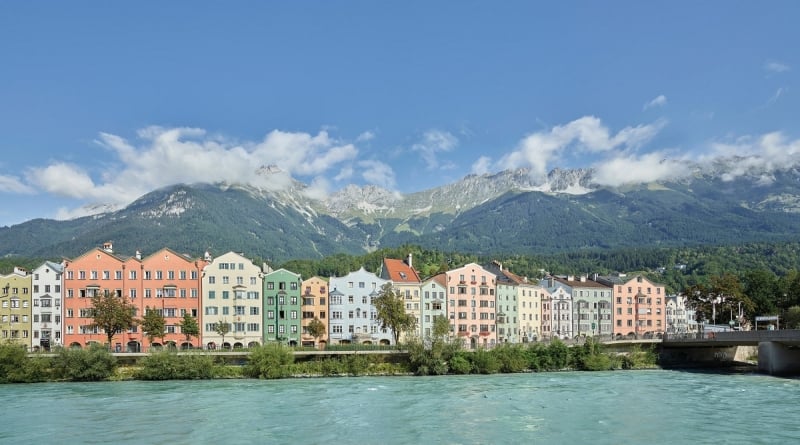 I've always been intrigued by local architecture. And they don't have to be imposingly grand to get my attention. Even the sight of Innsbruck's pastel-coloured commercial and residential buildings is enough to mesmerise me. Having come from a Southeast Asian country that stays tropical all year, the sight of these basic European structures lining a riverbank and set against the Austrian Alps' snowy ridge sets my heart aflutter. For a view just like I described, head to Mariahilf-St. Nikolaus.
There are many districts you can explore in Innsbruck, but only a few will lend you a viewpoint from which you can shoot landscape photos that perfectly capture life so near the Alps. Make sure to book a stay! Mariahilf-St. Nikolaus is home to a variety of hotels and inns that would surely give you a taste of Tyrolean hospitality.
11. Adlers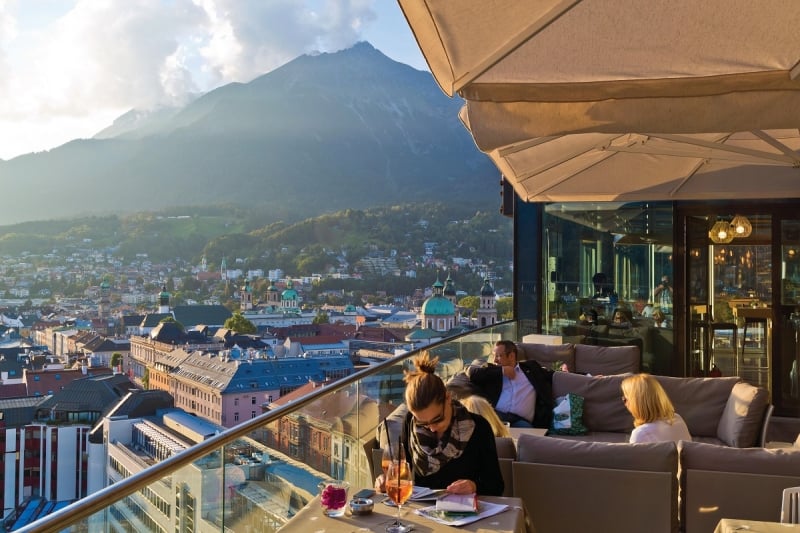 I've mentioned this at the beginning, and yet it deserves a second mention. Adlers is a household brand in Innsbruck; it's a cosy deluxe hotel that features a world-famous restaurant and bar. If you ask any local why a stay in Adlers is worth the splurge, they'll describe the breathtaking view that you can wake up to if you do get billetted here. The scene is as dreamlike as it gets: Imagine dining atop one of the most impressive accommodations in the city, the rest of Innsbruck beckoning below and great outdoors dropping jaws without fail as far as the eye can see.
Indulge yourself and dine at Adlers' in-house restaurant, which lures guests with a 360° view of Innsbruck that perfectly complements its scrumptious delights. Why not mark the occasion by ordering the Chef's Choice? It features a revamped Tiroler Gröstl (aptly named Tiroler Gröstl 2.0), a traditional Tyrolean speciality with beef, fried egg, and potatoes. Reminiscent of a hearty modern brunch, Adlers' take on Tiroler Gröstl is guaranteed to be flavourful and plated to perfection. So don't forget to take drool-inducing photos for the 'gram!
12. Nordkettenbahn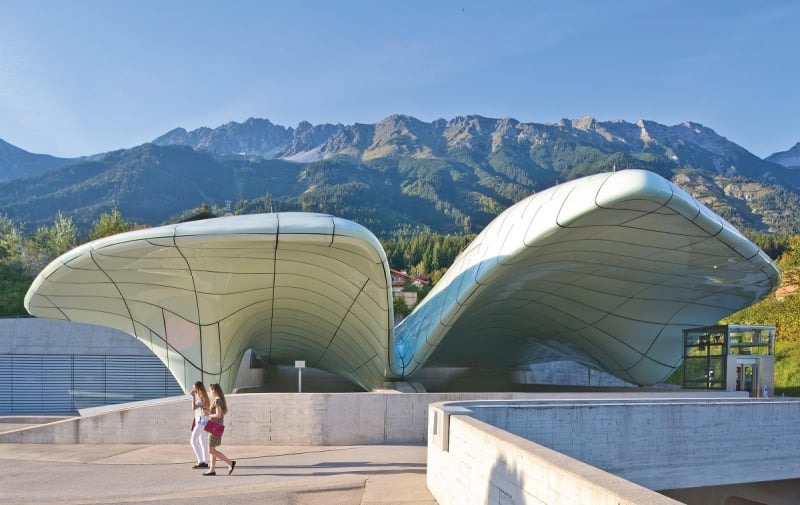 Last but certainly not least is an Innsbruck attraction that everyone knows and experiences at some point during their visit — the Nordkettenbahn. This eye-catching railway system, which hosts both trains and cable cars, is what happens when style fuses gracefully with function. Designed by architectural genius Zaha Hadid, the Nordkettenbahn's four stations — Congress, Löwenhaus, Alpenzoo, and Hungerburg — all follow a sleek, futuristic design that adds oomph to Innsbruck's mountainside appeal. 
Hop on one of the Nordkette cable cars! This particular means of public transportation allows guests to traverse a portion of the Austrian Alps without breaking a sweat. But of course, after enjoying the view from your seat, do as the locals do and go on a hike 'round Innsbruck's slice of the Alps.
DIY tours that will take you around Innsbruck's gems in no time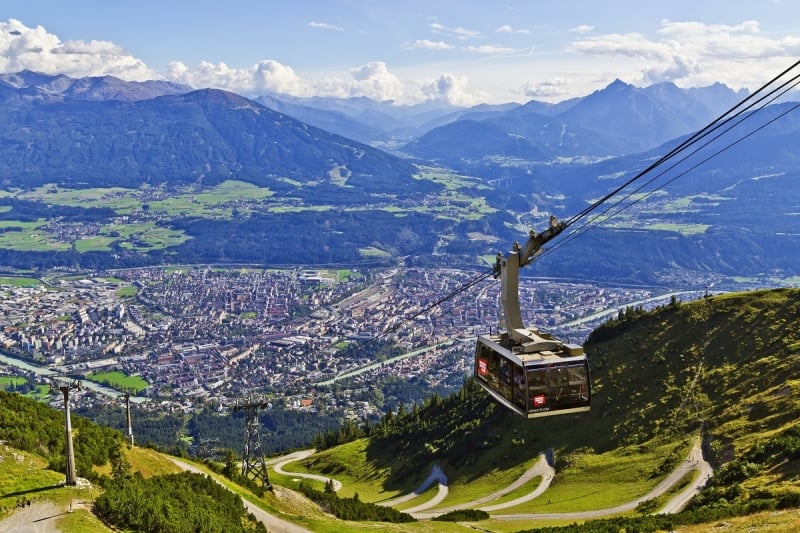 Now that you have a rundown of the Innsbruck attractions you shouldn't miss, it's time to lend a helping hand to those who want to give their picture-perfect getaway a little more structure. Luckily enough, Innsbruck impresses guests with amenities and services that make planning DIY tours a piece of cake!
Mountain-to-city highlights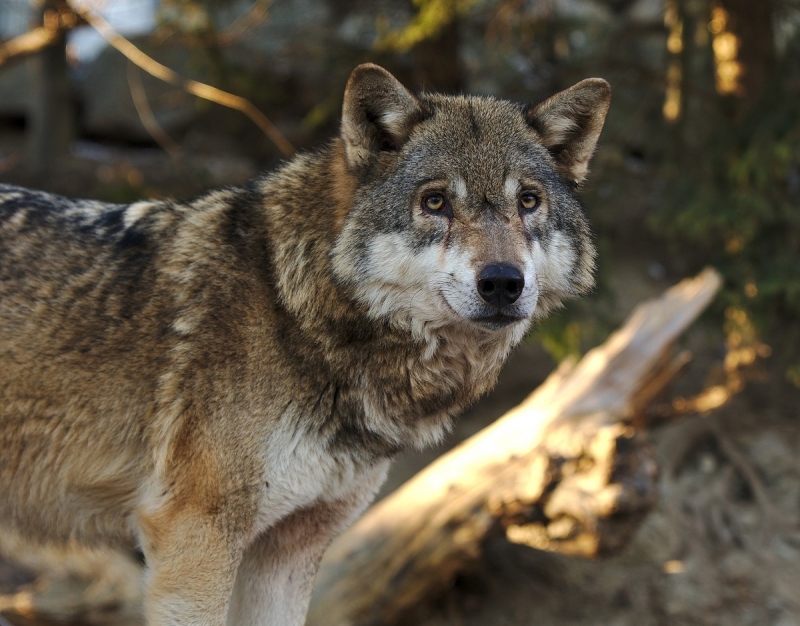 By now you've probably wrapped your head around the amazing fact that Innsbruck lies so close to the Austrian Alps. The city's geographical location alone makes for quite the unique holiday (and an undeniably photogenic one at that!), so we won't blame you for wanting to get the best of both worlds. 
This DIY sightseeing tour, which takes you from the mountainside to Innsbruck's centre, is perfect for travellers who want to feel what it's like to be 2,300 metres above sea level but are intimidated by the thought of a grueling climb. Sure, Innsbruck is a winter sports destination and boy, do locals love a heartracing hike — but we also know vacationers can't resist a tour route that lets you mellow down amid impressive sights!
Why not ride the Nordkettenbahn from end to end so you witness Zaha Hadid's architectural prowess and the scenery that comes with the journey? What's more, there are plenty of stops to explore in between such as the Hafelekar Peak and the Alpine Zoo or Alpenzoo. A few fun facts to tempt you even more: First, a trip to Hafelekar gives you a glimpse of "Hefelekarrinne, one of the steepest ski routes in Europe!" And second, the Alpine Zoo is home to fauna native to the area. Animal lovers ought to take this chance to visit the facility, which is dedicated to the conservation of Alpine wildlife. According to those who've been, an event you'd be lucky to catch is when Alpenzoo's resident wolves begin their hair-raising communal howl.
TAKE ME ON THIS ALPIN-URBAN TOUR
Innsbruck's changing landscapes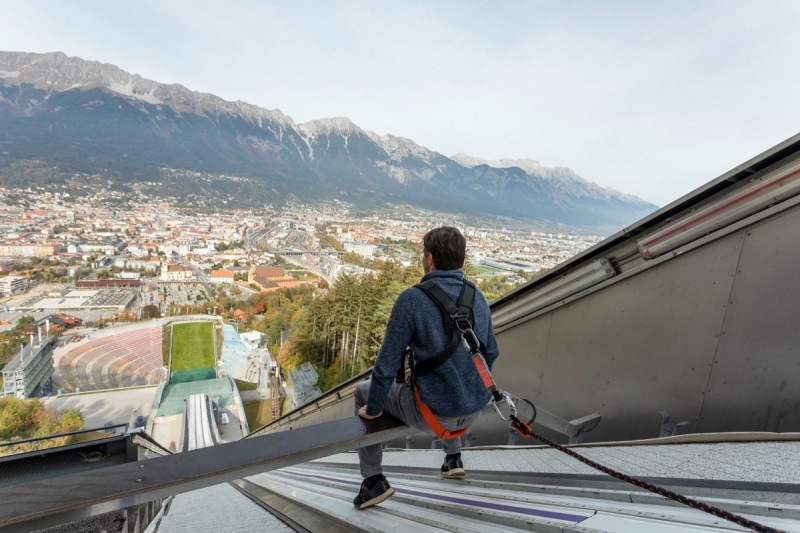 Did you know that it takes 455 steps to reach the top of the Bergisel ski jump by foot? Treat it as the day's cardio session when you go on this DIY sightseeing tour that spotlights the city's natural and man-made marvels. Worry not if you choose to skip the climbing, though; an inclined lift does the legwork for you in just two minutes! 
Either way, you'll surely get to know Innsbruck from the tippy-top of the world-renowned Bergisel to the serene depths of the Sill Gorge — dubbed as the city's canyon of sorts. Walk along the banks of a mountain river hidden deep in the Tyrolean woods. A few minutes immersed in this sanctuary is more than enough to make you think that you're miles away from civilisation. But it's actually not far from the Bergisel! In fact, if you keep an eye out for the right angle, you'll easily capture the forest's lush foliage and the lofty ski jump in just one frame. Don't forget to click the shutter!
This particular sightseeing walk, therefore, presents tourists a peek into how Innsbruck has masterfully meshed urban life and the natural world to co-exist harmoniously over the years. Did we tell you it also gives daredevils a once-in-a-lifetime chance to sit on the Bergisel's launch platform? You'll no longer need to imagine the nerves athletes have to overcome before they make their big jump because you can experience it for yourself! Question is, are you up for the challenge?
SEE THE BERGISEL AND SILL GORGE
The Habsburgs' footsteps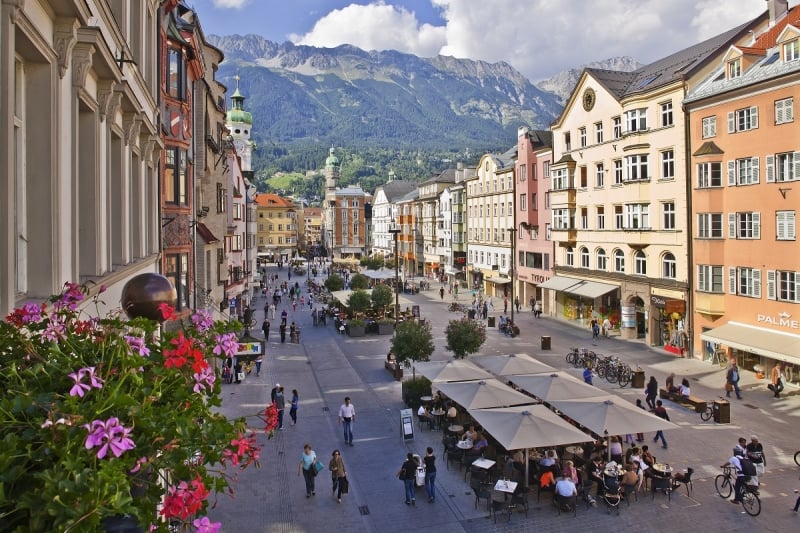 Don't think we were going to leave history buffs empty-handed. With a past as rich and as storied as Austria's, you can't just visit Innsbruck without acquainting yourselves with the House of Habsburg. This royal family, after all, paved the way for the county's colourful culture and deep appreciation for the arts. 
Take a leisurely stroll around Aldstadt and picture how Austrian monarchs once stepped on the very ground you're standing on. This DIY sightseeing tour sheds light on the legacy of the Habsburg Dynasty and lets tourists uncover Innsbruck's roots by following the Habsburg's footsteps. Wander where your feet will take you. Admire the intricate stone carvings of the Triumphal Arch. Wait for the peace bells' ringing to echo through the city while inside Innsbruck Cathedral (also known as the Cathedral of St. James). 
Find out which archduke had a penchant for the theatrical arts, so much so that he had Tiroler Landestheater built in 1653. But don't get too carried away — you'll have to make time for the other historical go-tos: Golden Roof, Court Church, Maria Theresien Street, the Imperial Palace, and Jesuit Church.
SHOW ME THIS HISTORICAL TOUR ROUTE
Delightful day trips from Innsbruck to Salzburg… and beyond?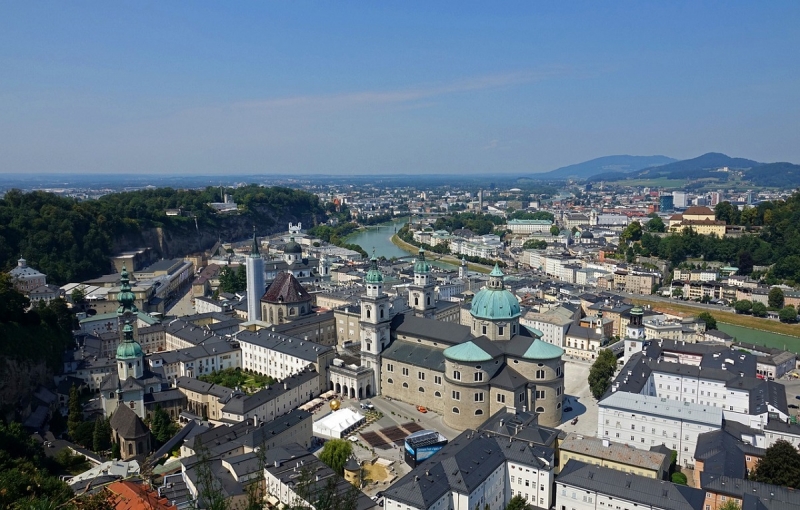 When you begin to think that things can't get any better, leave it to Innsbruck to exceed expectations. Aside from having so much to do in the city alone, the Tyrolean capital actually makes the perfect jump-off point for day trip excursions to surrounding areas. That's right, staying longer in Innsbruck extends your fun farther and further that you can ever imagine!
Just a 90-minute drive from the city centre is the country's "largest glacier ski area," the Stubai Glacier. Around the same travel time from Innsbruck would be Area 47 — a vast outdoor adventure park — and Lake Achensee, where day trip-goers often cruise across calm waters. Längenfeld, too, is just a short distance away from Innsbruck and a little jaunt affords you a splashin' time at the Aqua Dome.
GO TO ATTRACTIONS NEAR INNSBRUCK
If a full-fledged road trip's more your cup of tea, we're happy to inform you that's easily arranged from Innsbruck. Three hours on the road can lead to endless possibilities and experiences that seem worlds away at first. But staying in Innsbruck can make your dream Eurotrip come true! Simply pick a destination and plot your day trip's itinerary according to what you're in the mood for. Explore the rest of Austria; perhaps open your soul to the sound of Salzburg. Or enter a different country altogether! Shall it be Germany (to munch and sample tipple in Munich) or Italy (to fall in love with rustic Verona)?
Yes, best believe all these destinations are only THREE hours away by car. So what are you waiting for? It's high time you start planning an extended holiday because it looks like Innsbruck attractions aren't the only treasures that await.
See Innsbruck attractions at your own pace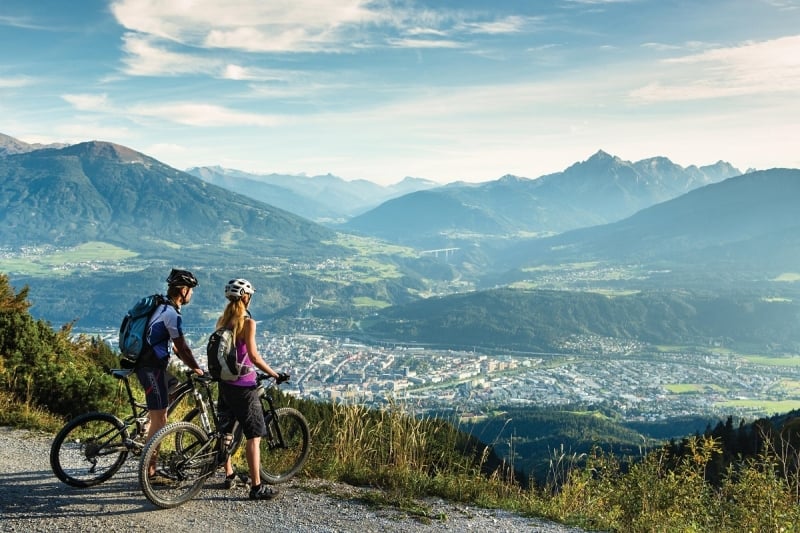 With a wide array of sights to see, it's only natural to have your phones and cameras out to immortalise moments and memories made in Austria's "Capital of the Alps." And with countless activities to do in the area (and beyond!), we won't be surprised if you're still figuring out the best sightseeing itinerary for your travel dates. Why not consult this handy guide of Walks to Explore while going around Innsbruck? It easily lets you tailor-fit your to-do list according to the length of your stay (the longer the better, of course!).
Also read: Innsbruck Travel Guide: 3-Day Itinerary, Top Things To Do & More!
Remember: Savour each Innsbruck attraction you come across — take in every inch of the Tyrolean capital, one picturesque highlight at a time. Before you know it, you'll be living your most picture-perfect Eurotrip yet. Don't forget to share your photos with us @tripzillaph!
For more information, please visit Innsbruck Tourism's official website and Facebook page.
---
Brought to you by Austrian National Tourist Office (ANTO) and Innsbruck Tourism Office.
Originally posted on TripZilla.com