Picture this. A clear blue sky and the sun shining brightly on Vienna's peaceful streets. It's mostly quiet coming from your hotel until you hear the faint sound of the smooth saxophone from afar. You follow it until you're in the ever spacious Stephansplatz square. There are local musicians playing their instruments, artists selling their paintings, tourists and locals alike going around to eat in outdoor restaurants or shopping in nearby luxury stores. All these while enjoying a safe and old-world city charm. But that's just a typical day in Vienna.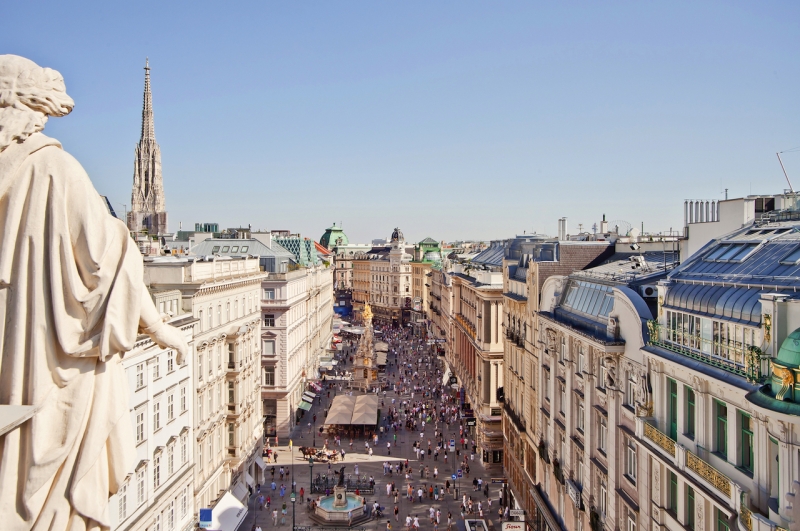 There's so much more to see and do in what's considered to be the most liveable city on Earth. If you want to know the top things to do in Vienna, read on, because these unique experiences will be enough to seal Austria into memory.
Also read: All About Vienna, Austria & Why You'll Fall In Love With It
1. Celebrate the holidays in the Vienna Christmas markets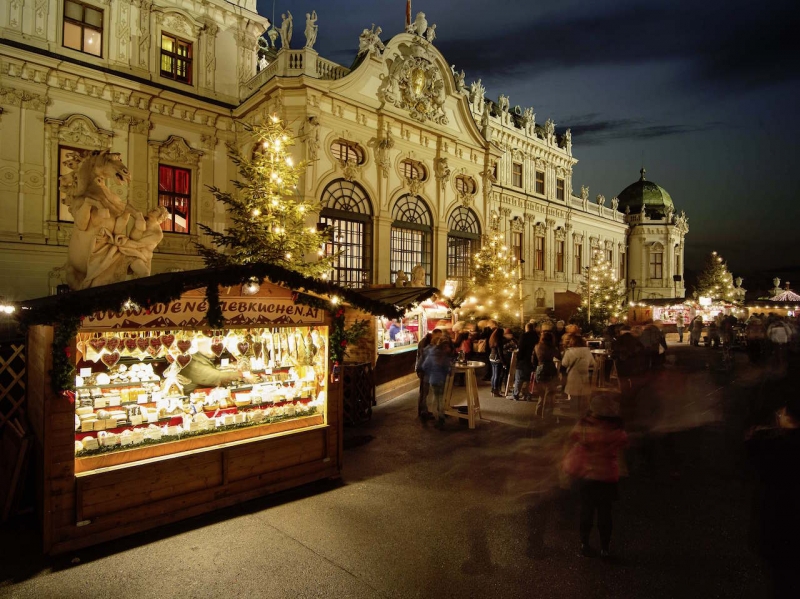 Experiencing the Christmas holidays in Vienna's baroque city is nothing short of magical. Squares transform into Christmas markets, and Christmas lights set the whole city aglow come evening. The whole town buzzes with excitement as Christmas shopping begins, and there's always an array of gifts to choose from in the bazaars such as handicrafts and culinary treats. Popular Christmas markets are located in front of Schönbrunn Palace, where children can attend Christmas workshops, and at the Belvedere Palace which becomes even more picturesque with a Christmas village motif against a baroque backdrop.
Another notable bazaar is the Winter Market on Riesendradplatz where your family can watch live musical performances. These performances usually include songs under gospel and soul that are perfectly suited for the holiday spirit. Meanwhile, you won't ask for more in the Christmas market on Stephansplatz as it accommodates approximately 40 booths that offer local high-quality products to complete your shopping experience. For that reason, grab a hot choco from a cafe booth, savour the smell of fresh gingerbread, and take your time circling these enthralling and bustling Christmas markets to have the most memorable holiday yet!
2. Stroll around the city centre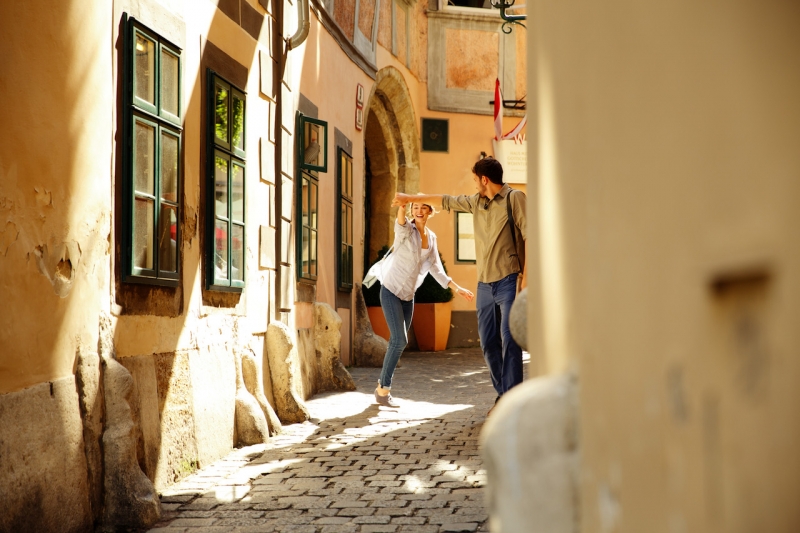 Go on foot and explore what artistic facades the city has to offer. Let's start with Ringstrasse, which translates to Ring Road in English. Ringstrasse encompasses Vienna's Old Town and is located where medieval forts once stood. It took Vienna over 50 years to create this 5.3 kilometre-long road which is now considered to be the world's most beautiful boulevard.
When it was being made, noble families rushed to establish their own palaces on the road, which modern tourists can still admire from the outside. The notable attractions to explore reflect various artistic movements. The State Opera, for example, has a Neo-Renaissance style, the Parliament City Hall fosters a Flemish Gothic design, and the Burgtheater reflects New Baroque motifs.
Other than that, you may witness Vienna's Art Nouveau scene with your own eyes in establishments such as the Majolikahaus, Musenhaus, St. Leopold am Steinhof, but most importantly, the Secession building which is one of Europe's earliest Art Nouveau constructions. The Secession building is famously characterised by the "golden cabbage" which glimmers on top of the building.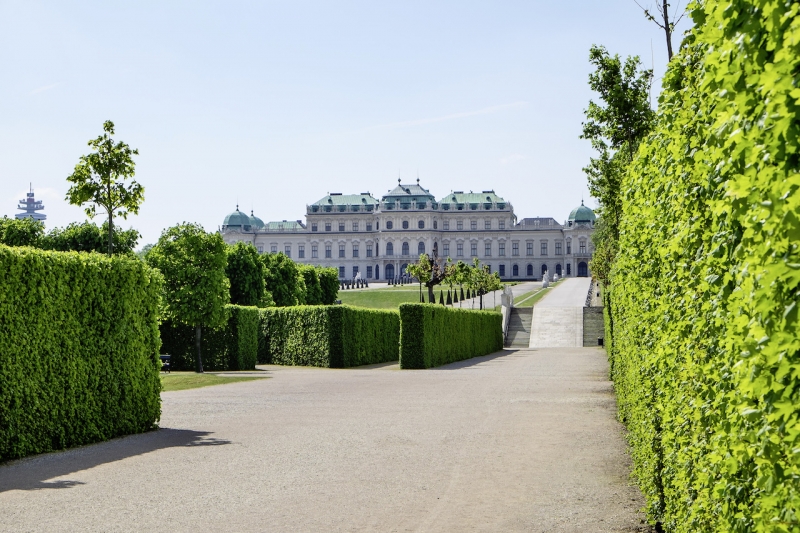 One also should not miss the main symbol of Vienna, St. Stephen's Cathedral, a gothic architectural masterpiece from the outside that's decorated with baroque altarpieces found inside. And if you'd like to see the world's biggest Klimt collection, including The Kiss, the magnificent baroque palace of Belvedere is the place to go. Aside from paintings of Gustav Klimt, you will find works by Egon Schiele and Oskar Kokoschka. It doesn't get more baroque than to walk in the halls of Belvedere!
3. See Vienna from above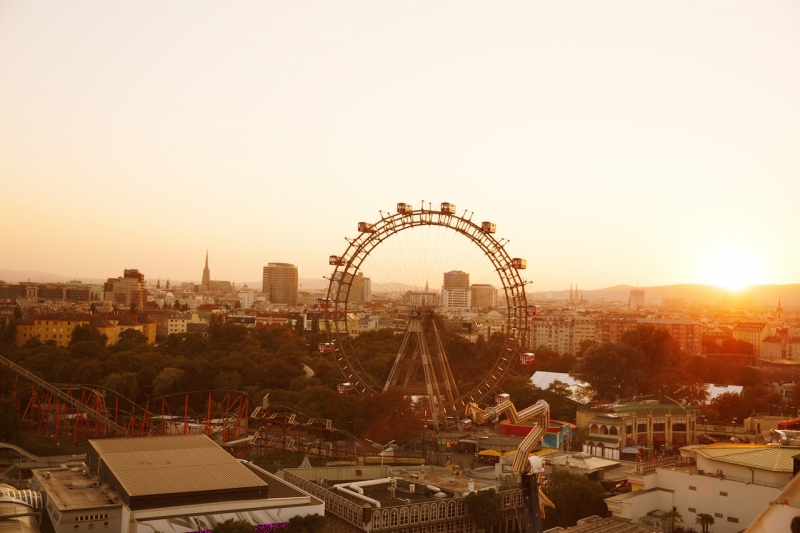 Speaking of Vienna's famous symbols, another one would be the Giant Ferris Wheel which is found in their amusement park, the Prater. An ideal place to bring your children, the Giant Ferris Wheel will provide you a fun viewing experience of the whole city and the Danube river. The Ferris wheel has become quite iconic that famous Hollywood movies like The Third Man and The Living Daylights have even filmed with it. If you're feeling romantic, you may even book a cabin for private dinners. The Prater is also known for its peaceful meadows and quiet paths where families can have some downtime or go on therapeutic walks.
4. Ride a horse-drawn carriage around town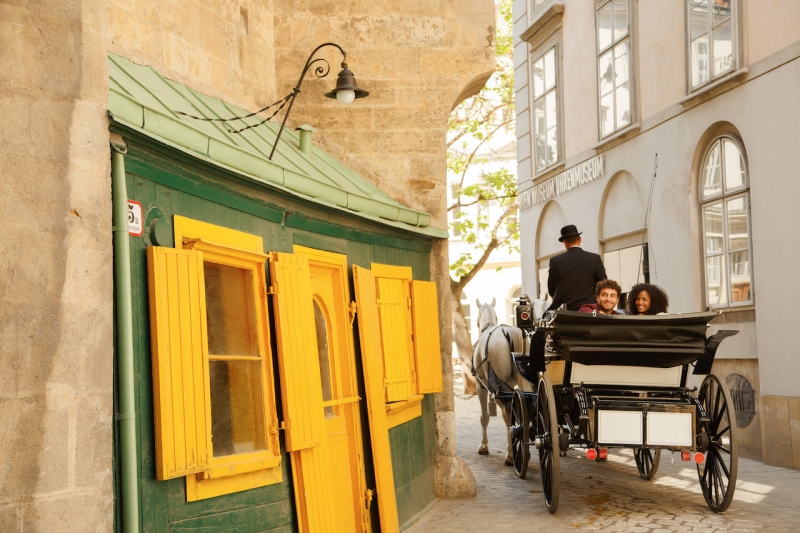 Vienna's two-horse carriages, called "fiakers" are not only the cosiest way to get around town, they're also very sought-after tour guides. The friendly carriage drivers, traditionally known for their discretion back in the day, can now take tourists on city tours. A 20-minute tour that will take you around the Old City costs €55 while a 40-minute tour through Ringstrasse and the Old City costs €80. You may find fiaker stops in Stephansplatz, Michaelerplatz, Albertinaplatz, Petersplatz, and Burgtheater/Volksgarten.
There's even a stop at the Central Cemetery where the fiaker will take you to see the graves of famous people such as Mozart, Schubert, Beethoven, Hans Moser, Falco, and Adolf Loos. In the evening, the driver will also lend you warm blankets for you to comfortably enjoy Vienna's golden and imperial night scene. So regardless of where you're going, rest assured that you're in good hands!
5. Attend a classical concert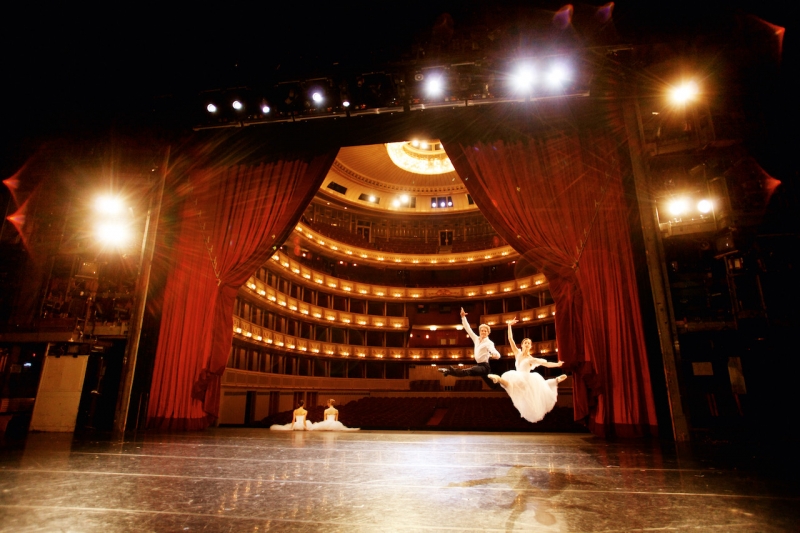 It wouldn't be Vienna without music. Be one of the 10,000 music fans who is treated to performances every night in the city of music. There are so many places to experience a concert, regardless of the scale. There are numerous cafes, such as Café Schwarzenberg and Café Prückel, where you can listen to intimate violin or piano compositions of musicians like Johann Strauss and Waltz King, as well as contemporary and classical Viennese songs by local soloists. Your hot coffee and pastry will taste even sweeter with such smooth and relaxing tunes. But if that's not your cup of tea, there are always church concerts where choirs perform pieces by Mozart, Beethoven, and Vivaldi. Continue your musical adventure by touring famous concert houses like the Musikverein and the Wiener Konzerthaus, too!
6. Indulge in Viennese food and wine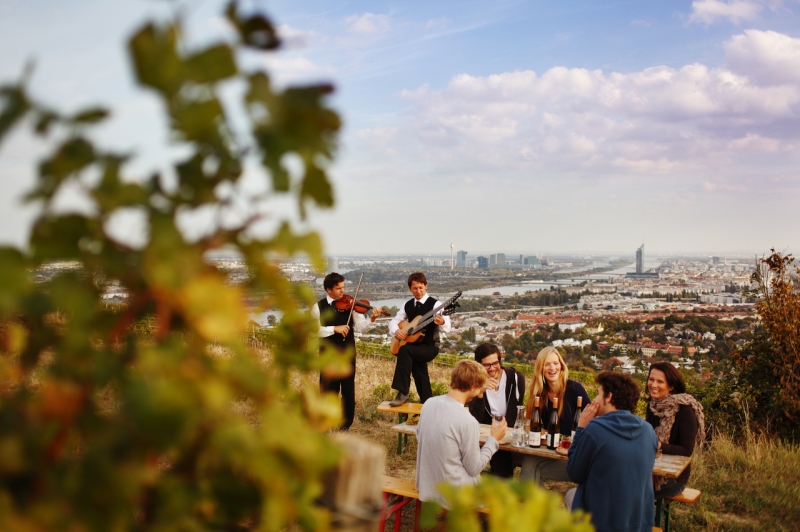 To experience the best of Vienna is to experience the iconic Viennese cuisine! Ergo, you must try their famous Wiener Schnitzel. This is a breaded and fried boneless meat that's been a Viennese classic since the 18th century. Today, it's their national dish that is served in every authentic Viennese restaurant. It's usually plated with lemon slices, and it is advised that you should eat schnitzel with potatoes on the side. Then, try Vienna's classic Tafelspitz (boiled beef) or their Fiaker Goulash, among their other local juicy and meaty dishes.
Once you've had your fill of delicious food, push the hearty meal down with Vienna's one-of-a-kind wines. Did you know that Vienna is considered to be the wine-growing capital of the world? And for good reason! It's the only city that grows enough wine within its perimeter thanks to 700 hectares worth of vineyards inside of Vienna. If you have an affinity for the wine scene, you can tour Vienna's wine culture with the Heurigen Express. On this tour, you'll be brought to wine towns, vast vineyards, and wine taverns. All these while giving you a picturesque view of Vienna's woods, villas, and farmhouses. The best part? It has a hop-on-hop-off system, so you can indulge in wine tasting in different taverns.
7. Visit Schönbrunn Palace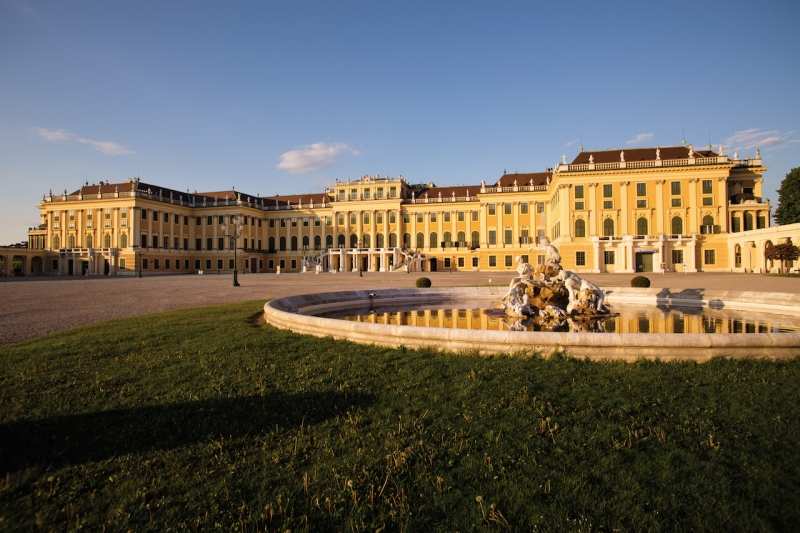 Known to be the most visited tourist spot in Austria and one of Europe's most beautiful baroque complexes, the Schönbrunn Palace is no doubt rich in history as it has been passed down from monarch to monarch starting from the Habsburg family in 1569. However, it was only in the late 1600s when the baroque motifs came into fruition, thanks to the Rome-trained architect Fischer von Erlach.
Having undergone a series of progression throughout the years, the massive baroque palace you'll see today has 1,441 rooms with 45 of them available for public viewing. One of them is a mirrored hall where a six-year-old Mozart wrote music, and another is the Vieux Lacque Room where Napoleon Bonaparte held his conferences. In fact, the whole palace was Napoleon's headquarters when he conquered Vienna from 1805 to 1809. But if you're looking for something other than historical quarters, get fresh air in the palace gardens. They have a number you can explore such as the Privy Garden, Orangery Garden, the maze, and even a vineyard!
From outside, take the chance to appreciate the famous yellow facade of Schönbrunn Palace. It is said that they have allowed this colour to prevail in reference to Dowager Empress Maria Theresa's reign. During her time, the palace went from golden to light ochre. Every detail, whether visual or historical, will bring you closer to what they call Imperial Vienna.
How to get there
From Singapore, the fastest route you can take going to Vienna, Austria is to fly with Singapore Airlines, Thai Airways or Lot Polish Airlines. All three have an approximate of a 15-hour travel time. Singapore Airlines has a stopover in Munich. Thai Airways has a stopover in Bangkok, while Lot Airlines has one in Warsaw.
Tip: When in Vienna, you may avail of the Vienna City Card, which gives you a free pass in tourist attractions and public transportation, including hop-on-hop-off buses. This card can be purchased online or in hotels.
We could go on about everything to love and experience in Vienna. However, these top activities should already be on your to-do list. They're definitely on ours, and the list only gets longer and longer every time we hear great things about Vienna. This epic Austria adventure awaits!
Already in love with Vienna? Then see more of Austria with this 7D6N Tour Package. It will cover daily buffet breakfast, city tours in Vienna, Salzburg and Munich, excursions to Hallstatt, Kitzsteinhorn (top of Salzburg), Swarovski Crystal Worlds, and many more!
For more information, please visit Vienna Tourist Board's official website and Facebook page.
---
Brought to you by Austrian National Tourist Office (ANTO) and Vienna Tourist Board.
Originally posted on TripZilla.com