Contributed by The Curious Filipina
It has been quite a long time since the last time I went around the Philippines. When we had the chance to grab an airline promo fare on a long holiday, I immediately thought of doing the BIG tour. BIG stands for Bacolod, Iloilo and Guimaras. What can you do in these islands for five days? Let me tell you through this post covering our itinerary along with costs.
Starting the course
You have an option to choose whether you'll start in Bacolod or Iloilo. Either way would be a good option. For us, since we are from Cebu and we were able to snag a cheap ₱500 Iloilo-Cebu airfare, we started the trip in Bacolod.
Travelling by Bus and Barge to Bacolod
From Cebu South Bus Terminal, board an ordinary bus going to Toledo City. It will pass by the port where the fast crafts/barge that will take you to Negros Island are located. Ride the fast craft/barge to San Carlos City port. From the port, take a tricycle ride to the San Carlos Bus Terminal. Board a bus going to Bacolod via Don Salvador.
From Cebu North Bus Terminal, you can also opt to ride a bus that will take you directly to Bacolod via Tabuelan where you still have to ride a barge/fast craft. Downside to this is there are only a few bus schedules going straight from Cebu to Bacolod.
Since it was a long weekend, we chose the former option because I'm quite sure that the direct bus will be packed. True enough, a friend who went on a separate trip to Bacolod via North Bus Terminal told us that they had to stand for most of the trip.
Day 1 and 2: B for Bacolod
Our travel took seven to eight hours including all the waiting time in between. Naturally, our hungry selves craved for a good meal, and when in Bacolod you most definitely should not miss Bacolod Chicken. Its famous place to go to is Manokan Country, where chicken barbecue restaurants are lined up one after the other. The place is also beside SM Bacolod which makes it easy to find. The prices normally range from ₱80 to ₱90 depending on the chicken part ordered.
Manokan Country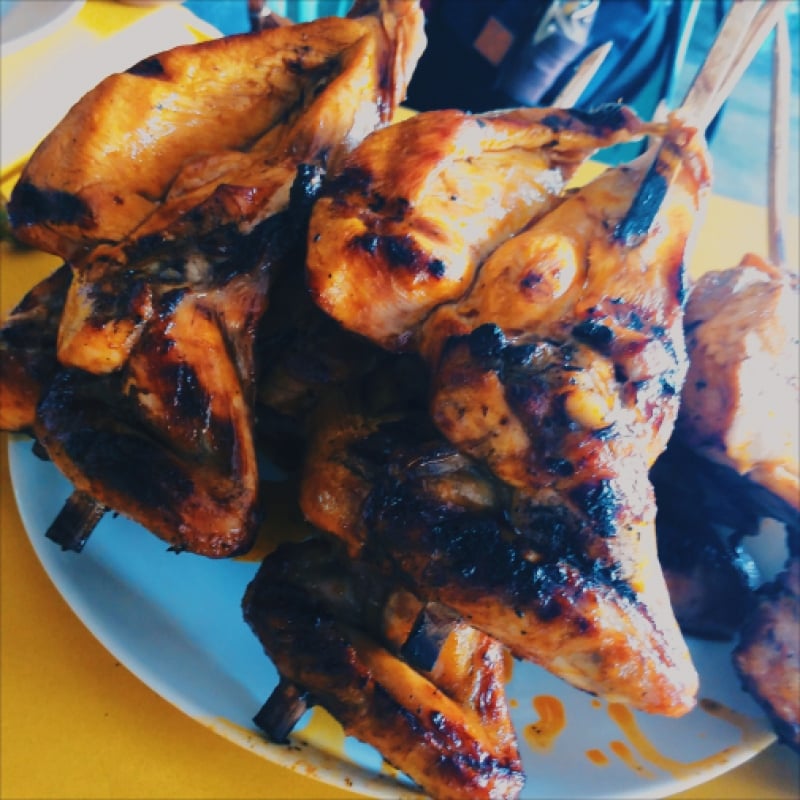 For our lunch, we tried Nena's Beth Chicken and everyone of us ordered the same thing – pecho pak with rice.
After eating, we headed to our accommodation at Pleasant Travellers Pension House. We had two rooms that could accommodate three and four people, respectively. Both rooms had its own private CR, WiFi access, cable TV, air-conditioner and toiletries. I personally liked that the place is located at the city centre, specifically at 13th Street, which was near Lacson Street wherein most hotels and restaurants are located.
Mambukal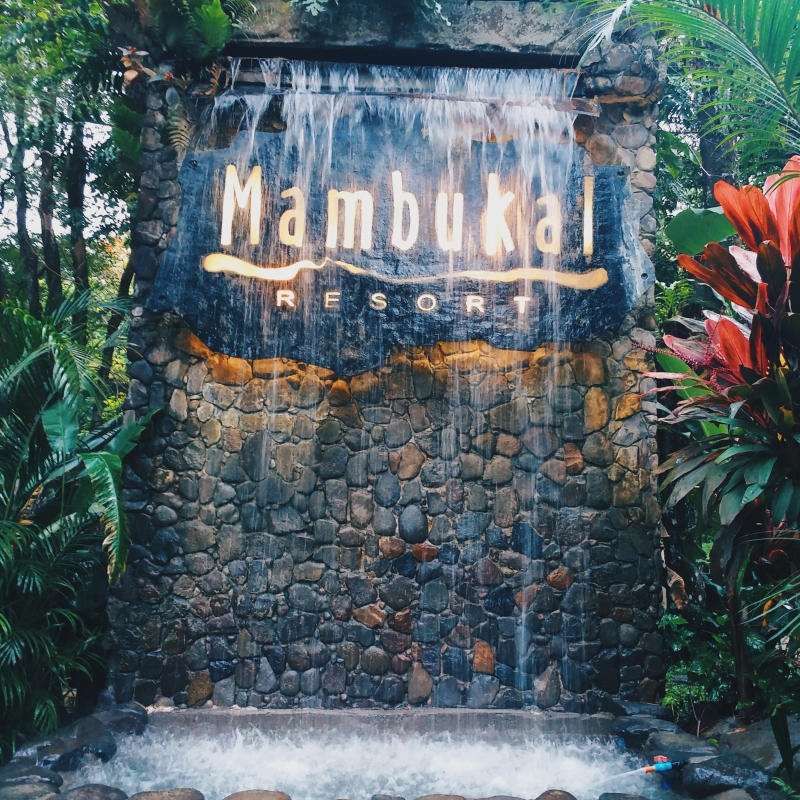 After another one and half hours on the road, we finally arrived at Mambukal. The entrance was only ₱50. Although it wasn't my first time here, I was still excited because I haven't trekked the Seven Falls. Unfortunately, we arrived a little before 5pm and most facilities were already closed. To add pain to the wound, we learned that the last bus going back to the city would leave around 5.30pm!
I guess we learned a lesson here and it's definitely a reason to go back to the resort soon.
For the readers, I took a picture of the rates for your reference.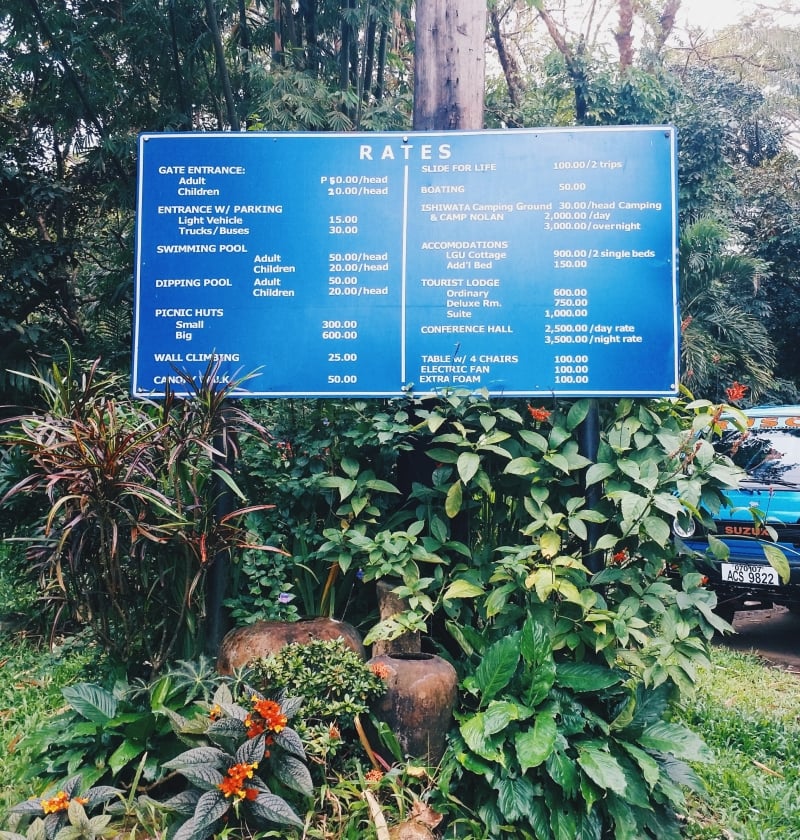 After that epic road trip to and from Mambukal, we delighted ourselves with Jollibee for dinner. Yes, Jollibee is life. We then headed back to our pension house to rest and freshened up a bit.
Calea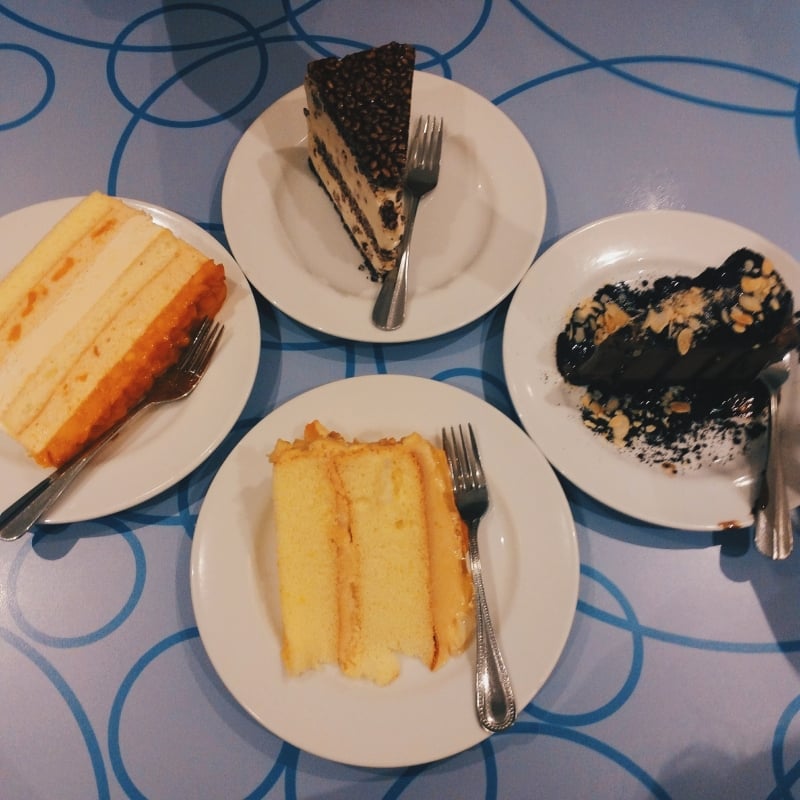 Of course, with Bacolod being the sugar capital of the Philippines, one just cannot miss trying out the city's sweet treats. In this case, we went to Calea for a late night dessert. Fortunately, the dessert house is a walking distance from our accommodation and they close late at 11 in the evening.
I wish I remembered the names of what we ordered because I'd definitely recommend them for you to try out. They were all just so good!
Campuestohan Highlands Resort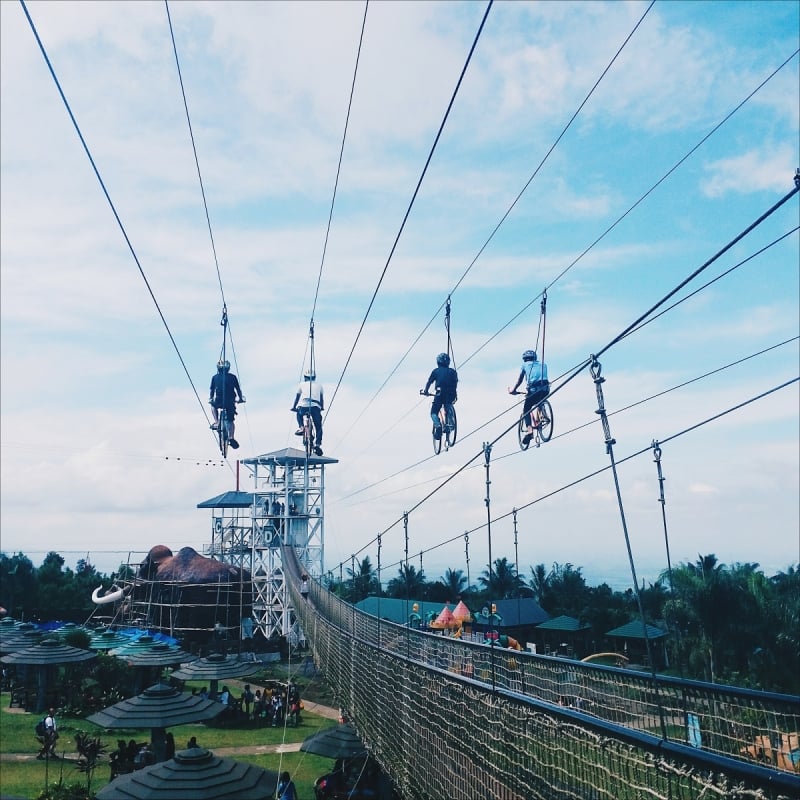 Our second day's first stop was Campuestohan Highlands Resort. It is a mountain resort located an hour away from the city centre. To get here, you have a number of options.
The resort's service at ₱100 per way
Rented van/taxi
Private car
To be honest, commuting here will be quite a hassle due to the distance of the place. In our case, we rented an FX taxi that could fit seven people (plus bags) from 7am to 2pm (our trip to Iloilo was at 3.30pm). Our taxi picked us up at our accommodation and dropped us off the pier right after. I'm happy to recommend our driver, Kuya JanJan, for being kind and for giving us a good deal. You may contact him at 09499887673 if you wish a hassle-free day trip in Bacolod. (P.S. I have permission to post his number)
For this certain place, do watch out for my separate post. Stay tuned!
The Ruins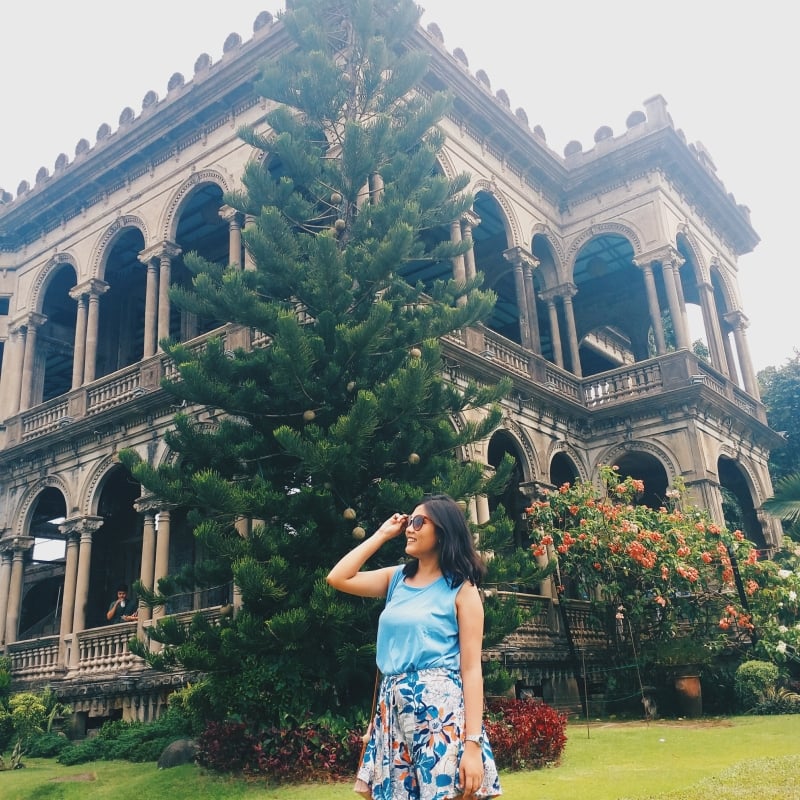 Our stop after Campuestohan is a place you may have always seen in pictures of people coming to Bacolod. The Ruins, located at Talisay, which is a short distance from the main city, has become a popular attraction in Negros due to its beauty and story. It's a mansion built by Don Mariano Lacson in memory of her wife who died after giving birth to their 11th child. However, during World War II, the mansion was burned down leaving only its cement foundation. It then had been dubbed as the "Taj Mahal of the Philippines".
Also read: A Long Weekend in Bacolod: Where to Stay, Eat and Visit in 3 Days
Day 3 and 4: I for Iloilo
To get to Iloilo from Bacolod, we rode a fast craft via SuperCat by 2GO. I must say that it was so convenient because you will be able to book and pay online in advance. That assured us of seats in a busy long weekend. The ride took only about an hour.
Upon arrival, we headed straight to our accommodation at Regatta Hotel. We booked two rooms, same as our Bacolod accommodation. The room was spacious and so was the CR. However, I think the place needed more lighting and our room was a bit old. I could count a number of things that I think could still improve. It was not the same case as the other group though since their room was fairly new and had better furniture. But if you are on a budget, you may still want to consider this as an option.
JD's Bakeshop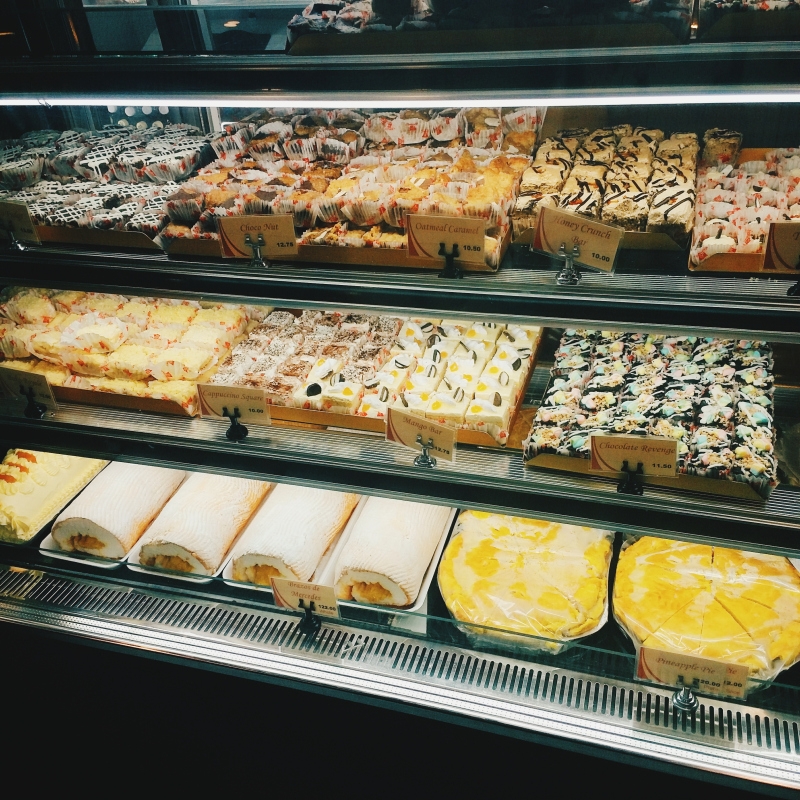 Upon the recommendation of the hotel staff, we ate at JD's Bakeshop. From the outside, their place looks so elegant that we were a bit hesitant to go in. But since it was the nearest restaurant, I was sick at the moment and that I didn't want to walk anywhere further, we decided to give it a go.
You might wonder what we would find here since it's a bakeshop. Surprisingly, they offer more than just pastries. They had rice meals, pasta, soup, sandwiches and more at prices less than one hundred pesos. Wow. I ordered Pancit Molo and Chicken Cordon Bleu and paid less than ₱110. The service was fast and the food was great. We then bought bread for our breakfast the next day.
Gigantes Group of Islands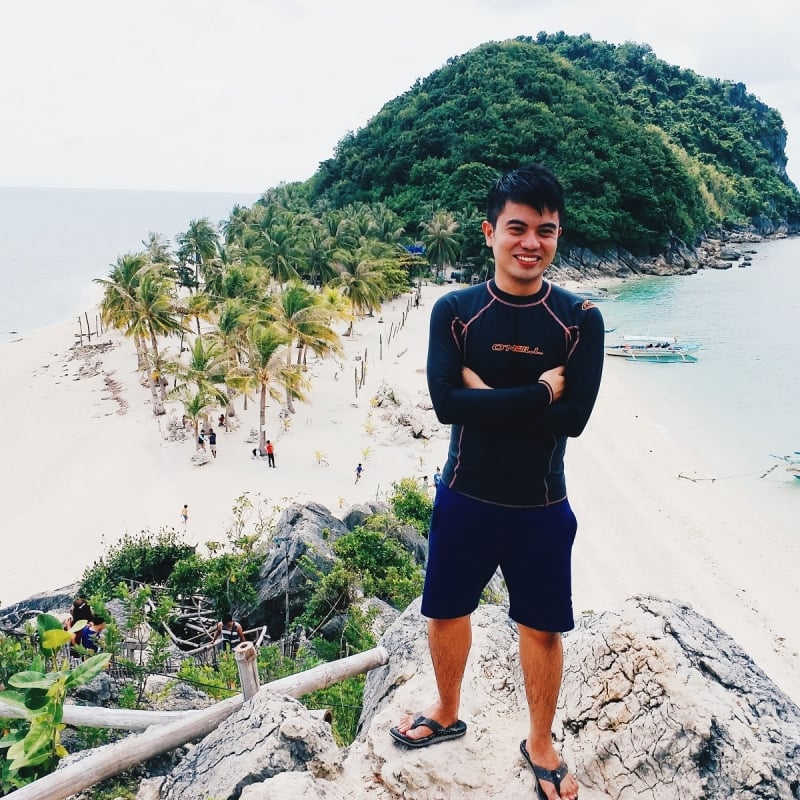 Our main purpose of going to Iloilo was really to explore the Gigantes Group of Islands. It's located far north of Iloilo at the town of Carles which is a three to four-hour ride from the main city. To get here, you have these options:
Public bus/van – Ride going to Tagbak Terminal at Jaro Iloilo. Ride a bus/van going to Carles or Bancal Fish Port. By bus, it would take four to five hours. If by van, three to four hours. The fare is roughly ₱200.
Private car/van – We took this option as an addition to the package deal we had. Luckily, the tour operators and drivers pool their customers to have a private van going to the port for ₱250 per way. The best part about this is they pick you up at your hotel and I think it could save you time, effort and even money compared to going to Tagbak Terminal, which is a bit far from the city.
On a separate post, I'll share to you more of our Gigantes Islands experience. For now, check out some of the pics we took during our 2D1N stay here.
Also read: Exploring Iloilo's Islas de Gigantes
Ted's Batchoy and Ramboy's Chicken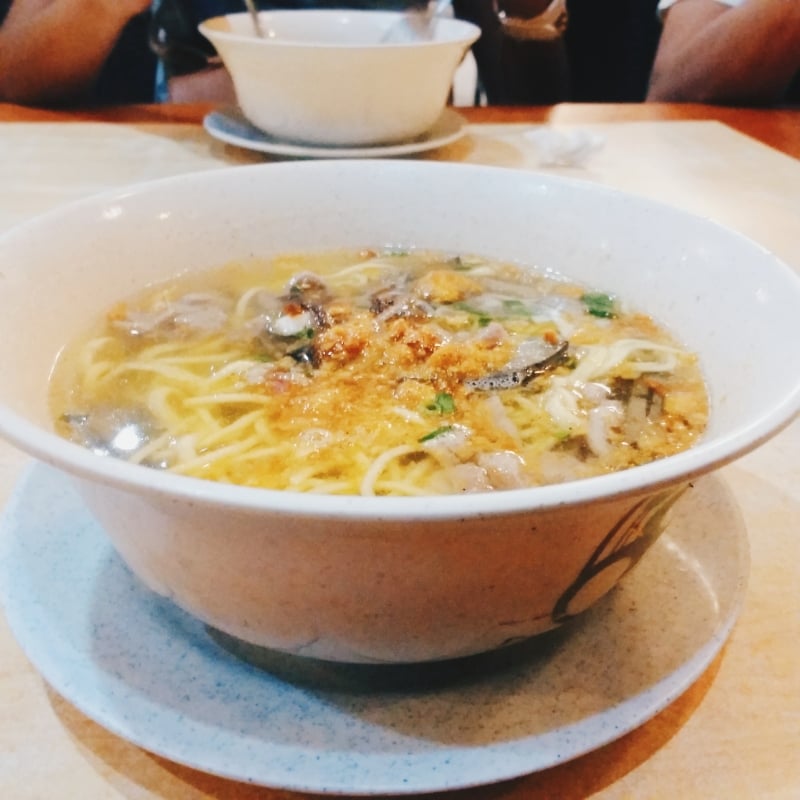 After a long three-hour drive going back to Iloilo, we knew we just couldn't leave the province without trying what it is famous for – the Batchoy. The hotel staff recommended us Ted's Batchoy which was the nearest one opened at that time. All of us ordered their Super Special Batchoy which was fairly priced at ₱95. For a big bowl of hot and flavourful Batchoy, it was truly worth it. We were thankful that Ted's doesn't have a corkage fee.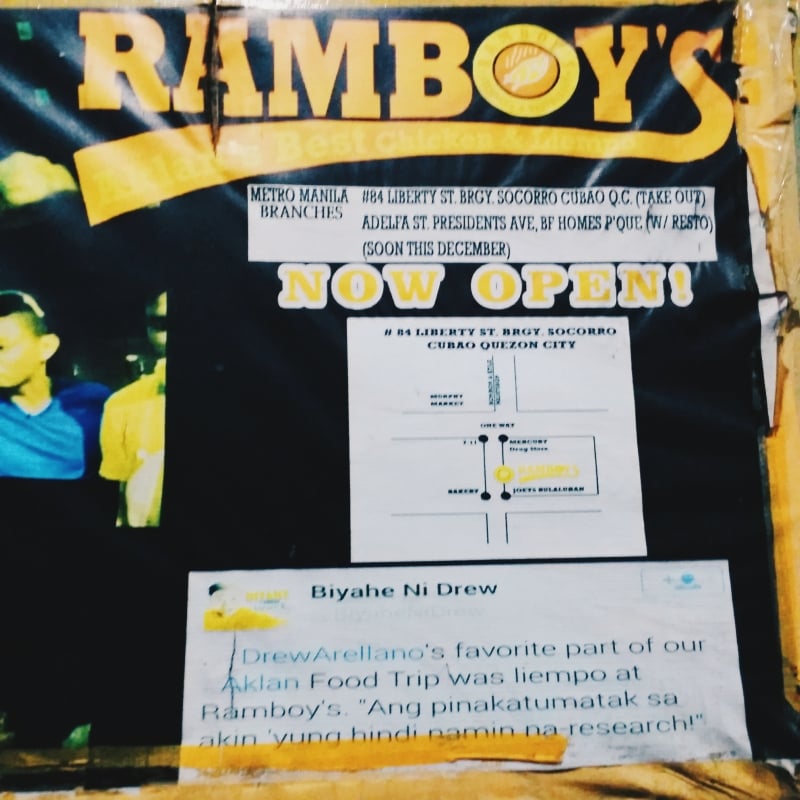 Aside from the Batchoy, we paired our soup with Ramboy's Chicken. We found this chicken place by accident after craving for lechon manok. One of their posters said that this is one of Drew Arellano's favourites in Iloilo during his visit in the province. That sparked my curiosity even more. So, a friend and I bought one chicken and I was happy to have tried this out. I loved the chicken! Every bit of it had so much flavour that you wouldn't need any sauce anymore.
Urban Inn Hotel
Our last accommodation during this travel was at Urban Inn Hotel. The saying "save the best for last" was true. It was our favourite hotel out of all hotels we stayed in. We had a family room that had three bunk beds plus one extra bed. The room was new, clean and very spacious. It also had cabinets, cable tTV, air-conditioner, toiletries, towels, heater for your coffee and glasses. The best part? Each person had his or her own power socket and fast WiFi. The staff were also very accommodating to our requests and we were happy that they allowed us to leave our bags while we toured Guimaras the next day.
Day 5: G for Guimaras
On to our last destination to complete the BIG tour – Guimaras. To get here, simply go to Ortiz Wharf and ride the boat going to the island. It is a mere 10-15 minute ride that costs only ₱14.
Upon arrival, the town officials immediately recognised us as tourists and we were directed to register before starting our tour. I was quite amazed at how organised they were. After registering, the tourist officer will answer your questions like where to go, how to go around the island and where to eat. They already have a standard rate for the destinations you want to visit which is a good initiative to avoid tourist traps. They also have designated people to call on the accredited (I assume) drivers.
To give you an idea of how much a day tour can cost, their SUV (7-8 pax) is at ₱3,000, Multicab (10 pax) at ₱2,000 and the tricycle (3-4pax) at ₱1,500-1,800. The prices are not fixed, though. At least in our case, we told the dispatcher who then negotiated with the driver, that we would be taking the multicab at ₱1,500 only since we needed to end the tour at 2pm because we had a flight to catch. Gladly, the driver was kind enough to agree.
Smallest Plaza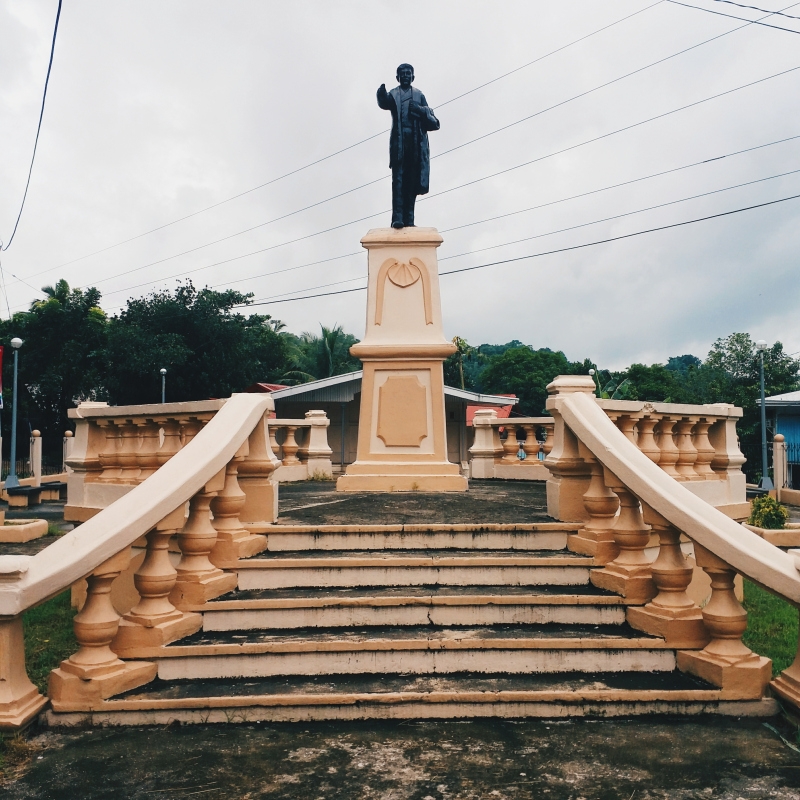 This once held a Guinness World Record for being the smallest plaza in the world. It was so small that you can go around it in less than a minute.
National Mango Research and Development Center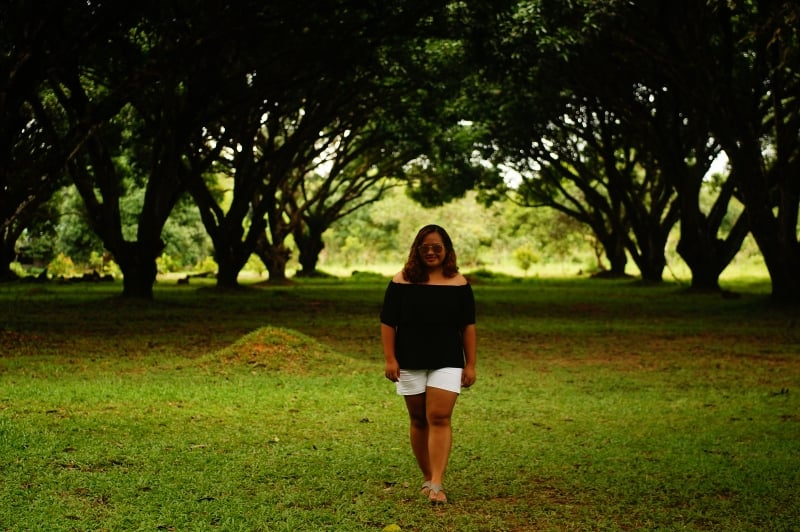 Any Guimaras tour won't be complete without going to mango plantations. I was quite amazed by the number of mango trees in the island. Guimaras being dubbed as the Mango Capital of the Philippines is really true. You can pass by a lot of mango plantations while going to the different attractions within the island.
My friends also told me that the movie Forevermore starring Jericho Rosales and Kristine Hermosa was shot in the island. If you're a 90s kid like me, you'll get much kilig just remembering this movie.
Capitol Grounds – Guimaras Sign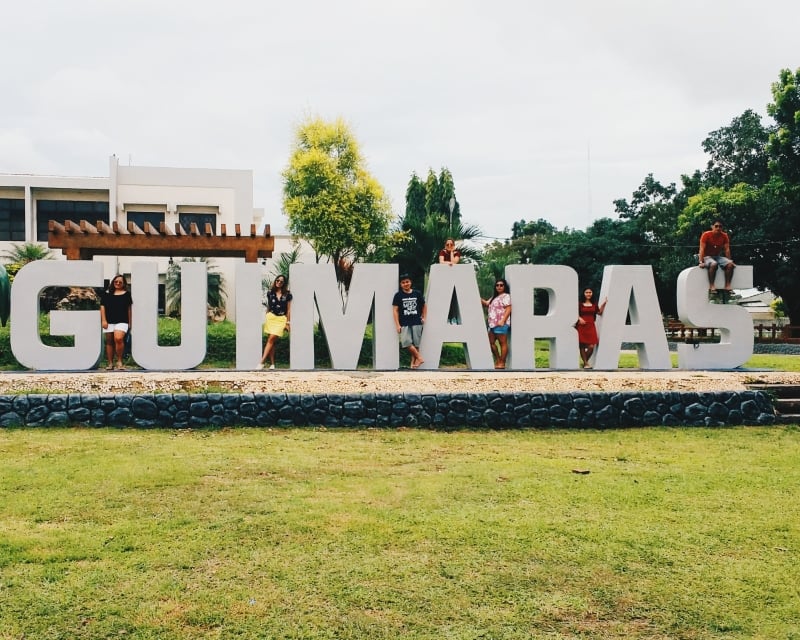 There is nothing much to see here other than the Guimaras sign. What better way to really show you're in Guimaras than taking a picture of the sign, right?
Trappist Monastery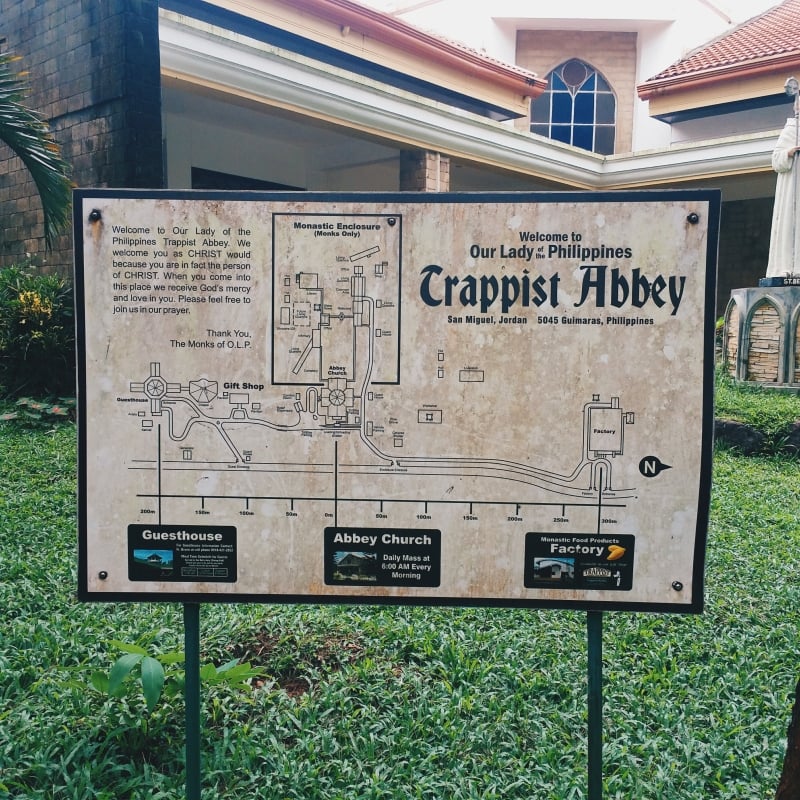 The Monastery is the only Trappist and Men's Monastery in the country founded in 1972. It belongs to the Cisterian Order of strict observance that follows St. Benedict's rule for having monks with the best discipline. It was the first of November when we went there so no one was around. It is a place of solitude and peace and a good site to do some reflecting.
The place also has a gift shop. Here, you can buy Guimaras goodies, magnets and keychains. Unfortunately, since it was a holiday, the shop was closed. However, Trappist products can also be found in other pasalubong stores within the island so you can always grab one on the way.
Pitstop Restaurant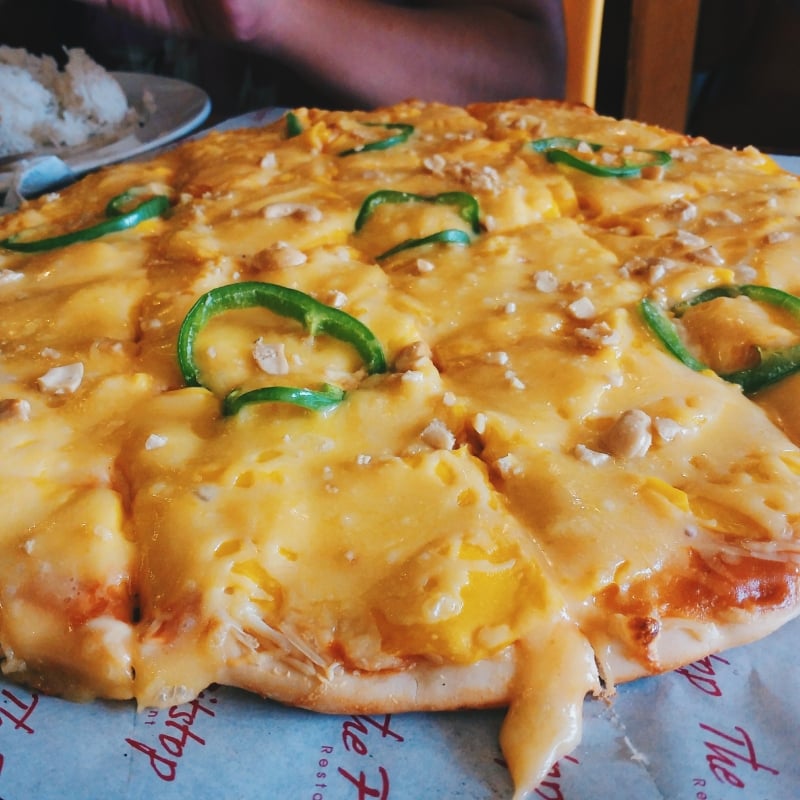 The most recommended restaurant in Guimaras would be the Pitstop restaurant. They are home to the famous Mango Pizza. Although they already have a franchise here in Cebu, I made sure that I would only try the Mango Pizza when in Guimaras. Without hesitation, we tried the talked about item and also ordered other dishes like ribs. The pizza was surprisingly good and the ingredients complemented each other well. It had both sweet taste from the mango and enough saltiness from the cheese. The best part is that they didn't scrimp on the mango toppings. Yey!
Windmill Farm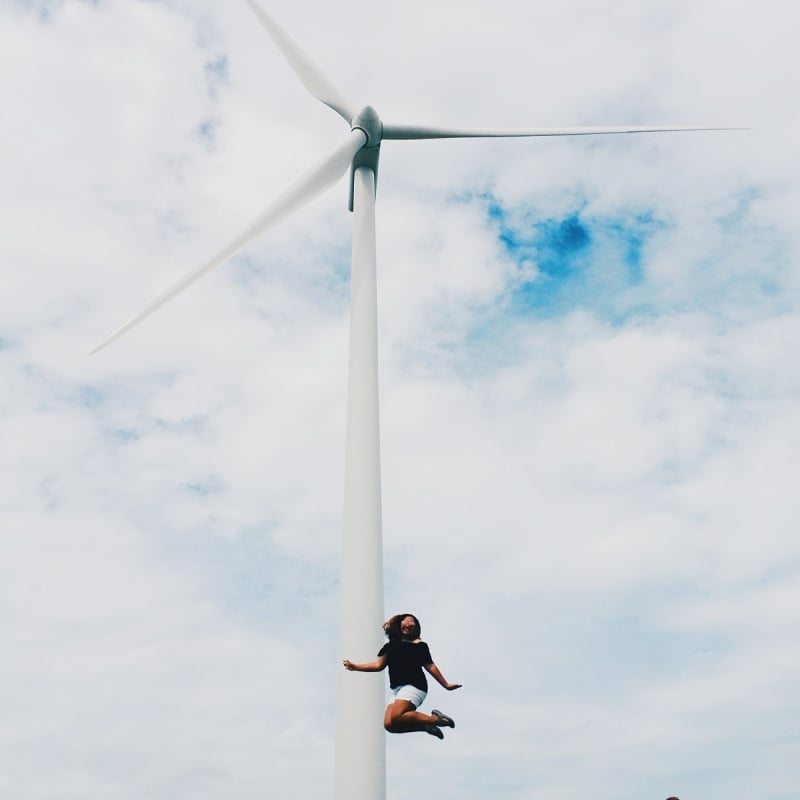 Although it wasn't my first time to see windmills, as I have been to Ilocos years ago, the windmill farm was still a sight to behold to me. The viewing point was on top of a hill giving such an awesome view of the windmills, sea and mountains of Guimaras. It may not have as much windmills compared to Ilocos, still, if this is your first time, do include this in your tour. Being near a windmill is such a surreal experience.
Also read: 12 Things To Do in Guimaras Island on Your First Visit
Expenses
Day 1
Breakfast (McDonald's + water + bread) – ₱91
Cebu South Bus to Toledo – ₱60
Toledo Port to San Carlos Port (Lite Shipping) – ₱100
Terminal Fee – ₱15
Tricycle to San Carlos Bus Station – ₱10
Ceres Bus to Bacolod via Don Salvador – ₱153
Tricycle ride (Nena's Beth) to Manokan Country – ₱20
Lunch – ₱102
Grab ride to accommodation – ₱17
Accommodation (Pleasant Travellers Pension House) – ₱398
Tricycle ride to Libertad Market – ₱10
Mini bus to Mambukal – ₱35
Mambukal Entrance Fee – ₱50
Mini bus from Mambukal – ₱35
Dinner – ₱104
Tricycle ride to accommodation from Libertad Market – ₱20
Calea (Four cakes at ₱371/7) – ₱53
Water – ₱25
Day 2
Breakfast (Jollibee) – ₱103
Private taxi (₱1,800/7) – ₱257
Campuestohan Entrance Fee – ₱150
Lunch – ₱46
The Ruins Entrance Fee – ₱100
Bacolod to Iloilo via SuperCat – ₱220
Terminal Fee – ₱15
Taxi to Regatta Hotel (₱68/3) – ₱23
Accommodation (Regatta Hotel, Triple and Deluxe) – ₱356
Dinner (JD's Bakeshop – Lomi + Cordon Bleu Meal) – ₱104
Water – ₱25
Day 3
Van from hotel to Bancal Port – ₱250
Breakfast (meat roll + ensaymada at JD's) – ₱37
Isla de Gigantes tour (accommodation, tour and four meals included) – ₱1,399
Day 4
Van from Bancal Port to hotel – ₱250
Accommodation (Urban Inn Iloilo – Family Room) 330
Taxi to Ted's Batchoy (₱68/4) – ₱17
Dinner at Ted's Batchoy + Ramboy's Chicken – ₱195
Taxi to hotel (₱68/4) – ₱17
Day 5
Taxi to Ortiz Wharf (₱64/4) – ₱16
Fare to Guimaras – ₱14
Guimaras tour (hire jeep/tricycle) – Approximately ₱215
Brunch at Pitstop (mango pizza + baby back ribs) – ₱207
Fare from Guimaras to Iloilo – ₱14
Travel to hotel and airport (₱400/4) – ₱100
Airport Terminal Fee – ₱200
Promo Airfare (Iloilo to Cebu) – ₱499
Total: ₱6,457
I always have takeaways after every travel. For this trip, let me share with you one important lesson I've been reminded of. I realised that we all need to have those moments in life where we are off the grid. We experienced this when we were in the Gigantes Islands where there was little to no network connection. It means no Facebook, Instagram or Twitter to update. Only nature, fresh seafood and good friends to distract you. Being off the grid can be precious and meaningful. It was in those moments where real conversations happen. It is where connection with nature can be truly appreciated. I loved that moment and I wish to have those off the grid moments often.
The BIG islands are now off the bucket list. Till the next trip!
Also read: The Philippine Bucket List: 20 Challenges Every Filipino Traveller Must Complete