It's always a good idea to vacation with friends, isn't it? And out of all the destinations in Southeast Asia, Bali feels made for fun-filled getaways with good pals. From the parties on the shores of Canggu and Seminyak to the serene rice fields of Ubud, you'll find much to explore and experience on the Island of the Gods. In Bali, a 2-week itinerary hardly seems enough. 
But two weeks were all that I had with my friends Agatha and Janina. Like proper millennials tired from the daily grind, the three of us grabbed the opportunity to take time off from our busy lives for a girls' trip on the beautiful island of Bali, Indonesia. And because we're all 30-something women who just want a break, we agreed: Let's take things slow, eat, and see where two weeks in Bali takes us. In true digital nomad fashion, all three of us are planning to work on vacation, too!
If you're the type of traveller who's fine with a leisurely itinerary that's more of a staycation than an expedition, then our two-week itinerary may be your cup of tea. 
Also read: 15 Bali-Inspired Resorts in the Philippines That You Need to Visit
A Bali 2-week itinerary for travellers who want to take it easy
Canggu – 6 days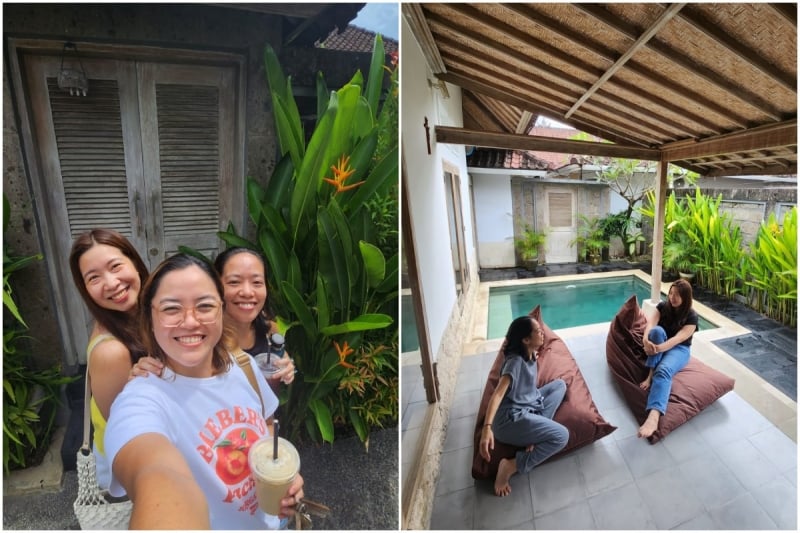 After a surprisingly smooth experience flying from the Philippines to Bali at 3am, Agatha and I met Janina at Denpasar International Airport to fly away to our home for the next few days. It's easy to hail a taxi from the airport. However, we pre-booked a private car to take us to our Canggu accommodations for maximum convenience. 
If your budget allows it, a pool villa in Canggu is a must. There's no shortage of pretty villas in Bali, ones that come in all shapes and sizes — and most are more affordable than we expected. It's easy to find a good deal on Airbnb; in our case, we chose a two-bedroom pool villa within walking distance of many restaurants, cafes, and boutique shops.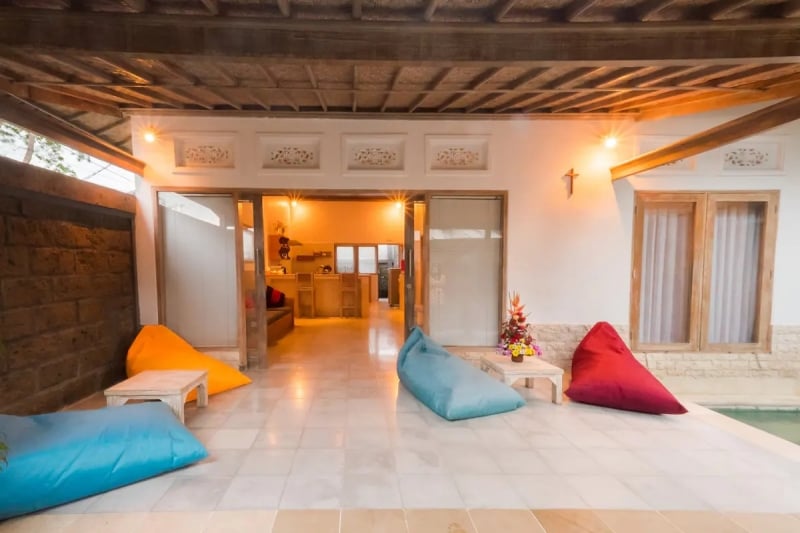 I'll be honest: A private outdoor pool and the villa's air conditioning made it incredibly tempting to stay in our little bubble for stretches of the trip. Yet, we managed to peel ourselves from the bean bags enough to explore Canggu. (At one point, I fell sick, and Janina followed two days later, which made our slow travel plans even slower. *shrug*)
A small beach town on the southern coast of Bali, Canggu is one of the most popular tourist destinations on the island. Digital nomads flock to this buzzy enclave home to surf-friendly waves, stylish cafes, airy co-working spaces, and free WiFi nearly everywhere. Plus, it's a quick ride to other Bali hotspots like Seminyak and Kuta. 
Every traveller probably has their own list of favourites in Canggu. For us, here are some of the highlights: 
Samadi Sunday Market and Love Anchor Canggu Bazaar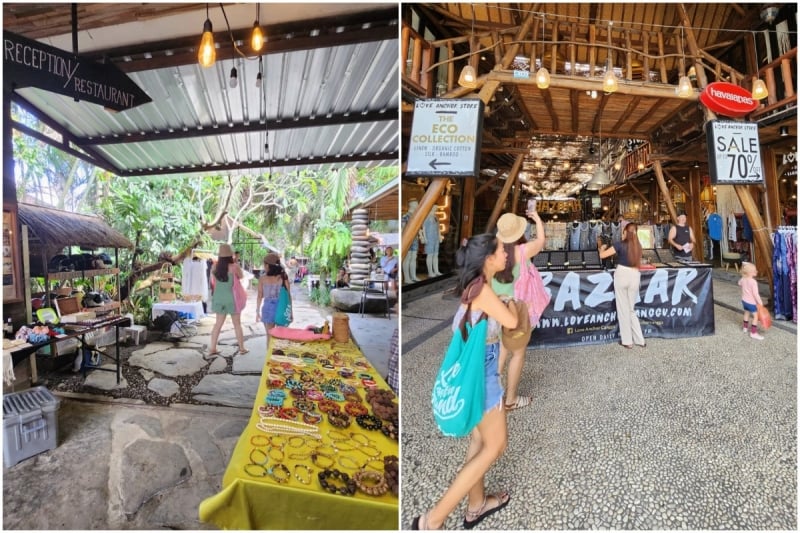 Since we were on a budget and only a day into our Bali 2-week itinerary, we probably shouldn't have been shopping. But whether you're planning to pick up a few souvenirs or just window shopping for fun, exploring Canggu's colourful bazaars is one of the best things to do in Bali. 
First stop: Samadi Sunday Market, an outdoor market at the Samadi Bali wellness centre. We were content to look around, admiring local produce, handmade jewellery, and other artisan products that were on display. Then, we hopped on a Grab car to the trendy Love Anchor Canggu Bazaar, probably the best-known market in town. If it's stylish clothes and colourful souvenirs you're after, then it's worth a stop. Unlike many markets in Canggu that only set up shop on weekends, Love Anchor is open daily. 
Finns Beach Club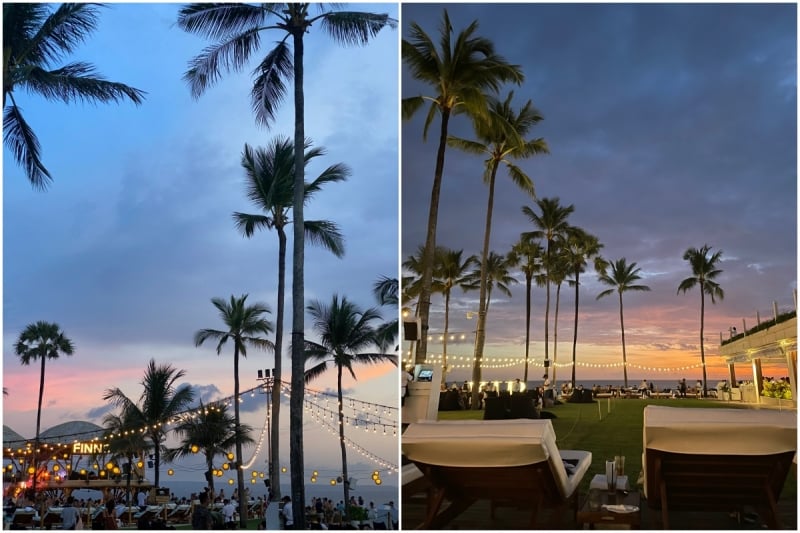 Truthfully, we weren't really keen on participating in Bali's famed nightlife, but we figured we should venture out at least once. There's no shortage of late-night hotspots in Bali, but we wanted to get a taste of the beach clubs that the island is known for. 
Our pick? Finns Beach Club is a sprawling club facing the Indian Ocean with outdoor pools, cosy daybeds, swim-up bars, and live music that has the crowd dancing under the stars well into the night. Beautiful sunsets are a showstopper in Bali beach clubs daily; we enjoyed it while eating risotto and wood-fired pizza from the in-house restaurant St. Tropez. And if you're like us and prefer a relatively chill evening in the vibrant club, we recommend springing for a daybed in the VIP area. Here, you can enjoy drinks and good convo away from the craziest partygoers. 
Tip: Try to come early because Finns Beach Club is a super-popular spot. We arrived at around 4pm and failed to get daybeds in the regular area — even if we pre-booked passes.
Korra Spa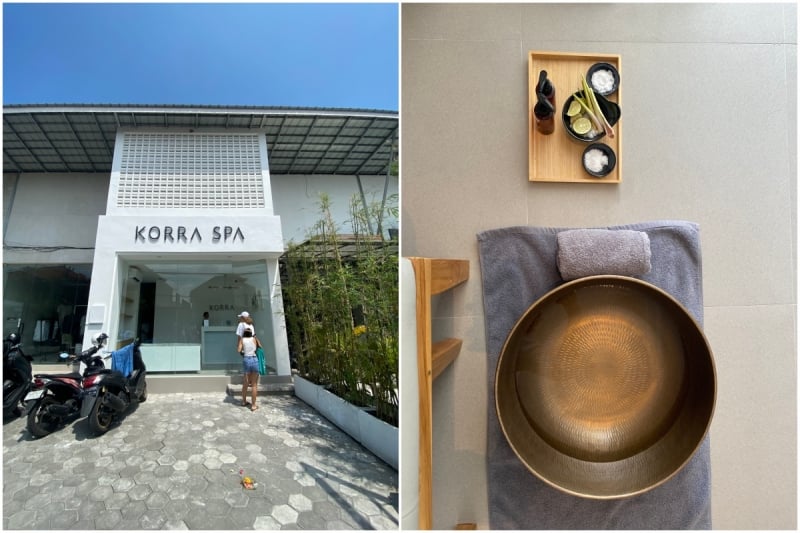 Plans to surf, hike, do yoga, and go to a muay thai gym were cast aside, but as lazy girls, we couldn't pass up the chance to indulge in a soothing massage. After surfing the web for spas and wellness centres around town, we settled on one that's just a short walk from our Airbnb: Korra Spa. And we even chanced upon an ongoing promo that offered a free foot spa with each 90-minute massage! (Yes, we're suckers for a good deal.)
Batu Bolong Beach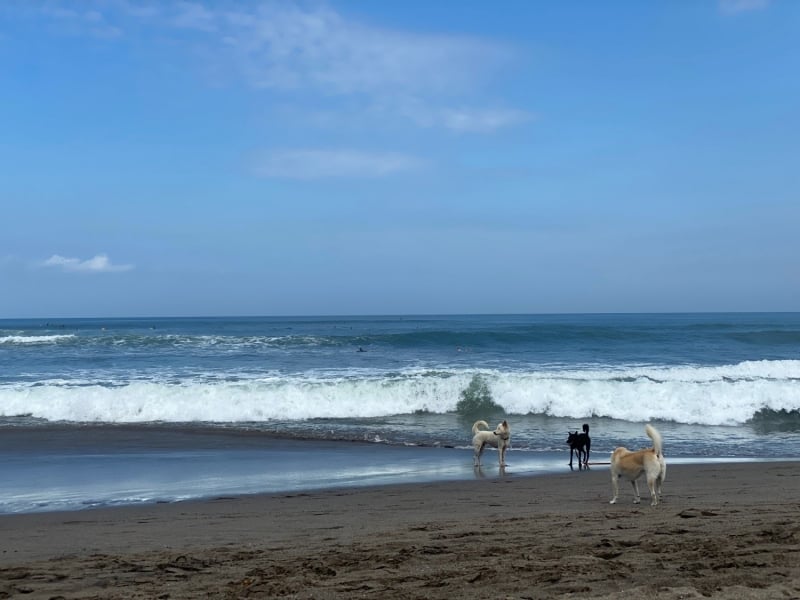 Beach time in Bali is practically a requirement on this sunny island. There are plenty of coastal spots to choose from, but we opted for the surfing hotspot Batu Balong Beach, which was the closest one to our Airbnb in Canggu. Sunshine, beginner-friendly waves, and a wide enough shoreline to accommodate the steady stream of locals, surfers, and sun-seekers — what more could we ask for? It's also close to the iconic Old Man's, a crowd-favourite watering hole that's especially lively during happy hour at 5–6pm.
Nusa Penida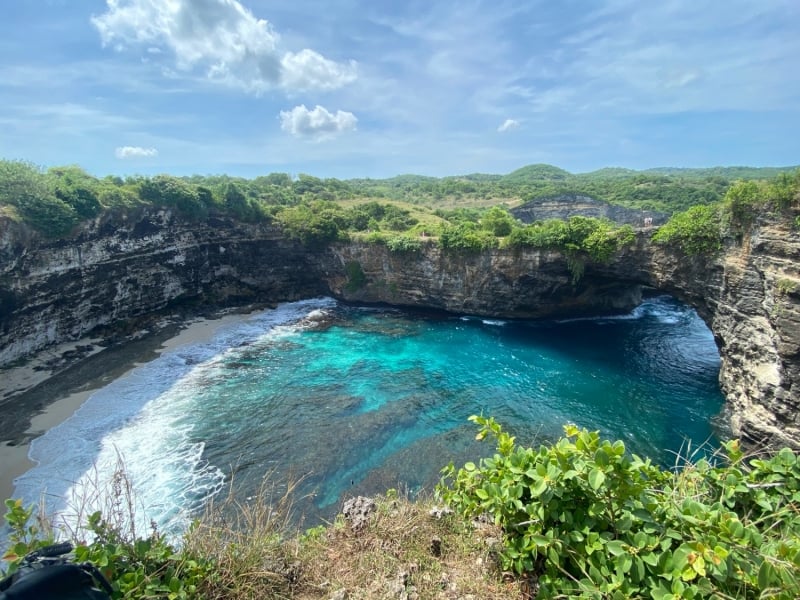 Even lazy tourists like us know that there's much more to appreciate in this Indonesian destination beyond the mainland. An idyllic island off the eastern shores of Bali, Nusa Penida is a popular choice for a lot of travellers. The best way to see the island is to spend at least one night here, but we opted for a day trip instead. From Canggu, it's around an hour-long car ride to Sanur and a 45-minute ferry to Nusa Penida.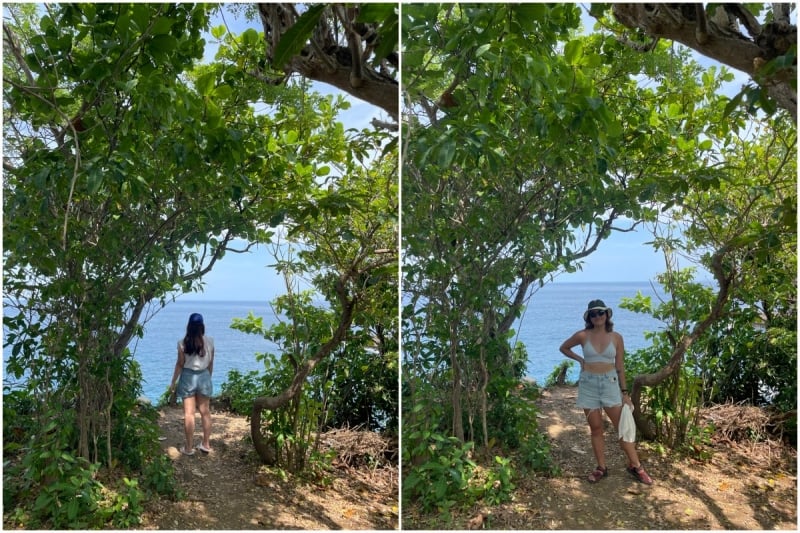 Unfortunately, lengthy travel time and dinner reservations meant that we could only visit Angel's Billabong and Broken Beach on Nusa Penida. As the most popular spots on the island, these spots right next to each other draw in major crowds. Don't worry; tour guides are extremely efficient in ushering travellers to the most picturesque corners of the island.  
There's so much more to do on Nusa Penida, though. Some must-visit attractions that we missed include Kelingking Beach, Crystal Bay, Goa Giri Putri Cave Temple, and swimming with manta rays at Manta Point.
Also read: 21 Insta-Worthy Spots in Bali for Memorable Pictures
Where to eat in Canggu, Bali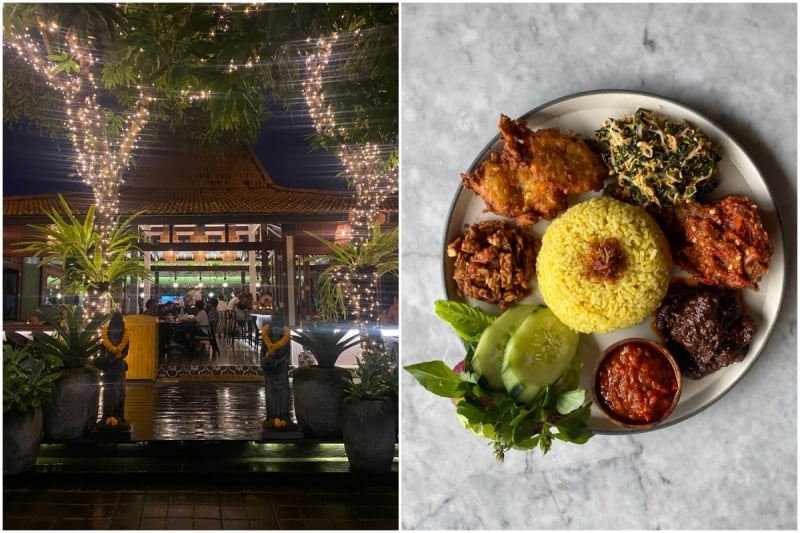 Travelling with two foodies, I ate better in Bali than I ever have on any other vacation. Hands down our favourite dining spot on the entire island? It's unanimous: Ulekan. Every bite of each expertly crafted dish served in this authentic Indonesian restaurant sent us raving. It's impossible to pick a single best dish, but let me just say that I still occasionally daydream about Ulekan's mouth-watering chicken, pork belly, and tofu sate. If you can only eat in one restaurant in Canggu, we absolutely recommend making it Ulekan.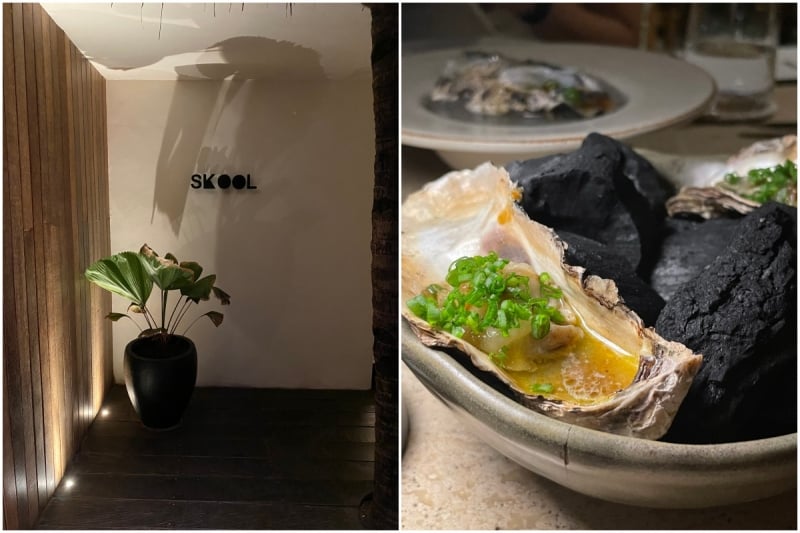 For a special dinner in Canggu, reserve a table at the modern rooftop restaurant Skool Kitchen. The open-fire kitchen fronting the ocean, it's an exceptional place for a more refined dining experience in Canggu. All the dishes are flame-cooked and ultra-flavourful; we particularly loved the wagyu steak (duh), charred cauliflower with cultured cream, and fresh oysters. 
Other foodie highlights in Canggu: the creamiest scrambled eggs with brown butter and roe at Baked; the hearty veggie bowl at Milu; and chicken fried rice at Warung Wayan near our villa.
Uluwatu – 3 days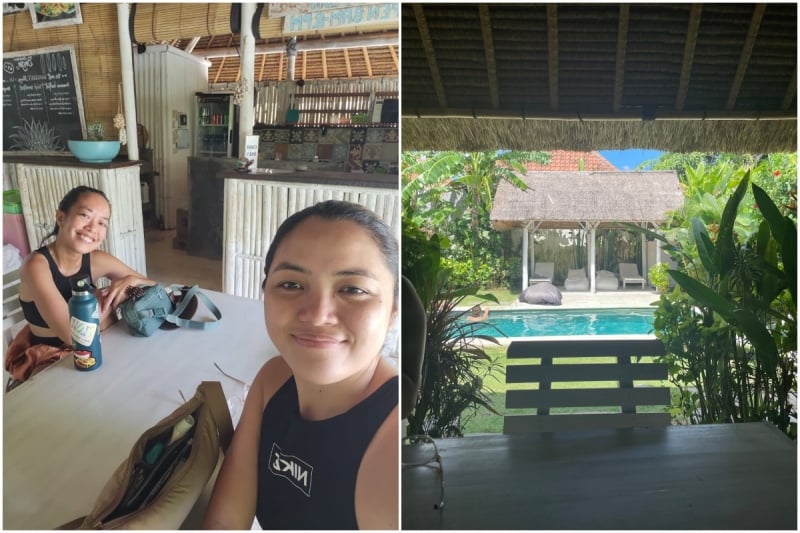 After Janina left, the original plan for Agatha and me was to go back to Nusa Penida. Instead, we cancelled our reservations and made our way to a new destination: Uluwatu. Last-minute scrambling for accommodations led us to a quiet charm-filled haven, Bingin Bienvenue Guest House. Free WiFi and a shared pool? Sold. 
Our experience in Uluwatu was more relaxed than the other parts of our Bali two-week itinerary — partly because we were only staying for two nights, but also because it was Agatha's turn to catch the flu as we left Canggu. Still, this was the part of Bali that both of us fell in love with. Laidback and picturesque with streets that aren't as packed as other towns of Bali, it stood out as perfect for what we deemed as a lazy traveller's 2-week itinerary.
Uluwatu Temple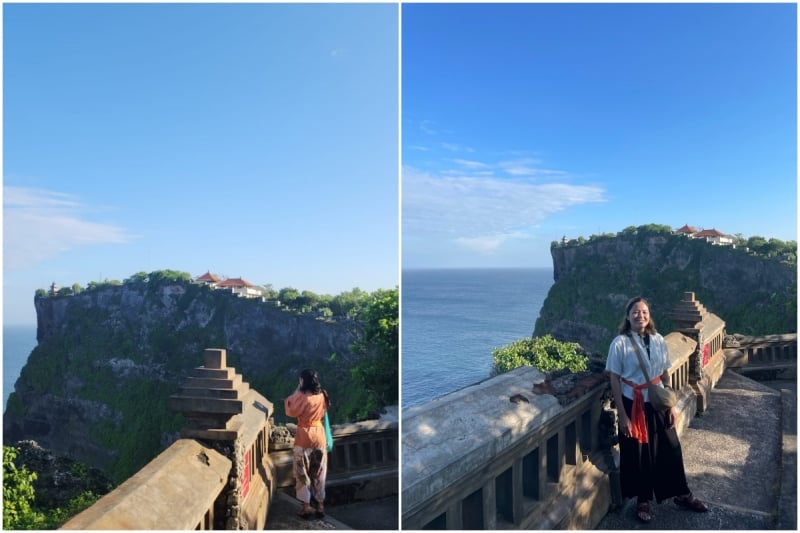 Although I worked and Agatha slept off an entire day in the surf town, we managed to tick off one of the items on our bucket list just before we left: Uluwatu Temple. A famous cliffside Balinese temple towering over the sea, it's one of the most stunning ancient sites on the island. 
Travellers typically head to the temple for sensational sunsets and the traditional nighttime kecak dance. But here's what we found: Uluwatu Temple is blissfully empty in the morning. If avoiding the crowds is your main priority, visiting between 7am and 10am is worth considering. 
Tip: Don't forget to take off your jewellery and tuck your mobile phones in your bag. Monkeys populate Uluwatu Temple, and they're prone to snatching shiny items from unsuspecting tourists!
Where to eat in Uluwatu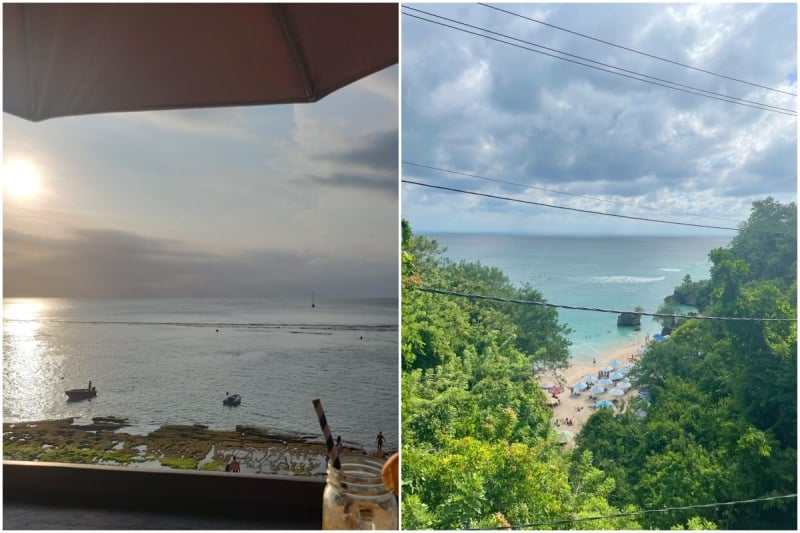 When it comes to food, options are just as varied in Uluwatu as it is in other major Bali towns. Our first stop was Kelly's Warung, an open-air beach bar and warung overlooking Bingin Beach. It's a great spot for a post-surf meal and sunset drinks, but keep in mind that it's quite a hike down to this chill dining spot. For fresh bread, delicious brew, and a relaxed group of digital nomads and friendly dogs, visit Son of a Baker near Padang Padang Beach. Meanwhile, we also loved vegan garden restaurant Alchemy; Agatha had the Philadelphia Maki Nori, while I ordered a refreshing glass of PB&J smoothie. 
Ubud – 5 days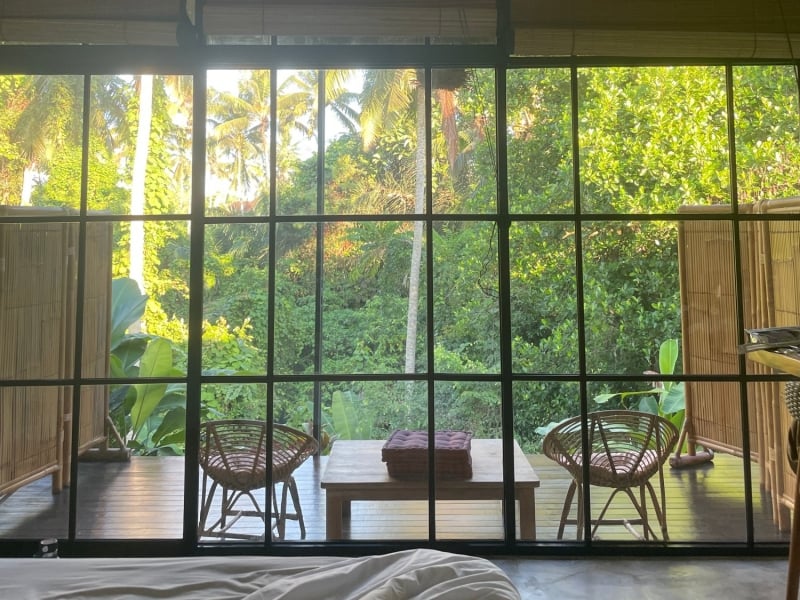 Finally, the final leg of our Bali 2-week itinerary: Ubud. We'll be spending a few days working here, so we chose an Airbnb that looked primed for digital nomads. Indeed, our private sanctuary in Ubud had a beautiful deck overlooking the jungle — definitely inspiring views for anyone chasing a deadline. However, our pick was in the middle of rice fields and roughly 15 minutes away on foot from the main road. It's best suited to travellers renting their own scooter. But if you don't mind walking, this Airbnb is a fine place to stay! (Since it rained on our last three days in Ubud, it proved to be a challenge for us.)
Also read: Top 12 Airbnbs in Ubud for Your Next Balinese Adventure
Satria Agrowisata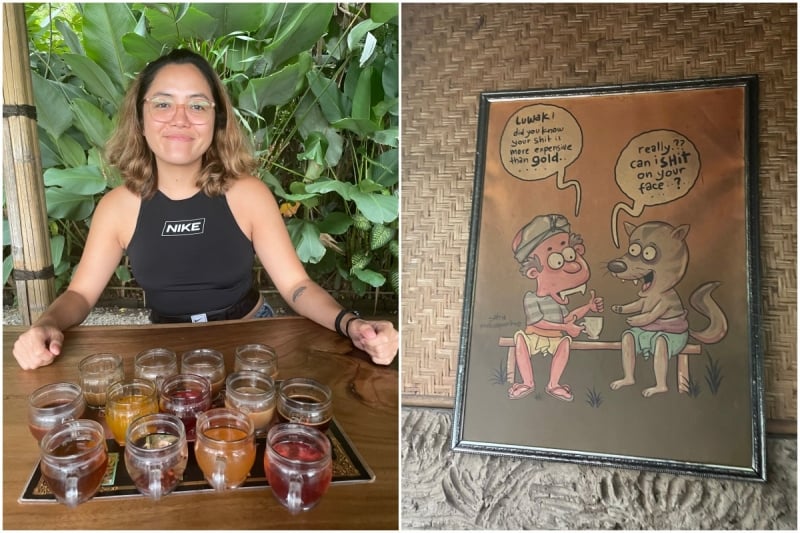 An unexpected stop that we took en route to our Ubud Airbnb, Satria Agrowisata is a coffee plantation where tourists can sample Balinese coffee, tea, and the famous kopi luwak (civet coffee). The speciality coffee beans excreted by the Asian palm civet are well known as one of the most expensive coffees in the world — and it's extra strong, too! At Satria Agrowisata, you can learn about the process of making civet coffee. You'll even get a glimpse of the cat-like creature!
Surprisingly, the tour and coffee-tasting experience are free. But come prepared to shell out cash. The tour guide will take you to a souvenir shop at the end of the tour where you can splurge for coffee you can take home. It's worth noting that the coffee here is quite pricey, but it's a good place to buy the renowned kopi luwak.
It's worth noting that there are ethical issues surrounding the kopi luwak industry. Unfortunately, many plantations keep wild civets caged in terrible conditions to meet the demand for this speciality coffee. Little regulation exists to prevent inhumane practices; and since there's no certification for "wild" civet coffee, it's nearly impossible to identify beans that are sourced from the wild and beans that come from caged civets.
Also read: 15 Cafes in Bali That Are Perfect for Digital Nomads
Tegalalang Rice Terraces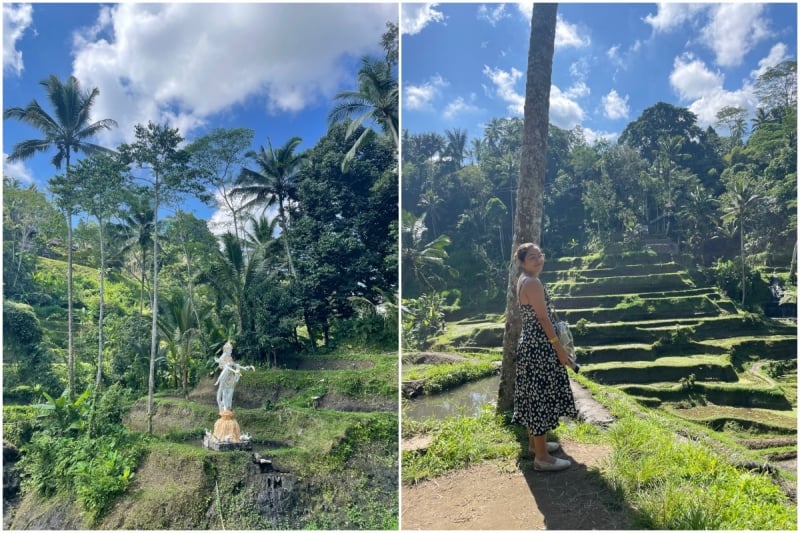 Another iconic Ubud attraction is Tegalalang Rice Terraces, a sprawling expanse of paddies that's perfect for photo ops! There are a couple of entry points to the famous rice terraces, with our driver dropping us off at Uma Ceking. Either way, you'll end up on the brilliant green terraced landscapes. 
Coming from the Philippines (home to the off-grid Banaue Rice Terraces), it was quite surprising to discover how developed the area over and around the valley is. Expect swings, photo sets, restaurants, and souvenir shops — you'll probably spend about one to two hours exploring Tegalalang Rice Terraces. 
Ubud Town
Besides catching up on work in Ubud, we spent a day or so strolling the streets of downtown Ubud. Charming bookstores, small cafes, boutique shops, and Ubud Art Market make it a great destination to explore — a lot busier than I expected, but undeniably alluring. Make sure you have enough cash left to pick up a few items; we spent more than we intended for shopping, from beautifully patterned clothes to colourful beads. 
Before ending our Bali two-week itinerary, Agatha and I spent a day in Denpasar just to make sure we'll have no problems catching our early morning flight. Travellers who haven't gotten their shopping fix will enjoy roaming Denpasar's impressive selection of outlet stores and souvenir shops. One-stop shop Krisna Oleh-Oleh was our shopping destination of choice for Bali-themed everything, from local chocolates and delicacies to incense sticks and shirts. 
Additional tips for a relaxing Bali 2-week itinerary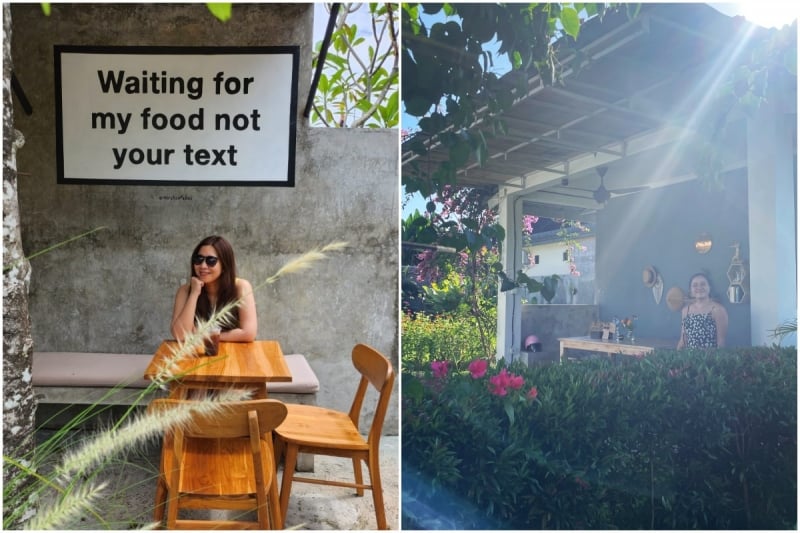 Be flexible.

Plans can change, whether it's the flu or bad weather, and that's okay!

Wear lightweight, breezy clothing.

Even Filipinos like us may be surprised at the scorching heat of summer in Bali. 

Download Gojek and Grab apps.

Roads in Bali are shockingly narrow, so newbies may not be equipped to navigate them on a scooter. The best way to get around Bali, especially for a group, is by using ride-hailing apps like Gojek and Grab.

Always take traffic into account.

Travelling between towns can take more time than you expect, so make allowances when planning tours and booking reservations. 

Refrain from indulging in extra-spicy food the evening before your flight.

I won't elaborate, but the bathrooms in Denpasar International Airport lost water when we were waiting for our flight out of Bali. 
Also read: 7 Tropical Attractions in the Philippines That Will Remind You of Bali
Got friends you can be lazy with? As you can see from our Bali 2-week itinerary, there's no need for a packed schedule to fully enjoy the Island of the Gods. Time to plan your tropical escape, too!
---
All images credited to Agatha and Janina.