Contributed by mimztraveldiaries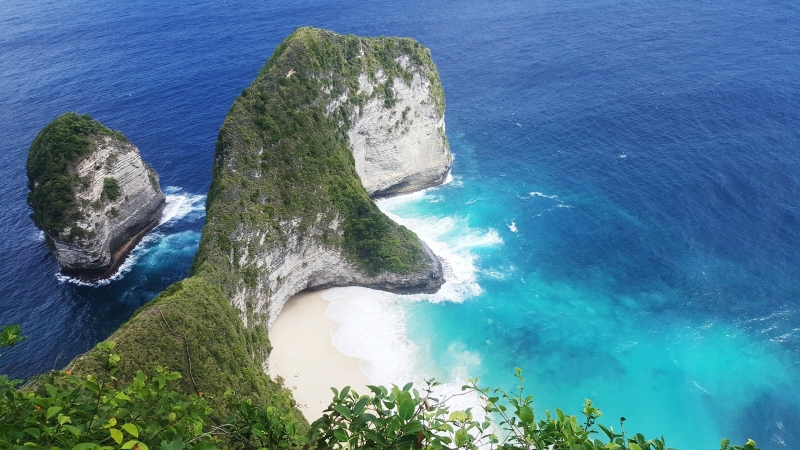 Where to begin? I feel like I could write a book out of this trip. I guess that's what travelling is about. It leaves you speechless, then turns you into a storyteller.
For the longest time, I've been wanting to travel SOLO abroad. Sure I tried it so many times around Manila provinces just to get the feel of it but it's not as difficult compared abroad for obvious reasons. And then there's Bali. Just writing that four-letter-word is enough for my heart to skip a beat.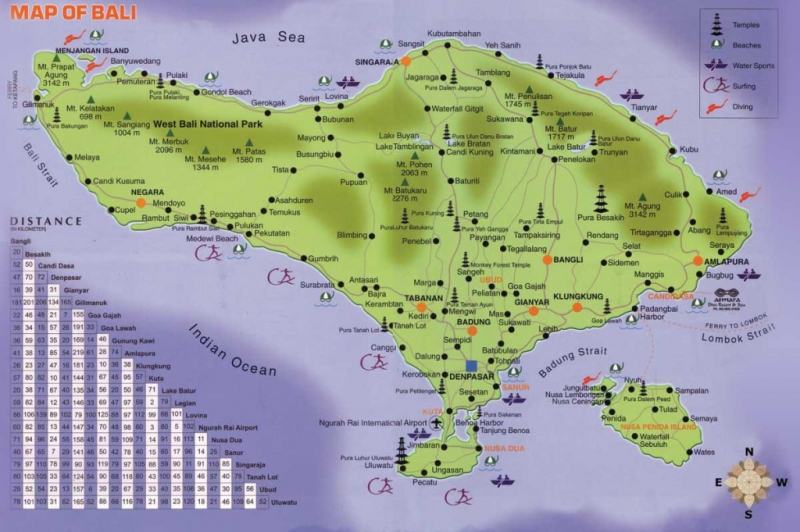 Ever since I read Eat Pray Love by Elizabeth Gilbert, I knew I'm in trouble. I understood perfectly what she's trying to convey. I'm with her for that "One woman's search for everything". Her description of the country led me to believe that it was something to be experienced in real life, not just through a book. There's no denying that I needed to go to Bali. But I'm not gonna do an Elizabeth Gilbert thing & try to recreate what she experienced no matter how much I adore the book. I mean it's her personal journey to find the balance within herself, I wanted my own experience, my own story. And I can't afford to stay in Bali for 4 months anyway, I think I'm going to be homeless within a week. So yeah, I'm travelling to Bali alone for 5 days and on a budget.
Also read: My 5-Day Solo Trip to Bali: Highlights & Realisations
How to go to Bali from Manila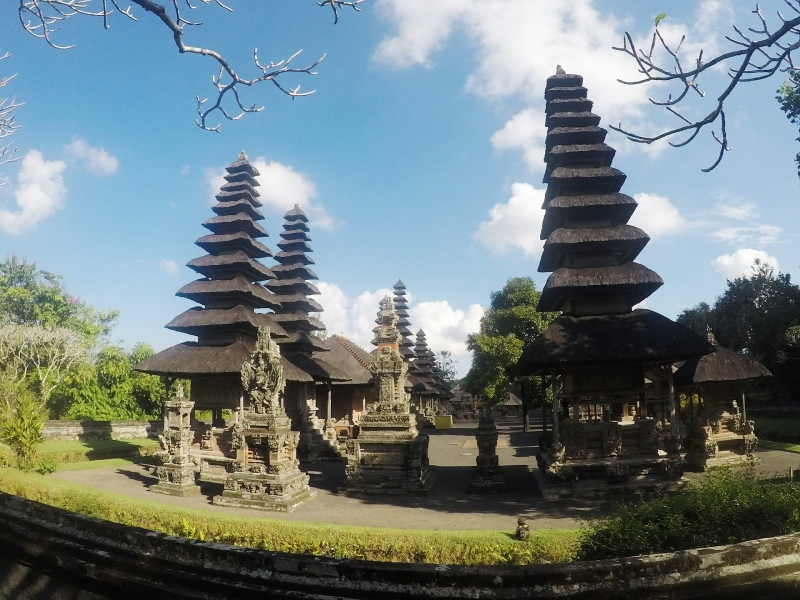 Several airlines fly from Manila to Bali but Cebu Pacific offers the cheapest fare especially if they are having a seat sale. I often got asked why I travel so much (maybe I will make a separate post about that) but I'm usually just on the lookout for seat sale/piso fare. I got my ticket for ₱6,394.30 all-in with 15kg baggage allowance on return. So stalk their websites (I visit them everyday – stalker at its finest) or bookmark them so you can reach their website in one click.
Getting around Bali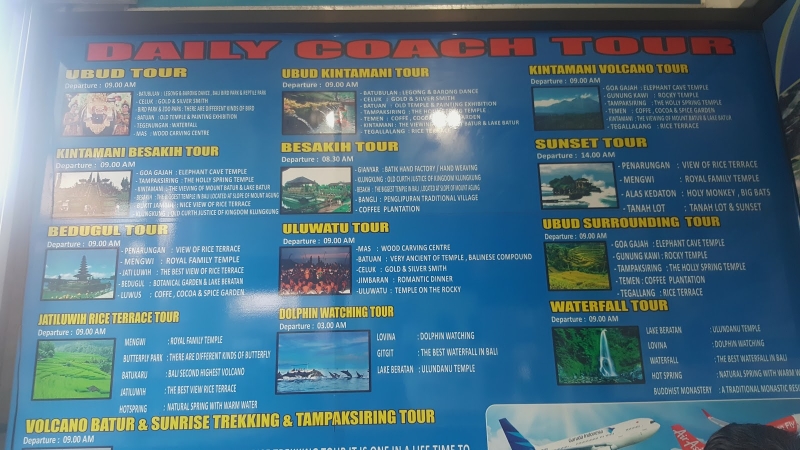 The most challenging part for me was to discover the lack of public transportation in Bali. The most common mode of transportation here are taxis, hiring a private car or renting a scooter/motorbike, the latter being the cheapest option. If you do decide to drive, you have to secure an international drivers license in order not to risk paying a penalty when the police randomly do a check point. They do have local/shuttle buses around, but it only goes to limited routes. I think I've only seen one Kura-Kura bus during my stay in Bali and I can't figure out the bus stops since they're not very common. So paano na ang 'travelling-on-a-budget' mantra ko bes? All the options don't suit me well!
Another problem I face is that because of the lack of public transportation, all the tourist destinations are offered in tour packages. We all know what that means, it's very expensive unless you're in big groups. At this point, I wasn't feeling good about Bali after all. I never consider taking taxis or tour packages when I'm abroad. I avoid them at all cost, but I'm only making an exception here in Bali since I really don't have any other choice. But I still have my last redeeming skills though and that is to haggle. The amount of haggling I did in Bali was beyond normal, my mom would be proud of me.
Where to stay in Bali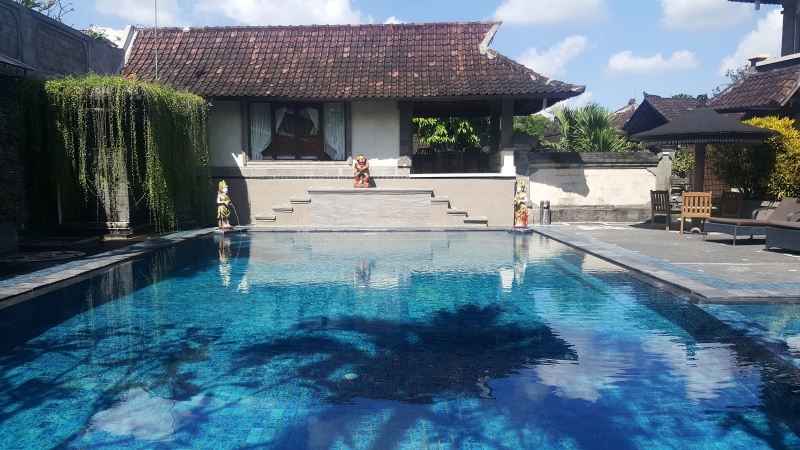 I initially thought staying in Bali for 5 days is too long but I was wrong. There's just so much to do and so many beautiful places to visit in Bali. I had a hard time choosing which places I wanted to go since I only have a limited time but finally decided to split it into two cities: Ubud and Kuta. Do note that this two are estimated to be an hour apart depending on the traffic (the traffic situation is also bad in Bali).
Ubud is the centre of Bali, located amongst rice paddies with hundreds of museums, temples, yoga, cafes, and the list goes on. It is promoted as the place for the arts and culture while Kuta is known for the beaches, surfer haven and better known as the nightlife of Bali. So if you want peace and quiet, stay in Ubud but if you're a party person, stay in Kuta.
What does my choice make me then since I chose both? Don't get me wrong. I don't think people stay in Kuta just to party alone. I think tourists are more drawn to stay here because of its close proximity to the airport and I'm guilty with that which is why I decided to spend my last two nights here. Not to mention, it is also close to the beach but was far too touristy for my liking.
Once you decided which city proper you're going to stay at, finding a place is fairly easy. The good thing about Bali is that it caters to all kinds of travellers whether you're a backpacker or a high-flyer or somewhere in between. Accommodation is actually cheap, prices can be as low as ₱150 (dorm room). I was so surprised that I did a double take whether I'm just hallucinating when I was looking for a hotel online.
You can have your own room (fan room) with private bathroom, free breakfast, and of course free WiFi for as low as ₱500. So if you're going with someone you're just going to pay ₱250 per night. Amazing, right? I ended up staying in Pande Permai Bungalows in Ubud because it's just walking distance to Monkey Forest and Ubud Market (okay, it's more because of the pool).
If you're afraid of monkeys, then better not stay here since monkeys often visit the hotel every morning. Don't worry, they really won't hurt you. Mostly, they are just looking for food. For Kuta, I stayed in Sayang Maha Mertha Hotel.
Suggested itinerary
Day 1
Arrival in Ngurah Rai International Airport (Bali)
Taxi going to Ubud (Check-in at the hotel) – IDR 290,000 Lunch – IDR 55,000
Visit Monkey Forest – IDR 50,000 (Entrance fee)
Tanah Lot Sunset Tour (Half Day Tour) – IDR 480,000 inclusive of entrance fees
Dinner – IDR 55,000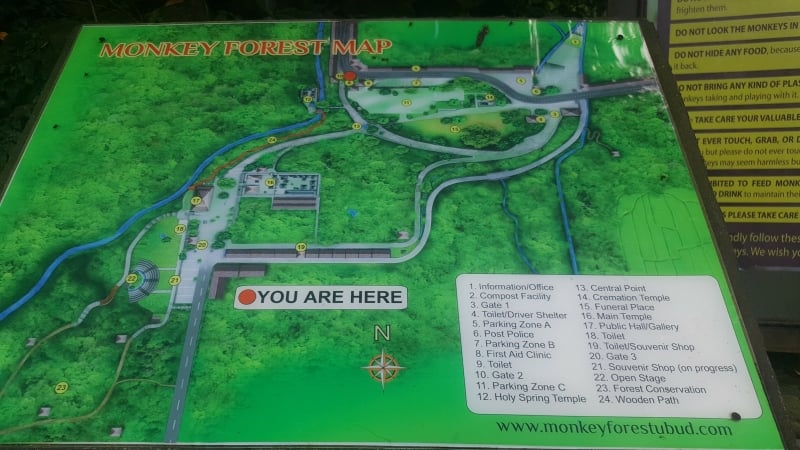 Travel time from the airport to Ubud is around two hours or more depending on the traffic but since I arrived at 8am, the travel was smooth. Be sure to take the Bluebird Taxi (they use meter) outside the airport so you wouldn't get ripped off by taxi drivers which is very common in Bali. Fare would be around IDR 300,000. I paid IDR 290,000 (around ₱1,500.00). Sakit bes.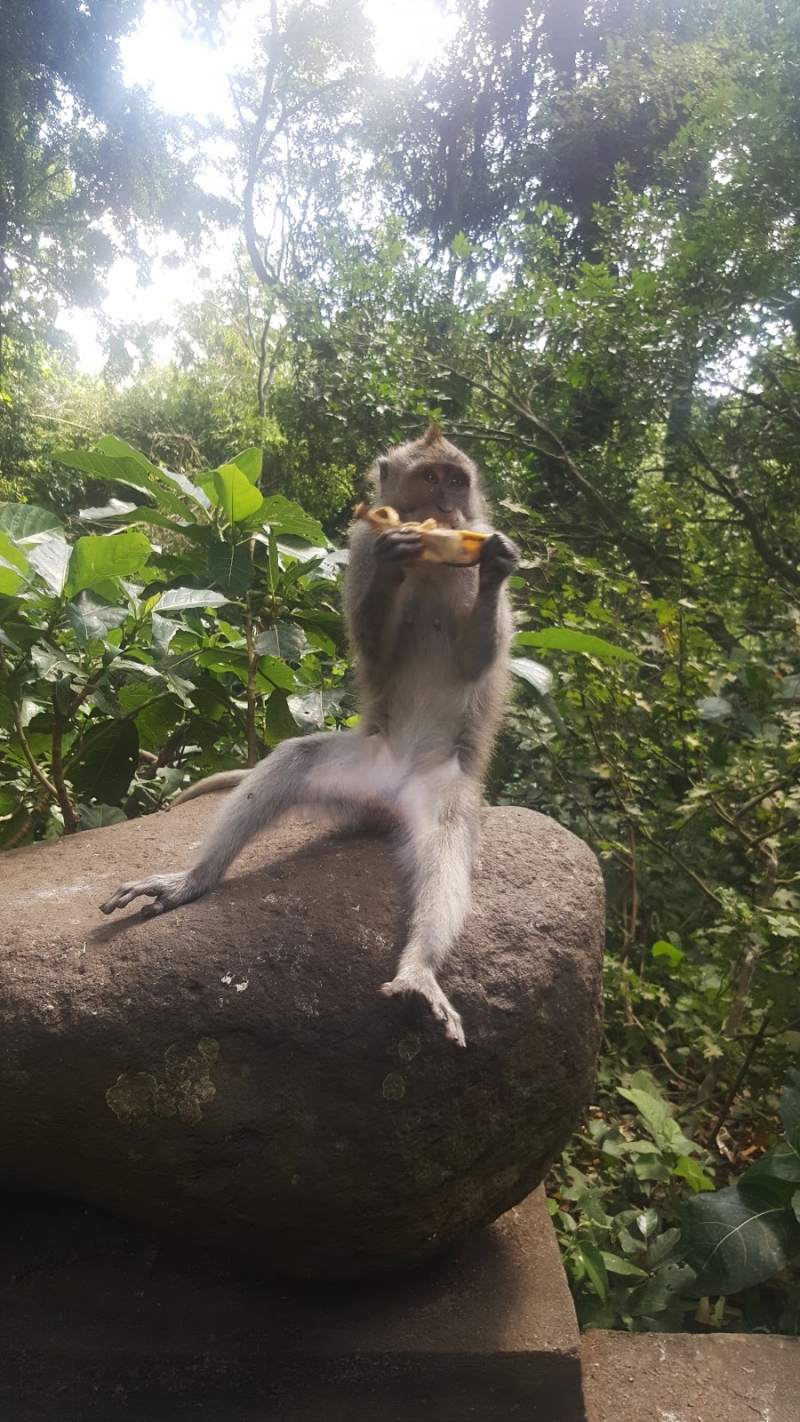 For the booking of tour packages, I just did them on the spot. You can see them in every corner of Ubud. The thing about booking them on the spot is you can haggle with them. I was charged IDR 500,000 but I managed to lower it to IDR 400,000 although I feel like I can still lower it to IDR 300,000 if I didn't get too excited with the sunset tour. It was one of the best sunsets I've seen by the way.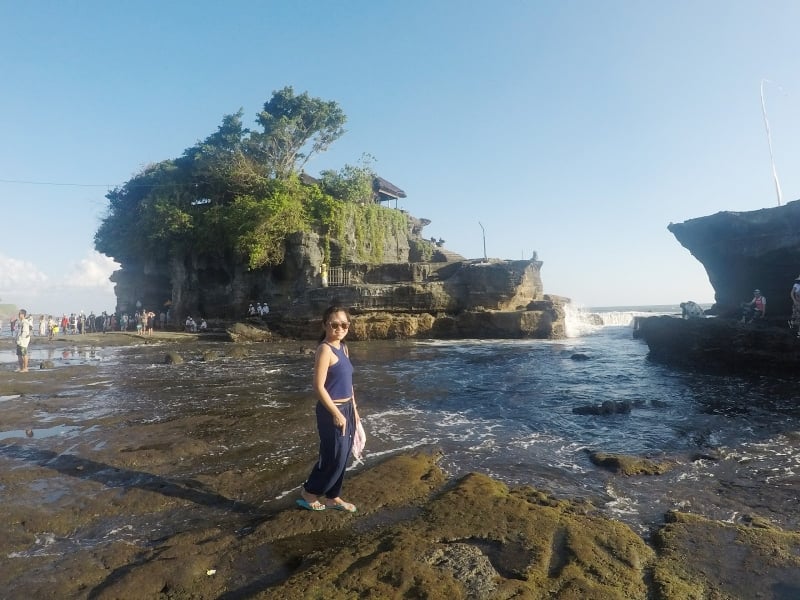 Day 2
Kintamani Besakih Tour (Whole Day Tour) – IDR 350,000 inclusive of entrance fees
Lunch – IDR 160,000
Buy Pasalubong in Ubud Market
After breakfast, I started hunting around tour package deals that will somehow meet my budget. I chanced upon a great deal, just a few blocks away from my hotel. I was asking the staff how much for the whole day tour when she said "Well we have one scheduled to leave today, if you want you can join them" And then I ask the million dollar question "How much?" "It's only IDR 250,000" so of course, I joined right then and there.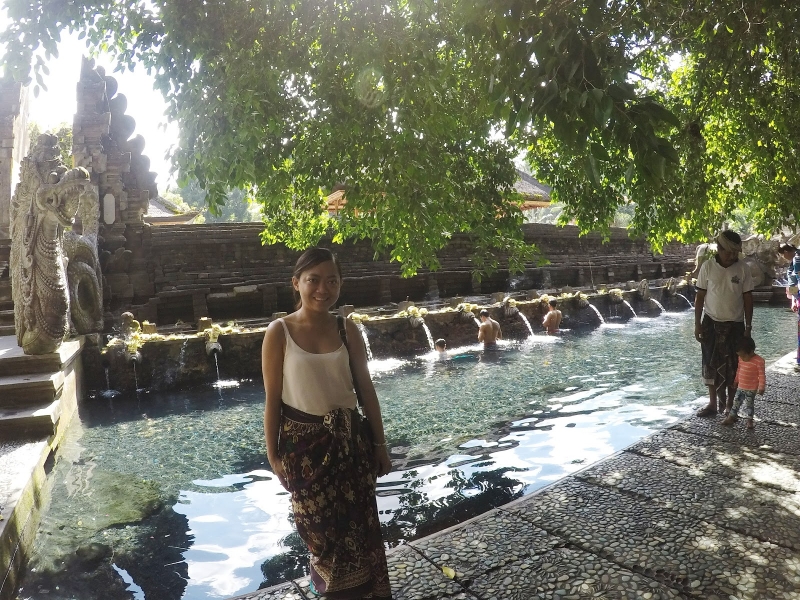 When I asked around later that day just to know whether I made the right choice, it's actually hard to join other group tours. Most of them don't do that kind of arrangement which is all part of their business strategy. Naturally, you will have to pay for the whole car to avail their service which is very expensive if you're travelling solo.
The thing about tour packages in Bali is that your driver will bring you to touristy/pricy restaurants and in this case, we ended up having our buffet lunch overlooking the rice terraces (pero bes, mas maganda pa rin ang rice terraces natin). Even if you're not in a mood to take the said buffet lunch, you will still feel obliged to take it anyway since it is part of the 'tour'. Isipin mo na lang hanggang dinner na yung kakainin mo bes.
There are only three of us in the group, all girls travelling solo for the first time in Bali and both my groupmates are from Europe – Holland and Germany. Bes, mali ata tong napasukan ko. They have this flawless accent that I suddenly feel conscious about my own pronunciation. But they are both super cool and really nice. They've been travelling all over Indonesia for three weeks. I almost want to ask them "How to be you po?" Sila po talaga yung #travelgoals bes.
Also read: Eat Pray Drink in Bali: A 5-Day Getaway with My Best Friend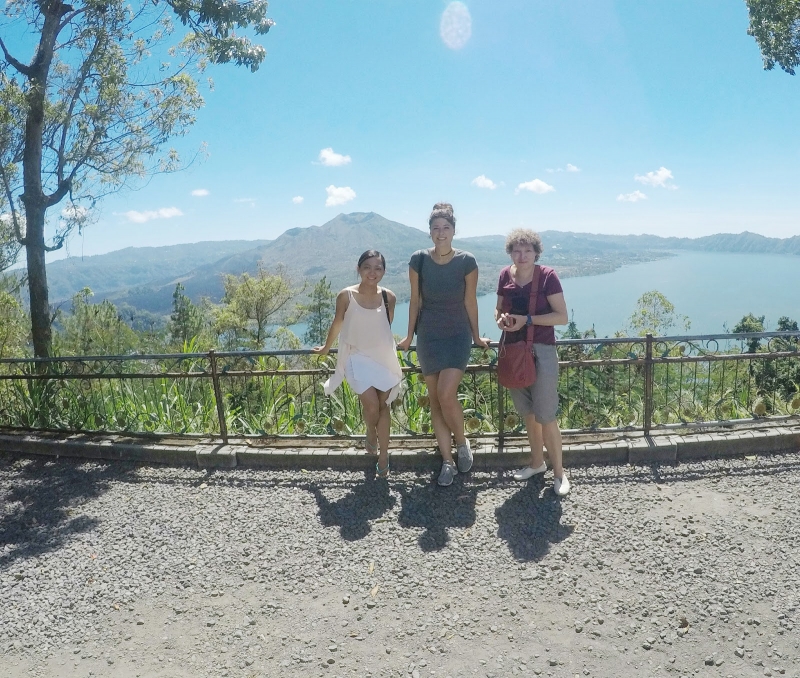 Day 3
Private car/taxi to Sanur beach/port – IDR 150,000
Nusa Penida (Round trip boat ticket) – IDR 350,000
Renting a motorbike with driver/guide – IDR 200,000
Entrance Fees in Pasih Uug & Kelingking Beach – IDR 10,000
Dinner – IDR 50,000
Private car to Kuta/Hotel – IDR 120,000
Additional 1 night in Kuta – IDR 160,000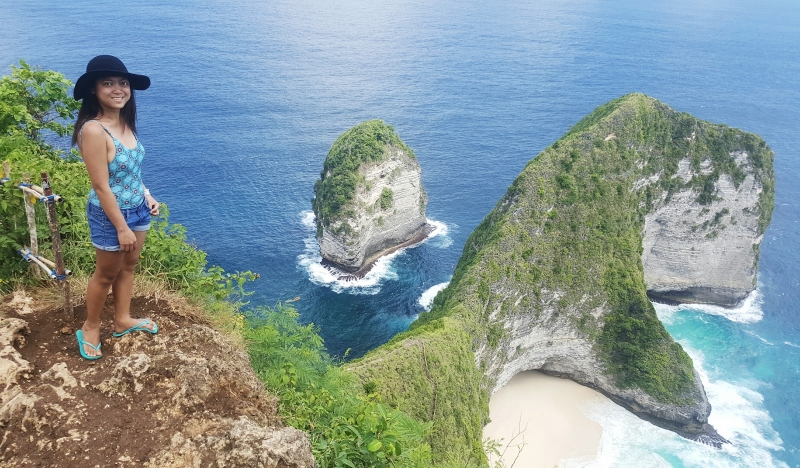 Going to Nusa Penida was one of the best things that ever happened to me in Bali. This is the place that I'm most excited about. Well, the pictures alone speak for themselves. Not many tourists know that Bali has three separate islands namely Nusa Penida, Nusa Lembongan and Nusa Ceningan, located just 45 minutes away from Sanur Beach. I, myself, don't know about this, I think it was just fate that I saw a gorgeous picture of Kelingking Beach in one of the accounts I followed on Instagram just days before my scheduled trip to Bali when I was still finalising my itinerary.
I told myself I have to get there no matter what it takes. Na-no matter what it takes nga because I can't eat due to excitement and nervousness during that day. I was so nervous that I might not pull off this trip because I decided not to take a tour package as it was so expensive, and most of the tours I ask require at least two people. There's also limited information about this island when I search on the internet making it even more a challenge.
Come to think of it, most of the tourists that day are Caucasian or locals. I was like 'where are my people?' In the end, it was all worth it. It's still hard for me to get over the beauty of this island up to this day.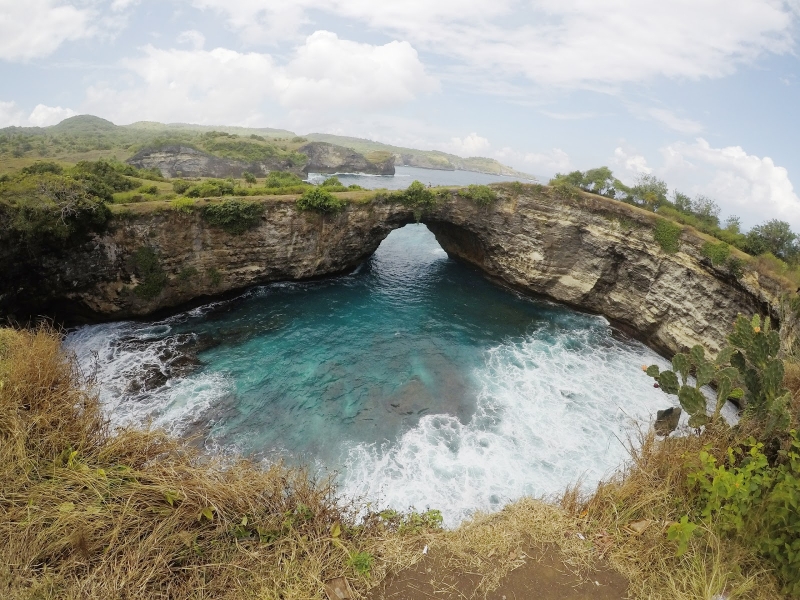 If you decide to go to Nusa Penida (which I highly recommend), you can do it on your own or avail a tour package if you're in big groups (you can try to book with Discover Nusa Penida).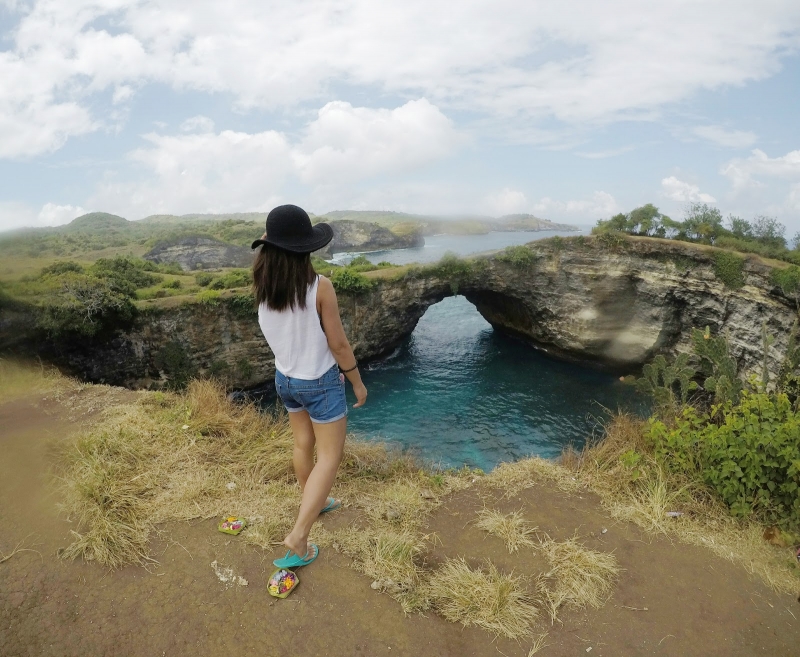 If you want to do it DIY like me, be sure to be at the port early, the first boat is scheduled to leave 8.30am and last trip is 4.30pm. You will be asked if you're going there on a day tour or will be staying ovenight. If you have more time, do stay here overnight so you can enjoy the island more. I was almost tempted to stay overnight though, but I can barely stretch my budget so I bought a round-trip ticket for a day tour.
Once you arrive in the port of Nusa Penida, there are a lot of motorbike drivers who will offer their service. It's actually cheaper to rent a motorbike (around IDR 50,000) and you can ride here even if you don't have a license unlike in Bali. But the roads here are not developed and dangerous if you're not a very experienced driver. There's no hospital on the island just in case something bad happens so I wouldn't dare risk it.
Also read: How a Virgin Solo Trip to Bali Healed My Broken Heart
I need my guide to take my pictures anyway. It's important to know that most of the locals here don't speak English so I was lucky to find a guide that can converse well in English. If you do need a guide, you can contact Mr. Puto at +6282144045779.
My guide was indeed one of the best. He was willing to go down to Kelingking Beach with me since he saw I was falling head over heels while looking at the beach but decided against it since I only have limited time. It's actually one hour going down and two hours or more going up because the trail is very steep. I really would like to go down there and swim if I have the chance to return, so do me a favour and go down there will you? 🙂
I feel like there's still more hidden spots in Nusa Penida waiting to be discovered since this is the biggest island out of the three. I actually heard a lot of rave reviews about Nusa Lembongan but my mind was already set for Nusa Penida. You.just.can't.talk.me.out.of.this. No matter what it takes nga diba? If you have a lot of time and resources in Bali, be sure to check out this three islands before they becomes another commercialised tourist destinations.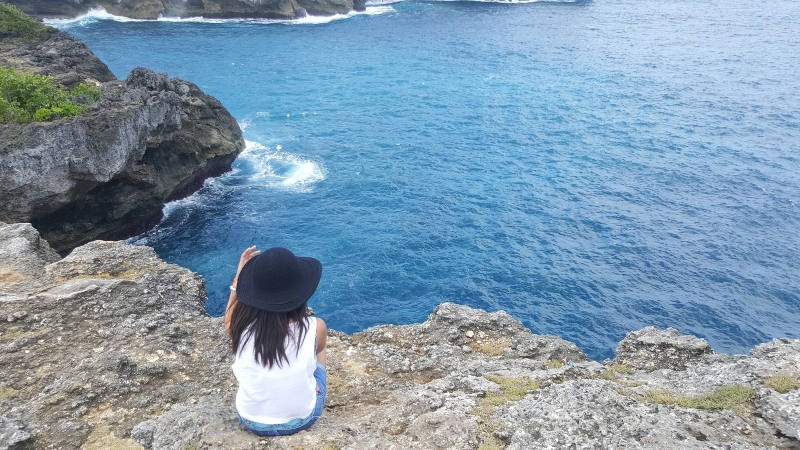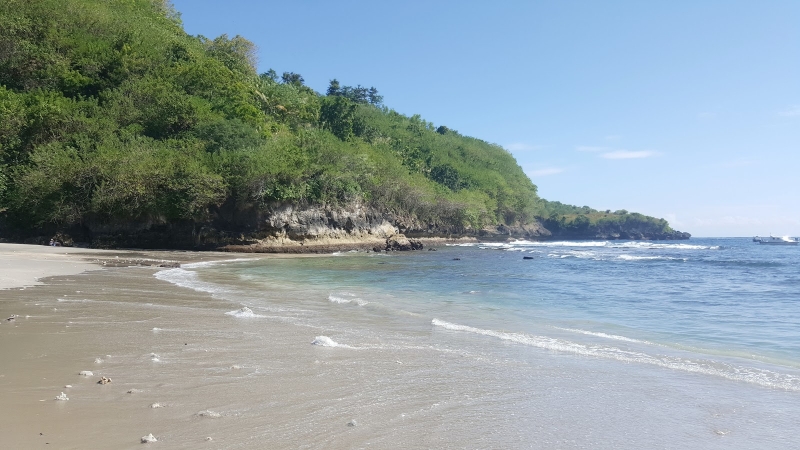 Since I wasn't sure if I can come back to Bali for the day or end up stranded in Nusa Penida to which I really don't mind, I didn't book any hotel for my third night. It wasn't actually a problem since there a lot of hotels scattered around Bali especially in Kuta area. You can do it on the spot, but of course it's not hassle-free unlike pre-booking it online. What I did was to try to talk to the hotel staff that I'm supposed to be staying for the next day and just ask for an additional charge for the night. Fortunately, they agreed and are not fully booked because it's not yet peak season in Bali. And yes, hinaggle ko yung IDR 160,000.
Day 4
Explore Kuta beach
Brunch – IDR 30,000
Uluwatu Tour (Whole Day Tour-Garuda Wisnu Kencana, Padang2x Beach, Padawa
Beach, Uluwatu & Jimbaran) – IDR 300,000
Entrance fees & Kecak dance – IDR 320,000
Dinner – IDR 28,000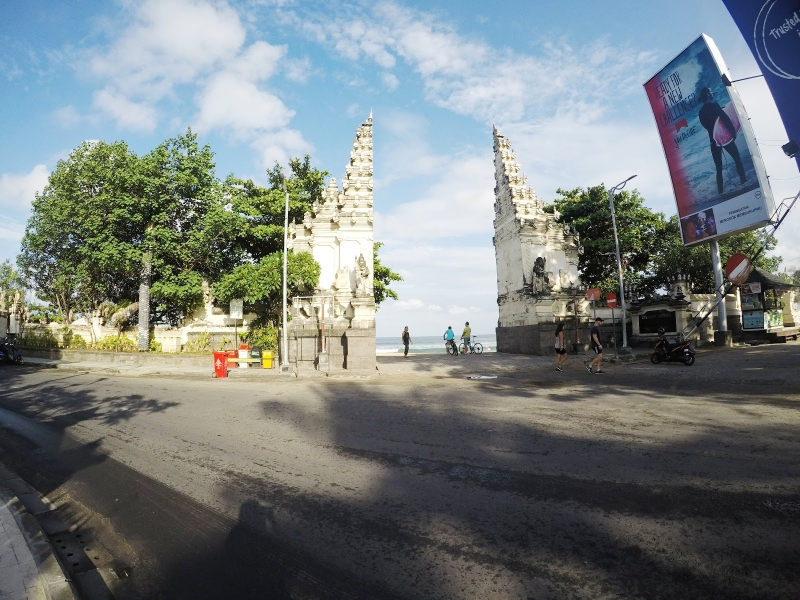 Just like in Ubud, I had a hard time finding or should I say negotiating a tour package. The first thing they will ask is for how many persons and when I answer them only one, they lose interest already. I was about to give up when I tried it one last time just near the hotel I'm staying at. I just pulled off my most charming face or maybe the staff just took pity on me. I took the cheapest option which is to hire a motorbike with driver for the whole day tour worth IDR 300,000. So ang sakit ng balakang ko after the tour.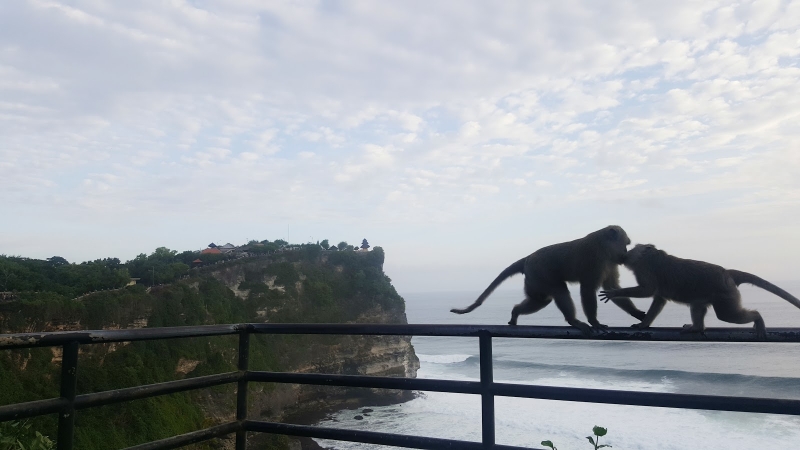 Visiting Uluwatu is a must in Bali with its temple situated on the top of a cliff bank overlooking the Indian Ocean. The best time to go there is before sunset so you can avail the hashtag chasingsunset Unfortunately, it was cloudy during my visit and the sunset wasn't as beautiful as I expected it to be but the view was still amazing. Beware of the monkeys wandering around since they are not as friendly as the one in the Monkey Forest in Ubud. So hide your hats, eyeglasses or even your phone since they will try to snatch them away from you.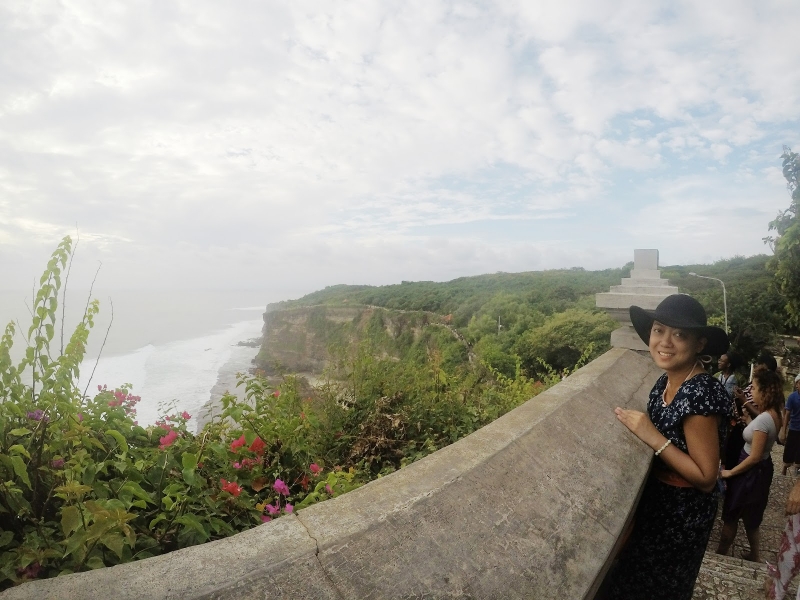 One of the most famous performances in Bali is the Kecak Fire dance which can be found in Uluwatu and Ubud. It is a form of Balinese ritual dance and music drama that was developed in the 1930s. The show starts just as the sun is about to set providing a picturesque backdrop from 6pm to 7pm. There's an entrance fee of IDR 100,000 to watch the show. I know, very expensive. It is highly recommended to have a guide waiting for you in Uluwatu since the place is very remote and taxis are scarce. Also, expect heavy traffic when going back to the city.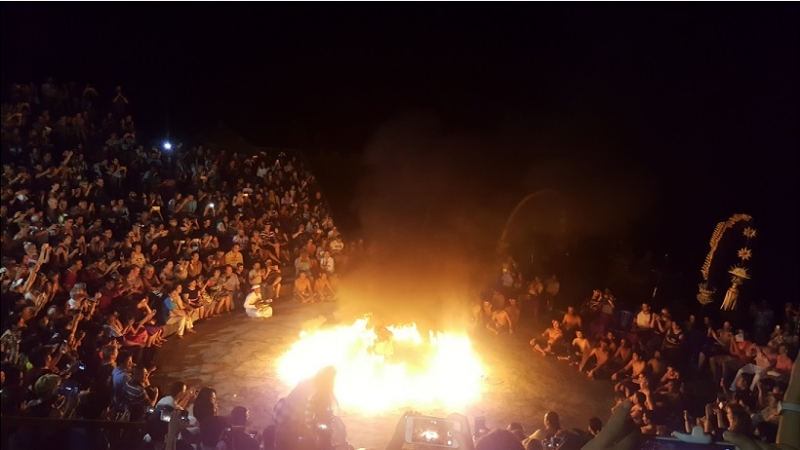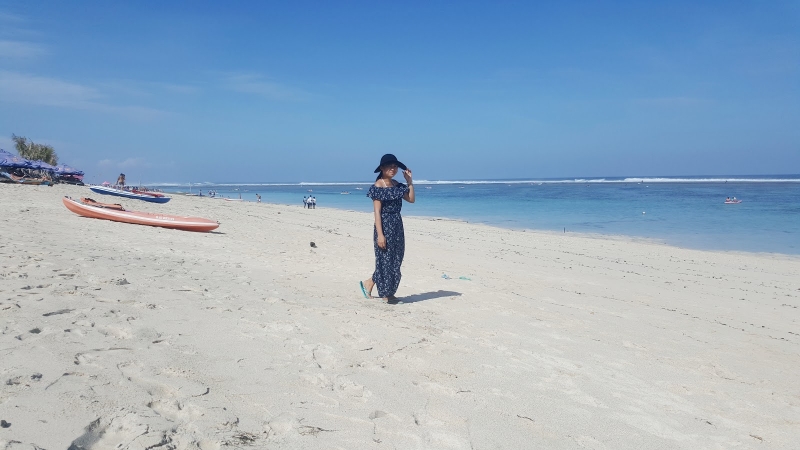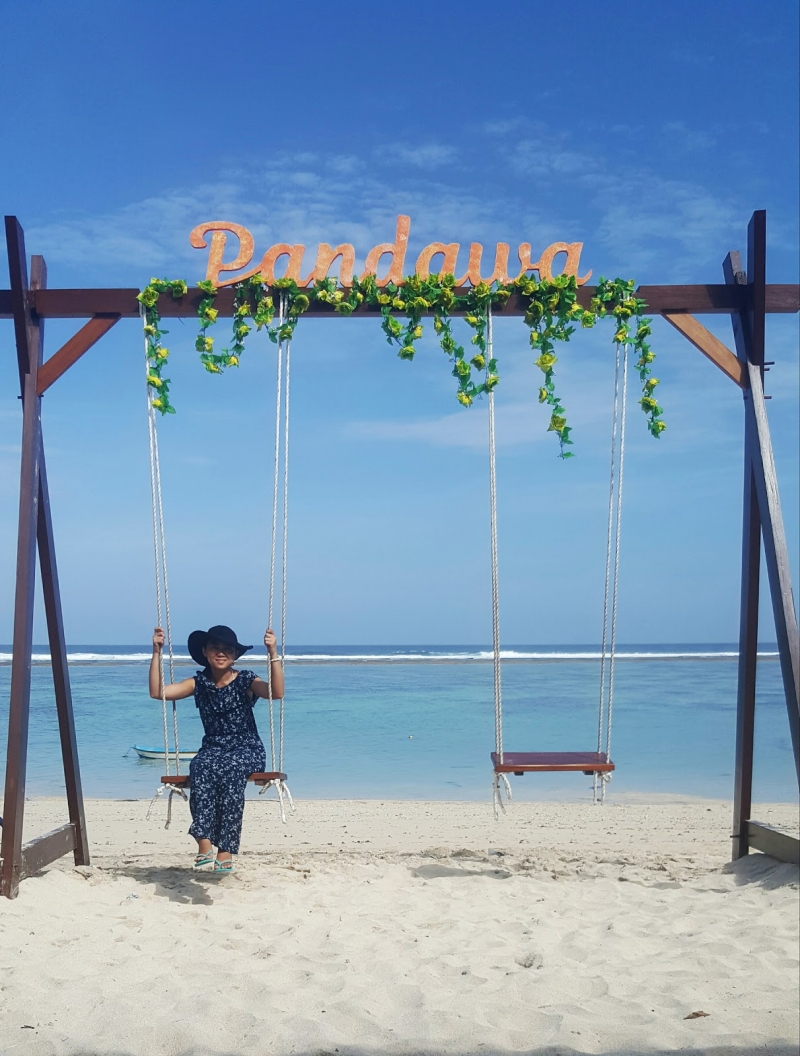 Day 5
Motorbike ride going to the airport – IDR 60,000
Breakdown of expenses (daily total)
Philippine Travel Tax: ₱1,620
Roundtrip Airfare: ₱6,394.30
Pre-booked hotel for 3 nights: ₱2,210
Day 1: IDR 930,000
Day 2: IDR 510,000
Day 3: IDR 1,040,000
Day 4: IDR 678,000
Day 5: IDR 60,000
Total expenses in Bali: IDR 3,218,000 (₱14,627.28)
Grand total: ₱24,851.58
More travel hacks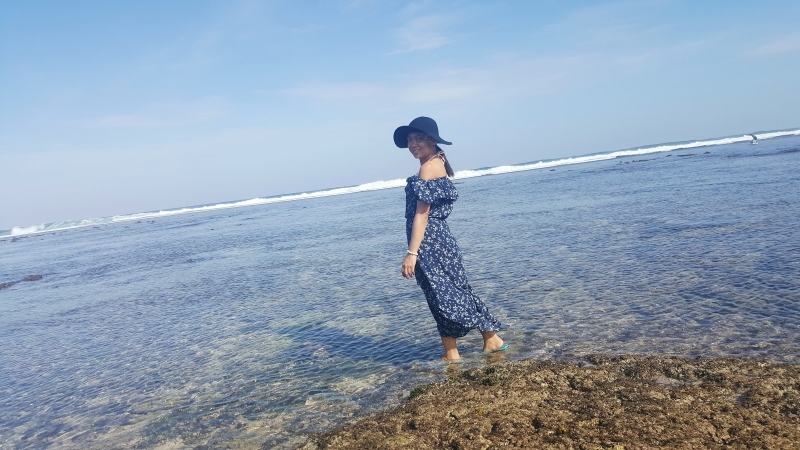 The one rule I always live by is to never exchange ALL your money in the airport of your destination because they have the lowest rate compared to money changers located in the city. Just change what you only need for your transportation fare then exchange the rest in the money changers near your hotel.
Once you're already in the arrival hall of the airport, you will be met by a lot of 'so-called' taxi drivers that will try to offer their service. Ignore them and walk outside the airport to take the Bluebird Taxi since they are not allowed to pick you up inside the airport due to some local rule. Better yet ask the airport security to point you to the proper direction. It's just short walk coming from the airport.
Uber and GrabTaxis are available in Bali although I never tried it. A lot of people actually said that this is a cheaper option compared to taking the Bluebird Taxi which might be true because taxi drivers are having a protest to ban Uber and Grab and you can see a lot of posters of this around the city.
Renting scooters / motorbikes are easily found in every corner of Bali. In fact, people of all ages in Bali know how to ride one even little kids. Nakakahiya sa part ko. Again, just make sure to bring International Drivers License to avoid problems with any police officer. Also, drivers always go on the left side lane (driver's seat are on the right), a complete opposite to what we are used to.
I think frequent travellers already know this but I'm saying it anyway. Always buy dollars before leaving the Philippines especially now that our peso is not doing well in the market. I'm not saying buy a lot of dollars (depending on the length of stay and country of destination), your 200 to 300 dollars can already go a long way. I think that will already cover 4 or 5 days worth of expenses in an Asian country.
I always play a little game with random money changers when I'm abroad. It's nothing unusual, just hunting which money changers gave the best rate. Most people think that all of them gave the same rate since they are just sitting next to each other but each of them has different rates so don't forget to compare and contrast. At some point, money changers already recognise me because I'm changing two to three different currencies at the same time just out of fun, to test them whether they know their job. I'm such a nerd. During my last night in Kuta, I was asking the guy manning the money changer why the peso exchange rate is lower compared the one in Ubud. He surprisingly agreed to give me a higher rate maybe because he badly needed a peso currency. So ayun pati money changer hinaggle ko na bes! Only in Bali!
Tour guides in Bali are on time. If you ask them to pick you up at your hotel at 7am, they will be there on the dot or sometimes even minutes earlier so Filipino time is not applicable.
Bali is predominantly Hindu so expect to see a lot of temples and wearing a sarong inside is strictly practised.
Balinese food is really good, it tastes the same as ours but they also have their own special delicacies like Bakso, Nasi Goreng, and Sate, among others. If you eat like a local, the food is extremely cheap. The best food I tasted was in Sanur beach after my Nusa Penida tour. I came across a small eatery but packed with a lot of locals just next to the ticketing office. When I ask for a menu, the staff confidently answered me "No menu, we serve only one dish" and led me to the front to see what they are serving. I was thinking if they only have one dish then it must be bloody good. And it was! Naka 2-rice po ako! The whole meal only cost IDR 50,000 or ₱250 but it's a big serving good for two people.
The best place to buy a pasalubong is in Ubud market. Do note that the first price they will offer you is usually two to three times higher. What I do is always ask more than half of what they are asking (of course vendors will not agree) and slowly work it higher until we can both agree on the price. If they don't, walk away from them. Chances are, they will still chase you and give you the price that you want (it happened to me). I think it's better than to sell nothing.
Lastly, Bali is safe for a solo female traveller which is why I wasn't worried about my safety. It is more of the cost actually. But tourists have every right to be sceptical because even though Bali is beautiful as it looks, most locals are notorious for overcharging prices so haggle, haggle and haggle.
Travelling solo for the first time abroad can both sound intimidating and daunting. In fact, I was so nervous the night before my flight that I hardly slept. Everything was going wrong that I was considering not to go anymore, but I think I'm going to hate myself more if I didn't do it. I always do something that I'm a little not ready for. I think that is how you grow.
Also read: My Solo Trip to Bali: Mistakes & Lessons Learned
Sometimes it is our own doubts and fears that stop us from doing the things that we always wanted. So go on, save up and book that flight. You will never be the same person as you are after the trip. You will see things differently. Coming back to where you started is not the same as never leaving.