Contributed by KaTravels
Bali was our first stop on our Tricity trip last 14 – 17 April 2017. We booked our flight via Cebu Pacific. The one-way Manila-Bali trip cost us ₱3,998 each. We took the earliest flight and departed NAIA 3 at 4am and we arrived in Bali at 7.50am.
This was our first out-of-the-country trip together, and although we weren't complete, me and my friends, Erika and Ellika, still managed to pull it off!
After three hours and 50 minutes, we arrived at the Ngurah Rai International Airport.
Also read: Our 6-Day Trip in Bali with a Budget of₱16k Each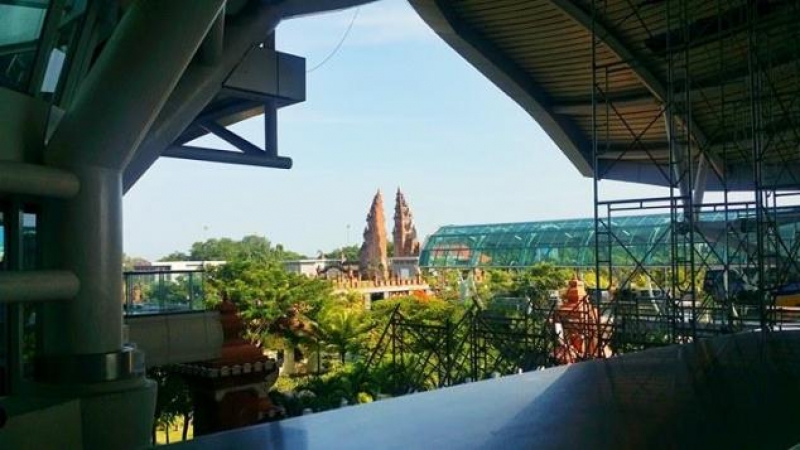 Before you go
Now, before I proceed with the sites that we visited on our trip to Bali, here is a tip to get you ready and have a hassle-free vacation:
Book a personal driver and car. This is a big help if you want a hassle-free vacation and have a limited time in Bali. I suggest you book it through Balicab.com. Booking here is relatively easy and payment is done on the day of your trip, directly to your driver, through cash using the local currency. They have unlimited mileage also. Our driver, Mox, was really friendly, spoke English well, and gave us informative facts about the sites that we visited. He also took good photos! It was a win-win scenario, we got a driver and photographer in one! Not included in the price: parking, entrance tickets, show tickets (if any).
We booked the cheapest one, Rp540,000. The service is good for your 10-hour trip per day anywhere you want to go. I personally booked this three months before our actual trip just so I was assured that we wouldn't run out of slots for that day. When we return to Bali, we will definitely book with Balicab again!
Double Six Beach Seminyak
This beach is accessible to the public and the parking fee is just Rp5,000. This is a wide stretch of golden-white sand in Seminyak. If you're into surfing, this is a must-see place for you because there are a lot of great waves in this area. There is also a nearby beach bar and restaurants like Cocoon Beach Club, La Plancha, Capil Beach (which we got to visit in the evening), etc.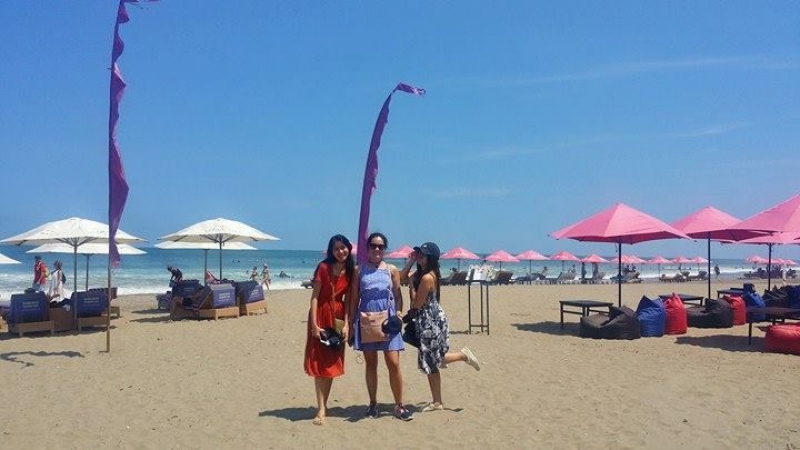 We didn't stay here for too long since we already had an itinerary for the whole day and we had limited time on our hands. But this is a beach where we will definitely stay longer on our next visit. It's not crowded, there were a lot of surfer dudes and the ambience is different compared to the beaches that I've visited. Maybe it was because of the lounges, and bean bags, by the beach called Bali lounges or something of that nature. The fact that we were in a Bali lounge in Bali made everything feel legit.
Also read: Top 20 Fun & Free Things to Do in Bali
Tanah Lot
When we entered this place, we noticed that it was quite touristy and jam-packed, you have to walk for about three to five minutes to get to the end of the area. It was really hot at the time we went there because it was summer time. If you're going to Bali on a summer, don't forget to wear a cap! Anyways, once we got to the end of the pathway, we were welcomed by this view.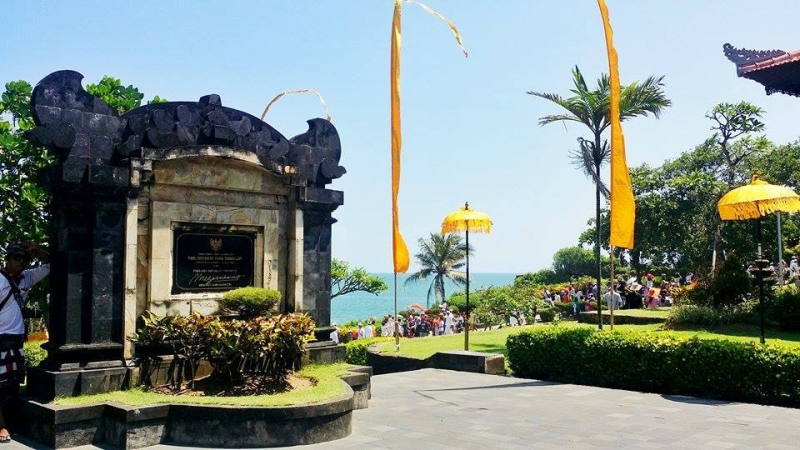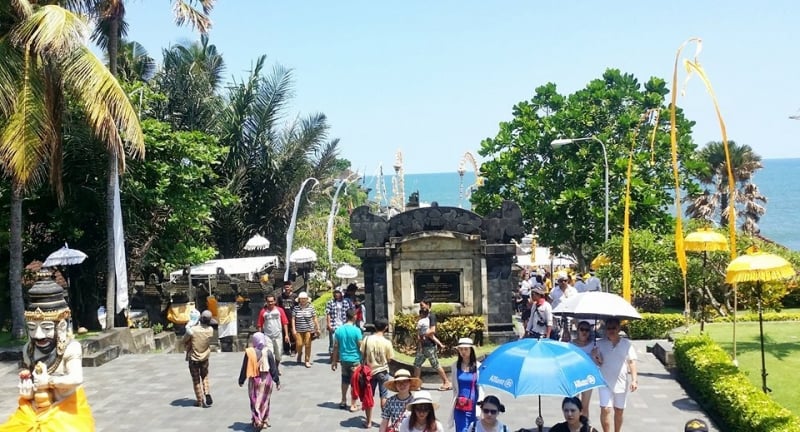 Not far from here, we noticed a bunch of people on their knees praying.
A few steps to the right and we saw this unique and magical place.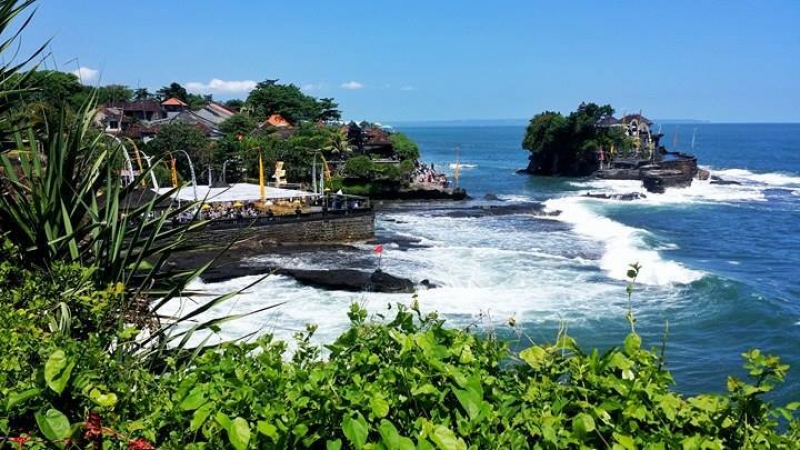 I've never seen anything like this personally which makes experiencing the hot weather worth it.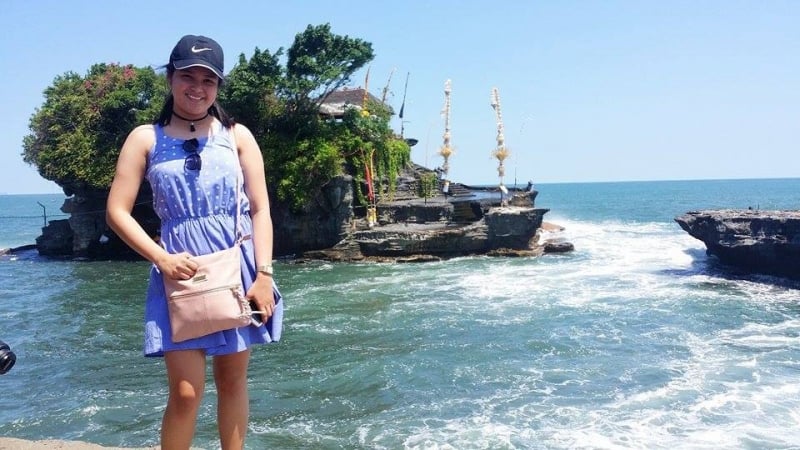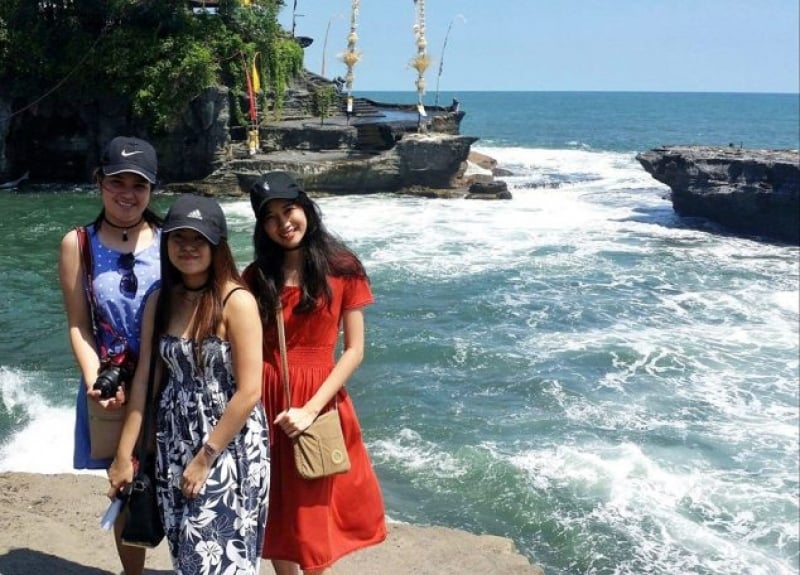 We took several minutes just looking at this place. We also took some photos then roamed around the area. There were a lot of tourists wanting to have a photo with this in the background so we went ahead.
This is us with our Balicab driver, Mox. He is really friendly, informative and he took most of our good photos in Bali.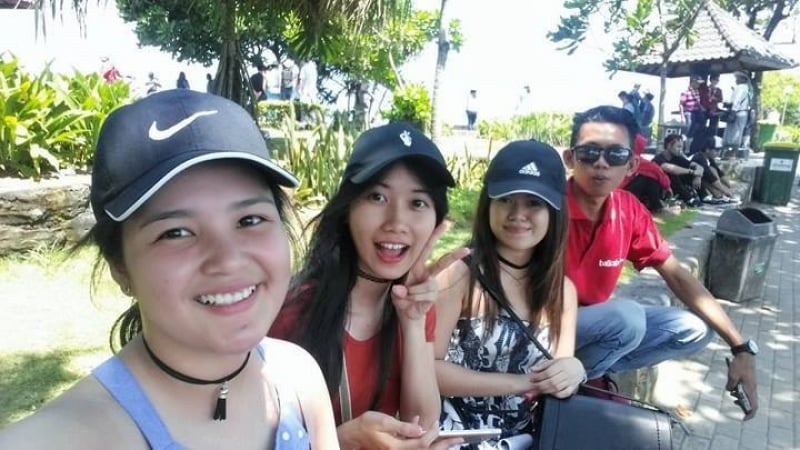 As I've said before, we were supposed to be four people on this trip, but anything is possible so here's a photo of us.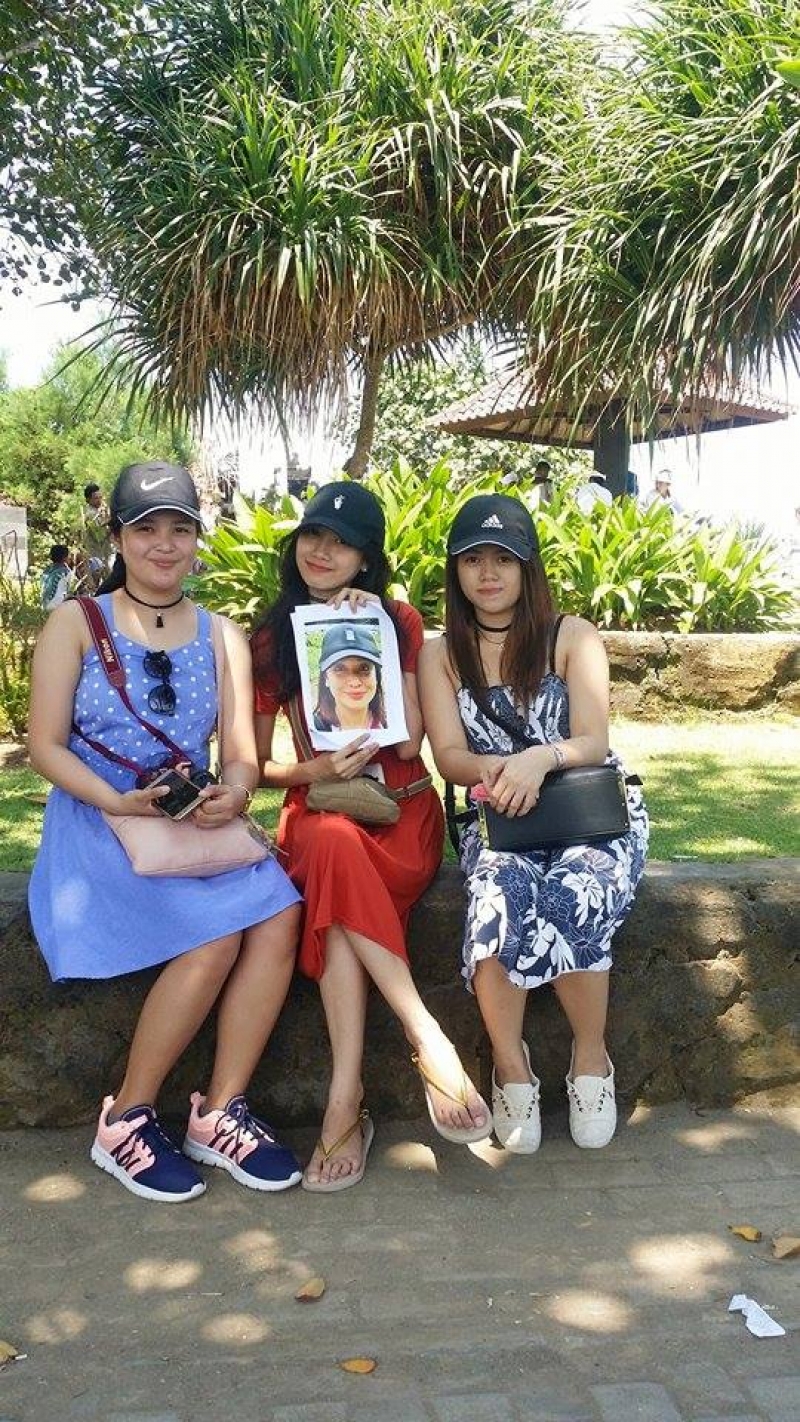 Seems like we just gave you an idea if one or two in your group of friends can't come on your trip, eh?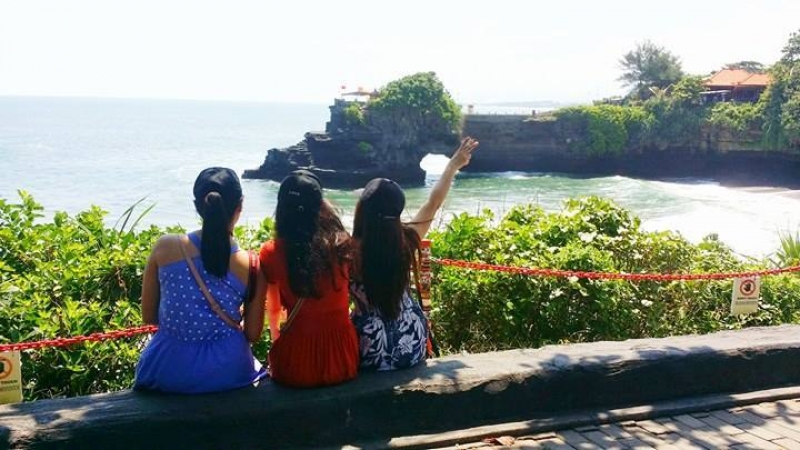 Entrance Fee:
Children (6-12): Rp30/person
Adult: Rp60/person
Parking Area Ticket Price :
Motorcycle: Rp2
Car: Rp5
Bus: Rp10
Bali Bidadari Batik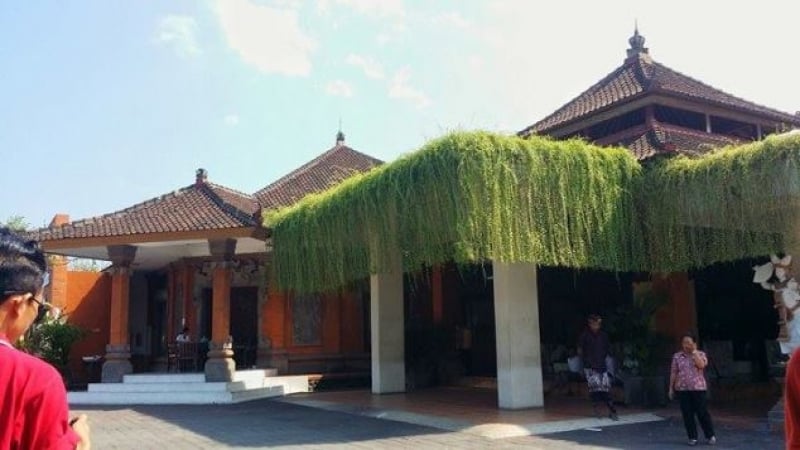 Bali is also well known for its Handpainted Batik Clothes. This was something new to us. When you get to see the finished works and designs, you will not think that it was actually hand painted. Check this out.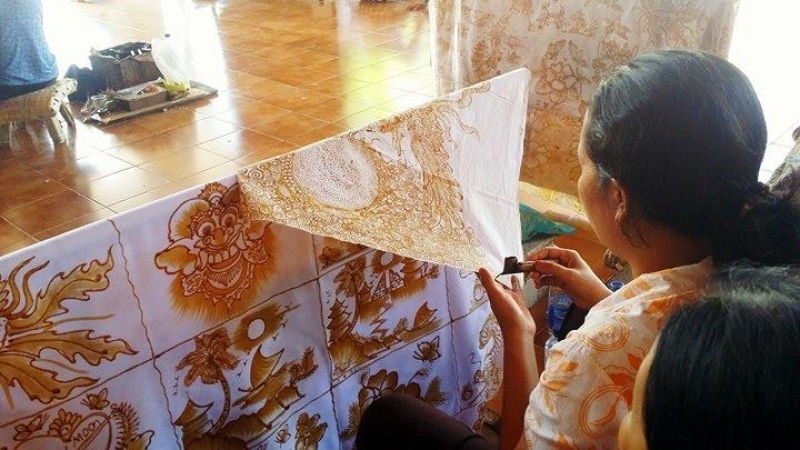 Most of the designs that they make are so detailed and intricate. I personally like art so I was so amazed at how sharp and precise their works are.
You can also have the designs customized here for a certain price. We were also guided inside a warehouse that includes a wide variety of finished products and souvenirs which you can buy. You are not allowed to take photos inside though. There's no entrance fee for this. We took a couple more photos outside the warehouse. Of course, credits to our friend/driver, Mox.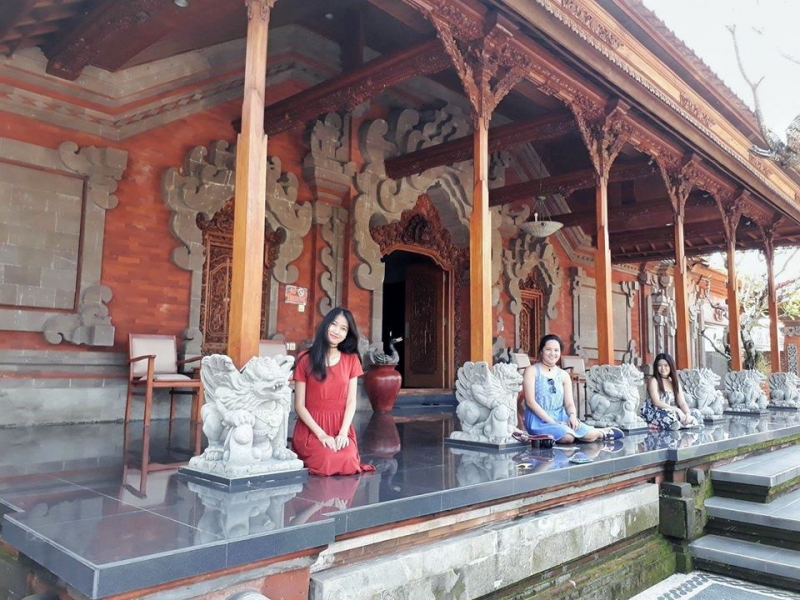 Teganungan Waterfalls
For those of you who want to swim in a place with a view aside from the beach, this is the place to go! Although we didn't go there to swim. We just wanted to see the waterfalls.
I believe there's also a temple here if go down a little bit from where we were in this photo. We didn't get the chance to go there though because we had seen a lot of temples already for the day.
Entrance fee:
Rp10,000
Tegalalang Rice Terraces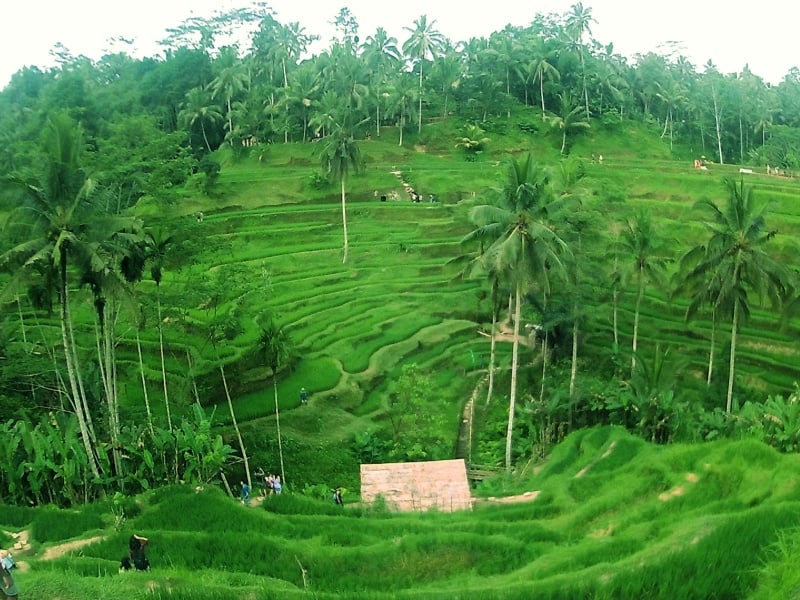 They said this is pretty much like the Ifugao Rice Terraces that we have in the Philippines, I can't compare them though because I haven't seen the one in the Philippines (I know, shame on me).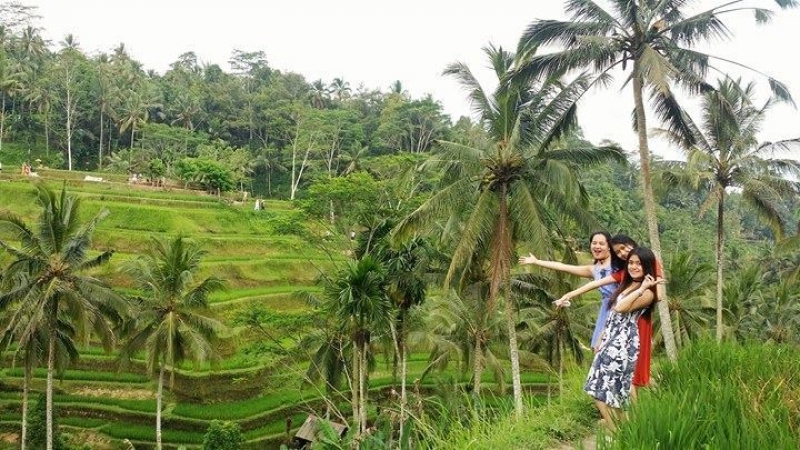 It is quite a view from here, so if you're more into nature, this is a must-see place to visit!
Entrance fee:
Rp10,000
Tirta Empul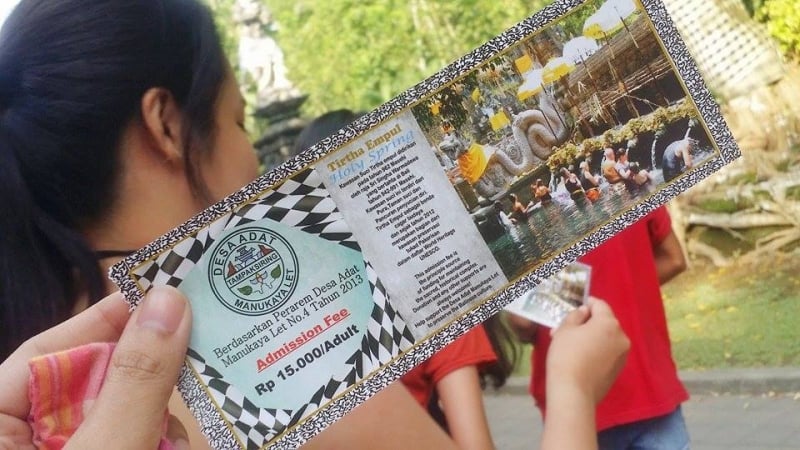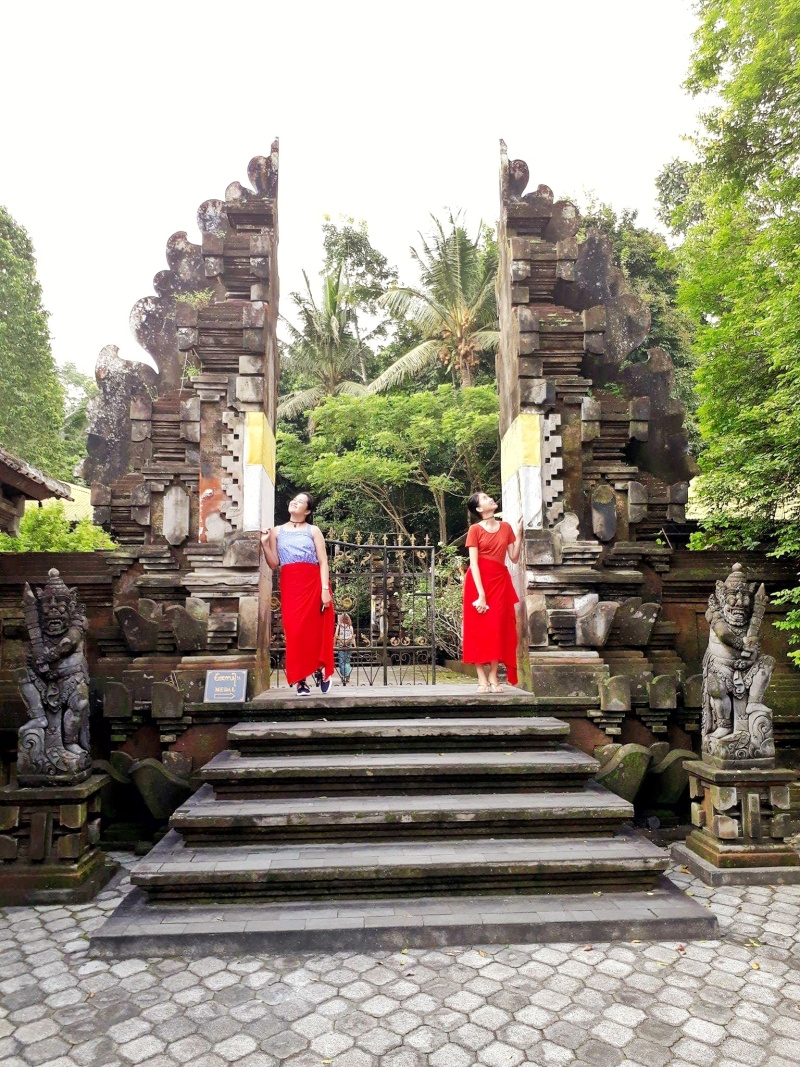 You need to use a sarong which is available for free at the ticket counter. Balicab provided us already with a red sarong.
As we went further into the centre courtyard, we stumbled upon this view.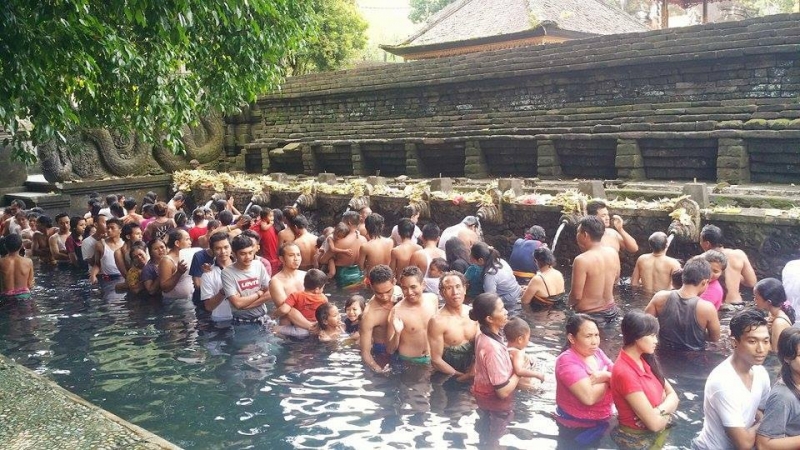 People were in line waiting for their turn to be "cleansed". The water in the two pools is believed to be magical and can purify itself. There is a certain process of this purification that they follow. We weren't aware that this place existed. We wanted to try it but we didn't have any spare clothes with us, so maybe next time.
There was also some kind of parade/ritual inside when we went there. It lasted for about 10 minutes.
As we went out the temple, we passed through this Koi Pool which is really cool.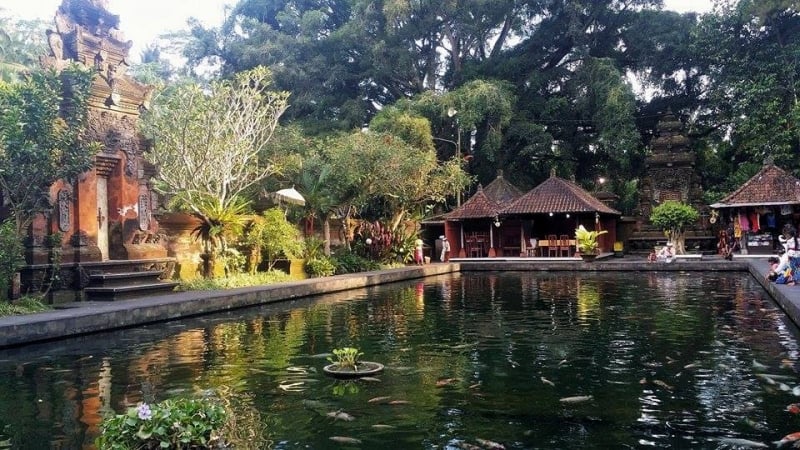 And that's it! I think one hour is enough for you to roam around the whole area. Also, there are some parts of the temple that require you to tie your hair. This is definitely a must-see place for everyone and a legit Bali experience for us.
Entrance Fee:
Adult: Rp15,000
Child: Rp7,500
Operating hours: 9am to 5pm seven days a week
Mt. Batur Volcano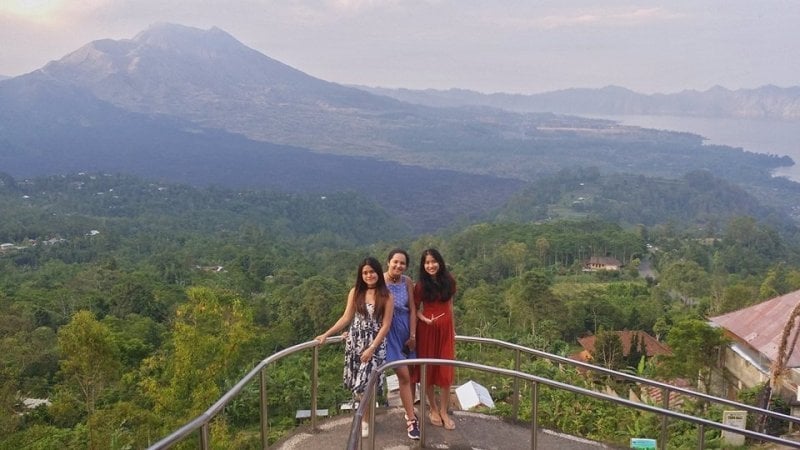 Now, we didn't plan on going to this place but Mox decided to take a little detour and I'm glad he did!
We only spent a couple of minutes looking at this place since there were tourists waiting in line to have a photo op at this spot for a scenic natural backdrop.
Entrance Fee:
Rp31,000/person
Parking Fee:
Rp2,000
Capil Beach Bar Grill & Resto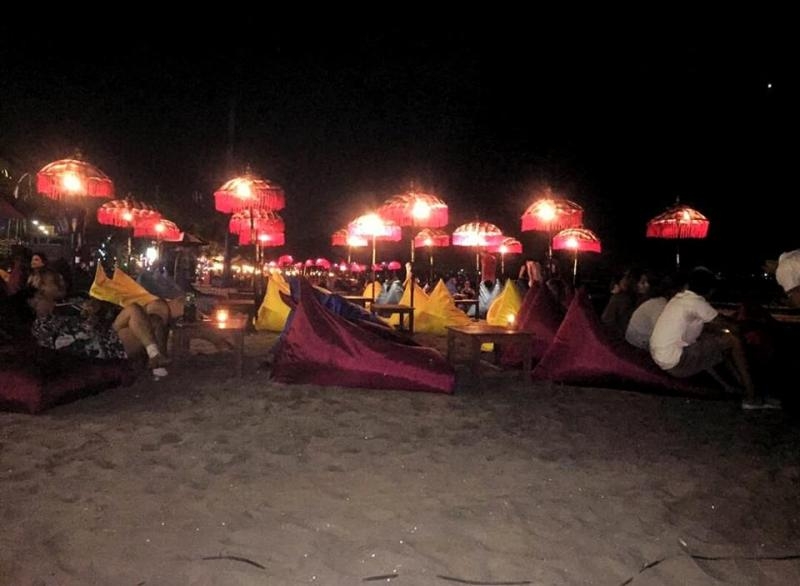 This was our last stop for the day. We were supposed to go to Potato Head Beach Club, but it is quite far away from our hotel. So, we decided to come here instead. We were not disappointed. I mean look at these lights illuminating the bean bags and lounges under it.
It is required for you to buy something from their menu if you want to stay here for a while. The moment you sit down on one of those bean bags, a waiter will come to you and give you a menu. We just ordered some smoothies though because we already ate dinner before coming here.
Their menu is pretty decent and the price is quite reasonable. There was also a live band to set the mood. If you're looking for a late night place beside the beach to just relax and chill with your friends, this is the perfect place to be!
Accomplish your #SquadGoals and have fun in Bali!
Also read: Eat, Pray, Haggle in Bali: My 5-Day Solo Trip on a Budget