Contributed by Travel Jock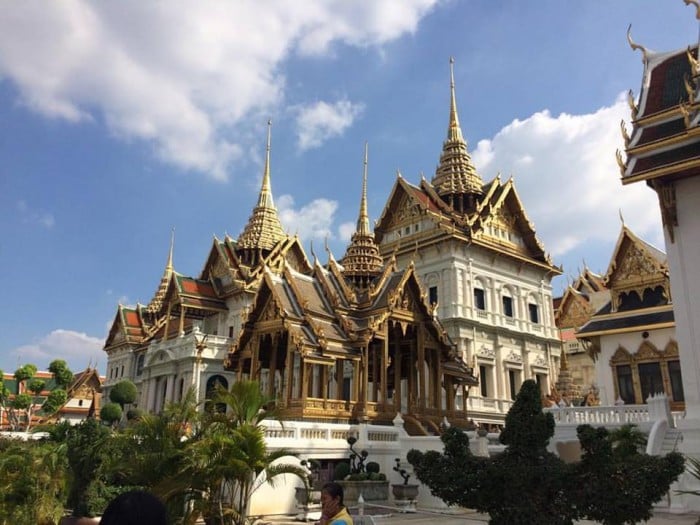 I brought my brother to Bangkok and Siem Reap as an early Christmas gift to him since I want him to explore different countries too.
Let me share my Do-It-Yourself itinerary 3 days in Bangkok, Thailand and 2 days in Siem Reap, Cambodia.
Budget is included in this attachment so hope this will help in your trip!
Day 1: Grand Palace
November 29
06:20am  Departure in Manila
08:40am Arrival in Bangkok
10:00am Ride Suvarnabhumi station to Makkassan
Ride MRT Phetchaburi to SiLom Station
Walk to Thrive the Hostel located at Silom
11:00am Arrival at the hotel / check in / Lunch
** bring bottled water & small towel
12:00nn Ride BTS SalaDaeng Station to Saphan Taksin S6 Exit 2
Get off at Saphan Taksin Station (or S6 Station) and go out through Exit No. 2. Then, take the Chao Phraya Express Boat to Ta Chang Pier (No.9). A 5-10 minute walk will bring you to the entrance gate of the Grand Palace.
1:00pm Grand Palace & Emerald Buddha
Walk to Wat Pho
Take a cross river ferry to Wat Arun before 4pm
4:00pm Wat Arun (Temple of Dawn) (closes at 500pm)
Take a cross river ferry back to pier grand palace
5:00pm Ferry back to Saphan Taksin Station to SalaDaeng Station
6:00pm Dinner / Nightlife
Also read: A Traveller's Bucket List for Vietnam, Thailand & Cambodia
Day 2 Floating Market & Elephant Village
November 30
6:00am Breakfast / Shower
** bring bottled water & small towel
6:30am Sala Daeng Station to Siam Station (BTS 2)
Siam Station to Victory Monument (BTS 1)
At the Victory Monument Station, Descend and look for Century Plaza; the minivan terminal is beside it.
Minivan to Damnoen Saduak Floating Market
Tell to drop in the market, if not walk to the Floating market
Get the number of the driver of Minivan
09:00am Check paddle boat (Negotiate first 100-150 baht) ask if it includes the visit to elephant village
Ride Elephant in Elephant Village
12:00nn Lunch & Shop
Call back the minivan or walk to the Damnoen Saduak Transport
Station and look for the minivan or bus 78
2:00pm Minivan back to Victory Monument
Victory Monument Station to Hostel
7:00pm Dinner / Nightlife
Also read: 12 Delicious Must-Buy Souvenirs From Bangkok For A Taste Of Thailand
Day 3 Ayutthaya Day Tour
December 1
06:00am Shower / breakfast
Minivan to Ayutthaya
06:30am Sala Daeng Station to Siam Station (BTS 2)
Siam Statin to Victory Monument (BTS 1)
At the Victory Monument Station, go right on the elevated walkway. Stay on it until you cross a large road, then descend
07:30am Minivan ride to Ayutthaya
Drop at Naresuan Road
Option 1: Rent a bike
Option 2: Rent a tuktuk
We rent a tuktuk worth 1,2000 baht; tuktuk drivers will bring to you different temples
Ayutthaya Historical Park
Wat Mahathat
Wat Rachaburana
Wat Phra Ram
Wat Thammikkarat
Wat Mongkhon Bophit
Wat Phra Sri Sanphet
Wat Lokayasutha (Phra Noon)
Others are optional
Back to Minivan ride
Victory Monument to Siam to Sala Daeng
Walk to Hostel / Dinner
Day 4 Going to Siem Reap
December 2
05:00am Taxi to Don muang International Airport
(Optional) Commute to Don Muang
MRT Silom to Hualumpong station then train to Don Muang
MRT Silom to Phahon yothin then taxi to don muang airport
10:00am Don Meung Airport Flight to Siem Reap
11:00am Lunch at the airport
01:00pm Ride Tuktuk to Hostel (included in the package)
02:00pm Rest in hostel
03:00pm Walking tour…
Wat Preah prom Rath
Royal Gardens
Angkor National Museum
Pub Street
Spa
07:00pm Nigh Market / Dinner
Also read: 10 Destinations in Cambodia You Need to Visit
Day 5 Angkor Wat
December 3
06:00am Wake up / breakfast (Free breakfast)
07:00am Tuktuk tour ** ask if the tuktuk can get us straight to airport
Bayon (Angkor Thom) / Ta Phrom
Preah Khan Temple
Angkor Wat (sunset)
06:00pm Ride to Airport
07:00pm Should be in Siem Reap Airport
10:30pm Flight to Manila
Budget:
Airfare (Manila – Bangkok) – 4,000 pesos
Airfare (Bangkok – Siem Reap) – 2,400 pesos
Hotel (Thrive the Hostel) – 900 pesos for 3 days
Hotel (King Boutique Hotel – 500 pesos for 1 day
Other expenses – 12,000 pesos
o Food
o Transpo
o Temple entrances
o Nightlife
o Pasalubong
o Miscellaneous
TOTAL EXPENSES: PHP 19,800
Here are some of our pictures: