Contributed by Bean in Transit
When I started travel blogging two years ago,  I asked myself, "What kind of travel blogger do I want to be?"
I still don't know what kind of travel blogger I am but this I know: I have never considered myself a budget traveller.
I'm not saying this because I have lots of money. Because I DON'T. (Although having lots of money doesn't sound bad at all.) Anyway, what I'm trying to expound is that keeping an eye on my pocket whilst travelling is just impossible. I get easily distracted with A LOT of activities and stuff that require money. I don't know how to haggle so I end up spending more than I should. In short, I can't seem to exercise self-control when I am in a foreign place.
That's why when my friend and I decided to go to Bacolod, I promised myself that I will spend less and try to experience travel in a different way than what I am accustomed to.
And it was a good thing that I travelled with my best friend because she is the most frugal person I know in the world. She has this amazing talent of stretching every last cent to survive. I needed to have her as my guide so I won't end up penniless in the City of Smiles.
I've read several blogs prior to our trip and I learned that you can actually spend around ₱3,000 for 3-4 days in Bacolod including accommodation, transportation, food and even for pasalubong.
I'm just starting out with this budget travel thing and I didn't want myself to push myself too hard so I thought, "I'll settle with ₱4,000."
Guess what? I only spent ₱3,484.00!
Here's a complete break down of my expenses during my three days and two nights stay in Bacolod.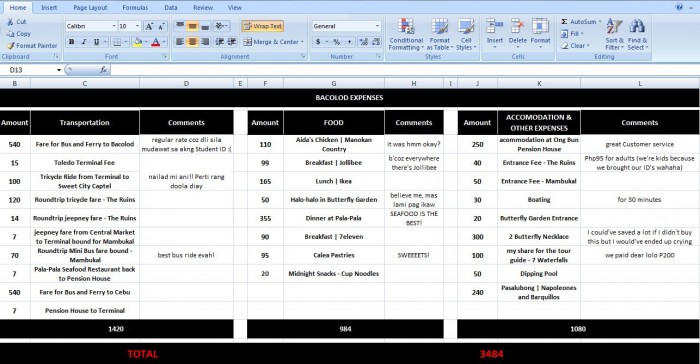 Also read: 12 Most Exciting Philippine Festivals You Don't Want to Miss
Things to remember
1. Almost every destination in Bacolod and surrounding cities are accessible via public utility jeepneys passing by the Central Market. Staying in Ong Bun Pension House was really a good choice because it was located at the Central Market.
2. Even if you're not up for budget travelling, I would suggest that you NEVER ride tricycles when you're simply around Bacolod City. I know not every driver is doing this, but, most of them will charge you like ₱100 for like a 2-kilometre ride. In fact, when we arrived at the Bus Terminal, we were charged ₱100 each by a tricycle driver when our destination was so near. That was certainly a lesson learned that day.
3. Food? It's really up to you. But if you're looking for affordable food spots, Bacolod will never disappoint you.
4. You don't need to book for accommodation prior to your travel date except if you're going there during the MassKara Festival. There are A LOT of available hostels, pension houses, hotels, transient houses in the city. In fact, if you walk around Lacson Street or Rizal Street, you'll find out that there are hostels and pension houses in every corner.
5. If you're a student, DON'T EVER FORGET TO BRING YOUR ID's; it's your ticket to get more discounts!
I will be posting more about my trip to Bacolod soon.  🙂
Also read: Simple Tips for Travelling Philippines on a Budget