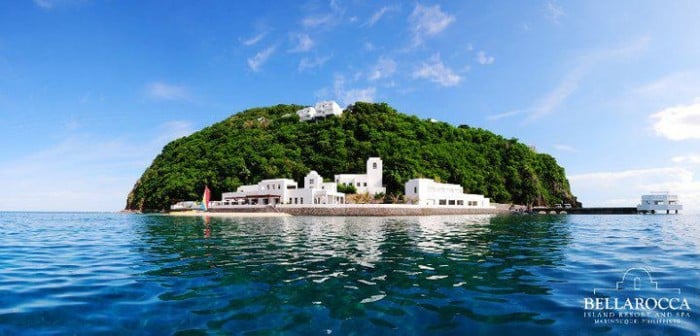 Image credit: Bellarocca Island Resort and Spa
In Marinduque, there's an exclusive island resort and spa that was built at the former Elephant Island. This Greek-inspired resort is one of the most exclusive and expensive resorts in the Philippines.
Also read: 10 Quirky Accommodations in the Philippines
When the resort offered a promotional rate, we immediately booked a hotel room and a villa for a weekend treat. Taking a flight from Manila to Marinduque via Cebu Pacific, we arrived at the airport with the resort shuttle waiting to pick us up—complete with warm smiles, refreshments, and hot towels to freshen us up. It was a road trip from there to the port, and upon reaching the shores, we boarded a private speedboat that brought us to the Bellarocca Island Resort and Spa.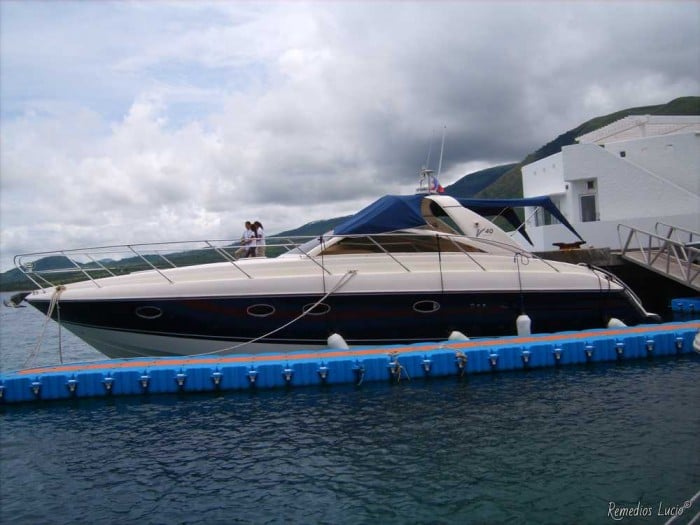 Image credit: Remedios Lucio
When we arrived, we were once again offered refreshments during check-in. Afterwards, we were brought to our accommodations. It was a quiet weekend with only about five families staying there. I still remembered the former WG&A Superferry owners arrived at the same time via their chopper. So there are two options to go there, either by our itinerary or a private helicopter.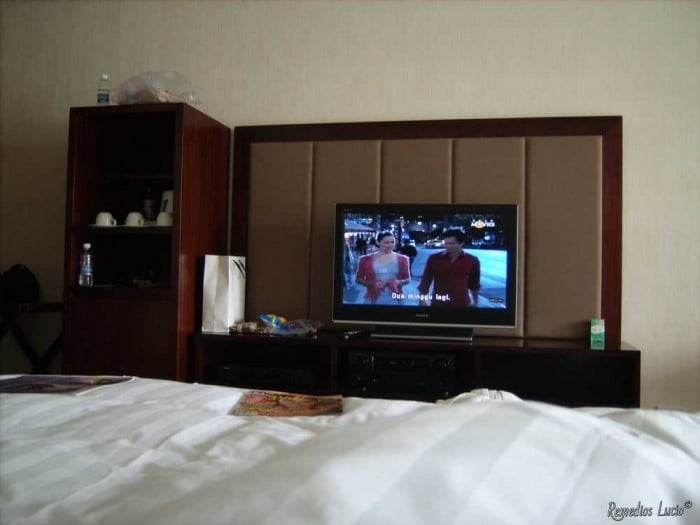 Image credit: Remedios Lucio
The deluxe room we got had a balcony with a swimming pool view below. The bathroom was done in all glass with a pull-down curtain you can use whenever you're inside the bathroom. The beds were all done in white sheets and all interiors in modern wooden designs. There's a flat screen TV, mini refrigerator, toiletries, and snacks.
Also read: 5 Boutique Hotels in Manila So Cool You'll Want to Stay There Right Now
Our family friend got a villa since they were about five including their children and a nanny. It's a separate building with its own small pool overlooking the ocean. It has its own living room, dining, kitchen, bathrooms, and two bedrooms.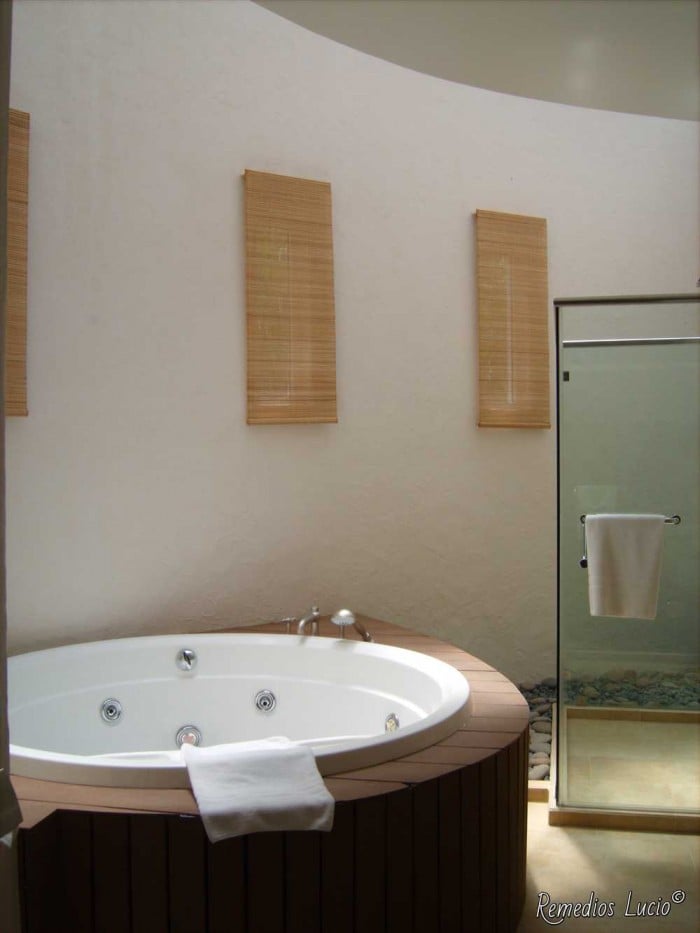 Image credit: Remedios Lucio
It's pretty much a resort where you can relax ultimately as you'll spend all the time on the island. There's a small beach but the shore is not too big, which the swimming pools compensate for. You can drive or be driven around the entire island with a golf cart. It's quite big so you won't get bored and besides the swimming pools, they have an entertainment room, gym, library, meeting room, restaurants, bars, tea house, boutique, clinic, meditation sanctuary, picnic area, golf course and many more amenities.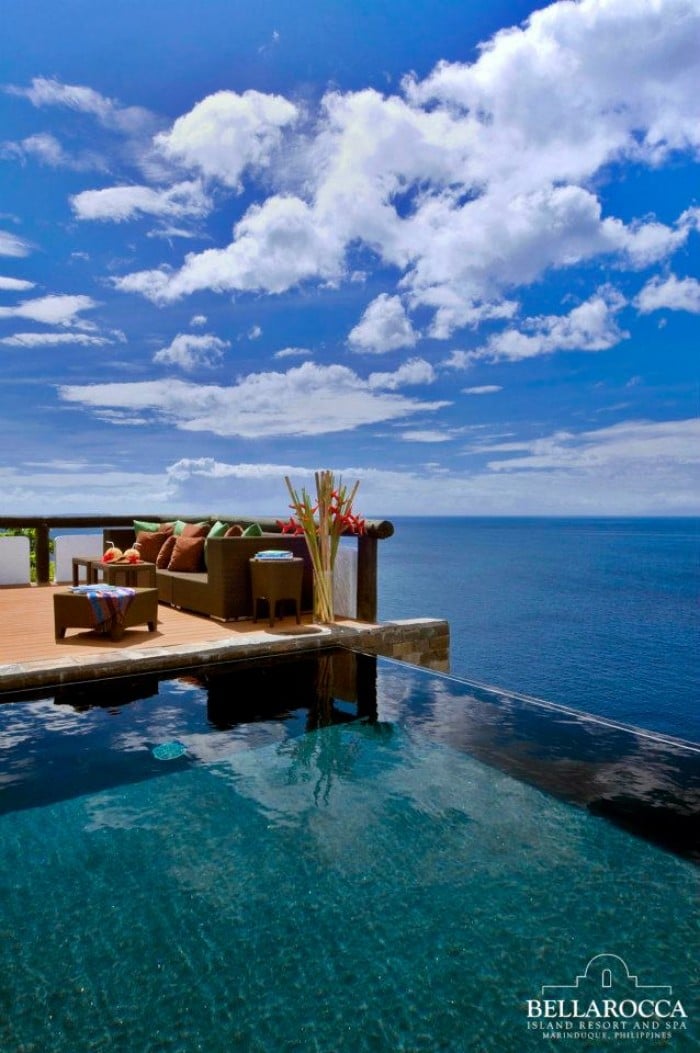 Image credit: Bellarocca Island Resort and Spa
But what I loved the most was their spa and natural hot spring pool quietly tucked on the higher hillside of the resort. It's private and done in cool aqua blue and white wooden interiors plus glass walls. Since it's surrounded by nature, you won't be seen by anyone because once it's booked for you, they don't allow other people to walk around the nearby area.
For food, you can dine at the restaurants which serve delicious cuisines and drinks. We had their Carbonara, Chicken Cordon Bleu, and fresh fruit platter. Their chef was pretty good and their dishes were scrumptious. It's not cheap but not sky high expensive. Before, they still allowed guests to bring their own food from the outside since they were still new but now food from the outside isn't allowed anymore.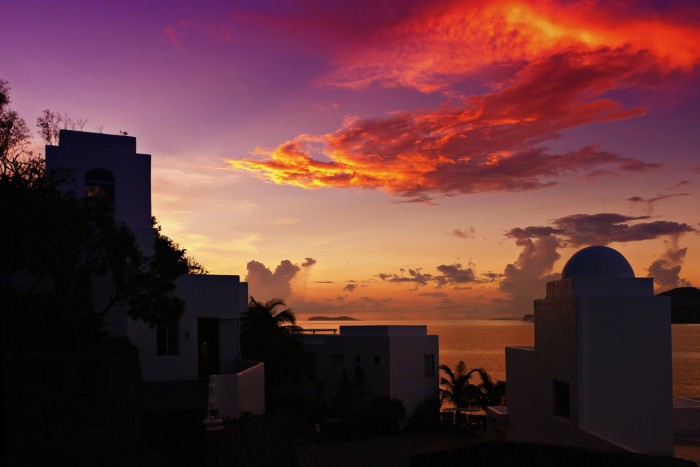 Image credit: Bellarocca Island Resort and Spa
Also read: 16 Coolest Staycation Ideas in Manila
Staying at Bellarocca Island Resort and Spa is worth all the money if you're aiming to unwind at an island that's far away from the crowd. The facilities are clean and well maintained. Their staff were courteous and well-trained. These are two of the things I look for when spending a bigger amount of money for an exclusive vacation. Also, the delicious food was a bonus! It was indeed worth every penny.