In the Philippines, where it's hot all year round, it's tempting to skip the sunscreen. After all, it's always so sticky, thick, and takes forever to blend into the skin; and that white cast? So not morena-friendly. If you encounter this same problem, then keep reading. These problems have long been addressed — you just gave up too soon. Today, there are so many face sunscreen brands that are perfect for Filipino girls and guys, no matter the time of year.
Plus, living in a country as sunny as ours, we advise you not to skip the sunblock, especially for the face. In fact, it should be part of your daily skincare routine! Below, we share the best face sunscreen brands in the Philippines that work perfectly for various skin types.
Also read: 10 Local Beauty Brands That Deserve Your Attention
Local facial sunscreen options in the Philippines
1. Lana PH
When it comes to the Philippine heat, sticky products are every oily-skinned girl's worst enemy. But thankfully, this problem is a thing of the past: Lana's Skin Protect Brightening Sunblock is an easy favourite because it's not only light on the skin — it has a lovely matte finish, too. (If you're looking for sunscreen for oily skin, then you'll want to consider this option.) Out of all the sunscreen brands on this list, it also boasts the highest sun protection factor: a whopping SPF80. And yes, it works great as a makeup primer!
That's not all there is to love about this locally made sunscreen, either. It's made with gentle ingredients that not only protect your skin against UVA and UVB rays; it's also specially formulated to brighten your skin, as well as even out dark spots brought about by sun damage. Lana's sunscreen also gets plus points for being cruelty-free and mindfully packaged in reusable bottles in line with the brand's zero-waste philosophy!
Price: Starts at ₱278
Where to buy: Lana official website, Lazada, Shopee
2. Belo SunExpert
Once upon a time, I (like many others)  didn't believe in the need for sunscreen. It was only back when I started getting regular facial treatments that I was able to get some quality skincare advice. My facialist's number one rule? Always wear sunscreen.
At the time, Belo SunExpert Face Cover was still relatively new, and it piqued my curiosity. After trying it for the first time, I never looked back. It satisfied all my needs: SPF40 and PA+++, lightweight, non-comedogenic, water-resistant, and no white cast. Not to mention, it feels like a "second skin" — I forget it's even there because it melts seamlessly into the skin and is scent-free. Best of all, my sensitive combination skin doesn't react to it at all (another reason why I shied away from putting sunscreen on my face for  years).
Belo SunExpert also offers a Tinted Sunscreen (SPF50 PA+++) version, along with a Reef-Friendly  (SPF60 PA+++) variation. The former is a perfect foundation alternative for that au naturel makeup look, and is favoured for its Tone Adapt technology that makes it suitable for all skin tones. Belo's Reef-Friendly sunscreen, on the other hand, is made free of harmful chemicals and is ideal for those who are frequently at the beach. And yes, both are lightweight on the skin, just like the original version!
Price: Starts at ₱262
Where to buy: Belo Essentials official website, Belo LazMall Flagship Store, Watsons, Shopee
Also read: Here's Why You Should Switch to a Stainless Steel Gua Sha
3. Happy Skin Cosmetics
One of the best known makeup brands in the Philippines, Happy Skin is also commended for their skincare products. After all, who could possibly know Filipino skin better than Pinoys themselves? 
The Rescue Me Sun Gel Primer (SPF50 PA+++) has already become a quick favourite among beauty lovers, and it isn't hard to see why at all. The packaging is gorgeous, and it's lightweight and fragrance-free. We absolutely love that it's packed with good-for-your-skin ingredients that include hyaluronic acid (to keep your skin supple and hydrated); ceramides (to protect your skin against damage due to pollution); and Anti-Blue Light Technology (to keep your skin safe from blue light emitted from gadget screens).
What's more, because the minds behind Happy Skin know very well how with higher SPF comes a greater possibility to create a white cast, the gel primer is tinted as well. No worries, though: You'll find that the subtle tint melts seamlessly into the skin, giving it a dewy and healthy glow — and it works perfectly as a makeup primer!
Price: ₱799
Where to buy: Happy Skin official website, Happy Skin LazMall Flagship Store, Watsons, Shopee
4. Luxe Organix
Nowadays, opting for local sunscreen brands in the Philippines can really be beneficial to us Filipinos. Take Luxe Organix, for example: Their Aqua Daily Sunscreen has received a lot of love, as it was formulated to meet the needs of Pinay skin. With SPF50 and PA+++, it's ideal for everyday use. It's also got a light, gel-like consistency that quickly absorbs into the skin and lives up to its promise of being non-greasy.
Bonus points: Luxe Organix' sunscreen is suitable for those with sensitive skin, too; its ingredients are both alcohol-free and paraben-free! Additionally, their Aqua Daily Sunscreen is made with aloe vera, centella asiatica, and calendula extract — all to make sure your skin stays hydrated throughout the day.
Price: ₱349
Where to buy: Lazada, Watsons, Shopee
Also read: 10 Best Beauty Products to Achieve Healthy and Glowing Skin
Foreign face sunscreen brands available in the Philippines
5. Biore
Those obsessed with Japanese skincare products are no strangers to the wonder that is Biore's UV Aqua Rich Watery Essence. (Admit it: It was probably one of your favourite things to hoard in Don Quijote when travelling in Japan!) Since it became more accessible in the Philippines, Biore has rightly been recognised as one of the best sunscreen brands for Filipino beauty lovers. 
As its name suggests, this SPF50+ PA++++ sunscreen has a water-based texture that makes it light on the skin and ideal for hot summer days. Hyaluronic acid is also one of its main ingredients — a favourite among skincare-obsessed individuals who love keeping their skin hydrated and young-looking! To top it all off, Biore is also known to offer the world's very first micro defense UV formula; basically, this means it's capable of protecting your skin all the way down to the invisible-to-the-naked-eye micro-level!
Price: ₱488
Where to buy: Biore LazMall Flagship Store, Watsons, Shopee
6. Anessa
Fun fact about Anessa by Shiseido: It's actually been Japan's number one sunscreen brand for almost 20 years. Plus, not only loved by the Japanese, Anessa's Perfect UV Sunscreen Skincare Milk has become the ultimate #HolyGrail product for countless Filipino skincare addicts. If you're wondering why, then here's a few reasons for starters: It's light and milky, leaves no white cast, and has a very subtle yet refreshing citrus fragrance.
While this particular sunscreen brand falls on the pricier side, you'll definitely be paying for quality! (After all, despite being on the pricey end, it's still a crowd favourite.) The Perfect UV Sunscreen Skincare Milk (SPF50+ and PA++++) and provides Triple Defense Technology, which means it only gets more effective when faced with sweat, water, and heat. Its formula also provides protection against photo-aging — so it helps keep your skin young and glowing!
Price: Starts at ₱749
Where to buy: Anessa LazMall Flagship Store, Watsons, Shopee
7. Neutrogena
Having been around since the 1930s, dermatologist-recommended brand Neutrogena is one that sensitive skinned folk can truly trust; which is why this list of recommended face sunscreen products wouldn't be complete without their Ultra Sheer Complete UV Waterlight Lotion. 
First of all, it meets our non-negotiable requirements: it's (ultra!) lightweight, blends easily into the skin, and offers SPF50+ and PA+++. It also has a nice semi-matte finish and a fresh fragrance that fades away in almost no time. But its most standout quality would have to be its Dry Touch technology (it's non-sticky, non-oily, and non-shiny) and Helioplex technology, which basically means it works like an invisible shield for the skin and protects it from sun damage for a longer-than-average period of time!
Price: ₱494
Where to buy: Lazada, Watsons, Shopee
8. Canmake
Now, here's another Japanese beauty product that we can't seem to get enough of: Canmake's Mermaid Skin Gel UV — the (01) Clear variation, to be specific. We absolutely love the pretty packaging, but what's inside it is all the more worth gushing over. The SPF50+ PA+++ sunscreen is highly recommended for those with acne-prone skin, along those with oily skin types.
The sunscreen gel is smooth, non-sticky, and breaks into a nice watery texture once you smooth it over the skin. Those who consider it their #HolyGrail product swear that a little goes a long way! Among its other notable qualities include its refreshing feel on the skin, along with its moisturising and brightening qualities. Plus, as it comes in a clear gel, you can expect zero white cast!
Price: ₱749
Where to buy: Canmake Tokyo Philippines official website, Canmake Tokyo LazMall Flagship Store, Shopee
9. Garnier
When determining whether or not to try a new product, skincare addicts know that vitamin C is one of the skin-loving ingredients you should definitely say yes to. This isn't to be confused with the vitamins we take to boost our immune systems; topical vitamin C is known to help brighten and even out your skin tone, and even diminish fine lines. Best of all, it's a key ingredient for fading dark spots left behind by acne and sun damage!
But we digress. The little skincare lesson was basically our excuse to rave about Garnier's Vitamin C Brightening Sunscreen (SPF50+ PA+++), which works as a skin protection cream and a skin brightening product! What's more, its ingredients also include a hydra-active agent known to provide the skin with moisture. This being said, it's the type of sunscreen that's good for dry skin and oily skin!
Price: ₱315
Where to buy: Garnier Philippines official website, Garnier LazMall Flagship Store, Shopee
10. Bioderma
Sunscreen for sensitive skin, anyone? French skincare brand Bioderma is quite popular among those whose skin tends to react to just about every product (except for theirs). Whether or not you're one of those who swear by their bestselling micellar water, their Photoderm Max SPF50+ Aquafluid Sunscreen is one that should certainly be on your radar.
This particular sunscreen is known for its light and oil-free consistency, as well as its dry-touch finish. It's also worth noting that it offers high anti-shine protection and doesn't leave any white traces behind. Most importantly, it's hypoallergenic, non-comedogenic, fragrance-free, and paraben-free — key qualities for anyone on the hunt for sunscreen for acne-prone skin!
Price: ₱1,228
Where to buy: Lazada, Watsons, Shopee
11. Ellana Mineral Cosmetics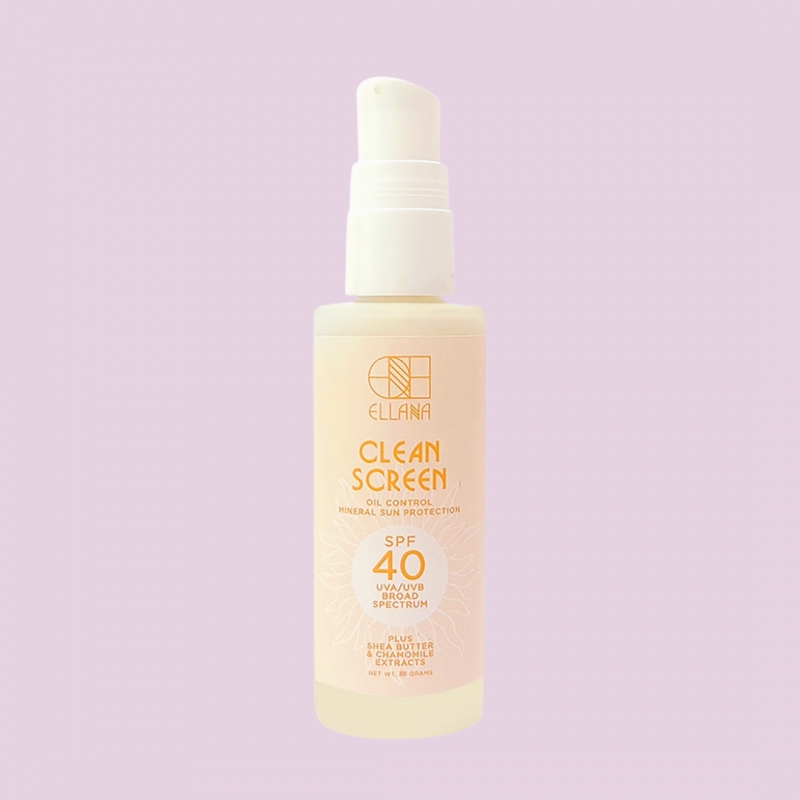 For the environmentally-conscious Filipina, local brand Ellana Mineral Cosmetics offers a great selection of skincare and makeup products. They're a huge advocate for providing beauty essentials that cater to all skin types, and their patrons have sworn by this. That said, if you want to incorporate more local cruelty-free and vegan brands into your daily routine, Ellana is the way to go. 
Their Clean Screen sun protectant is especially worthy of your attention if you have either oily or combination skin. Its 100% mineral formula gives you SPF 40 broad-spectrum protection with an added matte finish to blur out blemishes. On top of that, Clean Screen has a lightweight consistency, so you can enjoy summer days without that unwanted sticky feeling most sunscreens have! 
Price: ₱595
Where to buy: Ellana Mineral Cosmetics official website, Shopee 
12. Cloud Cosmetics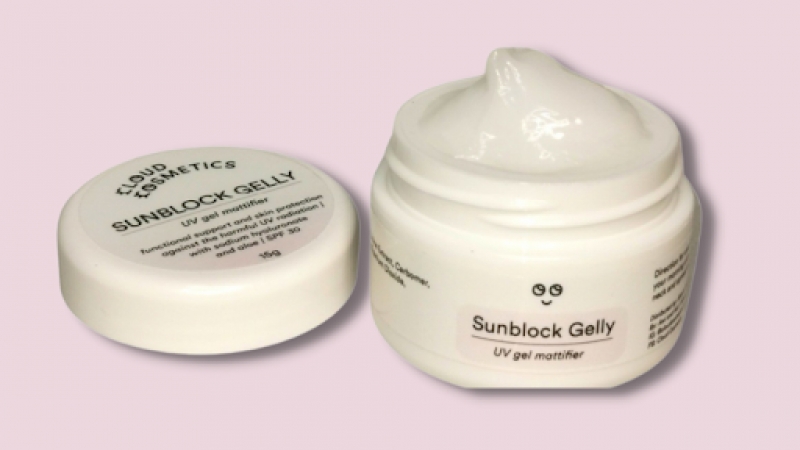 Cloud Cosmetics, a sister brand of Eden's Paradise, offers skincare essentials specifically designed for sensitive Asian skin. With their non-toxic, cruelty-free, and easy-to-use products, this PH-based company commits itself to making beauty easy — especially for beginners. If you're trying to religiously get into makeup or skincare, Cloud Cosmetics' collection is always a great place to start. 
Head out the door with protected skin that feels soft and supple. Cloud Cosmetics' Sunblock Jelly blocks harmful UV rays from the sun, and even your digital devices that emit trace amounts of UV radiation. Its water-based gel formula allows for easy application and better absorption; it also leaves your skin looking dewy the entire day. Additionally, its instant mattifying and non-greasy effect reduces shine and excess oil build-up. 
Price: ₱150
Where to buy: Shopee 
13. The Body Shop Skin Defence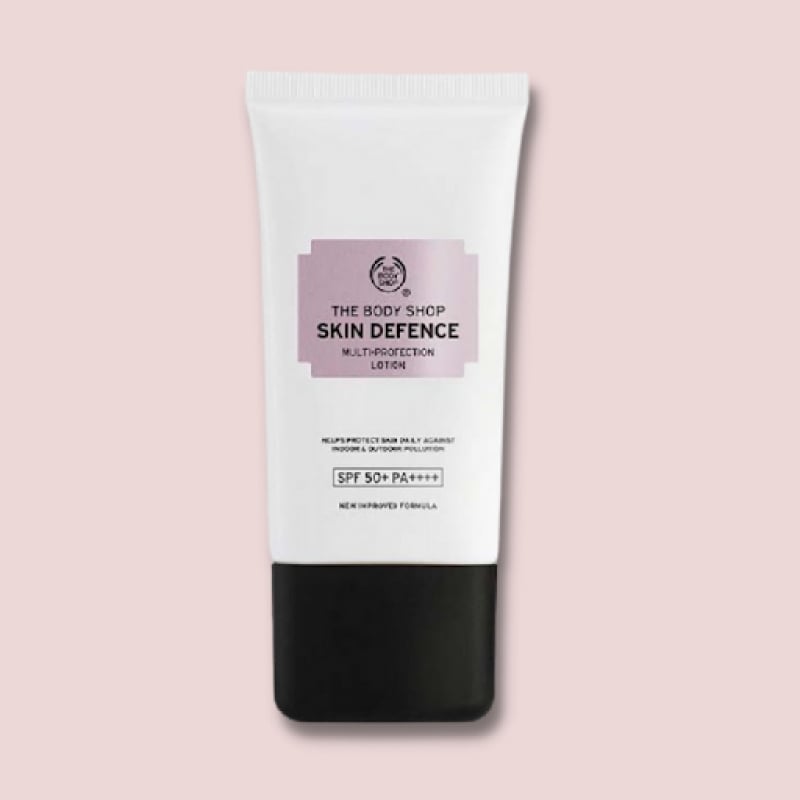 The Body Shop prides itself on being the one-stop-shop for all best-loved personal care products. It tops most skin and beauty groups across the globe because it has gone above and beyond to smash societal beauty standards for nearly 50 years. Nothing feels better than knowing you support a brand that empowers people to feel confidently beautiful!
The Body Shop carries a myriad of natural skincare products, and among its must-haves is the multi-protection Skin Defence lotion. Made with red algae extract and Vitamin C, it provides maximum skin protection from dangerous UVA/UVB rays and air pollution. A dollop of its fast absorption formula feels breathable and comfortable on any skin. Plus, if you like to wear makeup, this doubles as a great lightweight base to work with, too 
Price: ₱1,495
Where to buy: The Body Shop official website, Shopee, Lazada 
14. Face Republic Purity Sun Essence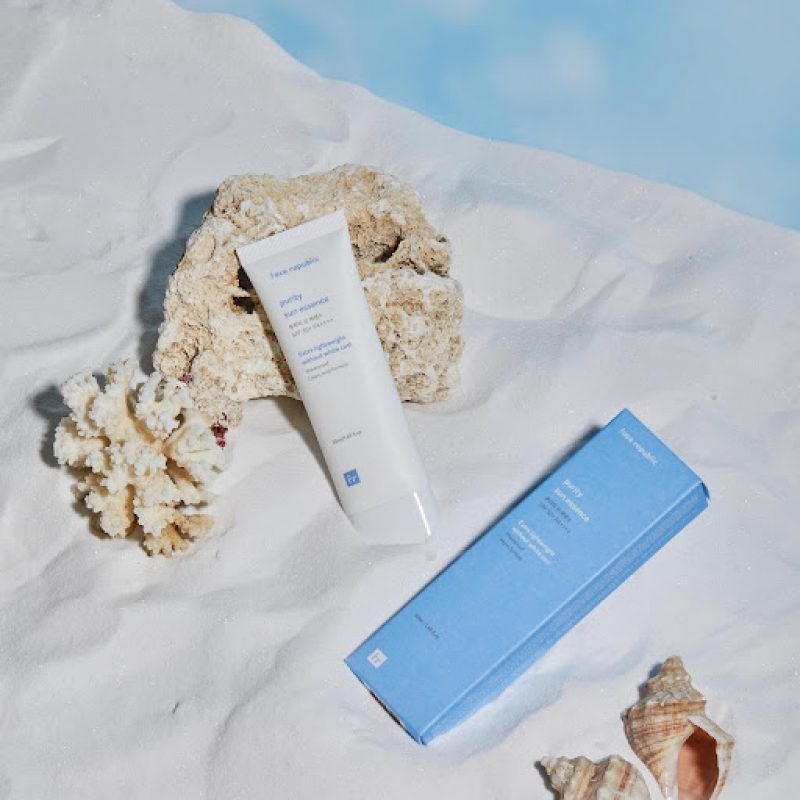 Be sunshine-confident with the new and improved Purity Sun Essence! Its enhanced formulation takes pride in its UVA/UVB-shielding abilities, protecting both your skin and the environment. If you're spending a day at the beach, you don't have to worry about sweating out the sunscreen, as this product is water and sweat-proof. That means you can have fun under the sun without needing to constantly reapply your sunscreen!
Purity Sun Essence's formula does not contain any artificial fragrance, which you might find important when picking out face products. By choosing a fragrance-free sunscreen, you're protecting your skin from the risks of inflammation and premature skin ageing. Moreover, the product is extra lightweight with zero white cast, so it perfectly blends into the skin, leaving a healthy glow. 
Price: ₱494
15. Innisfree Intensive Triple-Shield Sunscreen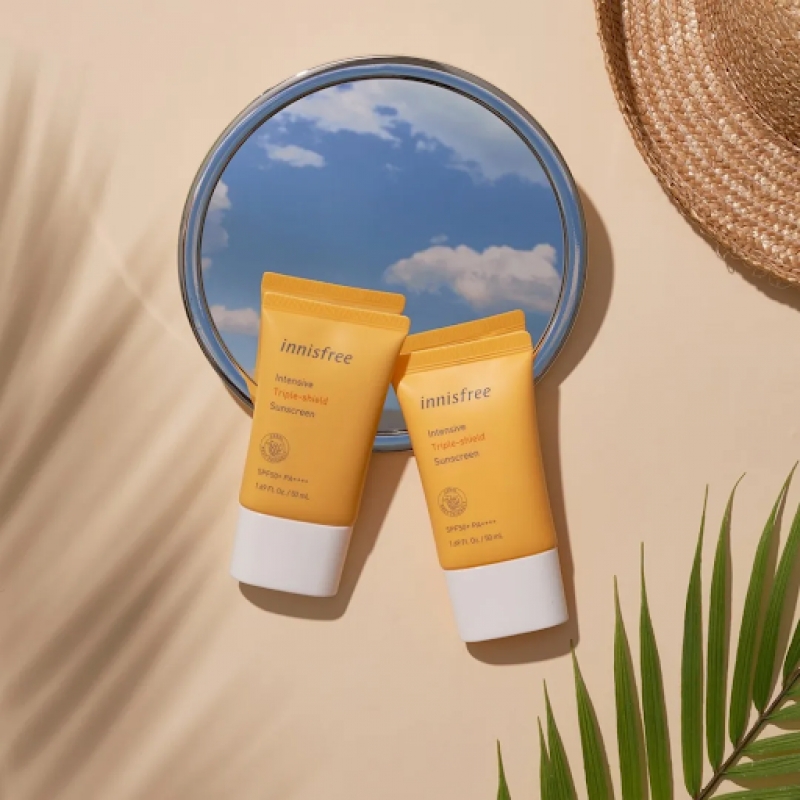 Innisfree has long been hailed as South Korea's number one skincare brand that uses only pure ingredients, bringing you all-natural and eco-friendly products. They strongly believe that clean nature and healthy beauty can coexist in modern times. Been wanting to make a conscious effort to incorporate green living and sustainable beauty into your lifestyle? Innisfree's cosmetics and skincare line of products are definitely worth investing in!   
One of their most notable face products is the Intensive Triple-Shield Sunscreen, which protects your skin throughout the day. Its unique formulation doesn't just block harmful and damaging UV rays but also helps with wrinkle correction and skin whitening. Additionally, the sunscreen contains sunflower oil and Jeju green tea extract, making your skin look soft and dewy. Surely, you'll radiate confidence when you head out the door! 
Price: Starts at ₱577
Where to buy: Shopee 
Also read: How Travelling Made Me a Proud Morena
In a country like the Philippines most especially, SPF should be your best friend. With such amazing products to choose from, we don't doubt you'll be left wondering why you haven't been slathering your face with sunscreen all this time. White cast? Sticky sunblock? Unpleasant fragrance? We don't know them!
Hopefully, you won't only find your holy grail face sunscreen — you'll make sure it's a regular part of your daily regimen, too. Trust us: Your skin deserves it!

---
This article contains affiliate links. When you make purchases through these links, we may earn a small commission at no additional cost to you.