For most of us, no trip is complete without some good ol' shopping on our itinerary. Scoring amazing finds is always part of the excitement, no matter where they're from. After all, few things are more thrilling than discovering a unique piece you can't find anywhere else. And who says you can't take in the sights and city's culture while you're at it? 
It's a great thing that Asia offers countless shopping destinations for both big spenders and value-for-money ones. Arguably so, nobody shops quite like the Asians do. That said, here's a rundown of the best shopping destinations around Asia where you can shop till you drop! Ready to get your retail therapy on?
1. Singapore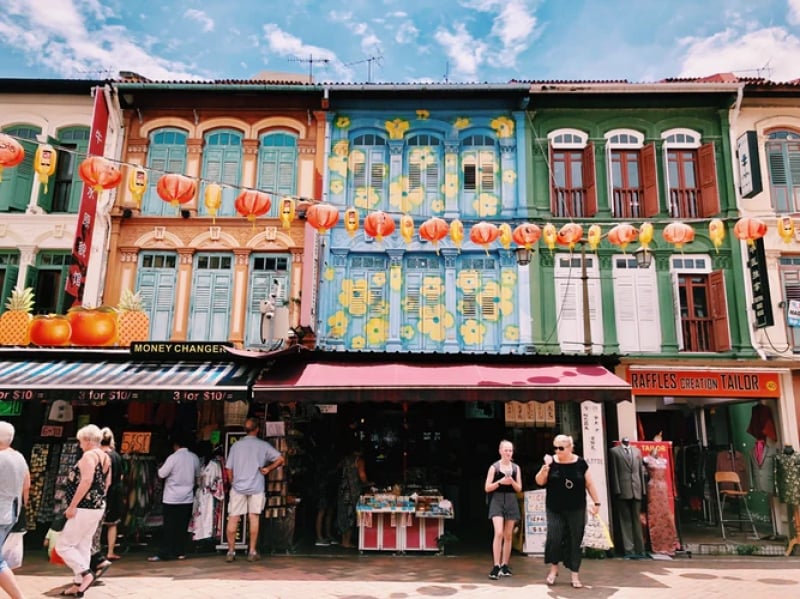 Whether you're more of a high-street fashionista or thrift/bargain hunter, you can definitely channel your favourite characters from Crazy Rich Asians as you stroll along Singapore's best shopping destinations. First up is The Shoppes at Marina Bay Sands, Singapore's centrepoint for all things glitz and glam. Everywhere you look, you'll see global luxury stores tempting you to go inside and (at least) take a peek.
The vibrant neighbourhood of Kampong Glam is known for indie boutiques housed in colourful Malayan-style heritage homes. Haji Lane especially has a good mix of vintage fashion, local labels, and unique artsy pieces. A few blocks away is Bugis Street, which is the closest thing that Singapore has to a street market, with over 800 stalls selling clothes and electronics for enticingly low costs. 
But the most massive of them all is Orchard Road, a 2.2-kilometre stretch of shopping complexes that you'll probably need a whole day (or two) to fully explore. Malls like ION Orchard and Paragon have almost every designer brand you're looking for. But you might want to check out shops of homegrown sartorial labels and designers, too. When you're in one of the most stylish cities in the world, you might as well immerse yourself in the local style scene! 
Also read: Top 7 Hotels in Singapore's Shopping Belt for the Wandering Shopaholic
2. Hong Kong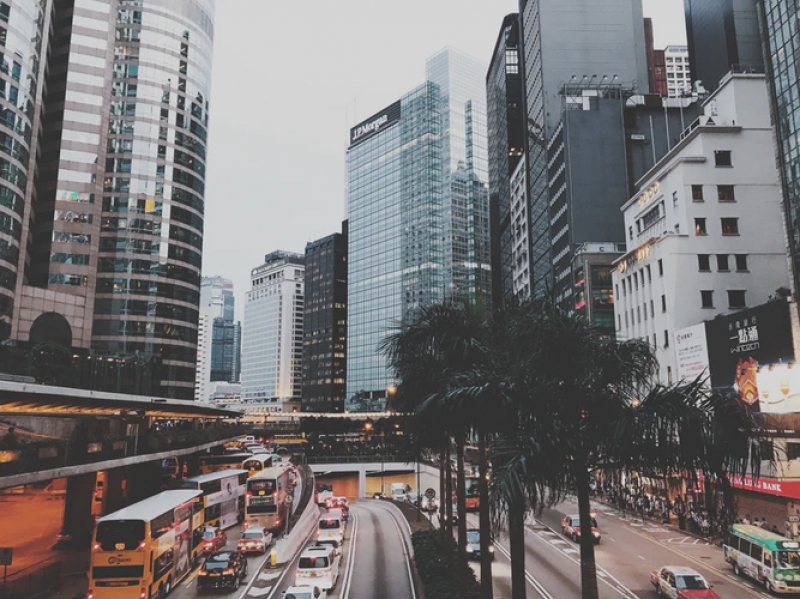 Another favourite among many Pinoy globetrotting shopaholics is Hong Kong. In fact, for most of the locals, shopping is more than just a pastime — it's a way of life. Hong Kong is known ultimately for its variety. Not only are there extensive selections of clothes, electronics, and other goods, but there are also many different places (and prices) you can find these in. If you're not sure about what exactly you're looking for, then you've come to the right city. 
The districts of Mong Kok and Kowloon have maze-like streets for bargain shoppers to do some hunting. Put your bargaining skills to the test as you go through countless market stalls and quaint shops. For items that are on the mid- and top-range, Causeway Bay — where malls, neon signs, and stores are aplenty — is your best bet. It houses SOGO, Hong Kong's biggest department store, as well as the Fashion Walk Area, where you'll find a slew of hip indie boutiques. 
Up for something more on the lavish side? Then look no further than Central District. The most iconic complex on this side of Hong Kong is Landmark Atrium, where you can probably find that designer piece you've been eyeing since the most recent Fashion Week. Or, you can take your pick among over 700 stores in Harbour City in Tsim Sha Tsui!
Also read: Be Close to the Action! 5 Best Areas to Stay in Hong Kong for Food & Shopping
3. Dubai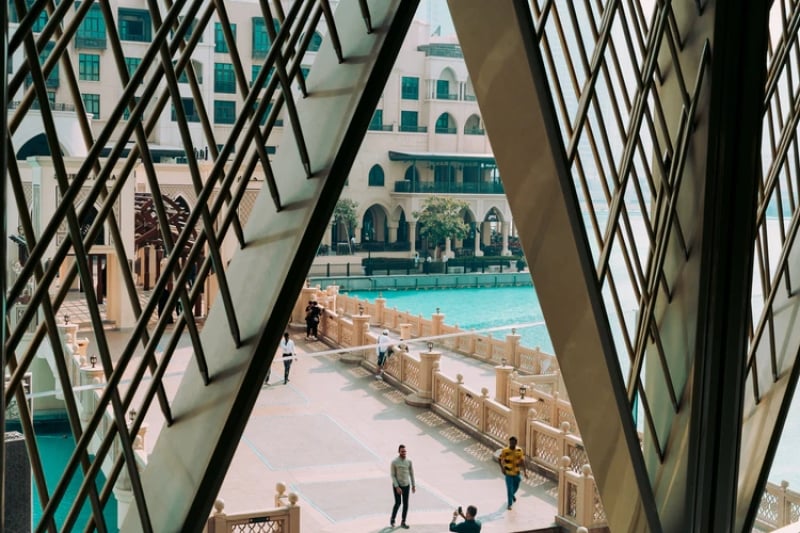 Dubai is without a doubt the Shopping Mecca of Western Asia. Its grand and futuristic shopping centres are honeypots to countless retailers from around the world. At the heart of downtown Dubai, you can find the largest mall in the world: Dubai Mall. Aside from carrying over 1,200 retail stores, it also features the world's largest aquariums, aquatic zoos, and ice rinks. Then there's the Mall of the Emirates, which features its very own indoor ski slope — no kidding! Trust us, you have to see it to truly believe it. 
While not as big as the other two malls mentioned, Wafi Mall makes up for it with an abundance of artistic design — from stained glass ceilings, exquisite sculptures, to staircases with ornate details. It's practically a shopping centre and art museum housed inside a modern-day pyramid. It also has its own souk (traditional Arab market) at the basement called the Souk Khan Murjan. 
When in Dubai, go (shopping) for gold. Standing out in the city's gold trade is the Gold Souk in Deira, the largest gold market in the world with over 300 shops. Prepare to be amazed by the craftsmanship of every artisanal jewellery you'll find. For more interesting souvenirs, drop by the other equally historic souks of Deira, such as the Spice Souk and the Perfume Souk. On the other side at the Bur Dubai neighbourhood, there's also the Textile Souk. 
Also read: 5-Year Multiple-Entry UAE Tourist Visa Now Open to Pinoys!
4. Bangkok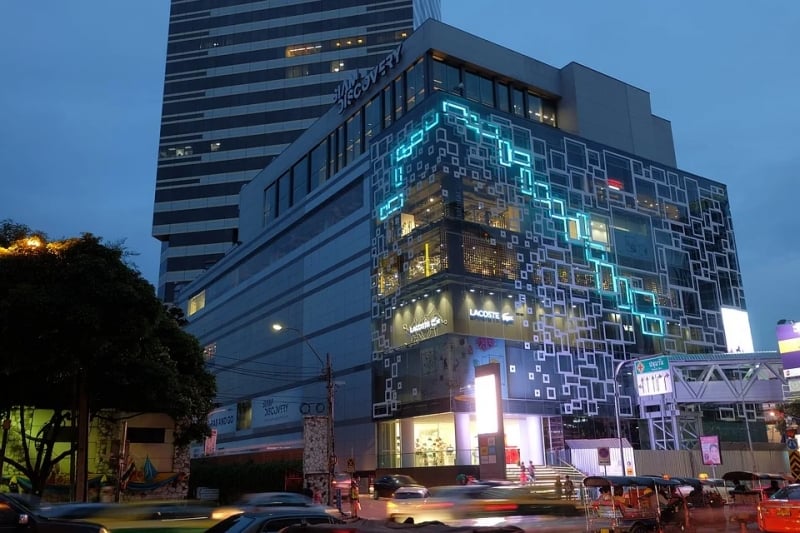 Shopping delights abound in the quintessential South East Asian shopping mecca that is Bangkok. From impressive malls to various street bazaars, there's always a lot of everything for everyone. This is most especially true at Chatuchak Weekend Market, a.k.a. the world's largest outdoor market. With everything from local indie designer pieces and unique souvenirs to authentic vintage finds, there's no excuse for you to leave without at least one shopping bag in hand! 
Siam Paragon is Bangkok's crowning glory, with its slew of high-luxury stores as well as Southeast Asia's largest aquarium. Meanwhile, MBK Shopping Center is the mall that started it all. Also known as Mahboonkrong, it houses around 2,000 shops within its seven floors. If you're looking for phones and other electronics at a reasonable price, this is the place to be. 
Then there's Asiatique: The Riverfront, a massive replica warehouse complex that's a mall and night bazaar combined. Getting the best sides of the Bangkok shopping world, it's divided into 10 big warehouses that sell handicraft goods, flowers, herbs, spices, and more. After a long day of shopping, take a ride on the ferris wheel for a breathtaking view of the Bangkok skyline! 
Also read: Mark Your Calendars: Bangkok's Chatuchak Market is Coming to Singapore in 2020
5. Seoul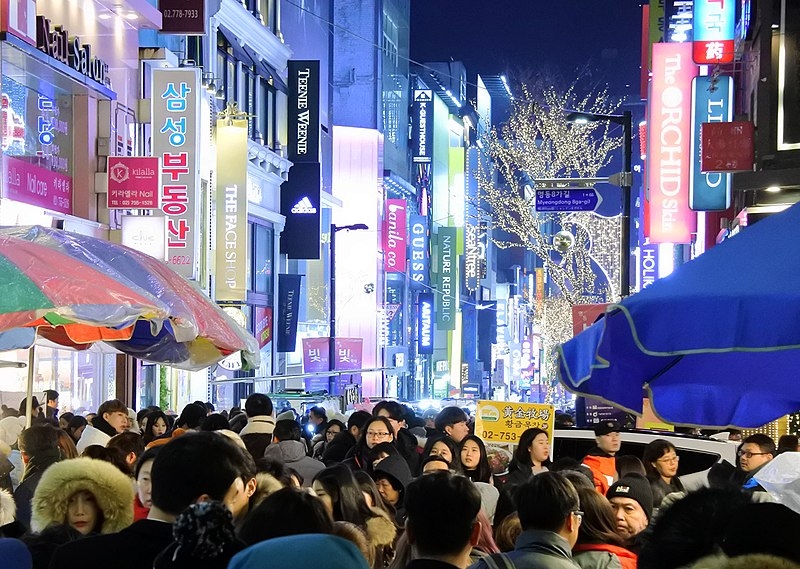 The Korean aesthetic has been making waves for quite some time, whether it's in the realm of skincare, makeup, or fashion. And so what better place to find all items for these than the actual place where it all began? It's no wonder Seoul is a city constantly brimming with bright lights and a vibrant shopping culture.
At the heart of this shopping culture is Myeongdong. In this bustling shopping district, you'll find every cult favourite Korean brand you can think of. It's one of the shopping destinations in the world where local brands aren't at all outshined by foreign brands. 
Another popular shopping district is Hongdae, whose streets always smell of youth spirit. Situated near a university, it features chic fashion boutiques, cute café concepts, book shops, and clubs. Hence, it's the ultimate hangout of Seoul's bagets for both night and day! 
With a name that rose to worldwide fame thanks to a K-Pop song, Gangnam district has attracted many a curious tourist. It's one of the wealthiest shopping destinations of Seoul, so expect a slew of luxury department stores. It also has Starfield COEX Mall, the world's largest underground mall that also boasts a massive library and aquarium. Meanwhile, Dongdaemun Shopping Market is perfect for night owl travellers. A wholesale market mostly known for Korean fashion, it's open from midnight until sunrise! 
Also read: Beyond Myeongdong & Hongdae: 7 of Seoul's Hippest Neighbourhoods You've Yet to Discover
6. Tokyo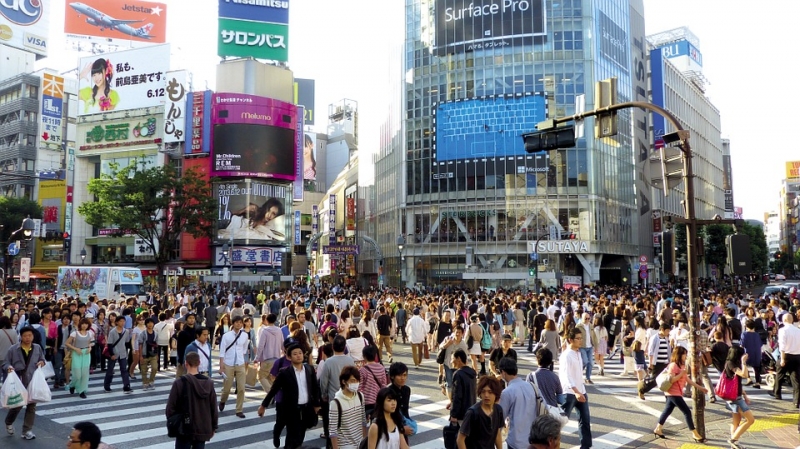 If the exquisite cuisine, futuristic skyscrapers, and impressive tourist attractions aren't enough to convince you to visit Tokyo, then maybe the shopping scene will. To say that it's unlike anything else in the world is, frankly, an understatement. Here you'll find everything from high-end and offbeat fashion, rare designer items, artisanal goods, to cool gadgets (some of which you probably didn't know existed beforehand). 
Most shopping destinations in Asia are categorised according to the price range of the majority of its goods. Sometimes, this tends to make picking out a shopping spot a bit complicated. But here in Tokyo, popular shopping destinations are distinguished according to their speciality in particular items. 
While Ginza is known as the upscale shopping district, Shibuya and Harajuku are known for leading Japan's pop and trendy youth cultures. Many local teens flock over to Shibuya 109 for affordable yet adorable threads, and Harajuku's Takeshita Street for the latest kawaii finds. Shimo-Kitazawa is your vintage haven, with all its antiques and authentic second-hand designer pieces. And the best part is, you don't have to worry about the authenticity, as Japan has a strict policy against selling fake items. 
On a quest for the best cutting-edge tech finds that Japan has to offer? Akihabara is a neighbourhood that looks straight out of a sci-fi story, where you'll find the latest and most inventive gadgets. A must-visit here is BIC Camera, a department store with all the electronics you may or may not have known about before. Oh, and they also offer  tax-free shopping, along with special discounts for foreigners. Also in this area is Mandarake Complex, which caters to the otaku crowd with its extensive selection of anime, manga, and other J-Pop culture finds. 
Also read: These Sakura Itineraries Will Take You to Japan's Best Viewing Spots Throughout April!
7. Shanghai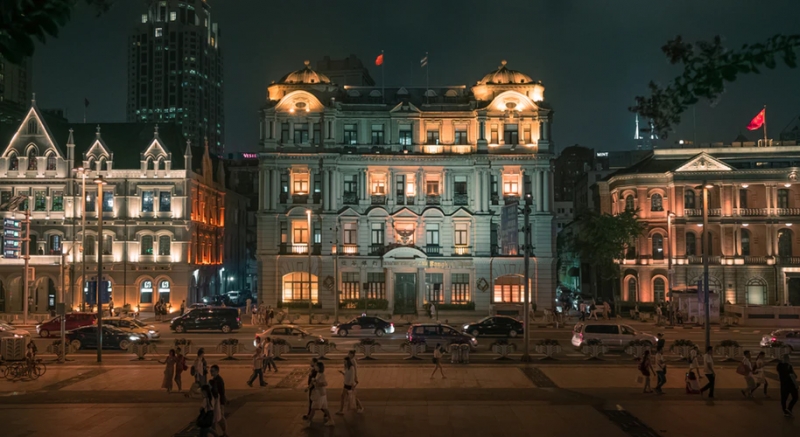 Dubbed the "Paris of the East," the grand city of Shanghai embodies allure, indulgence, history, and cutting edge in a way that no other city in the world can. Its overall culture blends old grandeur with cosmopolitan vibrance that attract seasoned travellers-slash-shoppers from every side of the globe.
Take your pick among the über-massive selections in Nanjing Road, also the world's longest shopping district. East Nanjing Road features mid-range brands, as well as some of Shanghai's oldest and largest department stores. And then on West Nanjing Road you'll find the best of global luxury that Shanghai has to offer. In this street you'll find Plaza 66, a shopping jungle that many jet-setting fashionistas swear by. 
You can also opt to take a stroll along the tree-lined streets of Shanghai's former French Concession. Here you'll find quaint boutiques of aspiring local talents, converted from 20th century European-style villas. In fact, it was because of this neighbourhood that Shanghai earned its moniker that ultimately compares it to Paris. 
Many a Shanghainese believe in the power of bespoke clothing. It's no wonder that the South Bund fabric market — featuring hundreds of retailers and all the fabrics you can ever want — is a crowd favourite. If you're looking to do some antique novelty hunting, then head over to the historical Shanghai Old Street. There's a reason why some of the stores here have been around for about a century or so. 
Also read: 10 Stylish Airbnbs in Shanghai That You Have to Check Out
8. Istanbul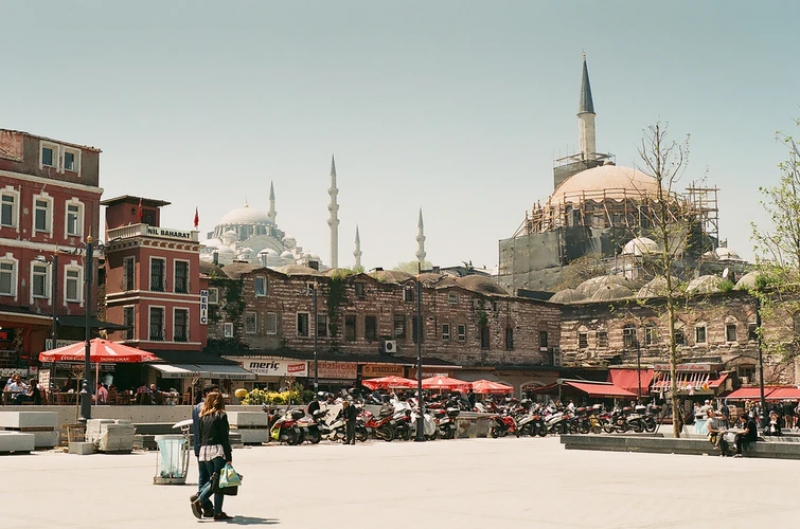 The former capital of Turkey holds a certain mystique that's hard to define, and even harder to resist. Perched between Asia and Europe, Istanbul lives up to its centuries-old legacy as a trading capital since the heyday of the historical Silk Road. Shopping in Istanbul is all about discovering artisanal items with intricate designs that you never thought were possible. 
First up is the iconic Grand Bazaar, which has been up and running since the 15th century during the Ottoman Empire. A walk around this colourful shopping oasis is like going back in time, when Istanbul was still referred to as Constantinople. Traditional finds fill up most of the kiosks, including must-buy souvenirs like mosaic art ceramics, colourful Turkish lamps, amulets and jewellery, and the famous Turkish delights. 
There's also the equally historic İstiklal Avenue, Istanbul's famous main street with interesting side streets and passages that hide the best stores. While shopping, you can also marvel at the architecture of the late Ottoman-era buildings. On the more posh side, the street of Abdi İpekçi Caddesi offers an upscale experience that rivals that in most European cities. Luxury brands you'll find here include global ones like Prada and Cartier, as well as Turkey's own Vakko and Beymen (it's like their own version of Saks Fifth Avenue!). 
Also read: Turkish E-Visa Application for Philippine Passport Holders
Ready to get your retail therapy on and visit these shopping destinations in Asia? Better start booking a trip (or eight) soon and cross these spots off your bucket list! We can't wait to hear and see your stories after — don't forget to tag us on Instagram at @tripzillaph, and use our hashtags #TripZillaPH and #MakeTravelHappen!