Contributed by The Little Lai: Beyond limits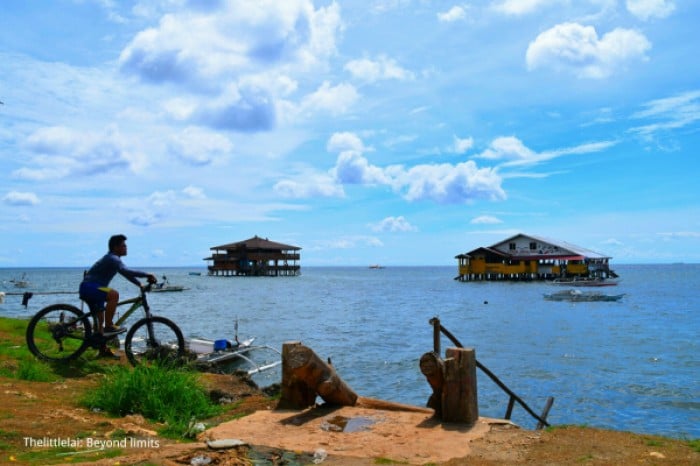 Image credit: Angel Villamor of Travel Blogs and More
I was invited by a friend, who is as adventurous as me, to do a biking journey across Olango Island in Cebu. Follow me as I share with you our exciting adventure together.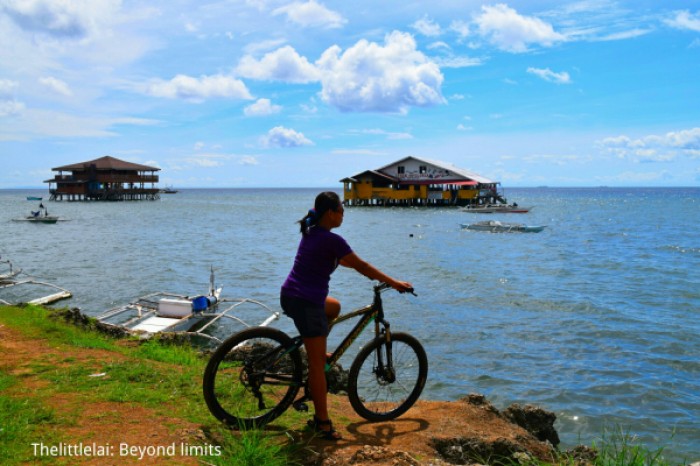 Angel Villamor of Travel Blogs and More
The dark clouds were hovering overhead, posing a possible cancellation of our biking journey. But our positive thoughts overpowered our doubts. Then the sun finally loomed overhead which made us happy.
From the port of Angasil, we were welcomed by big waves splashing the coast as if swathed with anger. I couldn't help but think that it'll be a tough boat ride. I was straining to escape from the nautical life for the moment, but the wavering ocean is already dashing the boat.
After the boat docked off at the port of Olango Island, we then rode a motorcycle to Candagsao to rent a bicycle. Angel knows the island very well because she worked there for 2 years.
Olango Island is known for having nearby islands that are perfect for island hopping. But this time, we experienced the island in a different way — through biking.
Bicycling while taking advantage of the landscape is our way of enjoying Olango Island. The roads are very easy, navigable and have flat topography. Unknown to most people, Olango Island is a secure place to do biking. The roads have few vehicles passing by and the entire island boasts awesome scenery that you can truly enjoy.
Caw-Oy, Floating Restaurant
Olango Island is known not only for having a rich marine life but also for having an array of fresh seafood. In Caw-Oy, you can find several floating restaurants that serve the best and sumptuous seafood — a bit expensive but definitely worth it!
Tungasan Board walk
Tungasan Board walk is a simple wooden pathway made from bamboo that is peacefully situated in its own comfortable state. There were kids playing during our visit and we got the opportunity to interact with them. Seeing the kids grinning from ear to ear made me so happy. It speaks so much about their freedom, and it influenced me.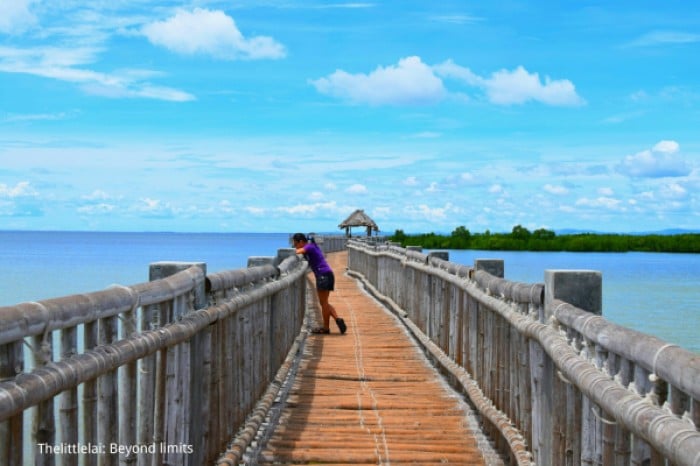 Angel Villamor of Travel Blogs and More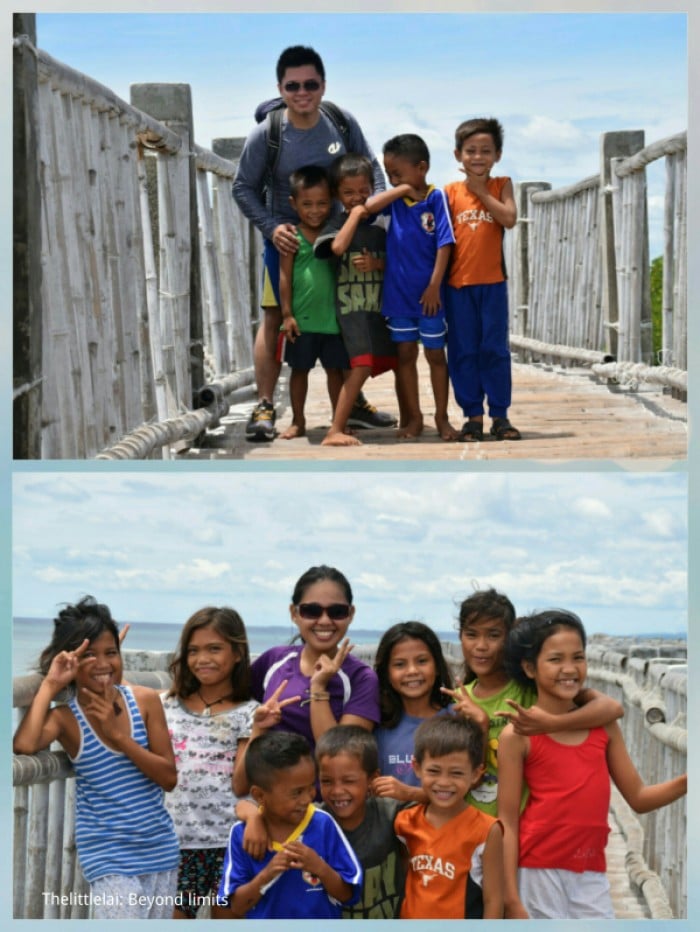 The adorable kids of Olango Island
Andong Coconut House
Right after we had our lunch, we resolved to have some fresh buko juice refreshments at Andong Coconut House. I saw other bikers who just had their refreshment during our sojourn. So if you happen to visit Olango island, never miss this nature's most refreshing drink that will snuff out your tropical summer thirst. You can have some rest under the shade of coconut trees as well like what Angel and I did.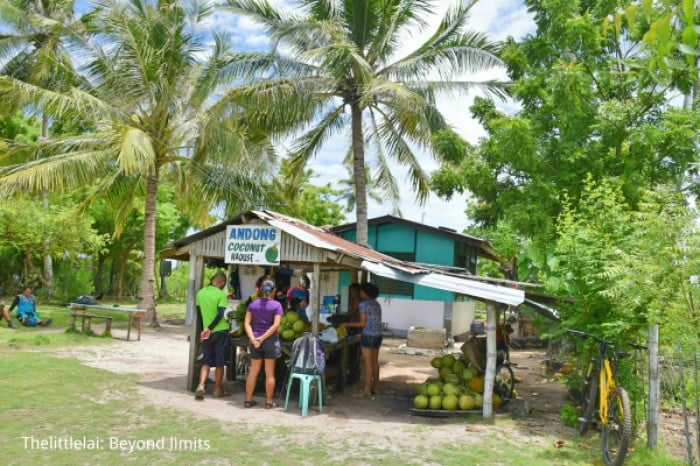 Andong Coconut House
Olango Island Wildlife Sanctuary
A flock of migrating birds is seen from September to April along this wide wetland. The island is their stopover to seek for food and nesting locations. There were only 4 Korean visitors during our visit, hence the place wasn't that crowded. From the viewing deck, there's an available telescope to see the birds. There's also an in-house guide to explain about those birds. The guide got my attention because he is too smart to recognise those birds by name and their characteristics.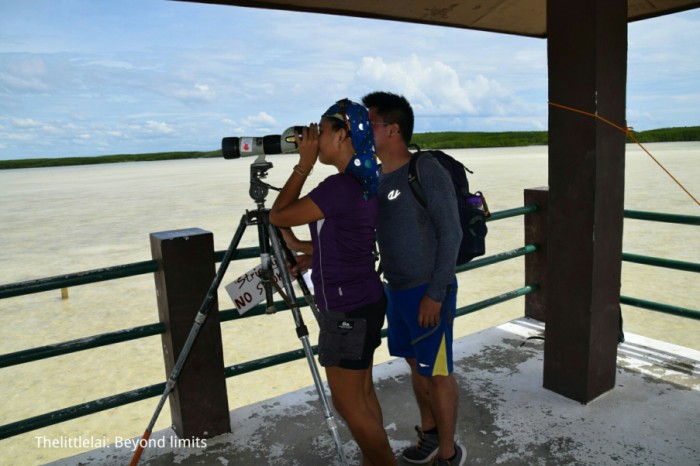 It wasn't even the season for migrating birds during our visit, but I'm still blessed to see around 5 to 7 birds of different types. I was wondering how on earth these birds are migrating and navigating with a pin-point accuracy. It must be an exhausting journey for them to fly hundreds or thousand of kilometres. I can really say that they go to their limits. Out of my oddity, I asked a bunch of questions to the in-house guide. He then told me that these migrating birds are normally controlled by changes in day length, as it is their timing upon migrating. They are navigating using celestial cues from the sun, stars, the earth's magnetic field, and from landmarks seen during the daytime.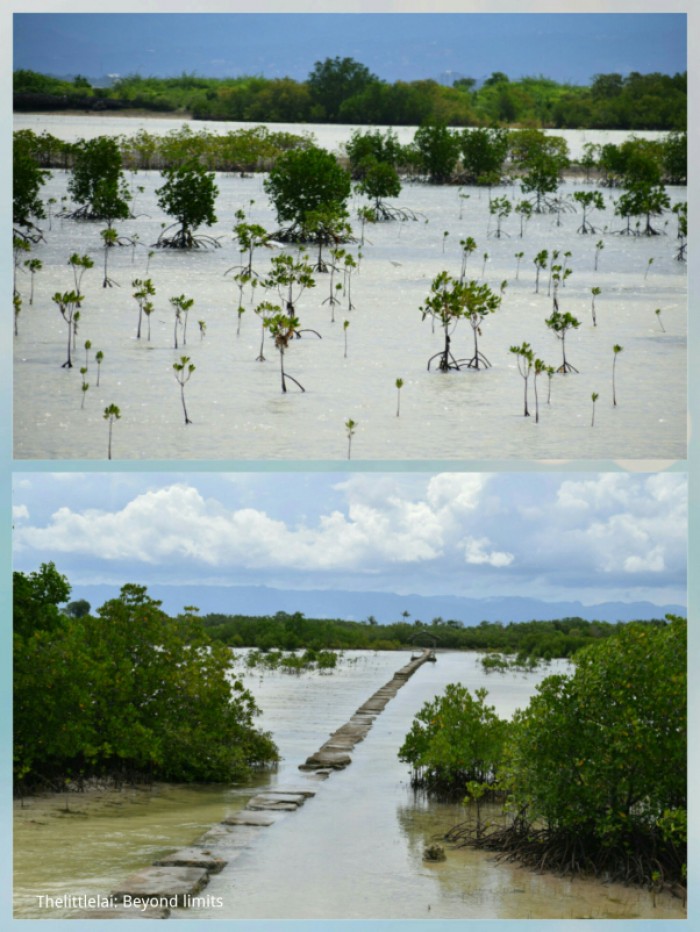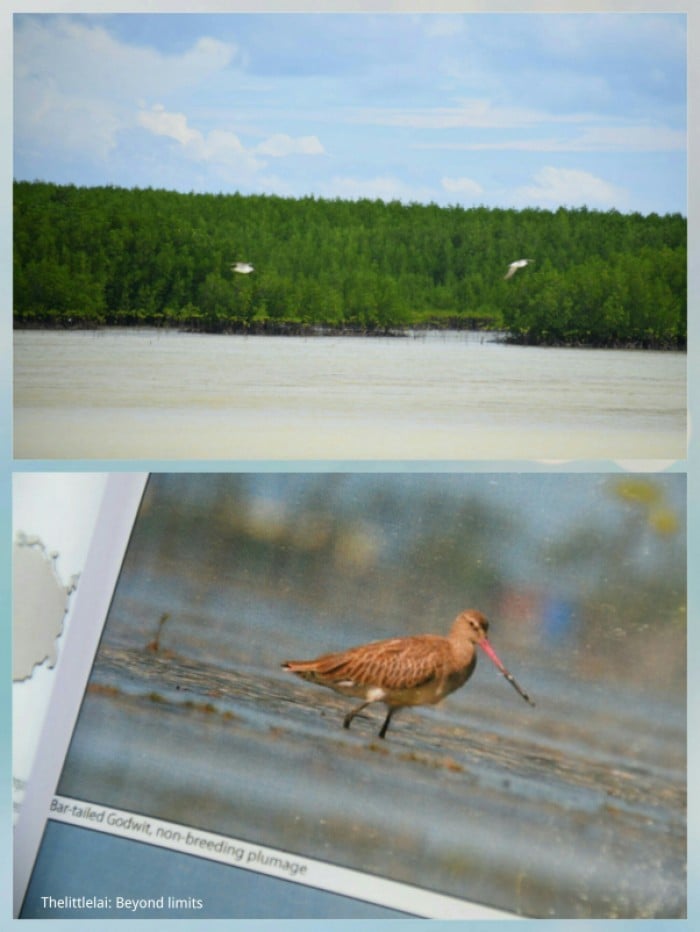 San Vicente Marine Sanctuary
The minute we arrived at the entrance area of Marine Sanctuary, the board walk made of bamboo within the mangrove caught my attention. The warm welcome from the leaves of mangrove trees and the soothing breeze from the sea is beyond compare. After paying the entrance fee, Angel and I proceeded to the Marine Sanctuary. As we were on our way, I noticed the 500 metres long bamboo bridge that seems to be very romantic on its own state. It provides the panoramic view of the visible City of Lapu-Lapu and Cebu City.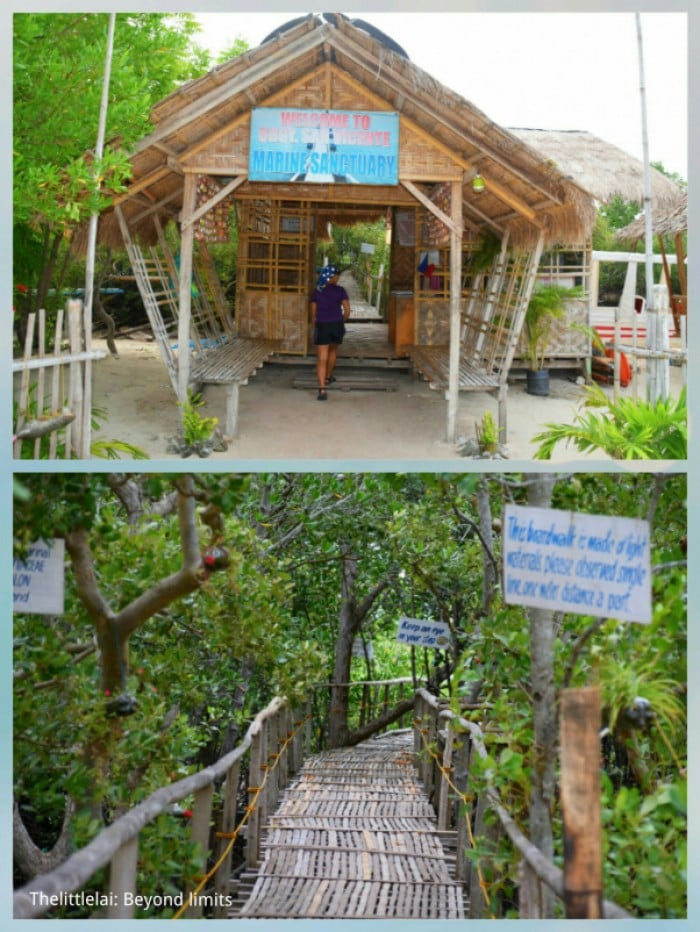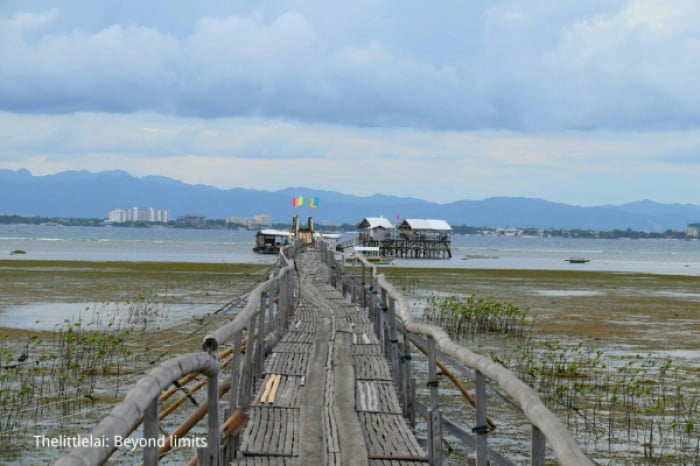 The 500-metre long bamboo bridge
San Vicente Marine Sanctuary is a protected field of waters that includes underwater habitats such as coral reefs, fishes, and many other marine creatures. It is an Eco-tourism destination as well, for they make use of recycled bottles, shells and other indigenous materials to produce a beautiful decoration near the entrance and office area. If you're the kind of person who loves to see the underwater creatures, then you can choose to do snorkelling here.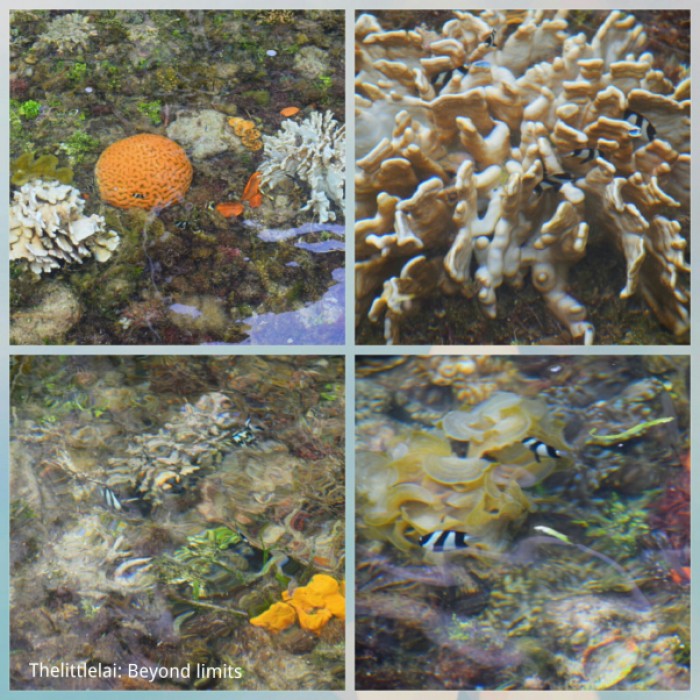 Maribagini
We passed through this road upon making our path back to Candagsao. I love the nuance of the trees. It is very soothing and refreshing. I couldn't just pass by without a photo, so I asked Angel to take pictures of me.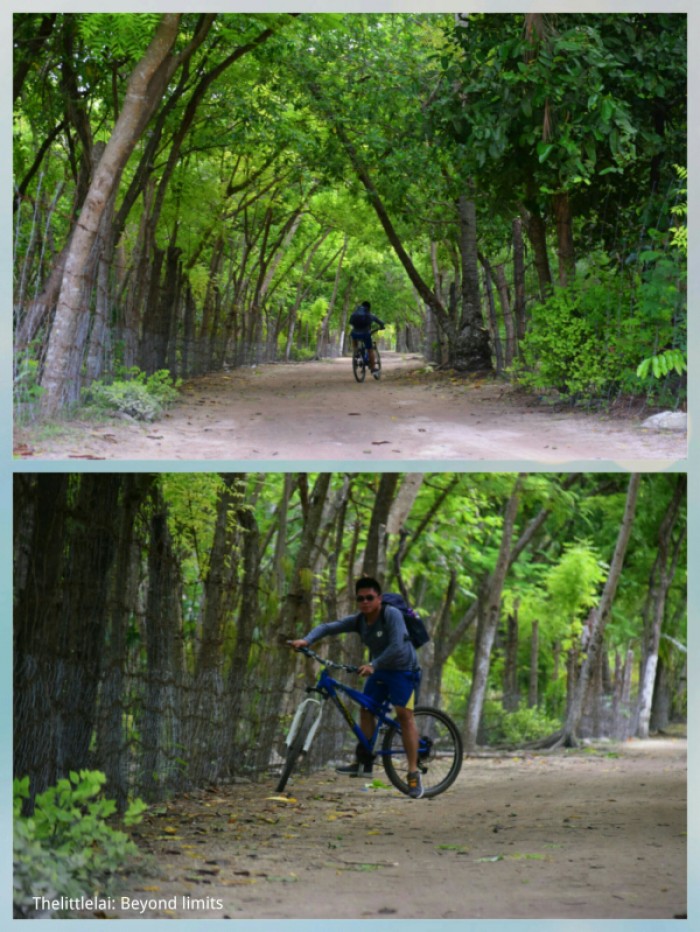 Image credit: Angel Villamor of Travel Blogs and More
Sagastrand Beach Resort and Restaurant
After our long day, we decided to cap it off with a refreshing Mango Shake at Sagastrand Beach Resort and Restaurant. Their restaurant is perfectly facing the inviting swimming pool, so we rested and had a short talk while celebrating our productive and fun-filled day. Soon enough, we went back to Candagsao to return the bicycles, then went back to Lapu-Lapu City.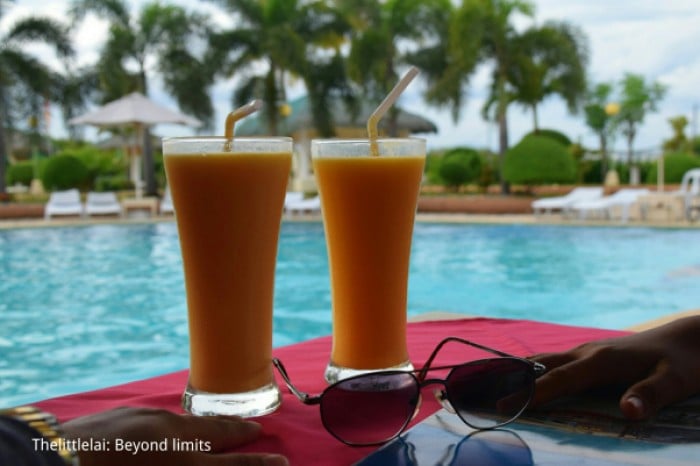 We wanted to see the dramatic scenery of the sky during sunset, but since it didn't happen, we decided to maybe return next time.
I would like to thank Angel Villamor of Travel Blogs and More for spending her time with me as we had pedalled the whole island of Olango.
Also read: Talima Beach Villas and Dive Resort: A Tropical Hideaway in Olango Island, Cebu
How to get to Olango Island
There are two access points to Olango Island. One is by taking a pump boat from Angasil Port near Mactan New Town, and the other one is from Punta Engano Port near Movenpick Hotels and Resorts. The fare is ₱15 for one way.
Top things to do
1. Cycling
Olango Island is a secure place to do biking. You'll get to experience the beautiful scenery and get a chance to interact with the locals.
2. Island Hopping
Olango Island is a good spot to do island hopping. It owns a nearby island that has a different natural beauty, catching the attention of many travellers and tourists.
3. Snorkelling
One of the most interesting underwater activities in Olango Island is snorkelling. You get the chance to see some hidden garden of paradise and other marine creatures that will satiate your eyes and your adventurous soul.
4. Camping
I must say that the island is a safe spot for camping too. It throws you a new experience and you'll get the chance to pamper yourself with the locals.
Also read: Beach Camping at Olango Island's Eco-Tourism Park
Travel Tips
If want to spend your day on Olango Island with friends, I advise that you do island hopping. Please be guided with the rates. Some resorts offer island hopping trips with a price of ₱3,000 that's good for 10 people.
Cycling around Olango Island is also one of the best things you can do, especially if you're fond of physical activity. If you can't carry your own bicycle, you can actually rent one, just ask the locals around. The one that we rented is located at the back of Candagsao Elementary School. Look for Erwin or Erwax, as what locals call him.
Bring enough water, and if you can bring your own food, it'll be a lot better. But you can actually catch some food stations around, so no worries.
Always ask the locals about anything you want to know; they will surely assist you.