Contributed by Khaye_leidoscope
Free and travel sounds good together, right? Who wouldn't want that combination? Luckily, we were able to get our first free trip to Kota Kinabalu, Malaysia via Air Asia. Here's how it happened.
Originally, we booked a round-trip ticket to Miri, Malaysia thru the same airline. We learned about their promo when we attended a travel fair. I cannot remember the exact details such as the promo fare, expenses and name of our hotels because this trip took place three years ago. Two weeks before our flight, the airline informed us that our flight had been cancelled due to insufficient number of passengers. They offered us a refund, but we were determined to push through with our trip.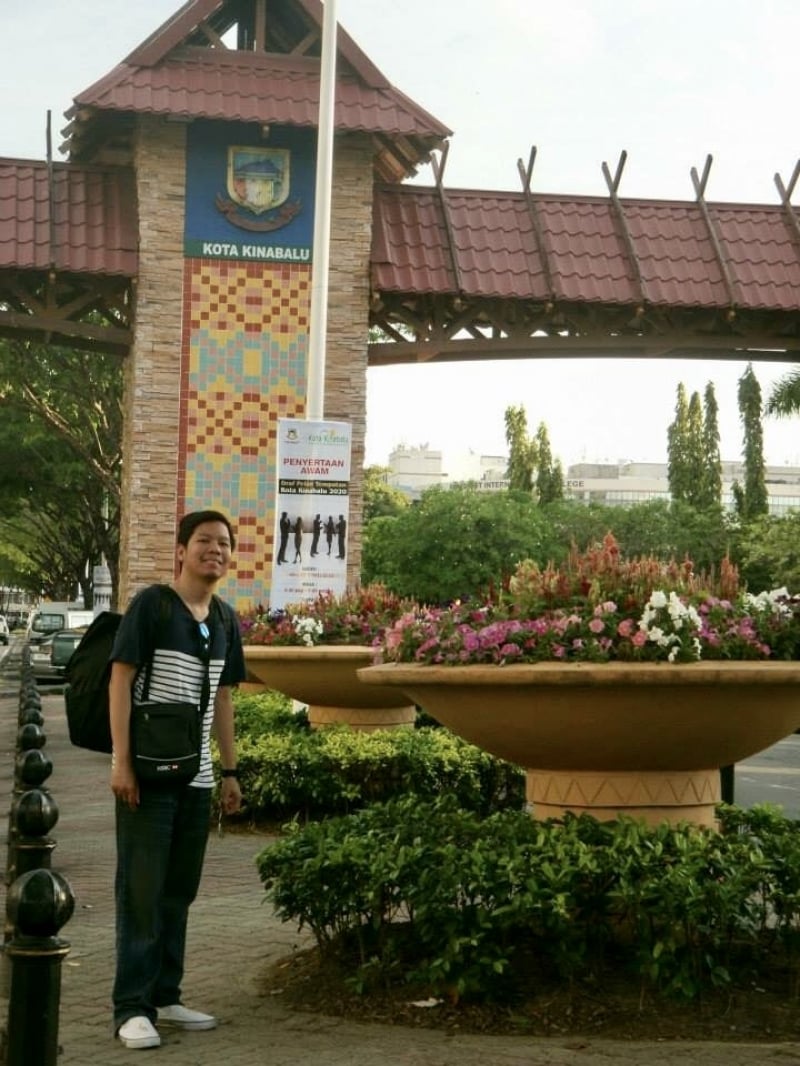 We called the airline to emphasise that we do not want a refund and they must do something about it. Kudos to their team because they were efficient enough to come up with a solution. They offered us a connecting flight via Kota Kinabalu for FREE. Without second thoughts, we grabbed their offer.
Getting 15 passport stamps in our Borneo trip
Aside from free trips, we are thrilled every time we get stamps on our passports. If you travel often, you'll realise how precious your passport is – a little book that can bring you to places. It has been our goal to fill ours with stamps of different countries around the world. Those stamps are not just blots of ink on our passports, they also signify the memories of our travels.
Also read: President Duterte Signs Law Extending Philippine Passport Validity to 10 Years
The reason why we booked a ticket to Miri was because we wanted to go to Brunei to see the golden mosques. However, it's quite expensive to book a direct flight to Brunei, so we opted for a cross-country travel and Miri was our cheapest option then. Luckily, there's a direct bus route from Miri going to Brunei.
Five days was all we had to explore the island of Borneo. We started with Kota Kinabalu as our entry point. Since our connecting flight to Miri was scheduled a day after our arrival, we had a chance to roam around the city. It was my second out of the country trip and my first one together with my now fiancé, so I was still a novice traveller at that time. I didn't make an itinerary and we just roamed around the city without definite directions.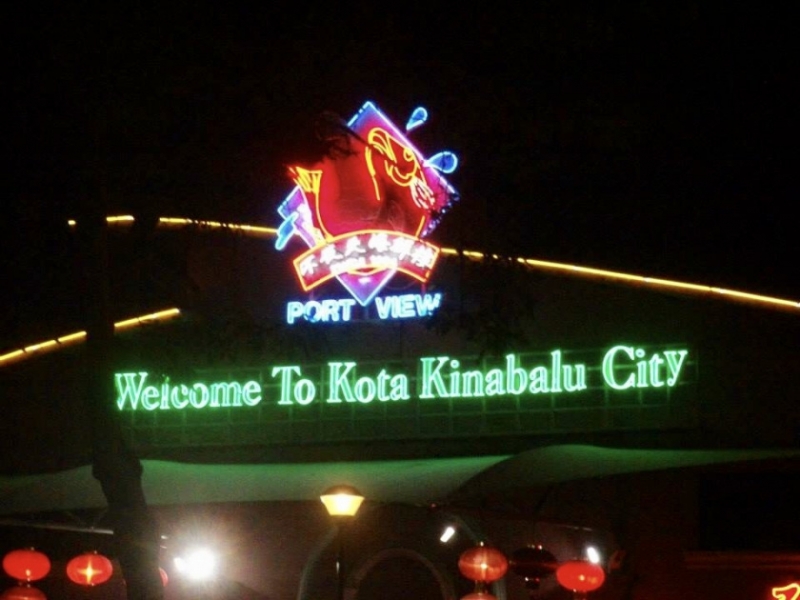 What I loved about Kota Kinabalu is its vibe and food. The city is so alive during the day and night so you will not get bored. There are many food selections that are very affordable too, so you will not go hungry. In a short span of time, we fell in love with this city so we were really happy we took this trip. Although unexpected, it was very meaningful. We are planning to go back in the future and climb Mount Kinabalu.
Also read: How I Spent a Smashing Holiday in Kota Kinabalu for 4 Days & 3 Nights
We flew to Miri the following day but did not stay for long. As soon as we arrived, we immediately bought bus tickets going to Brunei. After five or six hours, we reached the border where we had a problem with the immigration. I will tell you more about it later on, and how we fell in love with the people's kindness during that situation.
We stayed in Brunei for two nights. We were scheduled to go back to Miri the day after, but we opted to stay for one more night. Fortunately, there was a direct bus route going to Kota Kinabalu, so we decided to take that instead. There's only one bus trip schedule per day and it's on a first come, first serve basis. If you're planning to do the same, make sure to be at the bus stop at least one hour before your preferred departure time to ensure a seat.
Brunei's geographic location is actually very interesting. It is separated into two parts by the Malaysian State of Sarawak. You will depart and enter the Malaysian border twice if you take the bus route going to Kota Kinabalu.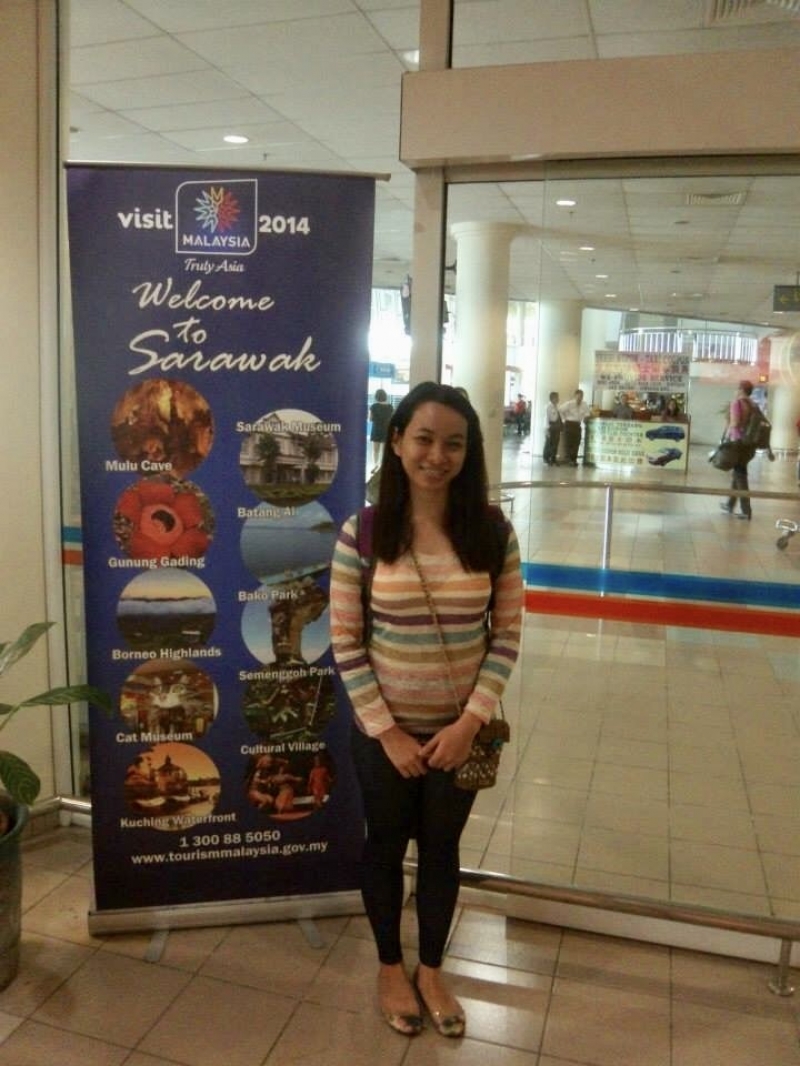 Departing or entering a border means you'll get a stamp. In Malaysia, if you cross a state border, they'll stamp on your passport, too. Miri is in Sarawak State, while Kota Kinabalu is within Sabah. If you want to collect 15 passport stamps in one journey like we did, you may consider doing a Borneo trip.
When travelling, you should also make sure that you have enough stamina to walk for several kilometres for hours. During our last day, we walked for about 2 km from our hotel all the way to the airport in 45 minutes. We did not intend to do it. It's just that our hotel was closer to the airport than the city centre so instead of going back, we decided to walk to the direction of the airport and grab a taxi or bus along the way. However, neither was in sight, so we reached the airport entirely on foot. It may sound horrible but that was an achievement for us.
The Kingdom of Brunei Darussalam and how to successfully pass its immigration border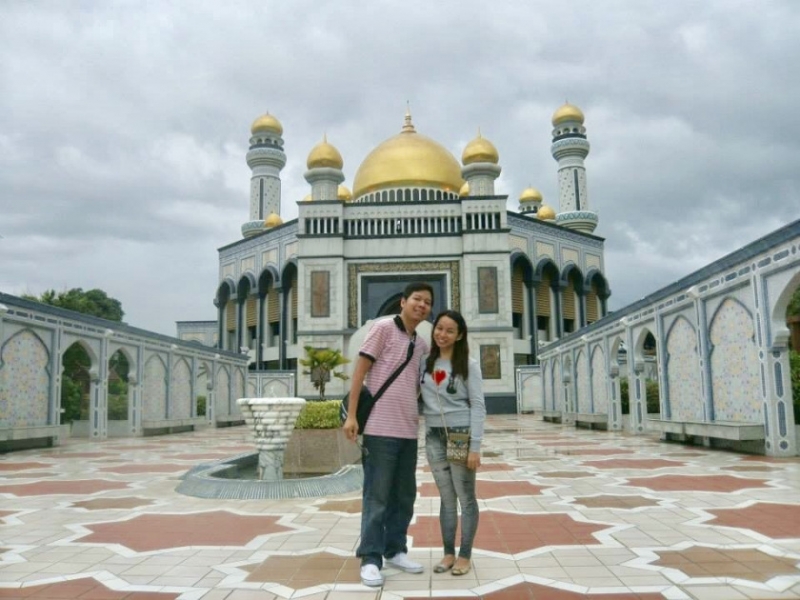 When I think of Brunei, I think of its two golden mosques. First is Omar Ali Saifuddin Mosque, the most famous one. Next is Jame'Asr Hassanil Bolkiah Mosque, which is most impressive. It felt like I was looking at Aladdin and Jasmine's kingdom when I first saw the Jame'Asr Hassanil Bolkiah Mosque. It felt surreal and amazing. However, the most memorable part of our trip to Brunei was our experience with the people.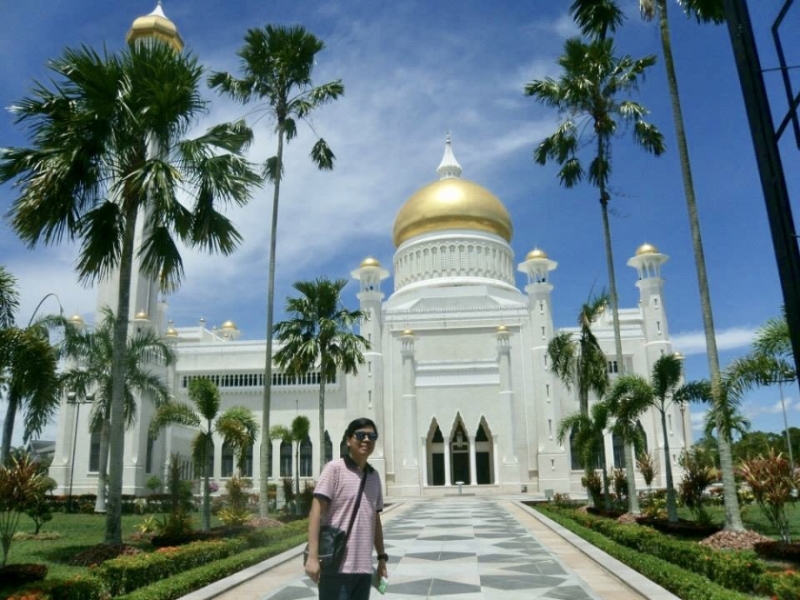 Brunei's Immigration is very strict. They will not allow you to enter their border unless you have Brunei dollars. There goes our problem, we didn't have any Brunei money only ringgit and US dollars. Good thing, our Indonesian bus driver was kind enough to speak to the Immigration Officer on our behalf. In the end, we were granted to pass the border because we had proof that we already paid our hotel in advance.
It was already 7pm when we arrived in Bandar Seri Begawan, the capital of Brunei, and we encountered another roadblock. Public vehicles in this country operate until 6pm only. Our hotel is about 2 km away from the bus stop. We didn't mind if we had to walk 2 km, but our problem was we didn't know the exact location of our hotel and it's already dark. The Indonesian bus driver, our angel, saved us from our misery by volunteering to drop us off in front of our hotel.
In the morning of the following day, we met the hotel owner in the hallway. We told him about some more dilemmas we encountered and he was very kind to offer us some Brunei dollars. We really needed some cash to pay our fare but Money Changers are located in the city centre. He even made the effort to bring us to the bus stop at 6am on our last day.
When we were having breakfast in the kitchen, we met a fellow tourist from Japan who speaks Tagalog fluently because of his Filipina wife. He told us that in case we are not sure which way to go, we just have to bring out our map and some locals will approach us and bring us to where we are going. We were like, isn't that scary? But he assured us that it's totally safe because Brunei people are kind. Well, my boyfriend said that it might be true since he read somewhere that there's zero crime rate in this country.
We were heading to the water-taxi station but were not sure of which direction to go. We took out our map to figure it out. True enough, a car passing by stopped in front of us and brought us to the station. At first, I was a little nervous and even asked the person driving if we should pay him, and he said no. I was totally in awe.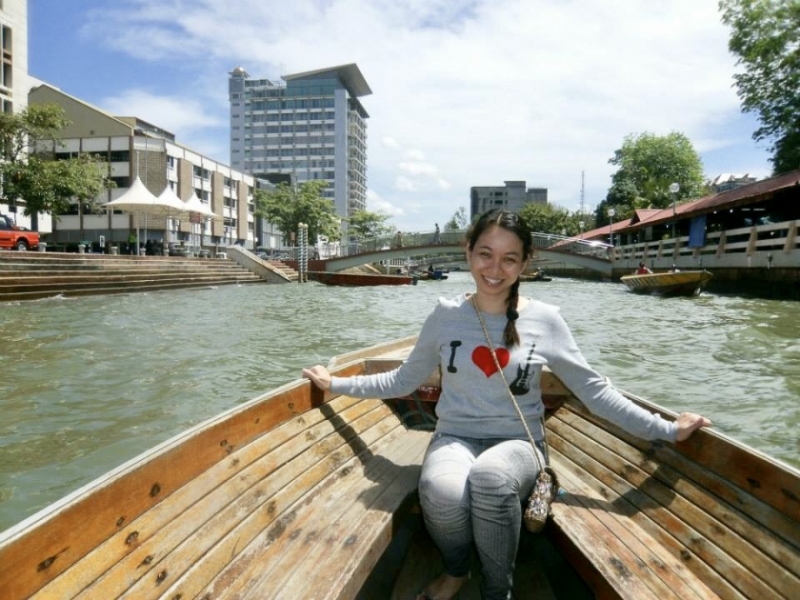 There's also this instance when a Bruneian couple toured us around after we couldn't find the Sultan's Palace. There are no taxis in this place, only buses and water-taxis. We were walking for hours looking for the Palace, but failed. So we asked this couple for some directions, and they were like, Okay, we will bring you there after we eat. Again, I was totally amazed. They didn't just bring us to the Palace, but even showed us around and dropped us off in front of our hotel. I wanted to cry with joy. This made me realise that world peace is really possible if all people, regardless of nationality or religion, will be kind to one another.
Also read: Perfect Southeast Asia Backpacking Routes for Filipino Couples
This country is really GOLDEN, not just because of its mosques, but more so because of its people.