Contributed by Inspiring Grateful Travels
For my 23rd birthday, my family booked a trip to CDO. This is the first province in Mindanao that we went to as a family. This was an adventure trip as it involves white water rafting and canyoneering! What an adrenaline rushed birthday! A truly grateful experience!
Also read: Top Philippine Destinations for Your 2016 Long Weekend Getaways
Whitewater rafting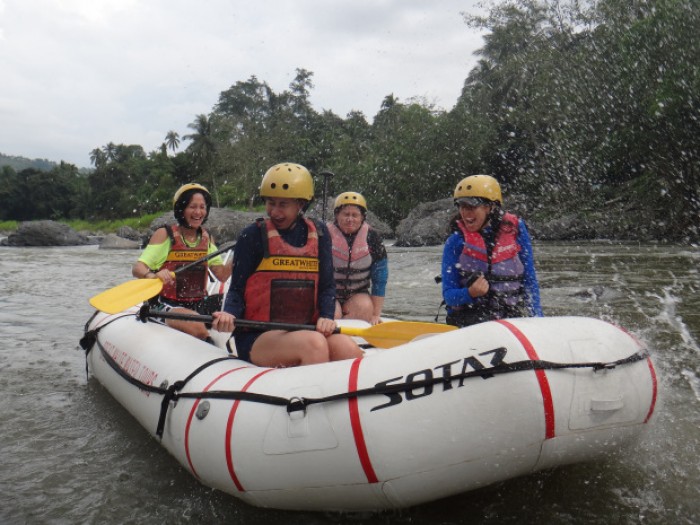 All set! Ready to White Water Raft!
We availed the services of Whitewater Rafting by Great White Water Tours (Contact 09177060677) and request for Kuya Larry – 09265603865. He was really funny! He made our white water rafting experience really worthwhile! Get him, I swear that you'll have a great time! Some of his jokes that I surely will never forget.
Ina: Kuya, ano tawag sa mga malaking bato na yun? (Ina saw some interesting coloured shaped boulders)
Kuya Larry: Lava Rocks ang tawag dyan.
Ina: Bakit Lava rocks? Galing sa volcano?
Kuya Larry: Hindi, dyan naglalava (laba) ang mga tao. 
Hahaha! I know it's corny but I really laughed. I also pointed out a mountain that looked like a heart. I told Kuya Larry, Kuya Larry! Mukhang puso yung mountain oh!
Kuya Larry: Oo mukhang Suso talaga! 
Me: Kuya larry, Puso! Heart! 
Kuya Larry: Ay oo, puso! 
HAHAHAHAHA! Awkward. Get him! You'll have one exciting whitewater rafting experience.
Our package consisted of doing 21 rapids – from easy ones to difficult ones. We are given life vests, paddles and one raft. We didn't join other groups, we had our own.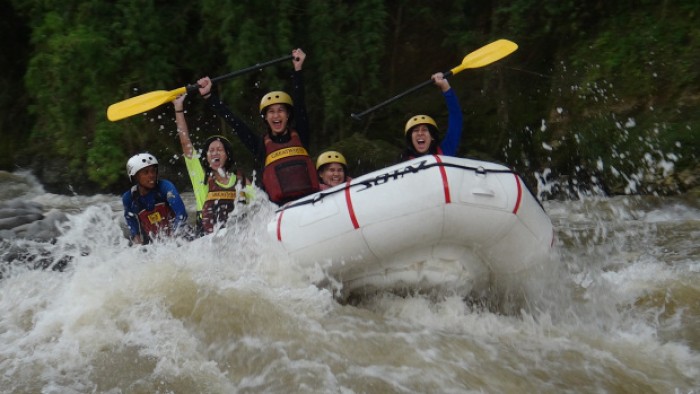 Water Water Water!
This was one hell of an experience. We did not have to worry about pictures because aside from our tour guide there will be another person on a smaller boat rafting ahead of us to take the pictures when we reach each rapid! What a great deal!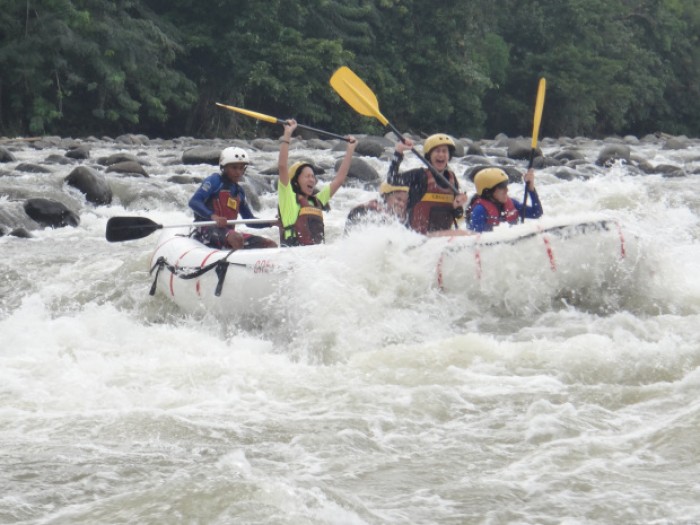 Just keep rafting, rafting, rafting!
Great view – check!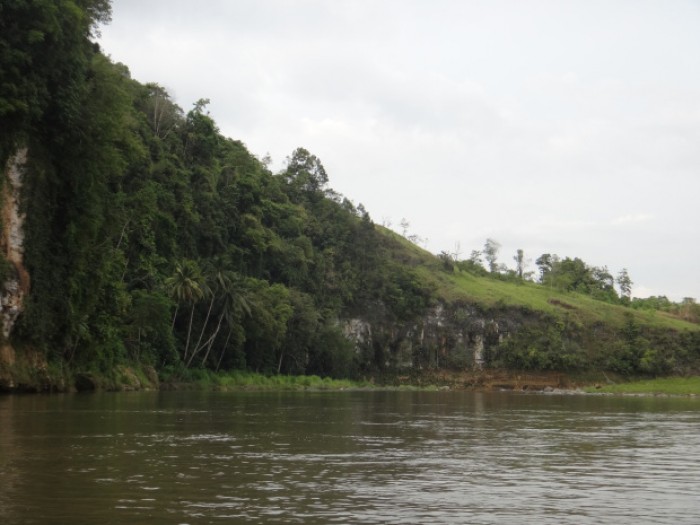 Great view during one of the rapids
Funny tour guide – check!
Pure silence and appreciation of nature – check!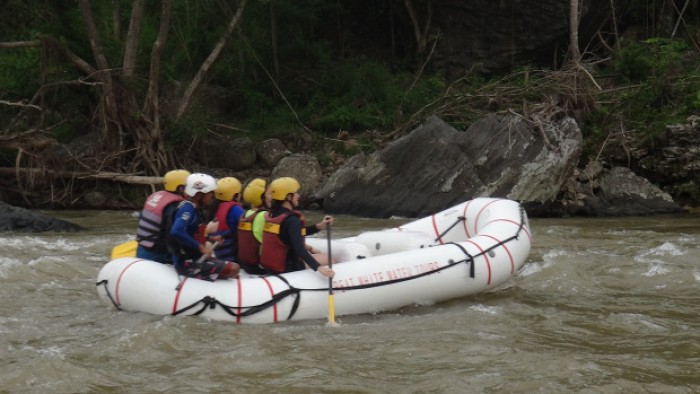 Converging at the back for one of the rapid challenges!
At calm waters before rapids, he would give us water and snacks (the famous Malunggay pastel – super yummy). He also let us get off the raft and swim across the rivers. This was such a fun filled activity! One of the best experiences anyone can ever have.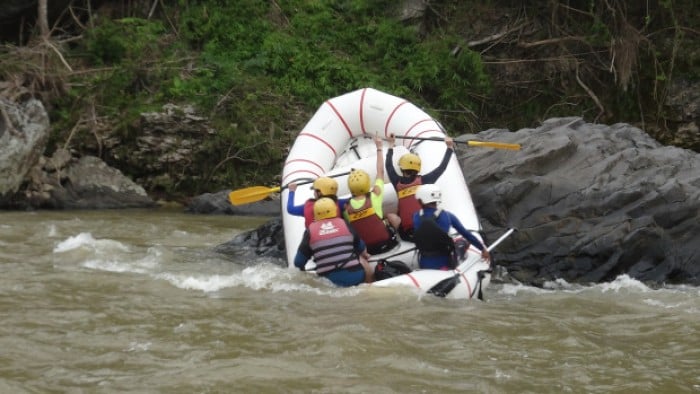 WHOAAAAAA!
Most famous question whenever someone white water rafts: DID YOU FALL OFF? (Nahulog ka?)
The answer, YES I DID!
Let me share my thoughts on it.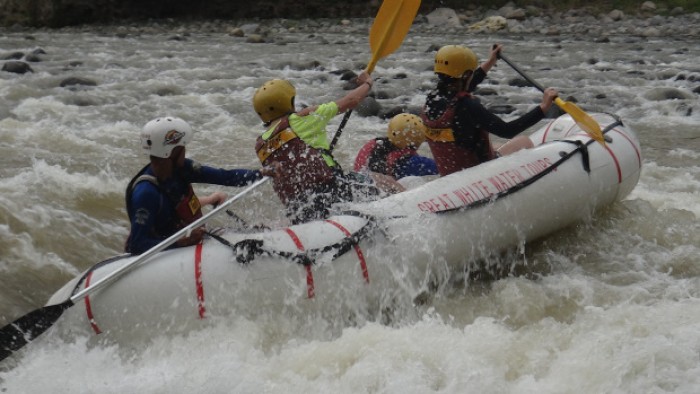 Oh no! Where am I?
When big waves came in, I made sure that I held on to the rope of the raft very tightly. I didn't want to fall down. I didn't want to experience what I've seen in movies. But during one of the rapids, I thought I put my legs tightly under the seat in front of me so that I can raise my paddle and cheer for the camera. But that was not the case. The waves rocked the boat too much that I fell in the flowing river. The waves were fast sending me forward leaving my family's raft behind.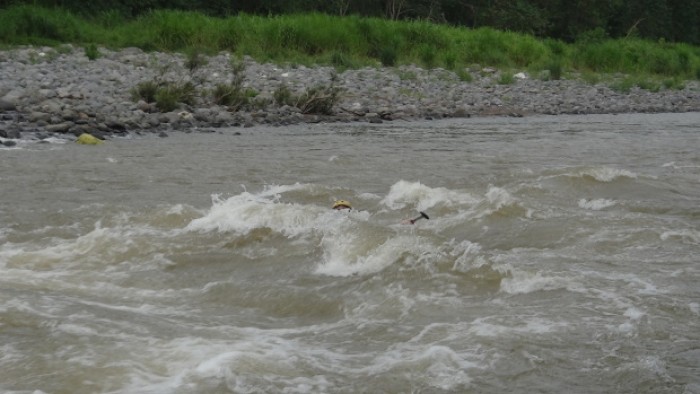 Hold on tight, Me! They're coming to get you!
In those few seconds as I was trying to stay above water and breathe really hard, a lot of questions crossed my mind:
Should I let go of the paddle?
Should I shout?
Should I swim back to them?
What should I do?
I was in the middle of calming down and panicking. But then I just saw the word TRUST in my mind. I knew God was telling me to trust Him. So I calmed down and just held on to the paddle and raised my head above the water. I floated with the current and waited until the raft was beside me.
Our tour guide helped me up back into the raft and I was breathing pretty hard. I've got to say that was one of the most exhilarating and blessed experiences I've ever had. I was very lucky that I didn't fall off during the rapids where there were big rocks. I am grateful that at one point in my life, I got to experience naturally falling off a rapid river (No need for Universal Studios!).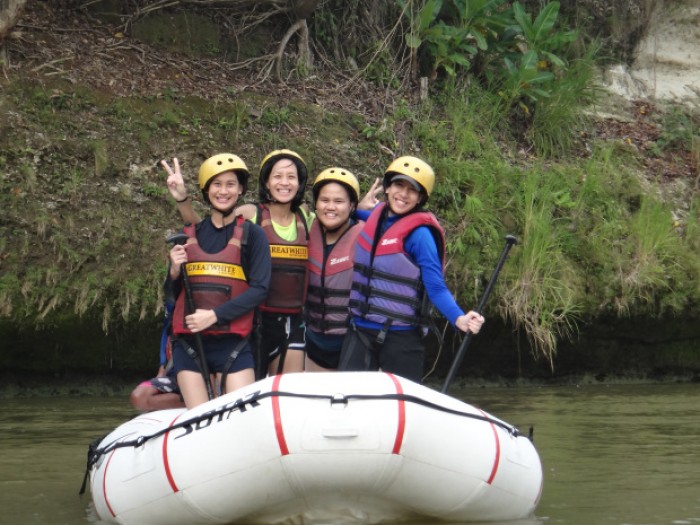 Family Picture!
Canyoneering
When researching things to do in CDO, I stumbled upon this popular river and canyon tour. I invited my Mom to do it with me so that I get to fully experience the great adventures of CDO. She agreed.
We availed the services of Mapawa Nature Park River Trek & Canyoneering which includes a 25ft waterfall slide, Body Rappel, 30ft waterfall jump, 65ft waterfall rappel (Contact 09177067206).
This was one hell of an experience! If you think you need more confidence, try this! If you want to conquer your fears, try this!
Every station during this tour was YOU facing a certain fear, letting go and just letting things BE.
Also read: The Philippine Bucket List: 20 Challenges Every Filipino Traveller Must Complete
25FT Waterfall Slide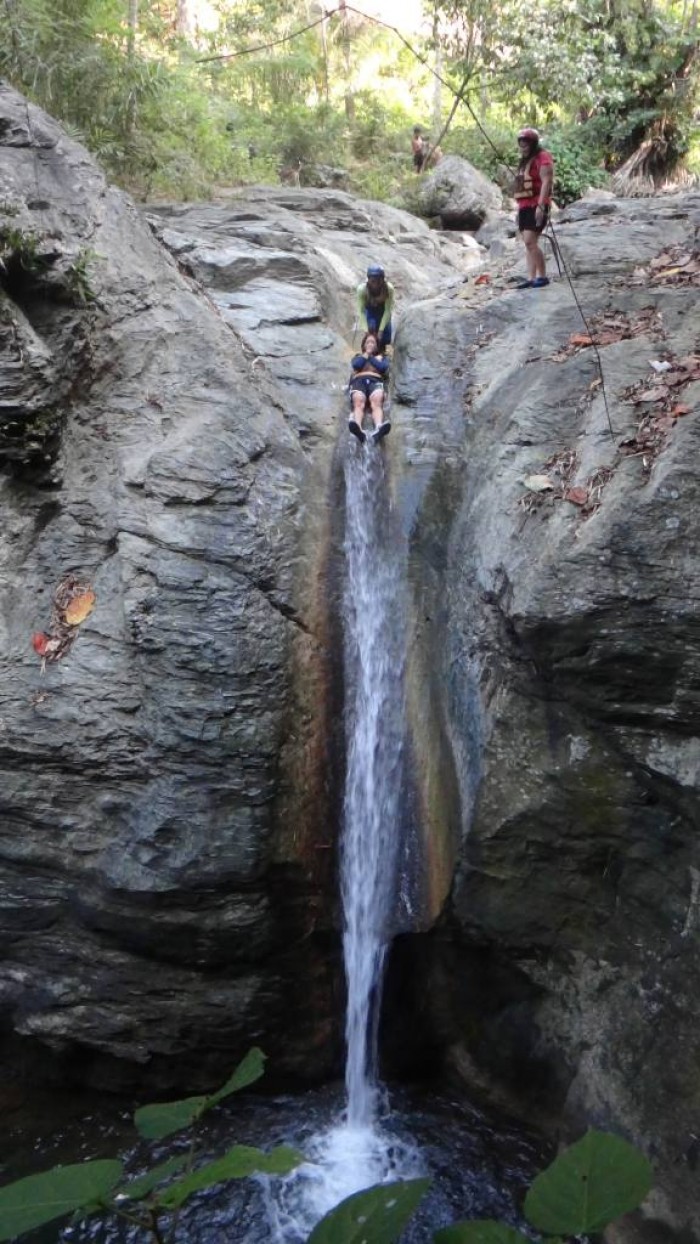 Mom Water Sliding!
This at first looked really easy because you will just sit down and slide. But not the normal slide you're thinking off where your feet will land safely on a ground. No! You'll slide and you'll fly into a small space of air before splashing into water. This is different from pools as the end of the slides is near the water. This was not! It took us a few minutes but we were able to slide!
FYI, from each station there were long hikes. Going up! Going down! Braving big rocks! My stamina wasn't prepared for it but I conquered it. Always learn to push yourself. Even when I feel my heart hurting, or when I feel like I'm out of breath, I just keep telling myself: JUST A LITTLE MORE, PUSH YOURSELF. Motivating yourself always does the trick. As my mom always says, It's all in the mind.
25FT Body Rappel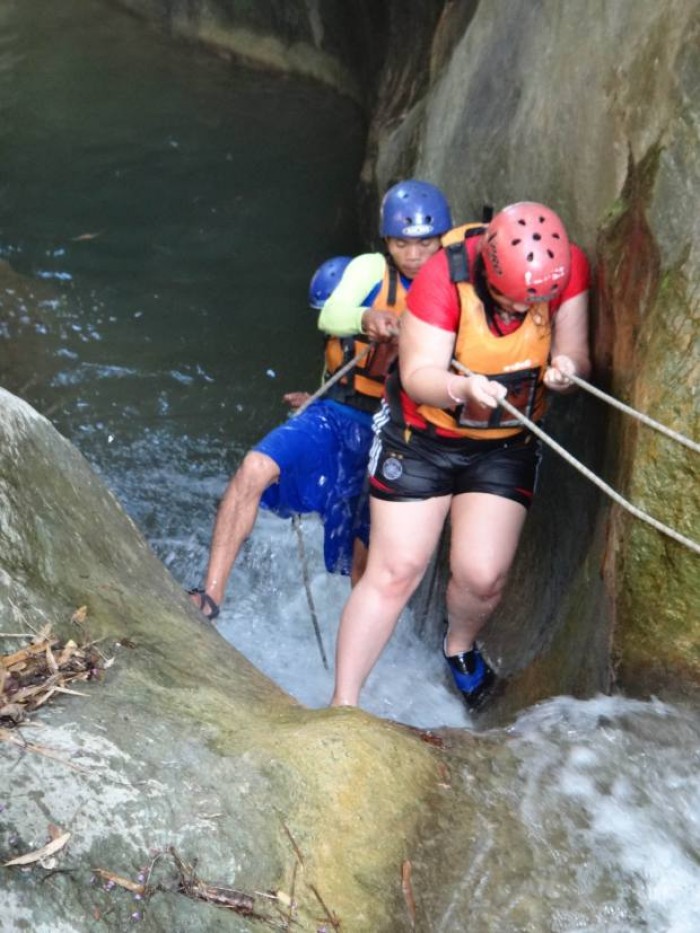 Harder than it looks!
This looked easy but was really hard! The rocks were slippery so you really had to exert effort and force while holding the ropes. My upper body strength wasn't that good so I really had to endure! What an experience! Really took my breath away!
30FT Waterfall Jump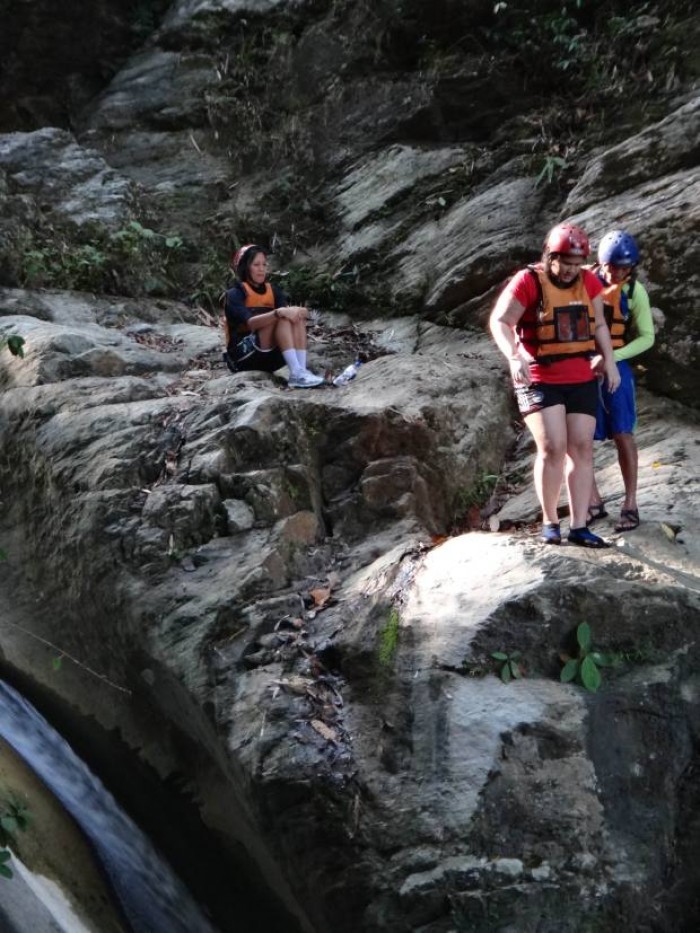 A little scared!
I already did the cliff diving at Ariel's Point in Boracay so I thought this was going to be fairly easy but I was wrong. When I looked at the height, my legs started to shake. From afar, my mom said that she could see it too. It took me around 30 minutes before I got the guts to jump. And I'm glad I did. Anticipation is always hard. The waiting game isn't easy. The part where you motivate yourself to do something, it is always a challenge and I'm glad I got to experience it. RISK.
My mom didn't do the waterfall jump, a few hours after this tour she regretted it and wished she had done it because we were already there. We should always grab every opportunity that comes our way especially when it's right there for us to grasp. Never be afraid. You can't lose anything. Just open up and let go!
65FT Waterfall Rappel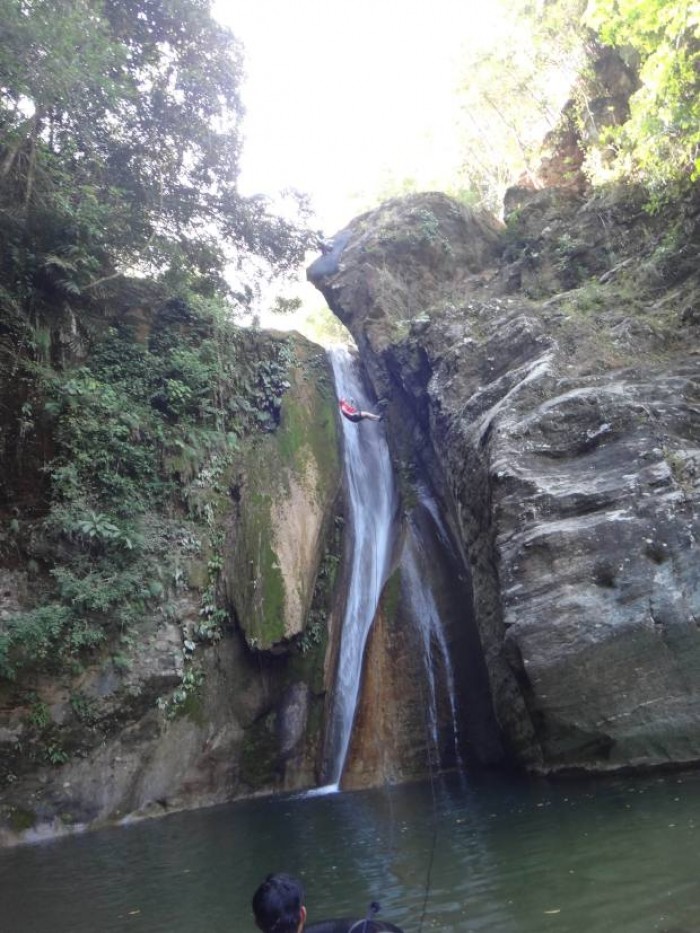 Rappel down a waterfall!
This was scary at first but amazing once you have done it! Rappelling down a waterfall is so amazing! The height scares you a little but once you start going down, it is so refreshing and exhilarating! One of the best feelings in the world!
WHAT AN ADVENTUROUS BIRTHDAY WEEKEND FOR ME. Grateful to mom for this great birthday weekend! To more scary adventures that will push me to conquer more than I can ever imagine!
Also read: 15 Incredible Outdoor Adventures to Conquer in the Philippines