Contributed by The Bisaya Traveler
Osmeña Peak has been, for years, the premier destination for people who want to go on a little nature trip in Cebu. Rising at 1,013 metres above sea level, O'Peak is, after all, the so-called highest mountain on the island, wowing visitors with its cool mountain breeze and awe-inspiring panorama of the countryside. But, there's another majestic and pristine trail nearby that may soon give this Cebuano icon a run for its money – the less explored Candongao Peak.
Also read: 13 Must-Visit Mountain Peaks and Camp Sites in Cebu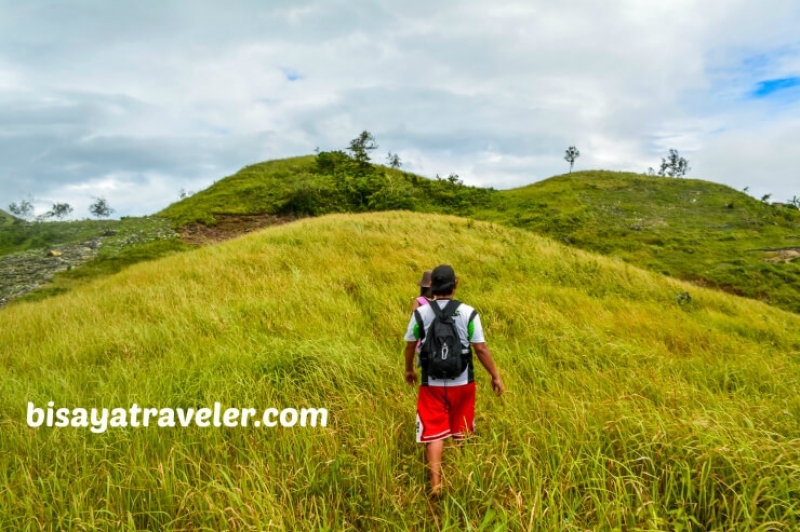 Our Candongao Peak adventure
A few days ago, I went on a memorable trekking expedition into the wilderness of Badian to see the Candongao ( Kandungaw) Peak in person. And to make things more interesting, I was joined by a few strangers-turned-friends who were just as excited as I was to experience this less explored trail in Cebu.
Yes folks, I first met Shenyl, Christine, Nikki and Reynolds online, after I invited everyone on my Facebook page to come with me to Candongao Peak. There were a lot of people interested, but only these four intrepid and free-spirited youngsters stepped up to the challenge.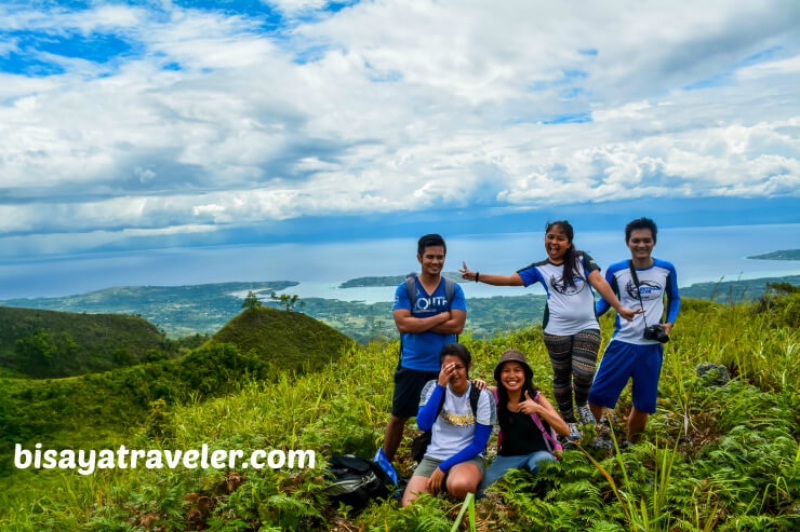 Our weekend adventure started with a 5am meet-up at Cebu City's South Bus Terminal. It obviously felt a bit awkward at first, but everyone got along eventually. Once the introductions were done, we took a non-aircon Ceres bus plying the Bato-Barili route.
And after our two and a half hour bus ride, we finally reached Badian town proper. We immediately went to the town's sole 711 outlet, to meet our guide, Sien.
From the 711 outlet, we went to the town market for breakfast and a much-needed restroom break. While there, we also bought our lunches, snacks and other not-so important necessities. Afterwards, we took a bumpy, fun and slightly thrilling 30-minute habal-habal ride to our jump-off point – the Sohoton Elementary School.
Sien didn't waste any time in guiding us to the peak, leading us to entrance of the trail. Even though the weather was scorching hot, and the first part of the trail is quite exposed, we did enjoy every step of the way, as we pass through the place's greenery and fields of flowers.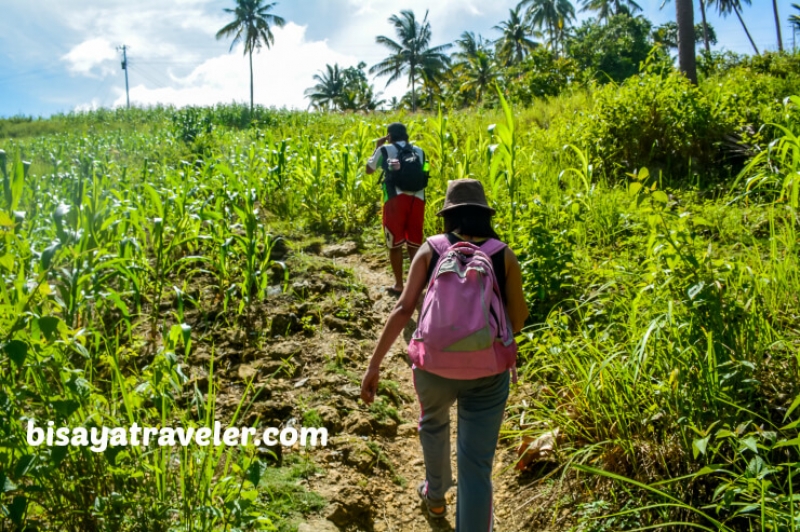 There were also a couple of locals with their harmless dogs who passed us by and greeted us, making us feel better amidst the heat.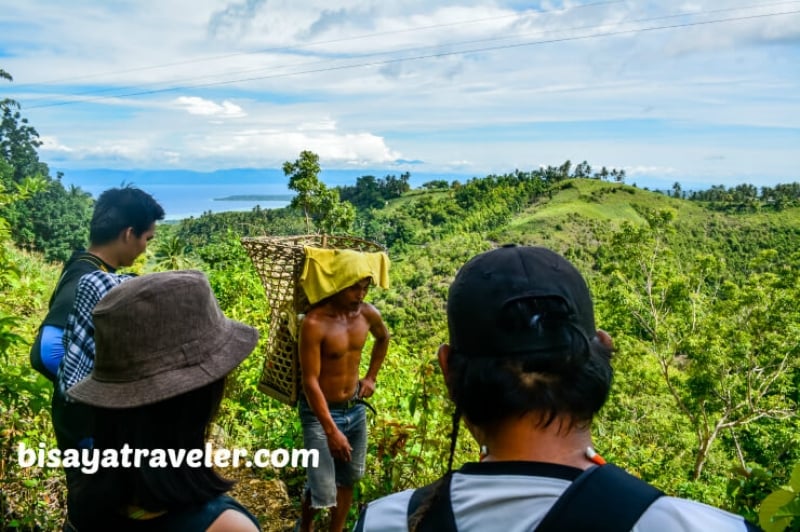 After a few minutes of walking, we were treated to a breathtaking overlooking view of the Tañon Strait as well as the town's coastline and its nearby islands, including Badian Island and Pescador Island. And like any savvy guide, boss Sien shared some intriguing facts and stories about these islands.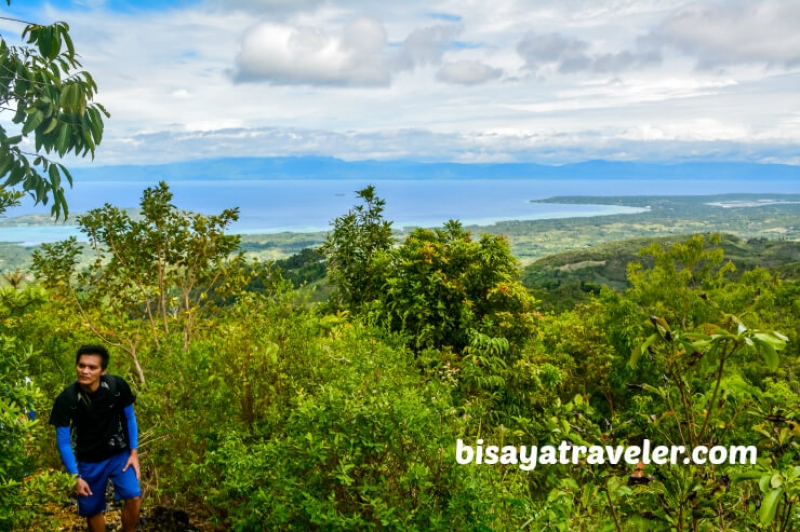 As we moved on farther, the woods and bushes became a lot thicker, and the environment started to become a bit more silent.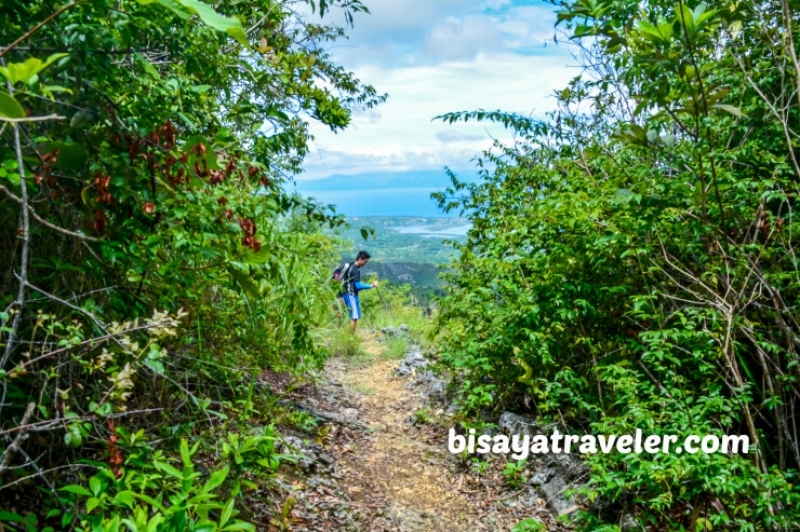 Moments later, we were inside a shady and cool forest with plenty of eye-catching flora, rock formations and small creatures. As an animal lover, I did enjoy the melodious sounds of birds chirping and playing. Of course, the earthy and fresh scent permeating in the woods also helped lighten our mood.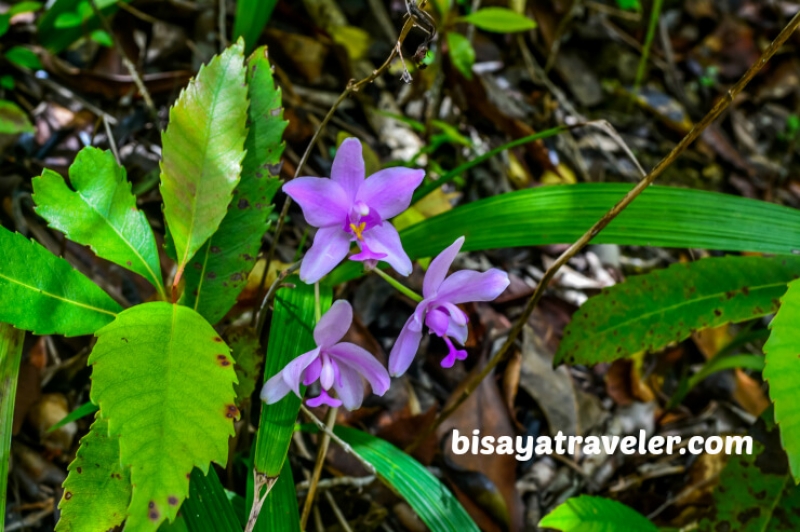 We did take some stops and rests, along the way, to stretch, catch our breath and relieve weary muscles.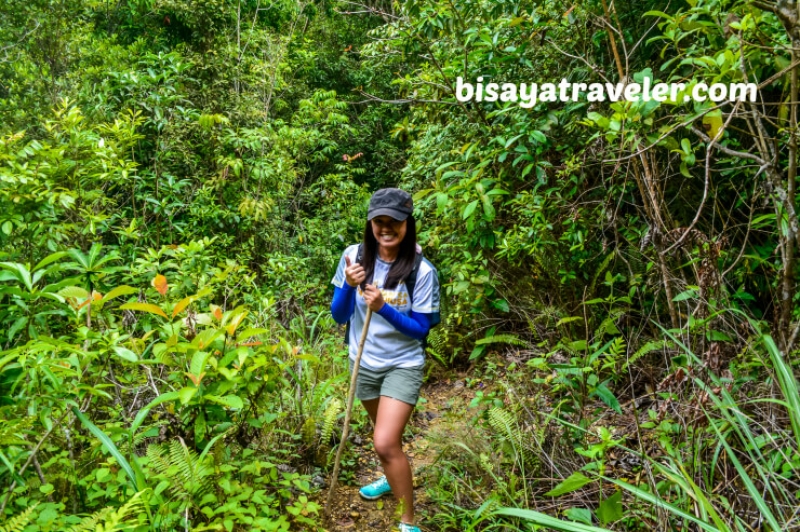 We trekked and talked continuously, and caught sight of a collection of karst hills that look somewhat similar to ones near O'Peak. We, then, descended into a pretty narrow valley with towering trees and large ferns covering the floor of the valley. And after over an hour of trekking from the jump-point off point, we took a break to rest and eat our lunch.
As we were preparing our lunch, Boss Sien showed to us a small wonderfully made concrete basin, which is designed to catch cool spring water. I wanted to get a taste of this fresh spring mountain water, but Sien warned us not to do so.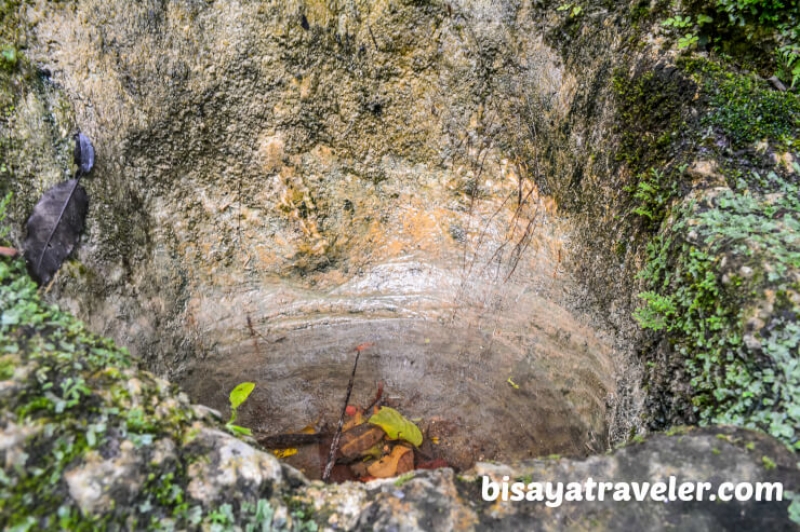 With our stomachs filled and spirits uplifted, we went on with our trek and exited the uphill forest. Moments later, I was in awe gazing at the gigantic green karsts hills that look like the rugged versions of Bohol's famous Chocolate Hills.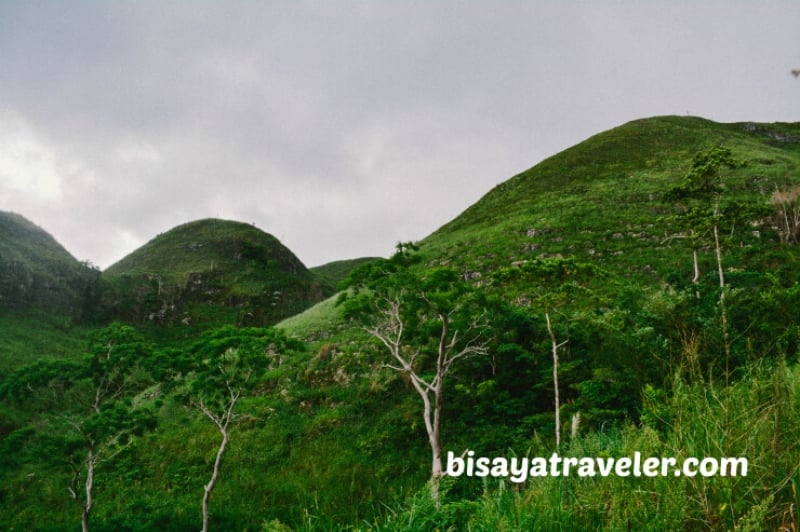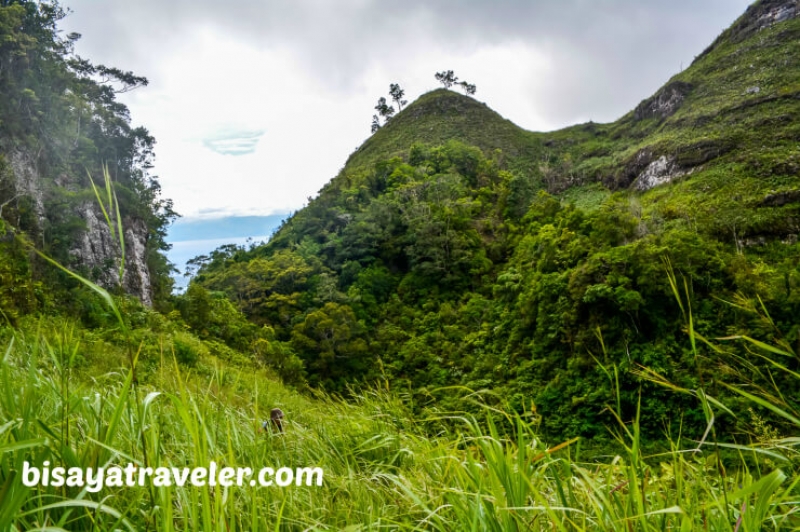 This part of the trail was absolutely one of the high points of our trek. It was so beautiful and surreal that Sien even told us that it reminded him of the Middle Earth in the fictional Lord of the Rings trilogy. I haven't been to New Zealand, but I got to say that it really looks like a playground for elves, dwarfs and orcs.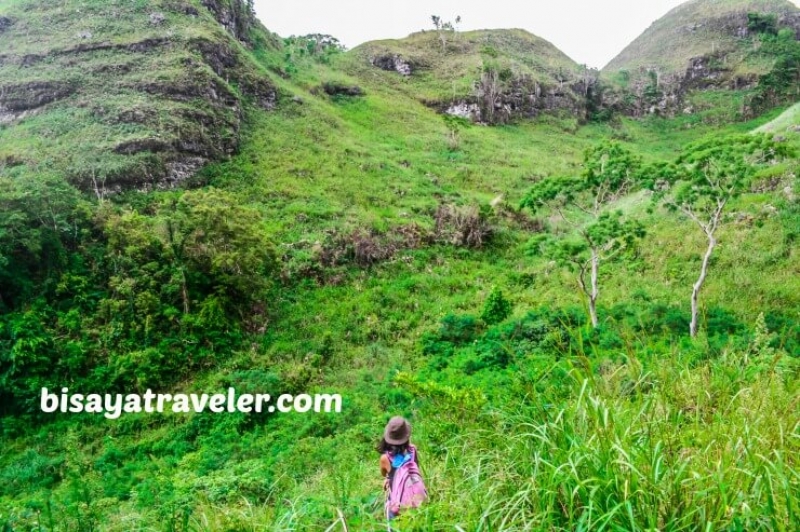 As we trekked up a hill, raindrops started to fall on our head, and I, unfortunately, have to stop snapping photos of these grand and breath-snatching landscapes. What a bummer!
Eventually, we reached the Dalas-ag Peak, which somehow reminds me of Batanes. Just take a look at these images!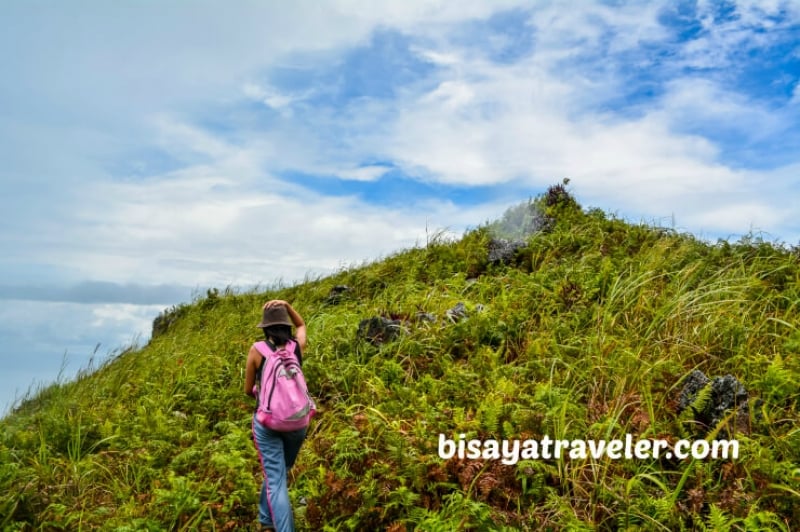 From there, we relaxed a bit and enjoyed the sweet and awesome view of the whole Badian municipality. We took a ton of pics as well as a pair of cool group photos.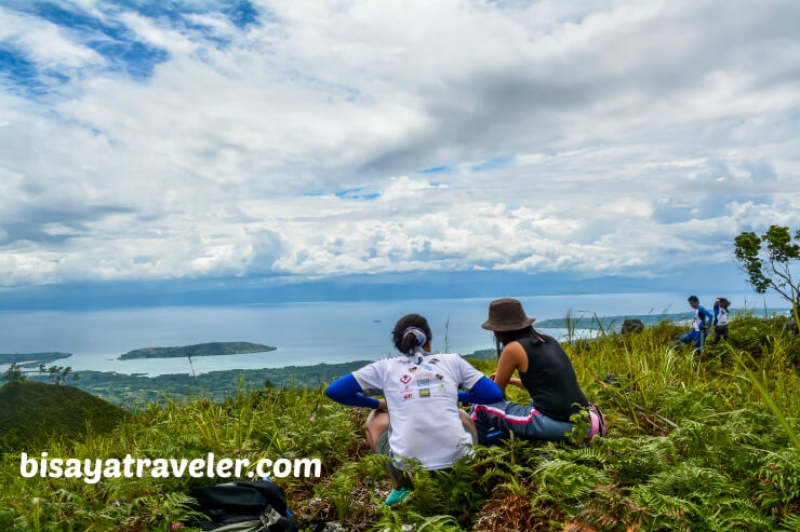 We spent around 20 minutes here, just living in the moment and taking in some of Mother Nature's most exquisite masterpieces.
We continued our trek and bumped into a bunch of farmlands and charming farmers. We also saw a remote and small community made up five houses that have zero electricity. Although their radio was turned up at a high volume, we felt like there was nobody around in the community. We didn't see anyone there until we ascended up a hill and saw a couple of people staring at us at their window. Sir Sien told us that the locals there are sometimes afraid of people who are outside their community.
Also read: 11 Life Lessons You'll Learn From Hiking Up Mountains
We continued to ascend and finally saw Candongao Peak from afar. And though it was still around one o'clock in the afternoon, the entire landscape was beautifully covered in mist.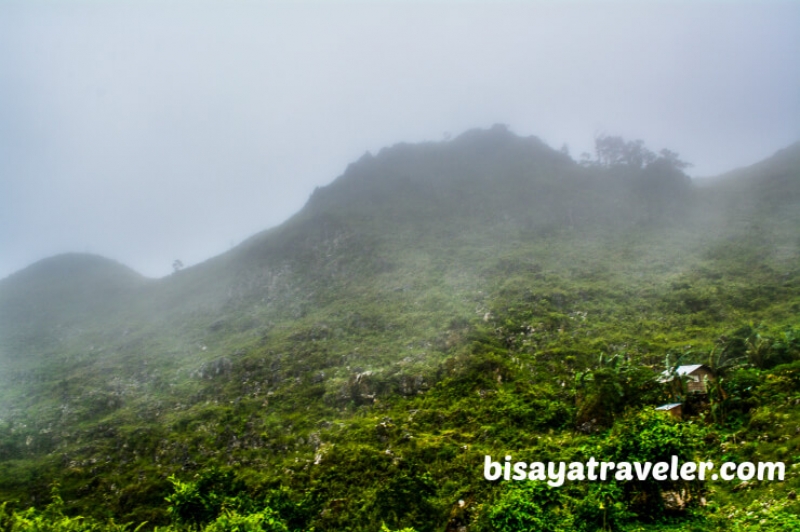 It was such a surreal experience, and everyone was in utter amazement. Sien pointed to the huge monolith above, saying that we are close to the Candongao Peak.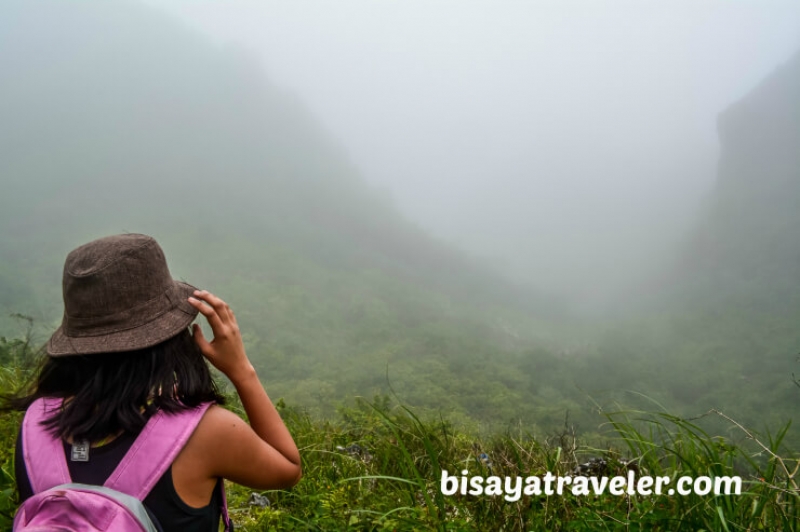 We took another ascend, to get closer to Candongao Peak. The winds were moderately strong during our visit, and the whole place was just covered in fog.
Still, it was a very pleasant and dreamlike experience for us. We took a peek at the landscapes below, and it was truly a mesmerising sight. I felt like a wanderer standing above a sea of fog.
We then headed to the summit to culminate and celebrate our accomplishment. Despite the lack of visibility, the sights from there are just nothing short of amazing. And everyone in our new tribe, including yours truly, was in high spirits and in a state of pure bliss.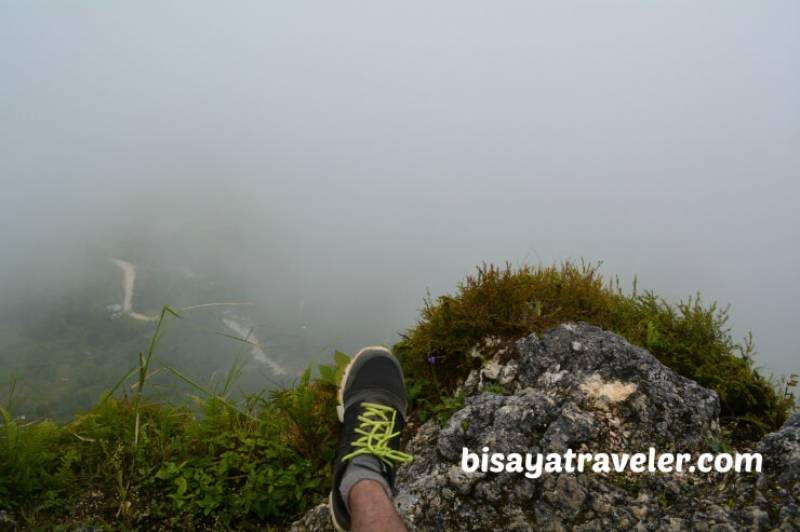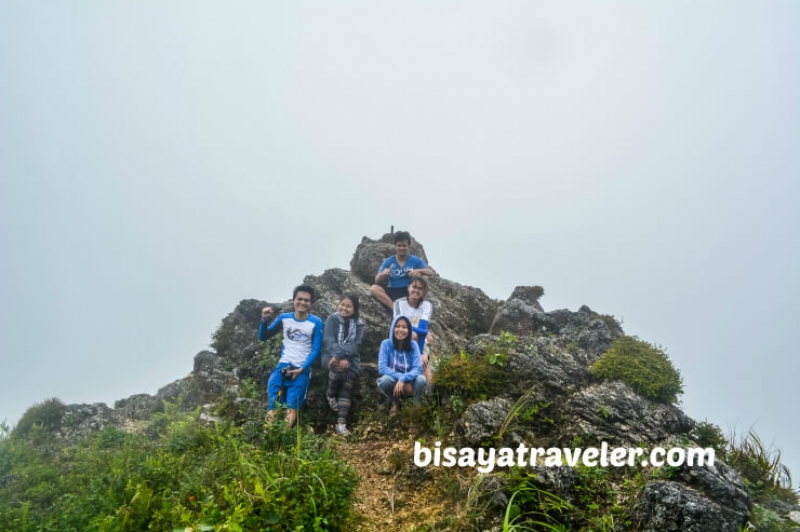 All good things, however, must come to an end, meaning we have to descend and head back to the jump-off point. But instead of backtracking, we followed boss Sien to a different and long trail that led us to the Sohoton Elementary School. Since he was the one who discovered the trail, Sien knows the paths there like the back of his hand.
Also read: Our Memorable Trek to Mount Mauyog in Cebu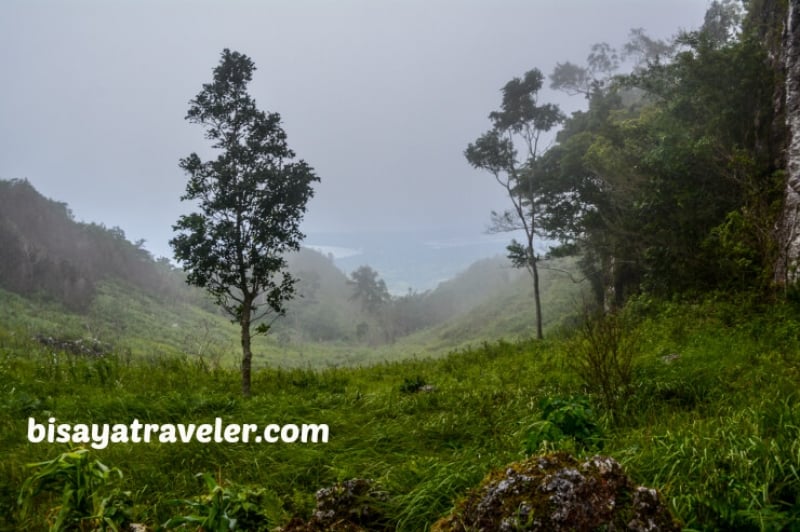 Estimated budget for the Candongao Peak trek
Bus ride (aircon) – ₱127 per way
Lunch – ₱50 (I got mine for only ₱15)
Breakfast – ₱50
Other important things to take note
Reach out to the super friendly, knowledgeable and talented boss Sien Kha Hey for Candongao Peak guide services, at 0916-967-6753. Alternatively, you may contact him through his Facebook page.
Bring sunscreen, a hat or umbrella to protect your skin from the heat in the exposed areas of the trail to Candongao Peak.
Wear trekking pants as well as arm guards for skin protection against the prickly plants and the sun.
Wear trekking sandals or shoes with a great deal of traction.
Bring at least 2 litres of water.
Pack ion beverages like Pocari Sweat and Gatorade to prevent cramping, and replenish the lost ions in your system.
Respect nature, and never leave your trash behind.
Prepare your rain gear, and waterproof your belongings, in case of heavy downpours.
Last trip to Cebu from Badian is at 8pm, so make sure to be back at the town proper if you're not planning to stay overnight in Badian.
Candongao Peak is actually located in Dalaguete, and there's another route available from that Southern Cebu town. As a matter of fact, you can reach the peak in less than 2 hours from Dalaguete. But, the trail from Badian is a whole more beautiful, fun, exciting and challenging. Plus, the views from the Badian are simply astounding.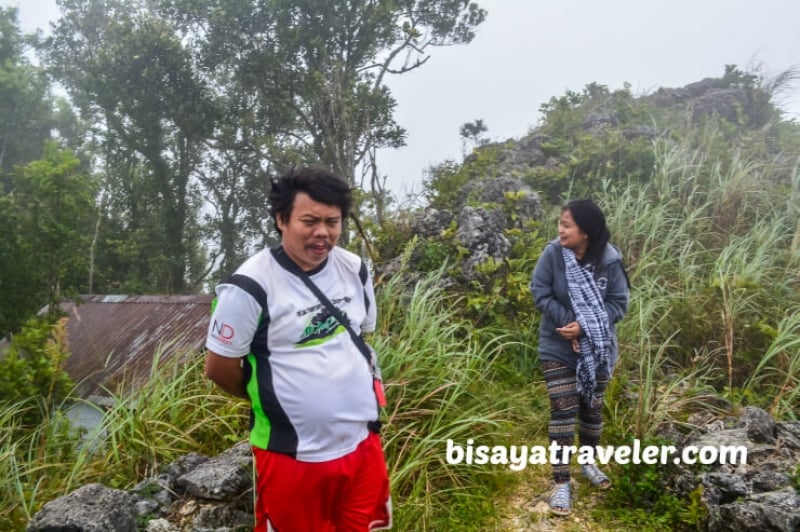 Suggested itinerary
4:30 AM – Depart from Cebu City
7:00 AM – Arrival at Badian/Breakfast
7:30 PM – Travel to Sohoton
8:00 AM – Start the trek to Candongao Peak
11:30 AM – Arrive at the summit/take pictures/lunch
12:30 PM – Begin descending to the jump-off point
2:30 PM – Arrive at Sohoton and take a habal-habal ride to town proper
3:00 PM – Go home or explore Badian
We didn't strictly follow this itinerary, because we had a newbie with us who, in spite of her struggles, managed to finish the trail with a big smile.
My overall thoughts on the Candongao Peak trail
The trek to Candongao Peak was, in general, supremely fun and is by far one of the coolest things I've done in 2016. As a matter of fact, I enjoyed our Candongao Peak expedition so much that I'm planning to go back there later this year. Personally, I think the Candongao Peak is a better and more adventurous alternative to the overly crowded Osmeña Peak. If you're interested in joining me scale Candongao Peak again, feel free to drop a message to my Facebook page.
And by the way, I'd like to say thanks to Adrenaline Romance for giving me a blueprint to our Candongao Peak adventure!