Contributed by The Bisaya Traveler
"Idyllic" is, for me, a cliché and an overused adjective in the realm of travel writing. From bloggers to enthusiastic travel advisers, there are an awful lot of people nowadays who are vaguely and unsuitably using this word to describe a place they are visiting. As a matter of fact, I've seen some folks label Boracay's party-laden beach as idyllic. But on the flip side, there are still some places on earth that truly epitomise and exude the "idyllic" feel of a tropical paradise. And one of them is Daanbantayan's remote and gorgeous gem – Carnaza Island.
Also read: Guintarcan Island: An Unexplored Gem in Cebu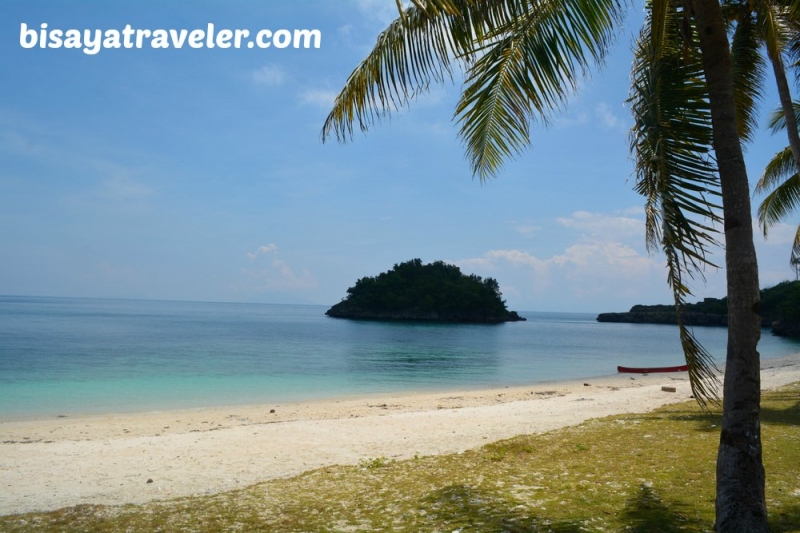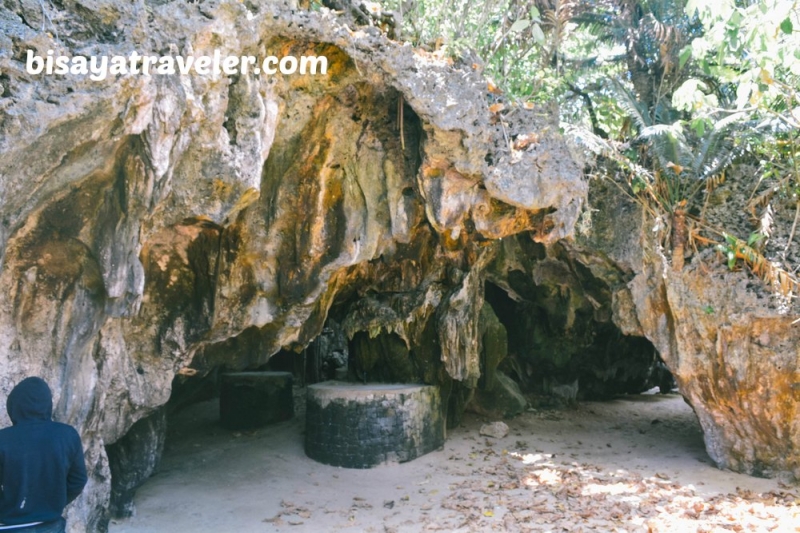 Carnaza Island was kind of a last minute choice for our family escapade last Sunday. Although our original plan was to go on a long and relaxing weekend getaway somewhere far, we had to revise our travel blueprint since we all have commitments at work the following day. And besides, we can't afford to leave our home for more than 15 hours, with all the canine pets living under our turf (about 14 dogs). So, we scratched Camiguin, Isla Doong and the other destinations on our list.
Kalanggam Island was one of our top options too, but I thought the cost wasn't right for a few hours enjoying the beach. I reached out to Bunzie's Cove, but they don't offer day use on Sundays. I scoured the internet and Instagram feeds, until alas, I finally found the ultimate solution for our family escape – Carnaza Island in Daanbantayan, Cebu.
Truthfully, I was planning on going to Carnaza Island with my sprightly crew – Team Bang in June. But, I ran out of alternatives, and I really wanted my family to have a swell time. I just hope my team understands my sudden change of heart. I'm going back there, anyway, and I'll try to bring the entire gang the next time around.
Also read: Bantayan Island: A Must-Visit Paradise in Cebu, Philippines
Our Carnaza Island experience
I literally had zero hours of sleep the night prior to our Carnaza Island trip. While I was excited and pumped up to see the island paradise, it was a looming cough that stopped me from getting some rest. Ever had a dry and sore throat that turned into cough and cold the following day? Yep, I had that drowsy and irritating feeling all night.
Nevertheless, I was optimistic and hoping that dipping into the waters of Carnaza would cure this uncomfortable symptom. As they say, salt water heals everything.
We woke up at around 3am and made final preparations for our getaway. We wasted no time and went with our long road trip to the northernmost tip of Cebu. Along the way, we made a few stops, to gas up as well as buy sunblock and freshly-baked bread.
After our long and winding ride in northern Cebu, we arrived at Tapilon port – the jump off point to Carnaza Island.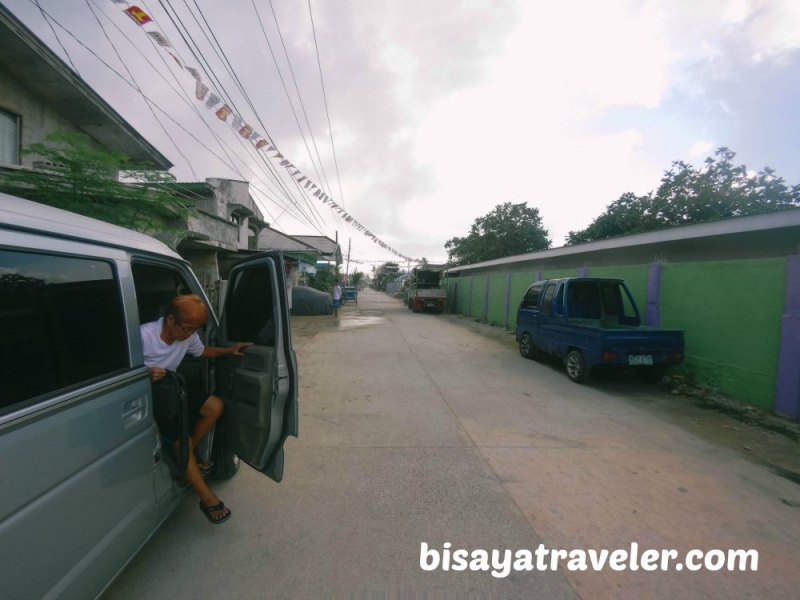 My contact – Tirso – wasn't around when we arrived, because he was at the market buying some things for our trip. His son Jezreel was there, however, to accommodate us and attend to our needs. As I was talking to Jezreel, I asked a bunch of questions about Carnaza Island and its beautiful spots. And with his detailed answers, I got to build an impromptu itinerary for our quick island adventure.
Moments later, Tirso arrived in the scene. And from there, I asked him if my proposed itinerary was logical and possible with the small amount of time we had.
Tirso did like our itinerary, and even gave me some inputs and insights on how we can maximise our trip.
And so, our adventure to Carnaza Island began! From Tapilon, we took a two-hour boat ride to the first destination of our trip – Carnaza Eco Park. And though the boat was privately rented by us for the whole day (pakyaw in Bisaya), we allowed other tourists to join us on our ride and dropped them off at the eco park.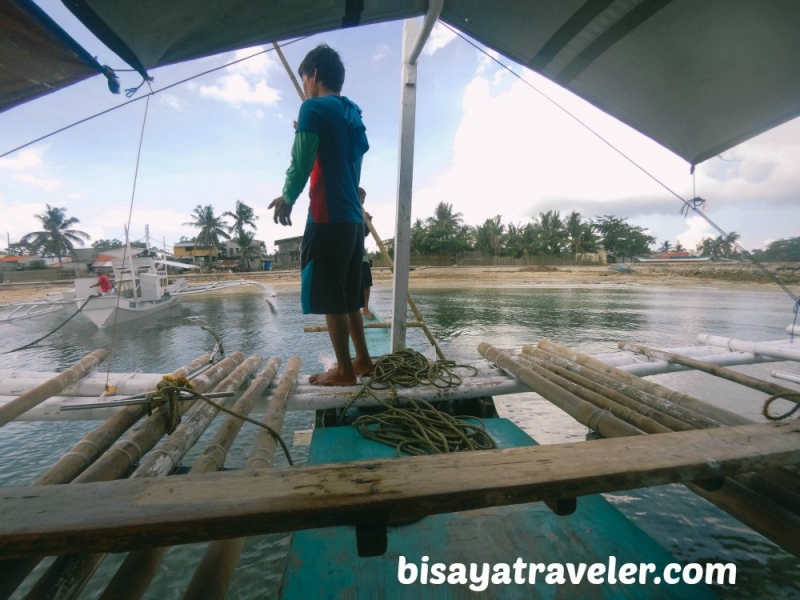 As far as I can remember, these folks were late for the scheduled trip to Carnaza Island. I know the pains of being a traveller who has missed a flight or scheduled bus. And in the midst of these setbacks, there were many Good Samaritans who helped me out. That's why I wholeheartedly said "yes" when Tirso asked if it was okay for other passengers to join us on our ride.
On our way to Carnaza Island, we encountered a small technical problem, right in the heart of the deep blue sea. I'm no sailor by any means, so I didn't know what exactly happened. Luckily, the team fixed the issue in a jiffy.
We passed by a multitude of stunning rock formations, as were sailing our way to Carnaza Eco Park. The waters were, of course, deep with eye-catching hues of blue.
Then, we got closer to Carnaza Eco Park and got treated to a sweet view of the beach.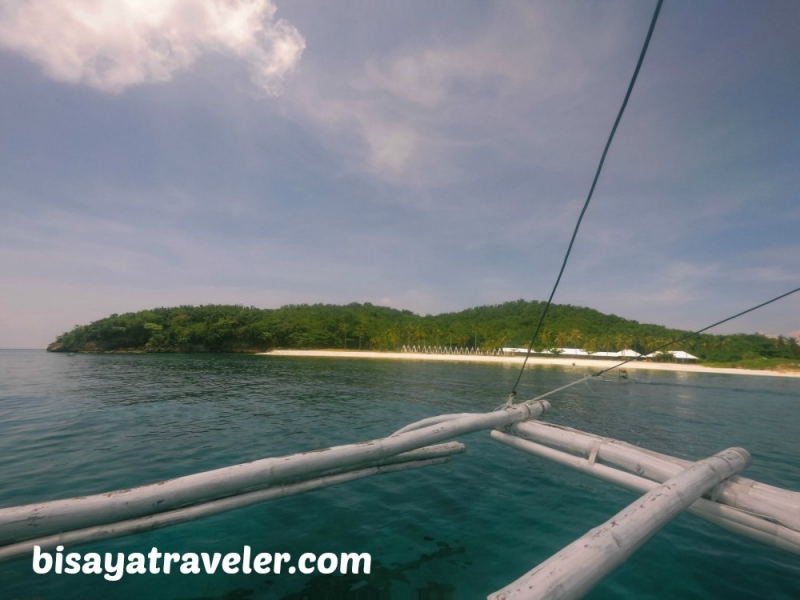 However, to set foot on Carnaza Eco Park and use its facilities, everyone has to pay an entrance fee of ₱200. Despite its great scenery and nice amenities, there was no way I was going to spend ₱200 per person for a quick dip on the beach of the park.  Don't get me wrong – it's a great place to spend your day, but I had other plans for our trip.
Still, we got to stroll around the area and snapped a ton of photos of Carnaza Island Park for free, thanks to Tirso's help and charm.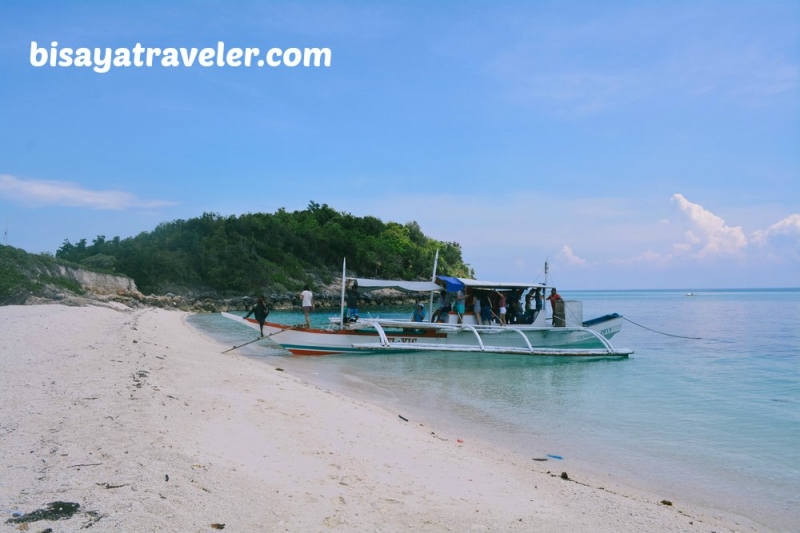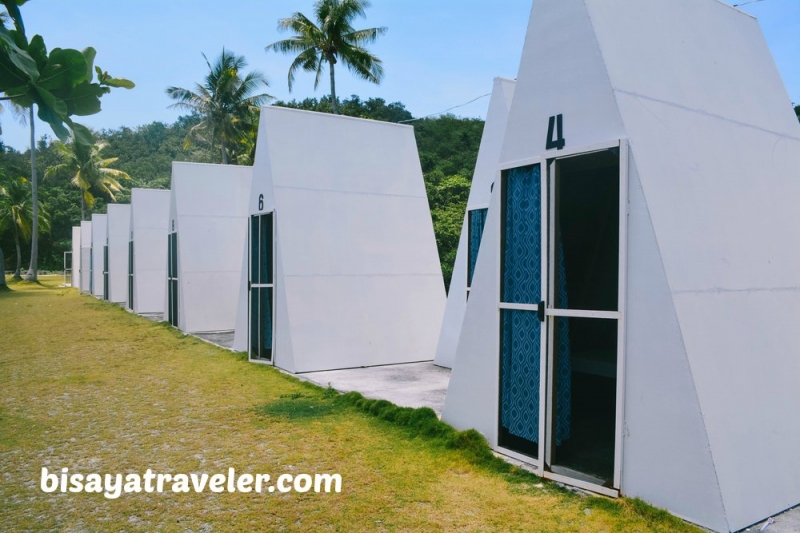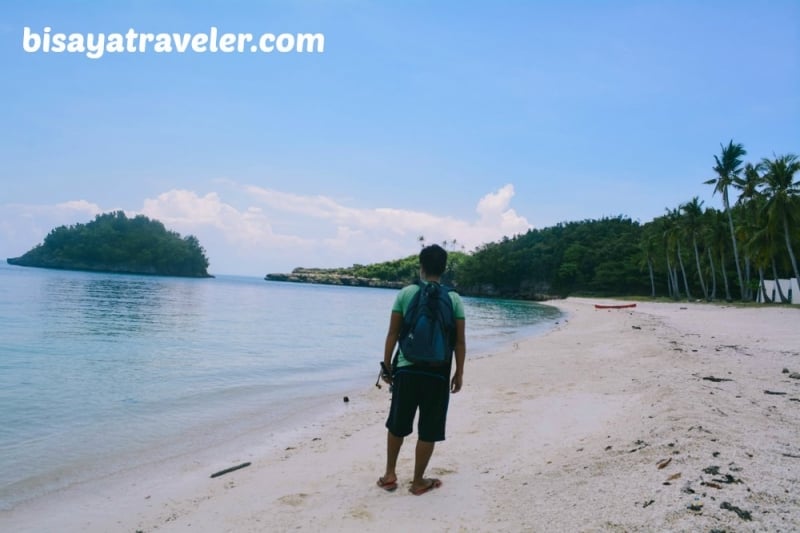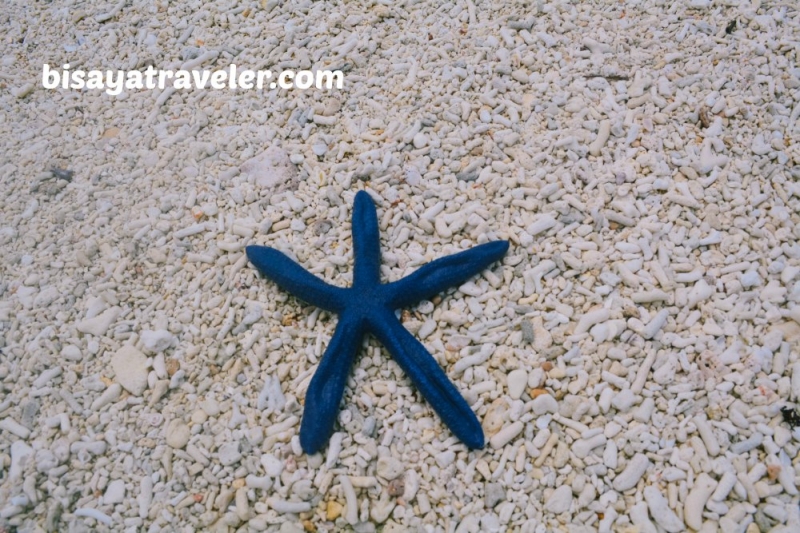 Afterwards, we hopped back to our boat and went to another wondrous part of the eco park – the Skull's Cove. As with our stroll on the beach on the eco park, we got to enter the site without spending a dime. We did ask permission though, and told the person-in-charge that I was going to help promote their resort.
And the cove was nothing short of amazing. Not only did it feature some interesting rock formations, but it also had a long and interesting history.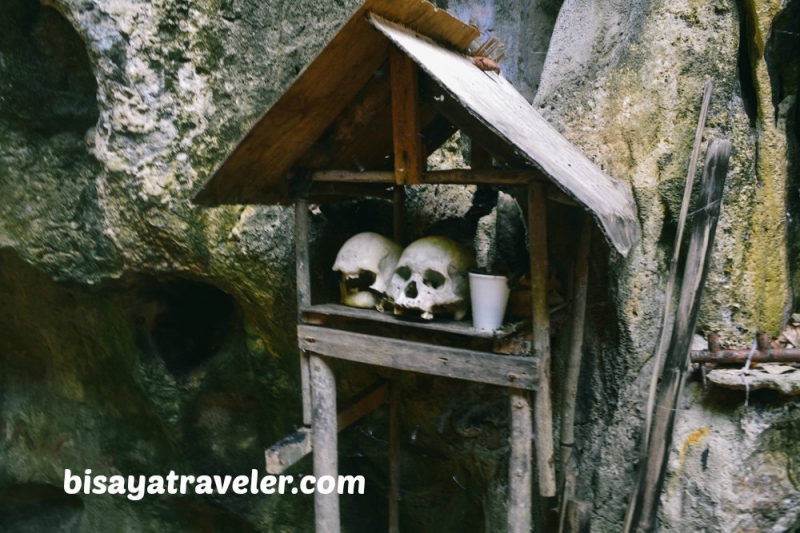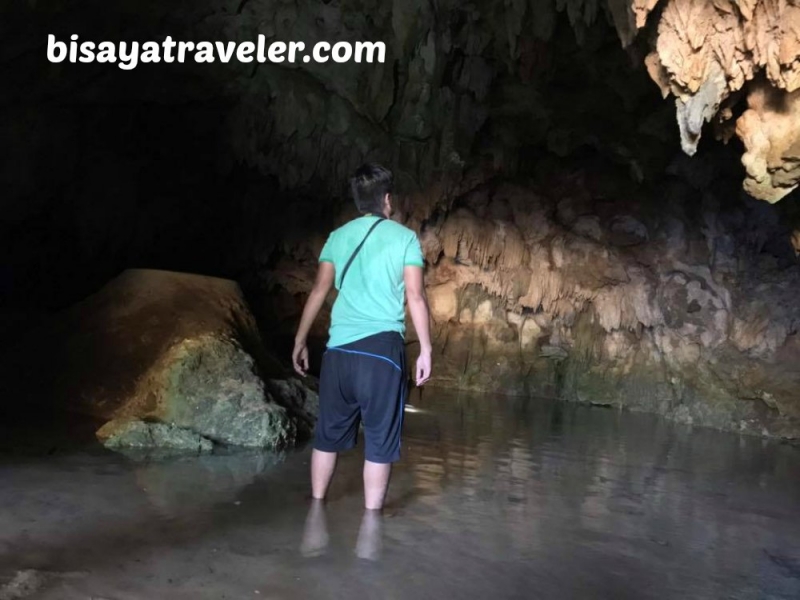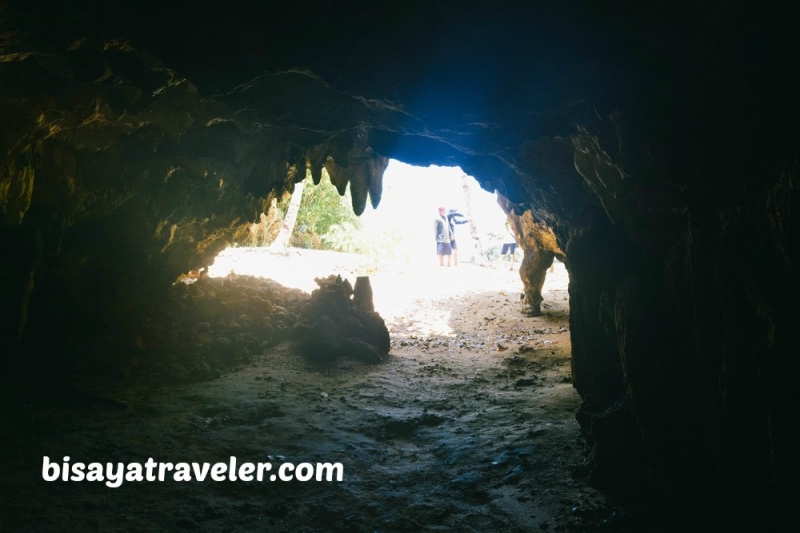 With the information shared to us by our boatmen, we got to know more about the hair-raising history of the caves, which served as shelter and meeting ground for the Japanese troops during WWII.  As a bona fide history lover, I did find their stories about the caves quite beguiling.
Later on, we left the cove and headed to Kaelina Beach.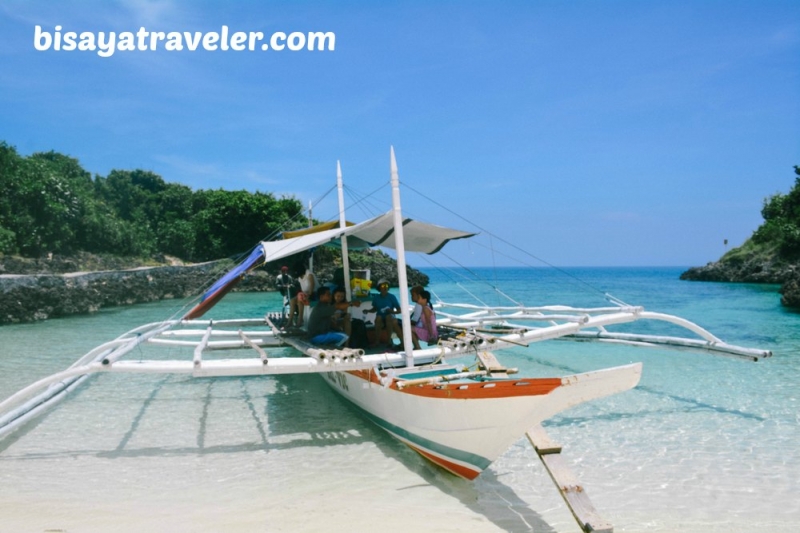 There, we grilled the fresh fish we bought in Tapilon and indulged on its clear and clean waters.  Meanwhile, the boatmen went to their barrio, which was pretty near the area, to eat lunch and fix some problems on their vessel.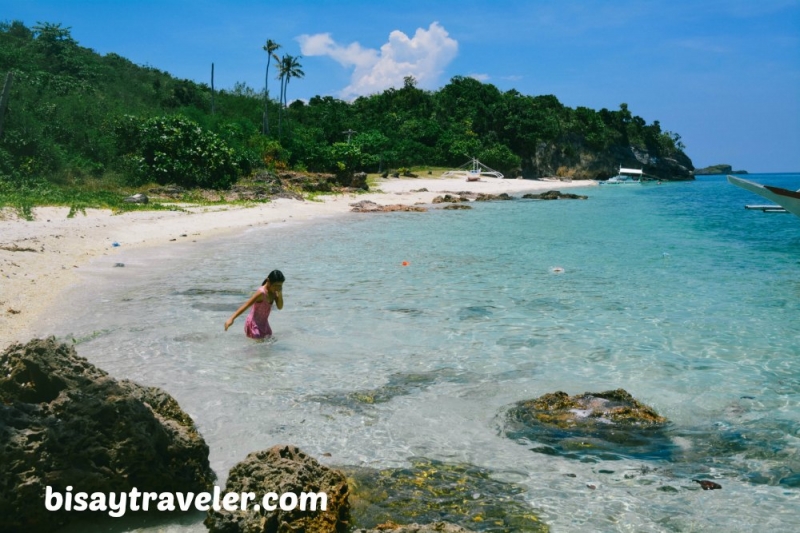 Once we have settled in, I left the beach for a while to do some exploration alone around the island. As Jezreel has said earlier, there's great spot to enjoy sweet panoramas of Carnaza Island and its nearby islands. And they call it the "airport".
In my search for the airport, I got lost and bumped into some helpful people. I was in the midst of their barrio, enjoying the sights and sounds of the place. In some way, it evoked memories of childhood in my mom's secluded island in Bantayan, Cebu. Eventually, with the help of a few new-found friends, I found the road leading to the airport.
I didn't, however, go to the tip of the road because I thought it would take a lot of time to get there. So, I went back to the main road to find the trail back to our base. Thankfully, though, Tirso and his merry crew found me and invited me for lunch.
I told him that I can't find the airport. And in an instant, he asked his son to drive me up to their airport through their motorcycle.
Also read: Beach Getaways in the Philippines: 12 Resorts with the Most Stunning Views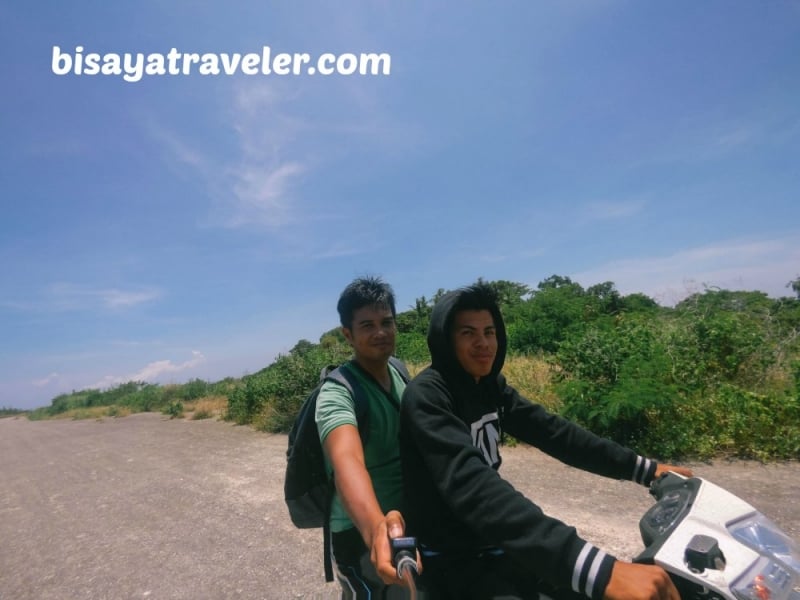 To make things short, we arrived at the airport. From my point of view, the vistas from here were great, even though the whole place needs some cleaning and bush trimming. On the other side of the landing strip, we saw a sweet panorama of Leyte.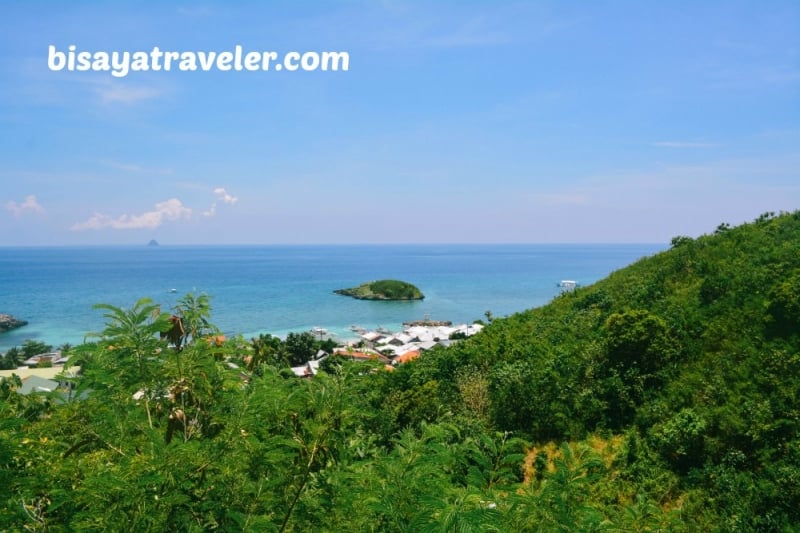 With my stomach grumbling, we left the area and went back to the beach where my family was staying.
Upon my arrival, I grabbed a paper plate and filled it with rice, fish and lechon. Needless to say, I ate more than I normally do. After all, I didn't eat my typical breakfast meal and I was on a short expedition around the area.
With a rested body and a full stomach, I took a swim on the beach with my family. Kimberly, our energetic adopted child, had a blast swimming and snorkelling. Likewise, my wife as well as my sister, Mara, had a memorable stay on the beach taking photos and diving into the island's turquoise waters.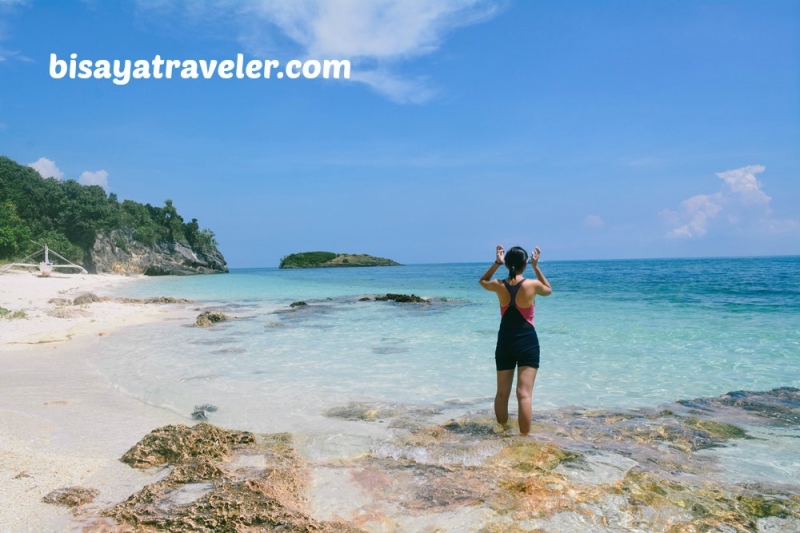 As for me,  I felt a whole lot better after plunging into the waters of Carnaza Island. I guess the saying "salt water heals everything" is true. Well, maybe not for the broken heart.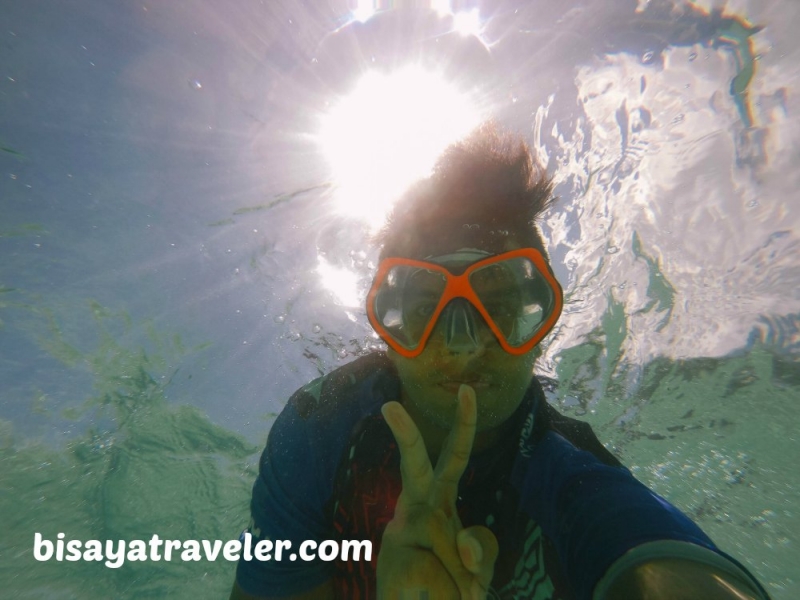 Our La Manok Island side trip
Minutes later, Tirso and the rest of the group arrived to fetch us and transport us to La Manok Island. We hopped on the boat and travelled to our last destination in Daanbantayan.  From my own estimation, it took about an hour or less for our boat to reach this island.
Prior to our trip, I had high expectations of this sandbar.  I even thought it was the most underrated hidden treasure in Cebu.
But, as it turns out, it was one of those places perfectly depicted by the expectation-versus-reality memes. As far as I'm concerned, La Manok Island has the beauty and all the tools to be one of the best and most awe-inspiring sandbars in the Philippines. Unfortunately, the sandbar isn't as beautiful as it was once was.
According to the locals, there have been plenty of barges and spacious boats harbouring pebbles and sands on this strip, making it thinner and unappealing. Not to mention, there were fragments of trash scattered all over the place, from liquor bottles to plastic bags.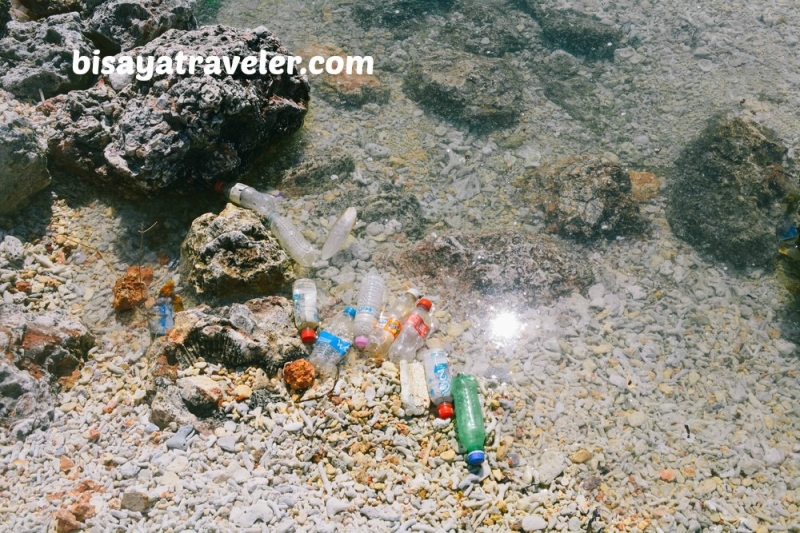 Jezreel was even taken aback by what he just saw on the island. Hopefully, the tourism department and authorities in the area would take strides in preserving the beauty of this place. I know it's a long shot, but I hope someone in the Daanbantayan local government could read this and do something about it.
Yet, for all the unattractive human touches and traces on the island, we still were blissful of our side trip on La Manok Island. We snorkelled, played and enjoyed the sights of this far-off island in Daanbantayan.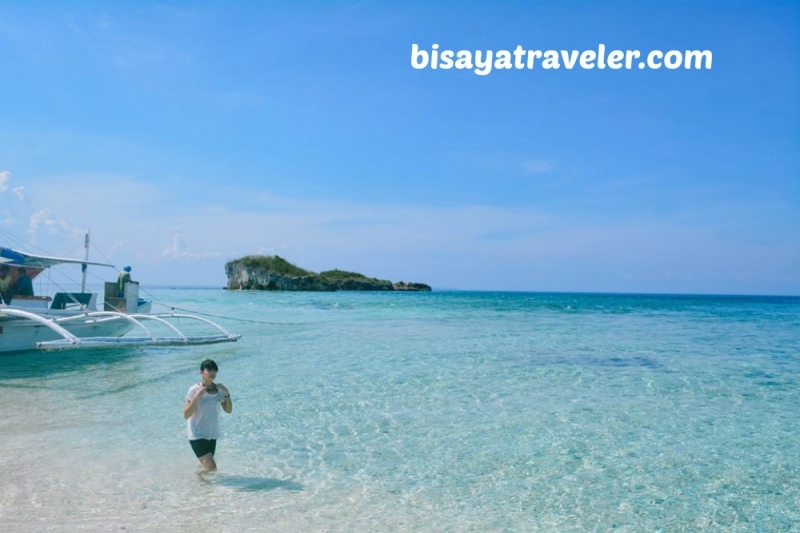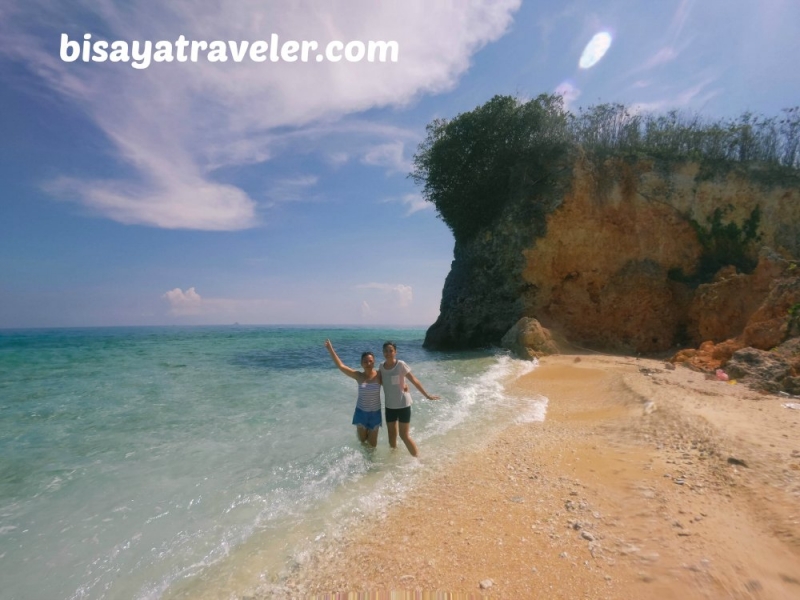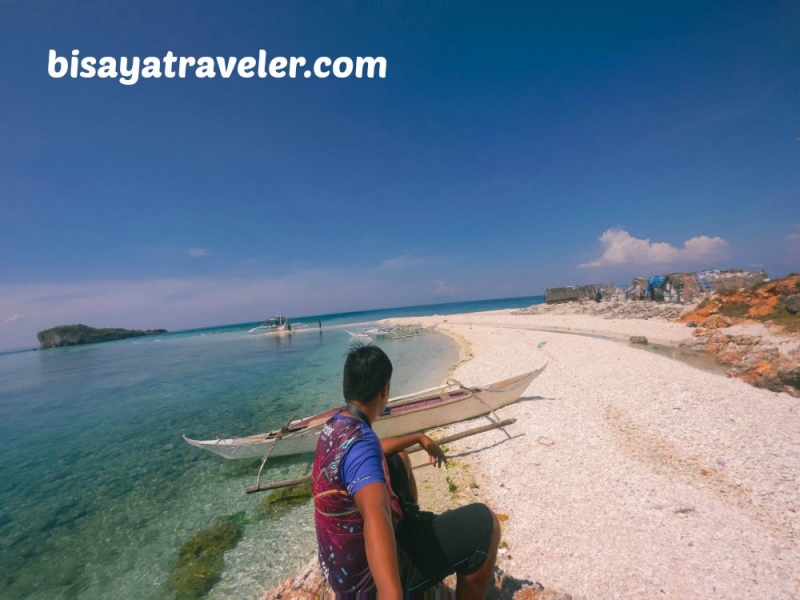 We then left the island and sailed back to Tapilon port.
I must say it was quite a day for my family. And in my opinion, Caranaza Island is one of the best underrated destinations in Cebu. Guess what? I'm going back there and spend a couple of days hiking, swimming and exploring the island with Team Bang.
My Carnaza Island travel itinerary
03.00am: Wake-up/make final preparations

03.30am: Depart from the city

08.00am: ETA Tapilon Port

08.30am: Depart for Carnaza Island

10.30am: ETA Carnaza Eco Park/explore the area

10.50am: Depart from Skull's Cove

11.10am: ETA Skull's Cove/check the area

11.30am: Depart for Kaelina Beach/depart for the airport

12.35pm: ETA the airport

12.45pm: Depart from the airport

01.00pm: ETA Kaelina Beach/lucn/swimming

01.30pm: Depart for La Manok Island

02.10pm: ETA La Manok Island/explore the area

03.10pm: Depart for Tapilon Port

05.30pm: ETA Tapilon Port/Depart for Cebu City

10.00pm: Home sweet home
Alternative two-day itinerary
Not everyone is as energetic as me, and my Carnaza Island itinerary may not be ideal for some folks. That's why I've outlined a two-day itinerary for those who want to chill on the island.
Day 1:
03.00am: Wake-up/make final preparations

03.30am: Depart from the city

08.00am: ETA Tapilon Port

08.30am: Depart for Carnaza Island

10.30am: ETA Carnaza Eco Park/explore Skull's Cove and other attractions

12.30pm: Lunch/check-in at your accommodations

01.30pm: Siesta

02.30pm: Hit the beach

04.30pm: Explore the barrio

05.30pm: Watch the sun set at the airport or beach

06.00pm: Relax

07.00pm: Dinner/socials

08.30pm: Lights off
Day 2:
09.30am: Wake up/breakfast

10.30am: Make final preparations

11.30am: Early Lunch

12.00pm: Depart for La Manok Island

12.40pm: ETA La Manok Island

02.30pm: Depart for Tapilon Port

04.30pm: ETA Tapilon Port/Depart for Cebu City

08.30pm: Home Sweet home
Important contact numbers
Carnaza Eco Park – 0922 752 0272/ 0933 402 6611/ 0916 791 9603

Tirso (owner of the boat) – 0948 078 7894
How to get to Carnaza Island
From Cebu North Bus Terminal, take a bus bound for Maya Port and tell the conductor that you're going to Tapilon Port. Travel time is three to four hours, and fare is ₱163 to ₱200. Upon your arrival, ask the locals in the area the location of the port where boats from Carnaza Island dock. Then, hop on a boat that will take you to the island. Fare is ₱100 per person (per way), and travel time is about two hours.
Their schedule, however, is somewhat unpredictable. For the most part, this boat ride departs from Tapilon at around 7 to 8am. Not to mention, there's only boat ride (mostly transporting locals) per day that will go to the island.
For a sure-fire bet, I suggest that you rent a boat that will take you to Carnaza Island. It might not be as cheap as the first option, but it's a guaranteed solution. Plus, their boat rental services also include stops to La Manok Island and other interesting places to visit on the island. Price is ₱3,500 to ₱4,000 per boat, and can accommodate as many as 15 people. Truth be told, Tirso's boat is so spacious that it can even accommodate more than 30 people. Just reach out to him and try to negotiate the price.
Important tips
Charge up your batteries, and pack up a power-bank. The electricity on the island only runs from 6 to 9pm every day.

Pack some sunscreen and wear a pair of sunglasses to protect your skin and eyes from the scorching heat of the sun.

Don't forget to greet the locals.

Bring food and drinks.

You can pitch a tent on Kaelina Beach and stay there overnight. Alternatively, Carnaza Eco Park has cushy rooms with prices ranging from ₱300 to ₱1,500. You may also reach out to Tirso and ask him if there are locals offering rooms on the island.

Practice the LEAVE NO TRACE principles.

Have fun.
Final words
Carnaza Island has all the hallmarks of an "idyllic" and serene destination. From its gorgeous waters to its lush hills, the island will sweep you into bliss with its laid-back atmosphere and breathtaking scenery. But in my book, it's the friendly and helpful locals that really make this island special, appealing and charming. And, even though it's not as popular as Malapascua Island, I'm pretty sure Carnaza will give Daanbantayan's crown jewel a run for its money, in the near future.