Featured image credit: Netflix/Magic Liwanag | Cebu culinary heroes (L-R): Rubilyn Marayon, Ian Secong, Leslie Enjambre with (seated) Entoy Escabas
Last 26 April 2019, Netflix's Street Food Asia episode 9 featured the Philippines' Queen City of the South — Cebu! Placing Cebu on the culinary map were four local food heroes and their respective popular dishes. Read on to know more of these four Cebuanos and their culinary prowess!
Also read: 5 Hours In Cebu: How I Explored These Beautiful Spots On My Layover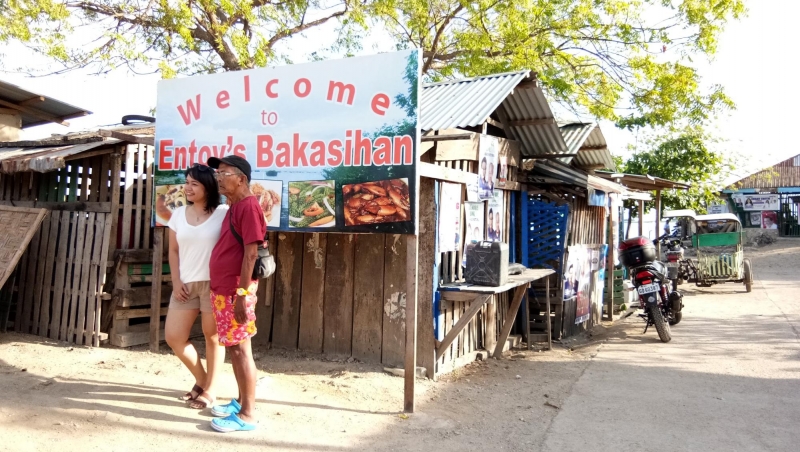 The episode opens with a sweeping view of the Cordova coastline before daybreak. The playing of a guitar is also heard while a lady croons an old Filipino kundiman song. The main highlight of the show is Entoy's bakasi.
Nilarang Bakasi by Entoy Escabas (sour stew reef eel)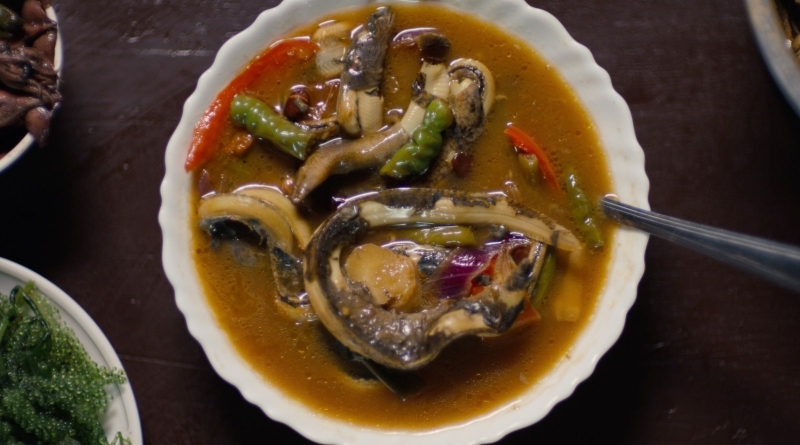 Bakasi, AKA seawater reef eels, are frowned upon. But Florencio "Entoy" Escabas has elevated the way the dish is prepared. With the help of his wife, they experimented with some ingredients using the classic nilarang method. They create the broth with herbs and vegetables, then they make it sour with green mango and fermented black beans which gives the broth a unique flavour. Nilarang can be used with any type of fish but it tastes even more unique if you cook the fish with a reef eel or bakasi. They say it's an aphrodisiac, too!
Entoy's nilarang bakasi attracts locals and culinary adventurers to his humble bakasihan. The way to his place is a bit of a challenge so it's best to ask the pedicab driver to wait for you if you're commuting.
Tuslob Buwa by Yannix Sekong (Cebuano fondue)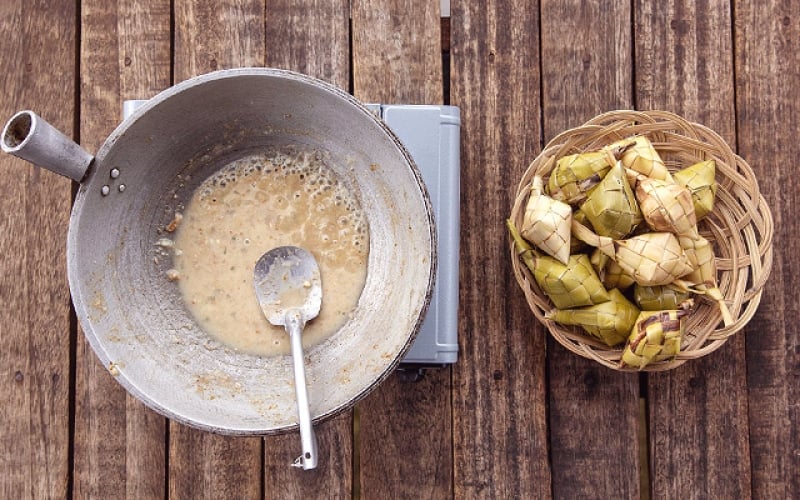 "Tuslob"  is Cebuano for "dip" while "buwa" is Cebuano for "bubbles". The dish's name is based on the process of eating it. When translated to English, it means "to dip into bubbles".
Tuslob buwa is a simmering pot of bubbling gravy made with pig's exotic parts, or as Chef Tatung Sarthou puts it — "Filipino fondue". When food writer Jude Bacalso asked Ian "Yannix" Sekong why he serves Tuslob Buwa, his reply was spot-on, "Because the dish is almost an urban legend. People not from Cebu ask me where they can get it. No one can point a regular spot, so I decided to serve it myself."  Yannix innovated the way to eat Tuslob Buwa by making it more hygienic which is a different style from the traditional one.
To make Tuslob Buwa, you first preheat the pan then you sauté onions and garlic with cooking oil. Second, add the pig's brains, minced pork liver and innards, dried shrimp (to taste), Abog sa Yawa (chilli pepper) and soy sauce. Then, sauté all the ingredients again. Set the level to low fire until a froth is formed. You eat this by dipping the puso (hanging rice) into the froth.
Lechon by Leslie Enjambre (roast pig)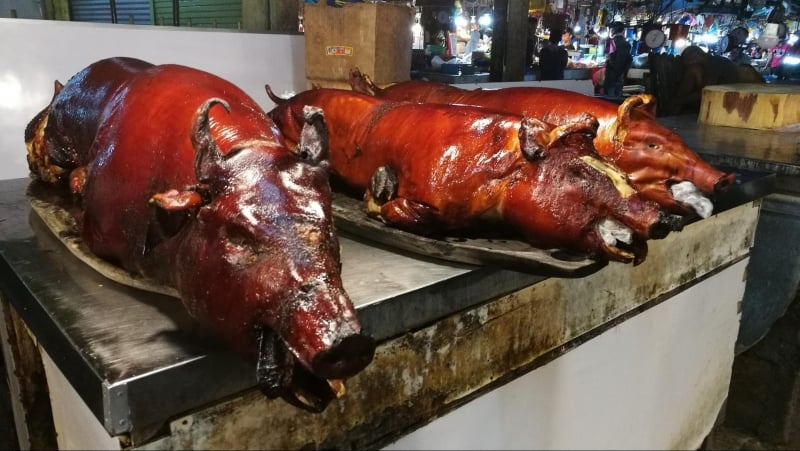 You cannot leave Cebu without tasting lechon!
The centre of every Filipino celebration is lechon, which outshines other viands on the table. Leslie Enjambre's grandmother started the lechon industry in the 1940's. They would use coconut lumber, which gives the perfect crisp to the skin when roasting the pig. One of the best places to have lechon is in Talisay. You have to visit the lechon vendors early in the morning as the lechon runs out before lunchtime.
Lumpia by Rubilyn Diko Manayon (Chinese style spring roll)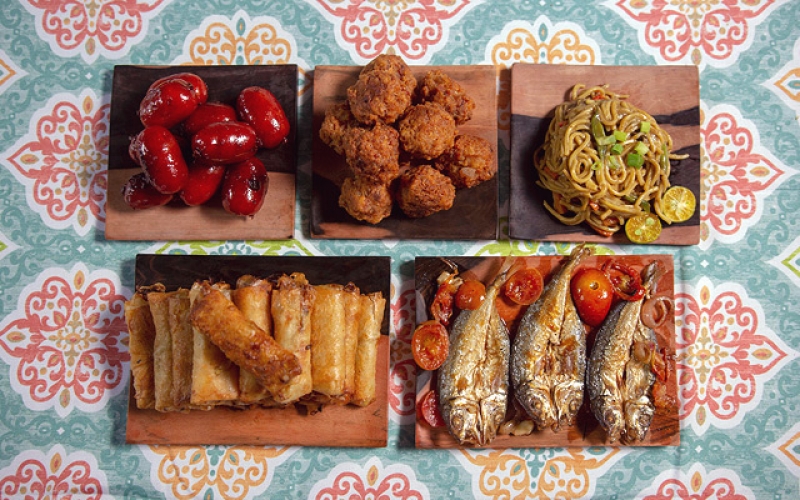 En route to Entoy's Bakasihan, the production crew chanced upon Rubilyn Diko Manayon's small green carenderia and they fell in love with her vegetable lumpia. She proudly sells 18 different dishes but the best seller is the vegetable lumpia. The best way to enjoy a vegetable lumpia is by dipping the roll into a vinegar. It gives an extra oomph to the dish! Rubilyn also has a motto that gets her through life: "Never be lazy. No matter how poor you are, you'll live."
Also read: Our South Cebu Adventure: 4-Day Itinerary, Cost-Breakdown & Highlights
These four culinary heroes just made history for Cebu's food scene. Together with their dishes, these Cebuanos will somehow be etched in the minds of Street Food Asia viewers from around the world. Tatay Entoy, most especially, will be remembered for his hard work, his contribution to his community, and his legacy to the Filipino food scene.
Street Food Asia features not only Cebu, Philippines but also the rich street food culture of eight other countries in Asia, which are Thailand, Japan, India, Indonesia, Taiwan, South Korea, Vietnam, and Singapore.
Watch the trailer below: