Did you have a favourite book when you were a kid? Perhaps a title you kept picking up, whose pages your little fingers couldn't stop leafing through? The wondrous realm of children's literature continuously molds and hones young, bright minds. But rarely do we see a children's book about travel — and one that's authored and illustrated by two brilliant Pinays to boot!
Dreams of Faraway Places, a children's book written by Filipina Irene Catiter Gutierrez, is a touching tribute to all families whose plans were waylaid by COVID-19. On the book's cover, as well as its all over its inside pages, are illustrations by the talented Jewelle Villarisco.
If Gutierrez's name seems familiar to you, that's because she and her husband Aaron made waves online for having been to each of the world's seven continents as a young Filipino couple!
Also read: This Filipino Couple Has Travelled the World's Seven Continents — Here's How They Did It!
A 'coronial' baby inspired this new mom to self-publish a children's book about travel
While their love for travel still burns fervently even amid global lockdowns, Aaron and Irene recently dove headfirst into their next adventure: parenthood. Their 'coronial' baby, Atlas, was essentially born into a world where travel ceased to exist — just until countries could win the battle against a particularly rabid strain of the coronavirus.
The first-time parents welcomed their bouncing baby boy just as COVID-19 started wreaking havoc across the globe. Soon after, Dreams of Faraway Places was born. The idea was to spread light and love to families all over, whose many plans were put on hold because of the pandemic.
"This book is dedicated to Atlas and Aaron and to all the families, who like us, are experiencing the joys and challenges of raising a child in these unprecedented times. We want to tell them that we are all in this together — that though we can't go out to see the world yet, we can bring the world to our little ones," said Irene in an interview with TripZilla.
Before having Atlas, the Singapore-based couple travelled the world insatiably. They even offered TripZilla some tips and tricks on how to make dream travels come true. Of course, it was only natural for them to want the same thing for their firstborn. For Irene and Aaron, travel was a journey towards self-discovery — as individuals, as boyfriend and girlfriend, as spouses, and now, as parents. It's a lifestyle that introduced lessons that the four walls of any school or office couldn't.
Also read: Here's Why Travelling Brings Out The Best in People
TripZilla spoke with Irene Catiter Gutierrez about married life, newfound parenthood (and authorhood!), and uncertainty amid a pandemic. While we highlight her children's book about travel and why it's certainly a collector's item for any avid reader, Irene also shares some uplifting insights for travel-loving souls feeling lost or downtrodden because of this pandemic.
How do you travel without actually setting foot outside?
When Irene realised that they could be stuck at home for quite some time (especially with Singapore's strict circuit breaker system in place), the idea struck. Her mother's instinct to assure Atlas that everything was going to be alright was so strong, it resulted in a precious children's book about travel.
"When I first thought of the story for the book, it was during the Circuit Breaker (lockdown in SG). During that time, we couldn't even take Atlas for a walk outside. For a few weeks, no one in our household went outside (even grocery shopping we did online). We stayed inside our home to keep Atlas safe. And of course, we know that it is the responsible thing to do.
During the early days of lockdown, I felt anxious with all the uncertainties of the world. Me and my husband, Aaron, had a lot of plans for Atlas' first year. We were already thinking when and where we can travel, as we were very excited to take Atlas on his first trip. Everything we planned has been put on hold and we know that we must wait when it is already safe to travel again."
Writing this children's book about travel was also about self-assurance
As is the case with everyone, the pandemic put a lot of pressure on Irene and Aaron. She turned to writing as a means to assuage her fears amid such uncertain times. Being a first-time parent was unknown territory… a global pandemic, even more so. Dreams of Faraway Places offered Irene the chance to escape into an alternate reality. At the same time, it was a vehicle for seeing into her family's future, which is fueled by their collective hopes.
"Writing this story for Atlas was a way for me to de-stress. Writing it was like therapy because I was able to look back as I relived the memories of my previous travels with Aaron, and at the same time look at the future with optimism. It gives me so much hope — that there's always something to look forward to and someday we will all be able to do the things we enjoy again. And my wish is for those who will read this book to get the same feeling of love and hope."
"Marrying the right man" also paved the way for the publication Dreams of Faraway Places
Dreams of Faraway Places features a baby boy named Atlas as the protagonist. Isn't it so heartwarming that Irene made her son "travel" to all the places illustrated in the children's book through its colourful pages? While it is clear that Dreams of Faraway Places is for Atlas, Irene was quick to acknowledge the pivotal role that her husband played in the book's inception.
"I initially wrote this book only for Atlas because I wanted to share with him our travel stories. My husband was the first one to read the story I wrote, and he loved it! He was the one who pushed me to publish it. He convinced me that other families might be able to relate and enjoy the book, too. If it weren't for my husband's support, I wouldn't have the confidence to publish it.
I was ready to just have it as a personal book for Atlas, but seeing how my husband believes in me, I told him: 'Yeah, let's do it!' Imagine if my husband didn't believe in this "pandemic project" of mine and if he just shot down the idea when I first asked him to read the story — I might not have had the courage and confidence to push through with publishing it for others to read.
It is true that the person you marry will have a big impact in determining the happiness in your life and your success. I really believe that the biggest decision of your life will be who you choose to marry. I'm so happy that I made the right decision."
With the book's proceeds, the Gutierrezes give back to marginalised children
From its origins to the story itself, Dreams of Faraway Places seems like the embodiment of the deepest depths of parents' unconditional love for their children. Irene and Aaron take it a step further by donating a portion of their proceeds to Kythe Foundation and International Justice Mission, two organisations that they have been supporting now for years.
"It is a decision that me and my husband made that as much as possible we want to live a life of service to others. Since this is a book which came out because of the pandemic, we would want to help those that are most affected and most vulnerable during these times — the marginalised children.
For Kythe Foundation, I started to work with them in 2008 when I was still in the Philippines. They take care of chronically ill patients in the pediatric wards of several hospitals around the Philippines. Through the book, we are supporting Kythe's pandemic program of providing personal activity kits to the children under their care. This is to help their child patients cope in the hospitals during these socially distanced times. The foundation believes that healing should be a holistic process, and that is something that resonates with us as well.
For International Justice Mission, we came to know about their organisation last year, and since then we had the opportunity to (virtually) meet a few of their members who are based in the Philippines and Singapore. Meeting the team behind IJM was such an honour and eye opener as well because we learned a lot about what they do to rescue children. We are supporting their fight against Online Sexual Exploitation of Children (OSEC) in the Philippines. 
Lockdowns have created the perfect storm for traffickers to commit the crime. Most of us feel safer at home during community quarantines, but not everyone is safe in lockdown. There is a surge in abuse and exploitation during these times. That is why we want to help IJM Philippines rescue more children from abuse."
Fun fact: Irene found her children's book illustrator on Instagram!
It may not seem that way because Dreams of Faraway Places is so put-together, but it is actually Irene's first published book. In fact, Irene shares that the only time she could get to work on the book for extended periods was when Atlas was fast asleep; now that's one dedicated supermom! What's more amazing is how Irene used social media to find her illustrator, Jewelle Villarisco.
"This might be an untraditional route, but I found my amazing illustrator on Instagram! I think that's one good thing about social media — it connects us. I fell in love with Jewie's work as soon as I saw her feed on Instagram, as she regularly posts her drawings there. I also saw other artists on the same platform, but I had a "look and feel" that I was hoping to achieve for the book and I felt that Jewie's style was just perfect for what I was aiming for.
So I decided to contact her, and she provided me with her portfolio. I was surprised to know that she had already illustrated a few books at such a young age; so between the two of us, she was the experienced one in this book thing. I decided I would need someone who had previous experience in book illustration to somehow guide me through the process. I'm glad that I worked with her because everything came out how I envisioned it to."
Being parents definitely changed travel as they know it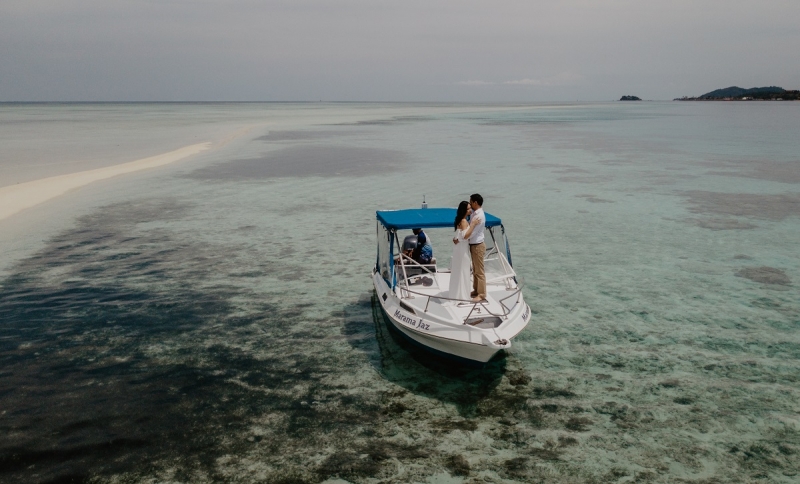 With the pandemic still in full swing, it will take a while before the Gutierrezes can see their family travel plans to fruition. But creating a children's book about travel allowed them to look back on their past trips with gratuity and awe. So would they still travel the same way now that baby Altas is in the picture?
"Before when we were travelling as a couple, we were very adventurous and would even go on spontaneous trips without any itinerary. Now that we have a baby in tow, we feel that we have to carefully plan for our trips moving forward. Our priority changed. We know that when it is already safe to travel again, we would definitely plan everything ahead and make sure that the trip prioritises safety and comfort for the little one.
Before, as much as possible, we would want to go to a new destination instead of going back to a destination over and over. We thought it would be nice to experience more of the world; there is much to see, so we wanted to go somewhere new each time. But now, being parents, we feel that we wouldn't mind going back to the places we've been to before; we know that we would enjoy showing it to Atlas for the first time and we would create new and happy moments as a family. Maybe it is not the place anymore, but who you are with, that matters most."
Still no place like home
Talking about a children's book about travel, we couldn't resist asking about the Gutierrezes' travel plans once it's safe to go on trips again. Their first stop? The Philippines, of course, because truly, there is no place like home — especially after a harrowing pandemic.
"We had a long list of places to visit with Atlas that we planned even when he was still in my tummy. We didn't travel much when I was pregnant. Then right after giving birth, the pandemic started; so we haven't been able to go back to the Philippines for almost two years now. 
Also read: 10 Reasons the Philippines Is Worthy of Your #TravelGoals in the New Normal
Our home country is certainly the first place that we're planning to visit once all this is over. We would certainly love for Atlas to meet our family and friends in the Philippines in person. We miss all of them and most of them have only seen Atlas in photos or videos, so we're most looking forward to spending as much time with them as possible when we go and visit home. We're praying that Atlas will meet these people that care for him so much very soon."
There are millions of us like Irene and Aaron, who yearn to explore the world's corners once again. It was their ardent love for travel and their family that catapulted Dreams of Faraway Places into what it is now — a travel-positive children's book that teaches kids about delayed gratification, the power of an imaginative mind, and the far-reaching ripple effect that starts with a hopeful heart.
"As they say, reading is a passport to countless adventures. And now that I have published the book, other children and families can also join our safe travels and adventures around the world, and we can all look forward to a brighter world than the present," Irene beamed.
Those interested in buying copies of Dreams of Faraway Places may check the book's official Facebook page. With every purchase, you help a child in need.
---
The quotes above have been edited for grammar, clarity, and flow. All images credited to Dreams of Faraway Places | Official Facebook Page.