Contributed by Cheerful Feet of Jai
Coron is one of the most stunning travel destinations in the Philippines. It is admired for its natural beauty, pristine white beaches, delightful coral gardens, mystifying shipwrecks, astonishing lakes and lagoons and dramatic limestone rock formations.
It was in the morning of 13 Sep 2017 when we flew from Mactan Cebu International Airport to Francisco B. Reyes Airport, Busuanga Island to uncover the treasures of Coron, Palawan. From the airport, it took 30 to 40 minutes of drive to our accommodation in the town proper. After taking lunch and some rest, our quest began.
Also read: How I Spent 3 Days in Coron, Palawan for Only ₱4,950 (All-In)
Mt. Tapyas
It is one of the popular tourist spots in the town proper that gives an astonishing view of Coron town and the surrounding islands. No entrance fee is required here. Just prepare your legs and lungs as there are a whole lot of steps (700+ to be exact) to get to the top. Make sure to bring a bottle of water with you to keep you hydrated.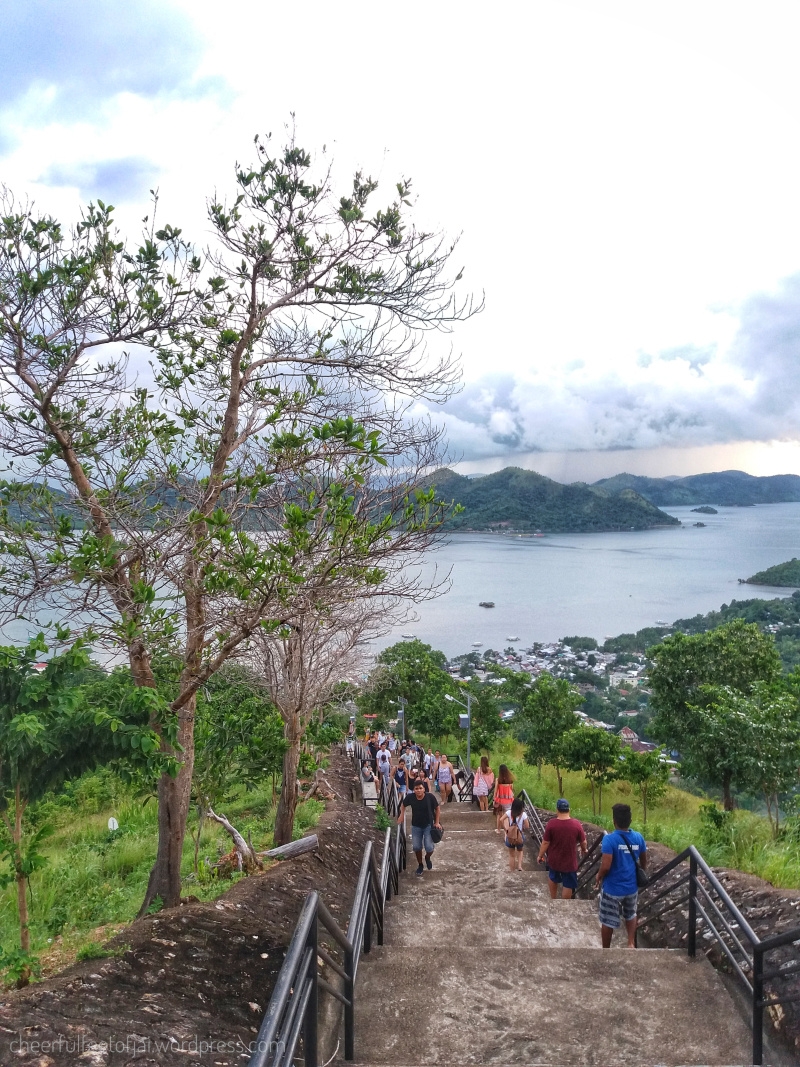 We took a lot of break to catch our breath and admire the sights around. Upon reaching the top, you will be pleased with a magnificent view of Coron and its nearby islands. It was really worth the sweat.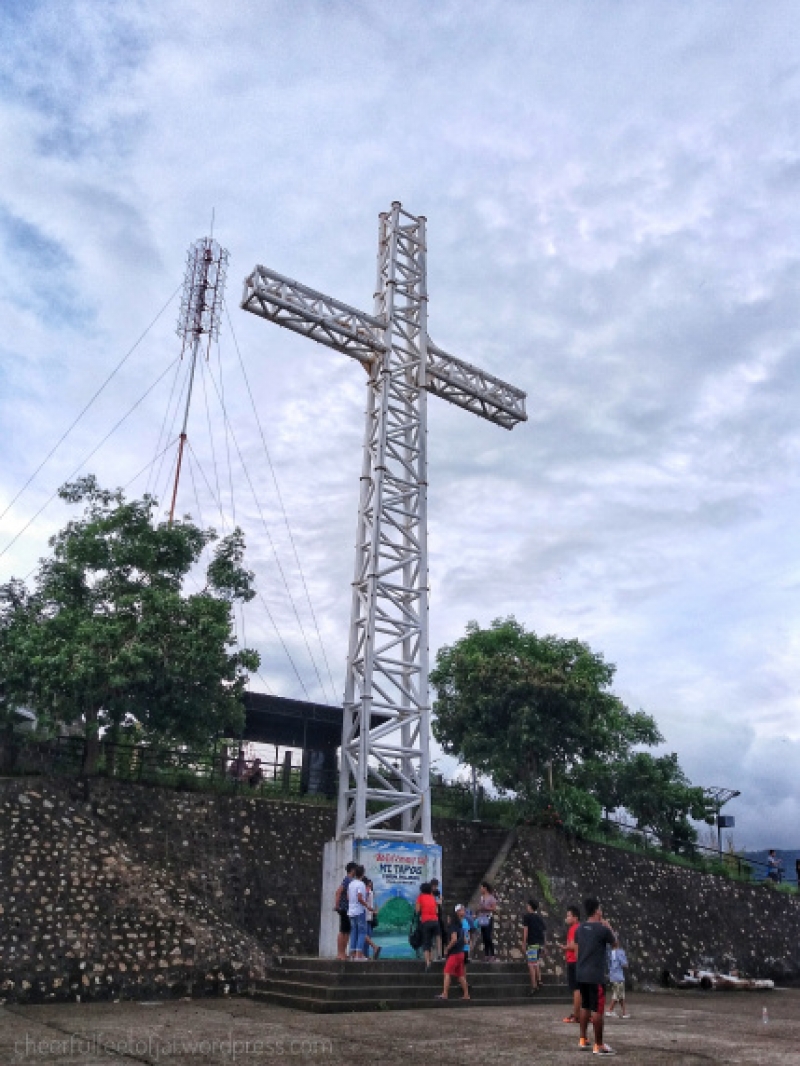 The best time to climb is early in the morning in order to catch the sunrise, or late in the afternoon to see the sunset, which we didn't get to see though. I bet the view would have been more dramatic if we had witnessed the sky aflame with the setting sun but sad to say, the clouds got in the way. It was tiring but the experience was satisfying.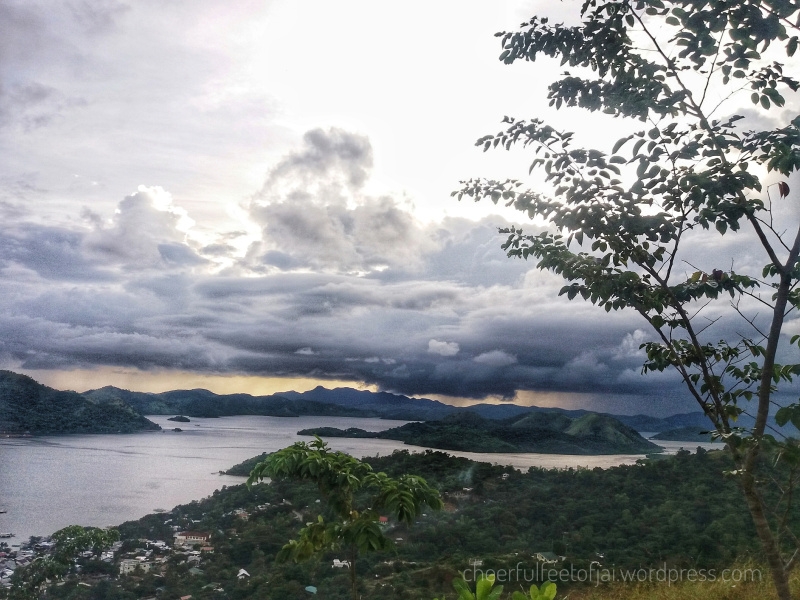 Maquinit Spring
This is one of the few saltwater hot springs in the world and has a temperature of 38 to 41℃. It is a 30-minute wobbly drive from Mt. Tapyas and it was already dark when we arrived in the resort. The water is literally hot but once you get attuned to the temperature, it becomes so soothing. The searing water comforting our tired feet from the short hike to Mt. Tapyas was just perfect. Make sure you don't stay too long and drink some water after since hot springs have a tendency to dehydrate you.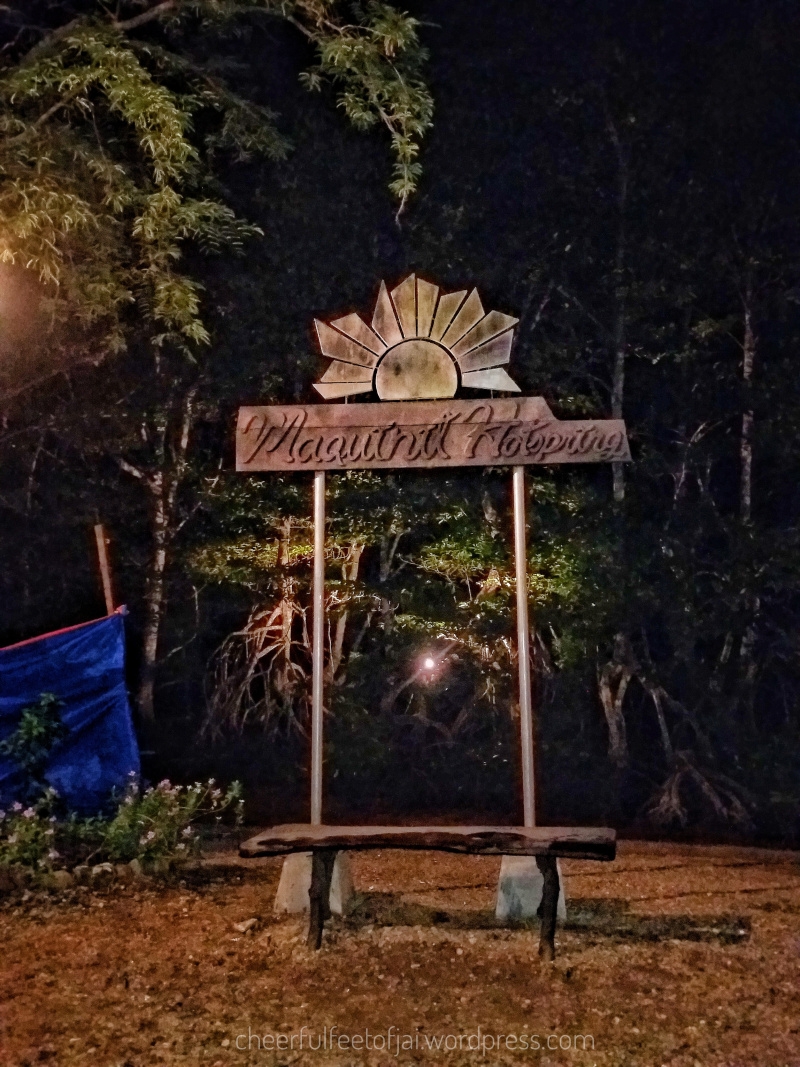 Schedule:
Opening time: 8am
Cut-off time: 8pm
Closing time: 10pm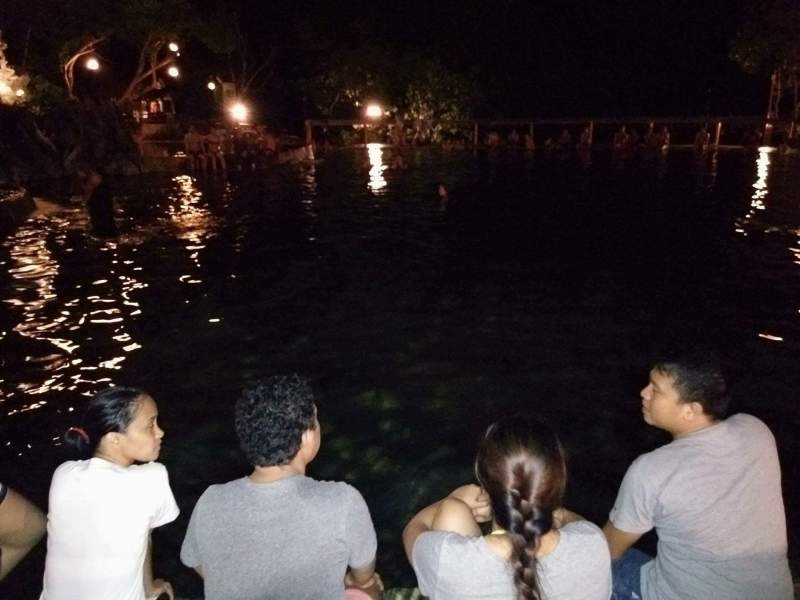 Entrance fees:
Adults: ₱200
Students: ₱160 (Present your student ID)
PWD/senior citizens: ₱143
Children aged 5-10 years old: ₱100
Children under 5 years old – Free
Green Lagoon
This was our first stop in our island hopping during our second day in Coron. The crystal water and the rock formations around it were beyond amazing. It was a fine place to swim in.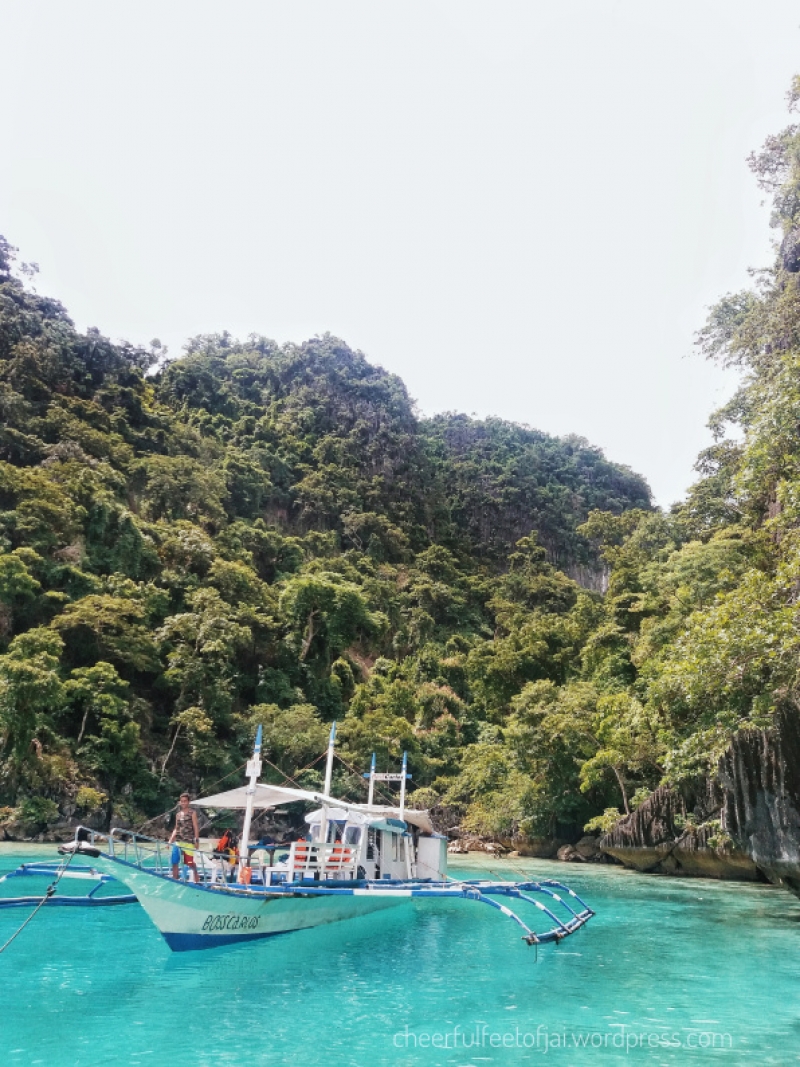 Everyone was full of life and went for a dip in the emerald green water of this lagoon.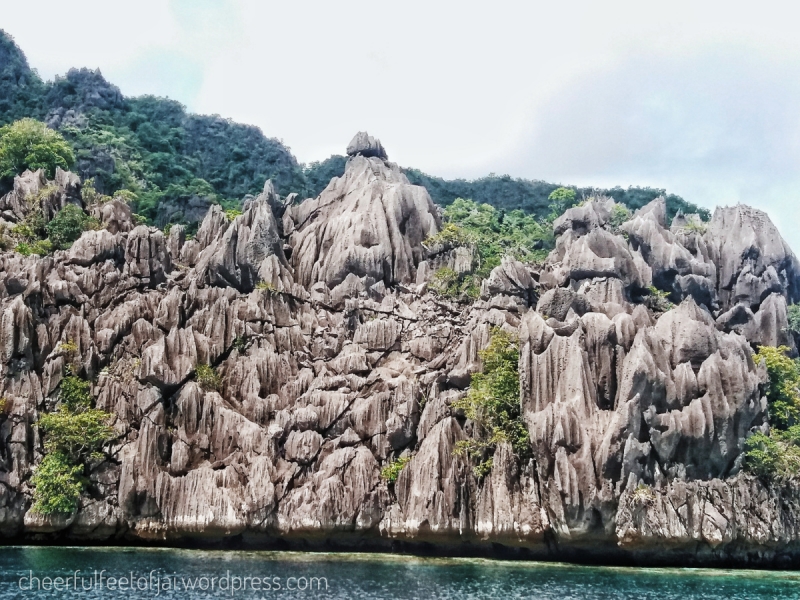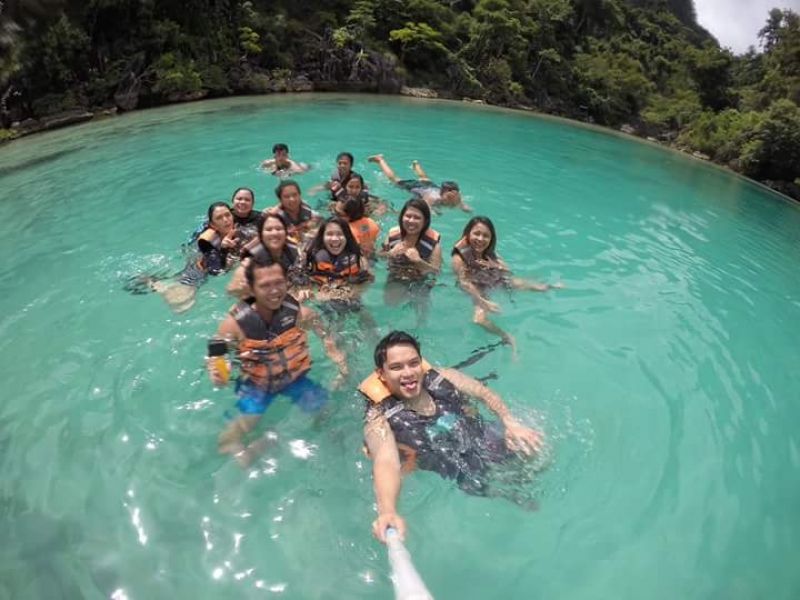 Entrance fee: ₱200.00.
CYC Beach
Our next stop after admiring the beauty of Green Lagoon was CYC beach, which stands for Coron Youth Club. This is the only beach in without an entrance fee. This small island is a place for swimming and snorkelling. Just be careful of fishes thattend to be territorial. I was bitten by one.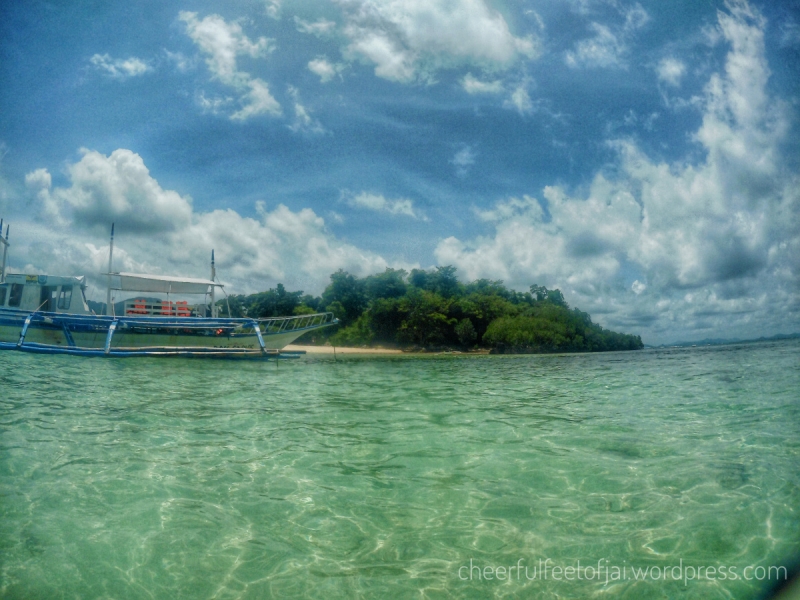 The beach is surrounded by mangrove trees. I didn't get the chance to capture a decent photo because I was busy swimming in search of Dory and Nemo. You will also find vendors here selling ice candies in their small boats.
Atwayan Beach
Atwayan beach is where tourists usually stop by for lunch. Nipa huts add an impressive view of the shoreline that lies in front of rock formations covered by green foliage. You can either swim some more or just put your feet up on a chair, feel the breeze and be at ease.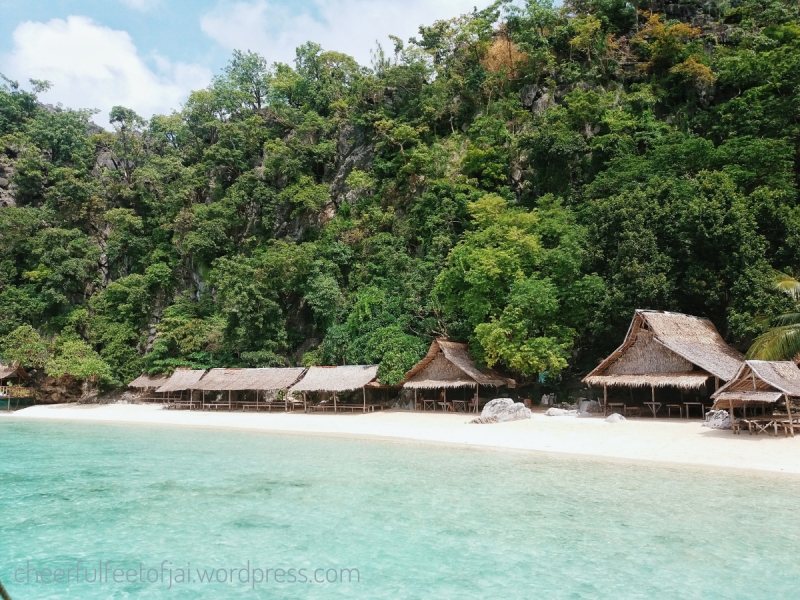 Entrance fee: ₱100
Kayangan Lake
Our last stop for the day was Kayangan Lake, which is one of the most famous lakes in Coron. It is made up of 70% freshwater and 30% saltwater. One needs to trek 300+ steps to have a glimpse of its splendour.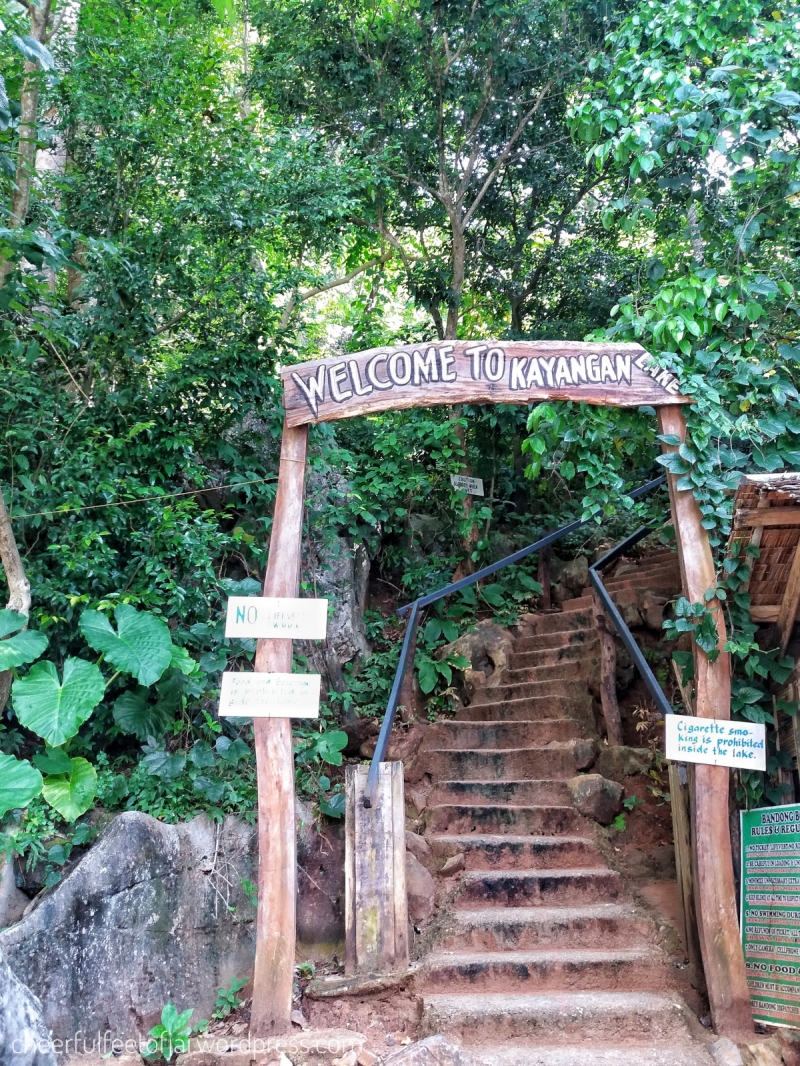 Halfway through the climb, you will see a prominent and probably the most photographed spot in the area, the Kayangan View Deck. You can't leave Coron without taking a photo at this iconic place. The scenery above is breathtaking! You can rest here for a bit while admiring such heavenly masterpiece.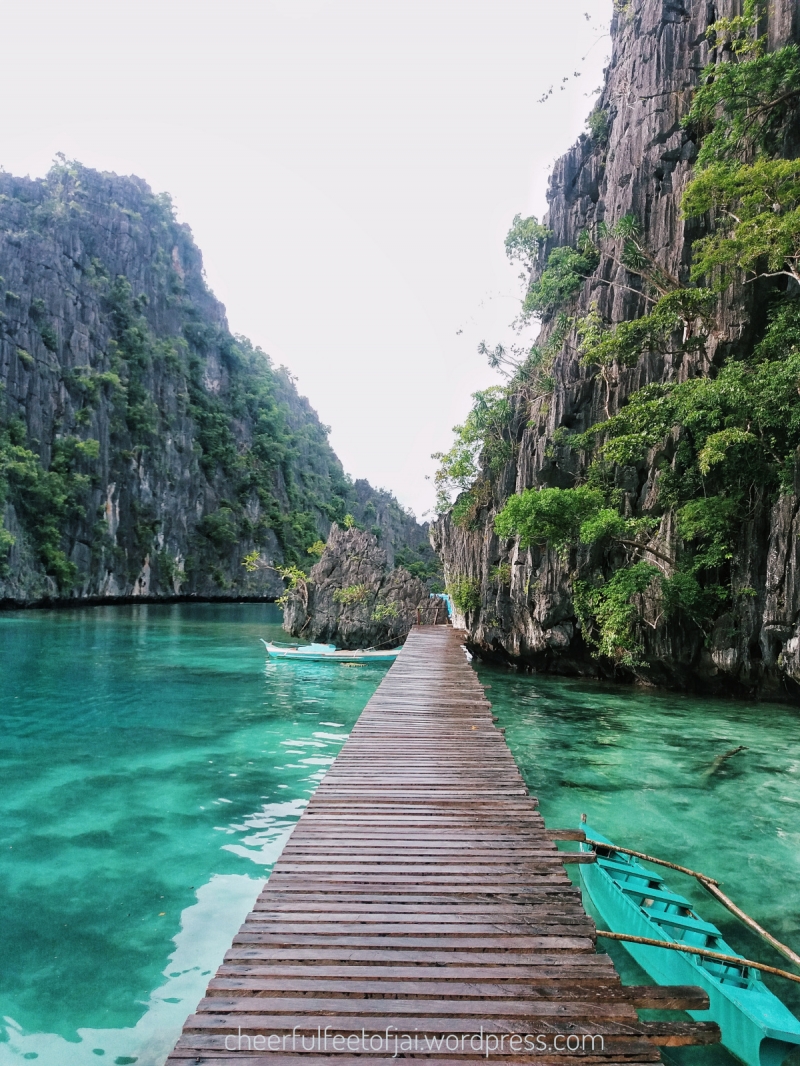 From the view deck, we continued our trek all the way down.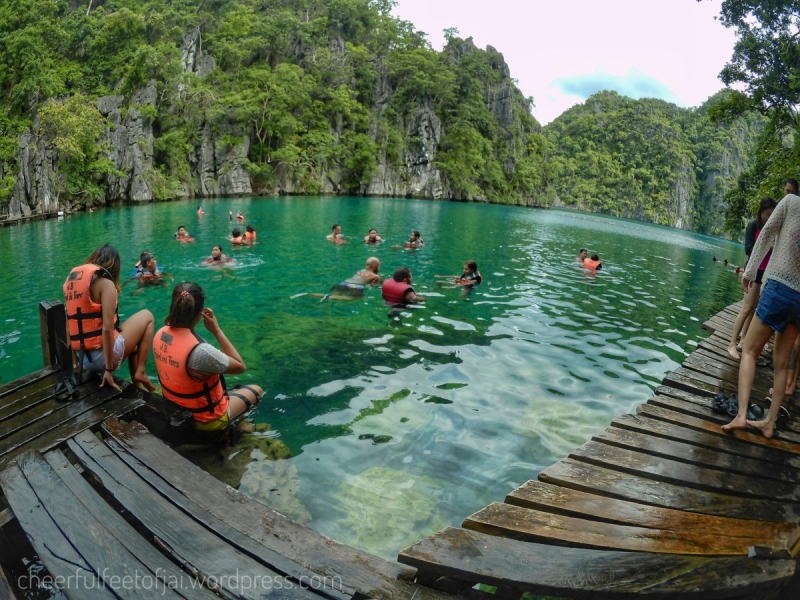 And finally, we were welcomed by a mesmerising lake with water as clear as a mirror bordered by towering limestone formations.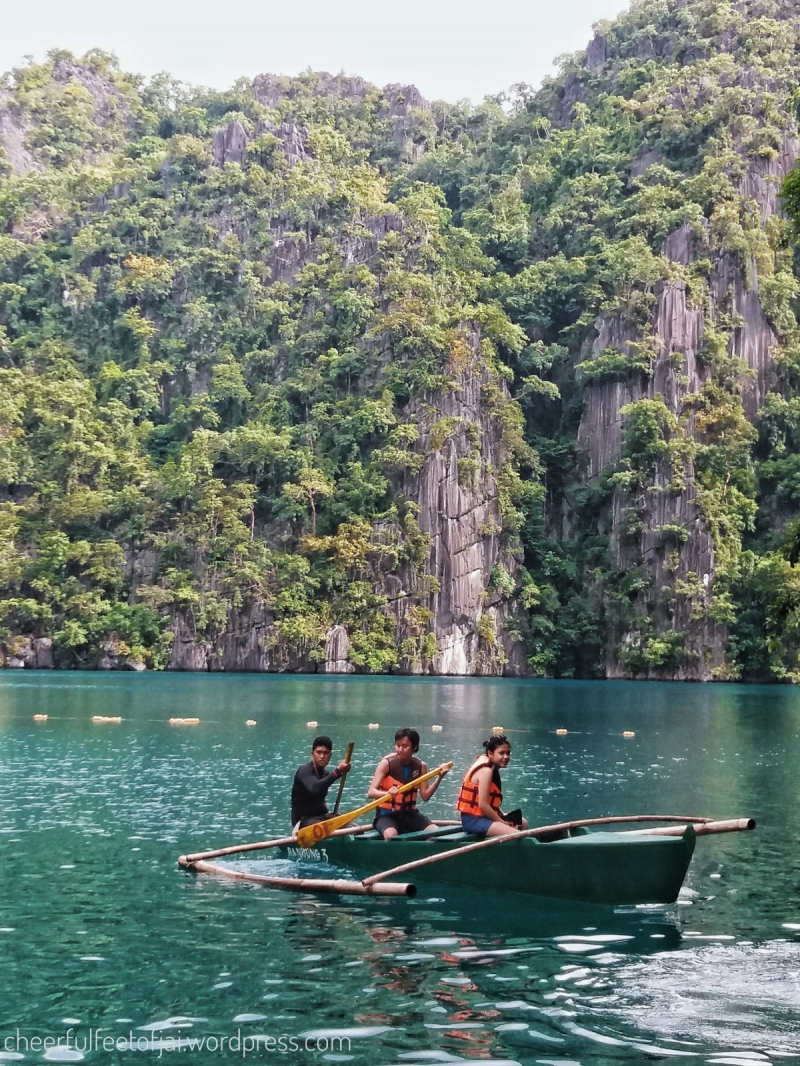 The lake was calling us and before we knew it, we gave in to its tantalising charm. One may choose to swim, explore the rock formations underneath, enter the small cave or just enjoy the enchanting vibe of the lake.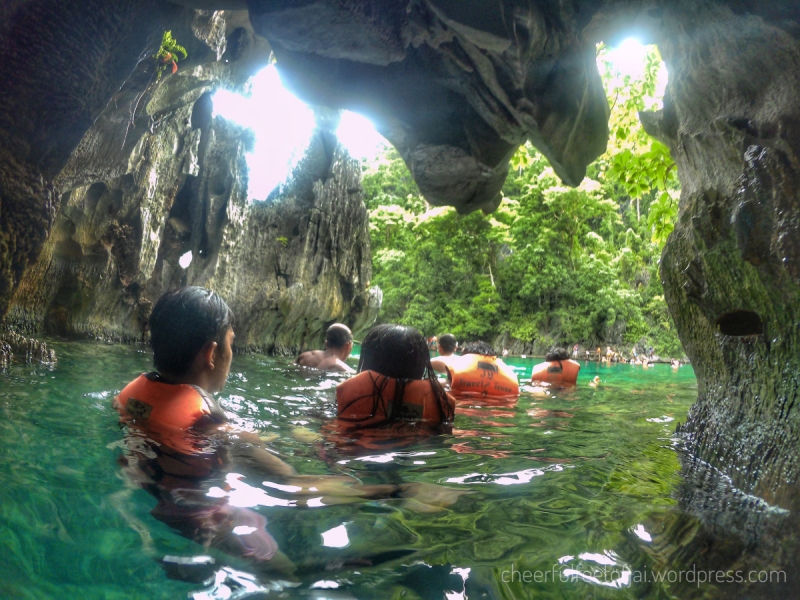 Entrance fee: ₱300
Barracuda Lake
Our third day started in another well-known lake in Coron which is composed of brackish water, he Barracuda Lake. It was named so because there was once a barracuda seen in its waters. One needs to trek only 30-40 wooden steps up an uneven limestone cliff.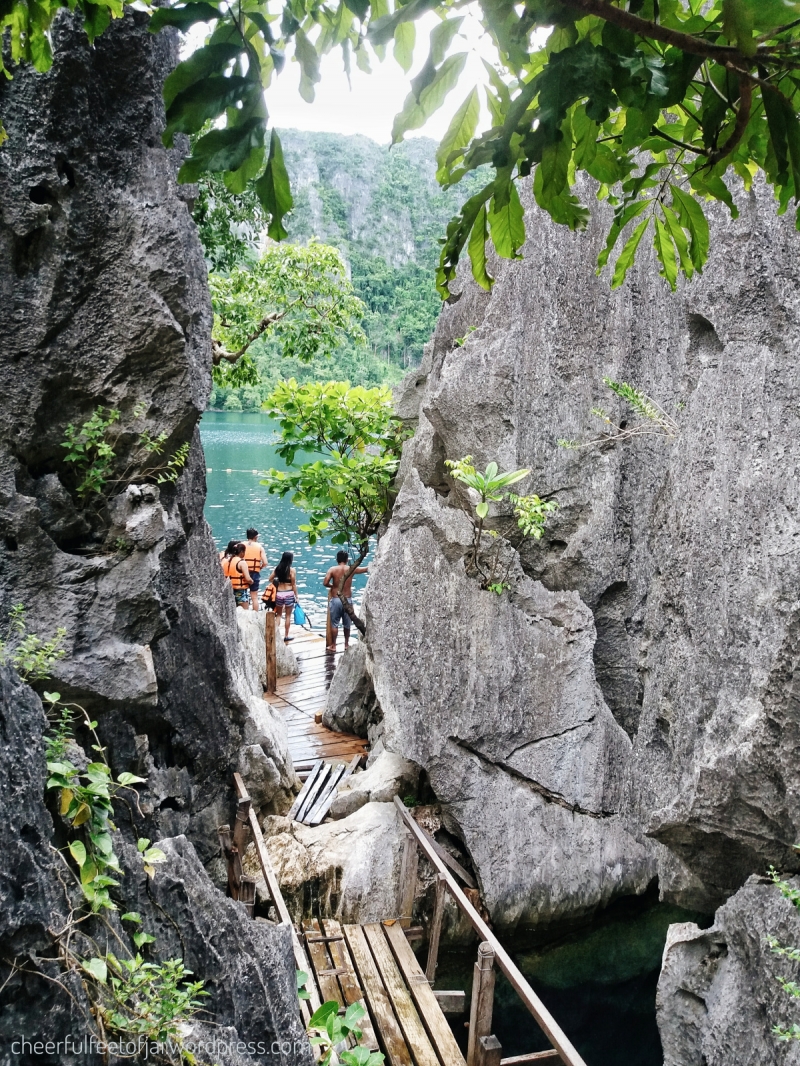 The wooden platform at the entrance of the lake is not so big compared to Kayangan Lake. It can get very crowded at times but lucky for us, only a few divers were there.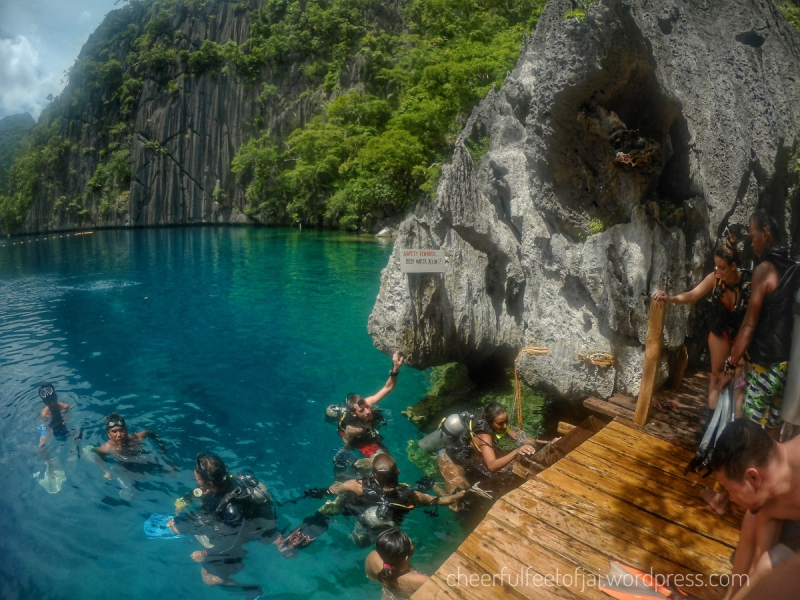 It is a unique diving spot in Palawan because of its interesting temperature that changes from cold to hot as you go deeper. Our tour guide said one can actually see the thermocline where the hot and cold water meet. Sad to say I haven't experience it since I don't know how to dive and we don't have the equipment. But I swear, I'll be back to experience that next time. The serene ambiance endowed by the calm lake and the striking rock formations left us in awe. It was so relaxing.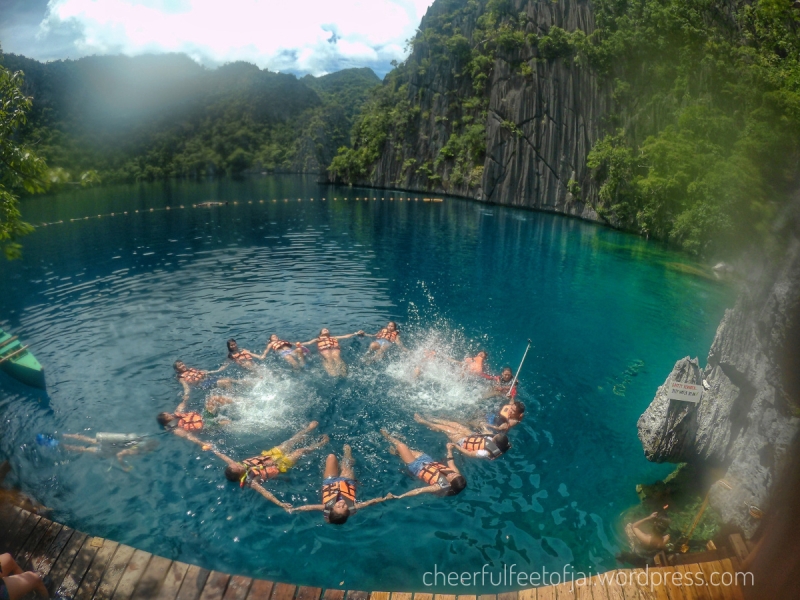 Entrance fee: ₱200
Twin Lagoon
Twin lagoon, as the name implies, is composed of two lagoons. The first one is where the boat docks and the second one is where you have to pass through a small opening underneath a rock or climb a ladder over it during high tide.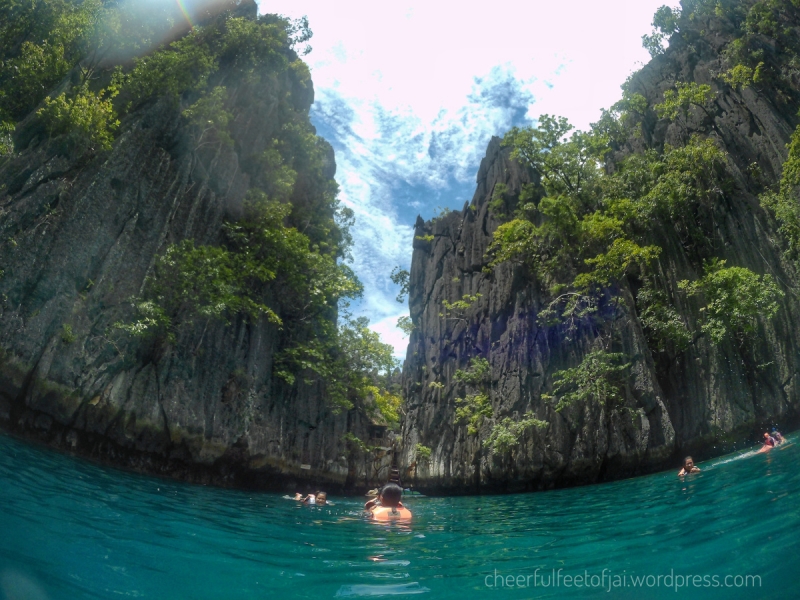 I have my life vest all throughout as the water was quite deep. The place was really quiet and calm, and I couldn't help but be stunned by this masterpiece. It is truly a perfect place to be one with nature and get lost in your thoughts. Its beauty is not to be missed.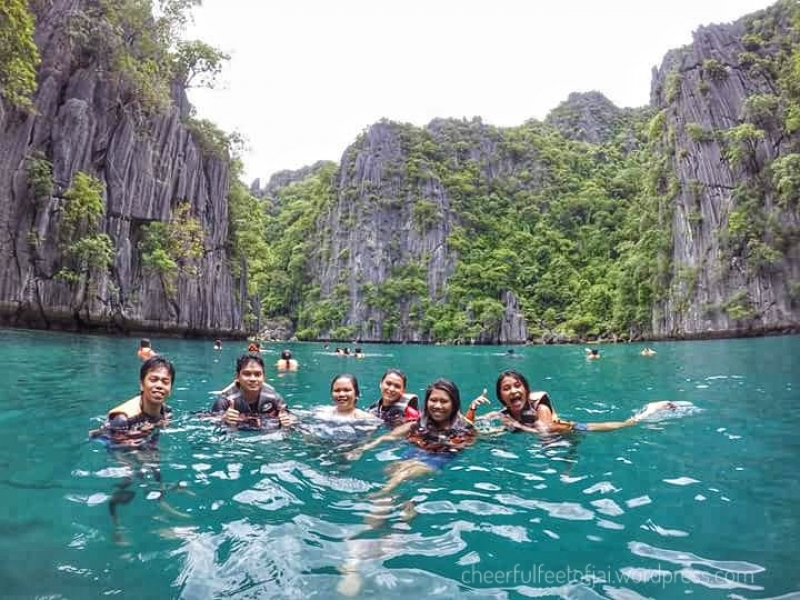 Entrance fee: ₱200
Smith Beach
Since it a small beach, it can get crowded sometimes. Lucky for us, we had the beach all to ourselves to enjoy. Eating lunch with friends under a nipa hut in a pristine white sand beach with limestone cliffs behind it was just perfect. It's another wonderful place to just relax and enjoy the scenery.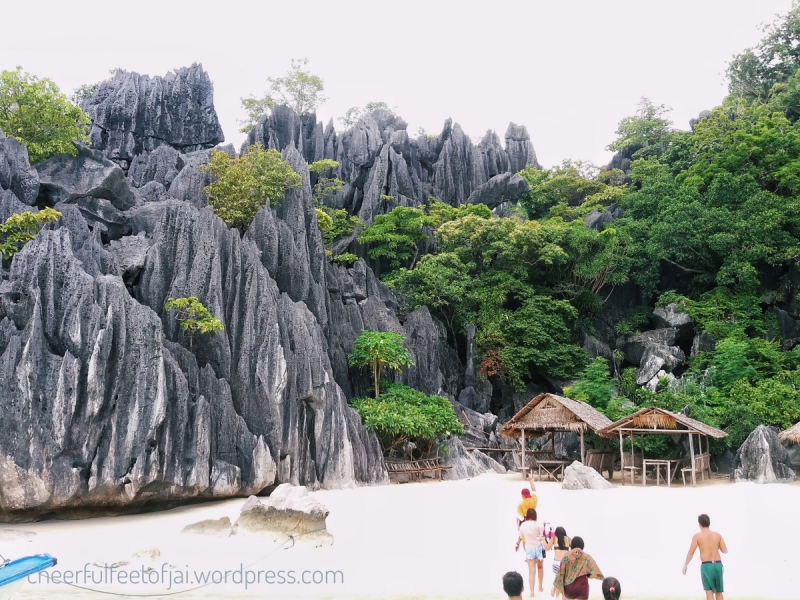 Entrance fee: ₱100
Skeleton Wreck
Ample fish welcomed us as soon as we arrived.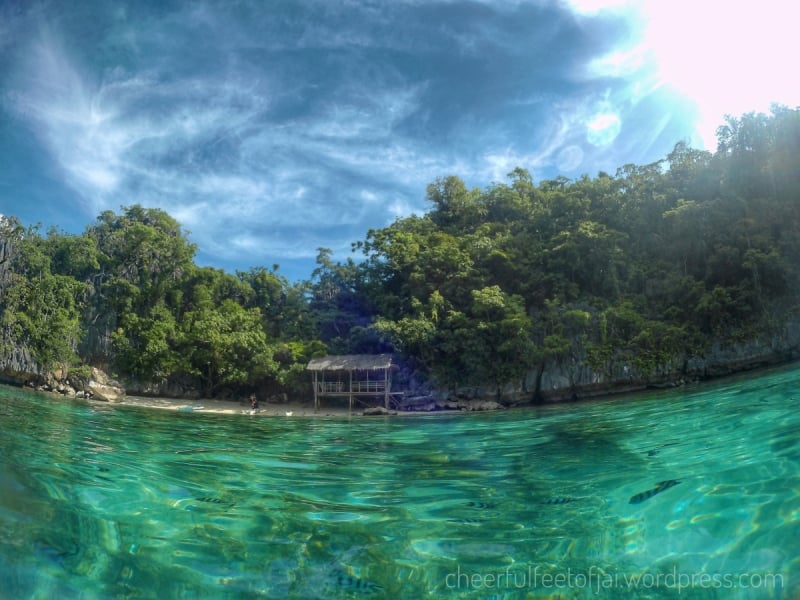 This was our last stop for our third day tour. Skeleton Wreck is where you can see the sunken Japanese ship from World War II. What remains is its skeleton covered by corals that can be visibly seen above the water. But, it's best if you can really get closer to it. It is a proof that something so wrecked can be this beautiful.
Also read: How I Did a Coron, Palawan DIY Trip for Under ₱6,200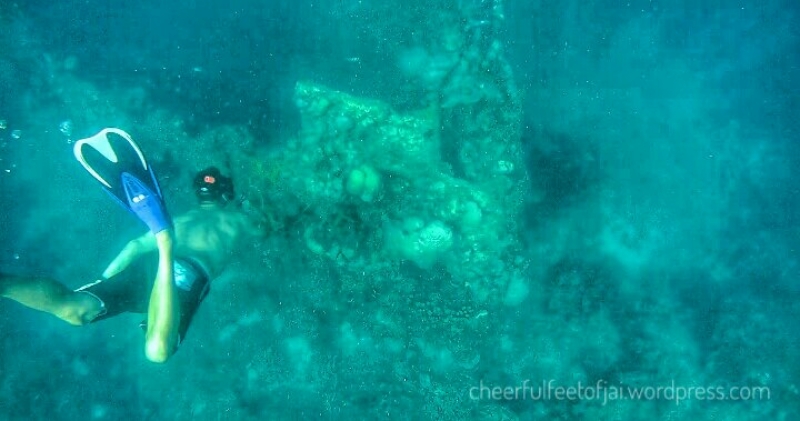 Entrance fee: ₱100
I know this is a cliché but Coron is truly a paradise, or if there is a word better than paradise to describe Coron, I would use it. I fell in love with the place and I couldn't even contain my happiness seeing those wonders. I highly suggest to include this paradise in your future trips. See it for yourself. It was really a memory worth keeping. Surely, babalik a-CORON!
Click here for my suggested itinerary and expenses that can serve as a guide for you.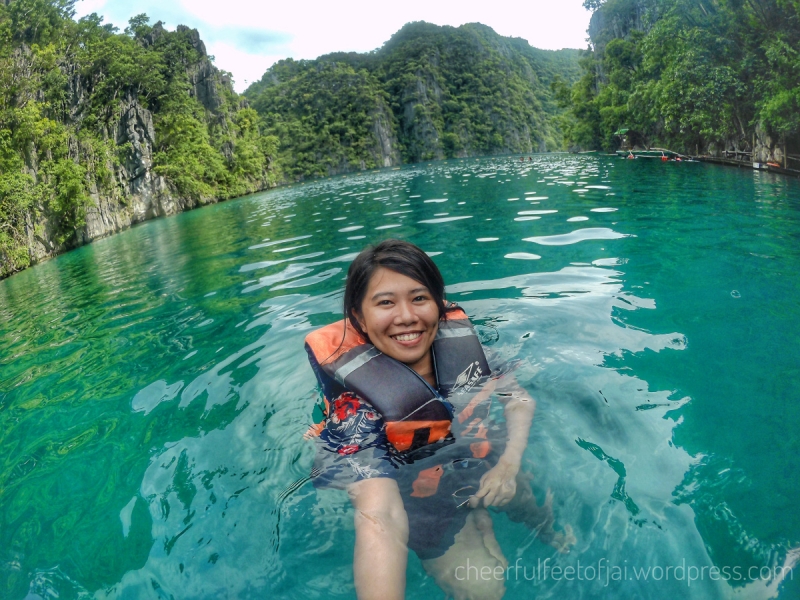 I would recommend JY Travel and Tours for your trip in Coron. It offers hassle-free and affordable tour packages and also has accommodating staff and tour guides. We got our 4D3N tour for only ₱4,350. Included in the package already are the following:
Three nights accommodation in King Michael Hotel with daily breakfast
Two days island hopping with lunch
Coron town tour
Airport transfers
Land transfer from accommodation to port
Boat with tour guides
All entrance fees
For inquiries, you can contact them through the following:
Email address: 
Contact numbers: 
Emily Yong – 09205532361
JY Office – 09957318447
Ms. Elvie – 09357033487
You can also message their official Facebook page.