Contributed by Miked's Travel PH
If you are looking for some eco-adventure fun in the island of Panay, then Tibiao, Antique is the place you should be. Tibiao is packed with activities that are surely worth a try!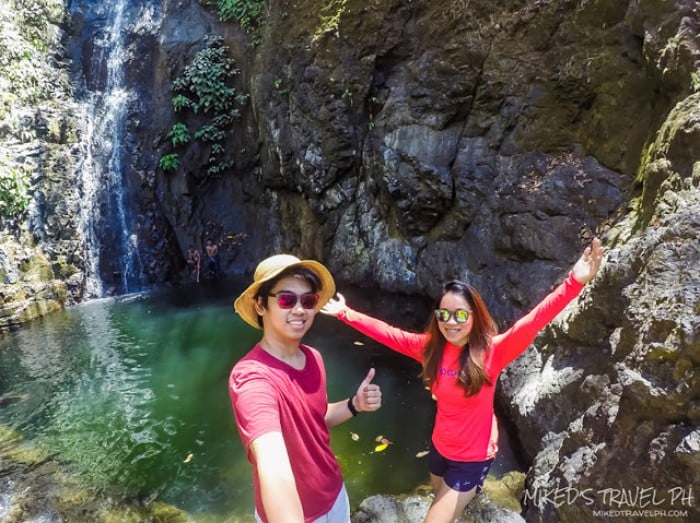 What are you waiting for?
How to get there
Tibiao is located in the province of Antique in the island of Panay, about an hour and a half away from Caticlan, the gateway to Boracay, and two hours away from Kalibo.
By air from Manila / Cebu
Take a flight from NAIA in Manila or Mactan-Cebu International Airport going to Caticlan (Godofredo P. Ramos) Airport or Kalibo Internation Airport.
From Kalibo Airport, take a tricycle going to Ceres Bus Terminal at the town proper. The fare for the whole tricycle is ₱100.
Ride a bus bound to San Jose, Antique and tell the bus conductor to drop you off at Brgy. Importante, Tibiao. The travel time is around 2 hours and fare for Non-AC bus is ₱129 per person.
From Caticlan Airport, you can walk to the bus terminal near the jetty port.
Ride a bus bound to San Jose, Antique and tell the bus conductor to drop you off at Brgy. Importante, Tibiao. The travel time is less than 2 hours and the fare is ₱100 per person.
At Brgy. Importante, ride a habal-habal (motorcycle) to Tibiao Eco-Adventure (TEA) Park or Kayak Inn. One-way habal-habal fare costs ₱70.
Ceres bus terminal in Kalibo
By land from Iloilo / Roxas
From Iloilo, take a van or bus in Molo Terminal bound to Caticlan or Culasi then follow instructions above. Travel time is around 4 hours.
From Roxas, take a van in Roxas City Integrated Transport Terminal bound to Kalibo, then follow instructions above. Roxas to Kalibo is around 2 hours.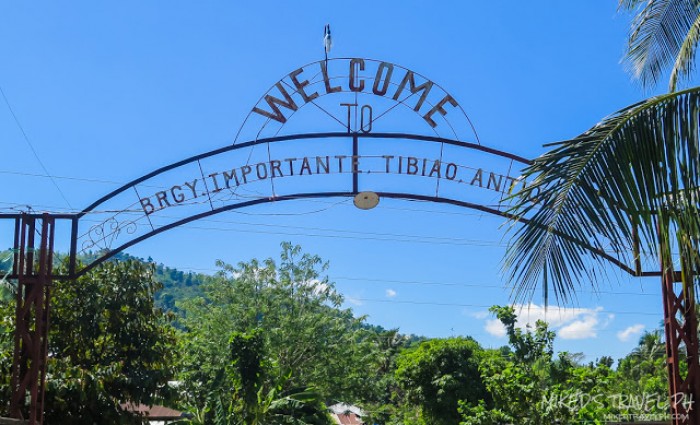 Welcome to Brgy. Importante
Quick Notes
Flights to Kalibo are cheaper compared to Caticlan.
Buses from Kalibo/Caticlan to San Jose, Antique are Non-AC buses and leave almost every 15-30 minutes.
You can ask your "habal-habal" to drop you off in TEA Park first if you want to go zip lining. Tell him to wait for you, then proceed to Kayak Inn. Don't forget to give the driver a tip for waiting.
The last trip of buses from San Jose, Antique to Kalibo is around 5:00 PM.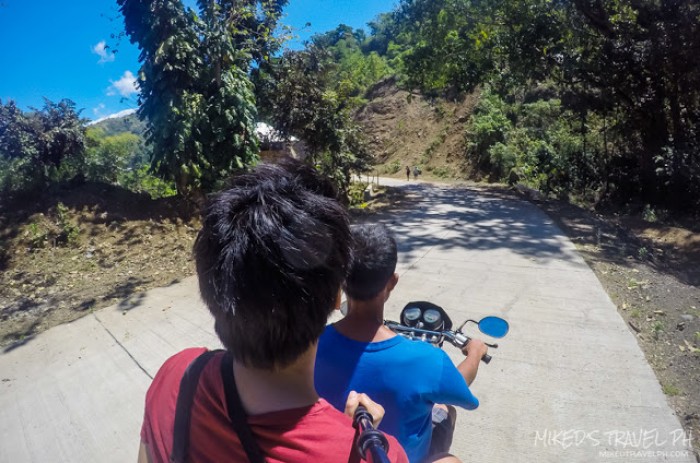 Habal-habal ride to TEA Park
Where to stay
If you plan to stay in Tibiao, you can check-in at Kayak Inn for ₱450/person per night for shared cottage and ₱2,000 for an exclusive one (max of 5 persons) with the inclusions of the following: bed sheet, bedspread, pillows, towels and soap, and free breakfast. You can contact them at: +63 928 779-0776 or +63 921 570-1947.
Also read: 15 Totally Underrated Destinations in the Philippines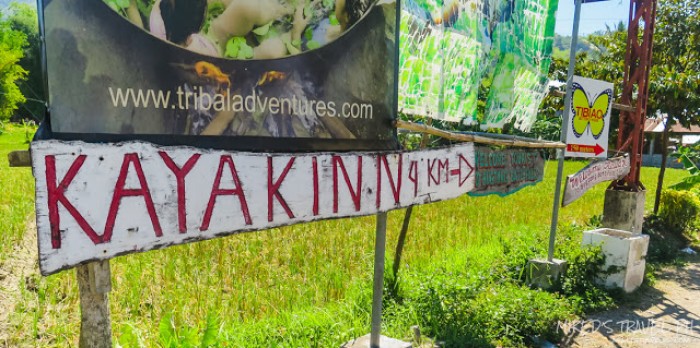 Kayak Inn
Top activities and attractions
As mentioned earlier, there are a lot of things to do in Tibiao, in fact, a day tour isn't enough to complete all of the activities. Here're just some of the activities we tried during our stay.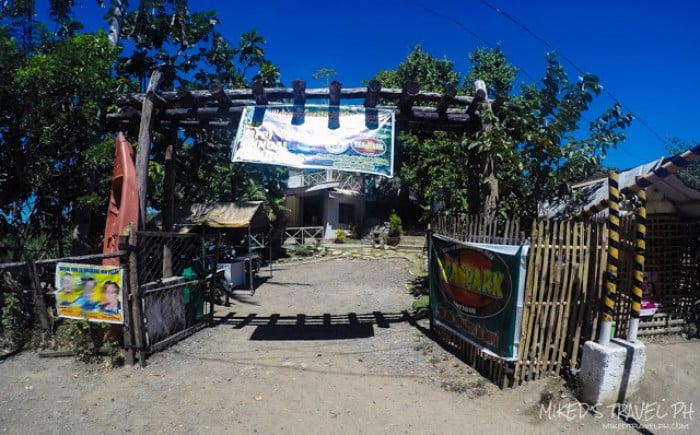 Tibiao Eco Adventure Park
1. Zip line at Tibiao Eco-Adventure Park (TEA)
Our first activity is the one-kilometre zip line with the view of Tibiao river. The activity costs ₱300 per head and an additional ₱50 for the entrance fee in the and eco park. We were also supposed to try the 10-metre waterfall rappelling in Bugtong Bato Falls, but it is currently unavailable.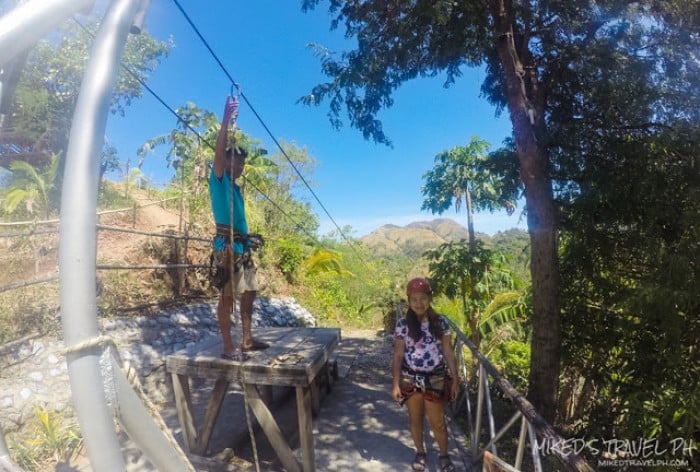 Preparing for the first zip line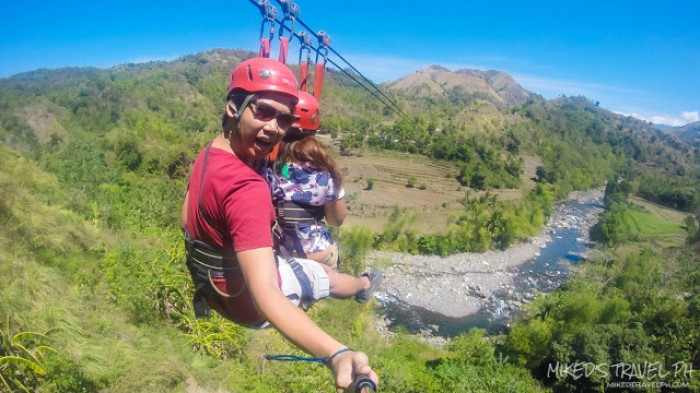 Zip lining above the dry Tibiao River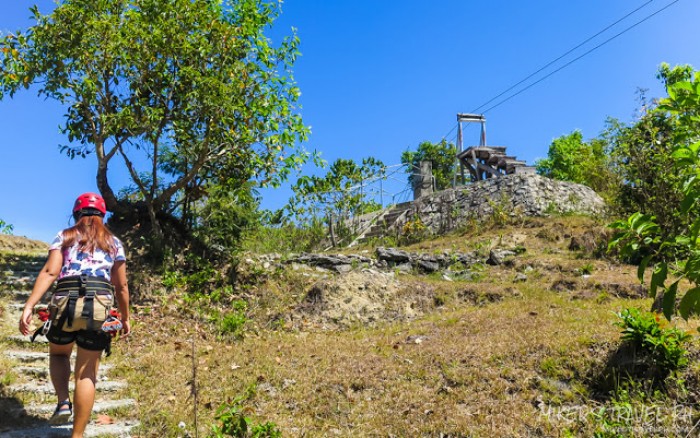 A little hike to the second zip line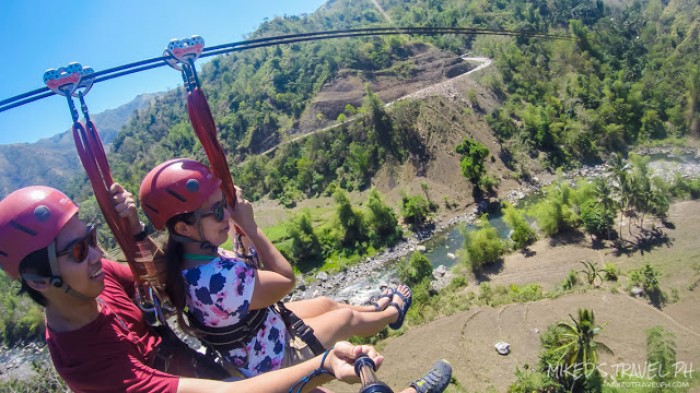 2. Bugtong Bato Falls
After the exciting zip line is the hike to Bugtong Bato Falls. It is a seven-tiered waterfall, but only 3 is available for a day tour. If you plan to hike all the 7 waterfalls, you will need more than a day. A guide is required to go here for ₱100 per person. The hike is about an hour to the third tier. During summer, the falls is a little dry so the water drop is not that strong.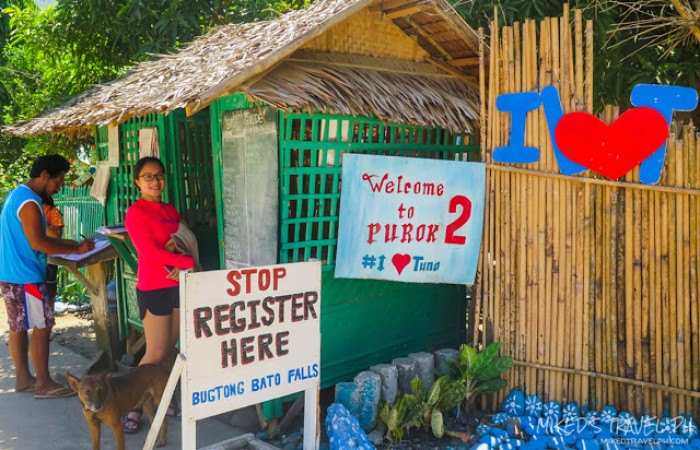 Registration Area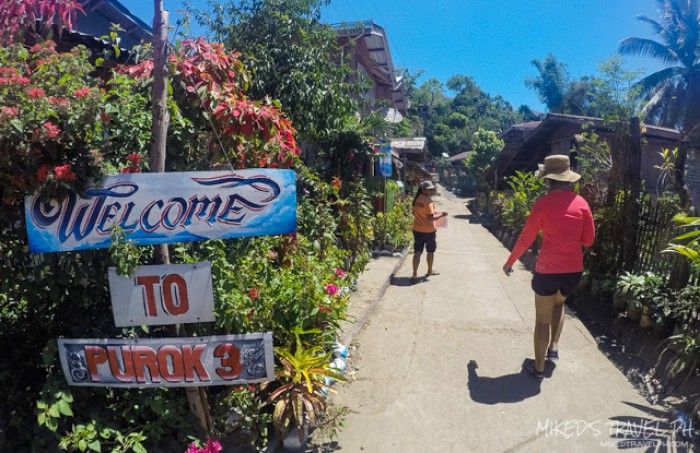 Start of hike through the small village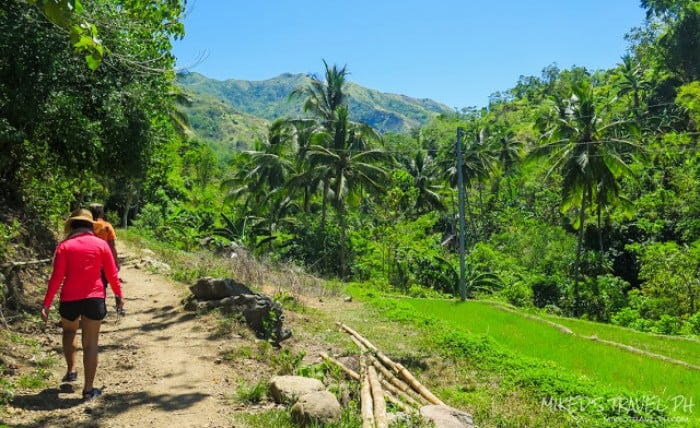 Rice fields along the way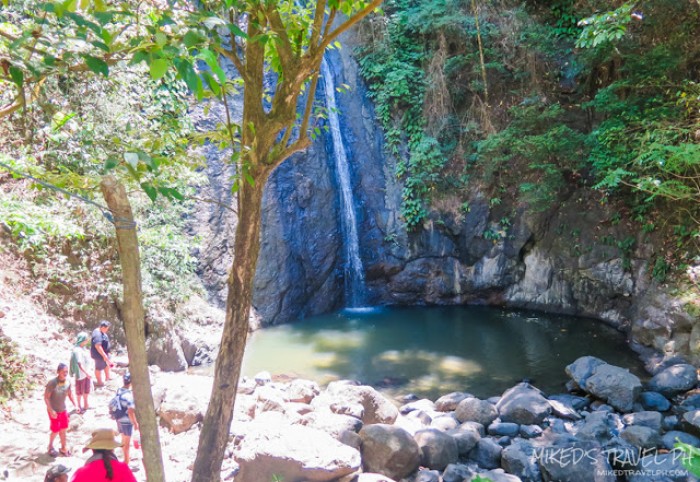 The first water fall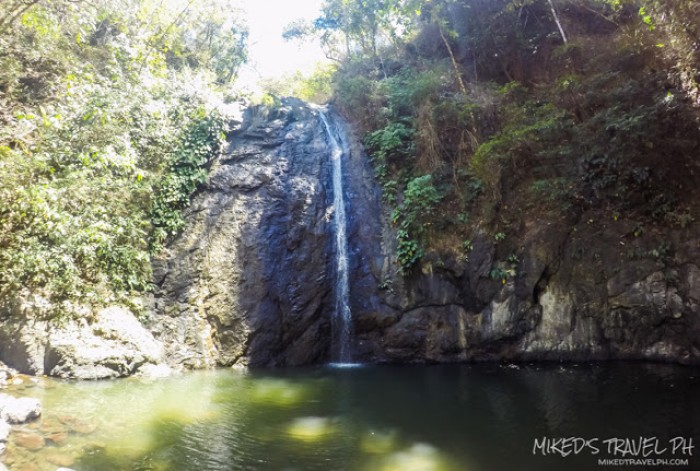 Waterfall is a little dry during summer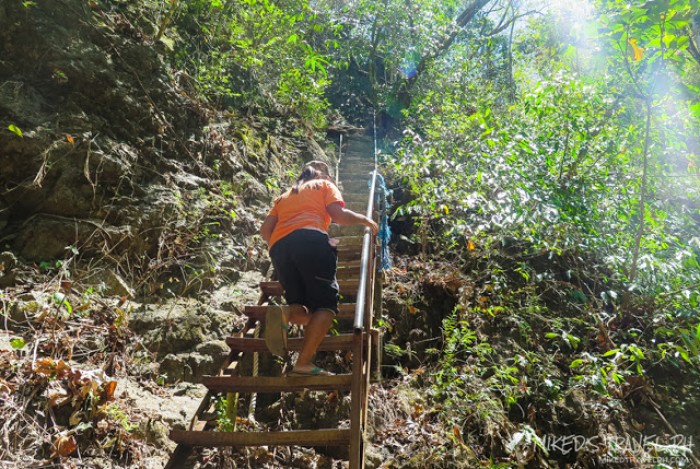 Steel ladder going to the second and third waterfall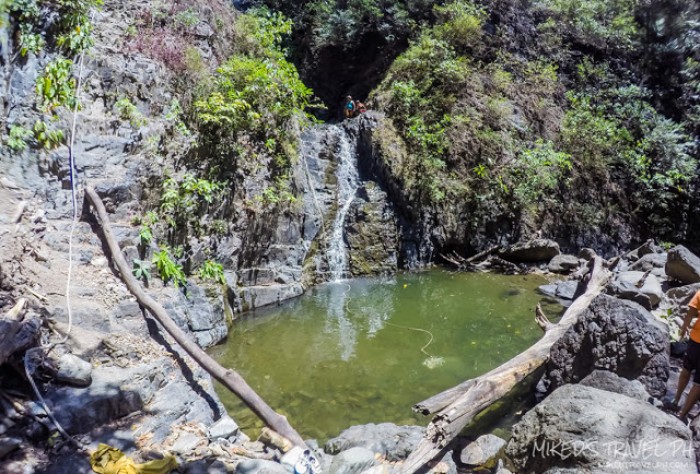 The second waterfall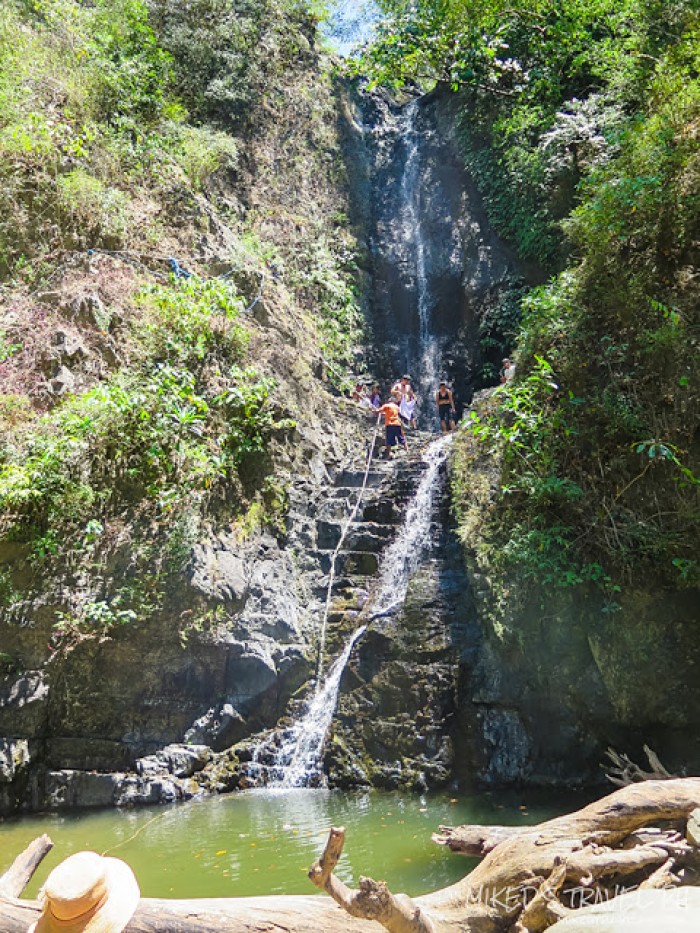 The second and third waterfall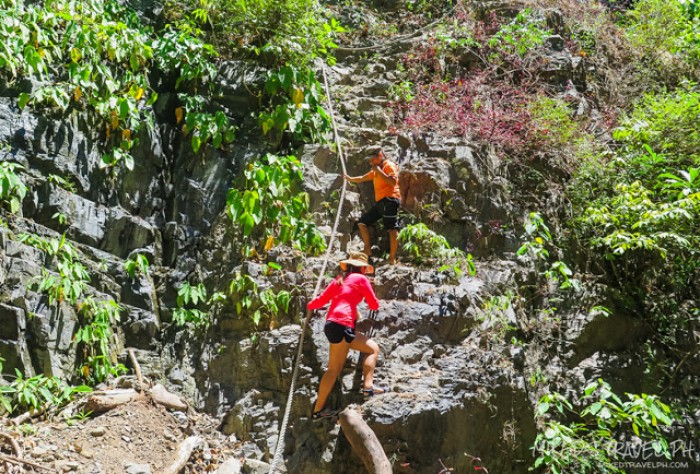 One must climb to get to the 3rd waterfall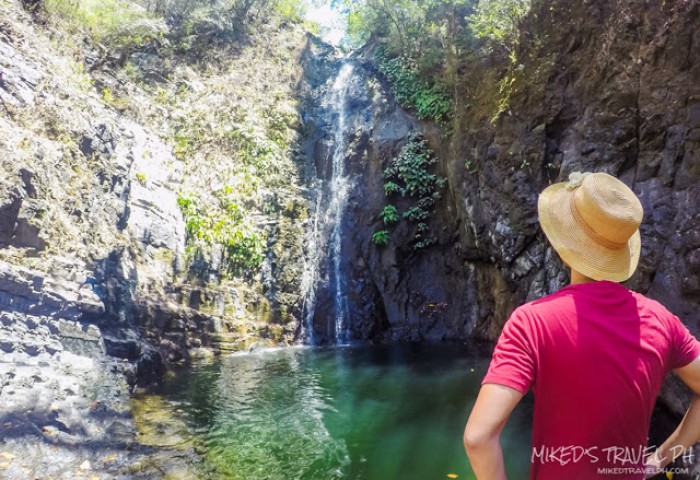 The 3rd waterfall, water is very refreshing!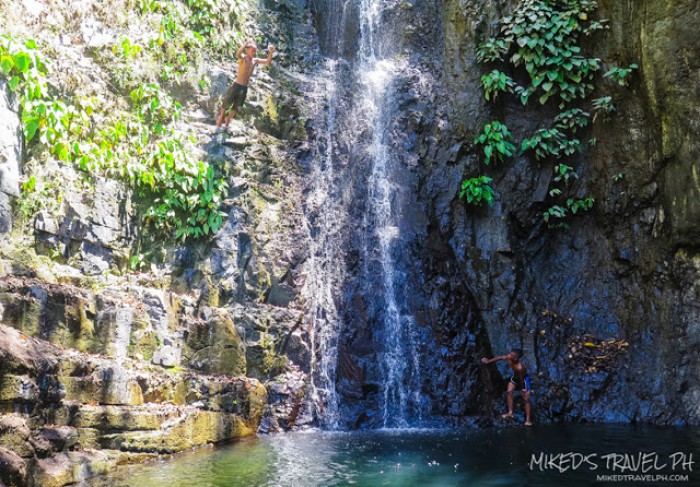 Kids having a swim at the waterfall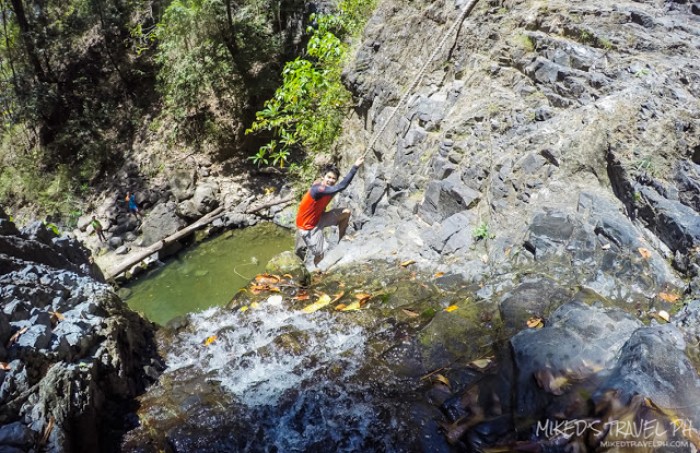 Climbing to the 3rd waterfall
Also read: 13 Awe-Inspiring Waterfalls in the Philippines You Must Visit
3. Kawa Hot Bath
After the hike, we went back to Kayak Inn to get ourselves a Kawa Hot Bath. Our kawa was prepared during our hike to Bugtong Bato, so when we arrived at Kayak Inn, it was already ready. The bath was really hot, it should be really nice during rainy seasons. During the summer, it's uncomfortable at first, but when you get used to the heat, it's very relaxing. The bath costs ₱250 per person for 30 minutes, but if there are only a few guests, you can use it as long as you want. There is also a bigger kawa that can fit 3-5 persons.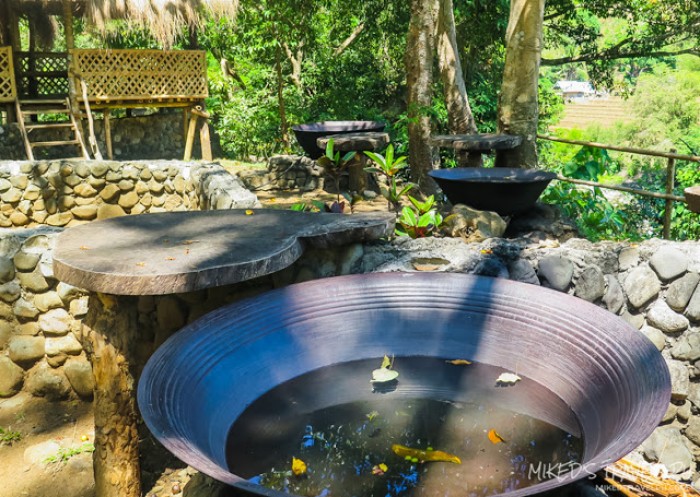 A kawa that fits 2 to 3 persons in Kayak Inn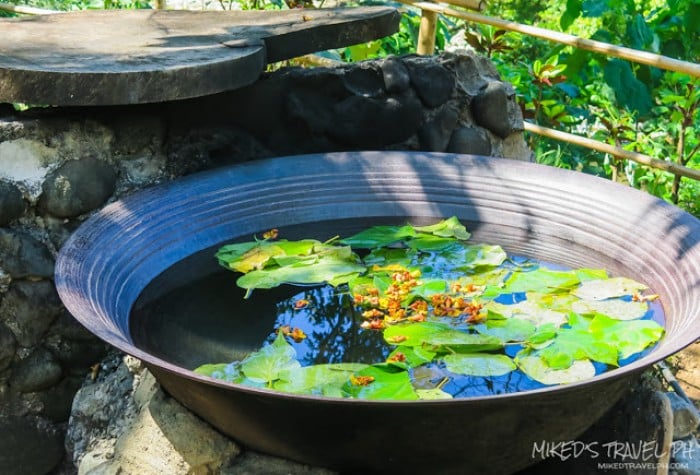 Kawa for one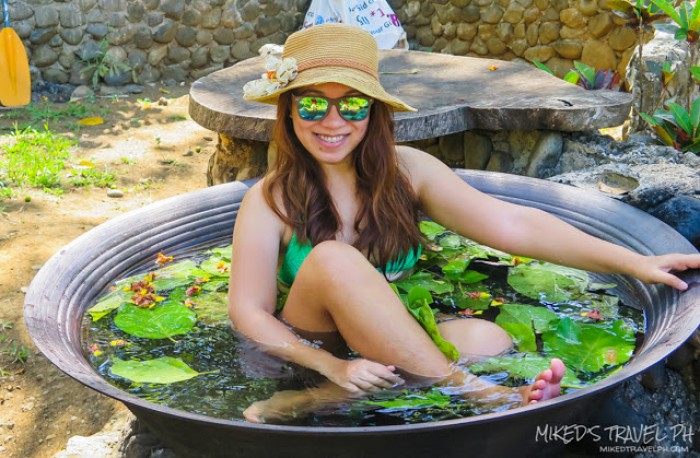 Enjoying the hot bath even if it's very hot!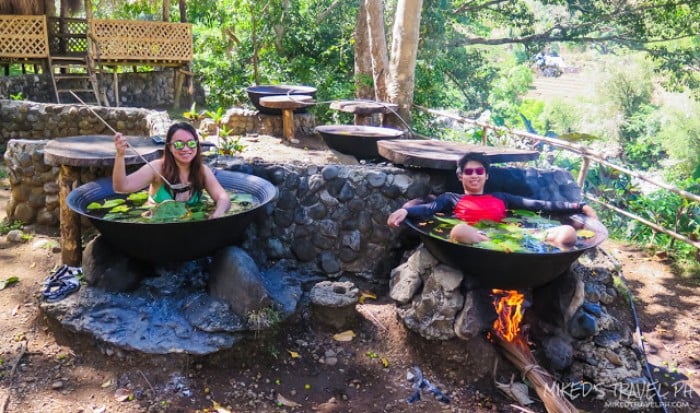 What's for dinner?
4. Tibiao Fish Spa
Last on our list is the Tibiao Fish Spa. It is just a five-minute "habal-habal" ride from Brgy. Importante where TEA, Bugtong Bato Falls and Kayak Inn are located. We were greeted by the nice staff of the fish spa as we entered. We dipped our feet into a pool filled with therapy fishes that nibble the dead skin on our feet. There are three kinds of pools for fishes with varying sizes: small, medium and large.
Also read: 15 Experiences You Must Have in The Philippines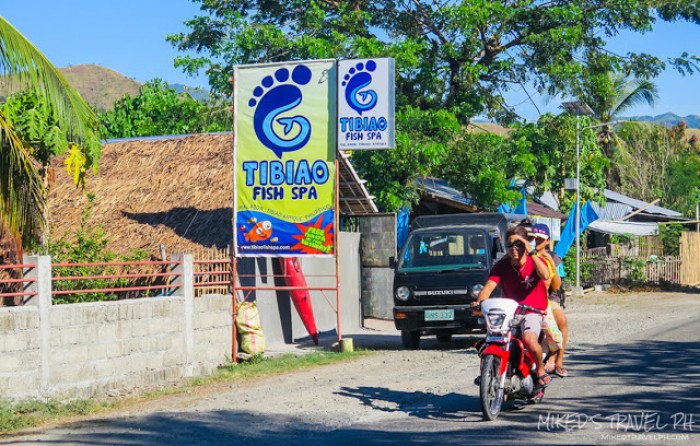 Tibiao Fish Spa conveniently located on the highway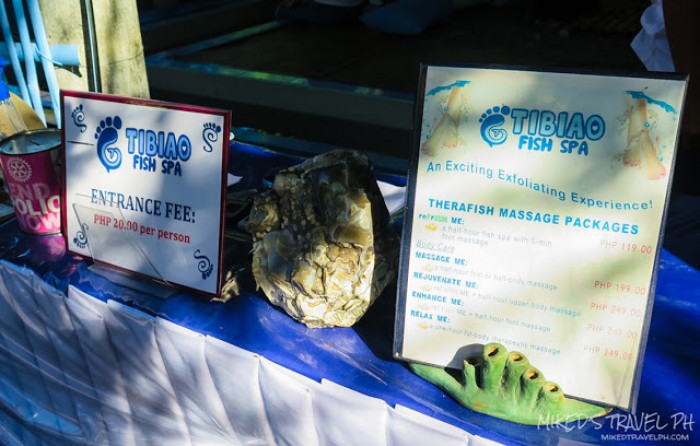 Entrance Fees and rates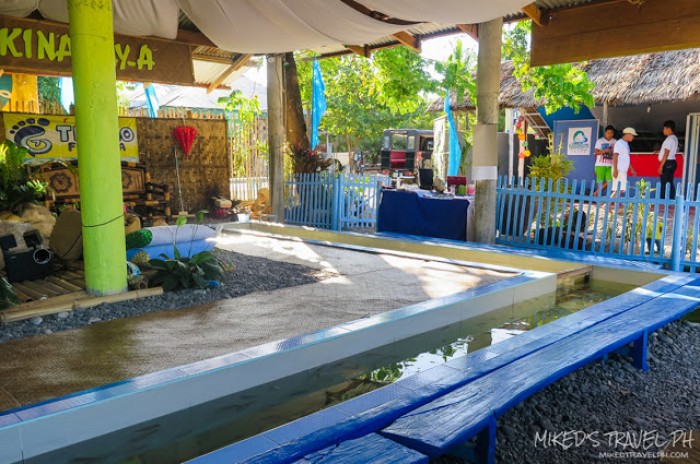 Inside the spa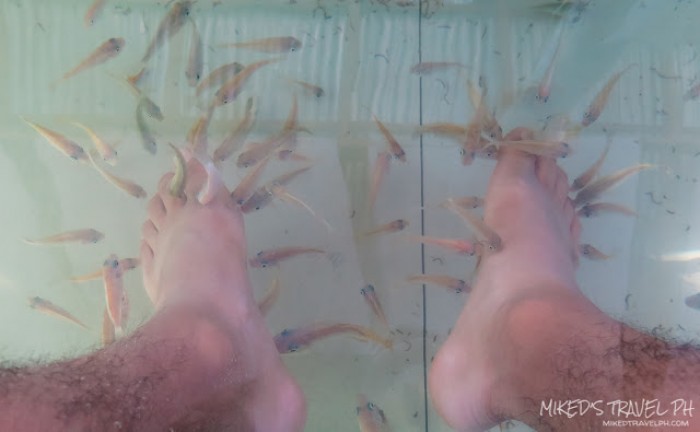 The first level – small fishes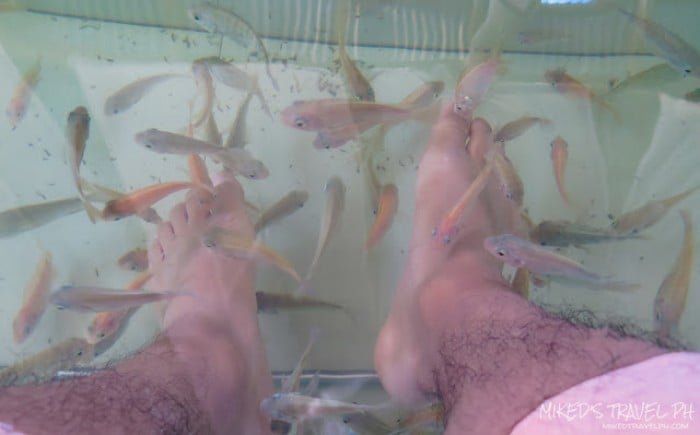 Second one – medium fishes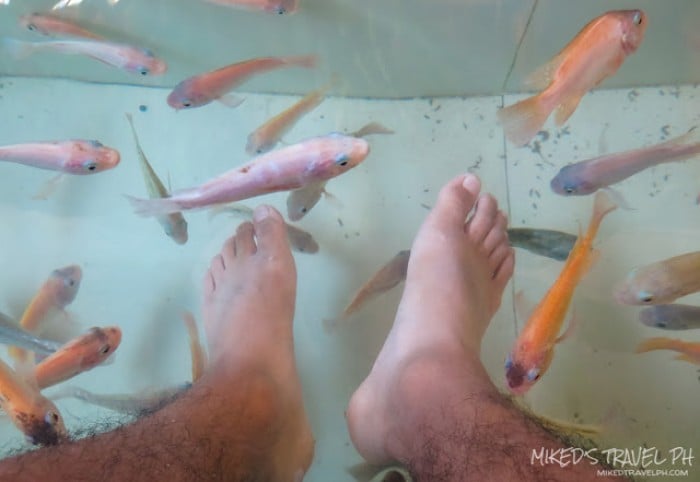 Third one, the big ones – look's like they don't like my feet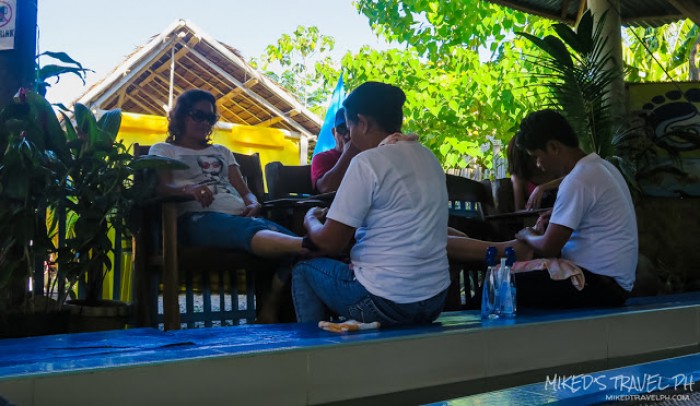 A foot massage after the fishes nibble your feet
Other activities and attractions
River Kayaking — Tibiao river is a long stretch of crystal clear waters that is suitable for kayaking. You may try a beginner up to advanced kayaking course in this river.
Pottery and Brick Making — Learn pottery and create your own pot in Brgy. Bandoja.
Lambaklad Fishing — Experience a unique fishing style in the coast of Tibiao.
Tibiao Bakery — Try out some of the best bread in the very first bakery in Tibiao.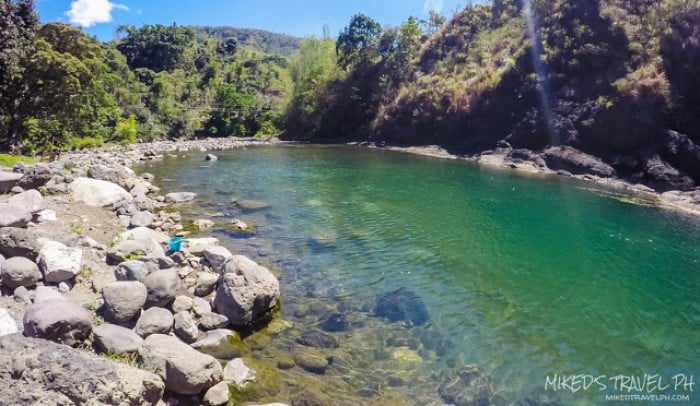 Clear waters of Tibiao River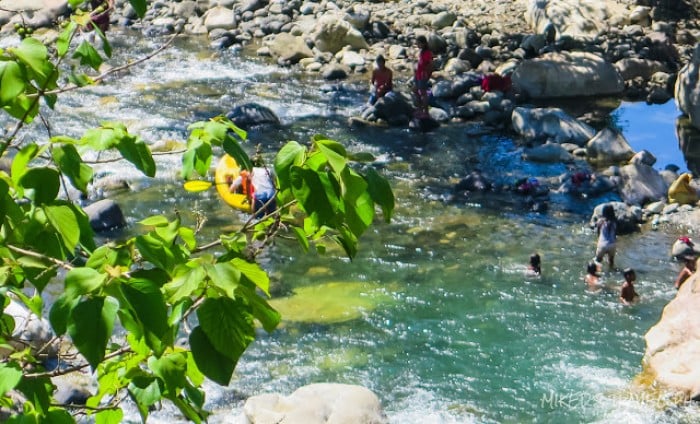 Kayaking in Tibiao River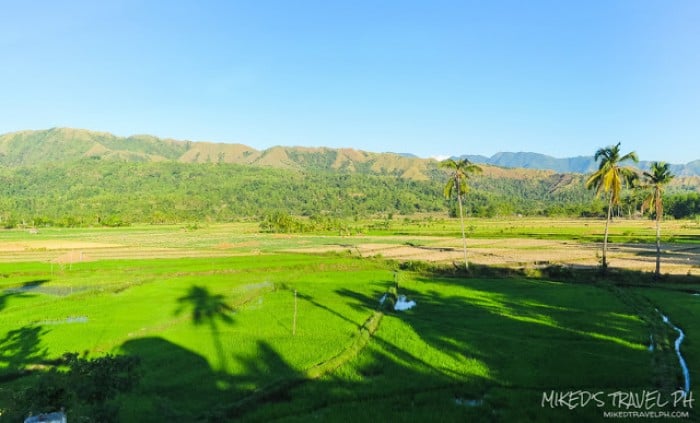 Nice view of mountain ranges in Antique
Itinerary
Here's a Day Trip Tibiao Itinerary for your reference:
06:00 AM: ETD Caticlan/Kalibo to Brgy. Importante, Tibiao
08:30 AM: ETA Brgy. Importante/TEA Park
08:45 AM: Zip line in TEA Park
09:15 AM: ETA Kayak Inn/Prepare for Hike
09:30 AM: Start of Hike Bugtong Bato Falls
10:00 AM: ETA Bugtong Bato Falls
11:00 AM: ETD Bugtong Bato Falls to Kayak Inn
11:30 AM: Kawa Hot Bath
12:00 NN: Lunch/Rest/Swim in Tibiao River
02:30 PM: Tibiao Fish Spa
03:30 PM: Have some snacks in Tibiao Bakery
04:00 PM: Wait for Bus back to Kalibo/Caticlan Or do some of those other activities!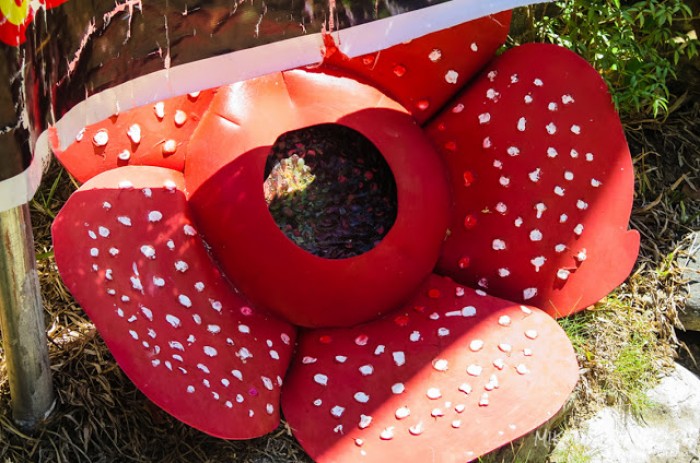 A Rafflesia found in the province of Antique. LOL this one is fake!
Expenses
Here's a breakdown of our expenses per person. It only includes necessary expenses like fares, food, entrance fees and guide fees. Tips, souvenirs and pasalubong items are not included.
Fare (Non-AC bus Kalibo to Tibiao): ₱129
Food (Snack/Breakfast in Pandan Bus Stop): ₱40
Fare (Habal-habal to Tea Park/Kayak Inn): ₱70
Entrance Fee (TEA Park) ₱50
Activity (Zip Line Ride in TEA Park): ₱300
Activity (Tour Guide Fee Bugtong Bato Falls): ₱100
Activity (Kawa Hot Bath): ₱250
Lunch (Eatery in Brgy. Importante): ₱80
Fare (Habal-habal from Kayak Inn to Main Road): ₱70
Fare (Habal-habal to Tibiao Fish Spa): ₱30
Entrance Fee (Tibiao Fish Spa): ₱20
Activity (Refresh Me in Tibiao Fish Spa): ₱119
Fare (Non-AC bus Tibiao-Kalibo): ₱129
Total: ₱1,387
Also read: 20 Underrated Provinces in the Philippines Totally Worth Visiting