Taipei, the capital of Taiwan, is a city that seems to have it all. From bustling shopping streets and night markets to historical sites and creative parks, this city effortlessly combines the traditional and the modern. It's no exaggeration to say that Taipei has something for every kind of traveller!
As if that wasn't enough, the Taiwanese capital is also a gateway to countless scenic cities and towns. These are easily accessible through the MRT, public buses, and the Taiwan Tourist Shuttle. This being said, make the most of your visit by taking a couple (or all, if time permits) of these trips beyond Taipei!
Also read: Travel, Friendship, and Taiwan: 5-Day Taipei Itinerary + Cost Breakdown 
Fun day trips beyond Taipei for every kind of traveller
1. Yangmingshan National Park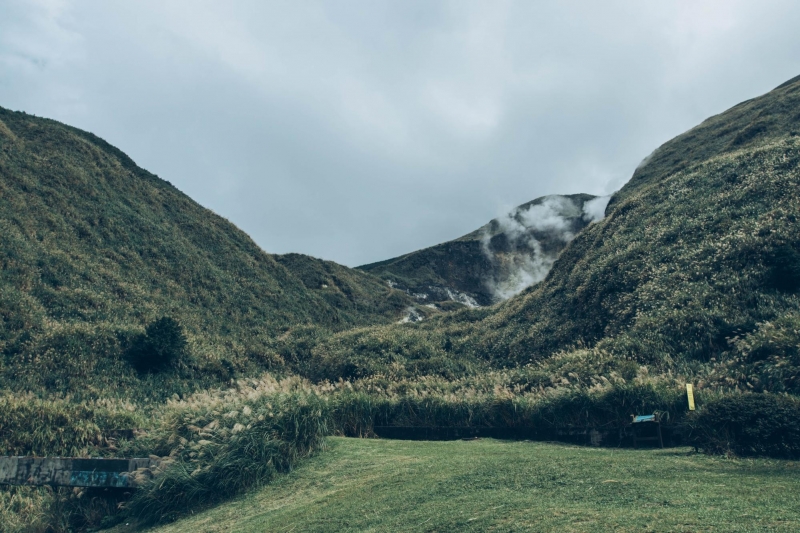 Yangmingshan National Park is the most accessible national park in Taiwan. Spanning both Taipei and New Taipei City, the lush greenery of this national park lies just an hour from downtown Taipei. But don't be fooled by the close proximity; Yangmingshan National Park is a true nature escape!
Choose from various hiking trails that let you enjoy fresh air and spectacular views. The trail to Mount Qixing, the highest mountain in Taipei and the highest volcano in Taiwan, gives you sweeping views of downtown Taipei.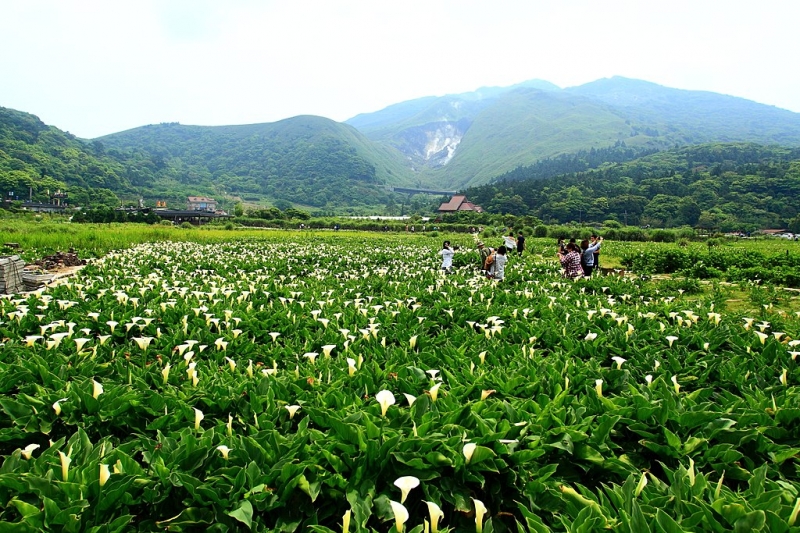 Make sure to stop by Xiaoyoukeng to see the steaming sulphur fumaroles. Depending on the time of the year, different kinds of flowers can be seen throughout the park; however, most bloom in February to early April. If you happen to visit during these months, check out the cherry blossoms in Yangming Park and the calla lilies in Zhuzihu (Bamboo Lake).
How to get there: Take MRT Line 2 (Tamsui – Xinyi) to MRT Jiantan Station Exit 2 or  to MRT Shilin Station Exit 1; transfer to either the R-5 or 260 bus and ride to the Yangmingshan stop.
2. Tamsui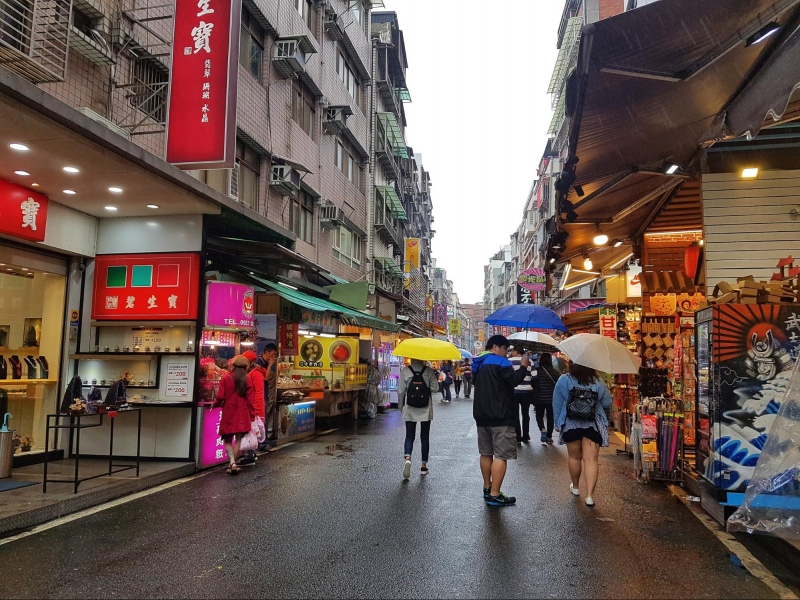 Tamsui (or Danshui) is a district in New Taipei City, located along the north coast about 40 minutes to an hour beyond Taipei by MRT. It's so close to downtown Taipei that you don't even need a whole day to explore it!
A scenic waterfront will welcome you once you get off the MRT station. Start your trip by sampling the incredible seafood and street food in Tamsui Old Street, which is not exactly one street, but an area traversed by Zhongzheng and Huanhe Roads and Chongjian and Qingshui Streets. Specialities like the ah-gei (fried tofu skin stuffed with green bean noodles), fish balls, and iron eggs are not to be missed!
For a dose of history, visit the Fort San Domingo, a 17th-century fortress complex, which is a short walk from the Old Street. This heritage site hosted many occupiers and colonisers, including Spanish and Dutch adventurers, Ming and Qing Dynasty soldiers, and British, Japanese, Australian, American, and Chinese officials.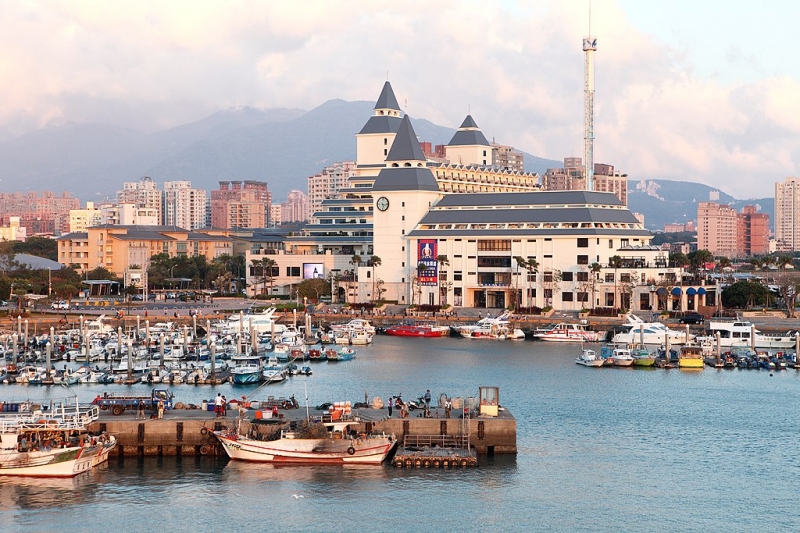 The best way to cap off your trip is by hopping on the ferry from the Old Street to the Fisherman's Wharf, said to be the best spot for sunset viewing. If you're travelling as a couple, make your way to the Lover's Bridge for a romantic sunset. Stay until evening for a dazzling light show!
How to get there: Take MRT Line 2 (Tamsui – Xinyi) to MRT Tamsui Station Exit 1. 
3. Beitou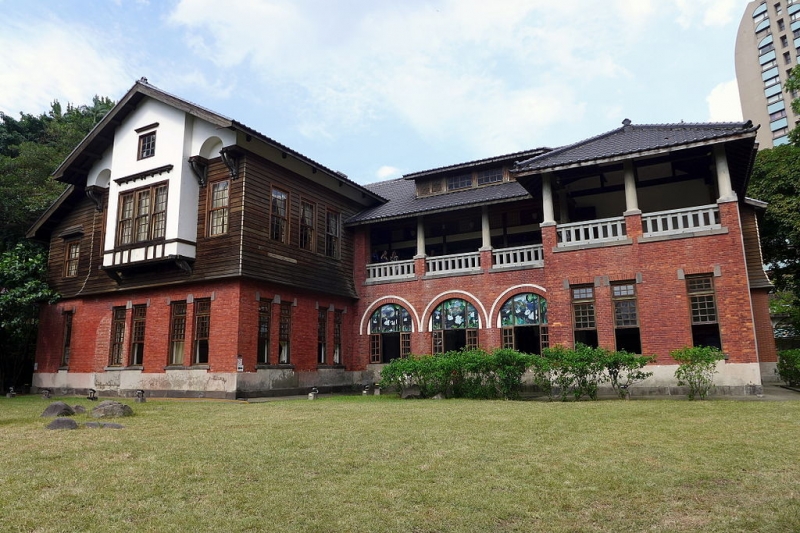 Beitou is a mountainous district in North Taipei known for its hot springs. Just across the Xinbeitou MRT Station, you'll find the Beitou Hot Spring Park, which is filled with public pools and bathhouses. You'll also see an interesting building that looks like a giant ark. This is the Taipei Public Library Beitou branch — an eco-friendly, modern building that provides a pleasant space for reading and studying.
Also inside the park is the Tudor-inspired Beitou Hot Spring Museum, a former public bath built in 1913 under the Japanese colonial government. Designed after the Mount Izu Hot Spring Bathhouse in Japan, it was the largest bathhouse in East Asia at the time. Entrance is free and although it's not a huge museum, it gives insight into the hot spring culture of Taiwan. Highly recommended before you soak into any of the pools in the area!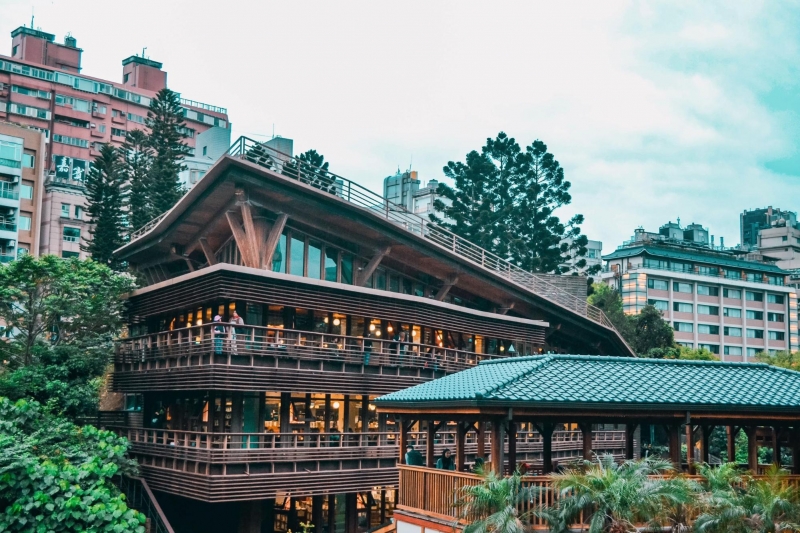 Just a short walk from the museum is the Plum Garden, which is not an actual garden of plums, but a restored Japanese-style house built in the 1930s. This used to be the vacation house of statesman and famous calligrapher Yu Youren. The house is now a museum of Yu's calligraphy works.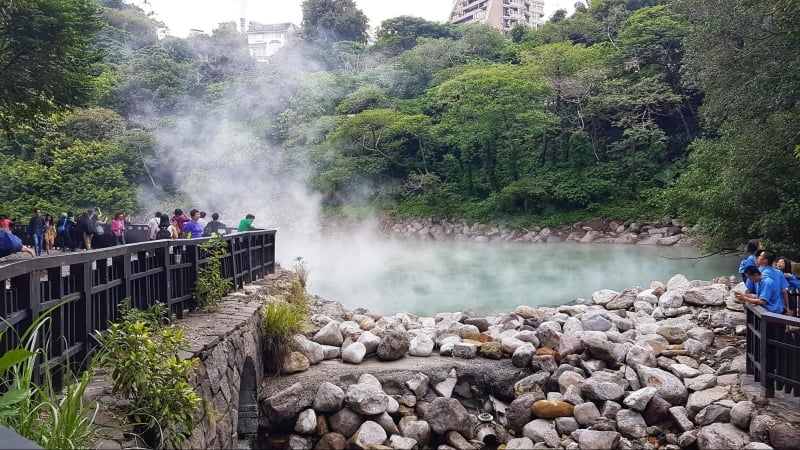 The nearby Thermal Valley, the source of the park's sulphurous hot spring waters, is another mist-visit spot beyond Taipei. A fence is built around the depression so visitors can watch and enjoy the steam safely from a distance.
How to get there: Take MRT Line 2 (Tamsui – Xinyi) to MRT Beitou Staion; transfer to the MRT Xinbeitou Line to MRT Xinbeitou Station.
4. Yehliu Geological Park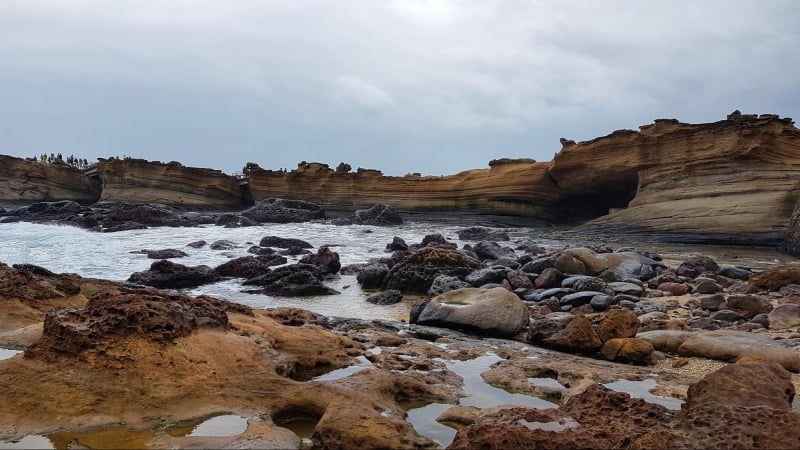 Yehliu is a cape on the north coast of Taiwan and is known for the awe-inspiring geological wonder that is Yehliu Geopark. Stretching around 1,700 metres, the cape is mainly composed of sedimentary rocks. Thousands of years of wind and water fashioned hundreds of coastal "hoodoos" (basin and badland rock formations); these include the iconic Queen's Head, Fairy Shoe, Elephant Rock, Ice Cream Rock, and Kissing Rock.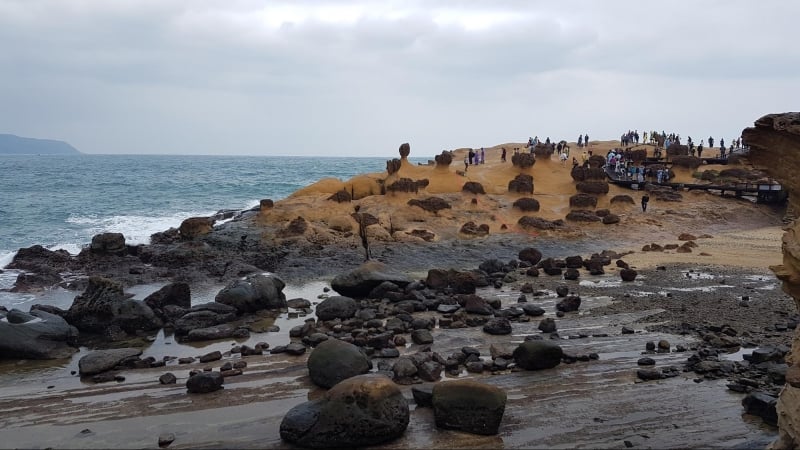 It's best to visit the park early in the morning before the crowds arrive. The rock formations set against the sunset is also a stunning view, but expect crowds to block your camera lens.
How to get there: Catch the Taiwan Tourist Shuttle (Crown Northern Coastline Route) and ride to the Yehliu Geopark stop.
5. Jiufen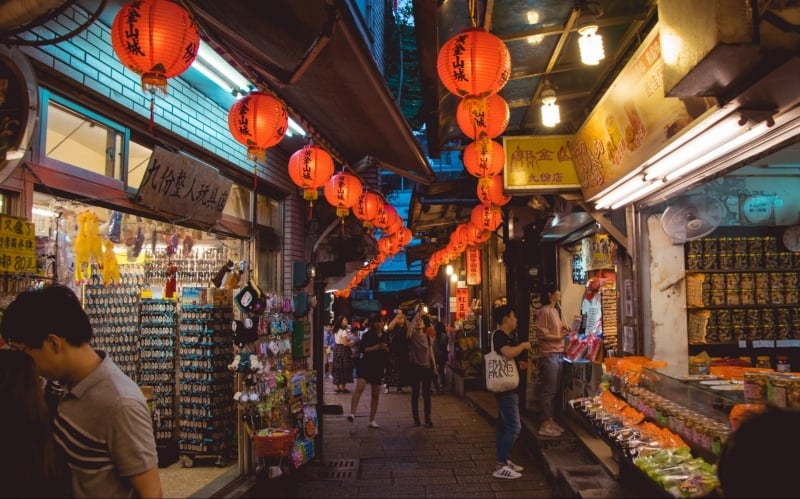 Jiufen is a former gold mining town in the mountainous district of Ruifang, New Taipei City. Jiufen Old Street, a busy area known for its narrow alleys and fleet of stairs lined with shops and diners, has been made famous largely due to its similarity with Hayao Miyazaki's Spirited Away.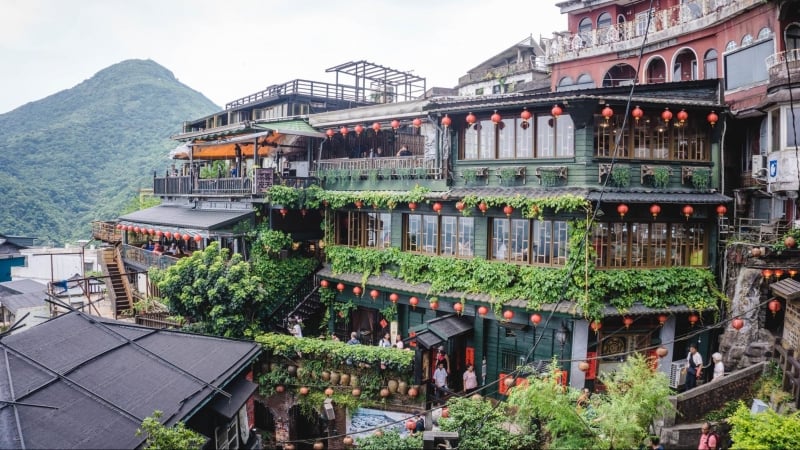 Although often crowded, the delectable food choices and nostalgic vibe this area offers still make it worth the visit. Feast on fish and meat balls, peanut ice cream rolls, sweet desserts and enjoy tea at the Amei Tea House, if you've made a table reservation or if you can tolerate the long queue.
Near the Jiufen Old Street is the often overlooked New Taipei City Gold Museum or Gold Ecological Park (or simply Gold Museum). The museum and park offers a detailed and engaging history of the local mining industry.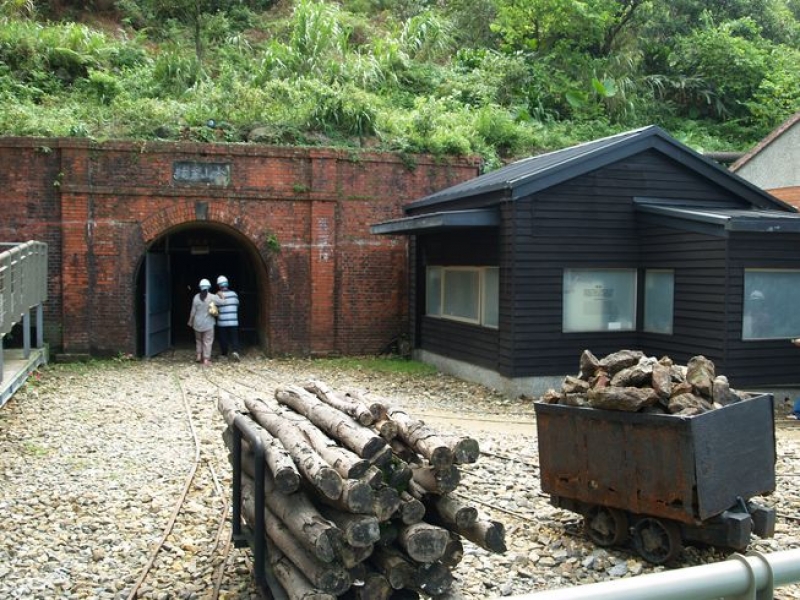 Next to the museum is the Benshan No. 5 Tunnel, a 180-metre tunnel open to those who wish to discover the mystery of gold mining. Here, you can get a feel of the mining process as you explore the environment in which miners worked. Both places are perfect additions to your itinerary if you prefer quieter and more laid-back attractions.
How to get there: Catch the Taiwan Tourist Shuttle (Keelung East Line) to the Ruifang stop. Transfer to the Taiwan Tourist Shuttle (Gold Fulong route) to the Jiufen stop if you're going to the Old Street; or, take the Gold Museum stop if you're heading to the museum or Benshan No. 5 Tunnel.
6. Shifen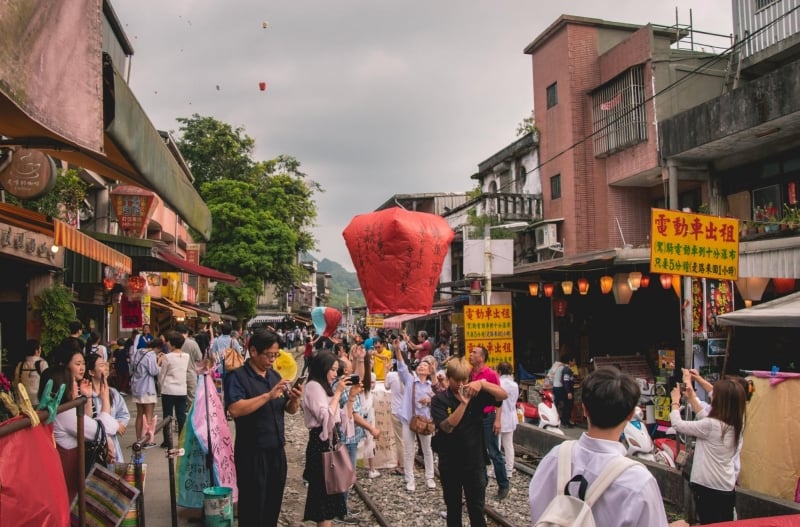 Shifen Old Street is a collection of lanes and alleys in and around the Shifen railway station. Originally built to transfer coal, Old Street is now one of the most famous sites in the Pingxi district. Peppered with quaint stalls selling food and souvenirs, the street is known for the sky lanterns that one can buy and release for about 100 NTD!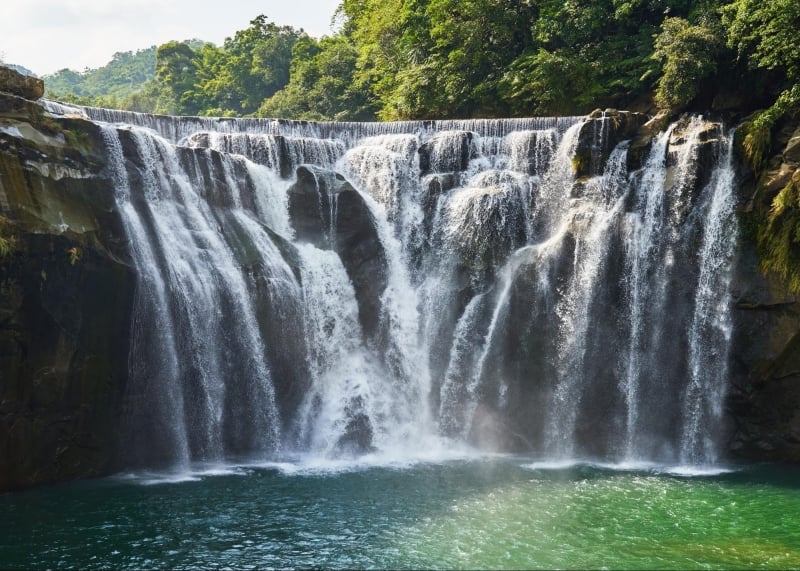 The 40-metre Shifen Waterfall, known as Taiwan's Niagara Falls, is located 30 minutes away from Old Street and is Taiwan's largest curtain waterfall. The volume and force of the drop forms mists on top of the waterfall; and when sunlight hits the curtains, rainbows form over the waterfall. 
How to get there: Take the MRT Line 1 (Wenhu) to MRT Muzha Station. Catch the Taiwan Tourist Shuttle (Muzha Pingxi Route) to the Shifen Old Street stop. Alternatively, take the Pingxi Branch Line railway to TRA Shifen Station.
7. Keelung
Keelung is a port city beyond Taipei, close to the northernmost tip of Taiwan. If you want a quiet day trip away from the crowds, this unassuming city is for you.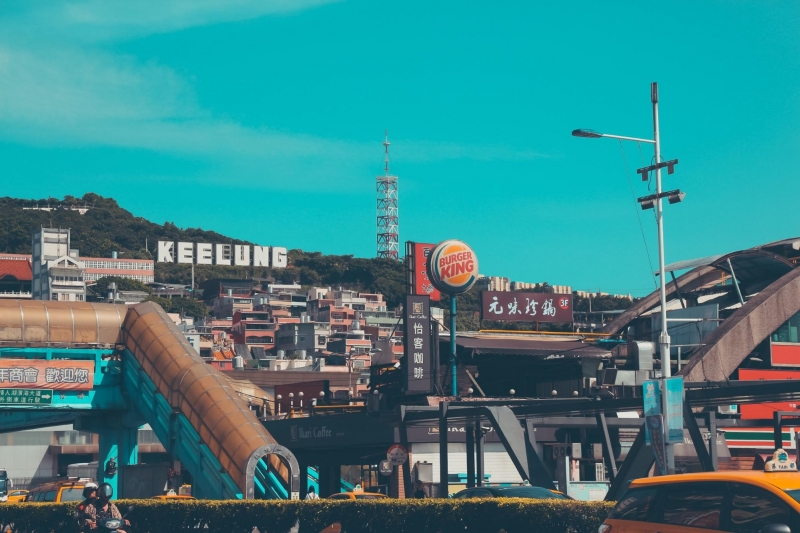 Keelung Port, a 130-year-old trading and naval harbour, is a popular stop for luxury cruise liners. Enjoy city and harbour views from the port and walk to the Miaokou Night Market, one of Taiwan's more traditional food night markets. Lined with tables and sit-down restaurants, it's home to plenty cheap yet delicious seafood choices!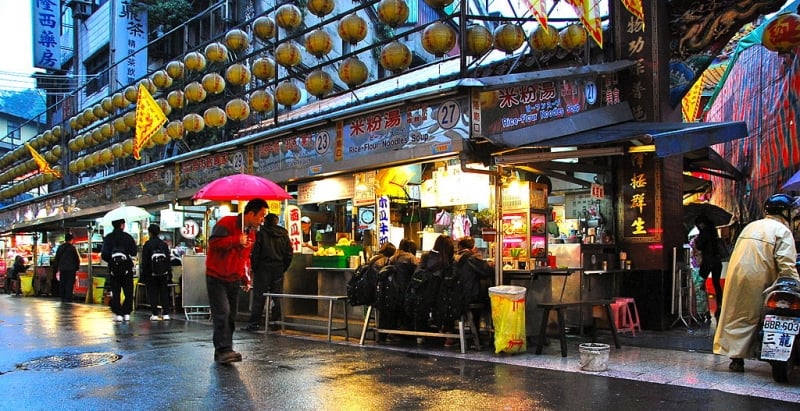 Also next to the Keelung Port is the Heping Island Park, former home to Taiwan's Ketagalan tribe as well as Spanish and Dutch settlers. A rocky shoreline carved by wind and sea erosion, Heping Island Park is a geological park similar to Yehliu, albeit less crowded. Look for the "A Thousand Layers" and "Tend Thousand Piles" hoodoos when you visit.
How to get there: Catch a local train from TRA Taipei Station or TRA Songshan Station to TRA Keelung Station if going to the Keelung Port. Catch the Taiwan Tourist Shuttle (Keelung East Line) to the Heping Island Park stop if heading to the geopark.
8. Jinshan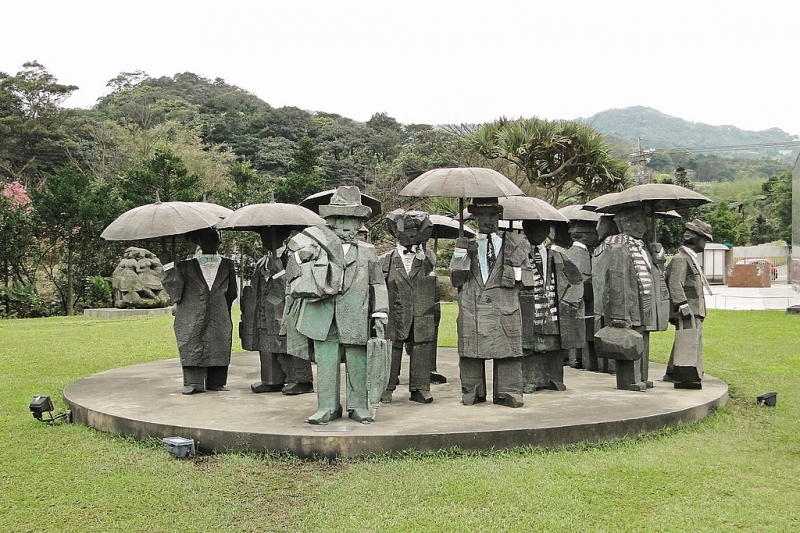 A lesser-known but equally worthy day trip destination in New Taipei City is Juming Museum, located in Jinshan District.
Named after world-renowned Taiwanese artist Ju Ming, the museum houses the most extensive collection of his artworks to date. Art lovers will find inspiration in Ju Ming's sculptures, drawings, and art installations, as well as works of other artists that have had an impact on his life.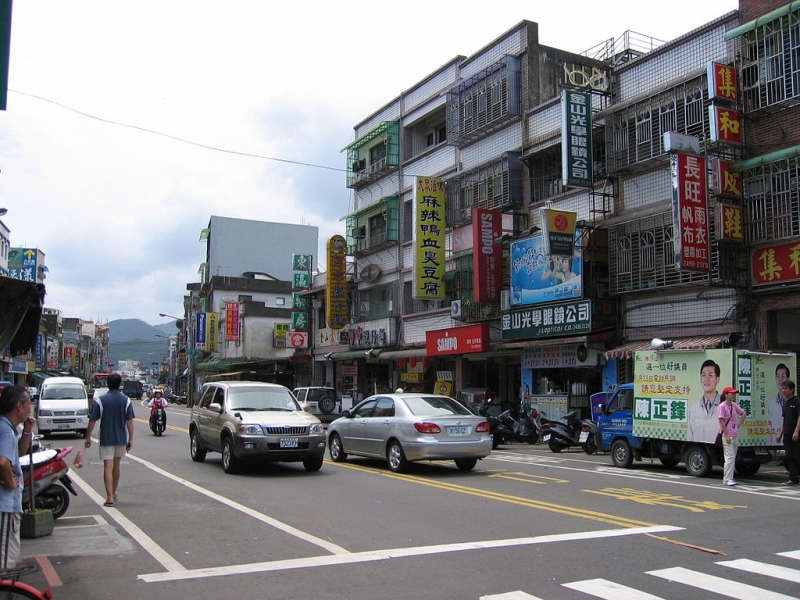 Close by the museum is Jinshan Old Street, a 200-year-old street packed with food stalls and probably Jinshan's most popular attraction. Jinshan Duck Meat is a popular restaurant in the area and must not be missed. Cap off your meal with Taiwanese snacks like sweet potatoes, taro balls, cakes, and shaved ice!
Also read: 25 Taiwan Souvenirs & Where You Can Buy Them
Should you wish to escape Taipei for a bit, you won't run out of options. From the great outdoors to heritage sites and vibrant cities, the towns beyond Taipei truly have so much to offer!