Contributed by The Bisaya Traveler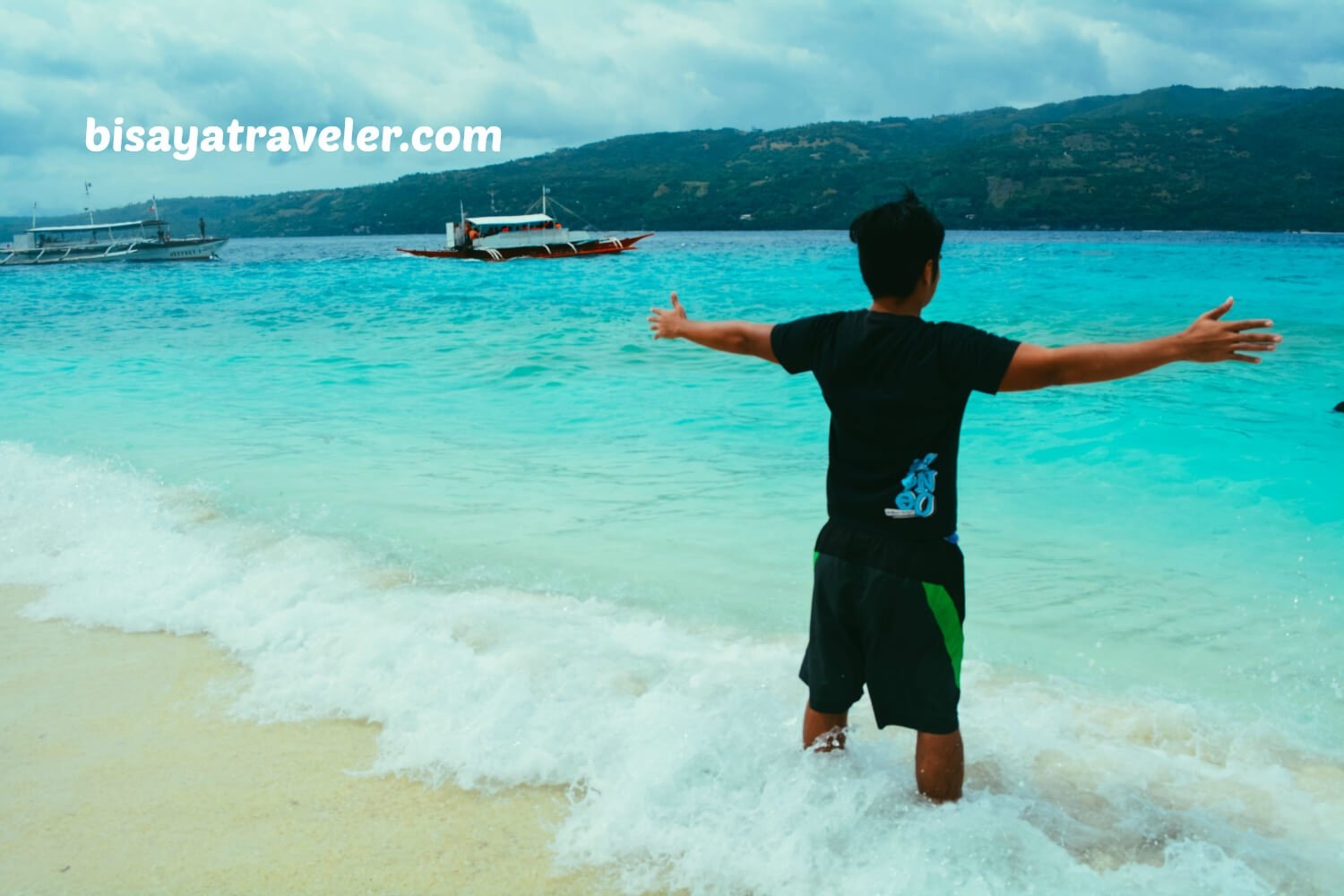 Sumilon Island has been on my travel wish-list ever since wanderlust woke up a couple of years ago. With its clear azure waters and pristine white sands, Sumilon Island's sandbar is by far a photogenic and mesmerising tropical idyll that lures all types of travellers. But, the prices for the day tour (₱1,500 to 2,000 per person) from Bluewater Sumilon Island Resort were a bit steep for my taste. And while there are boat rentals available, I didn't have a team or group whom I can split the costs with for this option (I don't like the joiners alternative too).
Also read: How I Went Island Glamping in Sumilon, Cebu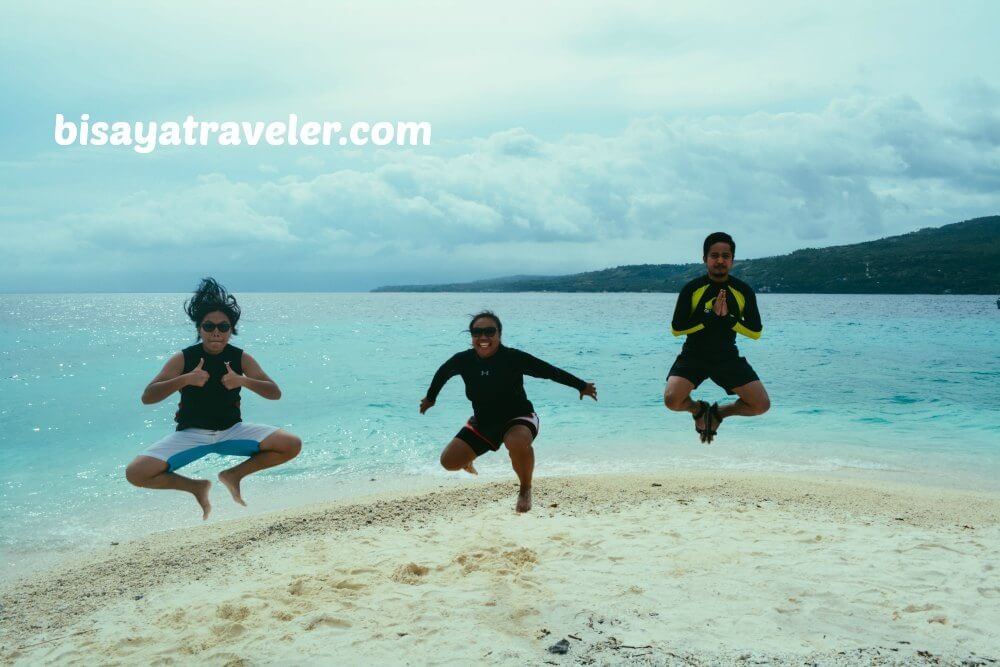 Thankfully, I now have a bunch of enthusiastic travel buddies – Team Bang – to finally pull off this day trip in Oslob, Cebu.
Team Bang's Sumilon Island experience
Sumilon Island was part of our recent Boljoon-Oslob escapade. After enjoying the view from Ili Rock and a nostalgic tour in Boljoon, we hopped on a bus bound to Oslob for our next beach adventure. But before finding our tropical bliss on Sumilon Island, we had to make a quick stop in Oslob Cuartel for photo ops. We had to wait for Tammy there too, who was en route, following her long shift in Velez Hospital.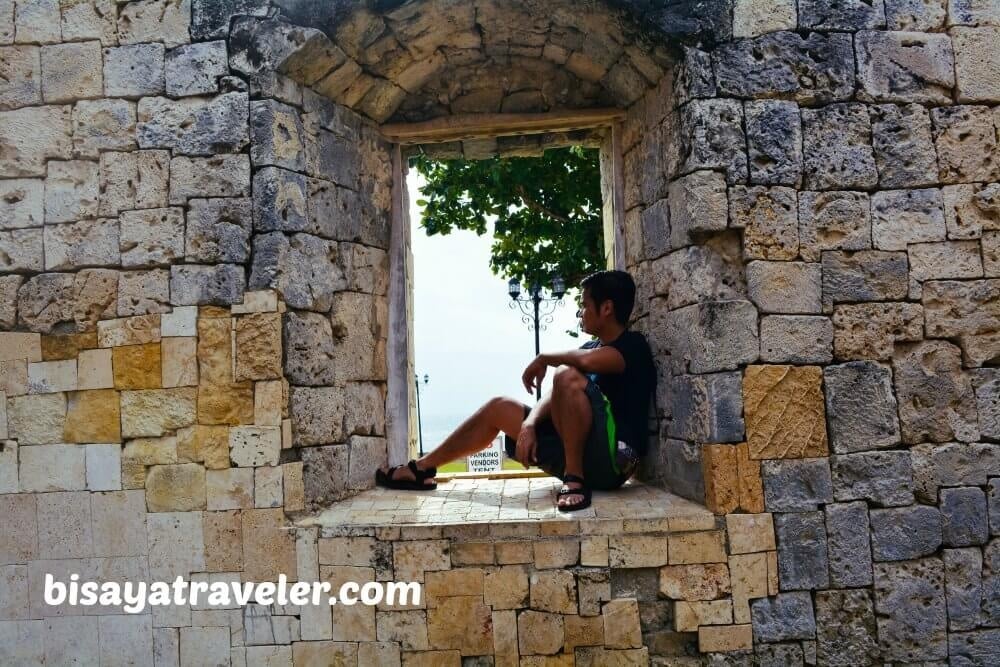 Clearly, everyone had a blast snapping pictures and posing in front of the camera.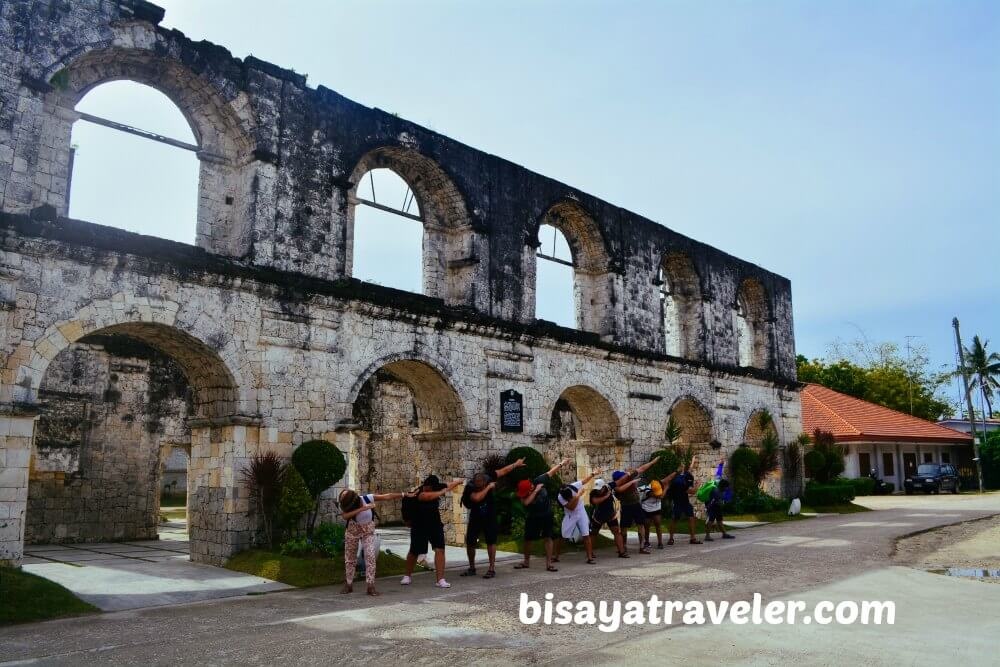 Upon Tammy's arrival, we wasted no time and headed straight to Tan-awan, Cancuaay, Oslob where a motorised boat was supposed to fetch us. From the main road, we descended to the sandy shoreline of Tan-awan. Then, we were greeted by the fresh island breeze and beautiful waters of Oslob.
We waited there for a while until we decided to eat our lunch there. A few minutes later, there was still no boat in sight approaching the beach.
We kept calling our boat service provider, asking them where the boat was. And after a few calls, they ultimately asked to go to Bangcogon, Oslob – the jump off point to the beautiful sandbar of Sumilon Island.
I, honestly, didn't get the whole story, but I'm pretty sure there was a little miscommunication between both sides.
Obviously, not everyone was happy, but luckily the Team Bang mainstays did get to uplift the troop's mood with their jokes, funny Tagalog phrases and infectious optimism.
Also read: My South Cebu Trip: 4 Days of Great Adventure with My Barkada
And speaking of Tagalog phrases, it seemed like that was the theme for our Sumilon Island trip. As far as I can remember, it was Kevin or Ace who set the tone for this theme, when a driver responded awkwardly to their Tagalog question.
As a way to compensate for the loss of time, our boat service provider gave us a free lift to Bangcogon via a red multi-cab, which was waiting for us at the main road.
To get back to the highway, though, we had to ascend a rather steep trail.
The trail wasn't really hard, but it can be quite a challenge for a hiking newbie. As a matter of fact, March – one of the club's newer recruits – felt a bit dizzy in the aftermath of the climb. Fortunately, Ace, sharing a dose of White Flower and Vicks Vapor Rub, was around to save the day.
In spite of the recent mishaps, the whole team was still excited and in high spirits. We even took a number of pictures, as we were making our way to Bangcogon.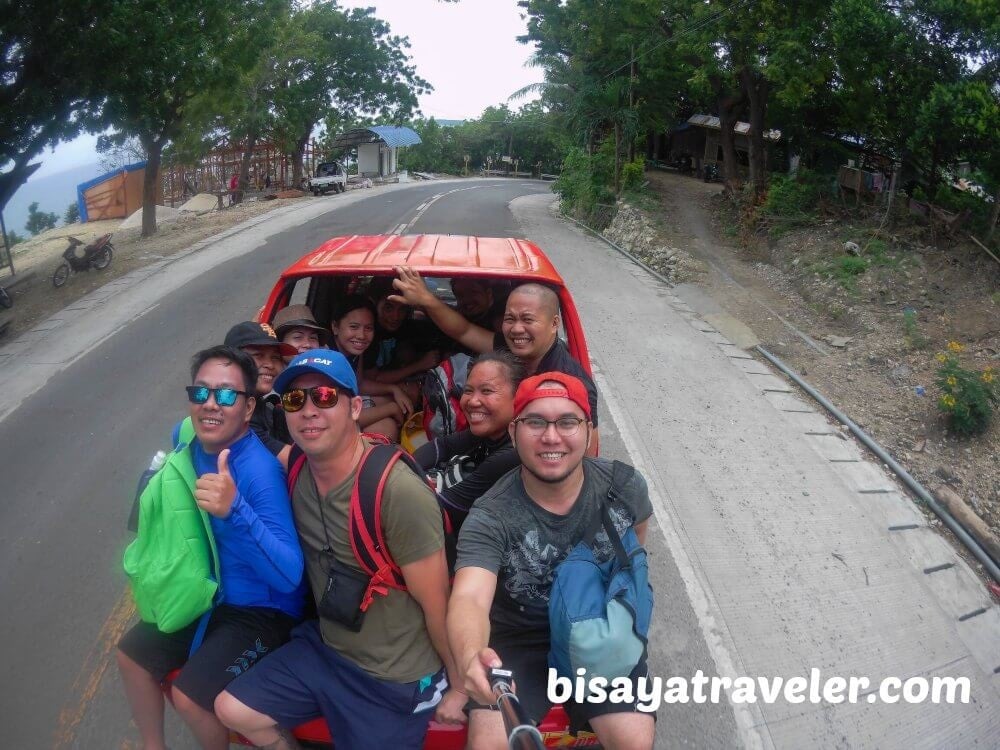 Once we arrived at the site, we went to the people in charge to pay the environmental fee (₱50 per person) to Sumilon Island.
While waiting for the boat, Lieve and Noel couldn't help themselves staring at the bikini-clad eye candies on the beach. As they've said, there were just surprised to see a ton of hills and peaks on the beach.
Eventually, a 12-person-capacity boat came to take us to the island paradise. And, as always, we took photos of our boat journey on the way to Sumilon Island.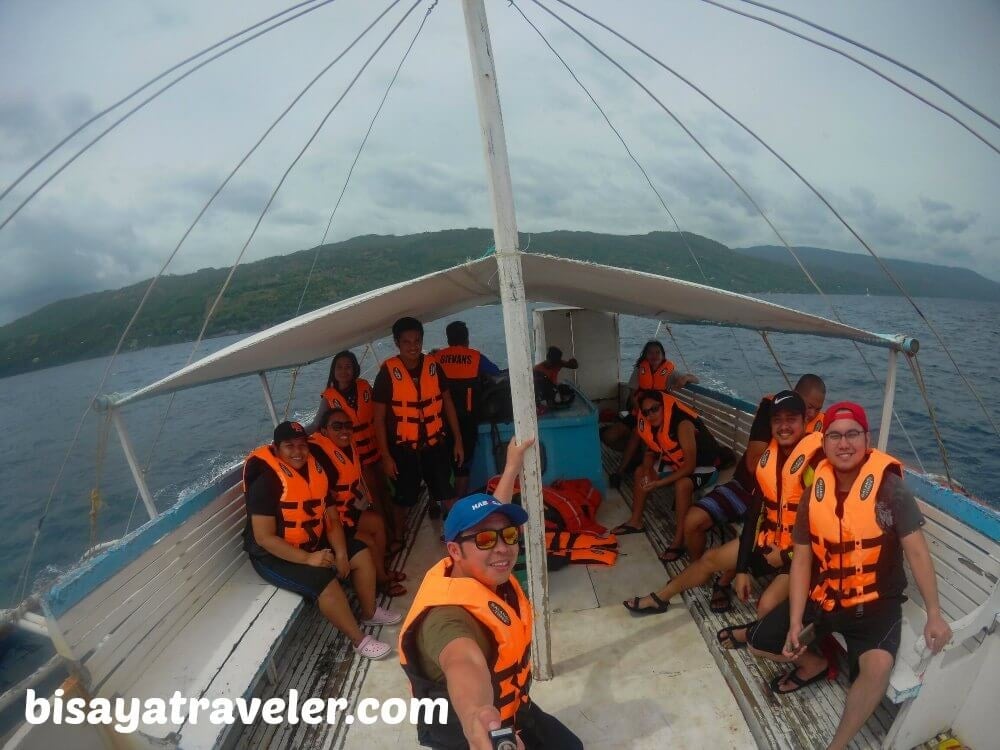 I can't remember exactly how long the boat ride to Sumilon Island was, but I guess it was somewhere around 10 to 15 minutes.
Without wasting any moment, we took off the life vests, grabbed our bags, and jumped into the soft white sandbar of Sumilon Island. And since it was a Saturday, the sandbar was literally crowded with tourists, from Tagalogs to Koreans and Europeans. Still, everyone in the team was pumped up to dive into the fabulous waters of Sumilon Island.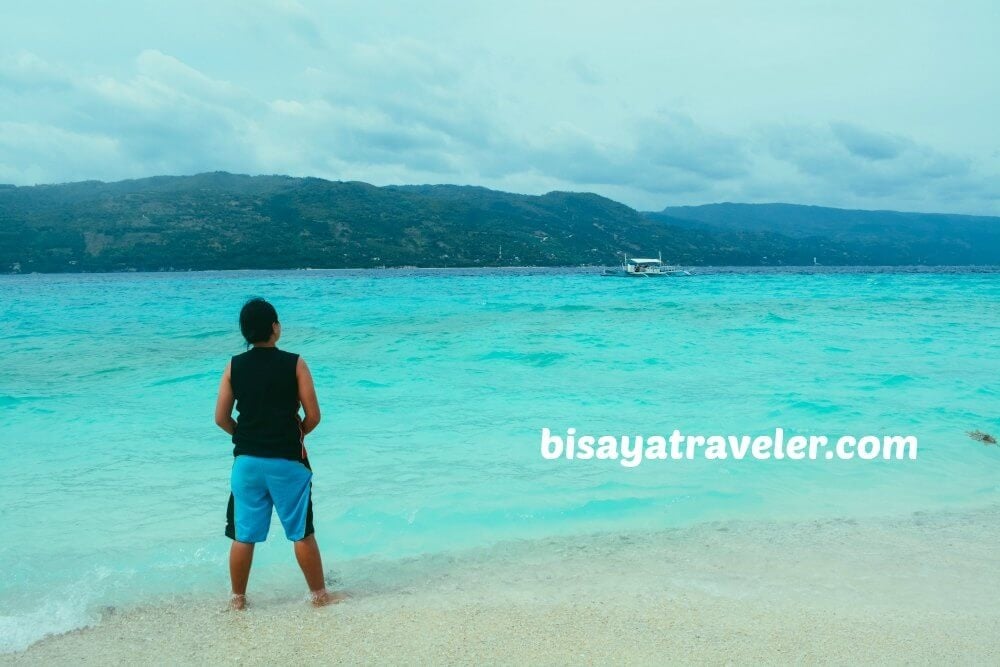 And guess what? The person in charge on the sandbar spoke to us in Tagalog, thinking we were guests from Manila, even though we have yet to utter a word. In some ways, this Sumilon Island trip reminded me of "Buwan ng Wika" during my elementary days.
With my SJ6 legend, we took photos of the team submerging, and enjoying the waters of Sumilon Island.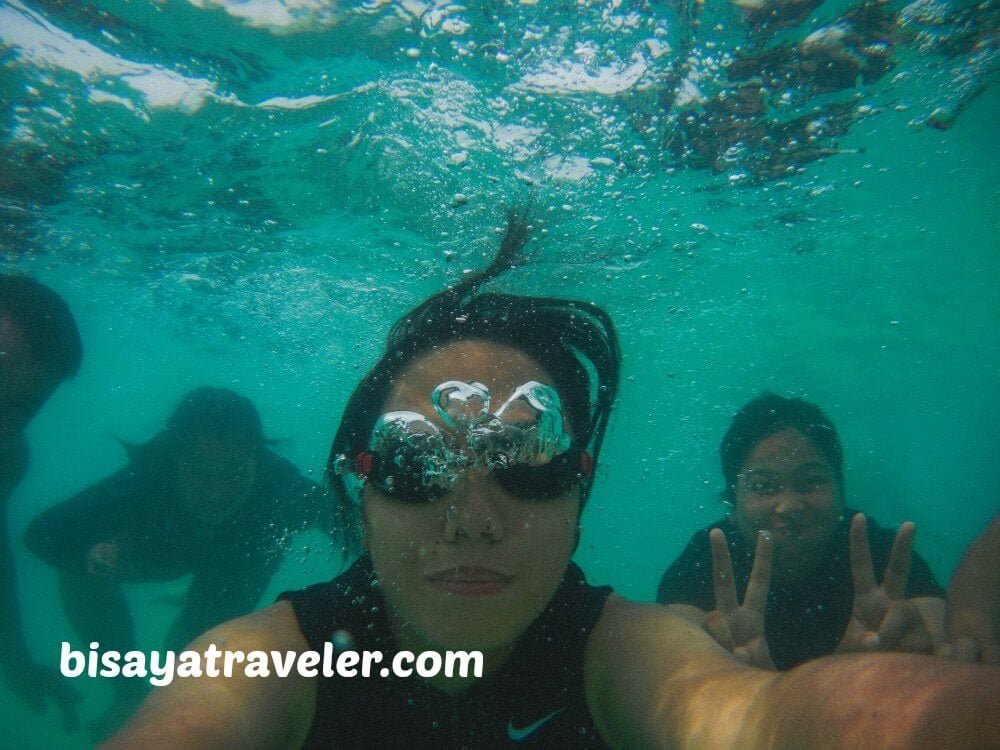 Likewise, we had a photo of some of the team's members "Dabbing" underwater.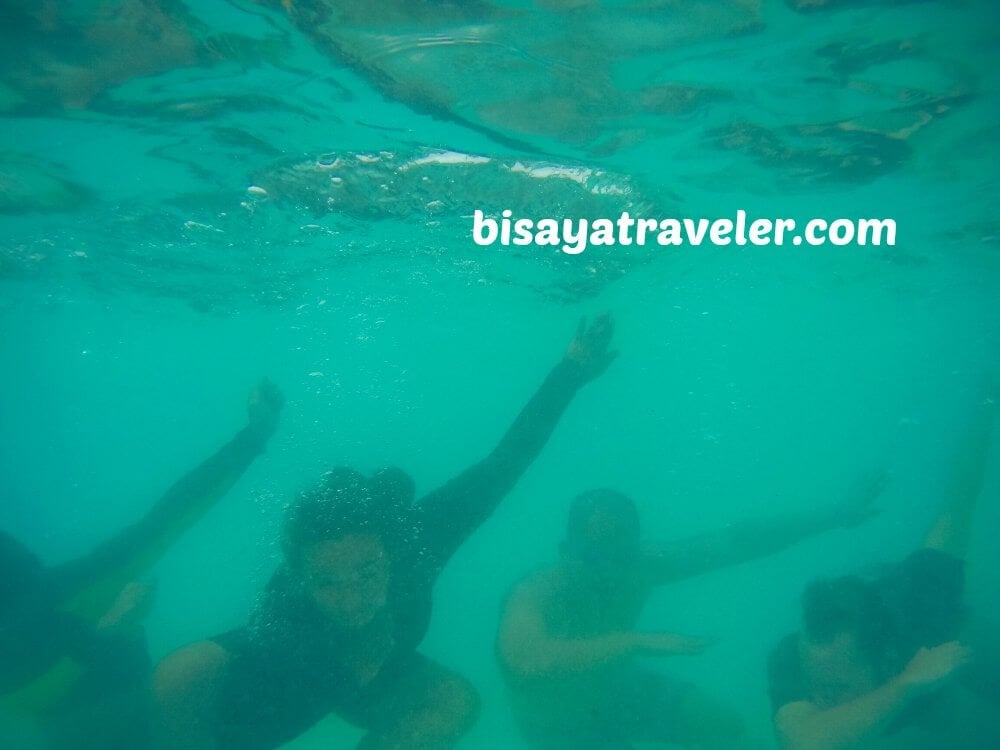 We had some interesting conversations, as we were swimming, and even discussed our future plans for Team Bang. Noel and Lieve, meanwhile, were busy enjoying the sights, gazing on lovely things on the sandbar. Of course, we did move around the tiny sandbar on Sumilon Island, snapping photos to every noteworthy sight.
And like any Team Bang escapade, we made our trademark poses along the sandbar.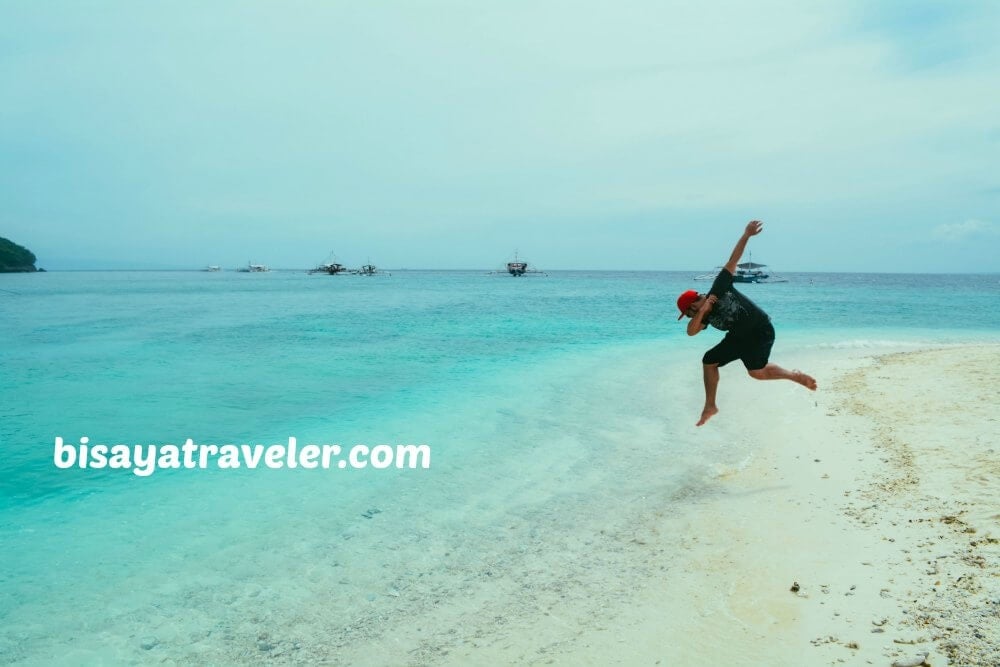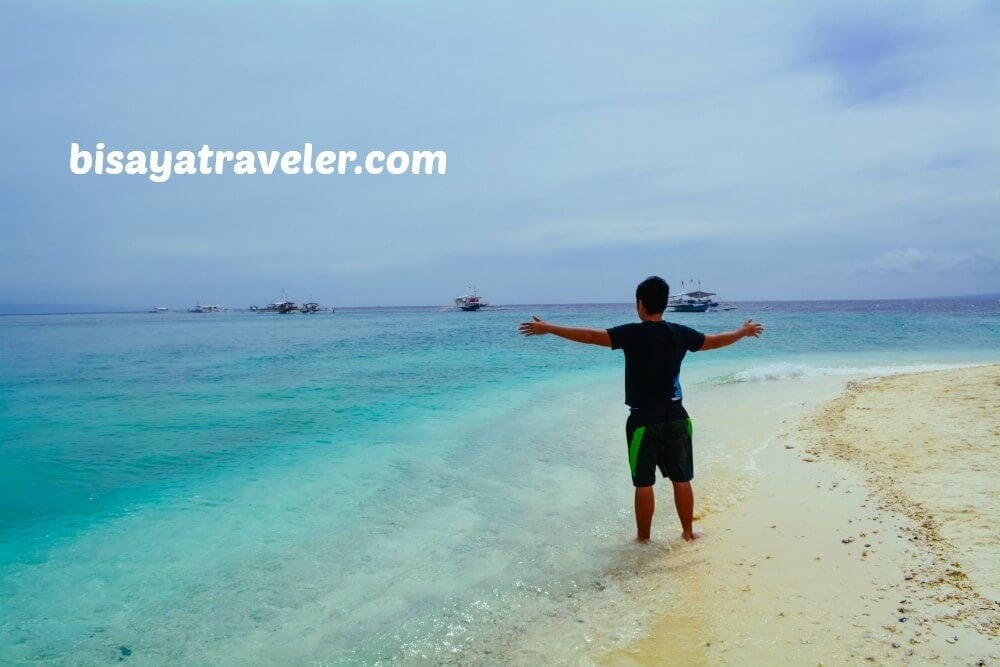 The sandbar was very sweet and awesome, and I really won't mind spending a whole day there. But, the crowd was getting thick, and we had one final stop on our flexible itinerary.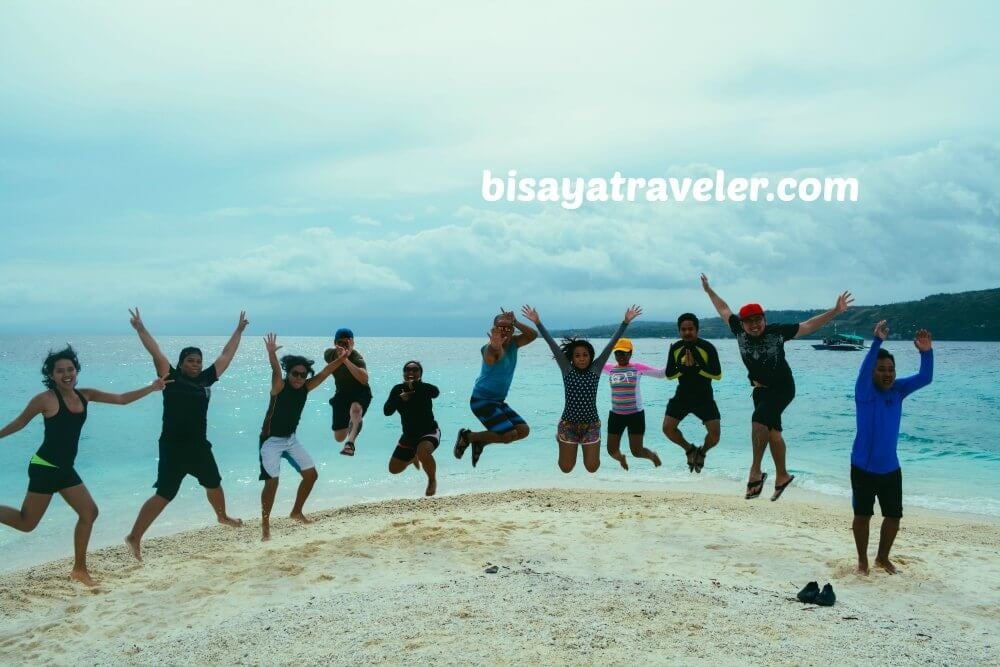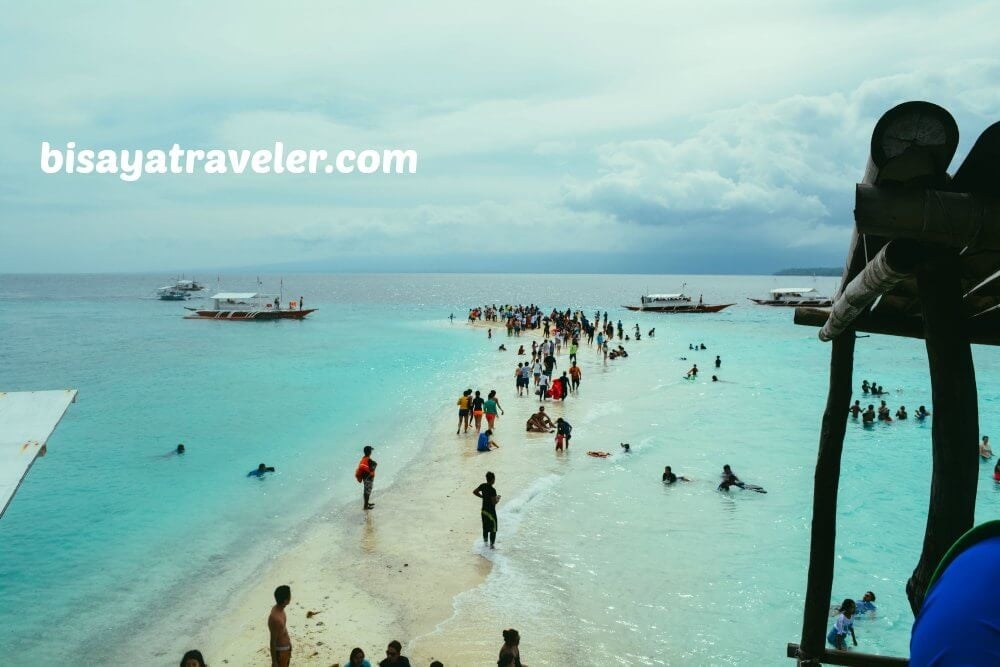 So, together with the other tourists on the sandbar, we left Sumilon Island around 3pm, and arrived at Bangcogon where we paid our dues.
Rates for this Sumilon Island trip
₱2,000 – Good for 10 people
₱2,500 – Good for 15 people
₱50 per person – Environmental Fee
By the way, the price for their boat rental service is slightly negotiable. Just contact Queenie at 0923-59-64918 or 0933-627-9538 for more information about their rates. As for us, we just paid ₱2,000 for their boat rental service, thanks to Wilfred's incredible haggling skills.
Estimated cost per person: ₱217 to ₱250 per person (excluding bus fare, snacks and lunch).
Also read: I Tried to Limit My 3-Day Cebu Trip Budget But Failed Miserably
Our Boljoon and Oslob day trip itinerary
4.30am – Depart from Cebu City South Bus Terminal
7.30am – Arrival at Ilihan
8.30am – Depart from Ili Rock
9:00am – Photo ops at Boljoon Church
9.30am – Buy lunch at the local market
9.45am – Depart from Boljoon
10:.20am – Arrival at Cuartel/ photo ops
10.45am – Depart from Cuartel
11:30am – Lunch
1pm – Depart for Sumilon Island
1.15pm – Arrive at Sumilon Island
3.30pm – Depart from Sumilon Island
4.30pm – Depart from Oslob
5.10pm – Arrive at Boljoon
5.30pm – Photo ops at Ili Rock
6pm – Depart from Boljoon
9pm – Home sweet home
All in all, I enjoyed every moment of my Boljoon-Oslob day trip with Team Bang. Yes, it wasn't as smooth-sailing as everyone hoped for, but everybody still had a blast and a memorable weekend getaway. And besides, like I always say, hiccups on the road make trip worthwhile, more interesting and even eye-opening. If it wasn't for the small stumbling blocks on our trip, I wouldn't have known that some of the members of Team Bang are fairly excellent in speaking Tagalog. Until next time! Paalam!