Contributed by The Lost Koi
This blog is going to be loooooooong. My aim is to guide you and provide every necessary detail for this three-places-in-one-trip itinerary.❤
BUT. First things first. Here are some important details you need to do:
A. Book your airfare during seat sale. I was able to score a PHP 600 roundtrip airfare ticket per person when Cebu Pacific hosted a seat sale last June. Make sure to book the earliest flight to Dumaguete and the latest flight to Manila.
Also read: 8 Tricks to Successfully Grab Cheap Promo Flights in the Philippines
B. Book your accommodations in advance. I was lucky to spot a flash deal from Harold's Mansion worth PHP 600 a night with PHP 200 tax (Original Price PHP 1,200/night). The room is good for two and comes with split type A/C, TV with cable, toilet and bath, towels (per request) and free breakfast. Surprisingly, the hotel room was nicer than we expected (and for its price, c'mon!). The hotel is located along Hibbard Ave., which is a tricycle away from the boulevard, and actually, almost anywhere in Dumaguete.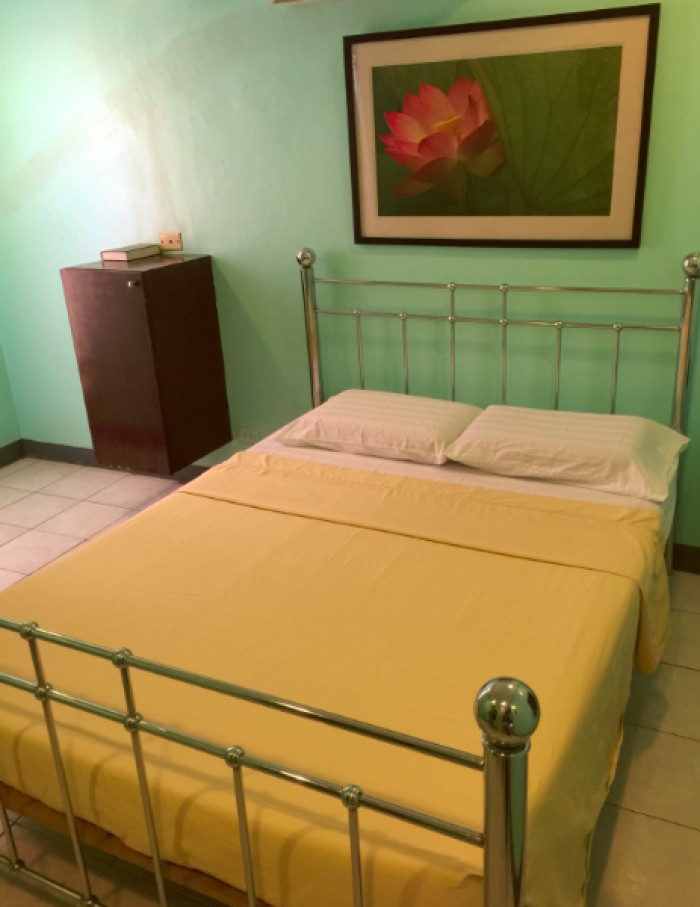 C. This whole itinerary is based on 2 pax, me and Anjo. Budget per person is PHP 6,000 (detailed expenses will be shown), but make sure to bring extra money if you plan to splurge on food and pasalubong! If you're travelling with 3 or more people, the budget might go lower.
D. Prepare for your trip. Bring your swim wears and underwater camera (and extra batteries!)
Ready?
Day 1: Departure from Manila
Our first day was intended for rest and food. We arrived at Sibulan Port at 8:30 AM. Good thing some guests checked out early, we were accommodated earlier than the check-in time. I noticed that the hotel offers diving classes and tour packages, where we plan to book our Apo Island trip.
We ate our lunch at J's Chicken Inato, near the boulevard, which is quite similar with the famous Mang Inasal, except that there is no chicken oil in the condiments (I'm a chicken oil fan!).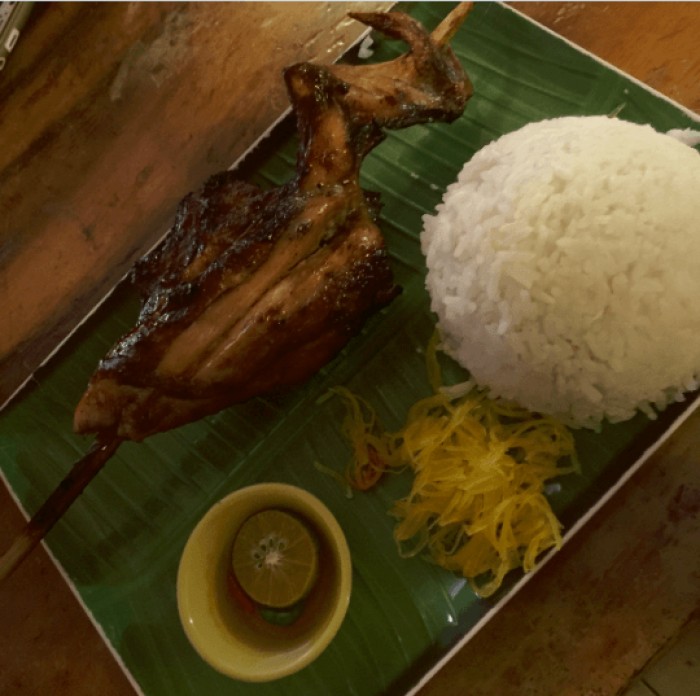 Inato for PHP 98, comes with rice
We slept until dinner time and tried Lab-as Restaurant which is located in the boulevard. The restaurant offers fresh sea food and some local dishes. If you're a coconut milk sucker like me, make sure to try Dumaguete Express!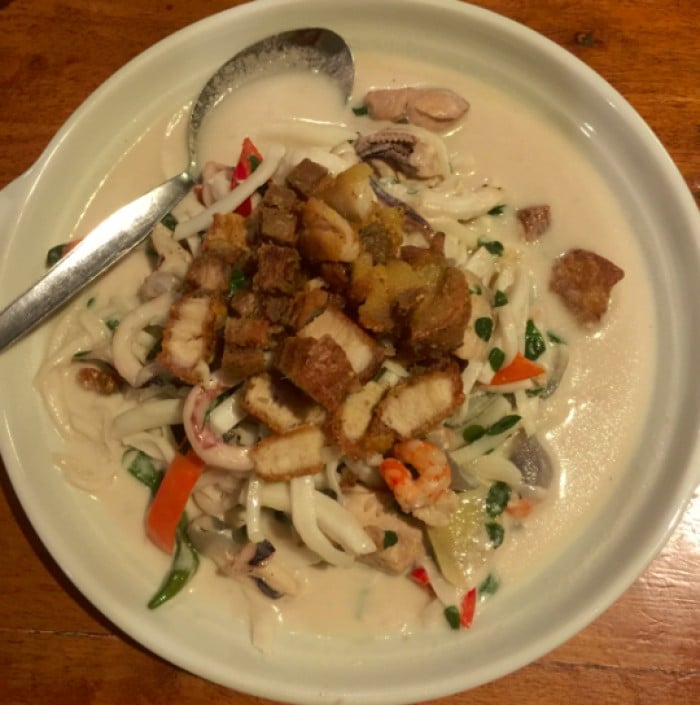 With pork, shrimp, squid and coconut meat
At 8:00 PM, we headed back to the hotel and requested to be included in the Apo Island tour scheduled next day.
And then we slept early and set our alarm clock at 5:30 AM for Apo Island!
Here's a quick recap of our expenses on Day 1:

Total expense for the first day is PHP 507.00 per person. Cheap, right?
Travel Date: October 6, 2015
Day 2: Apo Island
Apo Island is famous for its dive sites and snorkeling destinations. It is also popular for its giant sea turtles, locally called pawikan. That is why when I booked my Dumaguete trip, swimming with sea turtles is in my priority list!
As previously mentioned, good thing our hotel offers packages for different tourist destinations in Dumaguete. One of them is Apo Island which costs PHP 1,000 per person. The package includes:
Round-trip transportation from hotel to Dauin to Apo Island
Snorkelling device
Flippers
Life vest
Snorkelling guide (who are very much willing to take photos)
Tuna/Chicken/Cheese Sub
(Best part) unlimited coffee, tea, banana, jam and bread
This is already a good deal because the boat to Apo Island alone is PHP 2,000 (good for 4) or PHP 3,000 (good for 8), but this does not include food and transportation to Dauin.
I think the hotel's tour packages are not limited to guests, because they own a diving centre where non-guests may also book. If you're not staying at Harold's Mansion, you may visit their diving centre and ask for schedules.
We woke up at 5:30 AM to prepare and eat breakfast. Call time for Apo Island tour is 6:30 AM. At 7:00 AM, we were all heading to Dauin Beach, which is the jump-off point to Apo Island, where our ferry awaits.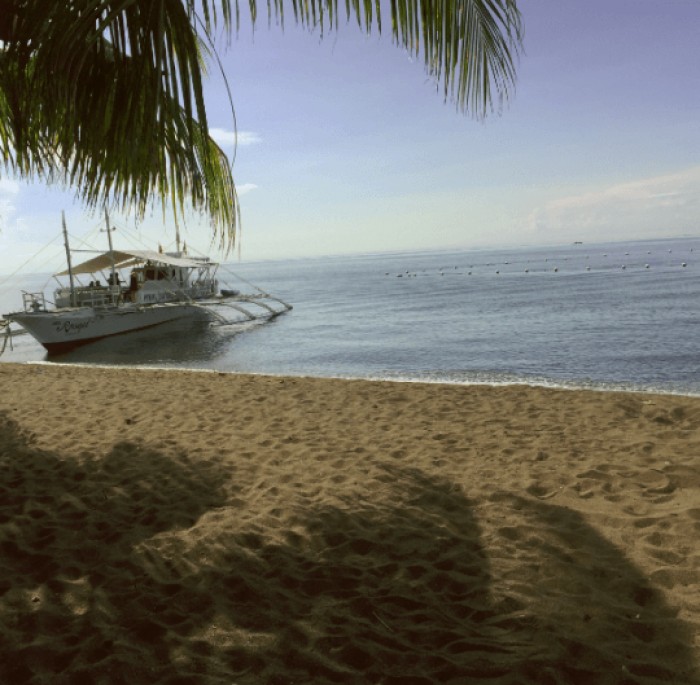 Dauin Beach
Ferry ride from Dauin to Apo Island is approximately 35 minutes even if the island is already visible from Dauin Beach.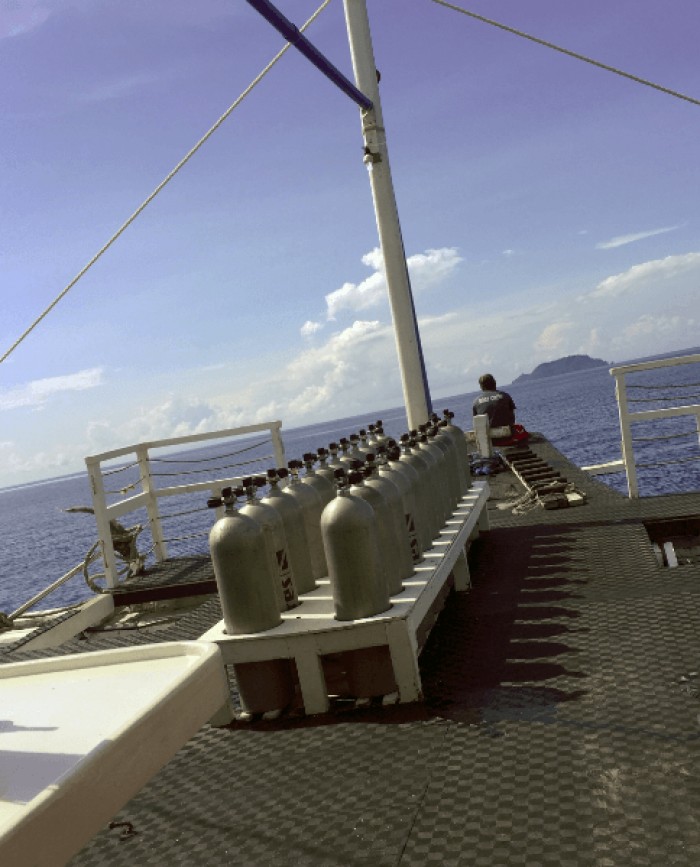 We were able to swim and snorkel around Apo Island, the package includes three different snorkelling spots with 30 minutes to 1 hour interval.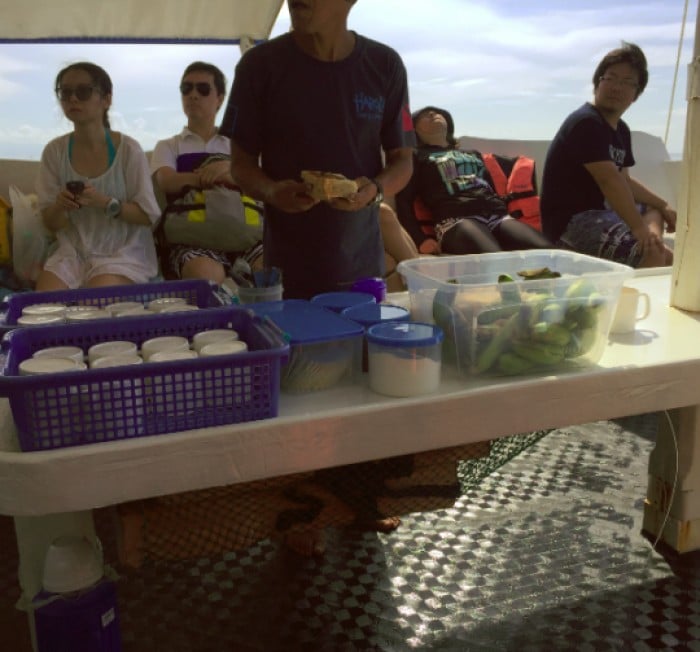 The unlimited coffee, tea, bread, jam and bananas
We were able to see a lot of sea creatures like sea snake, blue jelly fish, sea cucumbers, trigger fish and of course, sea turtles.:) Sea turtles are so cute I want to hug them all!
SEA TURTLE! We were able to see four sea turtles around Apo Island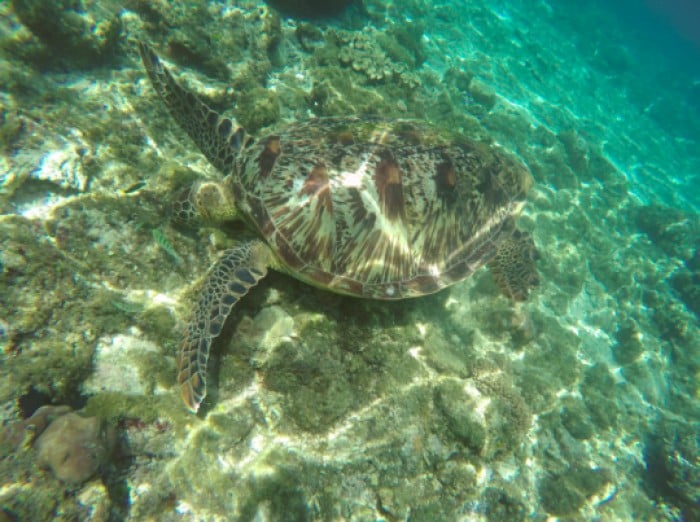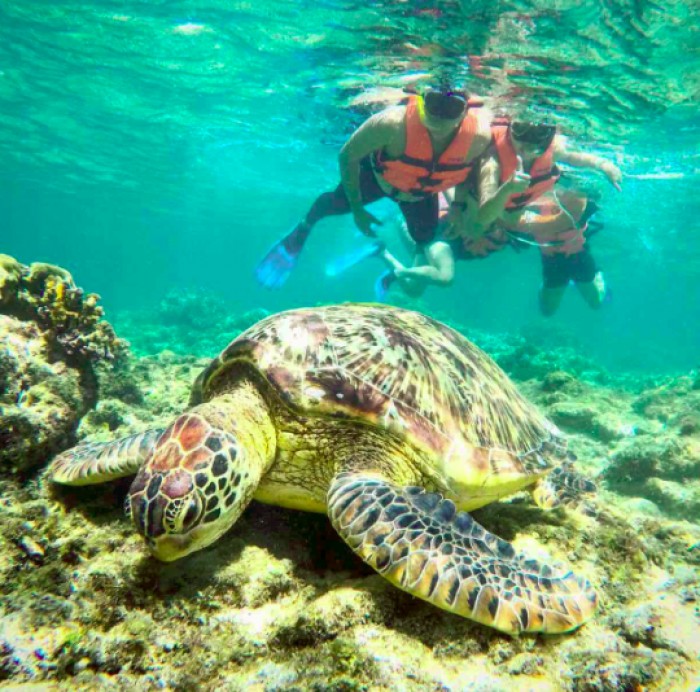 The tour ended at 3:00 PM when the captain announced that heavy rain was fast approaching. We headed back to Dauin and arrived at the hotel at 4:30 PM.
Since we were feeling cold and hungry, we decided to buy food and try the local tempura. It looks like kikiam but tastes like shrimp. It comes with five different sauces (1 being the mildest and 5 being the spiciest). Of course, I had sauce number 5 and IT WAS SOOOOOOOOOOOOO SPICY I had to buy a litre of water and ice cream to wash off the taste!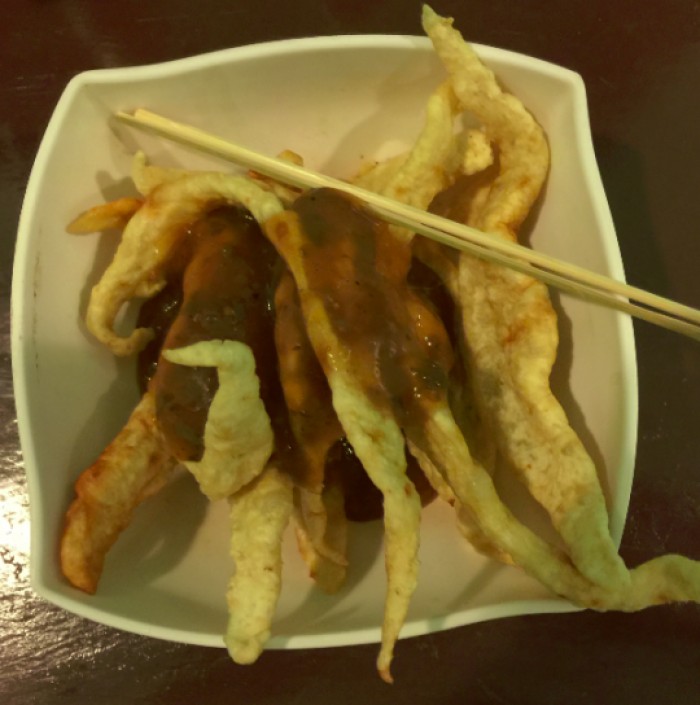 Here's a recap of our expenses for Day 2:

Total expense for day 2 is PhP 1,020 per person. Yes? Yes!!
Travel Date: October 7, 2015
When I booked my flight to Dumaguete, I didn't know that Oslob, Cebu is just 45 minutes way! When I learned about this, I got really excited and included it in our itinerary. I wouldn't miss my chance to see those gentle giants!
Yes! Oslob, Cebu is just 45 minutes away from Dumaguete city, compared to Cebu City, which is 4 hours travel time.
Tip: If you're planning to experience swimming with the whale sharks, Dumaguete (Sibulan Airport) should be your flight destination.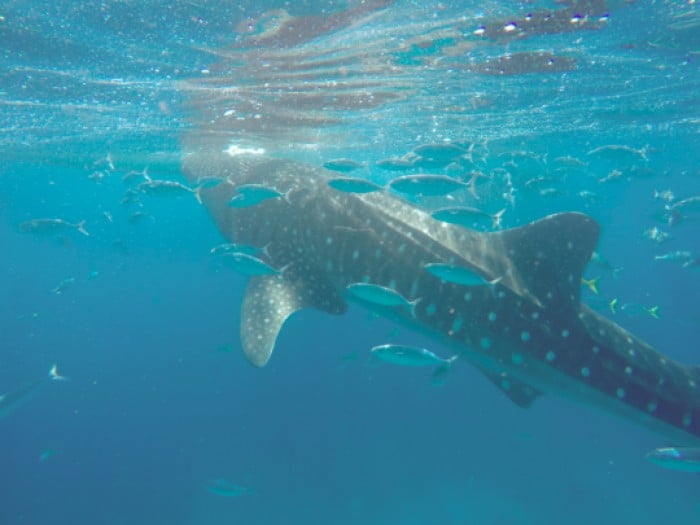 Day 3 (Part 1): Oslob, Cebu
The next day, we woke up at 5:30 AM and prepared ourselves for our Oslob trip.
From Dumaguete City, we rode a tricycle for PHP 150 going to Sibulan Port, which is near the airport. At 7:00 AM, we were able to catch the ferry going to Oslob for PHP 62, and it took approximately 30 minutes to reach Liloan Port.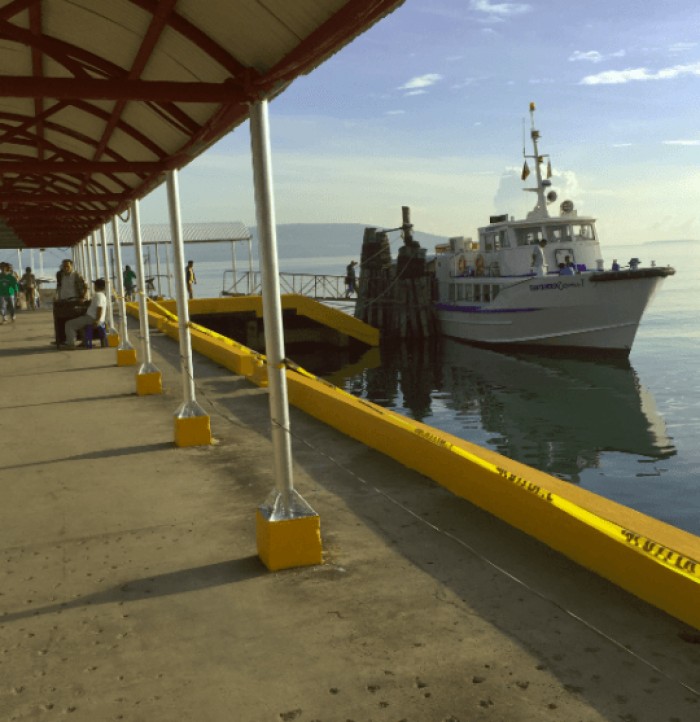 When we arrived, a bus going to Oslob was already waiting for passengers. Bus fare is PHP 15 per person.
Tip: When you purchase your ferry ticket, make sure to request for a seat number so that you'll be able to sit. We weren't able to do this but lucky for us, the trip only lasted 15 minutes so we didn't mind standing.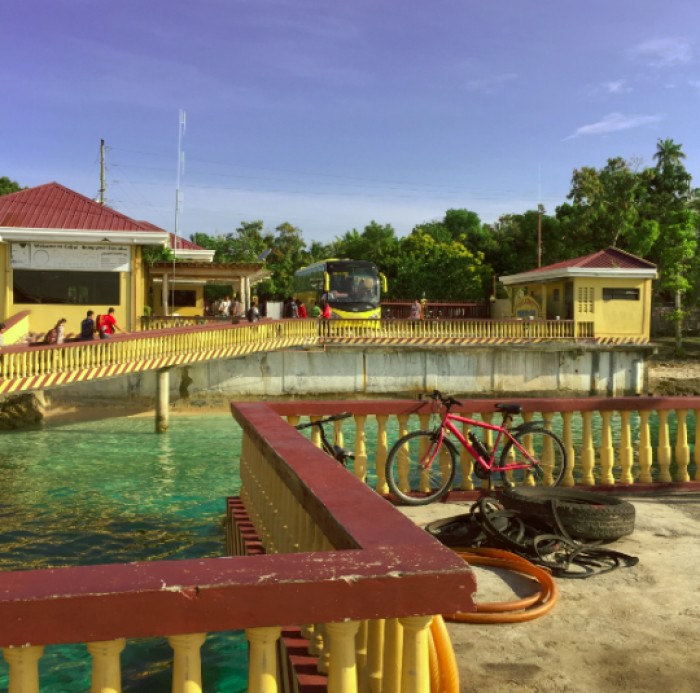 Look at how clean their port is. 
Also, make sure to ask the bus conductor to drop you off at the whale shark briefing centre because if not, they will drop you in one of the resorts and you'll have to pay PHP 100 for resort entrance on top of the whale shark watching fee of PHP 500. Good thing the resort entrance fee includes free use of their shower, dressing rooms and a locker where you can leave your valuables. If you weren't able to bring your underwater camera, they can lend you one with a fee of PHP 500 and will store your photos in a CD.
The resort where we were dropped off provided a multicab going to the Whale Shark Watching Site where we had a mandatory orientation. After that, we rode a small boat going to where the whale sharks are. Once we reached the spot, a whale shark eating alamang welcomed us.
As silent as possible, we dipped into the water and tried our best not to disturb them. The guide will tell you to swim underwater and will push you to swim deeper so he can take photos of you with whale sharks as your backdrop, this means you have to take off your life vest. They are amazingly huge and it freaked me out at first. But they are really gentle giants! Touching them is not allowed, but one of the whalesharks swam near me, my foot accidentally touched it! Amazing feeling!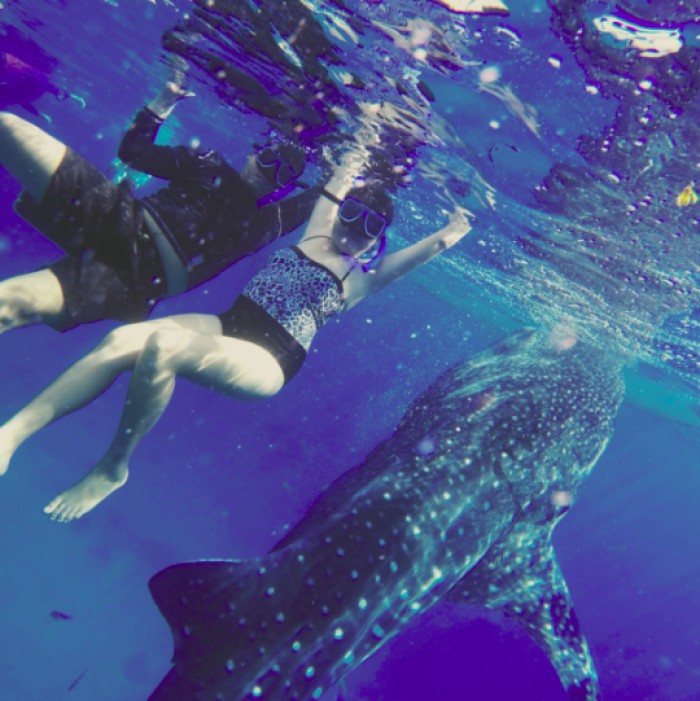 The experience with whale sharks is only for 30 minutes which you'll find is enough because it's really tiring to swim and take photos! After sometime, we returned to our boat and enjoyed the view. I interviewed the guide feeding the whale sharks and he told me some interesting facts:
There are 215 whale sharks in Oslob
Their teeth are as soft as toothbrush bristles which is the main reason why they can't eat you
I asked if the whale sharks have names because I'd like to name one but according to the marine biologist present and swimming at that time, whale sharks are distinguished based on their spots which are unique, like thumb marks for humans
The whale shark he was feeding that time is 204. Yes, their names are numbers
Their life span is 150 years (human years)
They can bear a baby whale shark once they reach 60 years old (human years) and can bear 1-2 babies. No wonder they are endangered
Death is not really expected, except, of course, due to old age
In some countries, the reason for a whale shark's death is when a large ship hits them
They also have calluses
They love (and can only eat) alamang
Whale shark watching schedule is only until 12 pm
I asked the guide to throw the alamang near our boat so the whale shark will come closer, he reminded us not to touch them. Look!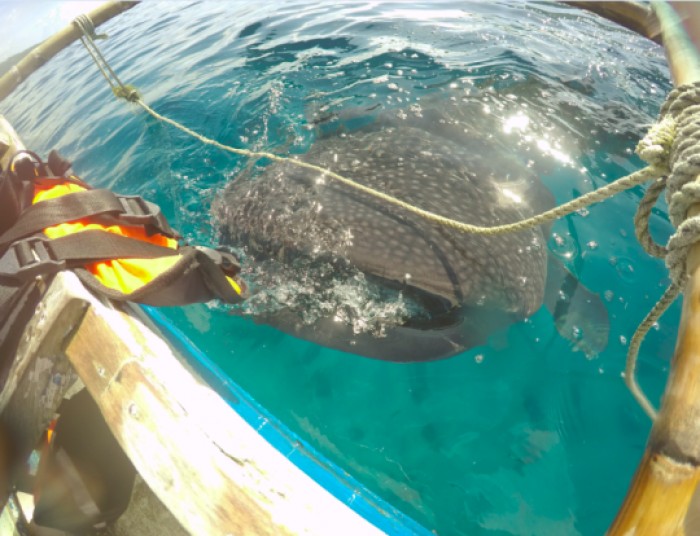 After 30 minutes, we returned to the shore and took a quick shower to remove the alamang smell from our swimwears. We then rented the same multicab to bring us to Tumalog Falls, which is just 15 minutes away. The trip costs PHP 120 per person round-trip plus PHP 20 entrance fee. In the jump off point, a lot of motorcycles are available for rent for PHP 50 to bring you to the falls, but since the trek is only 5 minutes (which is by far the shortest trek to the falls I've visited) and the road is cemented, we decided to walk. When we arrived, we were amazed at how beautiful the falls is.
The water was cold and refreshing and the waterfall curtain is not impossible to reach because the water level is not that high.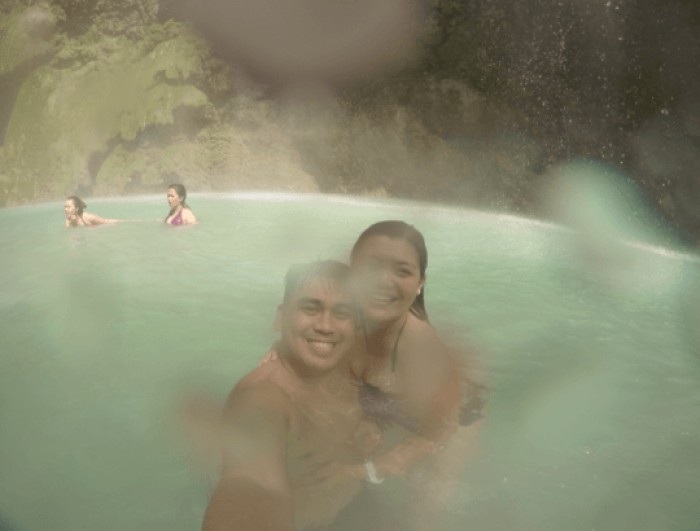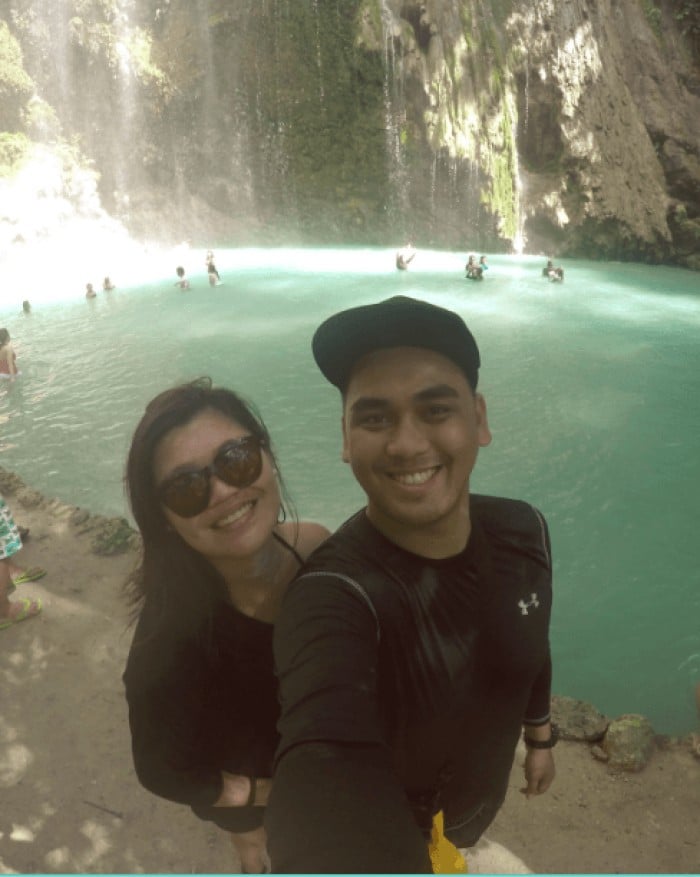 After 10 minutes, we returned to the resort, showered and headed back to the port. We had a quick bite and rode a tricycle for PHP 150 back to Liloan Port and ferry for PHP 62 back to Dumaguete.
We arrived at the hotel at exactly 12:00 PM so we decided to go to Siquijor which turned out to be a bad idea. Haha! But believe me, the trip was fun!
Also read: 15 Thrilling Outdoor Adventures to Conquer in Cebu
Just a quick recap, here is the breakdown of our expenses:

PHP 1,254 per person for this experience? Not bad!
Travel Date: October 8, 2015
Even this part of the trip was not in our initial itinerary. I just happened to meet someone from Dumaguete who told me that I can also visit beautiful and unspoiled places in Siquijor.
Siquijor, the land of the healing, is the third smallest province in the country. The province is commonly associated with mystic traditions that the island's growing tourism industry capitalises on.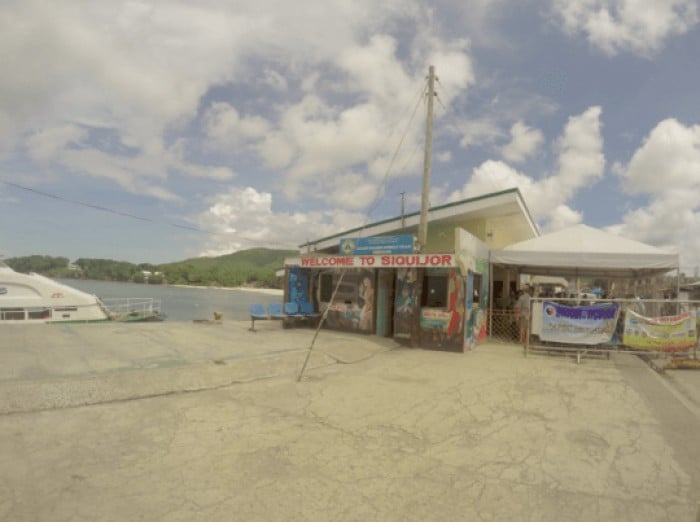 Day 3 (Part 2): Siquijor
At 12:30 PM, we rode a tricycle from the hotel to Dumaguete port which is located at the far end of the boulevard, trike fare is PHP 8 per person.
From there, we rode a ferry going to Siquijor for PHP 210 and PHP 15 terminal fee. It is recommended to ride the Ocean Jet because they are faster, travel time is 1 hour.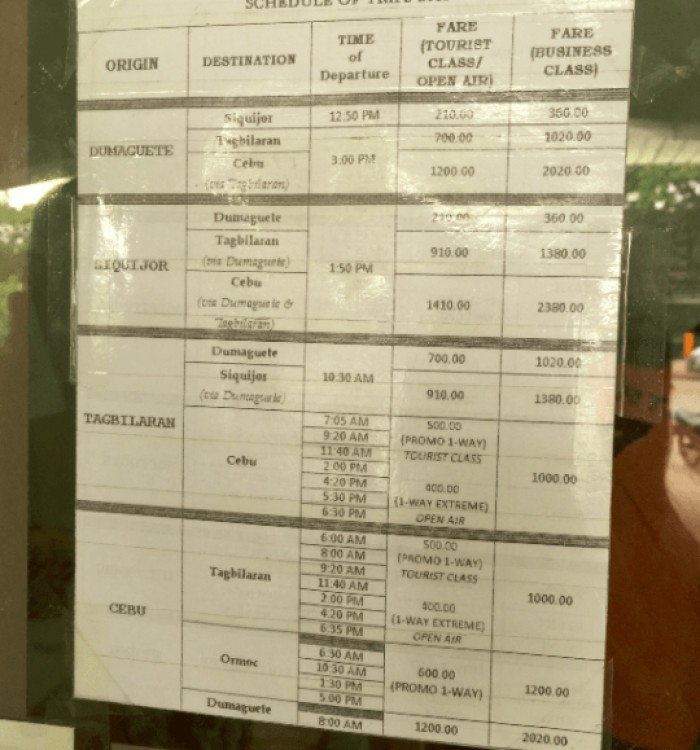 Fare chart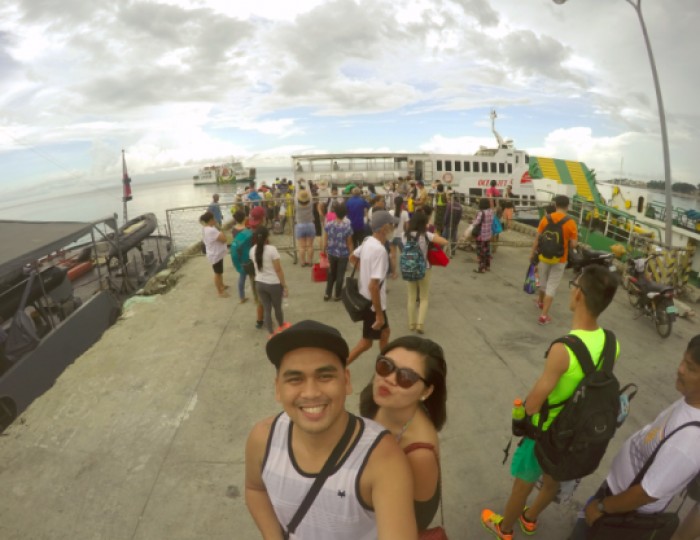 Upon arrival, a lot of tricycles, multicabs and motorbikes are available for rent for you to take a tour around the mystical place. Since Anjo knows how to use a motorcycle and has brought a license, we rented one for PHP 350 which is good for 24 hours. You may also hire a tricycle for PHP 1,000 and a multicab for PHP 1,500. We just chose the motorcycle because we wanted to visit only two places and the guide won't let us haggle the price – which we found fair because the trip was really far, approximately 40 kms.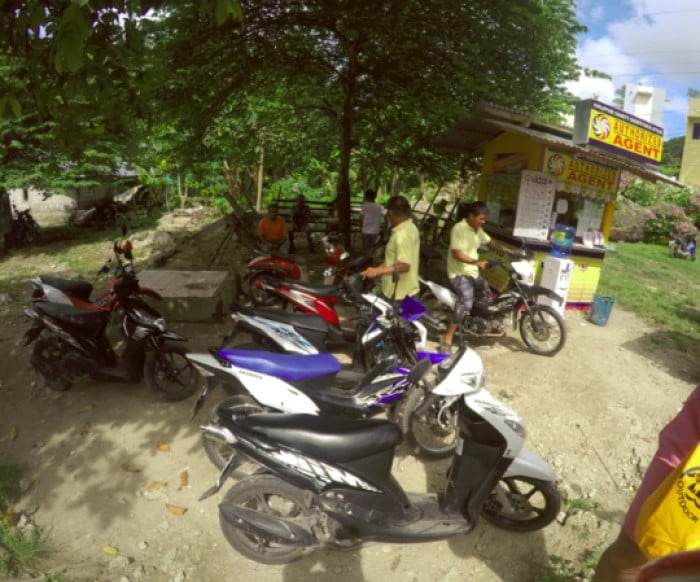 At 2:00 PM, we were on the road to visit Cambughay Falls. Because it was really far, we had to have the motor tank full twice for PHP 40/ litre. Gasolines are available in almost every store but they are in soda bottles and called per colour – Green or Red.
During our motorcycle ride in Siquijor, we noticed that their means of transportation is motorcycle, which explains the availability of greens and reds in every store.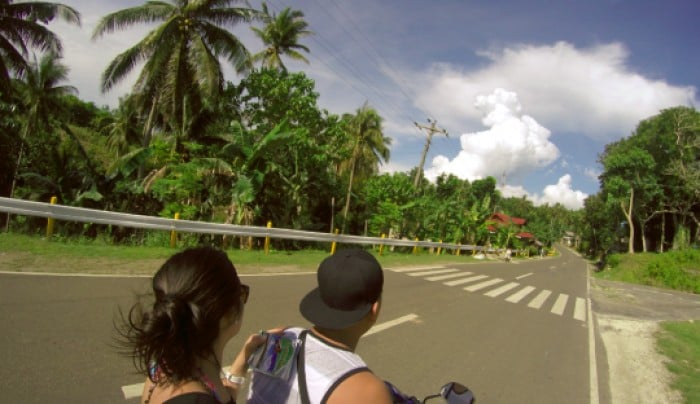 Believe it or not, we only saw one private car in Siquijor!
We arrived at Cambughay falls at 3:15 PM. There is no entrance fee, only parking fee of PHP 20 per motorcycle. A guide will show you the way to the falls where there is a bit of trekking (120 steps down to reach the foot of the falls).
Also read: How to Spend 3 Days in the Mystic Island of Siquijor
When we arrived, the guide told us that the water is "brown" or muddy due to the rain earlier that day. Too bad we weren't able to swim and try the "baging". We just drank fresh buko, returned to the parking area and headed to Salogdoong Beach.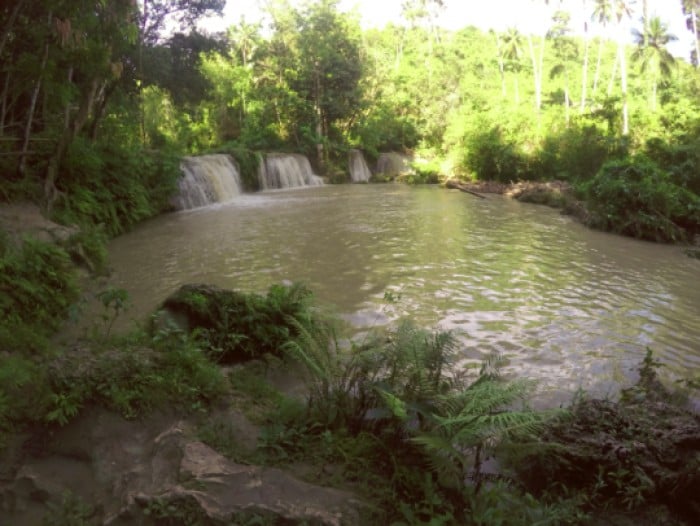 The second layer of the falls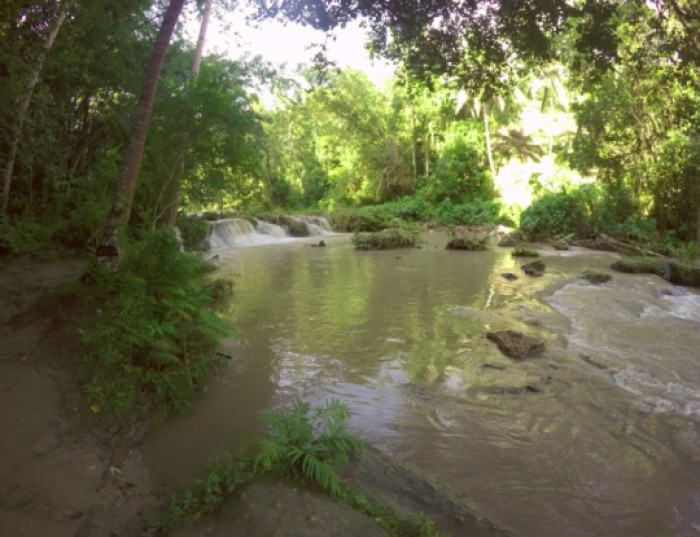 The first layer of the falls
We asked around for instructions on how to get to Salogdoong beach. According to the people we asked, it was only a 25 minute ride. But I think the ride was longer than that even if we were already driving at a very fast pace!
We arrived at  Salogdoong beach past quarter 4:00 PM. We only had few minutes to swim so we can catch the 6:00 Roro back to Dumaguete (otherwise we'll have to spend a night in Siquijor). We paid the entrance fee of PHP 15 per person and tried to enjoy the beach for a couple of minutes.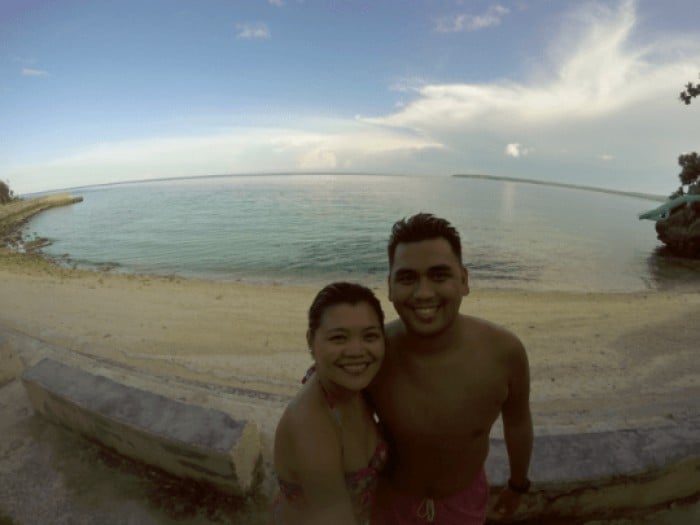 We noticed that a slide and a cliff diving spot are available for tourists but we were not able to utilise them because we needed to head back to the port.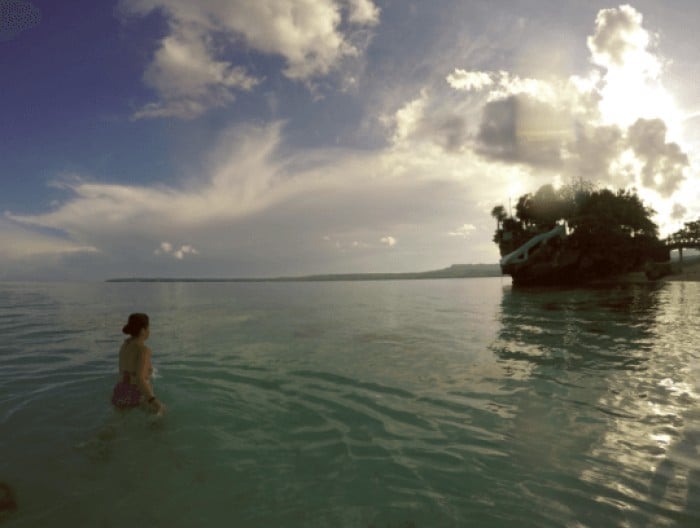 At exactly 4:00 PM, we left the beach and tried to catch the last ferry back to Dumaguete as fast as we could.
Here are some of Siquijor's famous tourist destinations we saw along the road: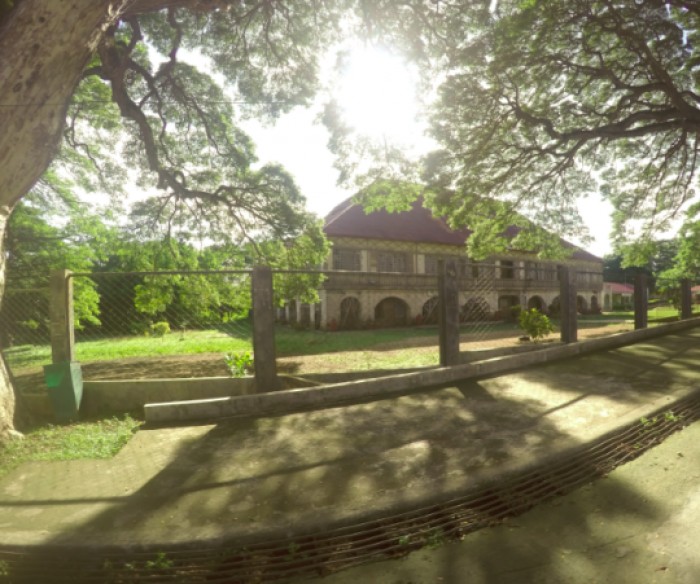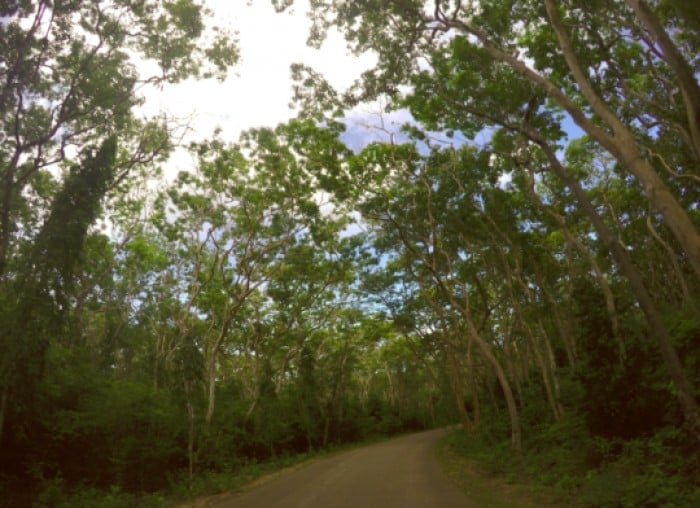 AAAANNNNDDDDD We were successful! We arrived a little before 5:30 PM – But it felt like sand and air were all over our bodies because of the longgggggg motorcycle ride we took!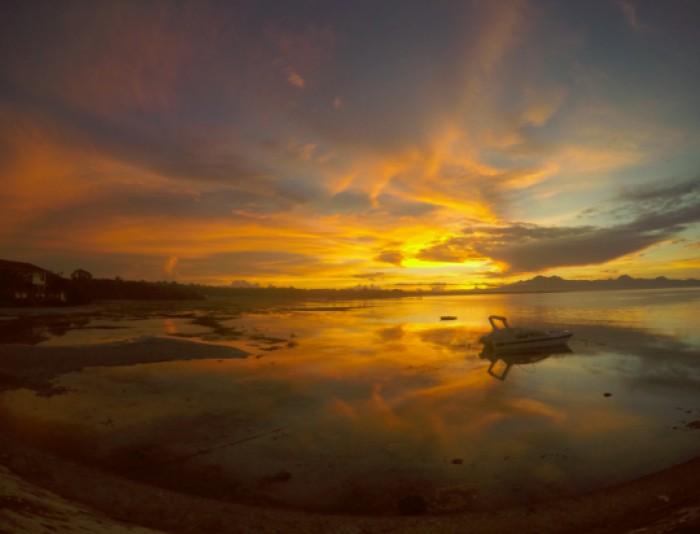 While walking to the port, beautiful Siquijor sunset bid us goodbye.:)
We rode the RoRo back to Dumaguete for PHP 100 per person with approximately 2 hours travel time.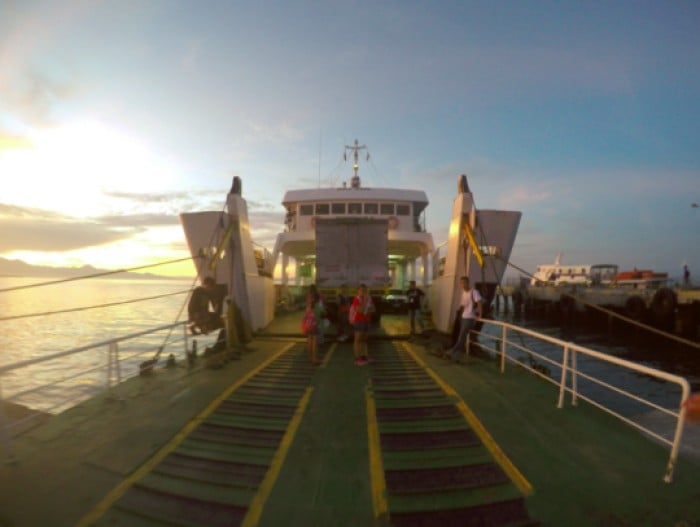 Important: If you want to explore Siquijor and visit all the amazing sites, make sure to allot a full day. There are more than 10 destinations in Siquijor!
When we arrived in Dumaguete, we ate some seafood and grills.
Just a quick recap of our expenses for this trip:

PHP 746 per person for this adventure? Worth it!
Travel Date: October 8, 2015
Our fourth (and last day) was allotted for Siquijor, but since we squeezed it in our third day itinerary, our last day meant no more waking up early. WOOHOO!
We woke up around 11:00 AM, just in time for check-out. After leaving the hotel, with our backpacks and memories of this trip, we visited the famous Sans Rival – where you can have your lunch at their bistro and grab desserts. We ended our trip with their to-die-for silvanas (and coffee, perfect pair! )
Their butter silvanas are available for PHP 140 per box (10 pieces per box) or you can try their chocolate silvanas for PHP 180. Other sweets are available in their store.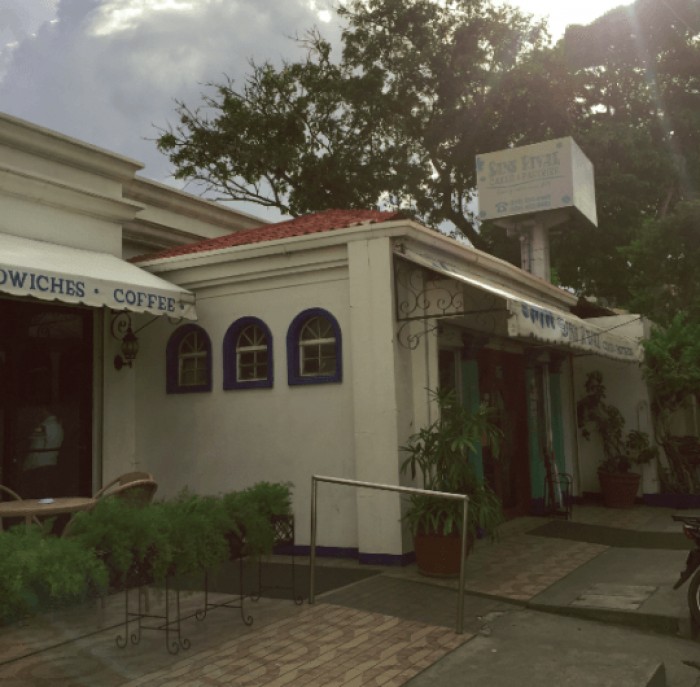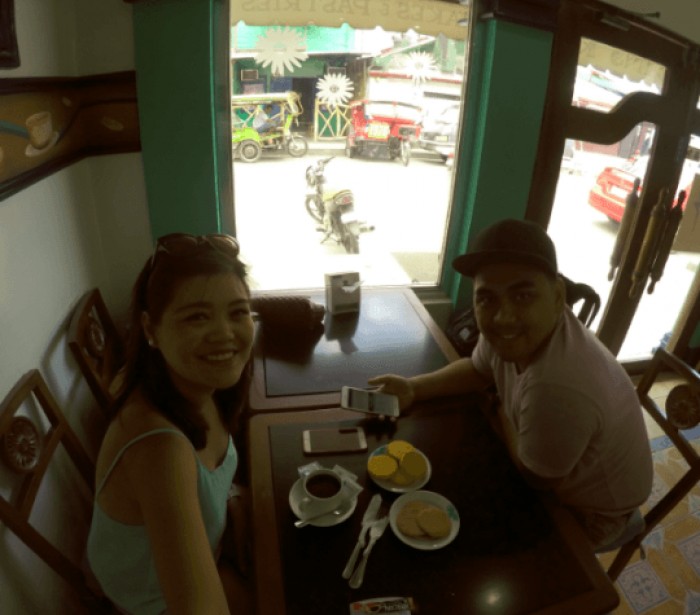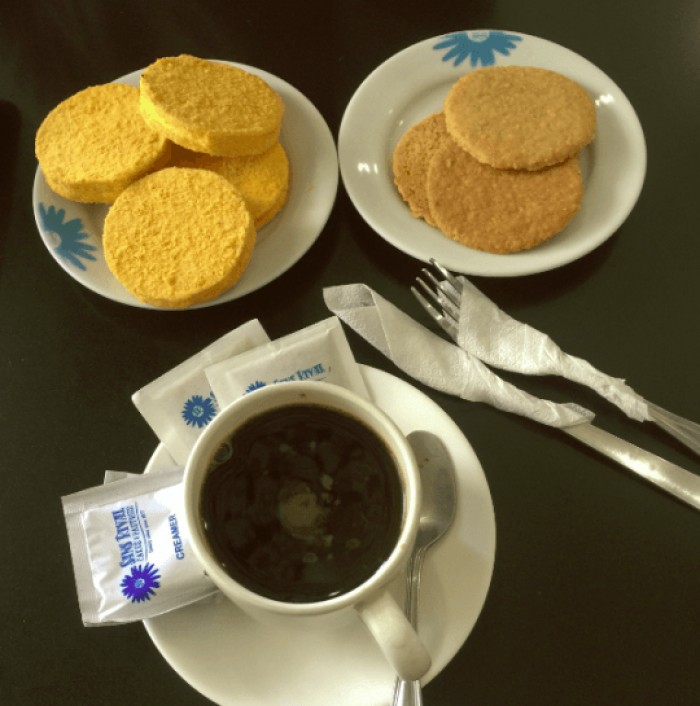 We also visited a pasalubong centre to buy some biscocho and butterscotch.
At 2:00 PM, we were off to the airport to catch our flight back to Manila.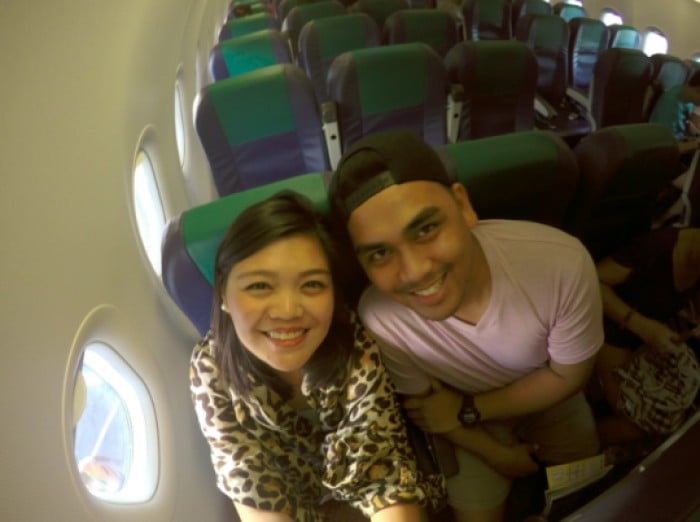 Here are some of the things I would like to share to those of you who would like to visit Dumaguete, Oslob and Siquijor:
Do bring your GoPro or any underwater camera with you because the best part of this trip is when you are under water! Make sure batteries are full!
It's okay if you are not a good swimmer or can't swim at all because life vests are always available and tour guides will help you (if ever you need them)
Tricycle fare from Sibulan (where the airport is located) to Dumaguete City is PHP 150. Tricycle fare around the city is only PHP 8 per person.
People in Dumaguete will talk to you in their dialect, make sure to inform them that you can't understand so they can speak to you in Tagalog or English
They are accommodating when you ask them about directions, don't be shy!
There is no need to bring extra clothes (and undergarments) for every destination because you can go to any destination and back to your hotel with your swimsuit and a decent cover up, of course not those see-throughs! Maybe an opaque dress or a shirt and shorts will do. I did quick showers after every water activity but real shower and cloth changing were done in the hotel.
Apo Island and Oslob whale shark watching should be done early in the morning that's why it's best to allot two different days for each activity
Siquijor trip should be a full day trip, or else, you'll end up wasting your time on the road instead of enjoying the places. If you're planning to have your Siquijor trip on your last day, it's best to book the latest flight back to Manila.
Try Dumaguete Express in Lab-as Restaurant and Silvanas in Sans Rival
Other destinations you might want to consider are Sumilon Island, Manjuyod sandbar, Canyoneering and Zipline in Valencia – I will definitely go back for these!
Also read: Dumaguete to Siquijor 4-Day Itinerary: Top Things to See and Do
Here's a quick recap of our itinerary and expenses: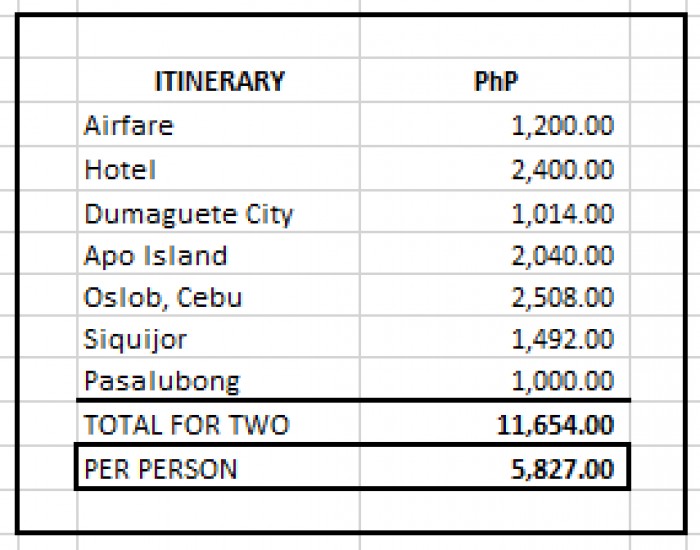 I hope you find this blog inviting that it will make you book the soonest flight to Dumaguete! I tell you, it's really amazing to see beautiful places and creatures in one trip! I myself didn't expect this trip to be so good! Totally one for the books!