Dumaguete and Siquijor are two destinations in the Visayas region with many unique sights and sounds, and not to mention the warm, hospitable people. I've been visiting both destinations, and I must say that the number of tourists is increasing over the years.
If you are looking for a quick getaway or a long weekend excursion with your family and friends, Dumaguete and Siquijor are the perfect places to visit. With just about an hour away from each other, you can hit two destinations in one go with this simple 4-day itinerary.
Also read: 22 Perfect One-Week Itineraries for Southeast Asia
Note: You may choose to adjust and extend depending on your time, budget and interest.
Day 1: Dumaguete City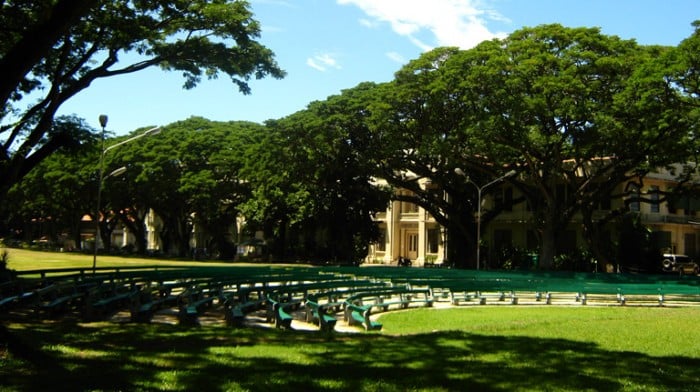 Silliman University | Image credit: Aclarado
Upon arrival in Dumaguete City, look for affordable pension houses or hotels. You can easily find one — just ask any local or tricycle driver.
Once you are all set, take a leisurely walk at Silliman University, one of the Philippines' most prestigious schools. Experience the "University Town", visit some 20th century college buildings and simply enjoy the greenery sight with many acacia trees.
Continue your city exploration by visiting the old Belfry Tower and St. Catherine of Alexandria Cathedral, the oldest building in the city that has stood the test of time. Just right across the cathedral is Quezon Park, a public park that features a monument dedicated to Maria Clara and the Philippine National Hero Jose Rizal.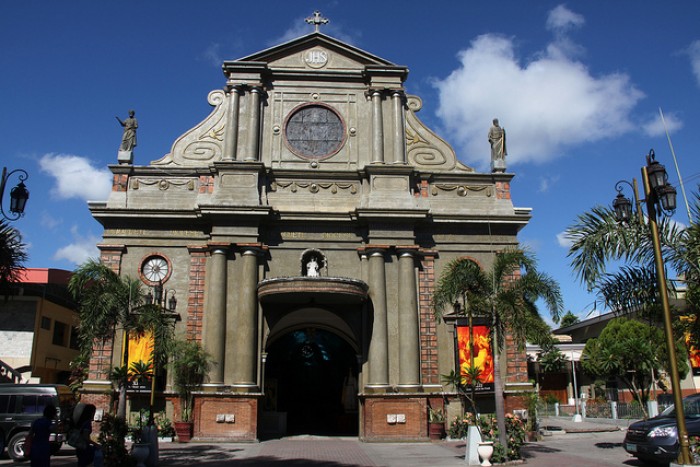 St. Catherine of Alexandria Cathedral | Image credit: Cristian Borres
Want to explore more greenery in this bustling city? Go to Freedom Park, now named the Aquino Park, located across the Negros Oriental Provincial Capitol. The park has a dancing fountain and a number of old trees.
You must try out the local food in Dumaguete city, especially their seafood. Make sure to try their delicious bodbod, a delicacy made of sticky rice, sugar and milk. The city is also home to the famous creamy Silvanas at Sans Rival Cake and Pastries. Definitely a sweet treat perfect for a pasalubong!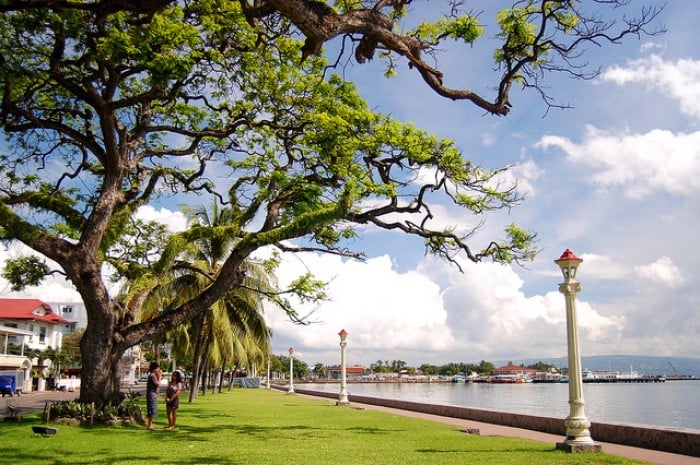 Image credit: Astrid Ayla Liberato
By sunset, walk your way towards Rizal Boulevard, a favourite hangout filled with lamps, hawker stalls, restaurants, bars, and people, while enjoying the view of the beach. You can even grab food here for dinner! For a taste of nightlife, proceed to Hayahay, a famous bar and restaurant with nightly gimmicks and live performances featuring Dumaguete's finest bands. Sing and drink the night away with people having a great time.
Day 2: Apo Island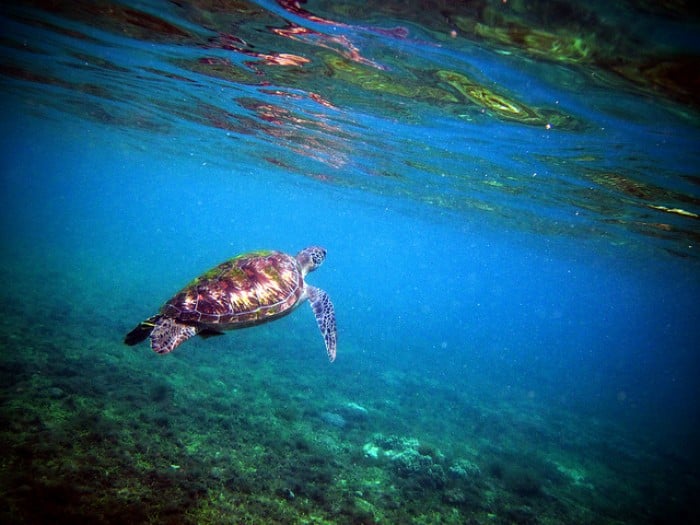 Image credit: Kamille
A short day trip from Dumaguete City, Apo Island is one of the famous dive spots in the country. To get there, you may travel by car, tricycle or bus from Dumaguete to Zamboanguita, the jump off point to Apo Island. At Zamboanguita, you can rent a small boat to take you to Apo Island.
Upon arrival at Apo Island, you will have to register and pay the necessary fees. From there, it's game on! You can go sunbathing, swimming and snorkelling. Climb your way to the lighthouse, and visit the Apo Island Marine Sanctuary and Protected Seascape. You can take your lunch under the shades of the tall trees. Bringing of food and drinks is not always necessary since there are restaurants on the island.
Also read: How to Spend 3 Days in the Mystic Island of Siquijor
Day 3: Siquijor Island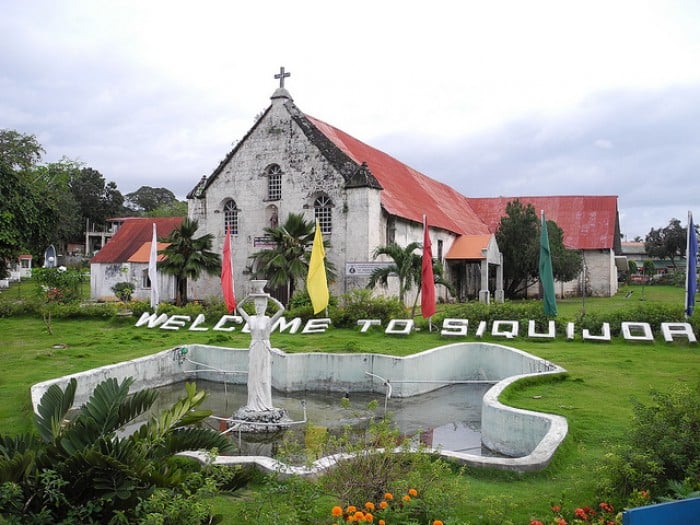 Image credit: m.a.r.c.
From Dumaguete City, hop on a boat or fast craft to Siquijor. First attraction to check out is the old Siquijor church just outside the port area. There are budget-friendly accommodations readily available in the town.
Side note: Check the schedule for the trip back to Dumaguete City, and if possible, buy tickets ahead of time to avoid any hassle, especially during the summer and holiday seasons.
If you want to go on an island tour, I suggest you rent a vehicle as it is more convenient and cost-efficient. From Siquijor city proper, move west to the town of San Juan and see the natural pool of Capilay Spring Park, just right in the middle of the town plaza. You can grab a bite there with tables and chairs made available for free. Swimming in the pool is free too!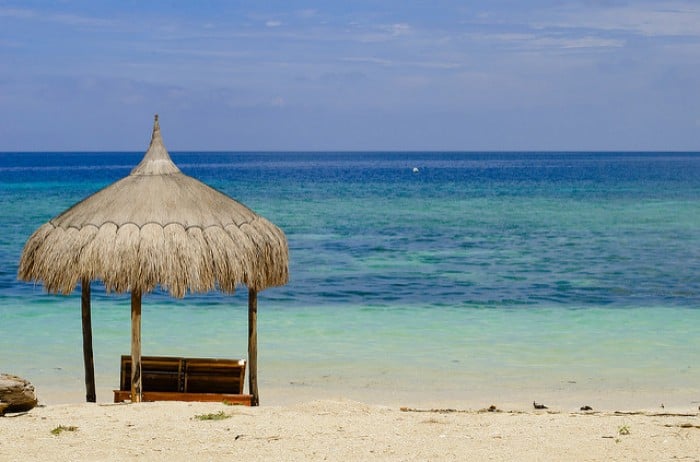 Image credit: Chrisgel Ryan Cruz
Interested in resort-hopping? Siquijor has a lot of beach hubs you can stay for the night or stroll around for free. In San Juan, visit Coco Grove Beach Resort, a luxurious escape with white sand beaches and beautiful amenities. Celebrities invited to perform during the town festivities often check in here.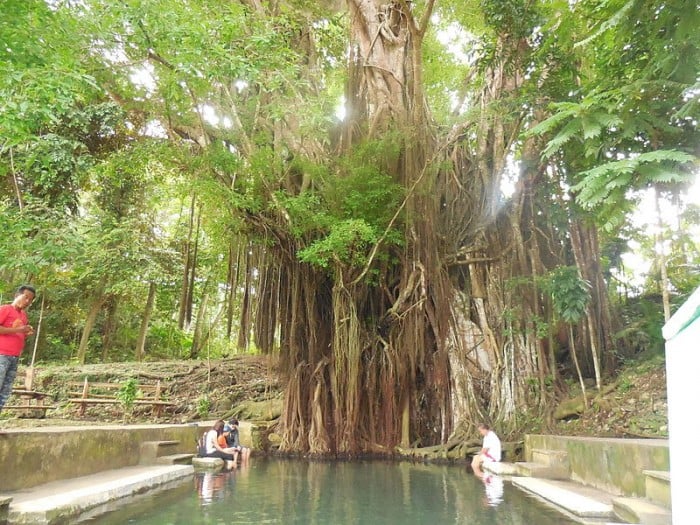 Image credit: Lawrence Ruiz
From San Juan, move on to the town of Lazi. Your feet tired from the long trip? Have a relaxing fish spa at the foot of a centuries old enchanted balete tree. Just give some amount to the caretakers as payment for the fish spa and donation to improve the place.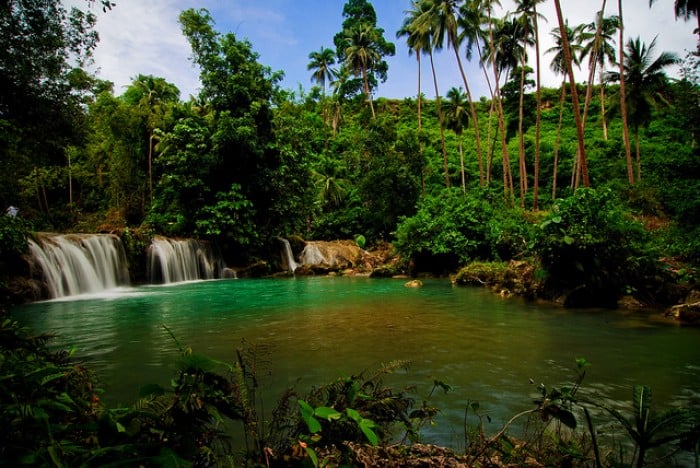 Cambugahay Falls | Image credit: Reuel Mark Delez
Then, check out the Lazi convent, one of the largest and oldest convents in the country. Just a few minutes away is Cambugahay Falls, a must-visit natural attraction in Siquijor. No effort in hiking your way to the falls; just go down a little and experience the falls first hand! Channel your inner Tarzan by clinging to a natural swing before plunging into the cool waters.
Day 4: More beaches and views in Siquijor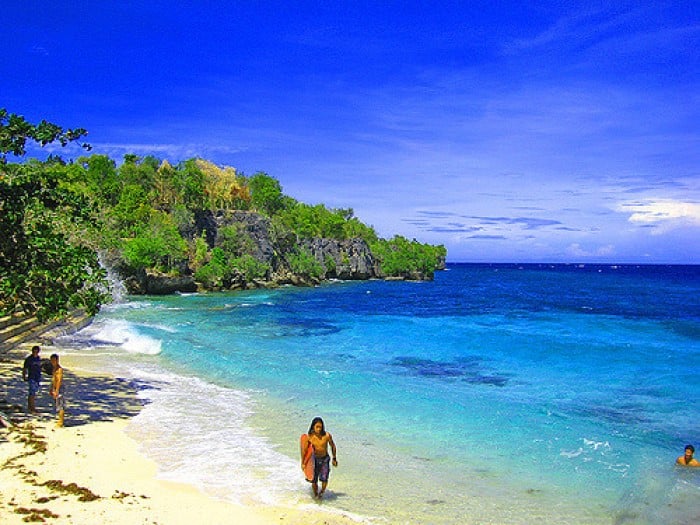 Image credit: Liz
On your last day, head to the town of Maria to enjoy the white sands of the famous Salagdoong Beach. With its crystal-clear blue waters, it is an ideal spot for swimming and skimboarding. For thrill seekers, go up the rocky part and jump from the diving boards!
From Maria, continue your journey to the next town, Enrique Villanueva and then to the town of Larena. A food not to be missed is the delicious humba, a Visayan pork adobo which is short for "Humot na Baboy" because of its sweet, fragrant smell. I have eaten various tastes of humba in my life, but the Siquijor version is the best! Another thing to try out is the halo-halo in Cangbagsa, Larena. It is known to have the most delicious serving of the cool snack on the island.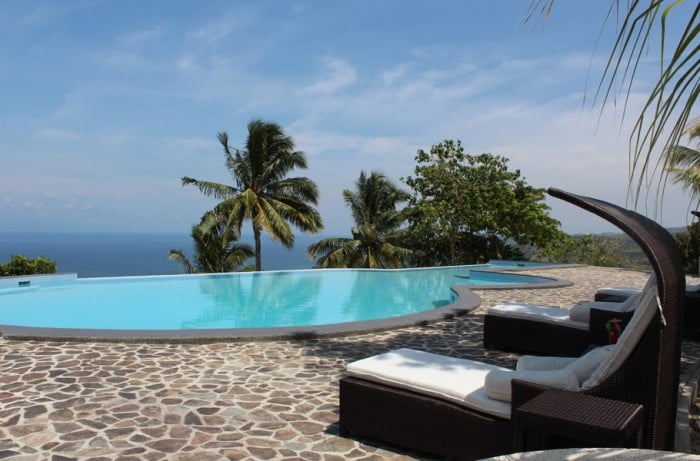 Image credit: Infinity Heights Resort
Before ending your tour in Siquijor, chill out at Triad Cafe to enjoy a panoramic view atop a mountain. Another place to get a stunning view of Siquijor is Infinity Heights Resort, which has an infinity pool that overlooks the sea. There are a lot more beach resorts in Siquijor, so if time permits, feel free to explore them.
Also read: 7 Things to Do in Siquijor for a True Island Retreat
There you have it — the best of Dumaguete and Siquijor in 4 days. I hope this itinerary helps, but please feel free to personalise your trip according to your budget and preference. Enjoy!