There are so many places to eat in Metro Manila that it's easy to overlook Eastwood restaurants in 2023. But it's definitely worth visiting and re-visiting, whether you're with family, friends, or co-workers on an after-hours binge. 
Here, you can stay as long as you want: As early as breakfast and as late as post-drinks, there's always something open in this Quezon City destination. Additionally, plenty of restaurants provide al fresco dining options! If you haven't made a foodie run to this dining hotspot yet, start with our picks of the best restaurants in Eastwood City.
Also read: Outdoor Dining in Manila: 20 Restaurants With the Best Al Fresco Areas
1. Locavore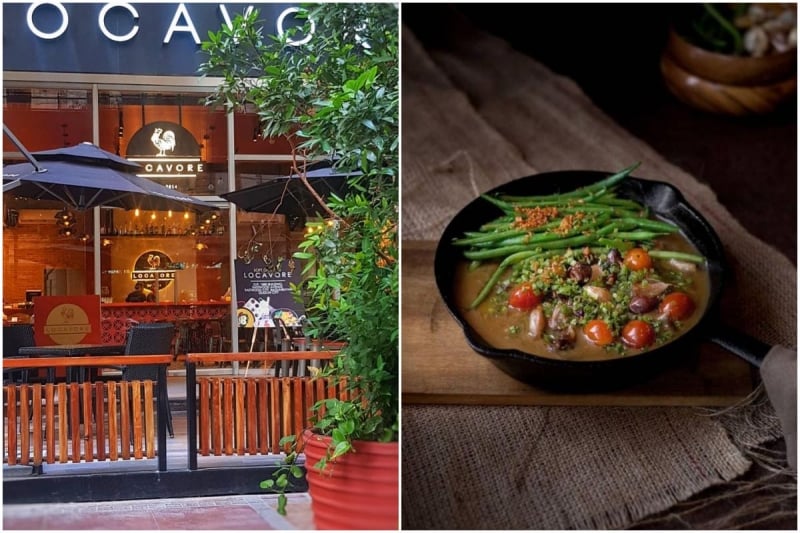 Modern Filipino food with a twist? There's nothing better. Locavore offers reinvented Filipino cuisine, which means you're not just getting the food you're cooking at home. Instead, you're getting your childhood favourites like you've never seen them before. Think, pakbet ratatouille and dinuguang lechon. 
Every dish is flavourful and well-prepared. But if you want to taste the crowd favourite, try the best-selling sinigang sisig. A unique take on the Filipino stew, this dish is served deliciously sour and garlicky on a sizzling plate.
Location: Ground Floor 1880 Building, Eastwood Ave.
Also read: The United Kingdom's Little Manila is a Filipino Food Lover's Haven
2. Ebi 10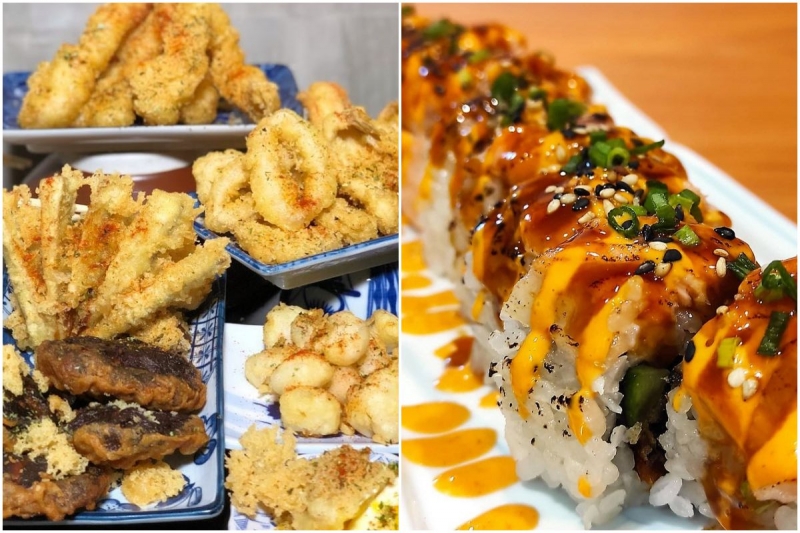 Satisfy your Japanese food cravings at Ebi 10, a cosy joint that feels like getting lost in a hole-in-the-wall bar in Osaka or Tokyo. The restaurant specialises in everything tempura, but the menu has a lot more to offer. Some personal highlights: crispy torched salmon skin roll, pork tonkatsu, and spicy salmon or tuna salad. And with only a handful of tables inside and a few more outside, Ebi 10 is an intimate place for a fantastic dinner with friends. 
Location: Tower One, One Eastwood Ave.
3. Sandaime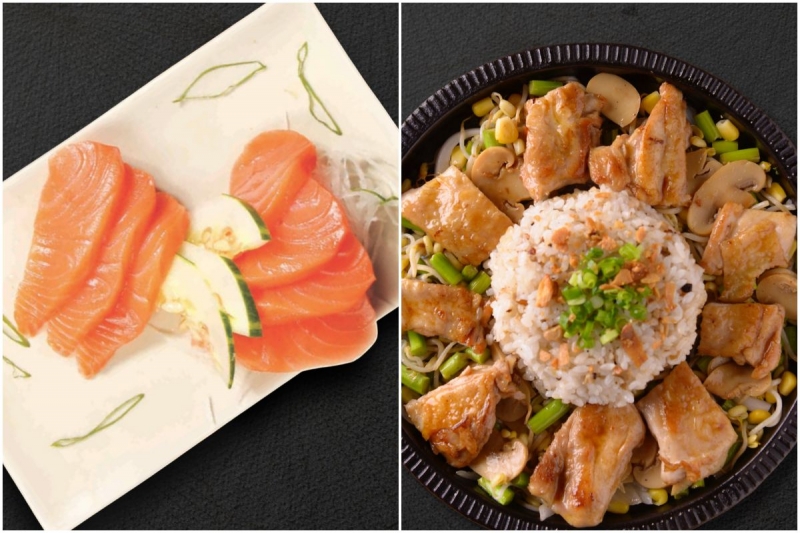 Still can't get enough of Japanese cuisine? Take the family to Sandaime, one of the long-standing Eastwood restaurants that still stands out in 2023. The spacious restaurant serves a wide variety of Japanese dishes, including freshly tossed salads, flavourful rolls, and hearty ala carte meals. With such an extensive menu, it's no wonder that Eastwood residents keep coming back again and again.
Location: Ground Floor Eastwood Mall
4. Silantro Fil-Mex Cantina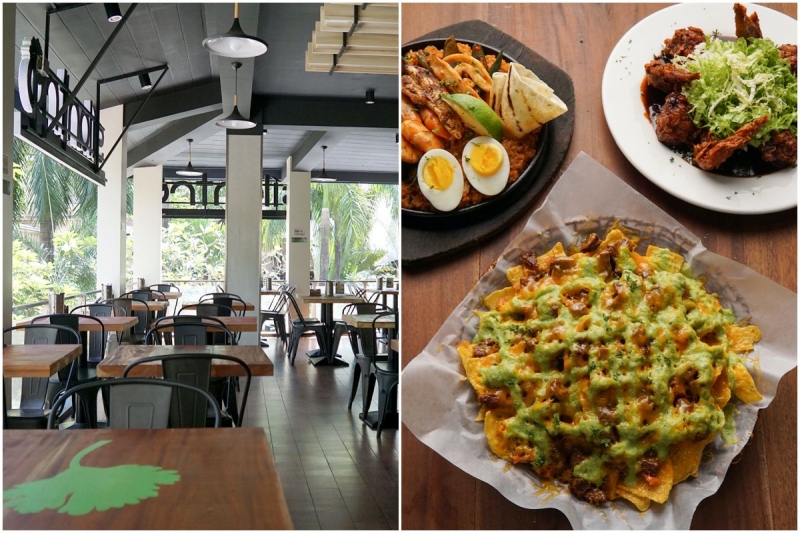 If you're hunting down Mexican food when you're on a QC food trip, Silantro Fil-Mex Cantina is one of the restaurants in Eastwood City that's worth considering. Grab an al fresco table with friends for dinner, and prepare for a long night of good food and drink. A staple for every barkada table: a huge plate of the best-selling beef nachos. Then, when you're ready to chow down more, you've got your pick of tasty dishes like pork ribs, soft tacos, and burritos.
Location: Eastwood Citywalk
5. Casa Reyes Bistro Filipino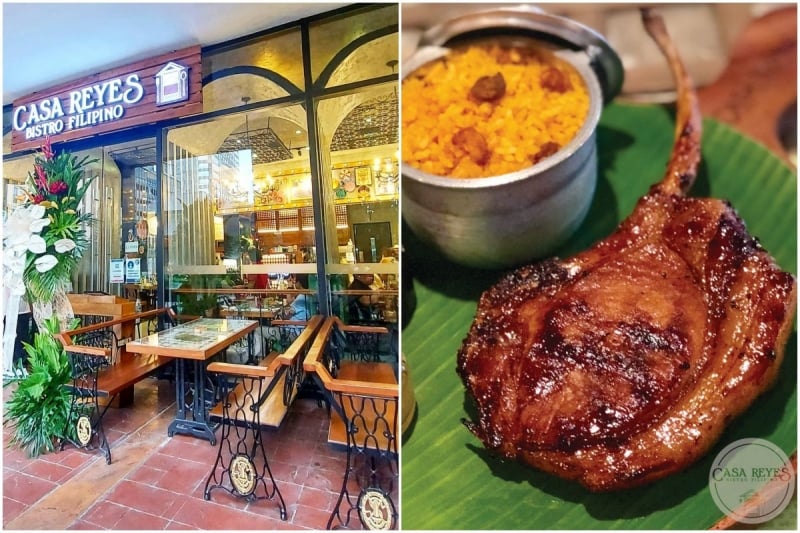 Embrace Filipino-style cooking at Casa Reyes Bistro Filipino, a relatively new addition to the many Eastwood restaurants foodies can enjoy in 2023. It's a must-visit spot for anyone who is still in love with Filipino lunchtime favourites. Start with their speciality barbecue dishes, served with java rice. Other options for hungry diners include crispy garlic hito, wagyu beef kaldereta, and crispy dinuguan.
Location: Ground Floor 1800 Building
6. Frankie's New York Buffalo Wings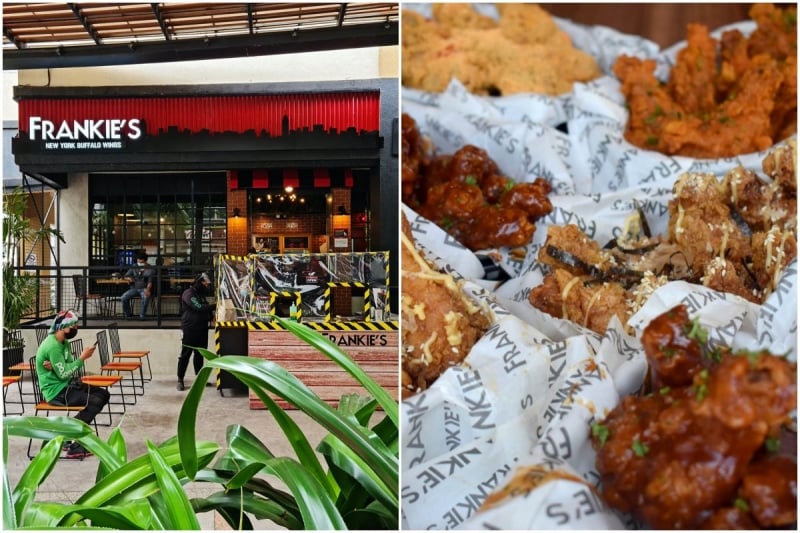 Lunch, merienda, or dinner — it's always a good time to polish off a dozen or two tasty wings. Long known for the "biggest and baddest" wings in the metro, Frankie's New York Buffalo Wings is a no-fail casual dining spot for chicken wing enthusiasts.
There's a flavour for every type of wing lover at Frankie's, whether you prefer garlic parmesan, the 19-ingredient Caribbean jerk, or even the classic buffalo wings slathered in super spicy sauce. Not in the mood for chicken? Pasta, burgers, and other diner staples are also available.
Location: Eastwood Citywalk
7. Jin Joo Korean Grill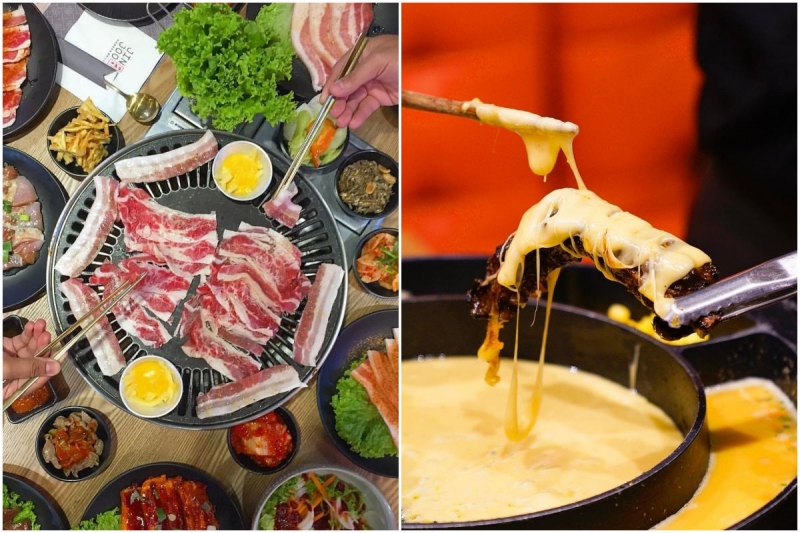 Come hungry when you're visiting Jin Joo Korean Grill — their speciality is unlimited samgyeopsal, after all. Like other similar establishments, this Korean joint serves different meats in a variety of flavours for all your barbecue cravings. We have to say that Jin Joo's mouthwatering cheesy dishes really make it stand out from the crowd. Cheese deung galbi is a must-try!
Location: Eastwood Citywalk
8. Ippudo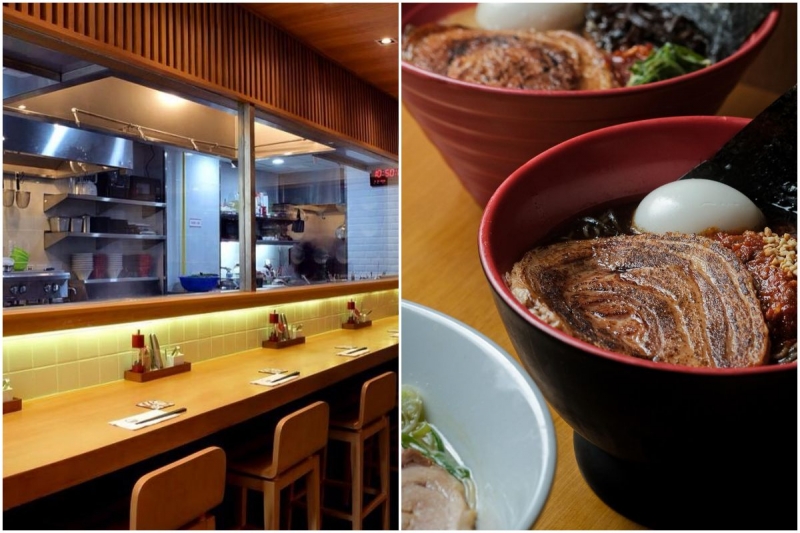 In the mood for ramen? A popular choice for the folks who live, work, and play in Eastwood is Ippudo. The restaurant, one of the most beloved ramen joints in Manila, hits the sweet spot with its delicious bowls. 
Pairing their signature tonkotsu broth with pork belly, the Tantanmen is a crowd favourite. Another best-seller is the creamy Shiromaru Special that's known for being a classic Hakata-style ramen, while the Akamaru Special is a more modern take with bolder flavours. Tip: Grab a bar seat to watch the chefs expertly prepare the ramen. 
Location: Ground Floor 1880 Building
9. Cyma Greek Taverna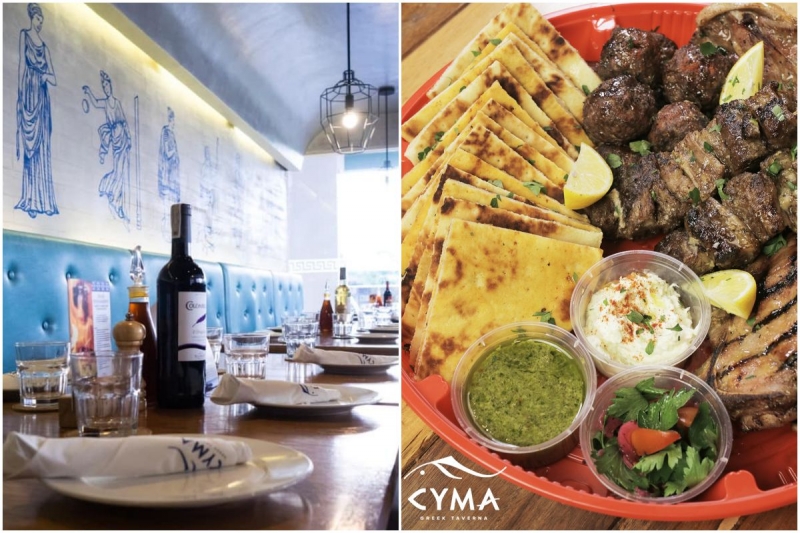 Treat yourselves to a Mediterranean feast at Cyma Greek Taverna, one of the exceptional Eastwood restaurants. Even in 2023, the authentic Greek dishes, generous portions, and top-notch service remain fully in style. 
Cyma is probably the best place in the metro to get acquainted with Mediterranean cuisine, from the tasty gyros to Greece's national dish, moussaka. If you're planning a dinner outing, either come early or reserve a table ahead of time. Otherwise, you may have to wait a while to get a table.
Location: Level 2F Eastwood Mall
10. Cibo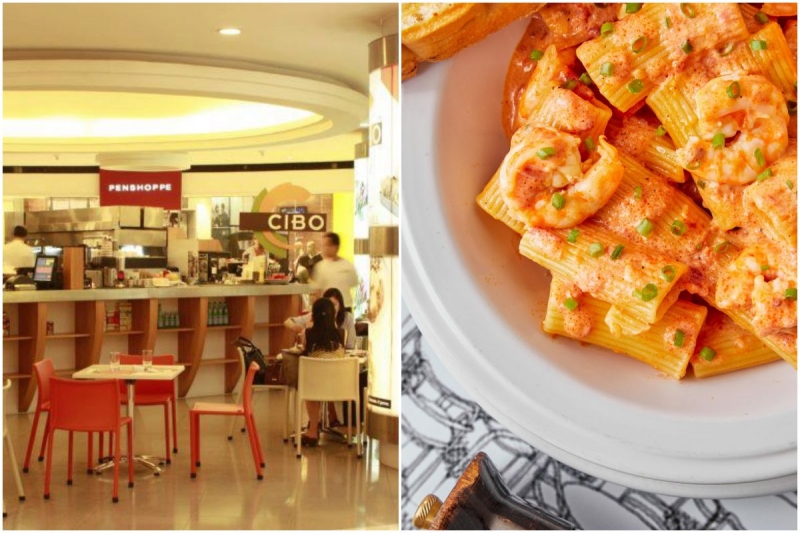 Some days are for pasta — and on those days, Cibo is our first stop. It's definitely one of the establishments in the mall that has stood the test of time. A few favourites: spinach dip to start with, then a plate of Rigatoni all'Alfonso. But honestly, you can't go wrong with any of the pasta dishes on the menu! Vegetarian options are available for meat-free patrons, while rice dishes offer a hearty entrée for the hungry.
Location: Level 2 Eastwood Mall
11. Easy Tiger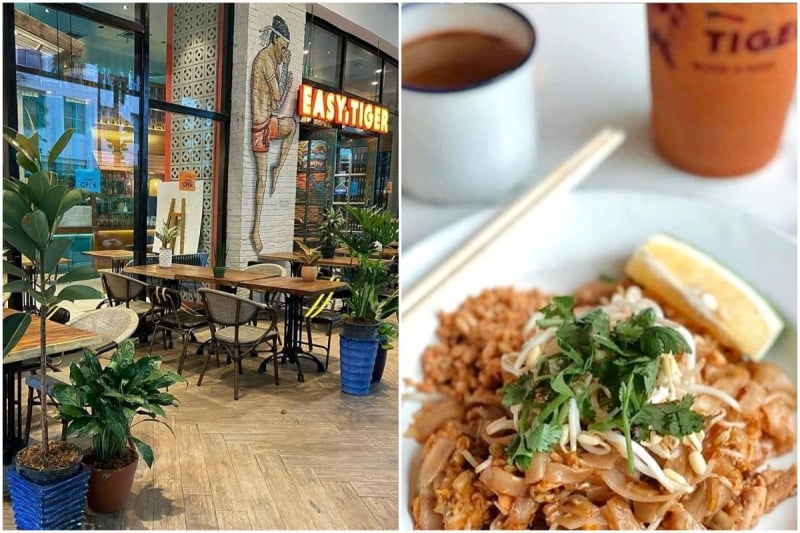 Let your tastebuds embark on a Thai adventure at Easy, Tiger, a relatively fresh addition to our list of Eastwood restaurants to try in 2023. Vibrant colours and quirky murals make it easy to spot in the outdoor area of Eastwood Mall. True to Thai cuisine, the food is just as eye-catching.
Easy, Tiger is all about keeping good food simple, so expect a lot of Asian classics. Delicious pad thai is the hottest item on the menu. Other best-sellers include tom yum and chicken in pandan. Top it all off with sweet Thai milk tea for a refreshing kick!
Location: Ground Floor Eastwood Mall
12. Salamangka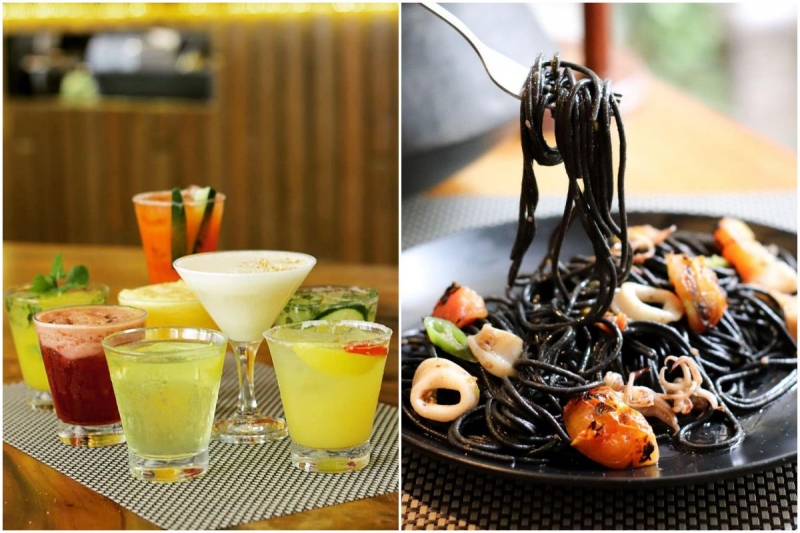 Finally, end your night on a magical note with drinks and delicious chow at Salamangka. This morning-to-night hotspot is inspired by Filipino mythological creatures, with menu items drawn from folklore. Cocktail concoctions include drinks like wakwak, diwata, and ermitanyo. Not keen on alcohol? Speciality coffee is also available.
Location: Eastwood Citywalk
Also read: 10 Greenbelt Restaurants That Are Worth the Splurge
Even with all the food choices in Manila, it's worth making the time to visit these Eastwood restaurants in 2023. What else is on your foodie list this year?
---
Featured image credit: Zondervan Calvez | Unsplash