Contributed by AngeLAKADS
When thinking about gallivanting around Palawan, most people shy away from El Nido because of its reputation of being expensive. Its famed lagoons, cliffs and white-sand beaches seem like distant daydreams for the 'hefty price' you have to pay to get there. We were a little hesitant to pursue this backpacking trip… until we thought, "What the hell, let's wing it!"
Also read: El Nido Travel Guide: What You Need to Know Before Your Island Getaway
Pre-travel guide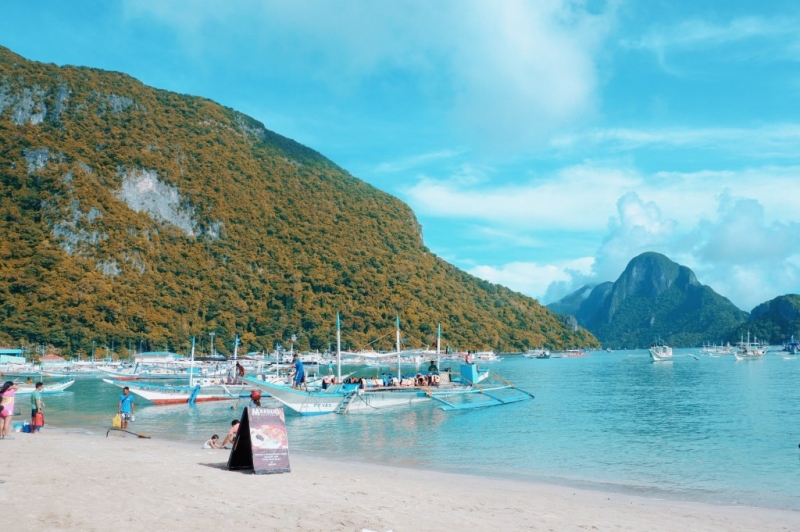 El Nido is a municipality located in the northern end of Palawan's main island. It's a five-hour bus or van ride from Puerto Princesa.
How to get there
From Manila
Option 1: Fly to Puerto Princesa and ride a van or a local bus bound for El Nido.
Option 2: Take a direct flight from Manila to El Nido. This way is a bit expensive and may not be appropriate for those who are on a tight budget.
From Puerto Princesa
Ride a van or a local bus bound for El Nido for five to six hours.
From Coron
Take a ferry-boat trip to El Nido for approximately eight to nine hours.
Where to stay
Our accommodation, Strong Tower Inn, was booked through TravelBook.ph prior to our trip. The total cost for three nights for a fan room (two pax) was ₱2,587.
Transportation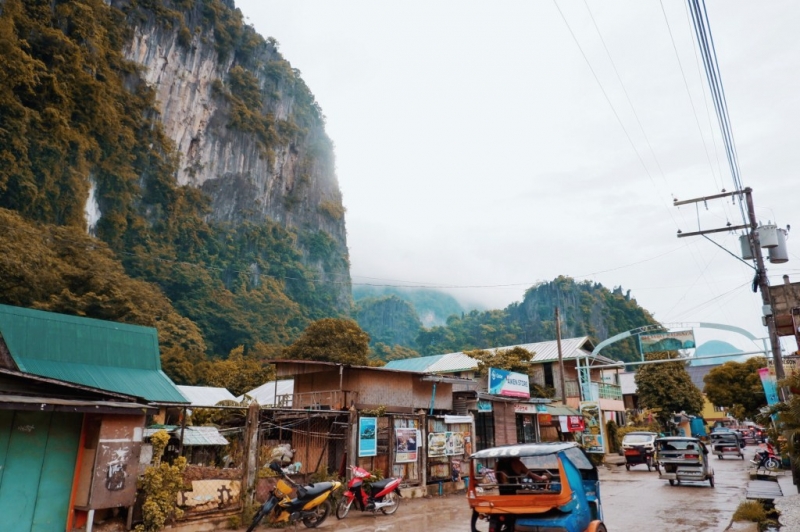 Tricycles are the main mode of transportation in El Nido. The fare ranges between ₱40-50 per ride from downtown El Nido to Corong Corong. Motorcycles and vans are also available for rent if you want to tour the countryside. Additionally, the hotels have connections to travel agencies who can arrange island hopping tours and other activities that you might like.
Itinerary
Day 1
8.30am: We arrived at the Puerto Princesa Airport. We were already starving because of the early flight so we grabbed a quick bite at the nearby convenience store. After a while, we bought our van tickets. There are a lot of van arrangements from the moment you step foot at the airport so be careful and canvass the prices first before purchasing. Tickets are sold as high as ₱600 but can be bought for as low as ₱450.
9.30am: There was a little delay on our ride but we finally left after a while. The van ride on the way to El Nido was the most intense ride I've ever been on. Our driver was swerving left and right! He also doesn't slow down when he comes across bumps! If you're prone to motion sickness, take some medicines beforehand. There's a stopover midway called Elfredos. We had our lunch there.
2.30pm: We finally arrived at El Nido! It was raining when we got there so we chartered a tricycle going to our accommodation. After checking in, we rested for a bit and walked around town to check some cheap tours. To our surprise, we got the cheapest one from our accommodation, Strong Tower Inn (Tour A costs ₱1,000). We had an early night because we were exhausted from all that walking and travelling.
Day 2
The lady at our inn's front desk told us to be ready by 8am. Hauling up ourselves early in the morning is only acceptable when we're headed to the beach!
Tour A is one of the most popular island hopping tours in El Nido. The destinations include the Small Lagoon, Big Lagoon, Secret Lagoon, Shimizu Island and Seven Commandos Beach. We had the tour in reverse order so our first stop was at Seven Commandos Beach.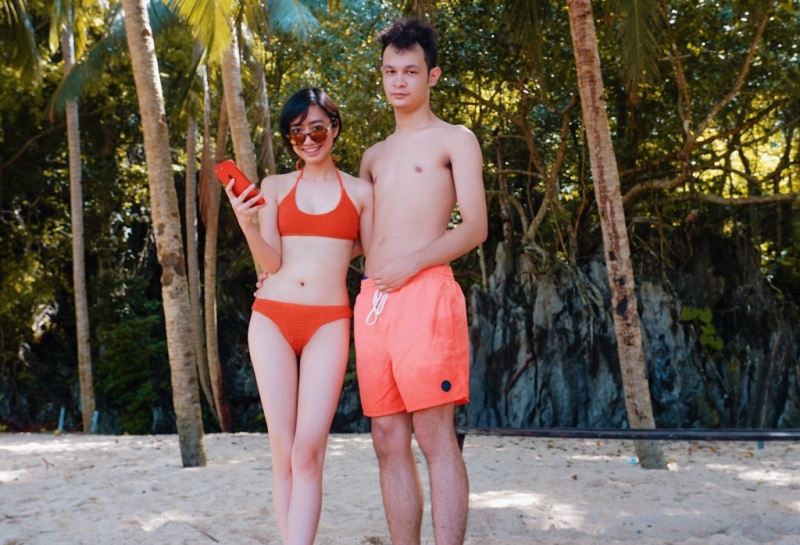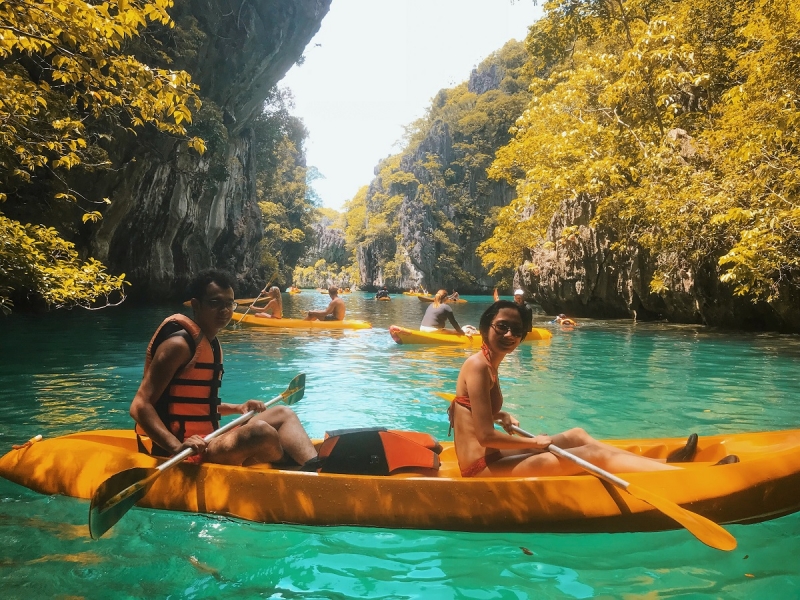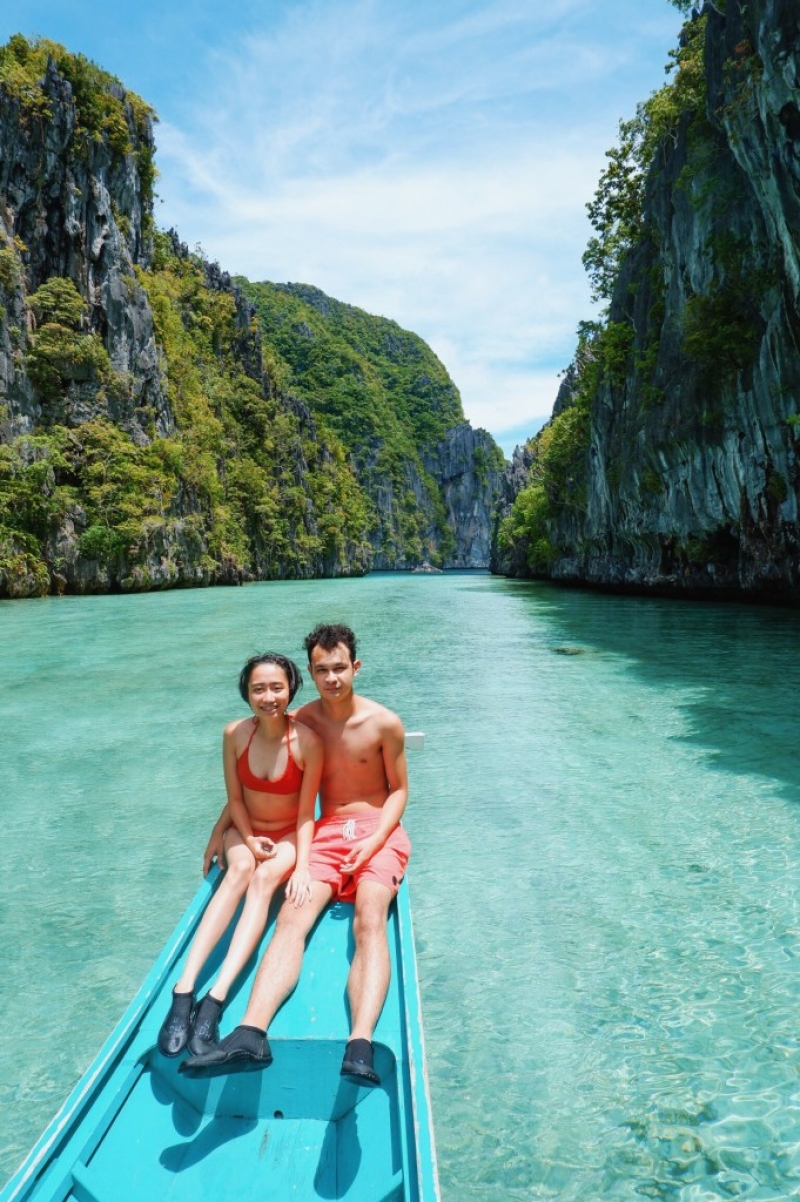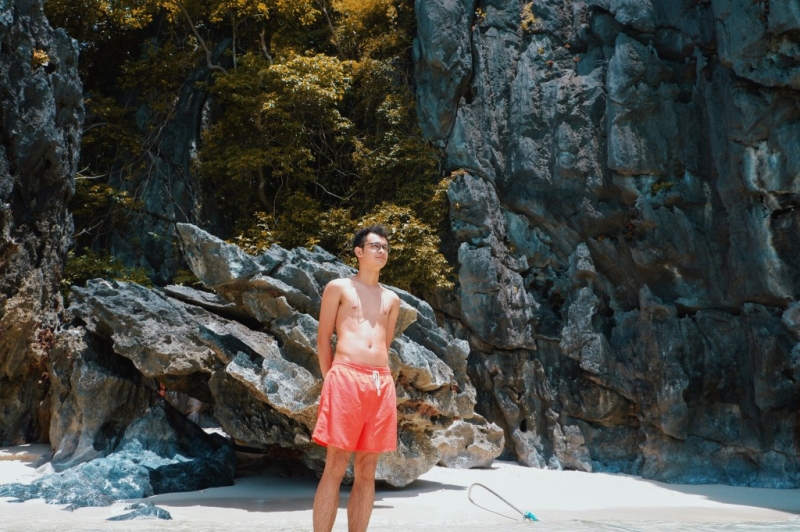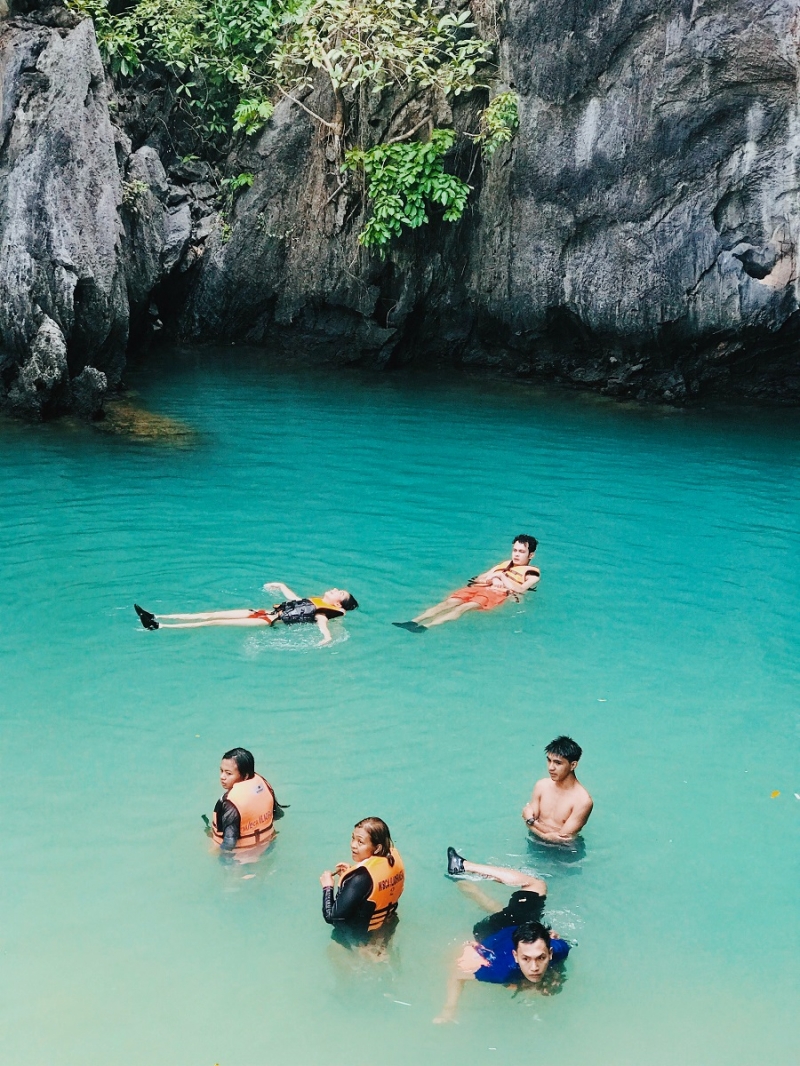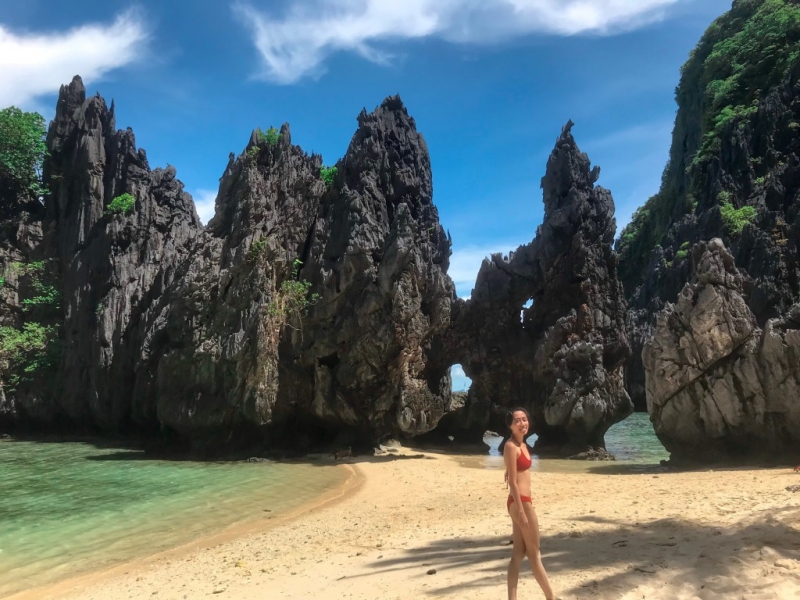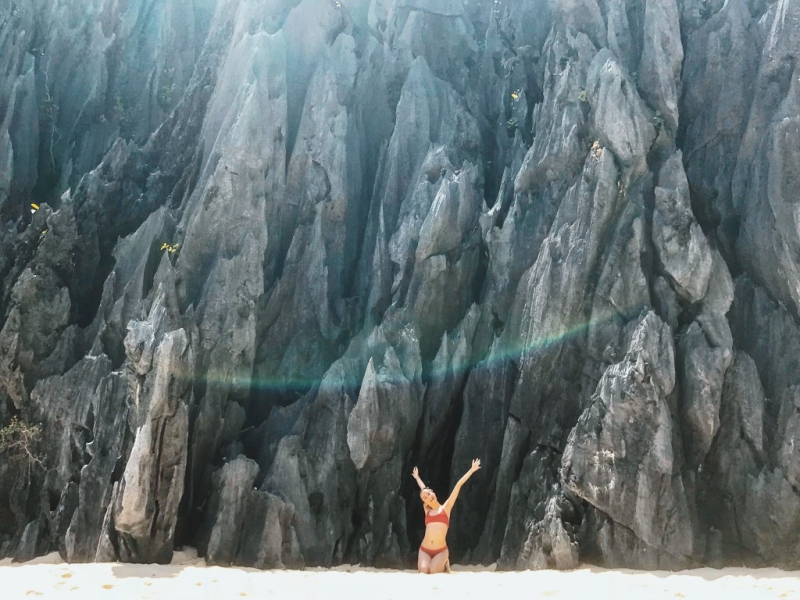 Since we were a small group and we finished our tour earlier than expected, our guide gave us some free time to snorkel at a 'Free Island'. It wasn't included in the tour but as a gesture of goodwill, they let us enjoy it for free!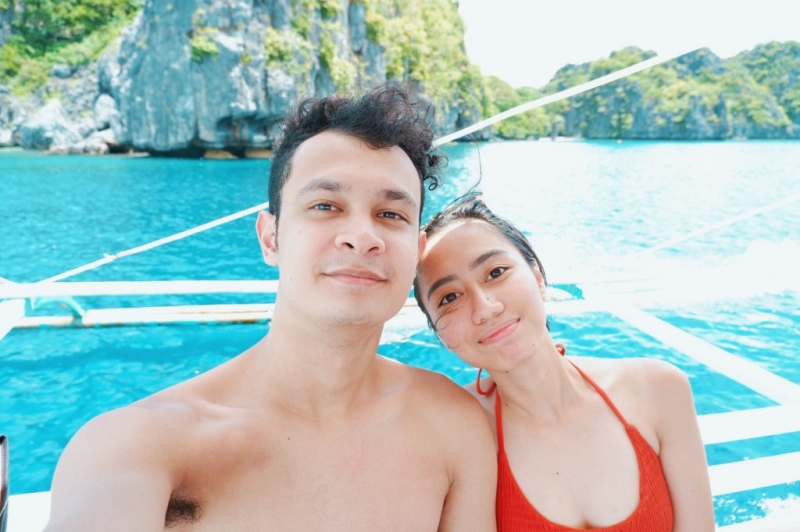 We were supposed to choose the Combination Tour A & C but we might not have enjoyed the destinations as much because the itinerary is cramped and there's shorter time allotted for each island.
Tour inclusions
Licensed boat
Licensed tour guide
Hotel pickup
Buffet lunch
Mask and snorkel
Life vest
Day 3
Vamos a la playa!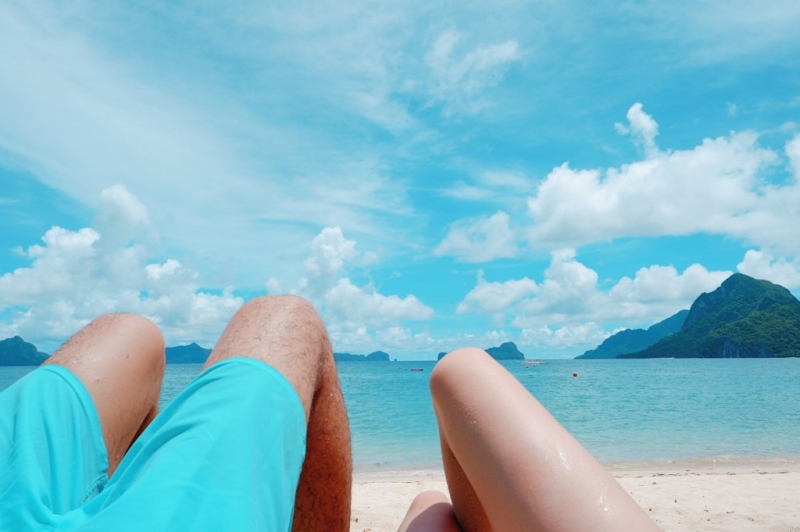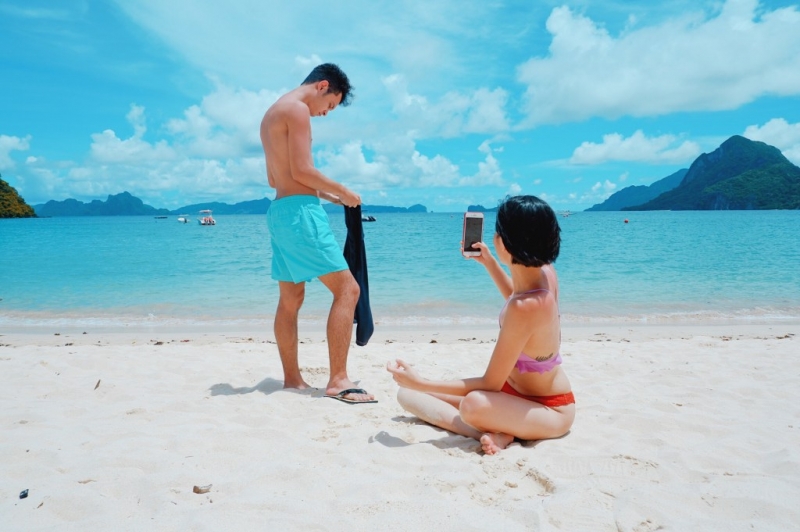 Instead of availing another island hopping tour, we went beach bumming at Las Cabanas! I don't know if we were just lucky but there were only a few (countable with one hand) people around the whole stretch of the beach.
At that moment, I truly felt relaxed and free from all worries.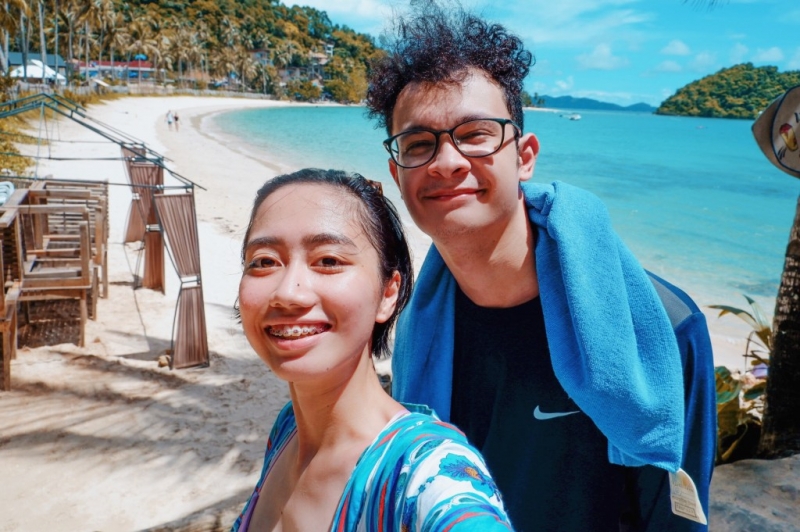 This saved us a lot of money. We only had to pay ₱150 for the tricycle ride. With the cheap price we had to pay, we didn't expect the beach to be breathtaking. Las Cabanas beach is the perfect place to just chill, relax and bask in the beautiful sun.
Day 4
We travelled back to Puerto Princesa for our departure. At the same time, we also met up with my boyfriend's relatives so we could hang around hours before our departure.
Important reminders
Rent aqua shoes or bring your own. Some of the destinations during island hopping require foot protection because of sharp stones.
Food is quite expensive in El Nido. A decent meal for one person costs above ₱200. Look for carinderias and don't forget to bring instant food and snacks that you can whip up easily at your accommodation. We brought a lot of bread and instant noodles during our trip!
Tap water is not potable. It's important to bring your own if your accommodation doesn't provide drinking water.
There are a lot of mosquitoes in the area so apply an insect repellent, especially during nighttime.
There are ATM machines available in town but carry cash for emergency purposes.
Haggle all you can. Never take the first price offered.
I suggest you walk around town because El Nido is pretty small and you'll be able to see more of it that way.
Breakdown of expenses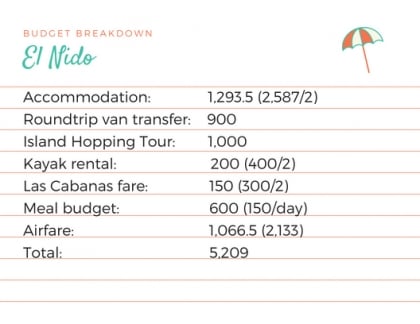 Travelling on a tight budget is not easy… but it is not impossible! I'm a mindless spender (friends and family can attest to that) and if I can do it, so can you!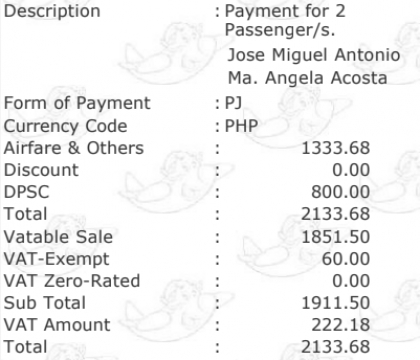 We could have snagged a cheaper airfare if I didn't forget to remove the seat select option! Again, we brought snacks and instant food so we didn't have to allot more for our meal budget.
Also read: The Ultimate Palawan Travel Guide: Puerto Princesa, El Nido & Coron