To all our avid fans and followers, we thank you for sharing with us some of your travel experiences  — from spending holidays away from the Philippines to hilarious airplane stories. For every interaction, comment, like, and share, we are truly grateful. Now, we think it's high time that we share with you a bit of ourselves, too!
Raw, honest, inspiring but sometimes disturbing, our #TripZillaConfessions series presents the authentic travel experiences of our TripZilla Philippines team.
Huwag nyo kaming i-judge ha? 😉 Here we go, in no particular order!
---
What's your most embarrassing travel moment?
1. Let it go, let it go!
"When I was in HK, I ate some noodles for lunch, and a few minutes later, I felt something inside my stomach that had to be released. Tiniis ko siya because I was in a hurry and needed to meet my family in the next train station. So, I'm inside the train na and then hindi ko na talaga kaya (plays Frozen movie theme song, Let It Go). I thought it was poop pero it was hell of a fart, oh my god. Bad thing is may tunog siya plus smell. Then the local beside me looked at me and syempre ayoko mapahiya, so I acted like it wasn't me and I looked at him too with my facial expression that would say na hindi ako yung umutot."

2. Parental guidance is advised
"You know how you check-in in some hotels and there are pay per view channels? There was one time when I was casually flipping thru all of them tapos may mga nadaanan akong adult channels. I didn't know na kahit you skip each one you still get charged for 'watching' (I swear I didn't). Anyway, I think there were 15 channels tapos in those 3 nights na naka check-in kami ng family ko sa hotel, nadaanan ko sila lahat. Upon checking out, my mom and lola asked me why I watched so much porn during family vacay. That was so embarrassing."

3. Language barrier is real
"This happened last June 2018 in Vietnam. I was part of our environmental movement, so I was very intentional about reducing my single use plastic waste. It was night time and I needed Viet coffee. (Kape na naman? Hahaha) Brought my tumbler, my metal straw, and my eco bag with me. My dad rolled his eyes sa efforts ko pero la eh #woke. Hahaha. So ayon sa sidewalk, may binatang nagbebenta ng kape. Hindi ko na maexplain yung mga susunod na pangyayari kasi nakakashock, pero next thing I know nagchacharades na kami kasi pinagpipilitan kong ilagay sa tumbler pero di niya ako maintindihan at nilagay niya sa plastic cup. With a straw. Mixed with a plastic spoon. I tried my best to stop him pero pinalo na niya ako at sinupot niya pa yung kape ko. Pagbalik ko sa room, may bitbit bitbit akong ilang single use plastic, at tinawanan nalang ako ng dad ko."

4. Bawal magkasakit!
"Mine naman happened last year in Bacolod. So pag syempre Bacolod, puro kain kain kain. So we were back at the hotel na, pero I was eating my take out from Calea, tapos super sumakit talaga tiyan ko. Earlier that day, masakit na talaga siya, pero di ko lang pinansin. Long story short, I ended up sa hospital and they had to inject me with pain killers kasi di ako natunawan."

5. Sepanx , sepanx
"Mine's a loser kwento din. On the way to the airport during my first out-of-country trip, I cried. It's the reason that's embarrassing! I dunno but suddenly I felt a wave of panic because I was going to miss my parents and my dogs. Tapos nung pauwi na sa Pilipinas, umiyak na naman ako sa airport. KASI AYOKO NA UMUWI. The same person saw me crying, nakakahiya."
6. When PMS strikes
"First out of country trip in Singapore and it was the day before my buwanang dalaw. Sakit na talaga ng paa ko after a whole day of walking. Pauwi sa hostel, naligaw kami nang bonggang bongga sa Serangoon Road kasi ang haba pala ng road na yan. Hindi ko na kinaya at napa-squat nalang ako sa daan habang nag-rarant and crying like a brat. Then all the people were staring at my BF kasi they thought he was harassing me. Spoiled bratty GF lang pala in SG. Disclaimer: I was immature back then."

7. Tingin, tingin din pag may time
"It was my second trip to Singapore, sa sobrang pagod at pawis ko, I decided na pumunta ng CR sa mall, dire-diretso ako at naghugas ng kamay sa lababo at nagsalamin pa, not knowing na CR ng "Boys" yung napasok ko. Nagulat na lang ako may lumabas sa cubicle na lalake, then yumuko ako at dali dali akong lumabas at sorry nang sorry hanggang sa pag labas nakatingin sakin yung mga lalake na papasok."
8. Knock, knock!
"We just arrived at our hotel in Costa del Sol in Spain. I was in the hotel room that I shared with my siblings. We were in the middle of settling down when somebody knocked. Thinking it was our dad who had come to nag us about something, I opened the door with a sharp "What?!". Yun pala isa siyang hotel staff na pumunta lang para ayusin yung bumbilya ng sirang ilaw sa loob ng kwarto. Poor dude."

9. Kamuntikan na
"After staying in a homestay for two months in Hanoi, one of the locals I got close to invited me to stay in his abandoned house for a few days. The morning after our arrival, I went to one of the bathrooms to take a much-needed hot shower (it was winter season in Hanoi at the time). After undressing, I took the shower hose and got electrocuted immediately. A few minutes later, I woke up STILL NUDE on the floor outside the bathroom while my friend was trying to calm me down. He later told me that he performed CPR on me. Whether may mouth-to-mouth involved, I never dared to ask, especially knowing na I just woke up and hadn't brushed my teeth (and it's also been days since my last shower because it was too cold in the city). After that happened, he never talked to me again. One of our Vietnamese friends' theories was that naumay siya sa mga nakita or nalasahan niya. I wouldn't blame him."

10. Ay, sabaw!
"When I was young pa, I had the habit of spitting because I tend to produce more saliva than usual (NUNG BATA PA AKO NITO HA HAHAHA I'm okay na ngayon). So, me and my family went to Singapore and malay ko ba kung ano yung bawal back then. Anyways, we arrived na sa SG and got a cab for us to go to our hotel. While on the road, I had a feeling of something building up in my mouth so I contained it and then when the car stopped na because we've reached the place na, I opened the door and was positioning myself to spit so palabas na yung saliva sa mouth ko (as in half way to the ground na yung jelly substance) and then my Dad said, "Don't spit here! Makukulong ka!" At tumigil ang mundo, so mabilis ko siyang hinigop pabalik sa bibig ko, as in like imagine eating ramen noodles and the sound our mouths make! Ganun ko siya hinigop fam and the locals were laughing at me hardcore pero buti konti lang nakakita pero I feel so embarrassed after that and from that day forward, I memorized na the rules of SG, I even bought myself a shirt to remember what not to do."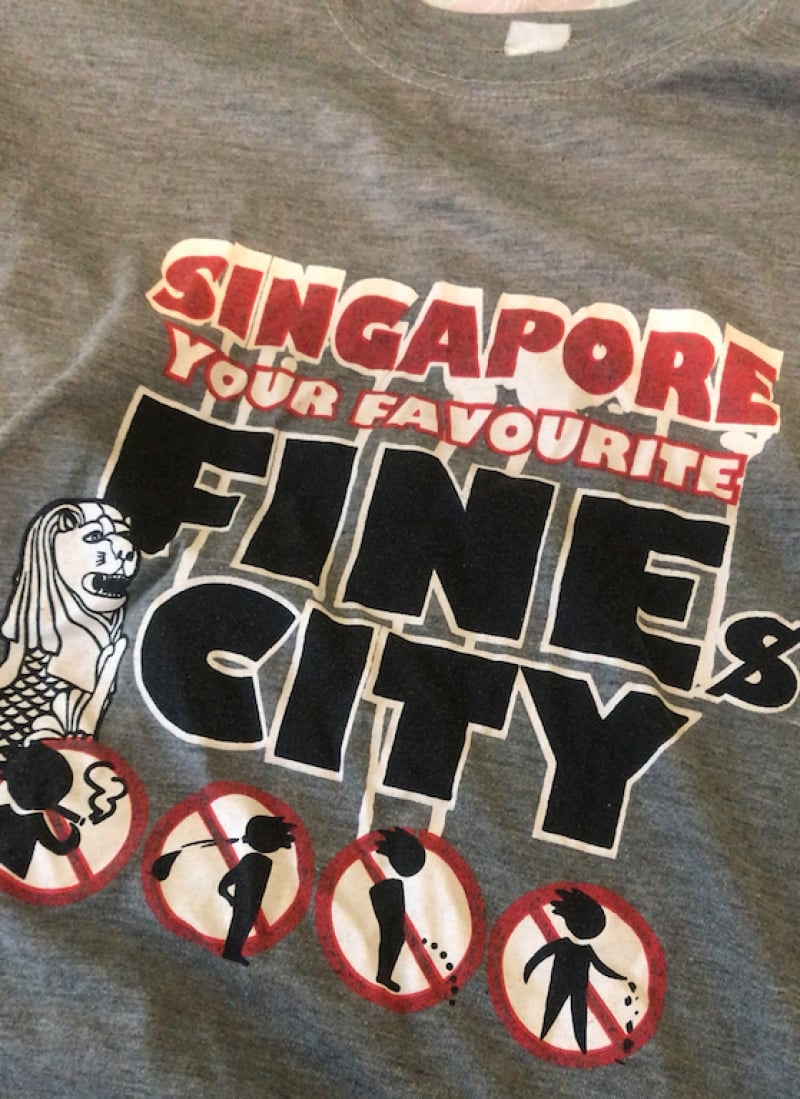 11. Balang araw
"When I was a kid, I cried because I was too short for the roller coaster sa Ocean Park."
12.  I speak Japanese! Promise!
"We were on the shinkansen (bullet train) from Tokyo to Osaka and we had to change trains along the way. A train conductor was approaching my seat so I wanted to verify with him. I speak Japanese, but instead of saying "Nagoya eki de orimasu ka?" (Do I get off at Nagoya Station?) I said "Nagoya eki de odorimasu ka?" (Do I dance at Nagoya Station?) Needless to say, he gave me a baffled look and I was mortified.
I was sitting next to my sister the whole time and after explaining to her what just happened, we had a laugh."
---
Ikaw, what's your most embarrassing travel moment? Share mo rin sa amin!