For Filipinos, South Korea sounds like an expensive travel destination. Being one of the leading economies in Asia, its high cost of living and visa requirements often make Filipino travellers think twice before booking a flight to the country.
Believe it or not, you don't have to be rich to explore the Land of the Morning Calm. For Filipino first-time travellers to Korea, here's a little guide to make the experience worthwhile.
How to apply for a visa: Lax rules and easy application process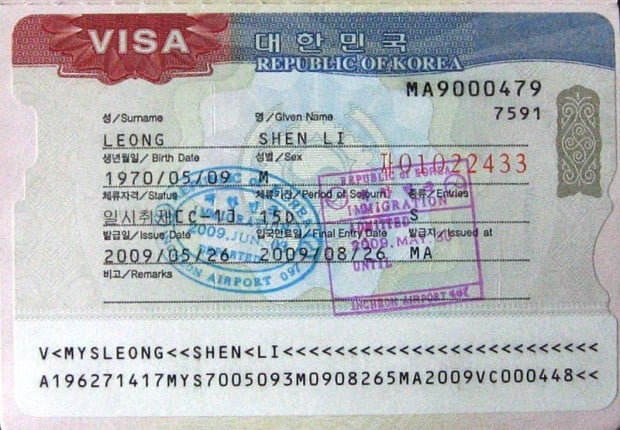 Applying for a Korean Visa is almost hassle-free if you have the necessary requirements and enough time to accomplish it. Though a travel agency can help you when applying for a Visa, it's something you can do yourself.
Luckily for Philippine passport holders, a single entry 59-day South Korean tourist visa comes for free! Though there are requirements,  accomplishing one is no rocket science.
Also read: My South Korea Tourist Visa Approved: 5 Easy Steps for Filipinos
Visa application steps
Step 1: Compile the necessary requirement for a tourist visa
Complete all the necessary requirements needed for the visa application. It varies from one individual to another, but there are general requirements that every applicant needs to submit.
General requirements
Application form
Philippine Passport valid for more than 6 months (original and photocopy of Bio page)
If applicable, original and Photocopy of valid visas and arrival stamps to OECD member countries for the past five years.
NSO-certified Birth Certificate
Original Personal Bank Certificate
Original Bank Statements
Original or Photocopy of Income Tax Return (ITR) or Form 2316
1 passport-sized picture
Travellers with OECD member country visas and arrival stamps within the last five years are exempt from submitting an ITR. A recently revised condition also exempts from submitting an ITR frequent travellers who have been to Korea at least once for the last five years.
Supporting documents
Invitation letter from a Korean or a company in Korea
Roundtrip airline ticket
Hotel booking
Aside from the requirements mentioned above, some applicants are required to submit other documents.
For employees
Original Certificate of Employment (COE) including applicant's position, compensation, address, date hired, office landline or mobile number, and email address
Certificate of Leave of Absence
For businessmen
Copy of an SEC or DTI-issued Business Registration
Copy of Business or Mayor's permit
(Optional) Electricity bill statements for the past three months
For students
Since they do not have an ITR and probably a bank account, they're required to submit the following instead:
Original School Certificate
Photocopy of School ID
Parent's Documents:
Original Employment Certificate
Or Business Registration from DTI or SEC & Business Permit or Mayor's Permit
Original Bank Certificate
Original or Certified True copy of Bank Statement
Copy of ITR
Copy of NSO Marriage Certificate
For a more comprehensive list of visa requirements, visit mofa.go.kr.
Step 2: Accomplish the visa application form
The visa application form can be downloaded from the embassy website, but it's also available when you go to the embassy to submit your requirements. However, it's advisable to finish filling up the form before going to the embassy.
You can download the new visa application form here.
Step 3: Head to the South Korean embassy to submit your requirements
The South Korean Embassy is located at McKinley Town Centre in Taguig, and filing of visa application is available from Monday to Friday, 8:30 AM to 11:00 AM only. However, you must arrive there early, because they accept applicants earlier than 8:30 AM. I made the mistake of arriving at exactly 8:30 AM and had to face a terrific queue of applicants.
There's no need to make an appointment as it's on a first come, first served basis. You will be directed to a specific window, depending on your traveller type—first time travellers, frequent travellers, seamen, travellers with OECD-member country visa, etc.
Visa Fees:
59 days (or less) stay in Korea — GRATIS (FREE)
60 to 90 days stay in Korea — ₱1,800.00
It's also possible to submit the application for someone else. When I travelled with my family, I am the one who submitted their visa application forms and requirements, with no additional charge at all.
Step 4: Return on your  scheduled date to claim your passport and visa
Processing time varies—3 working days for those who have been to an OECD country within the last five years and 5 working days to those who haven't.
Claiming of passport can be done from Monday to Friday, 1:30 PM to 4:00 PM only.
Korea without a visa: Jeju Island
If applying for a visa is too much hassle for you, then great news! Jeju Island requires no visa for Philippine passport holders. The island has enough charm in itself that it'll already be a perfect destination for a 3 to 4-day visit.
Also read: 13 Awesome Attractions in Jeju Island You Shouldn't Miss
Free multiple-entry visa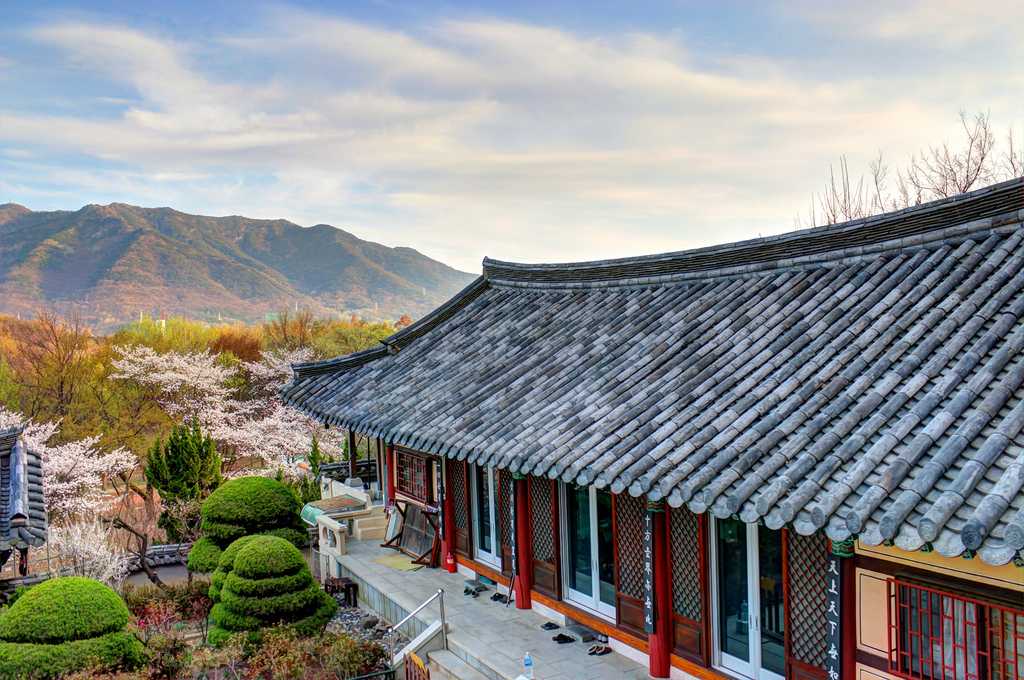 Yes, you've read that right. It's possible to automatically be granted a free multiple entry visa valid for a year or two years, even if you didn't apply for it! However, the only way to be granted this kind of Visa is if you applied for one within two years after your last visit.
Since it's your first time, you're still not eligible for this. It's still a nifty information, because once you've visited Korea, you'll be planning to return as soon as possible.
Don't forget to check out the South Korean embassy website, and read it again and again so you won't miss out anything.
Getting around Korea: A guide to buses, subways, taxis, and trains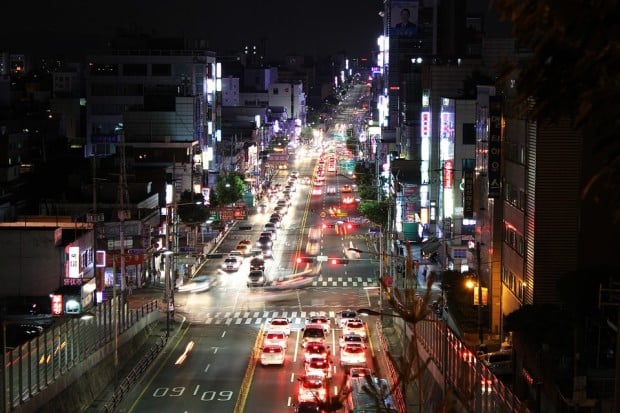 Getting around Seoul is easy enough. South Korea has one of the most efficient transportation systems in the world, and tourists will definitely find it easy to navigate the country.
The T-Money Card
If you plan to use the public transportation consistently during your stay, then it's best to get the T-Money Card. It's a transportation card that also functions as a discount card and can be used in select convenience stores. The rechargeable T-Money Card is used in subways, buses, and taxis, and it's honoured in Seoul, Gyeonggi-do, Daejeon, Incheon, Busan, and Daegu.
One of the advantages of a T-Money Card is that travel fare is ₩100 (₱4) cheaper compared to paying with cash. Transferring from one subway line to another, from bus to bus, or bus to subway is also free with T-Money. But of course, the transfer must be done within a limited time.
Though the card itself costs ₩2,500 (₱100), a card with ₩20,000 (₱800) or less credit can be refunded with ₩500 (₱20) service fee. The refund can be done at partner convenience stores with a T-Money logo.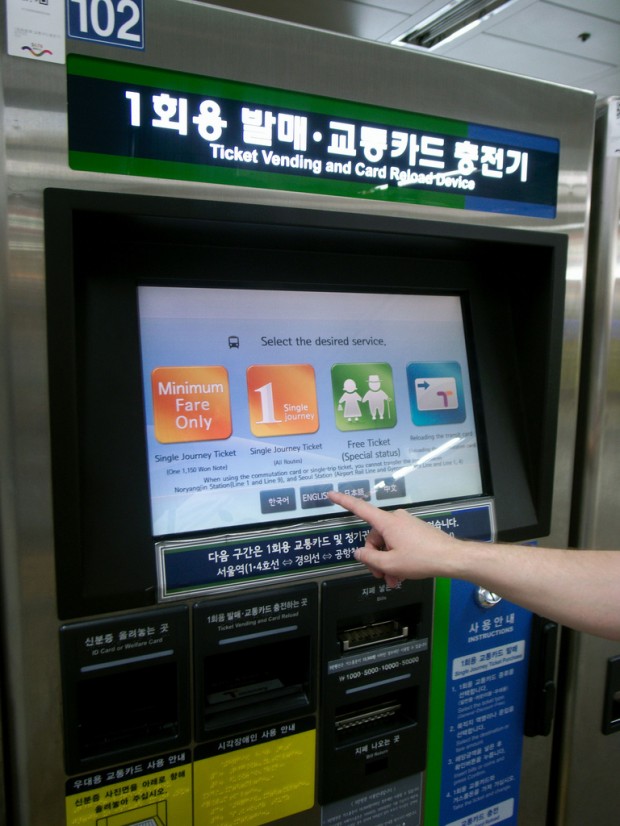 You can buy a T-Money card from a vending machine or a convenience store inside subway stations.  I remember buying mine from a convenience store in Anguk Station, and another one from a vending machine in Hongdae.
There's also the M-Pass card, which offers 20 rides per day for the user. There are 1-day, 2-day, 3-day, 5-day, and 7-day passes, and it can also be used in subways, buses, and taxis. I honestly don't recommend getting this. A 1-day M-Pass card is worth ₩10,000 (₱400), but there's no way you can use up that much just on transportation. Even with multiple transfers, we didn't spend more than ₩6,000 (₱240) on transportation in a day.
Check out Visit Korea's page to see the full list of cities that use T-Money.
Subways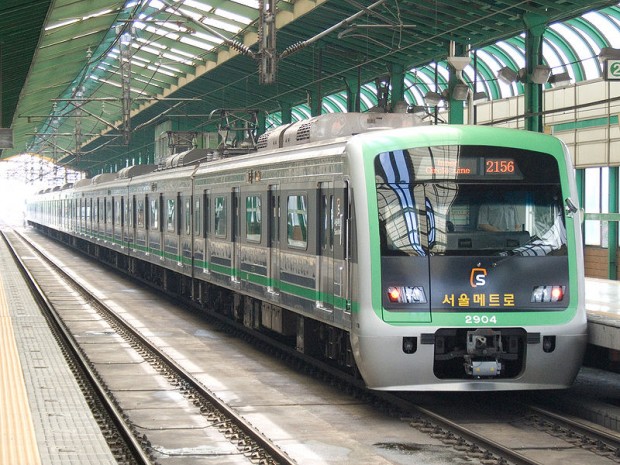 The Seoul Metropolitan Subway makes travelling around the capital not just easy but cheap and comfortable. It has 20 rapid transit, light metro, and commuter rail lines that extend to a number of nearby towns and cities, such as Incheon and Yongin.
If you're DIY-ing your South Korea trip, then it's best to familiarise yourself with the subway lines. I often plan my itinerary based on the attractions' nearest subway lines. Be prepared to make a lot of transfers, but learning how the subway lines connect can make planning a lot easier. I suggest downloading a mobile app of Seoul's subway system. You can also save a guide of the Seoul subway.
Be prepared for a lot walking, because most subway stations don't have escalators. You'll also be walking a lot, especially when you make a transfer. Walking from one subway line to another can already take 10-15 minutes, depending on foot traffic.
Aside from Seoul, the other big cities with subway lines are Busan, Daejeon, Daegu, and Gwangju. Instead of using single journey tickets, use your T-Money to save time and money.
Buses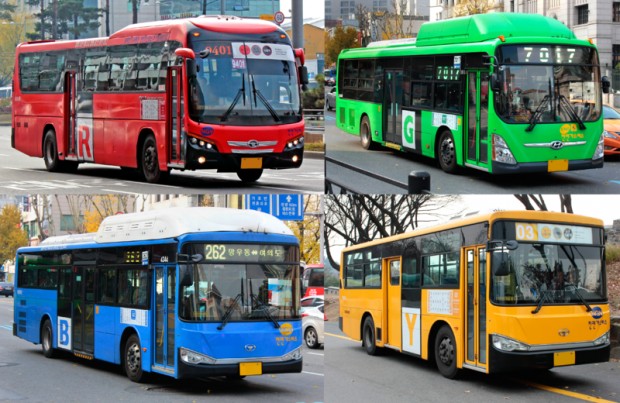 Another affordable way to explore cities is to ride the buses. The buses in Seoul are frequent and inexpensive, but they travel at a limited time period. We didn't know this so when we arrived in Seoul from Busan at around one in the morning, the buses going from Seoul Station to Hongdae already stopped its operation for the day. We resorted to riding a cab.
Bus stops in Seoul have route diagrams in English, so you can check whether your bus passes that way. Most bus stops also have a LED sign signalling the arrival of a bus. Keep watch for your bus number, because if the sign says it will arrive in 5 minutes, it will.
In the province, buses follow a schedule. It usually arrives every hour or 30 minutes. Timetables, names, and destinations are rarely written in English, so look for the nearest tourist information centre to help you with the Hangul (Korean language).
While you can use the T-Money when riding buses, bank notes are also acceptable, but only coins are given as a change. So save your ₩1,000 (₱40) notes for bus rides if you don't plan to use the T-Money.
Taxis
Despite being a developed country, South Korea boasts of affordable taxi fare. Depending on  the destination and the size of the group, commuting via taxi can be cheaper than riding the subway. We sometimes resort to riding the taxi, with no worry whatsoever of the cost, because we know that the taxi drivers wouldn't charge us heavily.
Regular taxis charge around ₩2,400 (₱100) for the first 2km, but there's a surcharge of 20% from midnight to 4:00 AM.
Though taxi drivers are not that good in English, they try their hardest to communicate with you. The drivers who know English will be chatty, so be friendly and introduce them to the wonders of our country as well.
Many Korean drivers cannot read phonetic alphabet, and most of them wouldn't understand your pronunciation of a place with a Korean name. Chances are, you'd be misunderstood.
Here's a tip: Have someone—your host or a hotel receptionist—write out your destinations for the day in Korean, which you'll show to the driver. It's also good to have the address of your hotel written in Korean, just in case you'll need to get home via taxi one lost night.
Travelling around Korea
Though not the cheapest mode of transportation, the Korea Train Express (KTX) makes moving around the country faster and easier. Operating at 300 km per hour, the express train can take you from Seoul to Busan in less than three hours. It's a fast, safe and easy way to travel, but it can also cost you a lot. But if your goal is to travel more than one city, you must definitely consider this mode of transportation.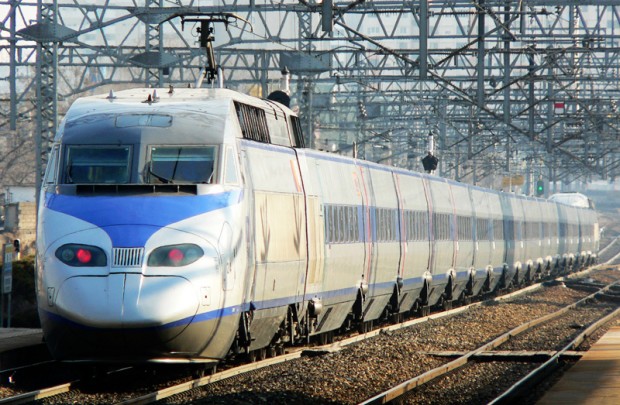 How to make a reservation
Reservations can be made via travel agents, ticket counters at the station, the internet, and automatic ticketing machines. You can check train schedules and book tickets online a month in advance. You can do so here.
When to use the discount pass
The Korail Pass is a great way to travel from one destination to another, without burning a hole in your wallet. You can ride the KTX for unlimited times on your chosen number of days—1, 3, 5 or 7 days.
The catch is, you're required to use it on consecutive days. But if you'll be frequently travelling via the KTX, then it's an ideal option for you.
My friends and I used the KR Pass for a two-day trip to Busan. We purchased a 3-day KR Pass, even though we'll only be spending overnight in the city. It's still a lot cheaper compared to buying two separate tickets.
Touchdown: From Incheon Airport to Seoul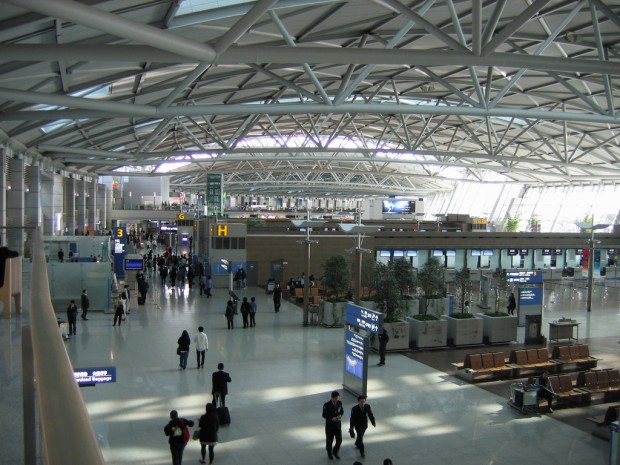 Upon arriving in South Korea, you'll be welcomed by the grand Incheon airport. You're still far from Seoul, but numerous modes of transportation are available to reach the capital.
Airport Rail Express
Taking the AREX is the quickest and cheapest way to reach Seoul. Depending on the traveller's needs, there's the Express Train and All Stop Train. Both stop at Seoul Station, which is right where you want to go if you need to head directly to KTX.
The Express Train, which travels non-stop to Seoul Station, operates with 25 to 40-minute interval, with ₩14,000 (₱560)  fare for adults. The rates are adjusted to ₩8,000 (₱320) for adults and ₩6,900 (₱280) for kids, until December 31, 2015. You can use your Express Train ticket to get a discount when purchasing a KR Pass.

On the other hand, the All Stop train costs ₩4,250 (₱170) for adults, ₩3,040 (₱120)  for the youth, and ₩1,900 (₱80) for children. It stops at 11 subway stations, 6 of which allow passengers to transfer to other subway lines.
If you decide to take the AREX, be prepared for a lot of walking and heaving your luggage up multiple flights of stairs. Many subway stations do not have an escalator.
You can check out the AREX main website for more information.
Airport bus
The airport bus is one of the easy ways to reach Seoul from the airport. Just ask the contact person of your hostel or hotel which Airport Bus Number you should take to your accommodation.
No matter where you're going in downtown Seoul, the travel fare of the Deluxe Limousine Bus, which makes fewer stops, and the Standard Limousine bus are ₩14,000 (₱560) and ₩9,000–₩10,000  (₱360–₱400), respectively. Ticket booths are right outside the passenger terminal, while the bus platforms are right outside the gates.
Taxis
Though not exactly a budget-friendly way to travel, riding a cab offers the convenience that neither a bus nor a train can offer. This is ideal when you're travelling with kids and the elderly.
Riding a standard taxi from Incheon airport to Seoul can set you back ₩60,000–100,000 (₱2,400–4,000), and the ₩8,000 (₱320)  toll is the passenger's responsibility.
What to wear in Korea: Four seasons of fashionable dressing
My friends and I always joke that Korea is the place where we can unleash our inner fashionistas. The country has four seasons, which means there's a lot of room to experiment on clothes. However, as someone from a tropical country, it can get pretty cold! I make sure to check the weather at least two weeks in advance to plan out what I would wear on the days I'd be in Korea. This makes packing easier.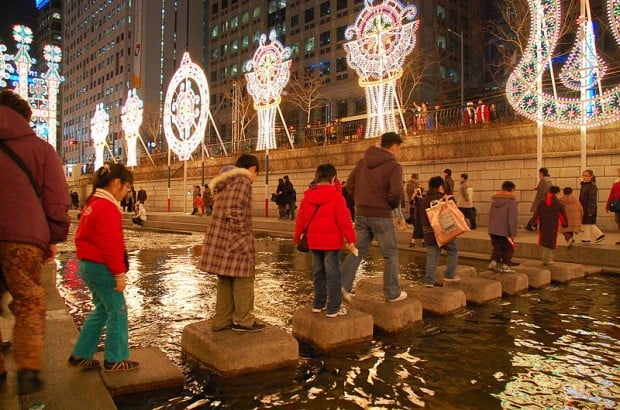 Winter
Being from a tropical country, winter can be the harshest weather condition we face on our travels. But winter clothes and thermal wear can be your best friend in navigating the winter wonderland. My cheapskate self will tell you to visit your  favourite ukay-ukay for parkas and jackets, but a quick visit to a mall can also direct you to international brands carrying an affordable winter line.
Also read: My 5-Day Winter Holiday in Korea: Itinrary, Tips & Cost Breakdown for Filipinos
Spring
Though it's mostly chilly throughout the day, the days are tolerable compared to the nights. While coats and thick jackets are necessary when roaming the streets at night, it'll be bearable to wear only long-sleeved shirts or thin cardigans during the day. But the temperature can drop to an almost freezing level when it rains.
Summer
Just think of a regular hot day in the Philippines, minus the humidity and the threat of rain every minute.
Fall
The temperature of spring and fall are almost similar, but autumn nights can get a little colder. It's when the temperature drops almost everyday as it slowly approaches winter. Wear thick coats over long-sleeved shirts, and warmers under your pants. Boots are also applicable.
Where and what to eat: A brief introduction to Korean food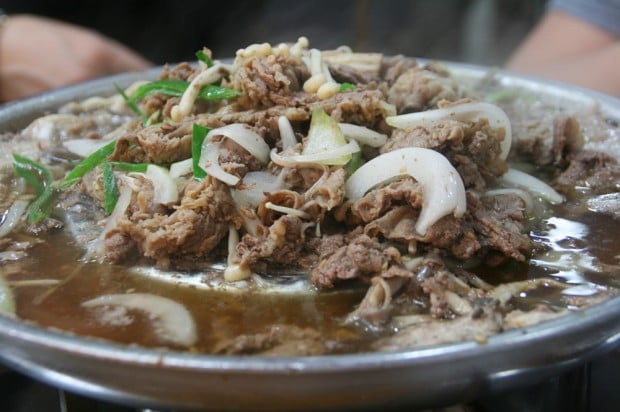 Breaking news: Not all Korean food is spicy! And it's not just vegetables either.
As pork lovers, Filipinos are often terrified at the sight of a Korean food-filled table. At first glance it may look either very green (veggies) or very red (chili), but Korea has a wide selection of Filipino-friendly dishes.
The famous samgyupsal may be best enjoyed with ban chan (side dishes) wrapped in lettuce, but it can also be eaten as a viand with rice. Speaking of rice, Koreans probably put magic on their rice because it tastes really good! My mother who's not fond of Korean food is very fond of Korean rice. It is also often served with beans.
Also read: 15 Must-Try Korean Dishes for Non-Spicy Food Lovers
When eating at Korean restaurants and you're not into spicy food, don't hesitate to specify that you don't want gochujang (chili paste) on your food. Emphasise this especially when you order bibimbap.  Also, you can ask the servers which food on the menu isn't spicy. They'll happily point it out to you.
There are also a lot of fast food chains in Korea, with a little twist from what we're used to.  If you're uncomfortable experimenting with the local food, you can always resort to the tried and tested international fast food chains like McDonald's and KFC or the obscure Popeye's and Lotteria.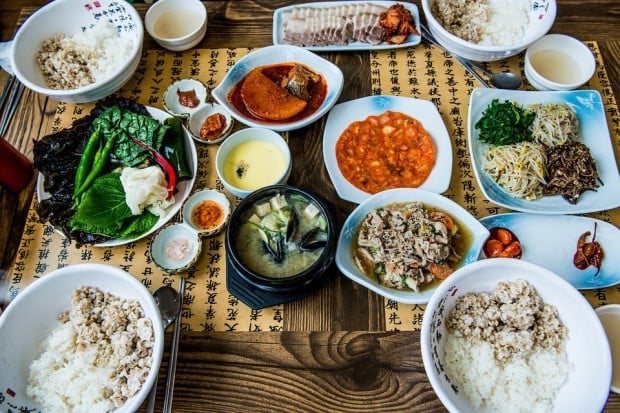 But if you're willing to introduce yourself to the charming and addicting world of Korean cuisine, I recommend the following:
For non-veggie lovers: Omurice, Hotteok, Cup Toast, Pork Cutlet (donkasu), Samgyeopsal
For non-spicy lovers: Bulgogi, Mandu, Patbingsoo, Kimbap, Galbitang
For spicy lovers: Jjamppong, Korean fried chicken, Ramyun, Odeng, Bibimbap, Kimchi jjige
Must-try Korean restaurants
Though I highly suggest trying small-scale restaurants serving home-cooked Korean cuisines, there are restaurant chains that you must try:
1. The Fry Pan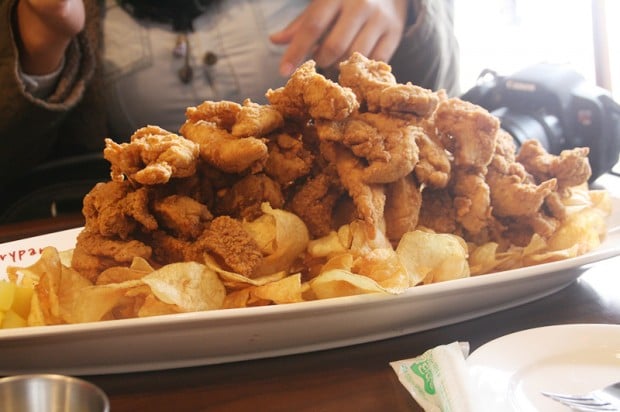 From a university project to an established restaurant chain in Seoul, The Fry Pan serves one of the best Korean fried chickens you'll ever taste in your life. A plate of boneless chicken breasts fried to perfection served with a side of potato wedges will make you love and crave the fried chicken culture in Korea.
You can find it in Hongdae, Myeongdong, Itaewon and more.
2. Hello Kitty Café
Decorated with anything pink and Hello Kitty, even the food and coffee served in the Hello Kitty Café are definitely cute. There's already a Hello Kitty museum in Jeju, but if you're stuck in Seoul, you can visit any of the cafés in Hongdae, Hyehwa, or Sinchon.
3. School Food
Korean food with a twist! This restaurant chain takes the ordinary Korean homey food and puts a spin on it. A kimbap is not just a kimbap, because their fillings range from beef teriyaki  to bacon to fried shrimp. School Food is already scattered around the country, and there's one in almost all tourist hubs.
4. Miss Lee Café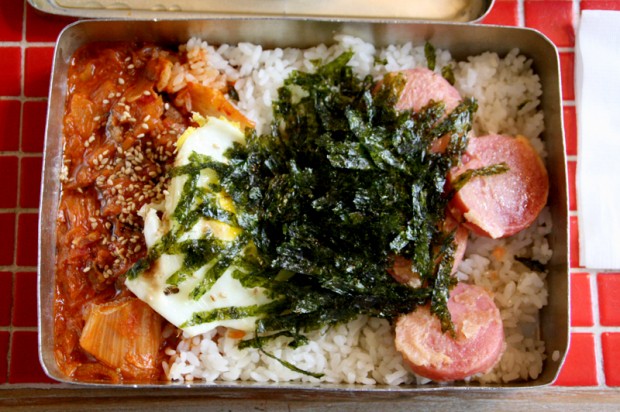 If the Japanese has the bento, Koreans have the doshirak! Miss Lee Café specialises on the lunchbox meal that consists of rice, egg, spam, kimchi, and seaweed. The trick is to shake, shake, shake the box to mix all the ingredients inside.
5. Lotte Mall Food Court
Probably the fanciest food court I've ever tried, the Lotte Mall Food Court is adjacent to the supermarket. You can pass it on your way to Lotte World. They have a wide selection of food, that it'll be impossible not to pick one that's good and fits your budget.
Where to stay: Hostels, hotels, home stays, temple stays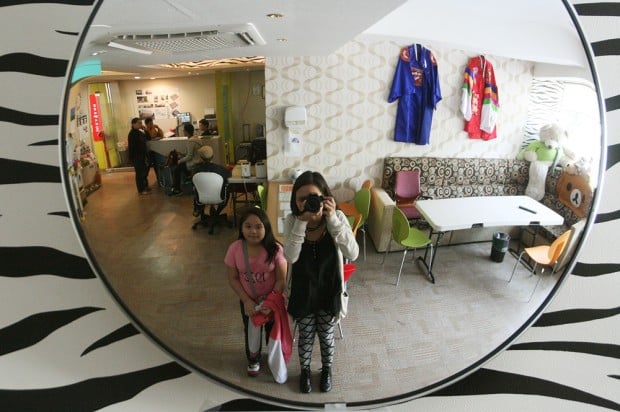 Growing to be one of the hottest destinations in Asia, South Korea has a booming hospitality industry.  There's a wide selection of accommodation perfect for every budget.
Also read: How to Travel Korea on a Budget
1. Hi Korea Hostel in Busan
A stone's throw from Haeundae Beach, Hi Korea Hostel offers affordable accommodation with free breakfast. Their shower is top-notch and their dorm-type rooms still offer a sense of privacy to the guests. Read my review here.
2. K Hostel in Seoul
Conveniently located at Dongmyo station, K Hostel is within walking distance of Dongdaemun and the Seoul Flea Market. Any KPOP fan will also appreciate its decoration. Read my review here.
3. Koreastay (homestay)
If you want to learn more about Korea and befriend the locals, homestay might be perfect for you. It's available in pretty much all provinces in Korea. Though not necessarily cheaper, homestay is a great way to learn about the culture directly from the source and not the guidebook.
4. Templestay.com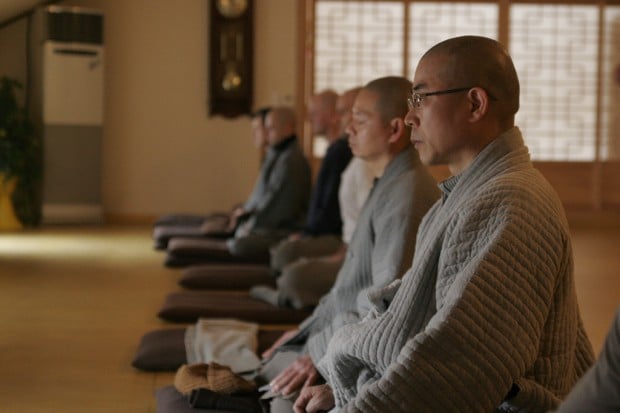 A unique way to experience Korea is through its lifestyle and beliefs. It's not just an accommodation, it's a cultural experience. Here, you can learn and practice Buddhist teachings during your stay. Visit templestay.com for more info.
5. J Hill Hotel
Though not a 5-star hotel, J Hill Hotel has everything you need for a satisfying and comfortable stay in Seoul. From buffet breakfast to coin-operated do-it-yourself laundry, it's conveniently located in Myeongdong—the shopping mecca of Seoul.
And if all else fails, you can always spend the night in a sauna.
What (not) to do: Customs and traditions to keep in mind
I always think that Korea and the Philippines have similar values. However, there are still striking differences. Check out these customs and traditions that you must always keep in mind when in the country:
They have great respect for the elderly. No matter how tired you are, do not sit at the subway and bus seats provided for the seniors and pregnant women.
It's a complete taboo to wear shoes inside the house or a room. When we stayed at a hostel in Seoul, we were scolded on our first day for bringing in our boots inside the room. Do not let the same thing happen to you.
Absolutely no jaywalking!
When handing money or cards when paying, try to use both hands as a sign of respect.
Bowing is common. When you end up meeting the gaze of the locals, especially the elderly, bow your head a little as a sign of acknowledgement and they will gladly do the same.
Tipping is uncommon in Korea. Don't feel obliged to give tip to your taxi driver or to leave tip at a restaurant.
Be respectful at all times, because they will definitely show you hospitality and kindness.
Also read: 16 Things to Know Before Travelling to Korea
What to say: No 'Anong Sa'Yo?' please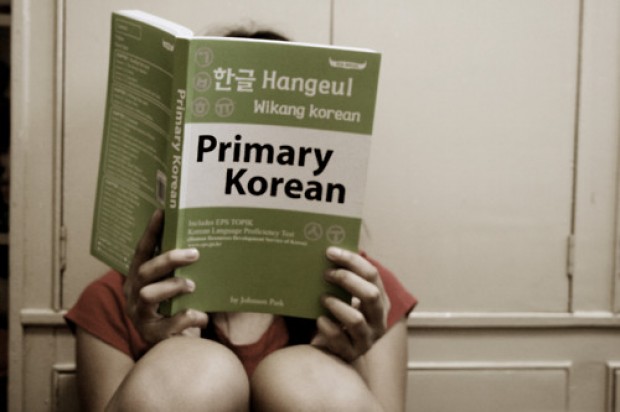 Let's keep our corny jokes to ourselves for awhile, and at least try to understand their language.
When in Korea, it'll go a long way if you know a little Hangeul (Korean). The country has become incredibly tourist-friendly in just a couple of years, but it'll still be good to show the locals that you've made an effort to greet them in their language.
Of course, you can't learn a language just a month before your trip! Here are some words, phrases and sentence that you can find useful in your travel:
An-nyong-ha-se-yo! – It's both hello and bye in Korean.
Kam-sa-ham-ni-da! – Thank you.
Pil-li-pin sa-ram-i-e-yo. – I'm a Filipino.
Jo-neun (name)-im-ni-da. – I'm _____.
I-reum-i Mwo-shim-ni-kka? – What is your name?
Bae-ga-go-peum-ni-da. – I'm hungry.
Ye-ppu-ne-yo! – It's pretty.
Ka-kka-wo-yo? – Is it near?
Da-sshi bop-shi-da! – See you again!
Hwa-jang-shil – Toilet
Byung-won – Hospital
A-ppa-yo. – It hurts. / I'm sick.
Also read: Important Phrases You Need to Know When In Korea
What to do in Korea: A mini bucket list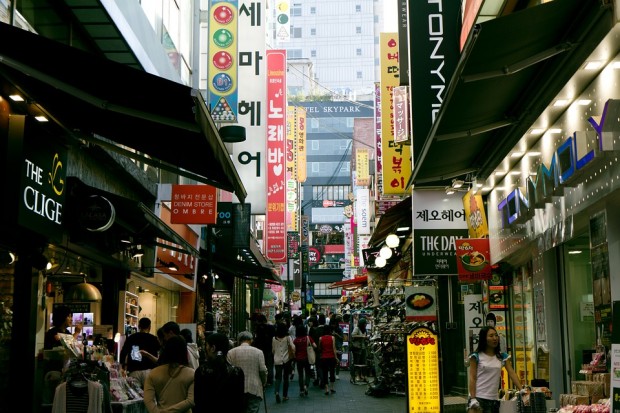 Indulge in Korean street food like odeng, hotteok, silkworm, tteokbokki, soondae, bbopkki, twigim, egg bread, and more.
Eat kimchi!
Try on a traditional Korean dress called hanbok. Most Tourist Information Centres offer it for free.
Go shopping for the trendiest outfit at one of their shopping districts.
Visit the Trick Eye Museum in Hongdae or the Alive Museum at Namsan Park.
Buy a face mask and try it on.
Go hiking at Bukhansan in Seoul or Seoraksan in Sokcho.
Befriend a local.
Stay at a temple for a day or two.
Experience the four seasons of Korea!
Also read: Korea Bucket List: 17 Wacky Challenges You Must Conquer
Now, you're ready to explore to Korea!