Contributed by Wanders of Eve
During my first trip to Seoul in 2015, I missed the hanbok-wearing experience. So I made sure I am not going to miss it for the second time.
My friends and I set aside half a day for this activity when we were in Seoul this fall of 2017 and I must say it is one of the highlights of our trip.
Also read: A Glimpse of Spring in South Korea
There are many shops around Gyeongbokgung Palace that rent out hanboks for 2 hours, 4 hours or one day. Price varies and starts at around ₱600. Premium hanboks may cost as high as ₱2,000. We rented our standard design hanboks from 3355 Hanbok which is conveniently located 90 metres away from the palace's east gate, the Geonchunmun Gate. There is a wide selection of hanbok to choose from and the kind and courteous staff will help you in fitting the dress. They will also keep your things for free. Just don't' leave your valuables like your wallet, cell phone and passport.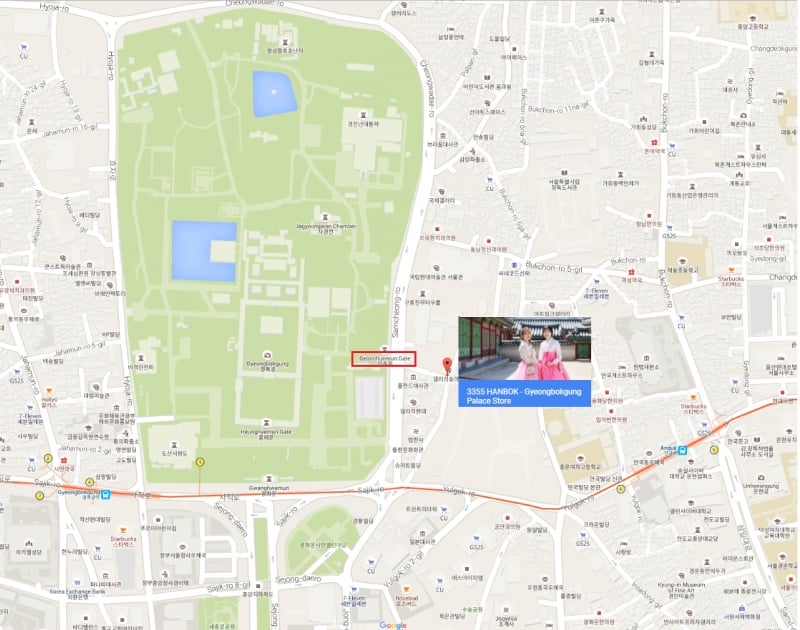 Our 4-hour package costs US$18 per person. We booked it online to avoid the crowd of walk-in travellers and to save some bucks as rent is costlier if you avail it on the day itself. Our hanbok comes with a free handbag and hair accessories like headband and pins. Others like shoes or hair styling and make-up come at an additional cost. It was our good friend who did our hair braids at the shop and we already wore our makeup before we left the hotel to save time.
Now all is set, wearing our humble hanboks, with dainty pearl and floral pins modestly tuck behind our braids, come take a walk with us.
Having been to Seoul in spring two years ago, I realized that Gyeongbokgung is even more beautiful in autumn when the leaves of the ginkgo trees burst into a golden hue and the maple and other broad-leaved trees into vibrant crimson, orange and yellow. And what could better complement a hanbok than a backdrop of lovely autumn foliage and traditional royal dwellings while strolling around the palace grounds?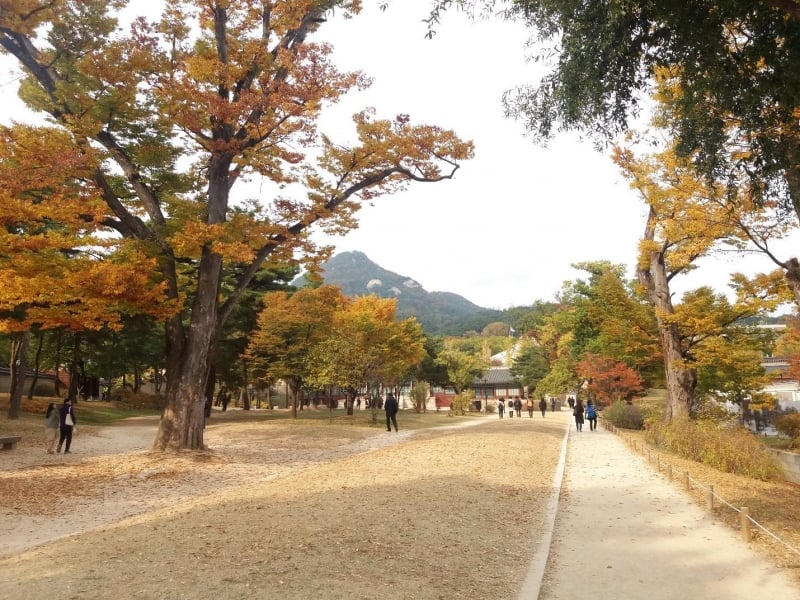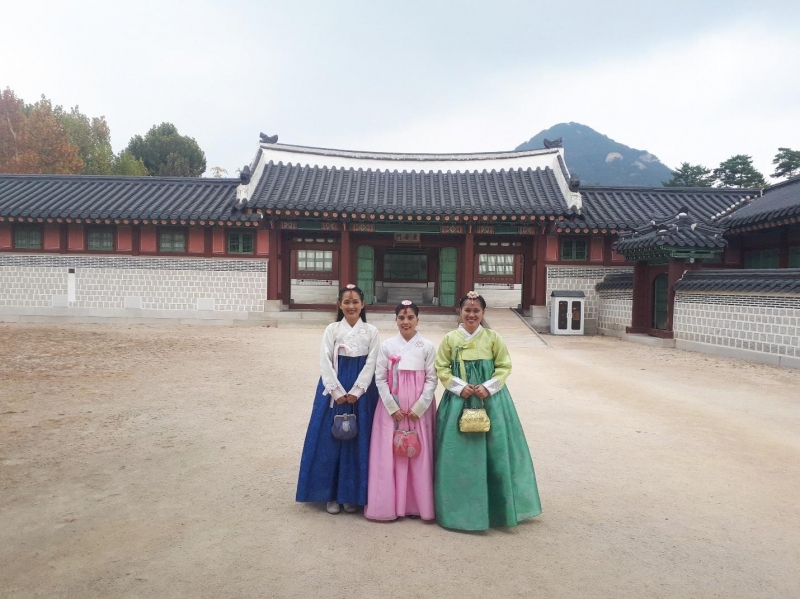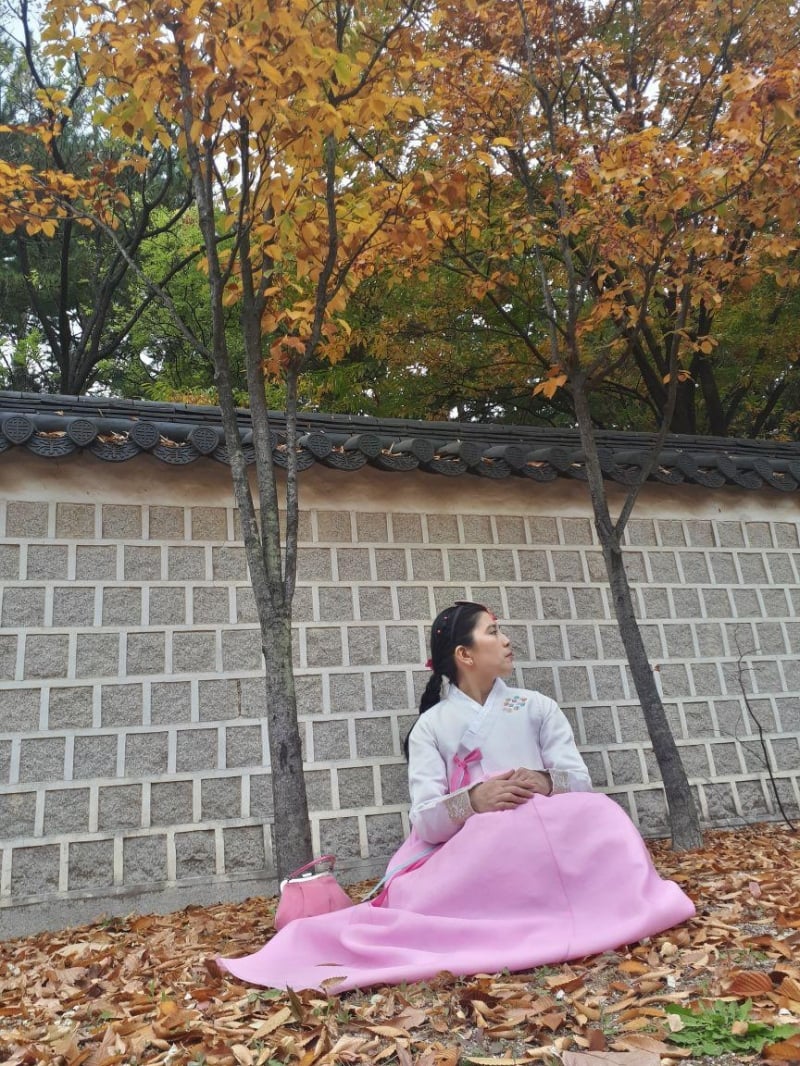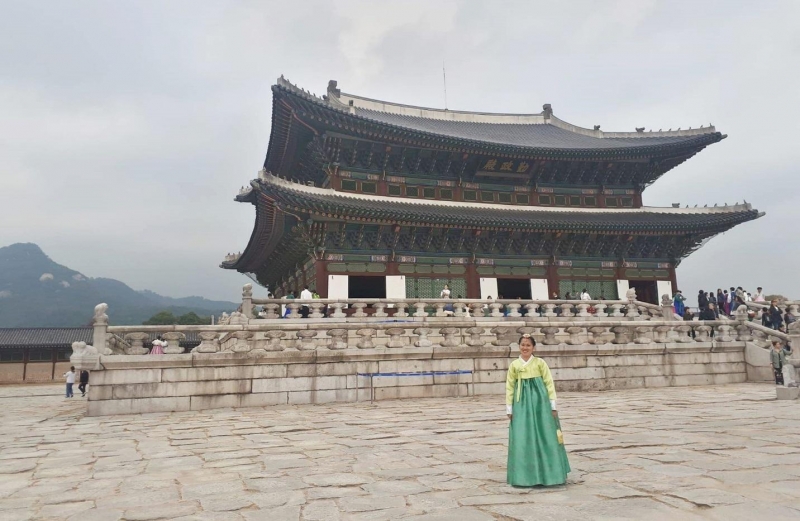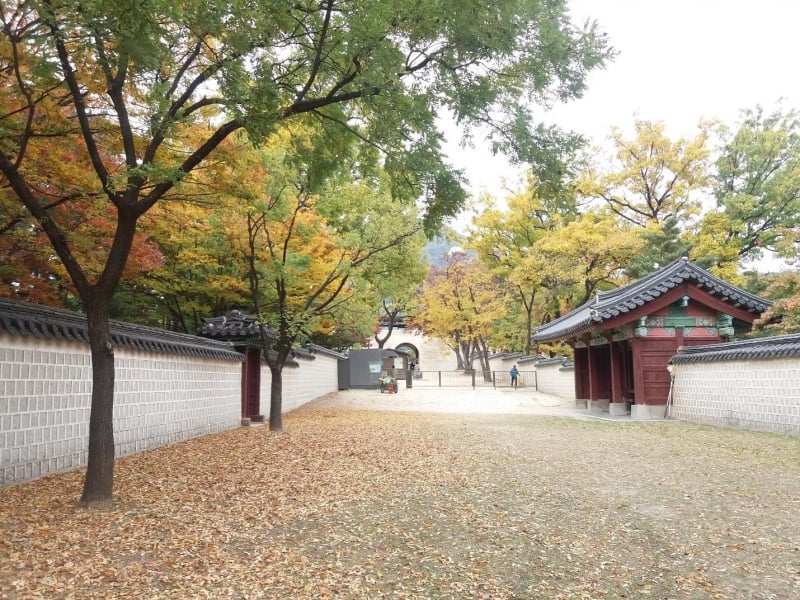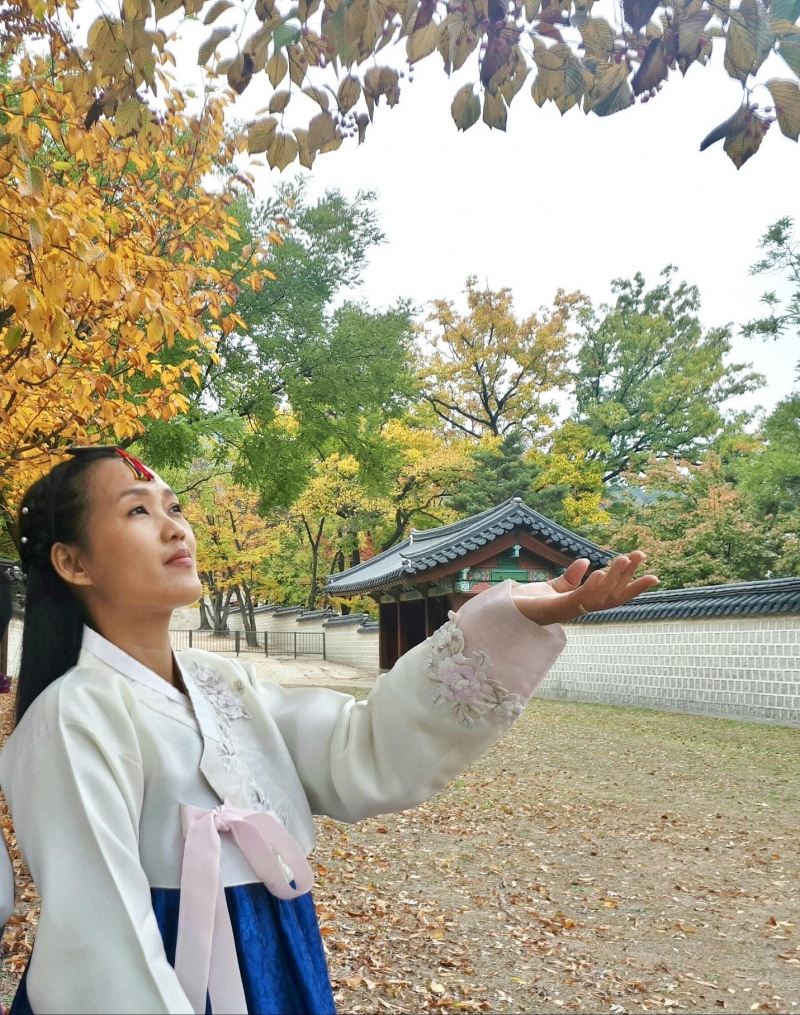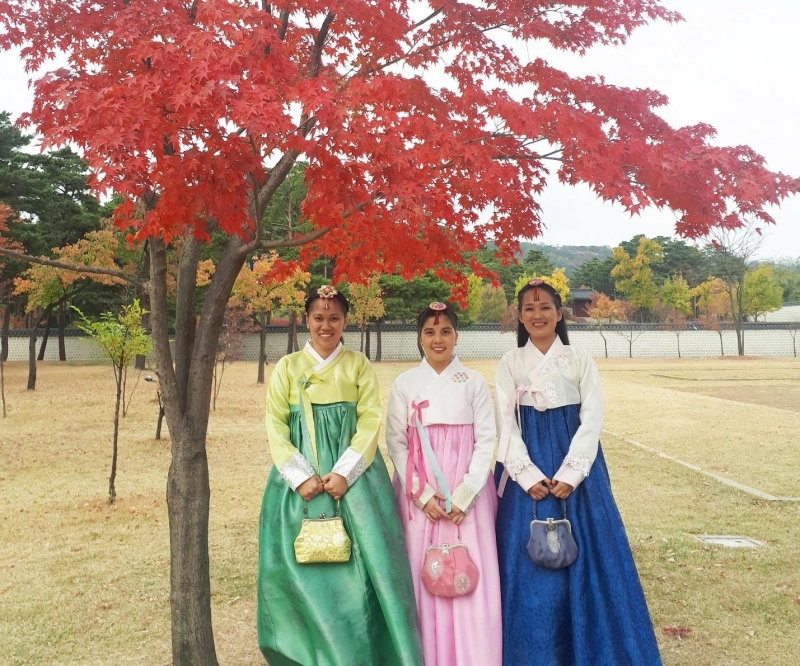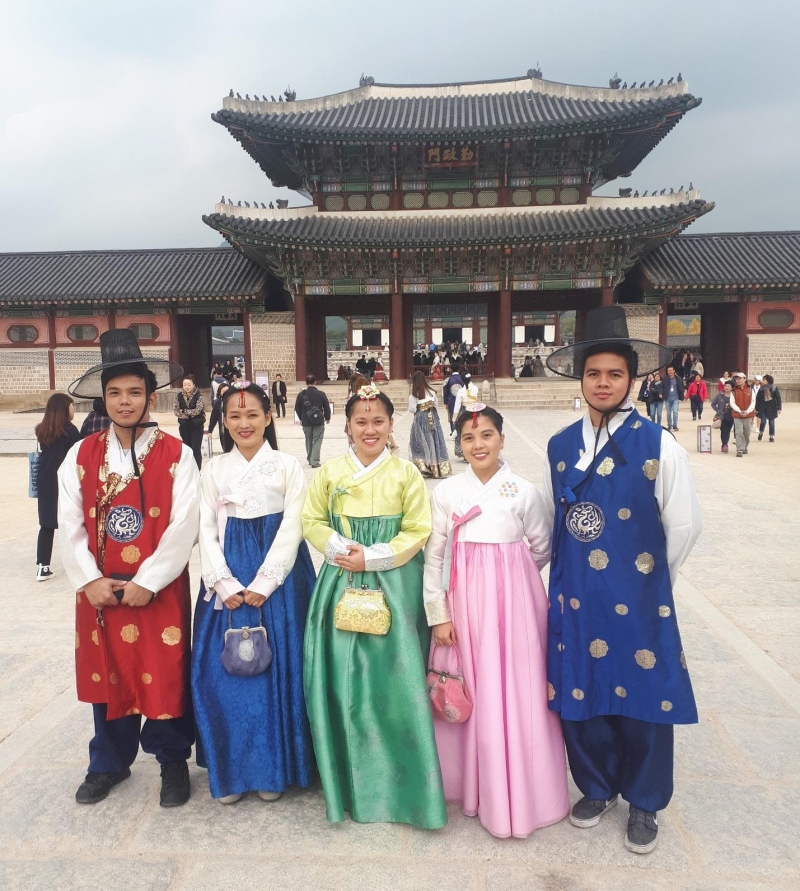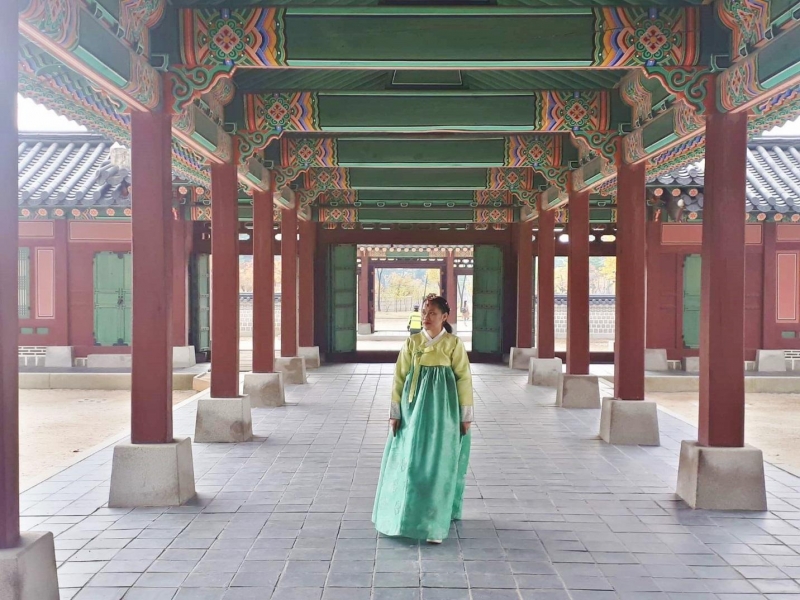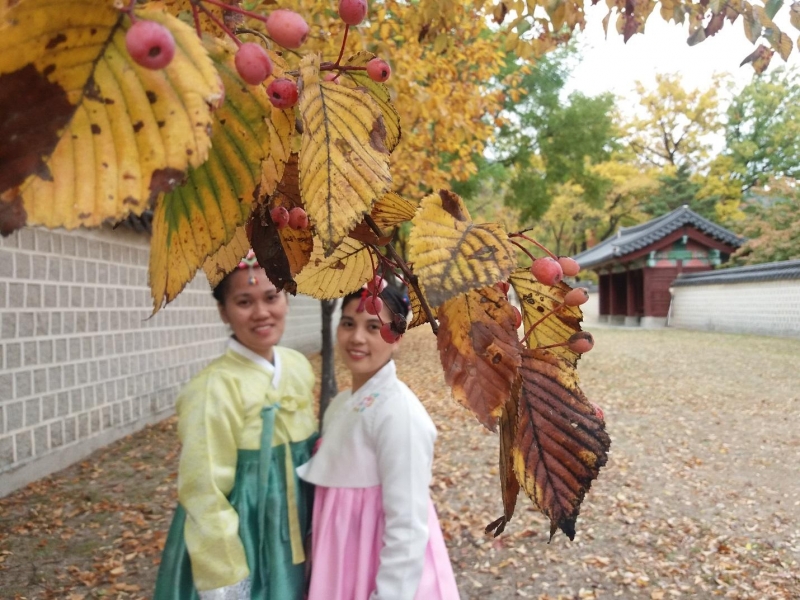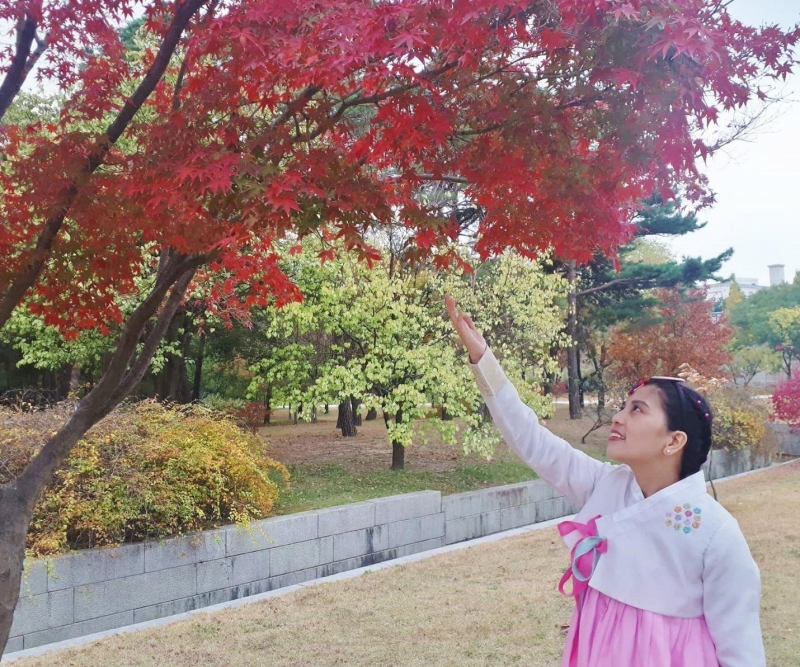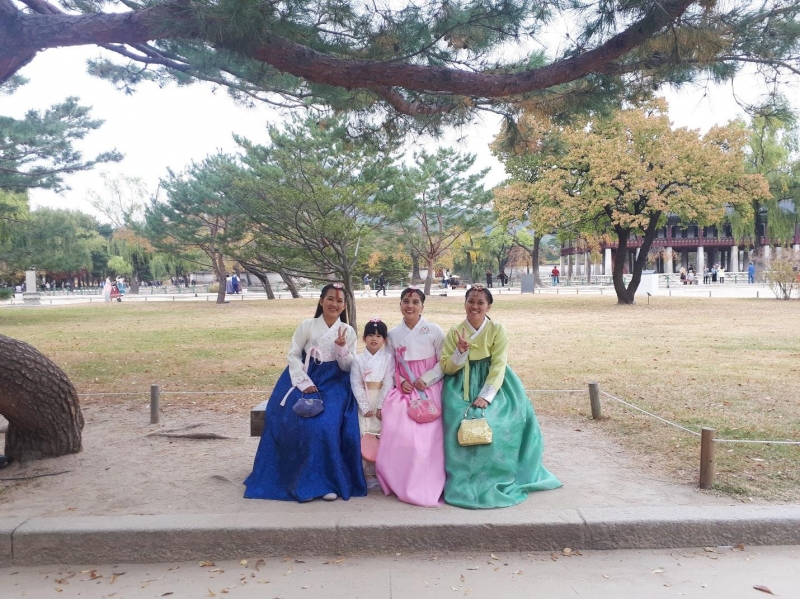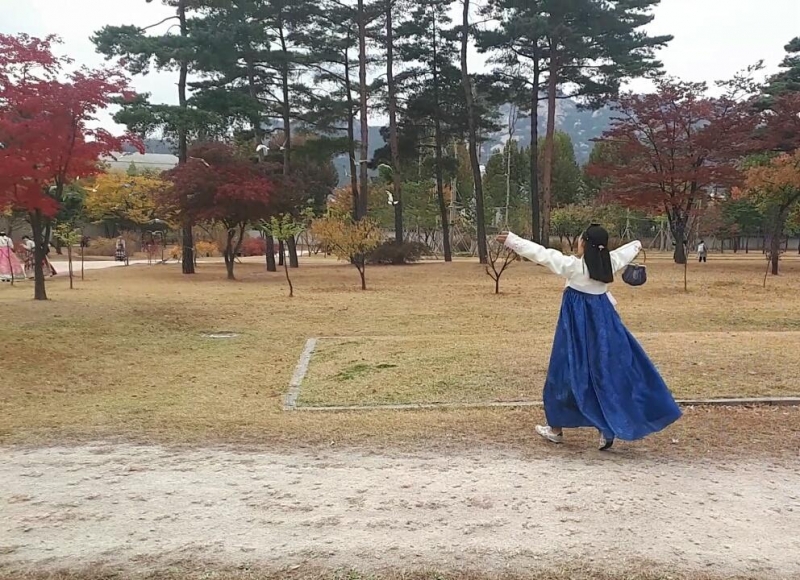 We only get to see the hanbok in historical K-Dramas before. And we are grateful to experience wearing this traditional Korean dress even just for a few hours. It was like travelling back to the time of Joseon. It was like witnessing King Sejong work tirelessly at inventing Hangul. It was like walking alongside the royal queen or princes and princesses of Joseon. And we felt like humble maidservants serving His Majesty King. It was surreal.
Also read: Top Tips for Planning the Ultimate BFF Holiday in Korea
Are you dreaming of one day coming to Seoul and experience wearing a lovely hanbok? Do not give up on that dream. You can make it happen like we did. How? Work hard, dear traveller. Set your priorities. And I always say this – save before you travel because as much as you should enjoy the fruit of your hard work once in a while, you also have to be a good steward of your finances. Seoul will be there when you are ready to fly. Annyeong! 🙂