Contributed by The Observant Tourist
It was a drizzly Friday afternoon in Hamaguchimachi when Keiko and I stepped out of the Nagasaki Atomic Bomb Museum and made the one-kilometre hike back to Urakami station. We got to Urakami station with still over an hour before the arrival of the train that would take us on a two-hour trip back to Hakata station in Fukuoka City where we were billeted in a hotel. With hunger pangs setting in, we left the station and stepped back into the rain to look for a place to eat.
As luck would have it, we stumbled upon a small yakitori restaurant not more than 20 metres away from the train station. The restaurant's no-frills facade and Kanji signage suggested it was a local haunt not frequented by foreign tourists. With some trepidation, we entered the cramped, dimly lit doorway and deposited our dripping umbrellas in the bin by the entrance. We were the first customers of the day.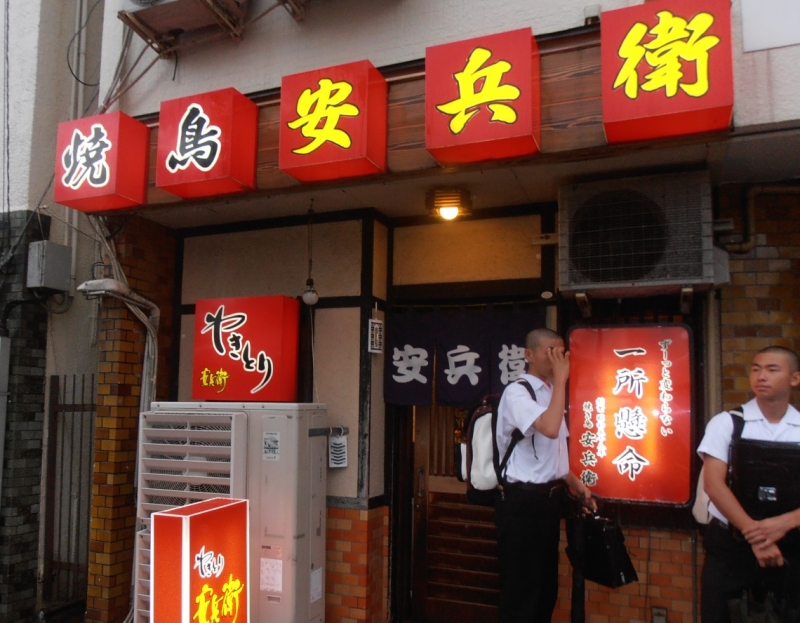 "Irrashaimase!" said a smiling, slightly built man stoking the coals in the hibachi (traditional Japanese grill) behind the counter. His friendly welcome immediately put us at ease. The restaurant had a tatami mat dining section with five small tables, but we opted to sit in the bar in front of the hibachi. The grill was surrounded by red cinder blocks for insulation, with the inlet of its exhaust hood encased in protective glass.
Almost immediately after we sat down, a middle-aged woman followed by a young lady, both clad in white aprons, emerged from the kitchen bringing a pair of menu lists, two cups of hot tea, a plate of raw cabbage (yakitori side dish) and more smiles. I figured the restaurant was a mom and pop operation: Dad as grill chef, mom as cook and daughter as all-around assistant/server.
The menu was all in Japanese, but thankfully included pictures of each offered dish. Half-Japanese and a frequent visitor to Japan, Keiko knows basic conversational Nihongo. She eventually had to use a translator app on her phone to communicate our more specific orders to our solicitous and ever-smiling server who spoke very little English.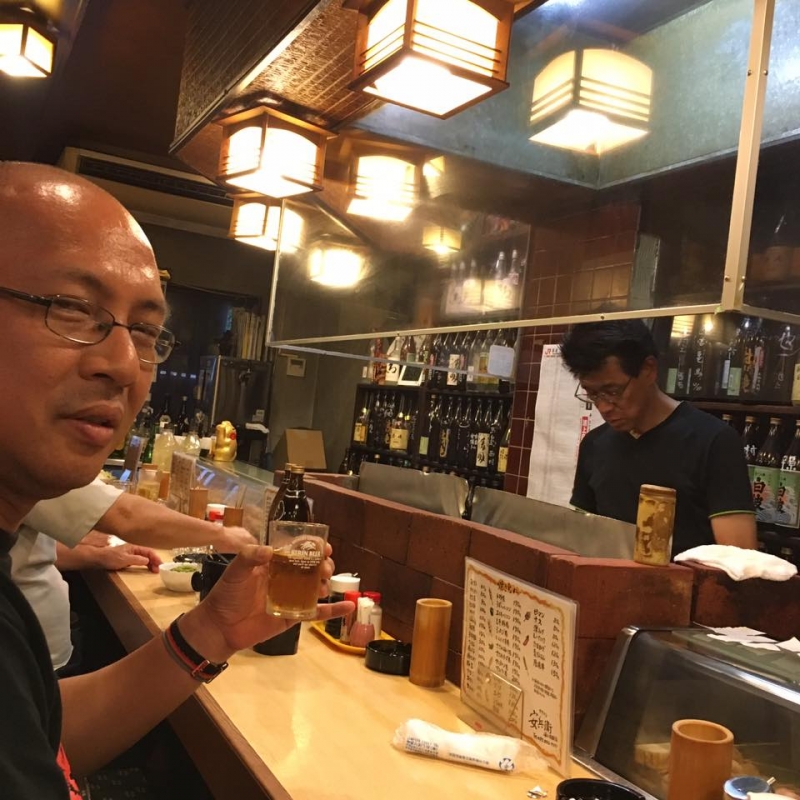 Yakitori, literally "grilled bird", is traditionally made from several bite-sized chunks of chicken meat or offal skewered and grilled over a hibachi. For yakitori, Keiko ordered squid, sausage (probably beef), bacon-wrapped asparagus, onion leeks, shitake mushrooms, shrimp, scallops, shisamo (smelt, a saltwater fish) and chicken liver (my favourite).
For yakitori seasoning, we were served salt, lemon wedges and tare, a sweet sauce made from mirin (sweet rice wine), sake (rice wine), soy sauce and sugar. Tare, I found out, pulls double duty for yakitori as basting sauce and dip. Gohan (rice, for me), ochazuke (rice in green tea, for Keiko) and ice-cold Kirin beer (a bottle for my wife, two for me) complemented our skewered feast which, as we happily found out later, would total a reasonable ¥4,060 (about ₱1,900 or US$38).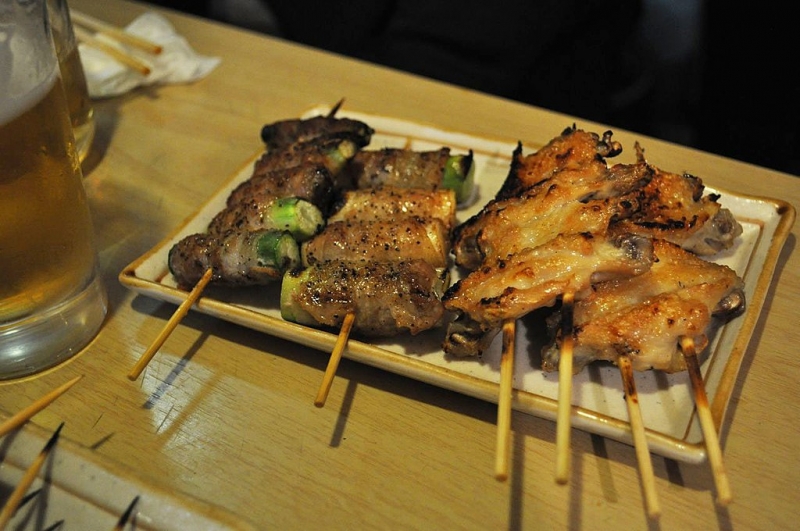 By 6pm, the restaurant and umbrella bin were full. Young office workers, middle-aged couples, elderly men—all locals coming in from the rain, looking to unwind with a hearty weekend dinner. Keiko and I were the only tourists in the restaurant, but we felt right at home. Three elderly Japanese men sat beside us in the bar. While waiting for their order of yakitori, they drank beer, smoked and munched on edamame—boiled green young soybeans in pods usually served as appetisers with alcoholic beverages. Japanese bar nuts, Keiko told me. Likely regulars, the old-timers laughed mirthfully as they chatted with the grill master who was busy creating grilled pièces de résistance over the hibachi.
As I listened to their friendly banter, I noticed two multi-levelled wooden racks behind the bar laden with full and semi-full bottles of sake and shōchū, an alcoholic beverage distilled from rice, barley, sweet potatoes, buckwheat or brown sugar. Some of the bottles were artfully labelled in Kanji, probably with the owner's name. Posted on the wall between the two racks was a huge Urakami station train schedule.
Japanese pop music played softly in the background, providing a soothing soundscape to the babble of lively conversation fueled by ridiculously good food and drinks. As Keiko and I basked in the festive and relaxing ambience, I remembered a sobering fact I learned just a few hours ago from our visit to the Nagasaki Atomic Bomb Museum: this vibrant nook brimming with life and laughter on this rainy Friday evening, this piece of paradise we had discovered by chance, lies in an area 600 metres away from Ground Zero. Seventy-one years ago, Hamaguchimachi was a radioactive wasteland filled with death and destruction.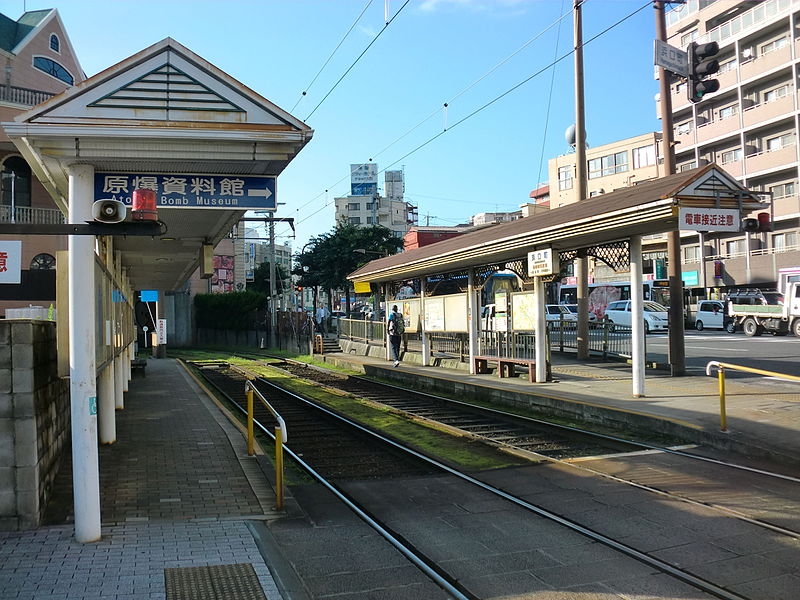 Ever so slightly, I raised my beer bottle in salute, bowed my head and said a silent prayer for the victims of the atomic bomb attacks on Hiroshima and Nagasaki.