Contributed by Inspiriting Grateful Travels
My last backpacking travel for 2014! Hanoi is a great city! Lots of culture, great food & foreigners! One trip I'll always be grateful for. 🙂
Noi Ba International Airport
Even though my flights were red eye, I still got to explore the airport as shops inside close until the last flight of the night.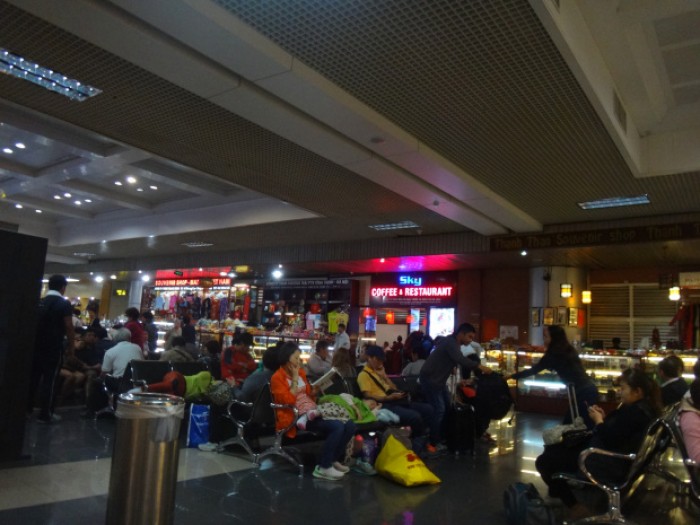 Noi Ba Int'l Airport
There were a lot of souvenir shops of local products and duty free stores. Seats are a little cramped and there are too many people at a time.
One thing I hated about this airport is that check-in took SO LONG. I never thought I'd have the SLOWEST check-in ever in my life. In the Philippines, average check in would be at least 5-10 minutes. For this airport, it almost actually took 15 minutes per person to check in. The line was too long, only 3 check-in counters were open and each person took that long. Good thing I was early so I was about the 10th or 15th person to check-in.
Hanoi Sports Hotel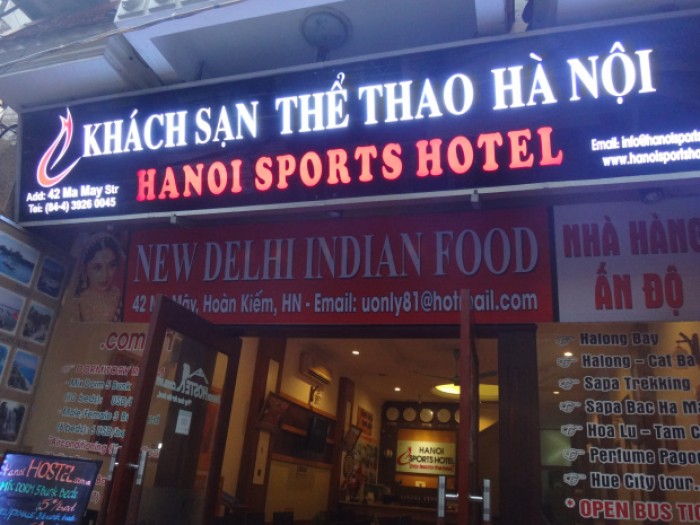 Entering Hanoi Sports Hotel
I stayed at Hanoi Sports Hotel which cost me PHP 300 per night. I booked a dorm room where about 6 people are staying. There is a bed, safety deposit box, lockers and curtains to cover your bed. There is also a bathroom that is shared by all people in the room. It was very clean and comfortable so the price was worth it.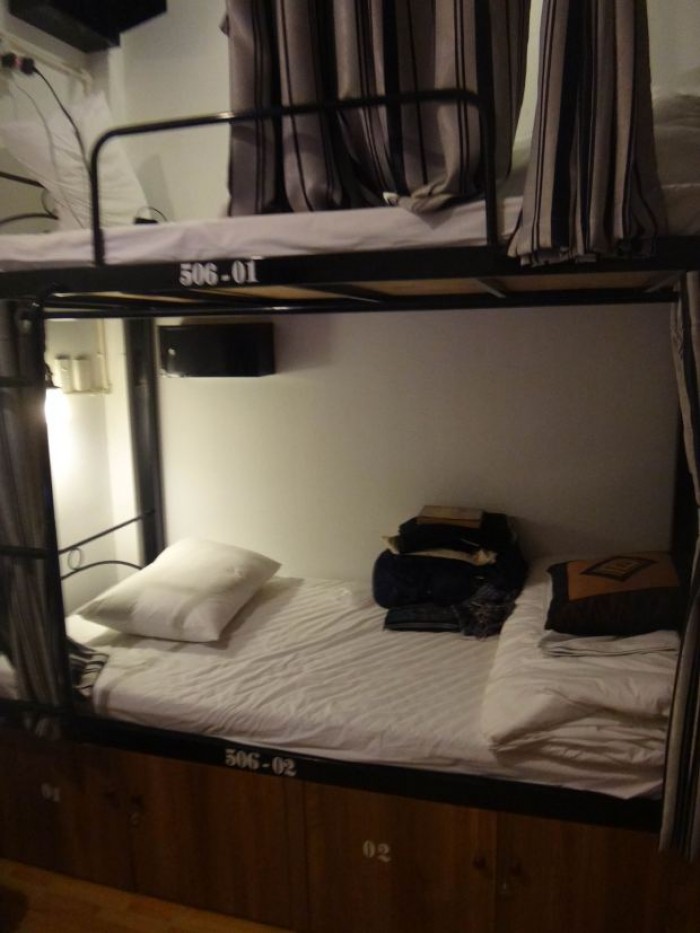 Bottom bunk at Hanoi Sports Hotel
When I booked my room, I reserved for an all female room, but when I got there, they did not have any left so I had to stay in a mixed room which was a first for me. It was really awkward, too, because we had to share one bathroom. There was a blurred glass door separating the shower and the toilet so if I was taking a shower, any guy could just come in and see my blurred naked self taking a shower! Good thing that did not happen!
When I arrived I could not sleep! A couple was doing something crazy in the bed next to me. I just arrived from the airport, and I was really tired but they were really distracting, and no one else in the room seemed to be bothered by it except for me. It was really crazy. Overall, hostel was good. People at the reception were really nice and very accommodating of my queries.
Crossing the street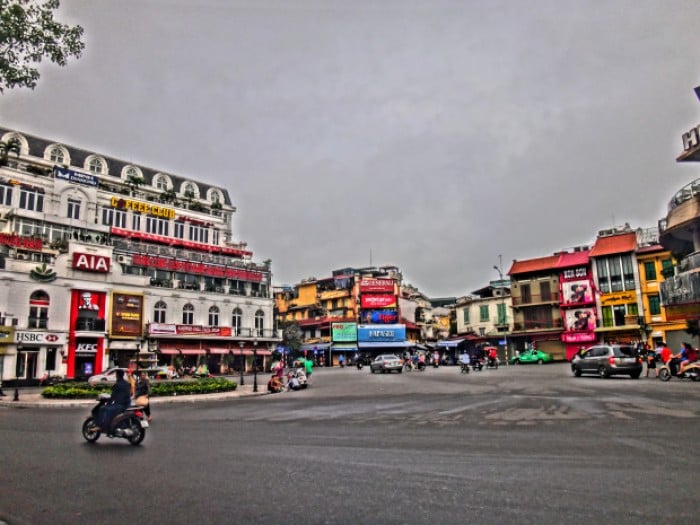 Before the Synchronised Chaos
I really need to emphasize this, because crossing the street in HANOI is DAMN CRAZY. In my first morning when I started to explore, my first stop was Hoan Kiem Lake. I walked from my hostel to this place. There were a few pedestrian crossings so as per my traditional norms, I stick to those crossings.
Also read: 10 Crazy Things that Every Traveller Should Do in Vietnam
As I was nearing the lake, I had to cross a very wide road. I noticed that there were no pedestrian stop lights. Cars and motorbikes just kept on coming. Lots of motorbikes! I was literally waiting for the cars or motorbikes to lessen or stop but it was not happening! So I observed my surroundings again. Locals were just crossing even if so many cars or motorbikes were coming. I didn't read anything about this in my research. When a few locals were by my side, I decided to follow them because I wanted to cross so badly already.
It was so crazy – cars and motorbikes coming at you and locals were just walking normally looking like there were no cars that were about to hit them. Following locals was a good choice because, I got to reach the other end. For the next attempts, I was alone, some I did well, but some I got nervous so when I knew some of the vehicles were close, I hesitated so some of them swerved a little. That is when I knew I was wrong.
Meeting my tour guides/foreigner friends later on, they advised me that this was their culture, "A Synchronised Chaos." The vehicles adjust to the person walking. The person just has to go. "JUST GO." That's their advice. It was crazy. The vehicles or motorbikes calculate your walking pace and they are the ones who adjust their movement. So if you stop or hesitate, they miscalculate and swerve. The idea is to JUST GO and walk at the normal pace. CRAZY CRAZY WAY TO CROSS THE STREET!
Hoan Kiem Sword Lake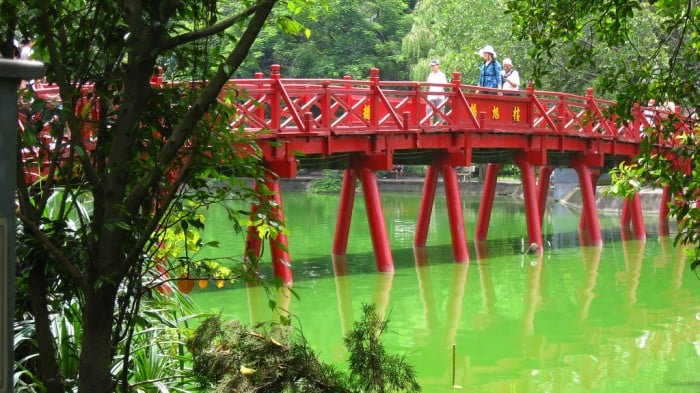 Image credit: taylorandayumi
This is overrated. I mean yeah, it's beautiful but the pictures did not really exceed expectations for me. It's just a big lake with a small tower in the middle. In the pictures, it looked pretty big but in real life, it's not. I mean it has a good legend about a king, but scenic wise, it's just normal for me. People around the lake jogged, were exercising, reading books and just relaxing. It was a good stroll in the morning.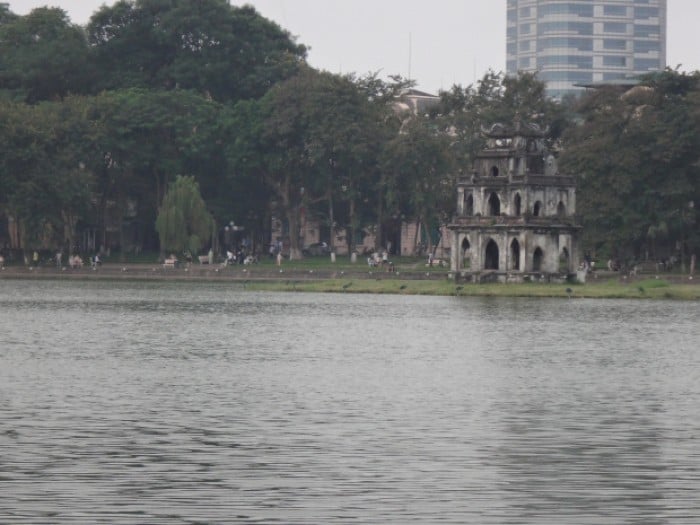 Turtle Tower at Hoan Kiem Sword Lake
Vietnam Awesome Travel – Awesome Homestay Cooking Class
I availed this tour, because it had a lot of activities. To start off the tour, the guide treated me to an egg coffee in the morning. It was so yummy! It was coffee with whipped egg & sugar on top. It was way better than Starbucks and cheaper too.
Egg Coffee!
After that, we met up with other foreigners from the States who joined the tour. We arrived at the restaurant and were taught Vietnamese language for 30 minutes. We were taught how to greet sellers, buy ingredients at the market, ask how much it was and haggle the price. After the language lesson, we rode bikes to the market wearing the traditional Vietnamese hat.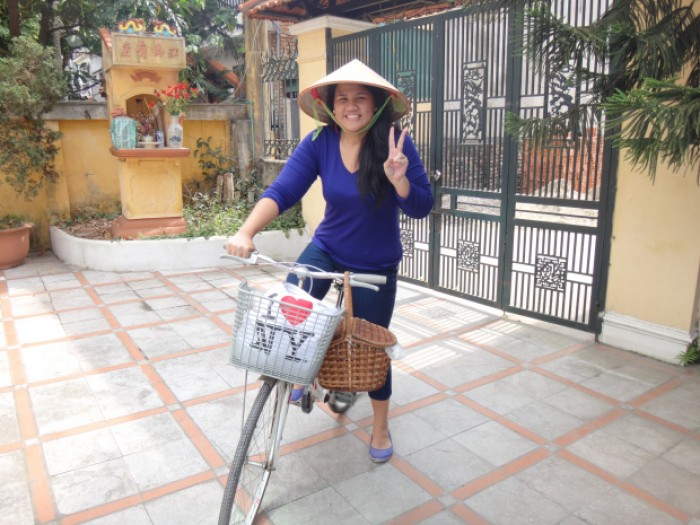 Bike & Hat! Very tourist-y of me.
It was really cool! I haven't biked in a long time and it was such a good exercise in the morning. The wet market looked like the ones here in the Philippines.
Our tour guide let us talk to the sellers in Vietnamese and it was so much fun! I kept saying "Ziam Za" which means "discount please," and they kept on giving us! I think they were making fun of how we were speaking, but it was really a cool experience. After buying all the ingredients, we biked back and started cooking in the kitchen. We made caramelised pork stew, spring rolls, banana flower salad, summer pork rolls and sweetened mangoes. They were all so good! I didn't expect Vietnamese to be so damn good!
Also read: 26 Reasons to Fall in Love with Hanoi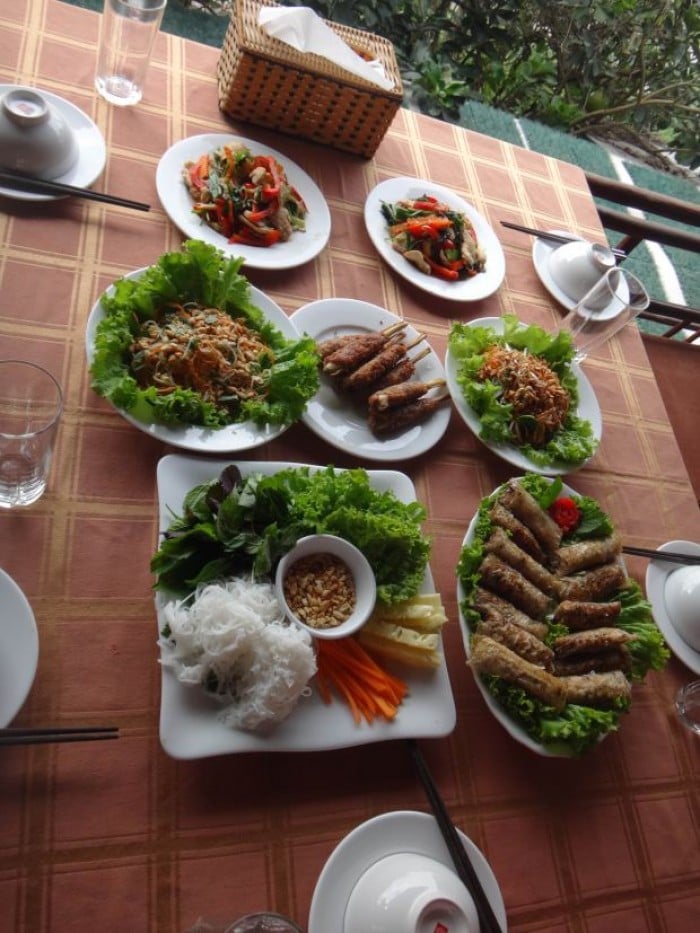 Awesome Vietnamese Food
Hanoi Kids
Hanoi Kids is a non profit organization that was founded by college students. This is really cool! College students take some time to tour tourists for free!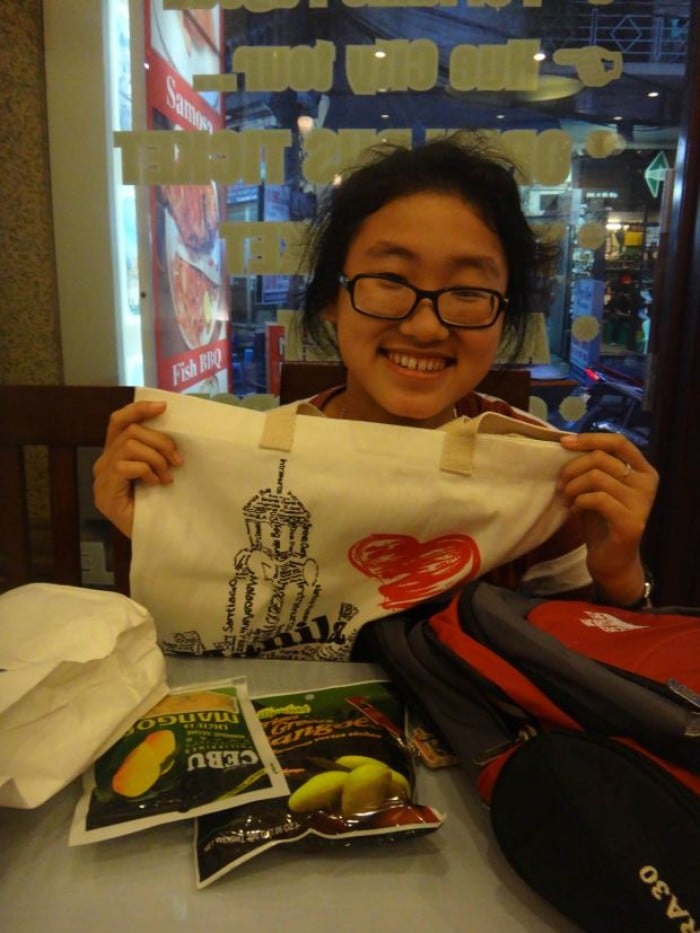 With my Hanoi kid, Lana! Brought her some goodies from Manila! 😉
They do this to practice their English. I availed their tour and my Hanoi kid, LANA, took me to the Temple of Literature & Thang Long Puppet Theatre. Lana was very nice and very informative. She didn't bore me, because the facts that she said were really cool. Even though I did not have to pay Lana for her tour, I had to pay for the expenses of the taxi, entrance fees, etc., but it was all worth it! The company was really great. I brought her dried mangoes & key chains from Manila so she could remember me. She has gone on a lot of tours with foreigners. She even has a notebook where she lets all her tourists write something for her.
Temple of Literature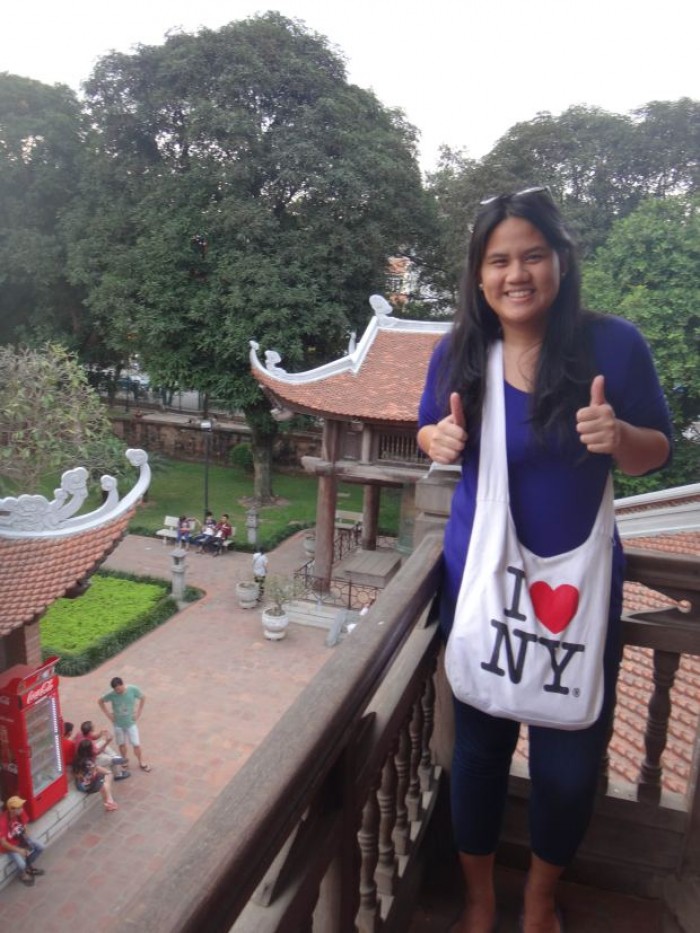 Lana took me to the Temple of Literature
This was really nice, but since I've gone to a lot of temples already this was already typical for me. But each temple has a story to tell, which was really good to know. I'm glad I had Lana with me to explain the legends or history of all the things in the museum, otherwise I wouldn't enjoy it as much.
Thang Long Water Puppet Theatre
This was really boring! I almost fell asleep! I couldn't really appreciate this, because the show was in Vietnamese and it was about the history of Hanoi. I didn't read beforehand on the history so I couldn't really understand what was going on. They were just puppets dancing on water for me. Lana would just talk to me a few times and say some of the meaning, but I really did not appreciate it. Even the other old foreigners in front of me were sleeping.
I am still grateful though for the effort of the musicians playing, and those people behind the curtains.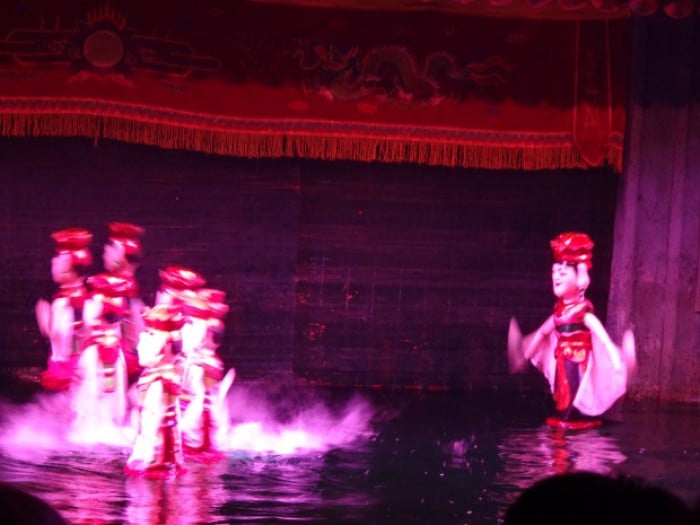 Thang Long Theatre Puppet Show
Controlling the puppets is a good concept. Maybe if I was Vietnamese I would appreciate it more. Advice to myself, read up on history before watching shows like these!
Vietnam Awesome Travel – Street Foodie Tour
This was really amazing! This is the first ever food tour I had in my life! We ate and walked for 4 hours! I met up with my tour guide and she let me meet my food tour group. There were foreigners from the UK, Australia, Canada and Belgium.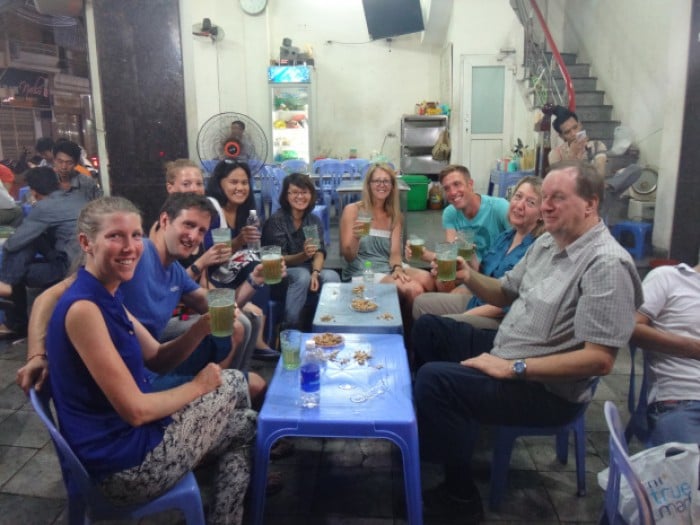 Meeting new friends during this food tour!
This was really cool. I had really fun and long conversations with a girl from Belgium. She has travelled from Saigon all the way up to Hanoi. She was really cool and very sweet. I learned a lot from her. Our tour guide took us to the best places to eat the best Vietnamese food.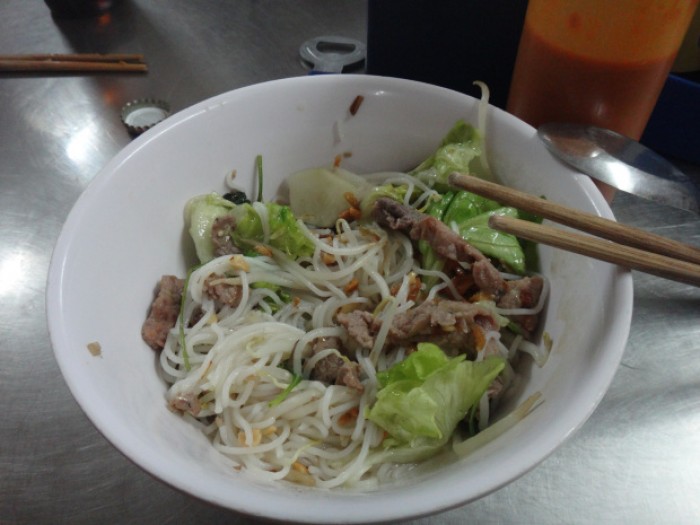 Vegetables with Beef and Sprouts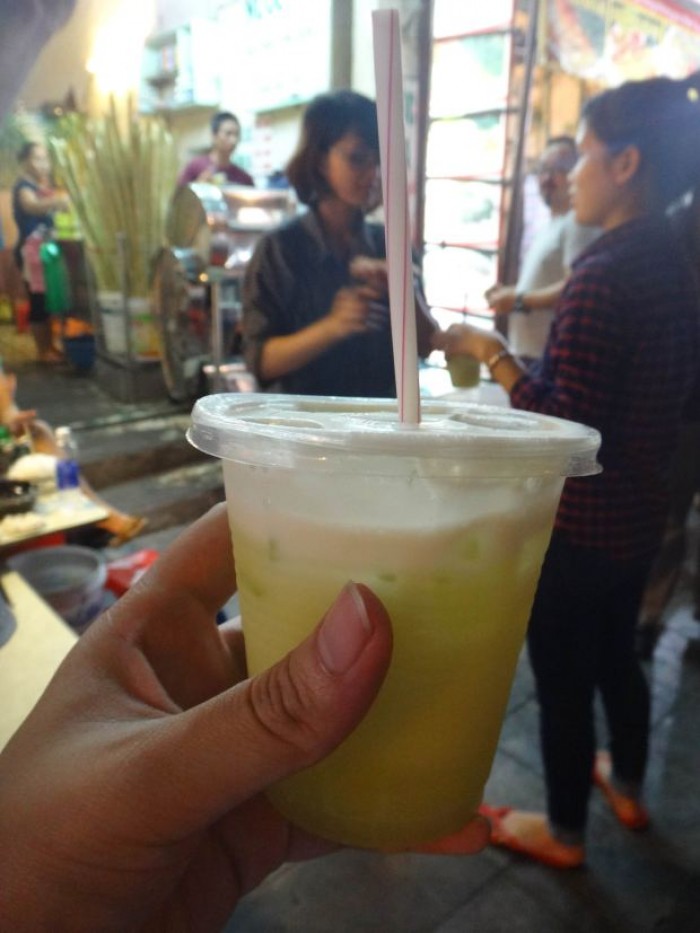 BEST SUGAR CANE JUICE EVER!
They were all so damn good! The infusion of flavours in every bite was so delicious! I did not expect to like Vietnamese food but now I love it! It is a lot of food but it is healthy! That is what is good about Vietnamese food.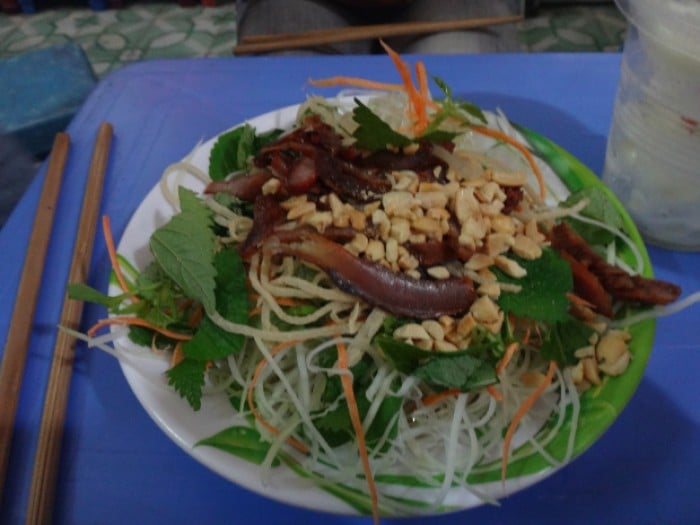 Mixed Vegetables
You don't have to feel guilty about eating a lot because it's almost all vegetables! Their fish sauce, "patis", is so good! It heightens the flavour of the dishes! I love their patis more than I love ours here in the Philippines.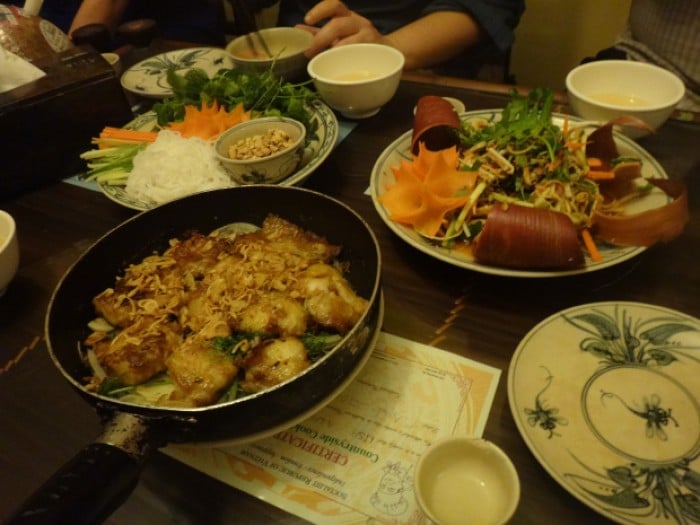 More Vietnamese food!
My Vietnam experience was really great! It was a great ending to #SoloTravel2014. This place is where I met the most foreigners (more than Bangkok). I learned so much from this travel, and it just makes me want to travel more.
Also read: What You Need to Know Before Travelling to Vietnam
Here are some Bucket List worthy items during my Vietnam trip:
Stayed in a mixed room hostel
Go on a food tour
Speak another language at a wet market
Cook Vietnamese food
Go on a party cruise at Halong Bay
Meet & have lengthy conversations from people around the world
I am very grateful for the money that I paid for these amazing travel blessings (amount is per person):
Cebu Pacific Flight
PHP 3,526
Airport Fees:Travel Tax

Terminal Fee

PHP 1,620

PHP 550

Accommodation – Hanoi Sports Hotel (2 nights)
PHP 742.16
Vietnam Awesome Travel – Shared Cooking Class
PHP 1,750
Hanoi Kids (Free Guide)Transportation

Water Puppet Theatre

PHP 500
Vietnam Awesome Travel – Hanoi Street Foodie Tour
PHP 1,000
Food / Transportation / Souvenir Gifts
PHP 2,000+
Estimated Total
PHP 12,000