The capital city of Hanoi in Vietnam has not been on every Filipino's travel radar as much as Ho Chi Minh, which is known as the centre of entertainment and travel in the country. Hanoi, on the contrary, is filled with art and history atop brilliant artistic and nature-friendly destinations that let you appreciate the country's vivid culture better.
Having lived in this city for five months recently, I've preoccupied myself with a lot of what it has to offer, day and night, after recommendations from city locals I've come to be friends with or just from my own spontaneous wanderings. Hence, I've come up with this guide to pass on those helpful pieces of information so you can enjoy the place yourself even with a short time of 24 hours.
Also read: How I Travelled 2 Days in Hanoi for Php 12,000 (All-In)
Stroll and eat breakfast around Hoan Kiem Lake
My time in Hanoi was spent mostly outside the centre but when I would get the chance to go out, whether with my local friends or on my own, I make sure to stop by perhaps the city's most famous lake. The oval-shaped body of water directly south of the Old Quarter is a sight to behold in itself and is best experienced early in the morning while munching on a piece of Hanoi's own version of a sandwich, Banh Mi.
Cross the Long Bien Bridge on foot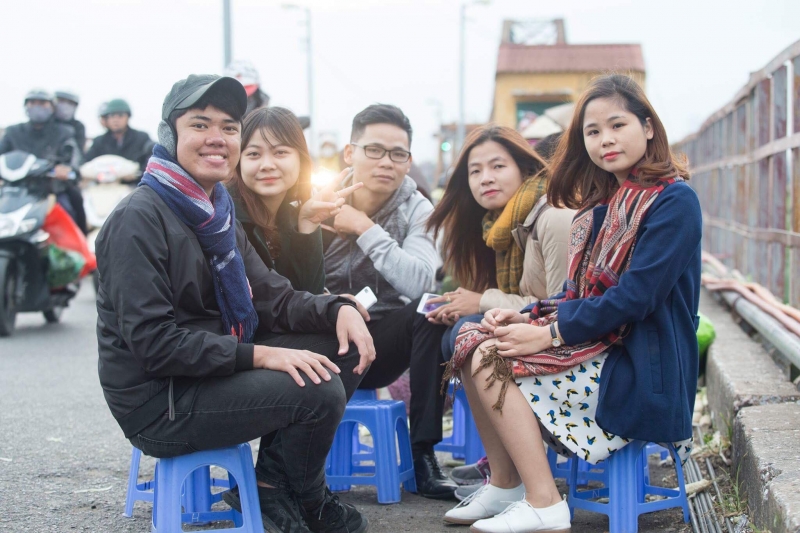 Designed by engineer Gustave Eiffel (yes, the same person behind Paris' world-famous Eiffel Tower), Long Bien Bridge stretches to nearly 2km connecting the districts of Hoan Kiem and Long Bien. The sidewalk is narrow in most parts but every now and then you'll encounter a bay where you can rest, eat some grilled corn and bask in the views of the city and another Vietnam must-see, the Red River.
Visit historical and artistic sites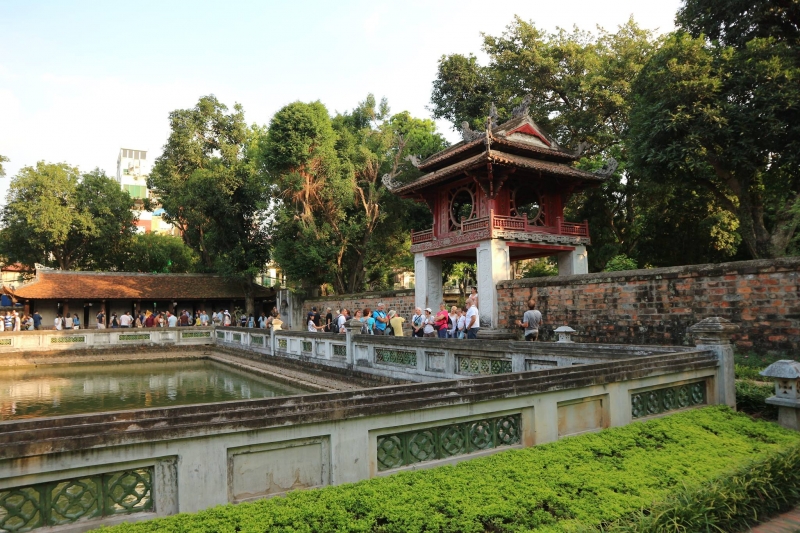 Ho Chi Minh Mausoleum, Temple of Literature, Hoa Lo Prison, National Museum of Ethnology… the list goes on, but these are some of the must-visit destinations if you're up for a bit of learning or even just being surrounded by historical structures. By renting a motorbike or hiring a driver, or just taking the bus, which is the main mode of public transit in the city, you can visit at most three of these spots in a few hours.
Also read: Hanoi Kids: Free Tour Guides in Vietnam
Be a potter and buy souvenirs at Bat Trang Village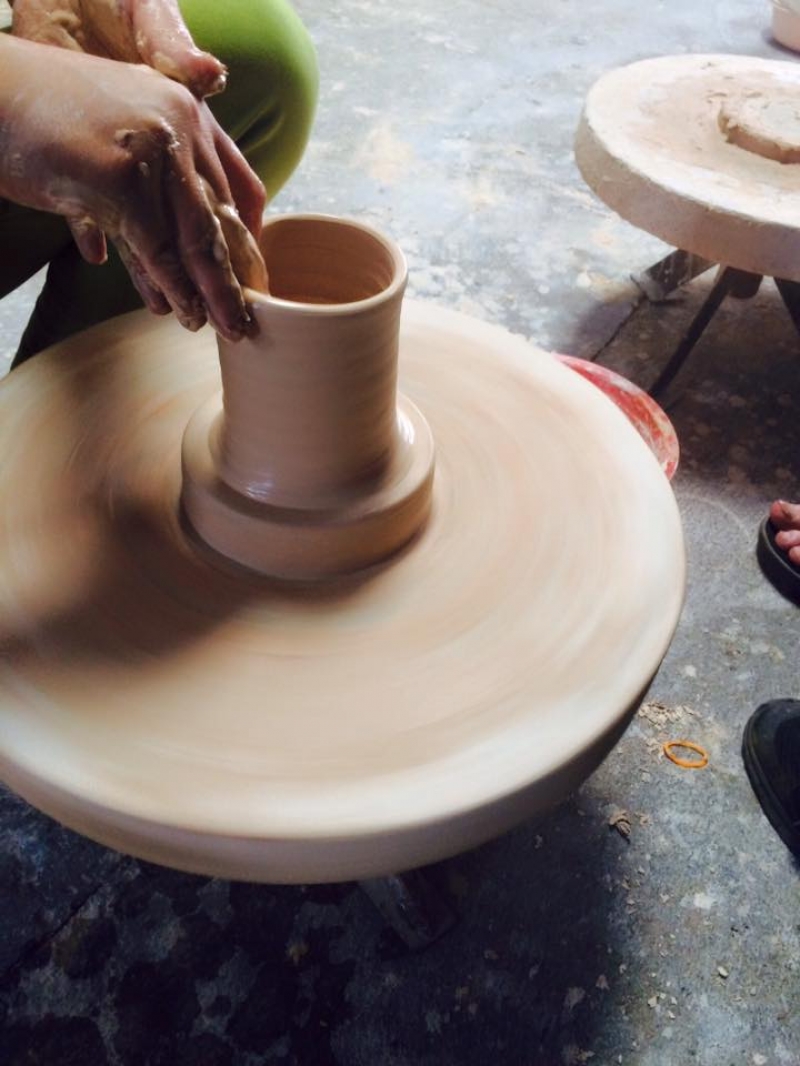 Bat Trang Village is located approximately 15km southeast of Hoan Kiem District and the fastest way to get there is to just get a motorbike. This quaint village is where you can buy several locally-made Vietnamese items for taking home as well as authentic delicacies, such as rice cakes. Want to get a bit dirty? Try making your own pottery with customised designs (I made one of a pig during our trip).
Watch the sunset from West Lake
Despite its beauty, Hoan Kiem Lake can get pretty packed at the latter parts of the day, which is why many people opt to head north of the Old Quarter to get a bit of peace at the city's biggest lake. Aside from getting an unparalleled sight of the Hanoi skyline, the West Lake is also one of the best places in the city to view the sunset, while perhaps, enjoying a nice cone or two of the famed Tay Ho ice cream on one of the benches at the edge of the water.
Play native games (weekends only) and converse with English students at Hoan Kiem
If you happen to have your Hanoi stopover on a weekend, you'll be in for an exciting treat as the surrounding roads of Hoan Kiem Lake transforms into its own carnival every three nights of the week. With the streets closed, travellers can take part in different local games played by Vietnamese on the streets, watch live street performances and even help local English students practice their English-speaking skills by simply responding to their invitations for conversation.
Also read: Simple Hanoi Travel Hacks Every Filipino Traveller Should Know
Drink with the locals or fellow travellers at Old Quarter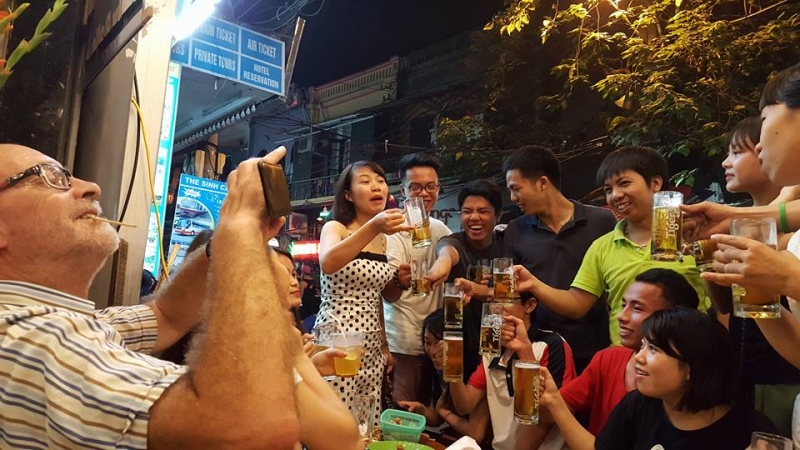 Old Quarter is known as the tourists' hub in Hanoi, packed with hotels, restaurants, travel agencies and souvenir shops that get extra crowded at night. The best thing about it is that you can pretty much mingle with everyone else because of the street drinking and eating setup wherein sidewalks are turned into dining areas. Here, you can go grab your bottle of Bia Hanoi or lemon tea paired with sunflower seeds that you can snack on to your heart's content.
Depending on how much energy you have, you can opt to do all these or take out a few. After a long day out, it'll be nice to stay in a place where you can definitely relax but still stay within the vicinity of the city centre where most options for transport to your next destination can be found. For that, I would definitely recommend spending a night at any hotel or hostel in the Hoan Kiem District, like the Hanoi La Siesta Hotel Trendy or either the Zostel or Hanoi Youth Hostel, where I personally stayed on separate nights. Both accommodations are known for their reasonable prices.
Also read: My 3-Day Trip to Northern Vietnam: Itinerary, Budget & Tips for Filipinos
Have you been to Hanoi, Vietnam and can recommend other things to see and do? Share them with us!