Contributed by Sightseer Pinay
I am a Hinatuanon, a proud resident of Hinatuan yet a humble local of which. I grew up in our little town restricted of time and money to explore most of nature's beauty our place can boast of because I was only a student by then living with a travel wary grandmother. So I end up strolling in the town proper, some of the municipality's accessible tourist spots, and neighbouring cities/municipalities when occasion permits — mostly on school related events such as school's press conference. Today, however, I went on an adventure to experience the most of Hinatuan beyond the enchanted river for I know, I won't be home soon… again.
Also read: 4 Days Surigao Itinerary: An Unforgettable Summer Adventure with Friends
First off, let me give you a quick overview of my humble town.
Municipality of Hinatuan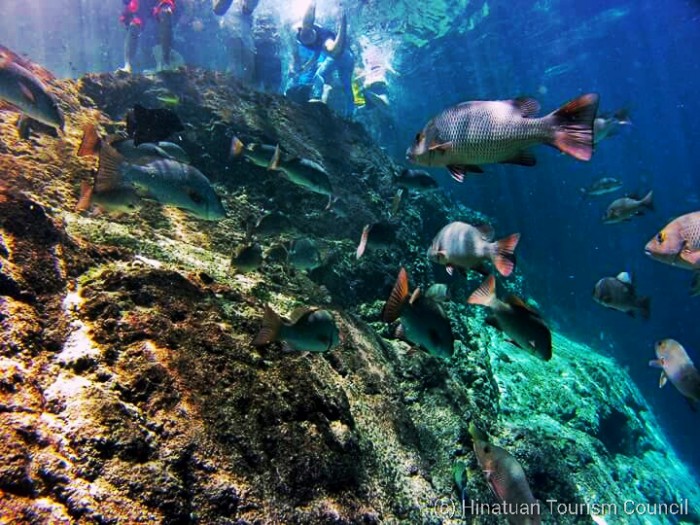 Hinatuan is one of the major tourist destinations in Surigao del Sur region of CARAGA. It has gained popularity back in early 2000 when casts of SPIRITS, an ABS-CBN teleserye, shoot an episode in Enchanted River. Apparently, people only know of Hinatuan Enchanted River oblivious to the fact that there are many gems lying in wait for rediscovery (I will tackle about it further later in this post).
Facts
Hinatuan was derived from the words Hato which was later called Hatu-an.
Hato connotes a method of preserving fish, and 'an' was later added to denote a place of preserving fish.
There is also a tale on how the town got its name. Accordingly, there was a Boholano migrant, who, out of curiosity asked a native Manobo-Mandaya in Visayan dialect, "Asa ihatod niining mansakaay na mga tao ang pagkaon?" (Where will these farmers send the food?) The native, being new to the dialect kept on repeating the word Hinatudan. And so the Boholano thought that it was perhaps the name of the place. It was only during the later part of Spanish regime when Visayan immigrants omit the d and changed the name to Hinatuan.
Early settlement was in 1851 near Buhisan, "a living stone", bank in Hinatuan River.
No attempts were made to spread Christianity in 1856 to 1874 due to shortage of Christian missionaries.
In 1898, a permanent church was built (now St Augustine Parish Church) through the efforts of the then parish priest, Fr Nicasio Jansen.
Hinatuan has 24 barangays in which majority are located along the coasts, thereby making Hinatuan as the home of islets and beach sides.
Top attractions in Hinatuan
1. Enchanted River and Island Hopping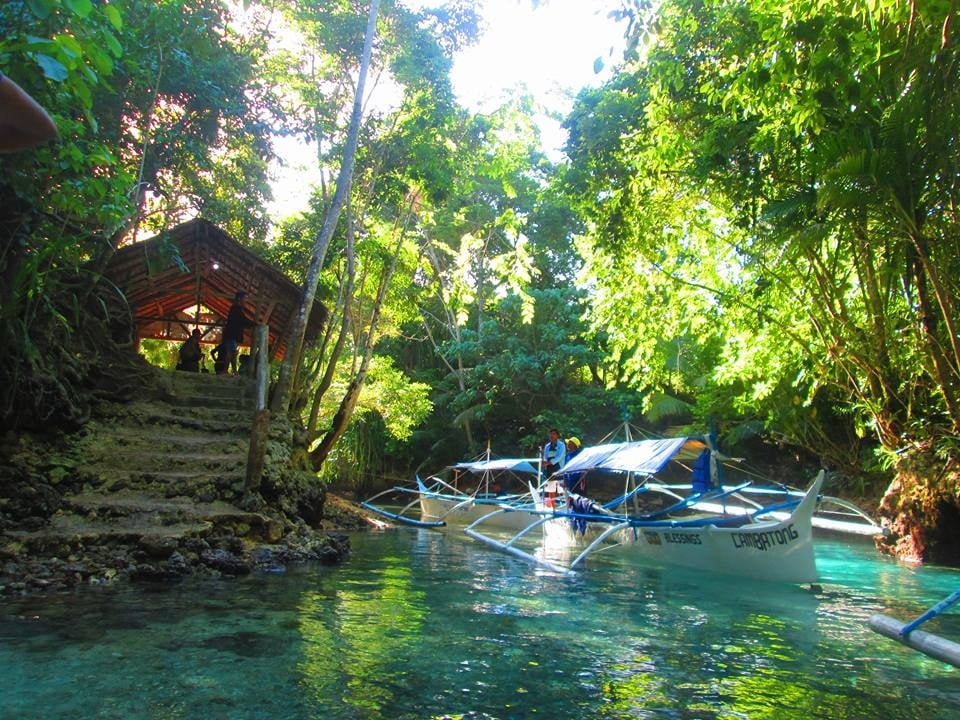 Image credit: Sightseer Pinay
Ever since the enchanted river made a name in the tourism industry, the destination has been welcoming thousands of visitors every year. The area is only small in size to accommodate flocks of travellers that sometime in 2014, the number of persons to be accommodated should not be beyond 200 per two shifts: 7am-11am and 1pm-5pm. Island hopping was then strongly promoted (although the activity was already offered even before 2012) to introduce tourists to following destinations:
Update: The Enchanted River will be temporarily closed to the public on 3 Jan – 9 Feb 2017 for maintenance works. To visit nearby destinations, take a pump boat at Barangay Cambatong. Same rate applies.
Also read: I Spent 7 Days in Caraga Swimming with Jellyfish, Island Hopping & More
2. Sibadan Fish Cage
Swim with fishes and tamed stingrays here in Sibadan. You can also stay for the night here if you want to embrace the breeze.
3. Rock Island Resort
Currently an ongoing beautification, the resort is perched on rocks where you can also stay for the night. On daytime, the resort is open for island hoppers.
4. Pacific View Resort
Obviously, the Pacific Ocean can be seen here hence the name of the resort. What made it unique, however, is the paddle board activity they offered. Rooms are also available for accommodation.
5. Margaret Island Peak Resort
The resort is a 130 steps mountain-island which will give one a panoramic view of the Pacific Ocean. Yet at the moment, the place is not yet fully restored after the typhoon Sendong.
6. Tipdos Island
An untouched beauty, Tipdos Island is a must visit crescent-shaped island.
7. Tinago River
A beauty surrounded by nature forests or rock islets, Tinago River is a picturesque view where you can take a swim or do wake boarding.
8. C-Fish Cage and Sandbars Resort
Here, you can enjoy fishing and have your catch cooked. The resort also offers accommodation.
9. Vanishing Island
It is a sandbar that is highly visible at low tide where anyone can enjoy a swim and bath under the sun. On high tide, the island seems to be lost.
10. Ponta Cave
A privately owned cave which is open to the public, Ponta Cave is suitable for quick caving adventure.
Note: You can also ride a boat at Barangay Cambatong for island hopping if you have already been to the Enchanted River. Same rate applies, 160/hr for every person in a group of six.
Other destinations away from Enchanted River
1. Palaran Ultimate Cave
The place is blessed with intoxicating stalactites, stalagmites and flowstone formations ideal for thrill-seekers.
2. Mangcahurom Island
The island is a beautiful stretch of powdery sand, with fewer tourists on visit. Perfect for sunbathing without scrutinising eyes.
3. Harip Ocean side
Local government unit is currently making efforts to promote Harip as one of tourist destinations in Hinatuan. Its powdery white sand beach is a good place to unwind and relax.
4. Red Pearl Surf
With big waves ideal for surfing that occurs on Amihan season, Red Pearl Surf has ignited curiosity from both locals and tourists. Now, you don't have to travel far to surf with the waves.
5. La Beda Sink Hole
According to Hinatuan Tourism Council, it is a 100-feet deep sink hole where one can experience rope climbing. Highly ideal for those thrill-seekers out there!
6. San Juan
Next to Maomawan, if locals would prefer land trip over boat ride, people are flocked at San Juan. A seawall was built as bridge to get to the other end (on the sea) and get a better view of the Pacific Ocean. I love the sea air in here.
Note: San Juan was destructed during typhoon Sendong. Although it can still be visited, it is no longer as majestic as it was.
7. Sunview Beach
8. Ligad Beach
Sightseeing
Drop by the town plaza and visit landmarks of Hinatuan all clumped in one area in which sites are only a few steps away from each other.
1. St Augustine Parish Church
As I mentioned earlier, the church was built in 1898 under the regime of Fr Nicasio Jansen. The architectural design of the church is a replica of Baguio City Cathedral. However, this 2016, major renovations were made giving the church a totally different facade.
2. Father Urios Academy
The school, which is managed by the Dominican Sisters since 2005, is the only private (and) Catholic school in Hinatuan. The main building was erected on 1962 and has undergone minor renovations. Since that, my friends and I coined it as 'titanic', as it was made of hard wood and we thought it might fall down with one strong earthquake.
3. Children's Park
I call this as happiness park as this is one of my childhood playgrounds. I even played on the see-saw just this week and I was feeling like a child again. Well, not many have seen me because my cousins and I played during the night.
4. Hinatuan Synoptic/Doppler Radar Station
With the installation of a radar system, Hinatuan has been a reference point of weather disturbances. It is also the town's highest building by far.
Trivia: There are only two towns in Mindanao where a Doppler Radar Station is installed. One in Tampakan, South Cotabato and the other is obviously here in Hinatuan, Surigao del Sur.
5. Rizal Park
A ubiquitous statue in the country, my memories of Hinatuan Rizal Park is that of a dating place. 🙂 hmmmm.
6. Bay walk
For a long time, the only hangout by the sea is the fish port, located few metres away from the public terminal. Around 2012, it has been beautified, attracting both old and young alike.
7. Educational Tour
Visit Hinatuan Eco Park and learn about replicable solid waste management practices. This is a recommended site to visit as it depicts the practices of Hinatuanon hailing the municipality as the winner of National Zero Basura Olympics Garbology Marathon. The site is guaranteed not to be smelly.
8. Jam Sessions
Every Friday and Saturday nights, Jam's Native Cuisine has a live band. The place is orderly and ideal for barkada night out.
9. Seafood Frenzy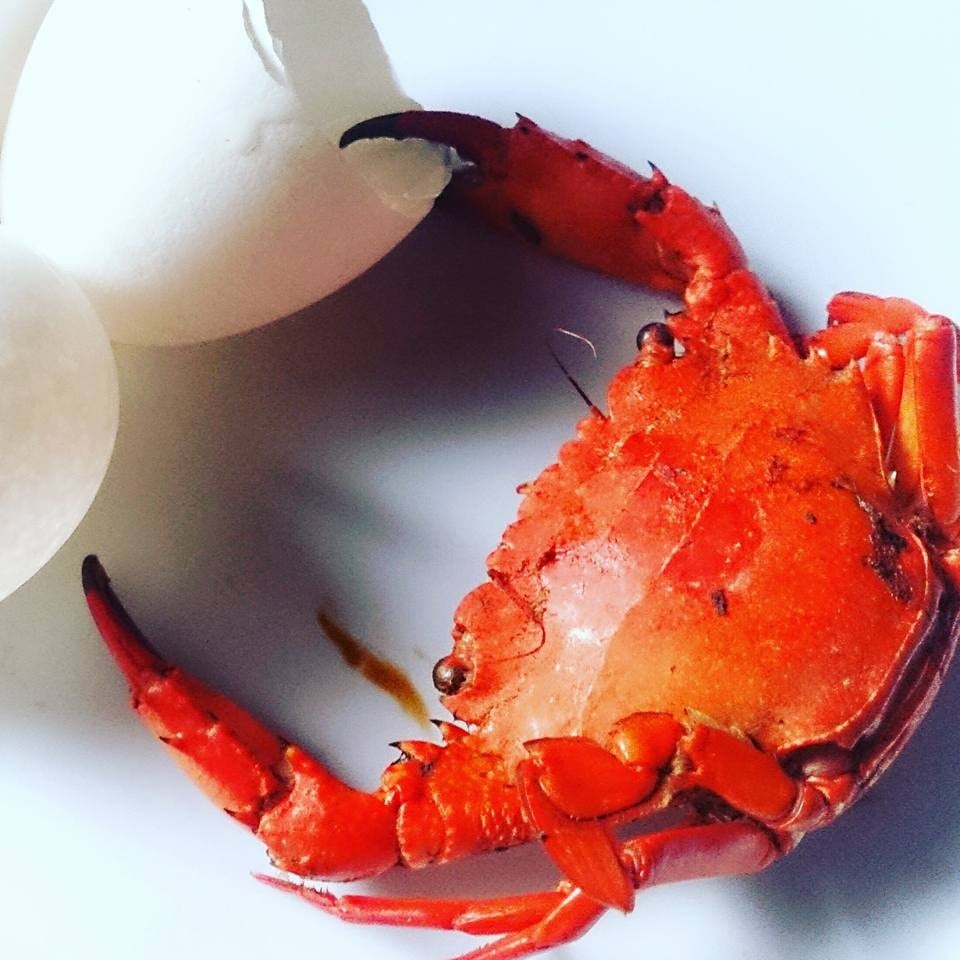 Image credit: Sightseer Pinay
Given the town's location, Hinatuan surely has lots of seafoods — from crabs to shrimps that can satiate one's gastronomic needs. There are varieties to choose from sold at Enchanted River Vendors Association located just before the Enchanted River.
10. Paladong Festival
Every 28h of August, the town celebrates its patronal fiesta in honour of St Augustine. The celebration starts from August 19-28, and the highlight of which is the Paladong Festival, showcasing the beliefs of early settlers of the town.
How to get to Hinatuan
By bus
1. From Butuan City, ride a bus bound to Mangagoy and drop off at Hinatuan Public Terminal. Travel Time: 4 hours. Fare: ₱190, regular
2. From Davao, ride a bus bound to Butuan, drop off at San Franz (San Francisco) Bus Terminal, then take another bus bound to Mangagoy. Travel time: To San Franz, 5hrs; to Hinatuan, 2hrs. Fare: around ₱300, ₱90.
Note: There are vans available both at Davao and Butuan Terminals.
Where to stay
I made mention earlier that Pacific View Resort, Rock Island Resort, Sibadan Fish Cage, and C-Fish Cage and Sandbars offer rooms for accommodation. That is if you want to stay a night in the sea near other island hopping destinations. However, there are also a number of lodging houses in the town proper that can provide you comfort. Two of my recommendations are:
1. James Pensionne House and Restobar
This is the oldest lodging house in town but rest assured that it is still at par or above standard with the newbies. It is owned by my late grandma's brother and is now taken cared of by my aunt.
2. Bea and Koa's Hometel
A residence turned hometel by Lindo family. You can take it as your second home while you're away from home.
There are indeed many islets and beaches to visit in Hinatuan, Surigao del Sur. Thus, I urge you to visit the above-mentioned destinations for you to experience most of the untouched beauty in Hinatuan.
PS. Check out snaps and snippets here, or follow me on my sites for updated travel trails.