At this point, we're no stranger to post-pandemic blues and how the need to satisfy that "travel-itch" is all the more pressing. New experiences beckon to us stronger than ever; we're all searching for refreshing travel experiences that help us see a different side of well-loved destinations — such as Hong Kong!
When in the city, plan your vacation around exploring its breathtaking natural beauty and myriad of car-free islands. Luckily, the best way to get that much-needed breath of fresh air is by traversing one of the many cycling trails in Hong Kong!

Whether you're a beginner or have a little more experience, here's a guide to the best cycling routes in Hong Kong. Your few hours spent in the great outdoors will let you witness a whole different side of the region — and, might even serve to be more impressive than the cityscape we all know and love. 
Note: Many of these checkpoints offer bicycle rental services, wherein some of them might even allow you to drop off your bicycle at your destination. In any case, it's always good to do research before you set off; alternatively, head to Hong Kong Tourism's website for more information.
Conquer the New Territories Cycle Network in one go, or opt for intermediate routes within the trail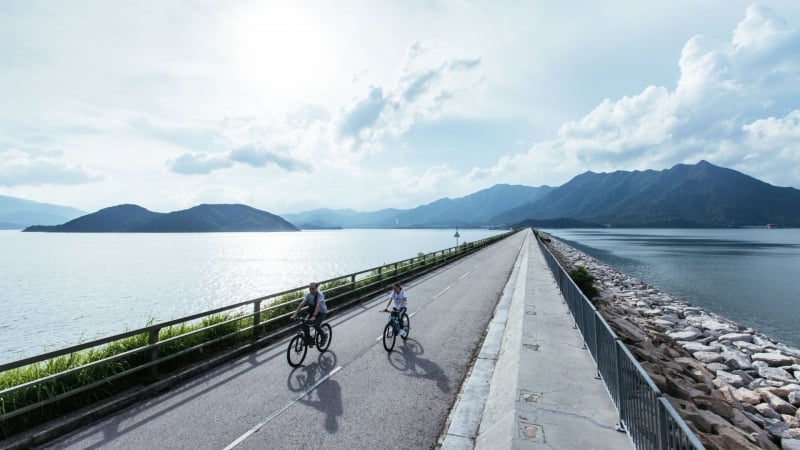 The New Territories Cycle Network — aka one of the most well-known cycling trails in Hong Kong — is a 60km-long route that opened in 2020. This path will bring you through some of Hong Kong's most scenic parks, mountains, and outlying islands; from Tuen Mun and Ma On Shan to Yuen Long, Sheung Shui, and Sha Tin, this six-hour journey is easily the best way to explore the coastal beauty of the region. 
The best part? It's a completely traffic-free bike path, meaning that it'll be perfect for beginners or if you're cycling with a larger group! 
However, if you wish to conquer something easier, you can always choose an intermediate network within the route instead. These include: 
1. The serene waterfront route from Sha Tin (or Tai Wai) to Tai Mei Tuk
Cruise down the Shing Mun River and Tolo Harbour by starting at either Sha Tin or Tai Wai, and cycle up north towards Tai Mei Tuk. This trail is approximately 22km-long, and will take just under three hours to complete.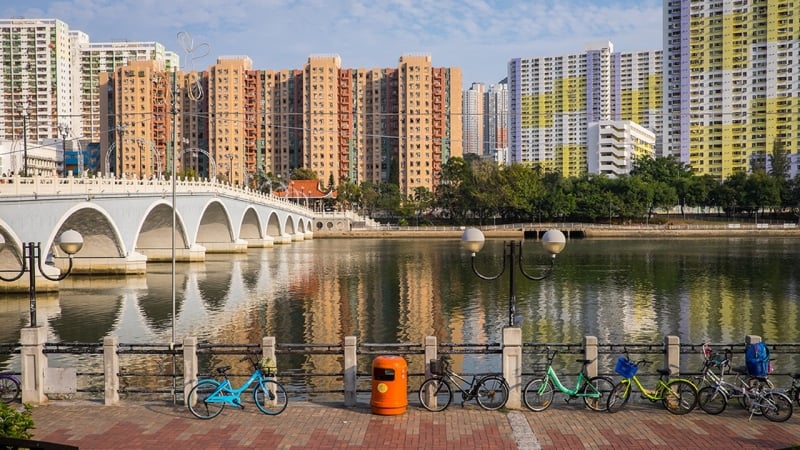 To start, head to the southern end of Shing Mun River and cycle down the left side of the riverbank. Fun fact: Whether it's a leisurely stroll, a morning jog, or even kayaking and dragon boating, Shing Mun River is a favourite spot among locals!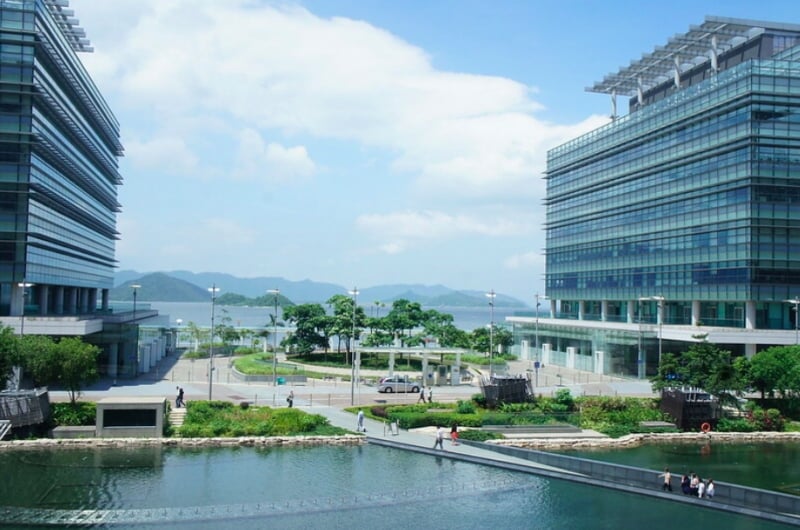 Your first pit stop will be Hong Kong Science Park, which lies just minutes after the northern end of Shing Mun River. The promenade of this impressive research institute features several restaurants, convenience stores, and rest areas; opt for a longer break by dining in, or grab a quick bite by the lake instead. 
Cycle another 6km down Pak Shek Kok Promenade towards your next pit stop, Tai Po Waterfront Park. Along the way, enjoy the tranquil breeze of Tolo Harbour, and see if you can spot the wondrous mountain range of Pat Sin Leng in the distance. 
After Tai Po Waterfront Park, you're just 8km away from your destination, Tai Mei Tuk. Reward yourself by basking in panoramic views of Plover Cove! 
2. The beginner-friendly route from Sha Tin (or Tai Wai) to Wu Kai Sha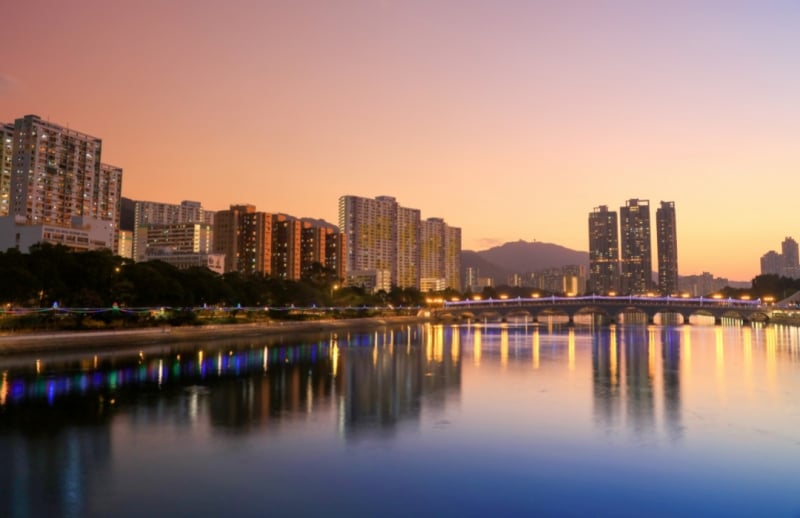 Similarly, this route starts at Shing Mun River. However, aside from its shorter path (8km-long), be sure to ride down the right side of the riverbank instead — your destination lies across the harbour from Hong Kong Science Park.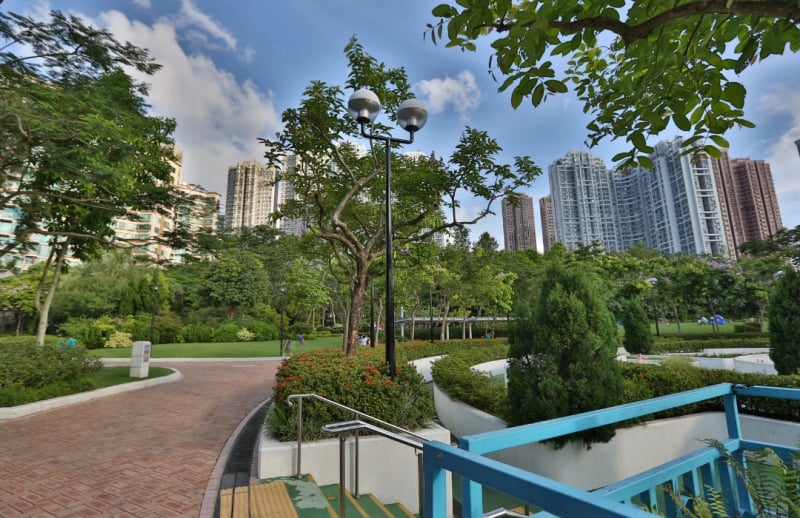 Since it's a relatively different route, you'll get the chance to explore Ma On Shan Promenade this time: an outdoor space featuring a jogging track, a fitness station, and plenty of kiosks to refresh yourself. You'll also pass by Ma On Shan Park, where extensive lawns and a viewing platform lie. 
In just under two hours from the starting point, you'll reach Wu Kai Sha. This coastal area is home to a quiet and scenic beach; to truly experience its full beauty, walk down the pier for that refreshing sea breeze. 
3. The culture-vulture route from Yuen Long to Butterfly Beach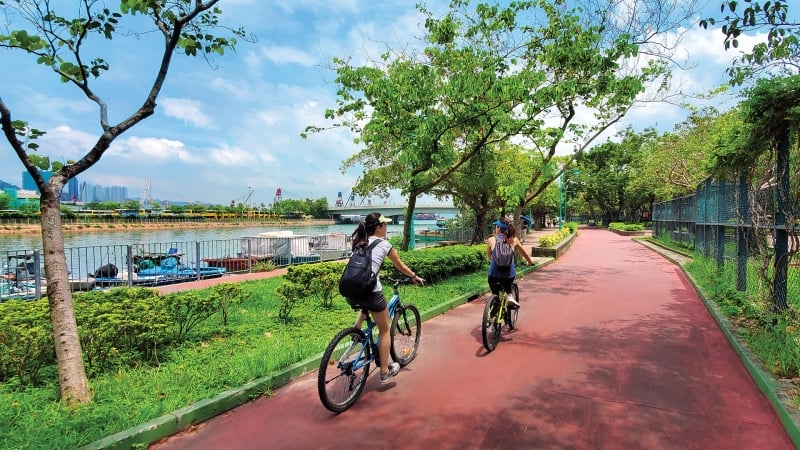 This beginner-friendly 16km-long cycling trail stretches along the serene Tuen Mun River from Yuen Long Town Hall to Butterfly Beach. At the same time, there are plenty of pit stops offering you a peek into the area's rich cultural heritage. 
Ping Shan Tang Clan Gallery Cum Heritage Trail Visitors Centre will be first on your list of landmarks to explore on this trail. Calling a small hilltop its home, this heritage building features exhibits and artefacts on local village culture.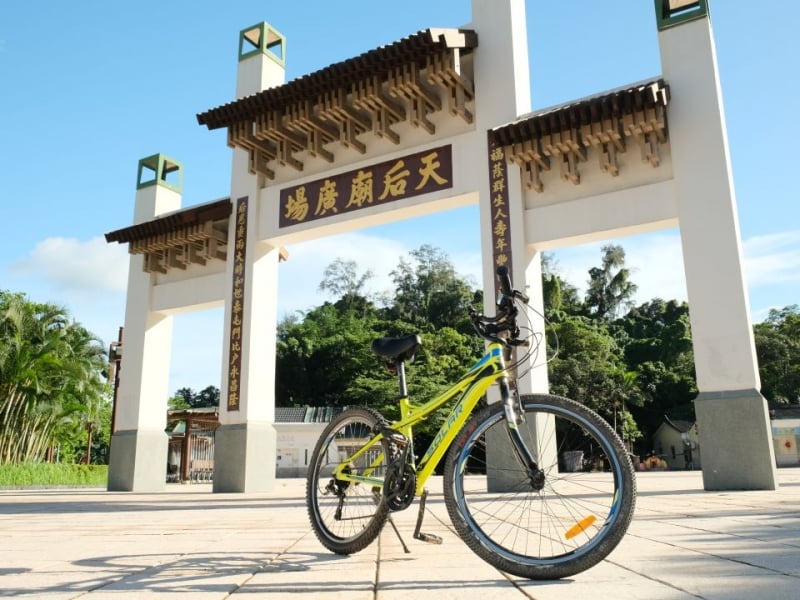 After which, make your way to Hau Kok Tin Hau Temple and Fa Pau Exhibition Hall, an ancient temple site where worshippers come to pay respects to the sea goddess Tin Hau. If you're lucky, you might even get to watch a ritual taking place; also, don't forget to catch a glimpse of the magnificent floral paper Fa Pau when you're here! 
Of course, nothing says immersing yourself in the everyday life of locals like spending some time at a popular neighbourhood spot. Wu Shan Recreation Playground — and Butterfly Beach just up ahead — are popular hangout spots among children and adults alike! The jubilant air and picturesque views of these places will surely make for a well-earned rest. 
Venture off-the-beaten path at Hong Kong's islands
4. The car-free route of Cheung Chau
As one of Hong Kong's many car-free islands, Cheung Chau is best explored by cycling along its harbourfront.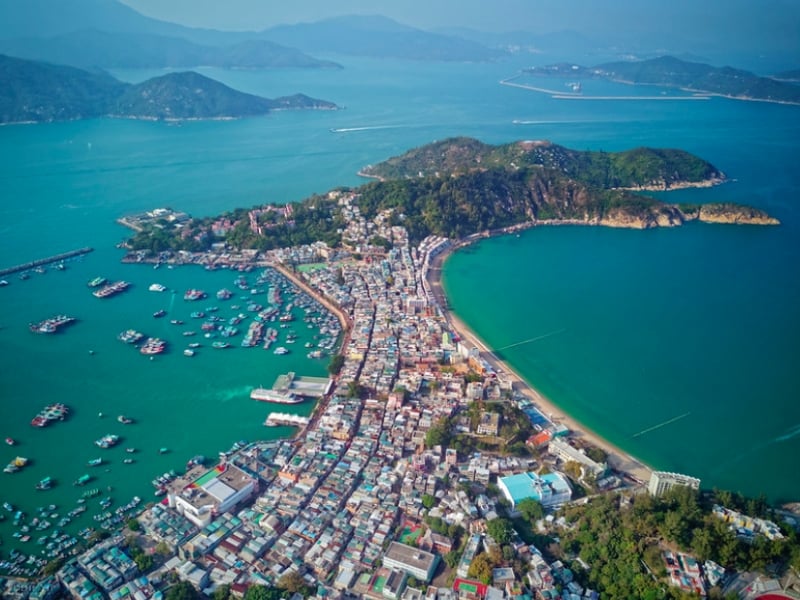 Rent a bicycle near the island's ferry terminal and enjoy coastal views near Tung Wan Beach, before heading to the island's highest point: the North Lookout Pavilion along the ​​Cheung Chau Family Walk trail. This spot is perhaps the best vantage point you can get of Tai Kwan Wan bay and offers some of the best photo opportunities on the island, too. 
While you're at it, why not make a complete 360 of this Hong Kong cycling trail by heading to the island's southern area? Here's a tip: Park your bicycle near Sai Wan Pier and check out the famous Cheung Po Tsai Cave and Tin Hau Temple.
5. The route through the lush natural landscape of Nam Sang Wai
For those of you who live in Singapore, think of Hong Kong's Nam Sang Wai as the Little Red Dot's version of Pulau Ubin. 
After renting your bicycle from a rental shop near Yuen Long Station, cycle 20-minutes towards Nam Sang Wai Ferry Pier; then, pay a small fee for a ferry ride to the serene island. Once you're here, we recommend cycling around the perimeter of the island, or venturing down one of the small paths to really experience a quiet side of Hong Kong.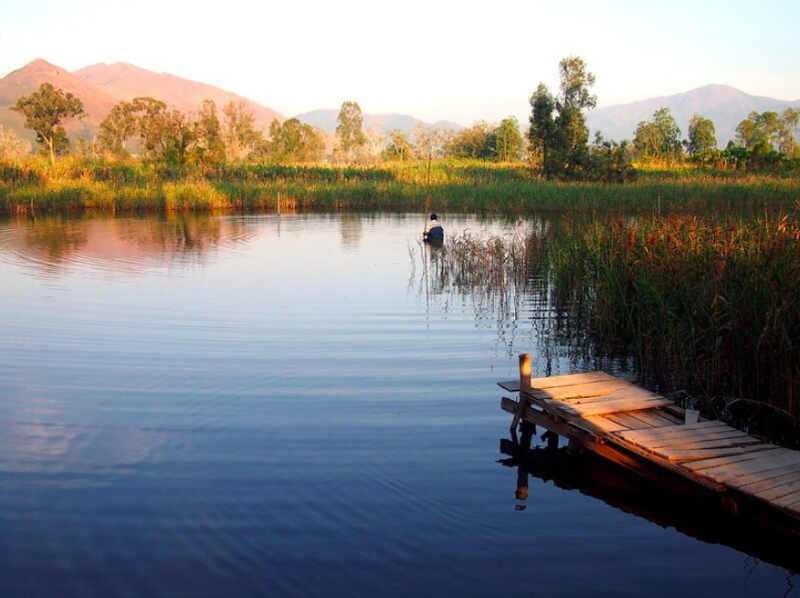 Home to abandoned farms, verdant greenery, and waterfronts, Nam Sang Wai will make you feel every bit away from urban life. Most importantly, you can't leave the island without snapping a photo at the famous Wedding Bridge: a tiny platform situated atop a glistening pond. 
6. The coastal route of Lantau Island
While Lantau Island — Hong Kong's largest outlying island — boasts a number of cycling trails (wherein most of its terrain might beckon more mountain biking enthusiasts), we've decided to highlight the most beginner-friendly one: the route from Tung Chung to Sunny Bay.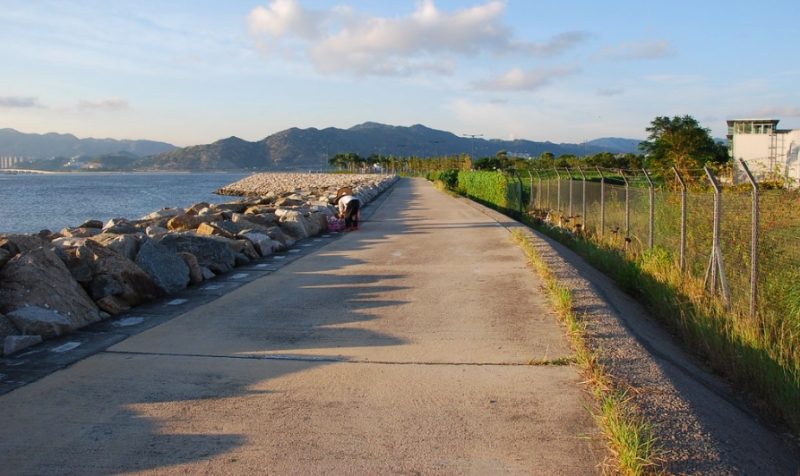 This 15km-long path spans a section of the island's northern coastline, and features a flat and fully paved path perfect for a stress-free cycle. However, rest stops are few and far between here, so be sure to fuel up before heading off. 
Be that as it may, this trail is ideal for that blissful afternoon, as all that surrounds you are clear skies and grasslands. 
Unwind with a leisurely cycle through some of Hong Kong's Instagram-worthy parks
What if you want to cycle in Hong Kong, but don't want to venture too far away? Luckily, we've got you covered: Hong Kong is home to plenty of neighbourhood parks for a leisurely day out. 
7. The family-friendly route through Cyberport Waterfront Park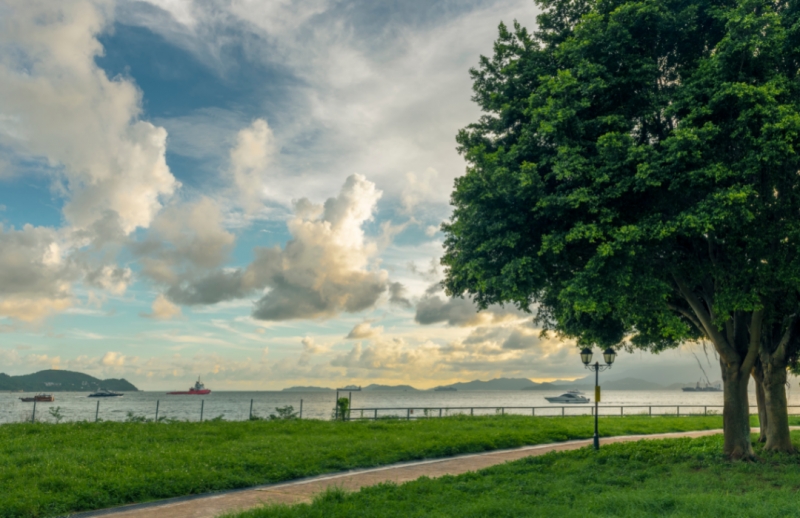 Take Hong Kong Island's Cyberport Waterfront Park, a family-friendly coastal park overlooking Telegraph Bay. Come prepared to spend a few hours at this charming spot that's home to picturesque lawns for a picnic, waterfront vantage points of Lamma Island, and beginner-friendly trails.
8. The picturesque route near the city at West Kowloon Art Park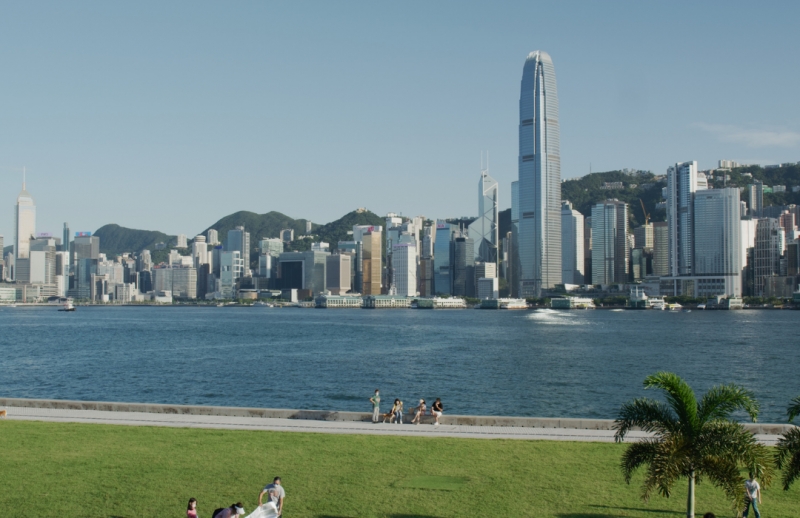 Alternatively, West Kowloon Art Park on Tsim Sha Tsui's southwesternmost tip makes for an idyllic setting away from the hustle and bustle of the city without being too far away, either. 
Rent a bicycle from a SmartBike kiosk at a small fee and cycle along the waterfront overlooking Victoria Harbour. With an abundance of amenities in the vicinity (harbourside restaurants, the city skyline, and seaside views!), plenty of photo ops are waiting for you. 
Before embarking on your exploration of Hong Kong on two wheels, there are some things to take note of.
Plan your route. Follow proper cycling etiquette. Acquaint yourself with traffic and weather conditions you might encounter! Know the ways you can ensure that you've prepared as much as possible so that you can have the greatest outdoor adventure possible.

In Hong Kong's aim to promote sustainability, the rising emergence of nature trails and car-free islands is truly impressive. After all, any opportunity to discover the country in a different way should be the way to go; you'll be surprised how much insight into local culture lies at every corner. 
Will you be exploring one of the many cycling trails in Hong Kong on your next holiday? 
For more information, visit Hong Kong Tourism Board's official website, Facebook, and Instagram.
---
Brought to you by Hong Kong Tourism Board.