Are you looking for a new winter destination? Check out my early winter experience in Hokkaido.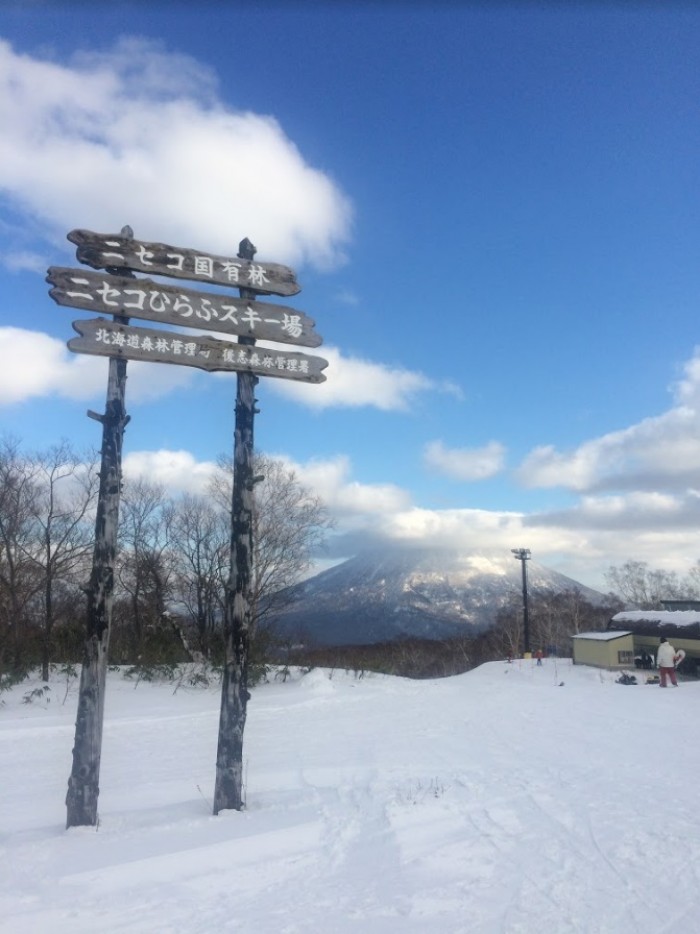 View of Mt Yotei from Grand Hirafu mountain
This was the 5-day schedule during my stay in Hokkaido:
Day 1
Day 2
Day 3
Day 4
Day 5

Jetstar Flight to Sapporo (via Nagoya)
Hokkaido Resort Liner to Niseko
Ki Niseko

Ki Niseko
Go Snow Snowboarding
Grand Hirafu Mountain
Hokkaido Resort Liner to Sapporo
Guesthouse Yuyu

Nijo Fish Market
Shiroi Koibito Park
Snow Cruise Onze
Odori Park
Guesthouse Yuyu

Otaru Canal
Le Tao Otaru
Stellar Place – Nemuro Hanamaru
Daimaru Department Store
Cross Hotel Sapporo

Cross Hotel Sapporo
New Chitose Airport
Jetstar Flight to Manila (via Nagoya)
Flights to/from Hokkaido
As of December 2016, there are no direct flights from the Philippines to Hokkaido. Most flights from Manila arrive at Tokyo (Narita), Nagoya (Chubu), Osaka (Kansai), and Fukuoka. From there, you would have to board another plane to reach Hokkaido.
UPDATE (6 July 2018): Philippine Airlines will have non-stop flights from Manila to Sapporo (Chitose) starting 10 September 2018.
I flew with Jetstar through a connecting flight to New Chitose airport via Nagoya (Chubu). Through research, Jetstar is the only low-cost carrier that provides connecting flights from Manila to Hokkaido.
The only airlines that usually have seat sale promos to Japan that would cost as low as ₱5,000  for a roundtrip flight are Jetstar and Cebu Pacific but the latter does not have any connecting flight to Hokkaido yet. From random checking through discounted travel booking websites, flights to Hokkaido from Japan cities mentioned above can cost at least ₱5,000 for a roundtrip flight. If you watch out for seat sales, a connecting flight from Manila to Hokkaido would cost at least ₱10,000.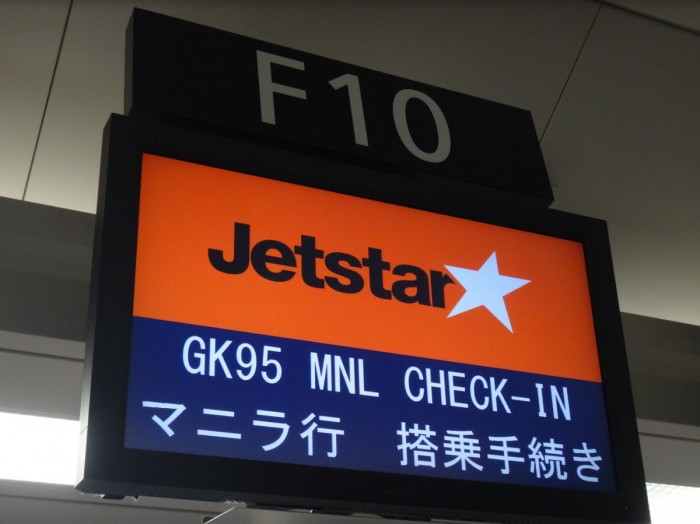 My Jetstar flight was a pleasant experience. I left Manila at 12 midnight and arrived at Nagoya (Chubu) at around 6am. I had a 2-hour wait and had breakfast at the airport. My flight to Hokkaido took around 2 more hours and I arrived at the New Chitose airport at 10.30am. Japan is only ahead by an hour so there were no red eye or jet lag effects. Transits of the flights were good as I had enough time for departure and arrival processes. Flight attendants were lively and accommodating as well to make sure all the needs of the passengers were supported.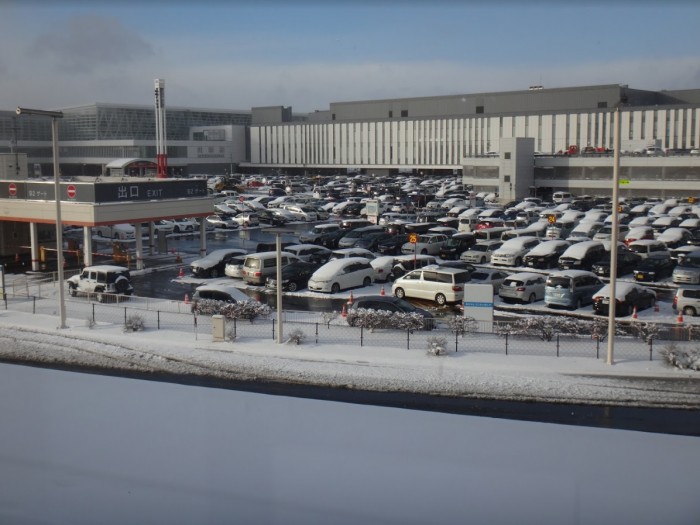 Snow shower outside New Chitose Airport
Please do note that if you decide to take this flight during the winter season, expect delays due to snow showers. During my flight back to Manila, there was a continuous snow shower from morning to afternoon. I was lucky enough that my flight was only delayed for an hour. My 2-hour transit in Nagoya (Chubu) was able to compensate for the delay plus the Jetstar crew from both the New Chitose airport and Nagoya airport made sure that I would be able to make my connecting flight on time.
Also read: 13 Days Hokkaido Itinerary for under SGD 1,800
Tourist visa
Philippine passport holders need to apply for a visa to be able to explore Hokkaido. Read Easy Japan Tourist Visa Guide for Filipinos.
Exploring Hokkaido
In my 5 days in Hokkaido, I was able to visit 3 cities (Sapporo, Otaru, Chitose) and a very popular town (Niseko). No matter how short my stay was, Hokkaido was really amazing and I really maximised every experience I could in every place I was in.
1. Niseko
Niseko was definitely the highlight of my Hokkaido trip. Scratch that, Niseko was definitely the travel highlight of my 2016. I am not sure why not a lot of Filipinos write about this place because Niseko is really a must-see, must-experience destination in Japan during winter. It is known by winter sports enthusiasts from around the world for its quality powder snow and has been credited as one of the best ski resorts in Japan and Asia.
How I got to Niseko
From the New Chitose Airport, I travelled to Niseko via the Hokkaido Resort Liner. One way costs ¥4,000 (₱1,693+). The buses leave and arrive on time so make sure you are at the boarding gates 15 minutes before your scheduled departure. There is one stopover where you can take a bathroom break or buy food or supplies at a store. The bus took around 3 hours until it reached my Niseko stop (Hirafu Welcome Center).
The view of snowy forests and vast seas made the bus ride worth it. There were points of 0 visibility because of a snow shower but the driver knew how to handle it. The bus was a safe ride overall and I would definitely recommend the company as a choice for your transport to/from Niseko. Visit Hokkaido Access Network for more information.
Where I stayed
I was only in Niseko for 2 days and 1 night so travel activities were limited. I got to explore the surrounding areas of my hotel, was able to explore the biggest ski resort in Niseko United– Grand Hirafu mountain (other resorts are Hanazono, Niseko Village, and An'nupuri), and have a snowboarding lesson.
I stayed at Ki Niseko, one of the best ski-in ski-out hotels at Grand Hirafu. This hotel is very convenient as the Grand Hirafu mountain slope is just right behind it. The Hirafu gondola which brings you up the mountains is also just a 30-second walk away.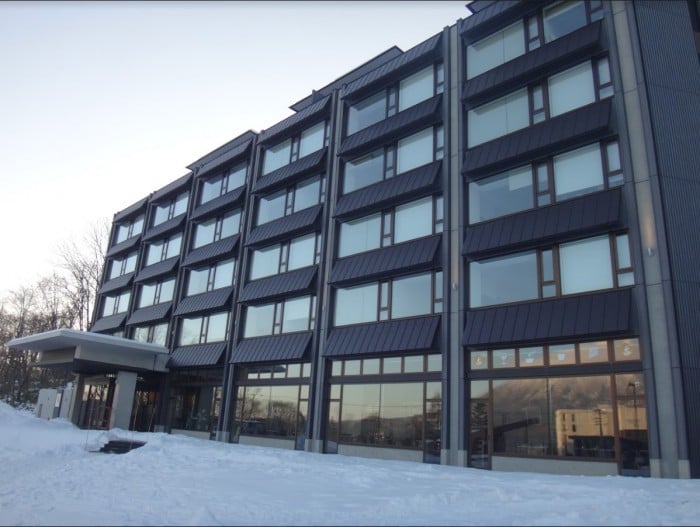 Ki Niseko is a very luxurious hotel. It provides you with the best amenities and comprises a very proactive team that supports you during your entire stay. Their concierge can provide you with all the things that you need to know about Niseko. Ki Niseko is definitely the best hotel I've stayed at in my entire life so far.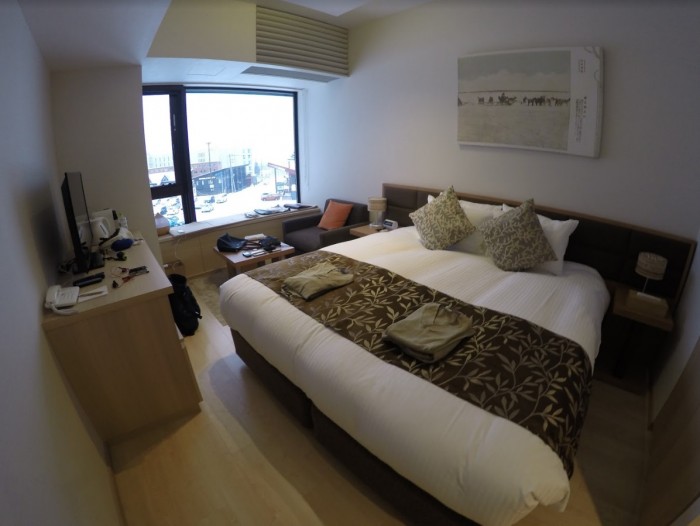 A hotel room at Ki Niseko
Where I ate
Since I was in Niseko for a limited time, I only had 3 full meals – 2 at Ki Niseko and 1 at the Grand Hirafu mountain café. If I was hungry in between those meals, I bought snacks beforehand at the New Chitose airport. There are convenience stores and restaurants around Grand Hirafu which is a 10-15 minute walk from the hotel I stayed at but I just decided to have my meals at Ki Niseko for convenience.
I had a signature course meal and a breakfast buffet at Ki Niseko's An Dining. Both these meals comprised of Western and Japanese variety.
Ki Niseko's breakfast buffet was the best breakfast I have had in my entire life so far. Everything was just of quality and heavenly. I cannot remember a time when I wanted to eat more than I could handle in one seating. Make sure you try the Hokkaido butter and bread selection as well as the gluten free desserts. Everything was just really good that I cannot really pinpoint a favourite.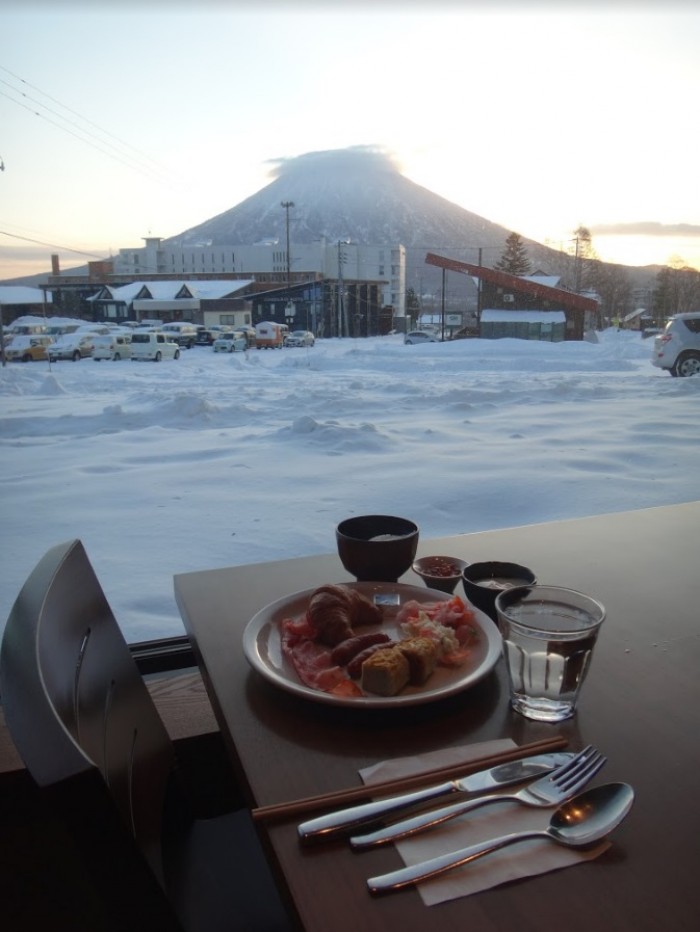 Breakfast at Ki Niseko's An Dining with a view of Mt Yotei
For the signature course meal, the meals had hits and misses. The misses were meals that had acquired tastes. The overall experience was really good as each dish served will be properly explained to you so you get to learn more about the dish you are about to eat. If you want to cap off your amazing stay in Niseko with a luxurious dinner, An Dining is definitely the place to be.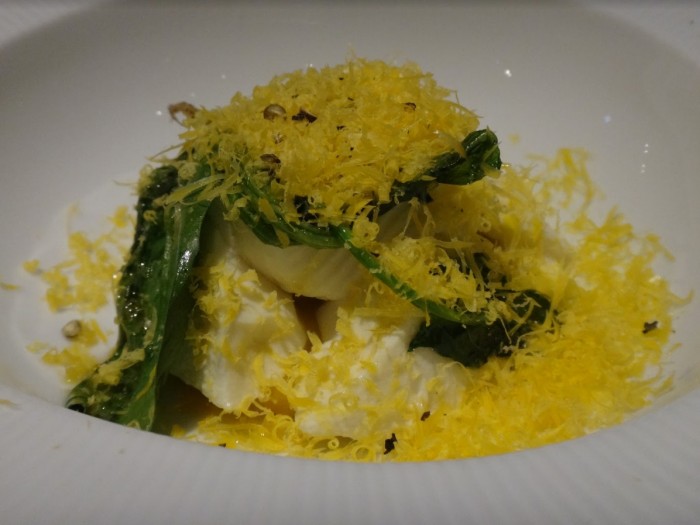 Kutchan Tofu with Pumpkin Puree from An Dining's signature course meal
The breakfast buffet is ¥2,000 (₱851+) and the signature course meal is ¥8,000 (₱3,404+). Even if you're not staying at Ki Niseko, you can still eat at An Dining.
I also had lunch at the Grand Hirafu mountain café. To reach this place, you have to ride the Hirafu gondola. The food here is a bit expensive but the serving is huge. I ordered a ramen here for ¥950 (₱404+). It was really delicious.
Experiencing Niseko
Coming from a country with only 2 seasons, visiting Niseko was really a winter wonderland dream come true for me. Everything was just so white and pristine. The weather complemented the views and its surroundings. It was simple but extravagant at the same time.
Also read: Niseko, Japan: My Powder Snow Experience & Guide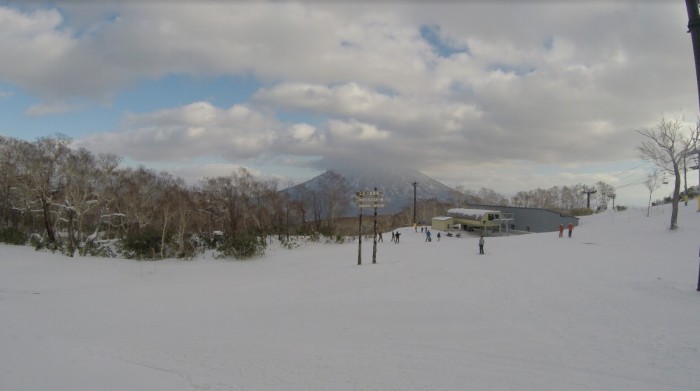 Winter activities are a must in Niseko so make sure to try the different winter lessons being offered if you're a first timer. In my case, I decided to try snowboarding. The night before my lessons, I got my snowboard equipment and gear at Rhythm Sports. The 1-day rental rate for my snowboard, boots, jacket, and pants cost me ¥7,363 (₱3,116+).
With our Go Snow instructor at Grand Hirafu
At Grand Hirafu, winter lessons are provided by Go Snow. The cheapest snowboard lesson you can get is a half day one for ¥9,000 (₱3,809+). My snowboard lesson was definitely a fun and challenging experience. I was one in a group of 5 adults. Our ski instructor was from Poland and he made the lesson really fun and interactive.
Go Snow Lessons Slope
He taught basic skills and included a few games. It was really an amazing experience. The view of the mountain slope was a bonus as well. The Go Snow lessons slope was surrounded by all white snow that at some points it really took my breath away – literally from the lesson and metaphorically from the view.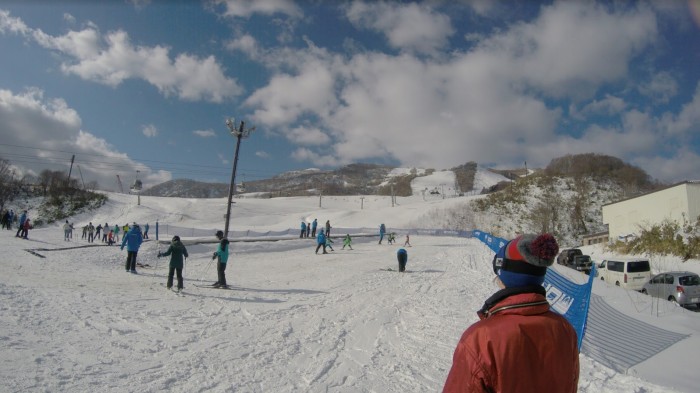 After my snowboard lesson, I had a few more hours before I had to get on my bus back to Sapporo so I maximised my time at the Hirafu mountain. I bought a Grand Hirafu lift pass (5 consecutive hours) for ¥3,400 (₱1,439+).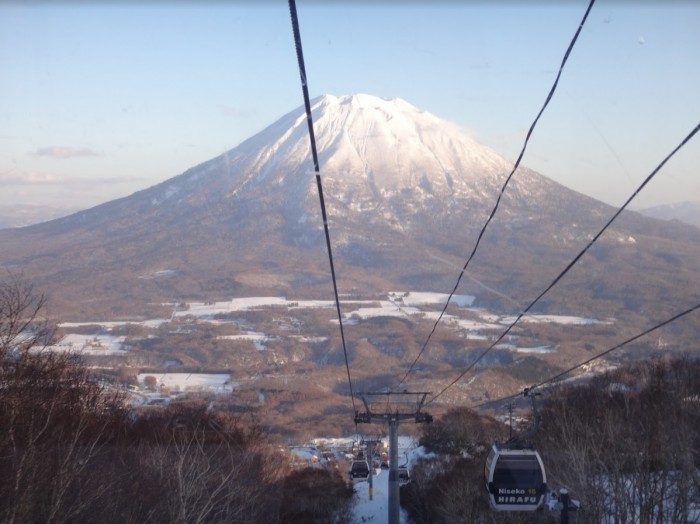 View of Mt Yotei from the Hirafu gondola
The Hirafu gondola ride was an experience in itself as you'll see an amazing view of the mountain slope and Mt Yotei – one that can be likened to Mt Fuji. You'll definitely see a breathtaking view of the whole Grand Hirafu area.
Also read: 10 Winter Experiences You Must Complete in Hokkaido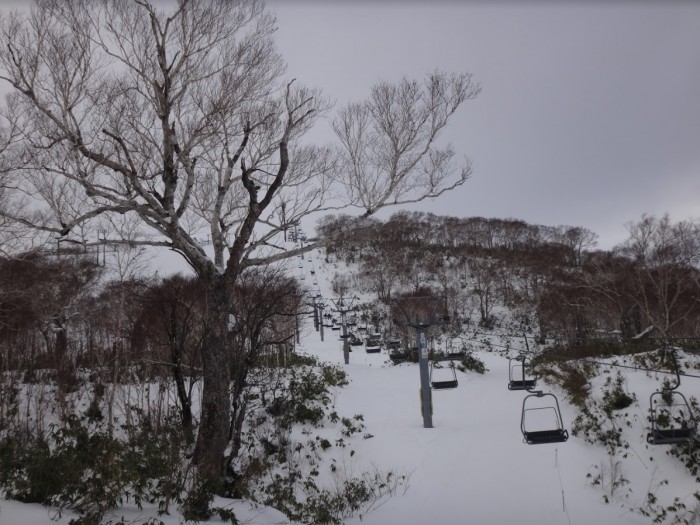 At the top, you'll find more lifts to bring you higher points of the mountain, the café, forests, and a lot of fresh snow! Aside from food, the café is also a resting area with bathrooms and Wi-Fi. You can stay here during the afternoon with your friends or kids. Kids can play in the snow. You can have photo or video shoots.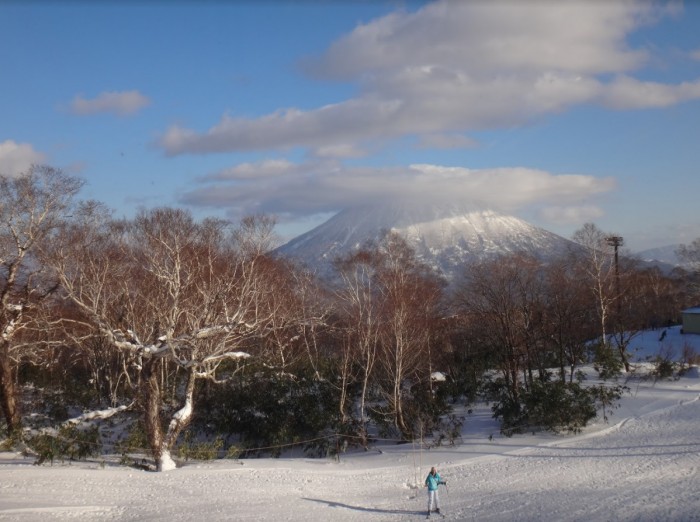 You can also walk around – kind of like a snowshoe experience. If you do not plan on doing any winter sports when in Niseko, you can definitely just stay at the top of this mountain and maximise your stay there.
When in Hokkaido during the winter season, Niseko is definitely a MUST!
2. Sapporo
How I got to Sapporo
From Niseko, I took the Hokkaido Resort Liner to Sapporo. The stopover during this bus ride was only a bathroom break. The area consisted of a parking area and toilets only. One way still costs the same – ¥4,000 (₱1,693+).
Where I stayed
I stayed at two accommodations during my stay in Sapporo – a guesthouse/hostel and a hotel.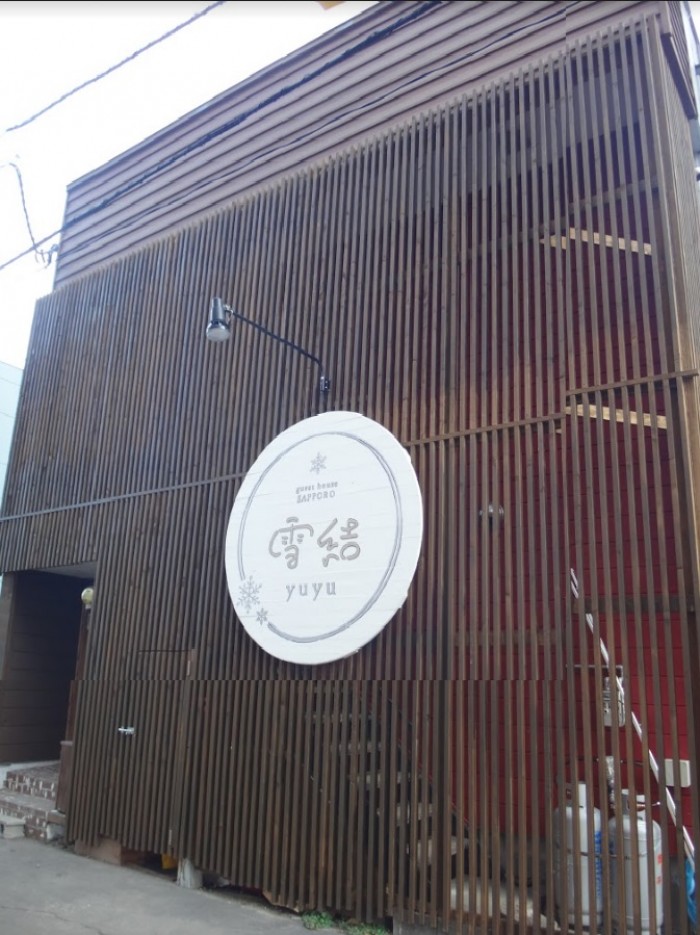 During my first 2 nights, I stayed at Guesthouse Yuyu. This just opened last August 2014 so everything is new. All the amenities are complete and very clean. I availed a bottom bunk bed in a female dormitory of 8. A locker and key are provided to keep important belongings safe. You can also rent towels and other amenities for cheap prices. The bed and pillows were really soft and comfortable as well. The bathroom was really clean. The showers and toilets are separated into individual rooms and the sinks are in a common area. Everything is very clean and toiletries like shampoo and soap are provided. Rates through Agoda for one night at Guesthouse Yuyu cost ¥2,700 (₱1,149+).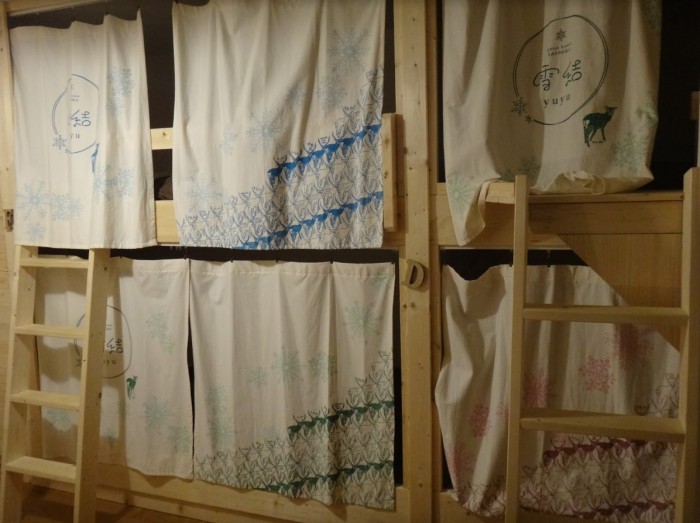 Bunk beds inside a dorm room at Guesthouse Yuyu
The common area has that wood cabin feel to it so it was very cosy. The Guesthouse Yuyu team was really friendly and provided everything that you needed to know during your stay. During my last night at the guesthouse, a few Chinese guests hosted dinner and we were all there talking and getting to know each other. It was really a fun night! The team is really amazing.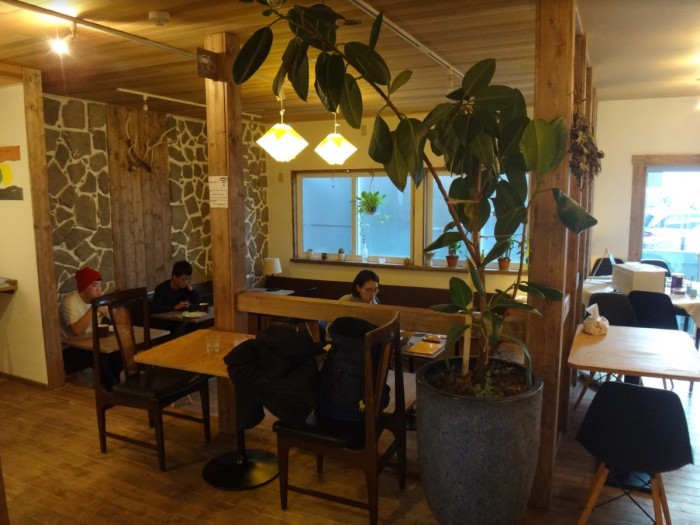 Common Area at Guesthouse Yuyu
Some significant distances to note when you book this hotel – 3-minute walk to/from Nijo Fish Market, 10 to 15-minute walk to/from JR Sapporo Station, 5-minute walk to/from Odori Park, and a 30-second walk to/from 7 eleven.
If you're a solo traveller or with a group of friends travelling to Japan on a budget, stay at Guesthouse Yuyu! The amenities are great and you'll meet some of the best people from around the world.
A small store at Cross Hotel Sapporo's lounge area
During my last night, I stayed at Cross Hotel Sapporo. If you book through discount hotel booking websites, one night can cost as low as ₱3,500 during low season and ₱5,500 during peak season. These estimated amounts are for 2 people already.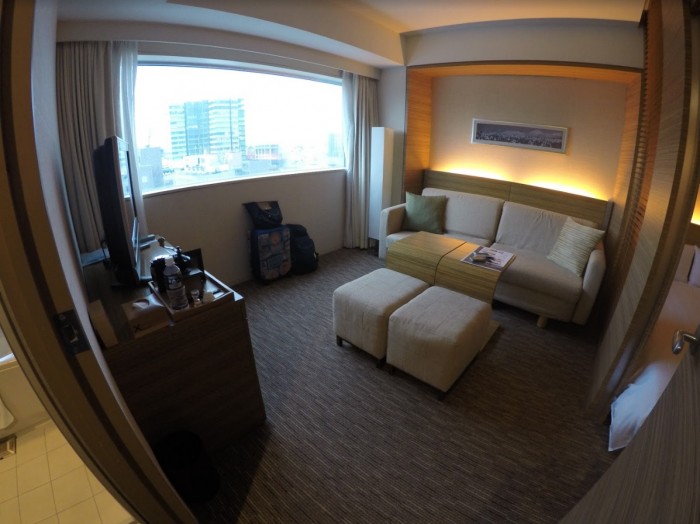 The amenities are complete and clean. The bed was really comfortable. Toiletries provided are from expensive beauty brands like Acca Kappa and L'occitane. You also have complimentary water bottles and a pack of Hokkaido local coffee beans.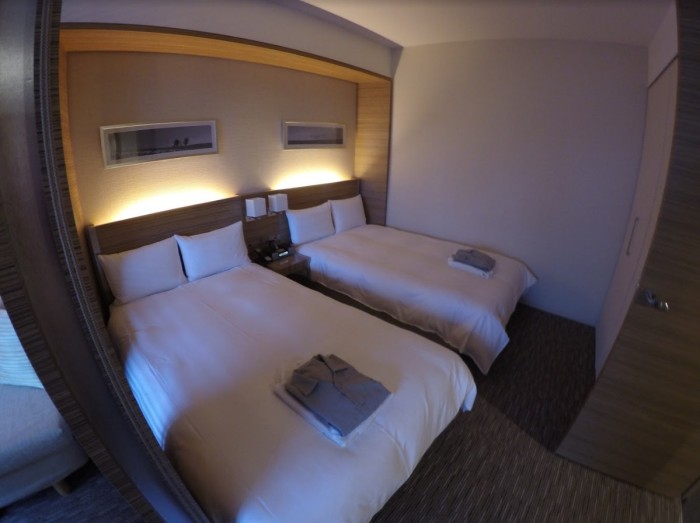 The hotel promotes local art and music as its theme. They house a café & bar and a restaurant and they also sell local Hokkaido products at the lounge. One of the highlights of this hotel for me was the large public bath at the top floor. You will have an onsen (spa or bathing facility) like experience with an amazing view of Sapporo city.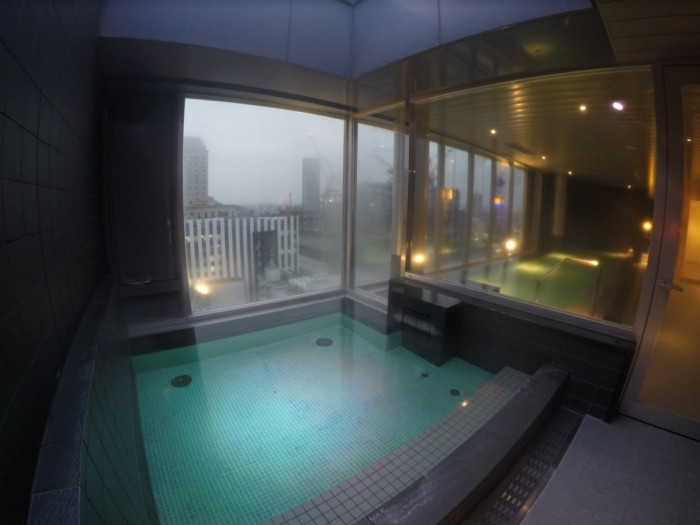 Large Public Bath at Cross Hotel Sapporo (Outdoor)
Some significant distances to note when you book this hotel – 5-minute walk to/from JR Sapporo station, 8-10 minute walk to/from Odori Park, and seconds away from convenience stores, malls, and restaurants.
If you're travelling with kids or want an accommodation of convenience and comfort, I highly recommend Cross Hotel Sapporo.
Sapporo sightseeing & food hopping
Most places I visited in Sapporo involved food. And of these places, most were near my accommodations so it only required walking.
The farthest place I visited which required a few subway rides is Shiroi Koibito Park. This park is one of the most popular attractions in Sapporo as it showcases one of the most famous desserts in Hokkaido – Ishiya. I am sure that most Filipinos who travel to Japan buy this as a gift to bring home as you can find this at most airports and shops around the country.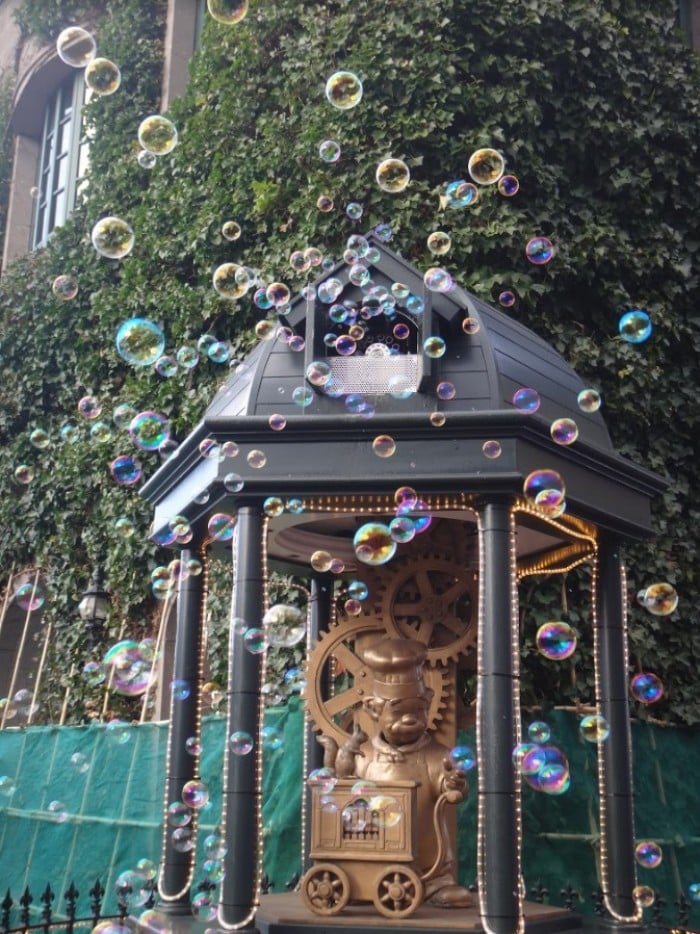 The park features a chocolate factory walk where you can find the products' history, facts, and a viewing room where employees make the actual desserts. The walk costs ¥600 (₱254+).
Outside the factory, you'll find different statues and entertaining figures that kids would definitely love. There is also a restaurant and a candy store where you can buy food and the park's products. Most people visit this place and try the Ishiya cookie turned ice cream.
Eating Ishiya ice cream outside the factory
The ice cream was really creamy and tasted like the chocolate filling of their best selling cookies. If you do not have time to visit this place, the ice cream can be bought at certain convenience stores at the New Chitose airport.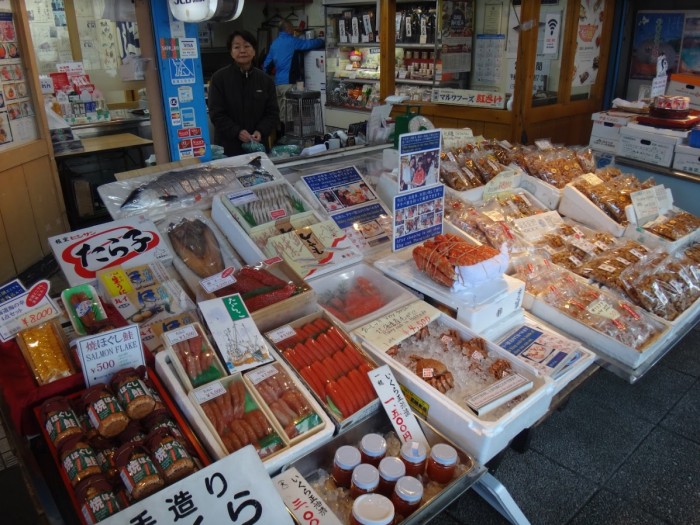 Fresh seafood at Nijo fish market
A 3-minute walk away from my accommodation is Nijo fish market. As I have been to Tokyo before, I can say that this is like a mini Tsukiji fish market. There are a lot of fresh produce and so many photos of sushi bowls. People were trying out raw oysters and other seafood near the stalls.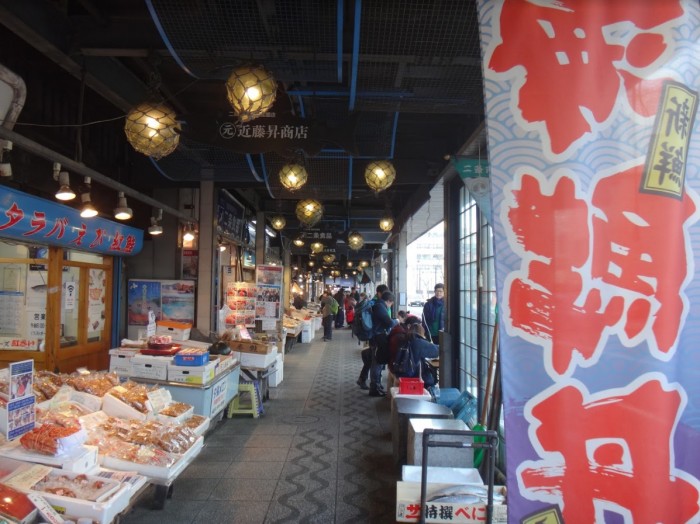 Walking through the market, I saw an inner street that had a long line. Curious as to what it was, I fell in line with them. Nearing the front, I saw that it was "Donburi Chaya" – a sushi bowl restaurant I read a few times on the internet while searching places to eat in Sapporo. I waited for about 30 minutes before I was seated. One small sushi bowl was worth ¥1,650 (₱704+). The seafood was very fresh and the rice tasted so good. I still prefer our meal at Tsukiji market but this sushi bowl is a good try as well.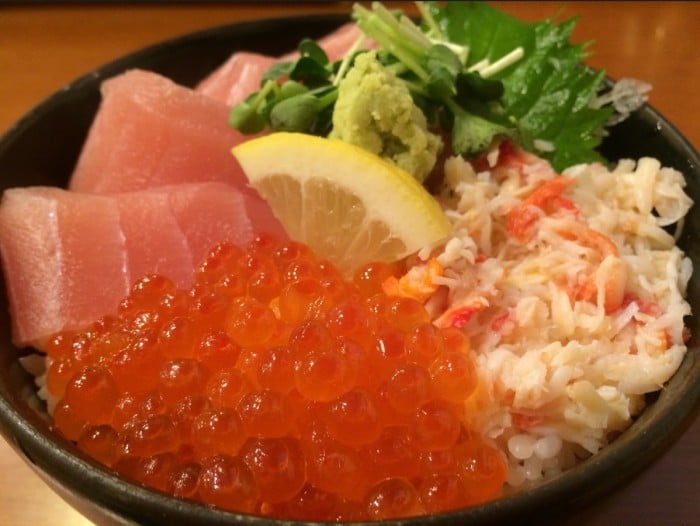 Sushi bowl of tuna sashimi, salmon roe, and Hokkaido crab at Donburi Chaya
Odori park is a very popular destination in Sapporo especially during the Snow festival in February. But since I was there in early December, there were no snow sculptures yet. Instead, I got to experience the Sapporo White Illumination.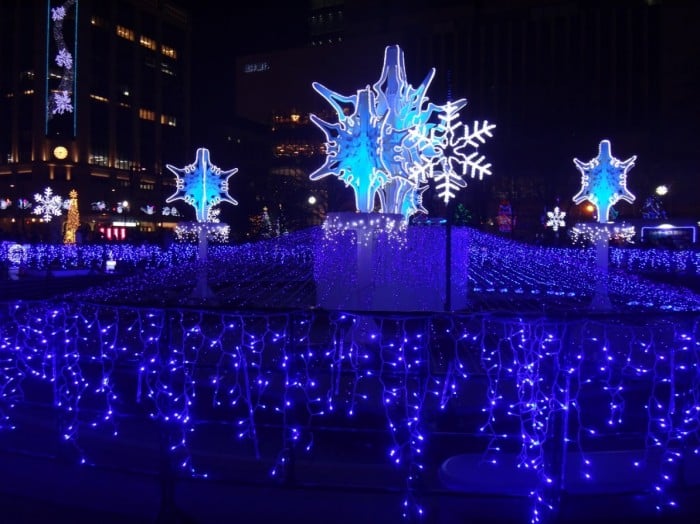 This can be likened to the Ayala lights show in Makati but a bit more grand. The night features a lot of Christmas figures illuminated by different colours of lights. It may start or end at the Sapporo TV tower where you'll find an Eiffel tower-like figure as your guide while walking through the night.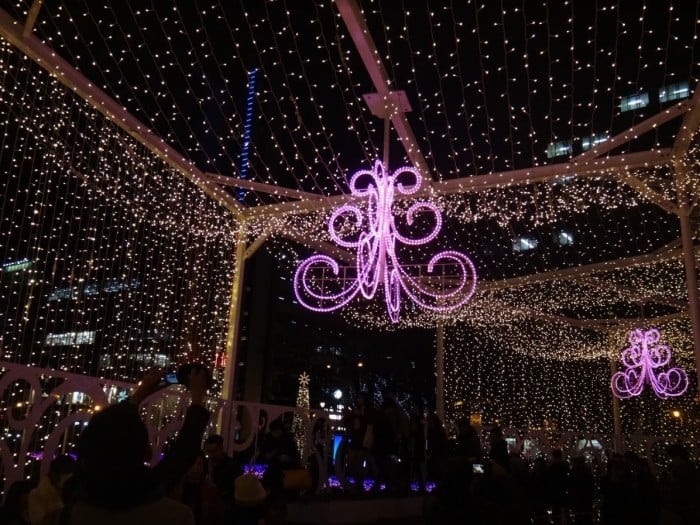 There is also a Munich Christmas market during the night where different European brands sell food and merchandise. The crowds and lines were a bit long as I went on a weekend night so I didn't get to try any of the food.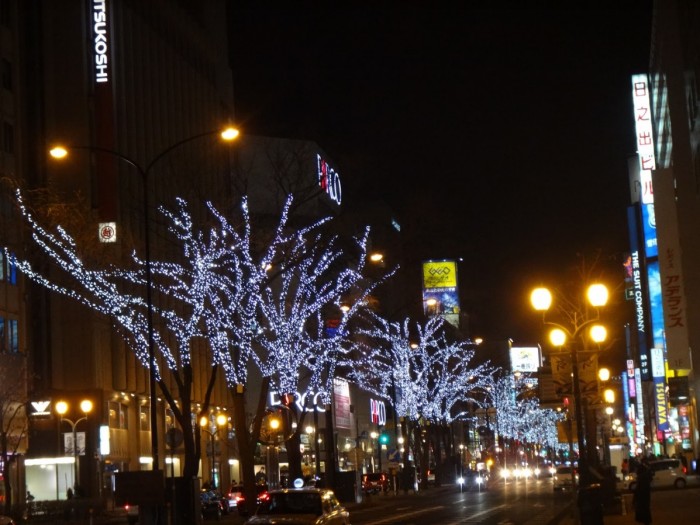 It was a really beautiful sight and a good cold stroll at night.  During the morning, when I passed by Odori park it felt a little bare with all the lights off and all brown ground so during this time, it is better to visit it at night.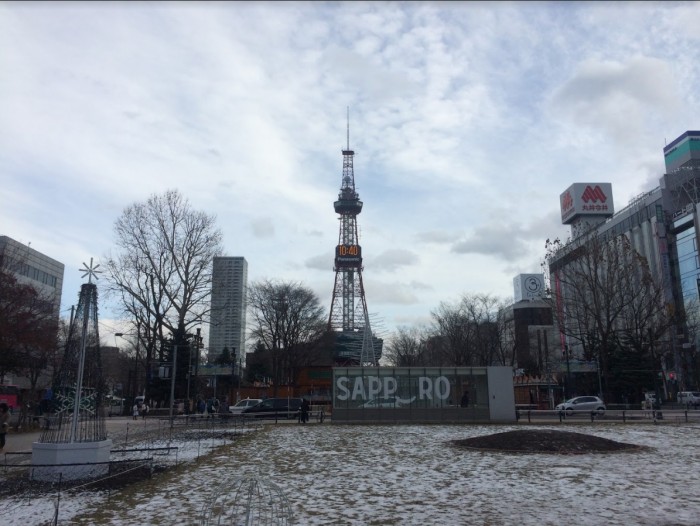 Odori park in the morning
The best place I ate at in Sapporo is Nemuro Hanamaru – a conveyor belt sushi restaurant at Stellar Place. This is just beside the JR Sapporo station. The restaurant can be found at the 6th floor. I went on a weekday because people online said that it had really long lines. When I went at around 1pm, I was surprised to see that the line was very long.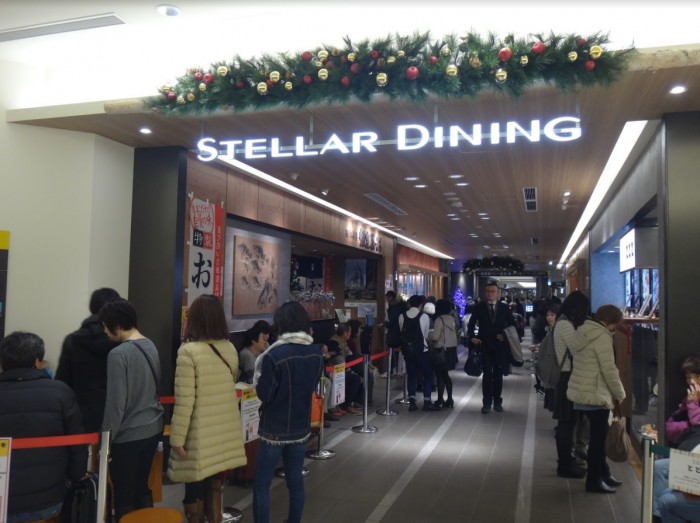 Line outside Nemuro Hanamaru
I got my number and I waited for 1 hour and 30 minutes before I was seated. It was a good wait though because the sushi tasted so fresh and amazing! I tried all the tuna fat selections and it was so heavenly. The waiters provide you with a menu where you can find the rates of each coloured plate. You can opt to write all your orders down and indicate if you want wasabi or not.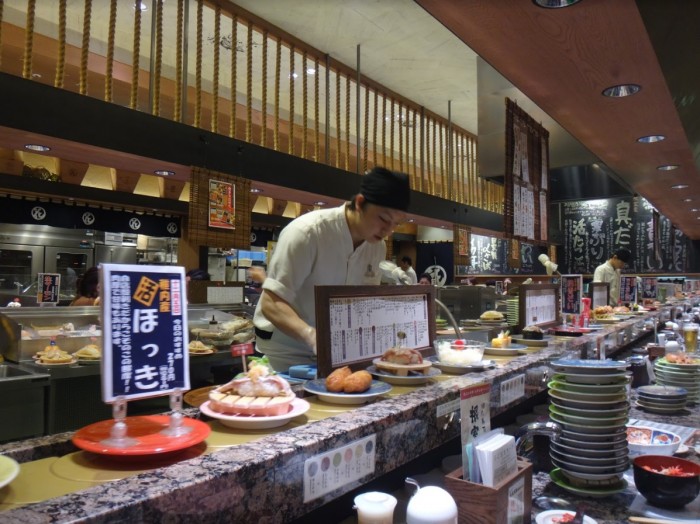 The plates running through the conveyor belt all have wasabi in them so writing your orders down is a good option if you don't like wasabi. The cheapest plate costs ¥120 (₱50+) and the most expensive plate I tried was priced at ¥430 (₱183+). My total bill was ¥1,800 (₱764+). The line was worth the wait! If you have patience and want good sushi, this restaurant is definitely a must try!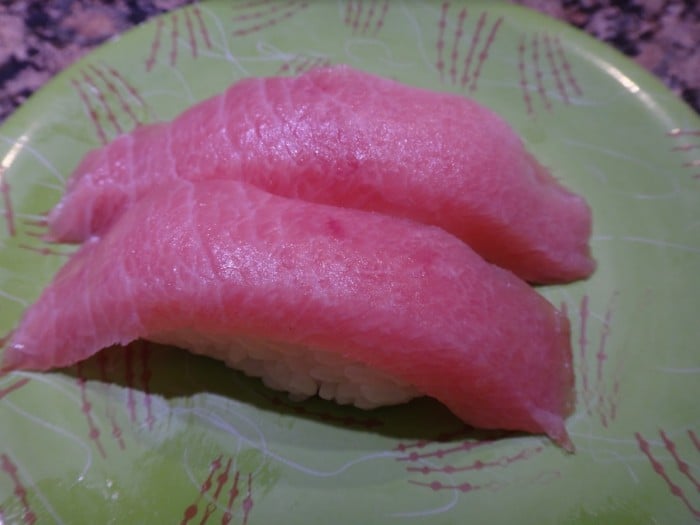 Heavenly! Medium fat tuna sashimi at Nemuro Hanamaru
There are so many more places to see in Sapporo. I got sick on my last day so I missed out on visiting Susukino and Mt Moiwa ropeway but all the places I experienced were good enough for me. Sapporo is a great city and there is so much more to explore! This is a city that I will definitely come back for.
3. Otaru
I explored two places in Otaru – Otaru City and Snow Cruise Onze.
How I got to Otaru City
At JR Sapporo station, I availed the Sapporo-Otaru Welcome pass for ¥700 (₱297+). It is an unlimited pass on all trains between Sapporo and Otaru plus all subway lines in Sapporo. You need to present your passport when you avail this pass. I liked the train ride from Sapporo to Otaru as the train passes by the sea. You'll be met with a vast sea view and a few rock formations. Even if the ride took a little less than an hour (I rode the semi rapid line), the train was an entertaining ride overall.
Visiting Otaru City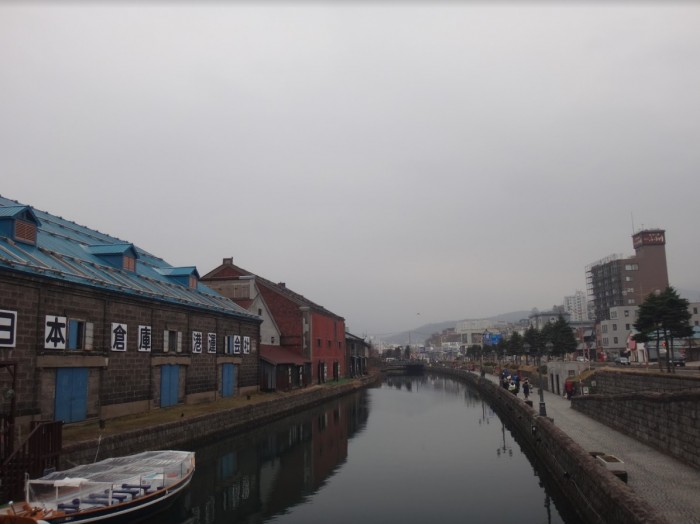 I only spent a few hours in Otaru city as the cold became unbearable for me. I took photos at the Otaru canal which is a very popular attraction during February as the snow envelopes this whole river making it a winter spectacle. During my visit, there was no snow. But I liked the view of the canal and the walkway beside it was good for a stroll.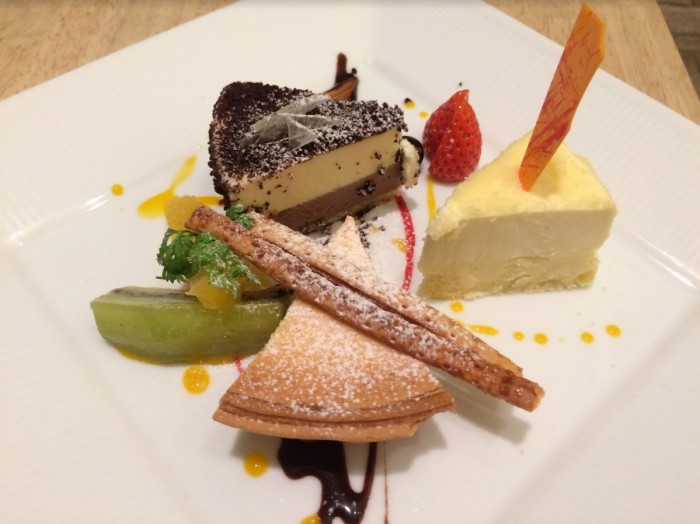 One of the most popular cheesecakes in Hokkaido is made in Otaru city at Le Tao. A 20-minute walk from the train station, I arrived at Le Tao Pathos. The restaurant showcased the most scrumptious looking desserts. I got to try their bestseller platter which comprised of the Double Fromage cheesecake, Chocolate Double Fromage cheesecake, and an egg custard. Everything was really tasty. If you do not have time to visit Otaru, these cheesecakes can be bought at the New Chitose and Nagoya airports.
Exploring Snow Cruise Onze
Niseko was not included in my initial plan for my Hokkaido trip so I looked for different ski resorts near Sapporo that would be open as early as the first week of December. I found Snow Cruise Onze, a ski resort in Otaru, which is only a 40-minute bus ride away from Sapporo.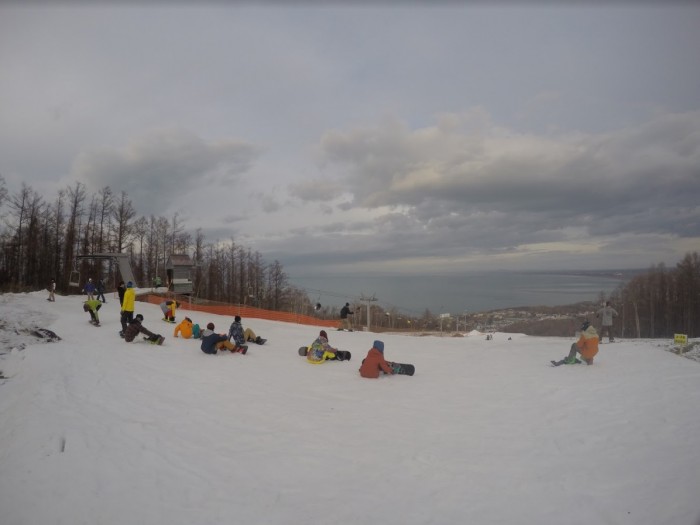 Snow Cruise Onze is a ski resort that is open as early as November. They produce artificial snow and mix it in with fresh snow when it falls weeks later. This is one of the most affordable ski resorts near Sapporo that I canvassed during my research. It provides winter activity lessons, rentals, and lift passes. Adult lift tickets start at ¥3,100 (₱1,338+) and Ski & snowboard set rental starts at ¥4,100 (₱1,769+) for 1 day. Snow Cruise Onze is open daily from 9am to 11pm.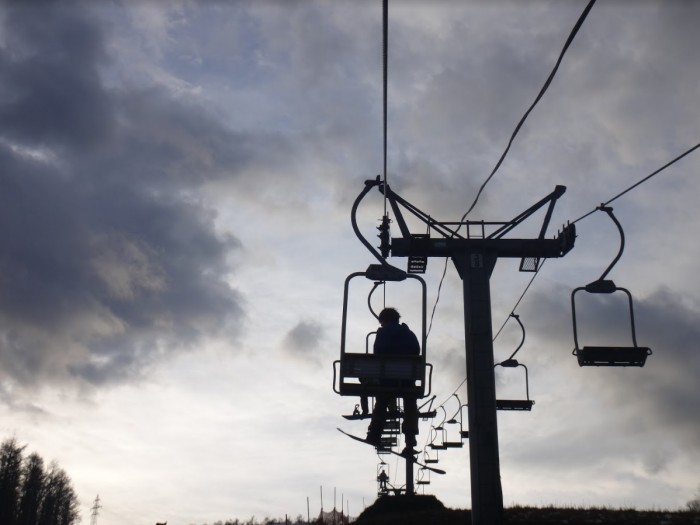 The information centre houses lockers, bathrooms, a food court, food stalls, Wi-Fi, and rest areas. The resort also provides free shuttle buses to/from Sapporo so you don't have to worry about your budget on transportation in getting to Snow Cruise Onze.
The ski resort also has an amazing view of the ocean. Since I was able to snowboard at Niseko already, I decided to just explore this ski resort. I used the lifts and had a snow hike down the slopes. It was definitely a workout but a breathtaking experience overall because of the ocean view.
If you do not have time to visit Niseko and just looking to experience a short winter activity at a ski resort, Snow Cruise Onze should be on your list of places to visit!
4. Chitose
I did not really explore Chitose but I included this because the New Chitose Airport is an attraction by itself. It has shops, restaurants, amusement rides, onsens, famous character stores, and even a Royce Chocolate world.
How I got to the New Chitose Airport from Sapporo
I took the airport train from JR Sapporo station to get to Chitose. A one-way non-reserved ticket costs ¥1,070 (₱455+). The train took around 45 minutes. Since there was a snow shower that day, the train to the airport was mesmerising! The tracks were just filled with white pristine snow falling to an already filled ground. It was definitely a grateful moment for me.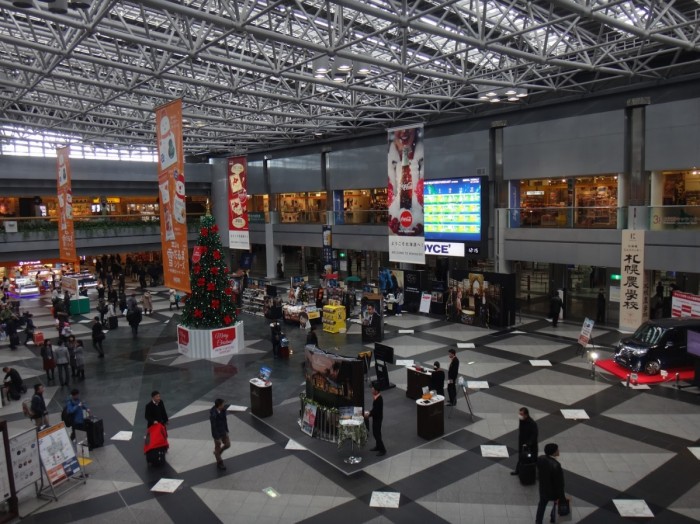 New Chitose Airport's Mall Center
Exploring New Chitose Airport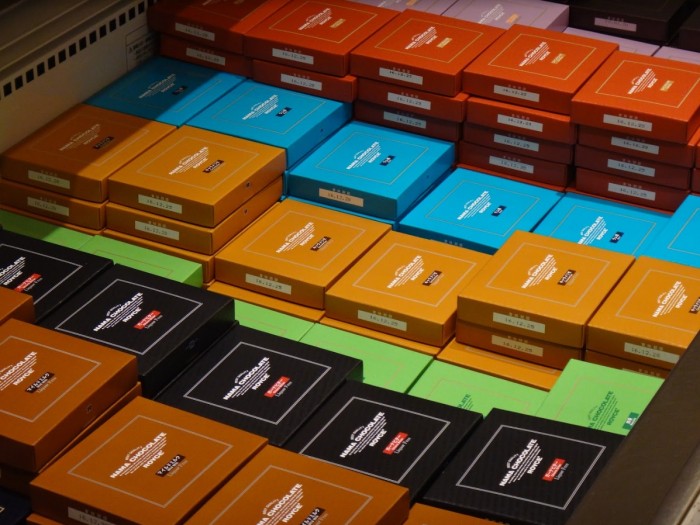 Also read: Why Hokkaido's New Chitose Airport is the BEST Airport Ever
Prior to my trip, I was really anticipating my visit to Royce's chocolate world as this was one of my favourite chocolate brands in the world. When I got there, I was really happy to find different Royce chocolate varieties – different from the ones I have already seen in Japan airports and Manila malls. I really loved that there was a BAKERY here! Imagine a ROYCE BAKERY! My favourite chocolate infused with different baked goods was a heavenly sight for me. There was also a museum of its history and culture which provided images, fact boards, and short video clips. You also got to see some chocolate products being made from a small factory viewing window.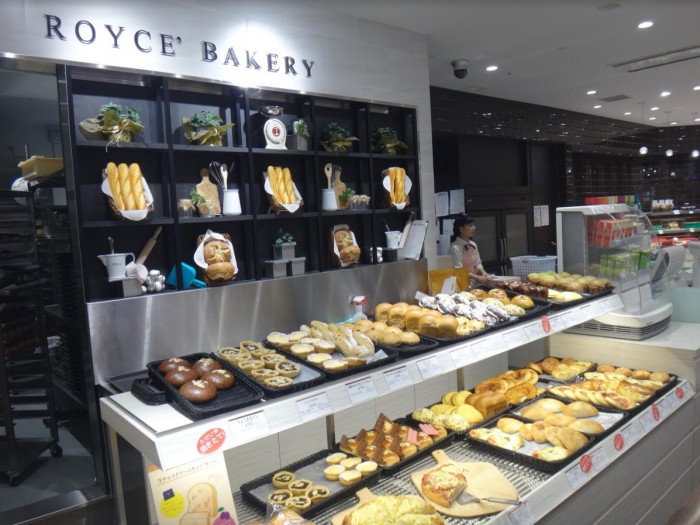 Aside from the chocolate world, you can find a lot of discounted shops and characters like Hello Kitty, Pokemon and Doraemon.
In the amount of time I was in this place, it felt so big. Make sure you're at the airport maybe 5-6 hours before your flight, so you have ample time to explore this place.
Weather
Having experienced the coldest weather I could possibly imagine during my trip to Korea in 2015 and survived, I thought I could handle the weather in Hokkaido. I experienced temperatures ranging from -3oC to 6oC. When I first arrived at the New Chitose Airport, the cold was similar to the weather we experience in Baguio in the mornings – cold with a bit of sunshine. I was not wearing thermals yet during this time. I was just wearing a long sleeved shirt, a normal jacket, a pair of pants and boots.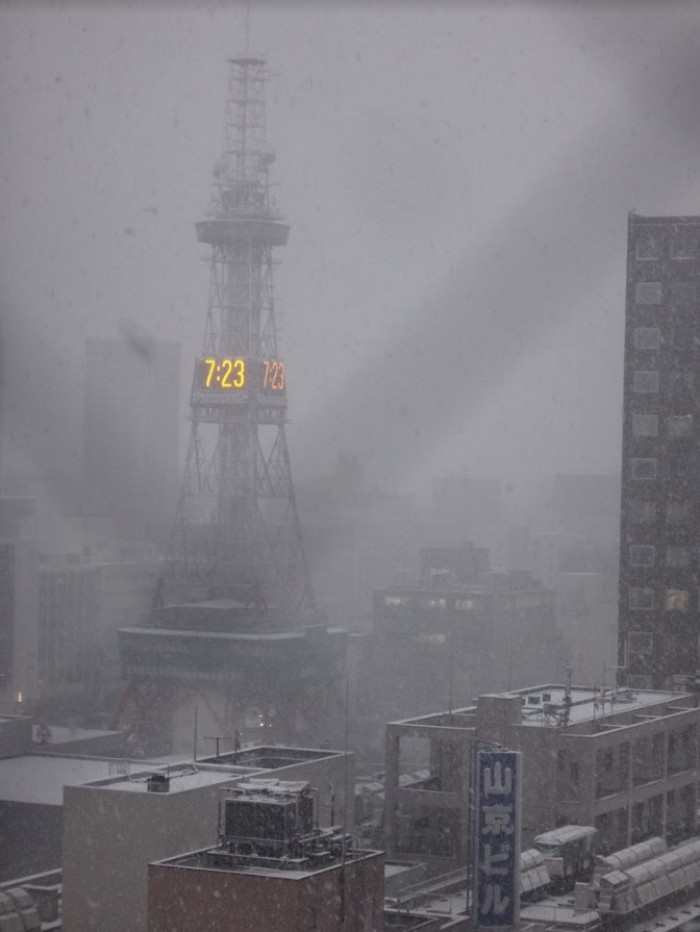 View of snow shower from my hotel room during my last day
It got a bit icy cold when I got to Niseko where the place was surrounded by snowy slopes. When I changed to thermals, the cold was bearable but still very cold. I had to cover my face with my scarf and put the hood of my jacket over my head from time to time.
Otaru was the coldest place for me as this was near an ocean. The winds were very strong and the winter cold just became so unbearable at a certain point. I was wearing 3 layers of tops and 2 layers of bottoms plus thermals through this. I had to enter convenience stores and different stores to heat up while I was exploring.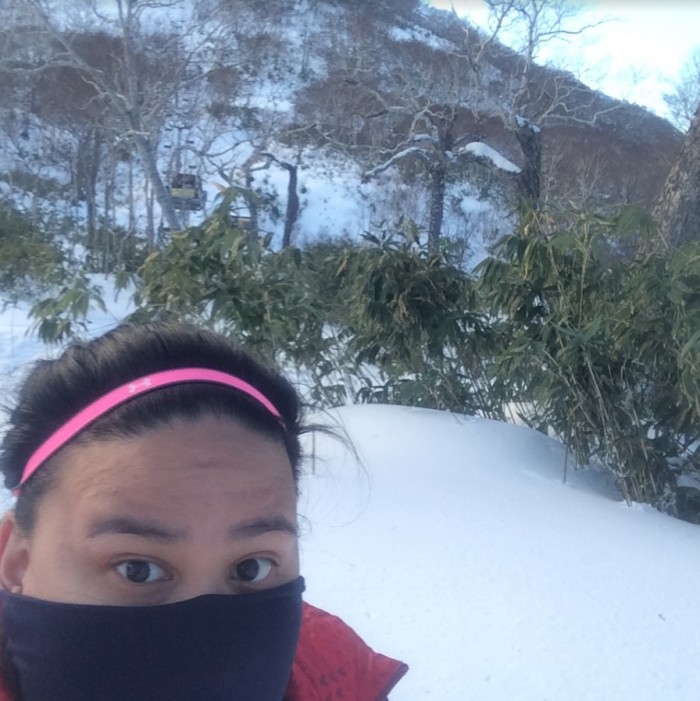 Feeling super cold at the Grand Hirafu mountain slope
Sapporo had the most bearable weather during my stay wherein I did not have to wear a lot of layers. This was not the case during my last day as there was a continuous snow storm. The wind was strong and there was a lot of snow fall.
Layers and thermals are really important if you plan to visit Hokkaido during the winter. Some roads are slippery so make sure you buy shoes or boots that can ground you more. Wear thermal or layers of socks and thick boots. My boots were really thick and made my feet warm even though I could see how wet it got from the snow. I get cold feet easily so it was really a big help during the weather.
Even with all of these preparations, during my last tour day (Day 4), I got sick. I was having too much fun during my first 3 days that I did not notice that I stayed out in the cold too long or wore fewer winter clothes that I should have. During my 4th day, I was supposed to visit Susukino and the Mt Moiwa Ropeway but my body could not take the cold anymore during the afternoon. My throat got that rough scratchy feeling and had a fever that night. Good thing I brought medicine with me so the symptoms subsided and I was able to get through my last Hokkaido day which was also my flight days.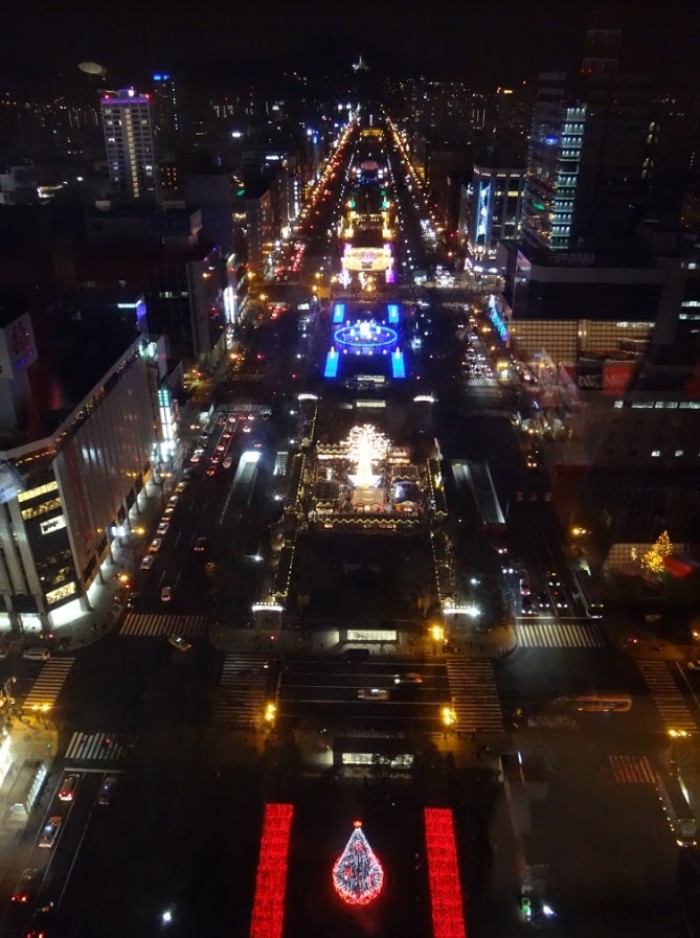 View of Odori park from the Sapporo TV tower
Hokkaido has a lot to offer during the winter season. From ski resorts to chocolate factories to fresh sushi bowls, Filipinos will definitely be left overwhelmed by the number of activities and places they can do and visit when they travel to this part of Japan.
Have you been to Hokkaido? Share your experiences by commenting!
Note: Philippine Prices may vary depending on exchange rate. As of December 2016, ¥1 = ₱0.42