Rejoice, all holiday-loving Pinoys! Malacañang Palace has officially released the list of regular holidays and special (non-working) days for 2019.
Did you know that you'll enjoy a whopping total of 21 holidays and 10 long weekends in 2019? This means a lot of exciting getaways and vacations await you in the coming year! Why not plot your vacation leaves as early as now? To make it easier for you, we've made a special 2019 long weekends calendar and cheatsheet. Pin them up and share away!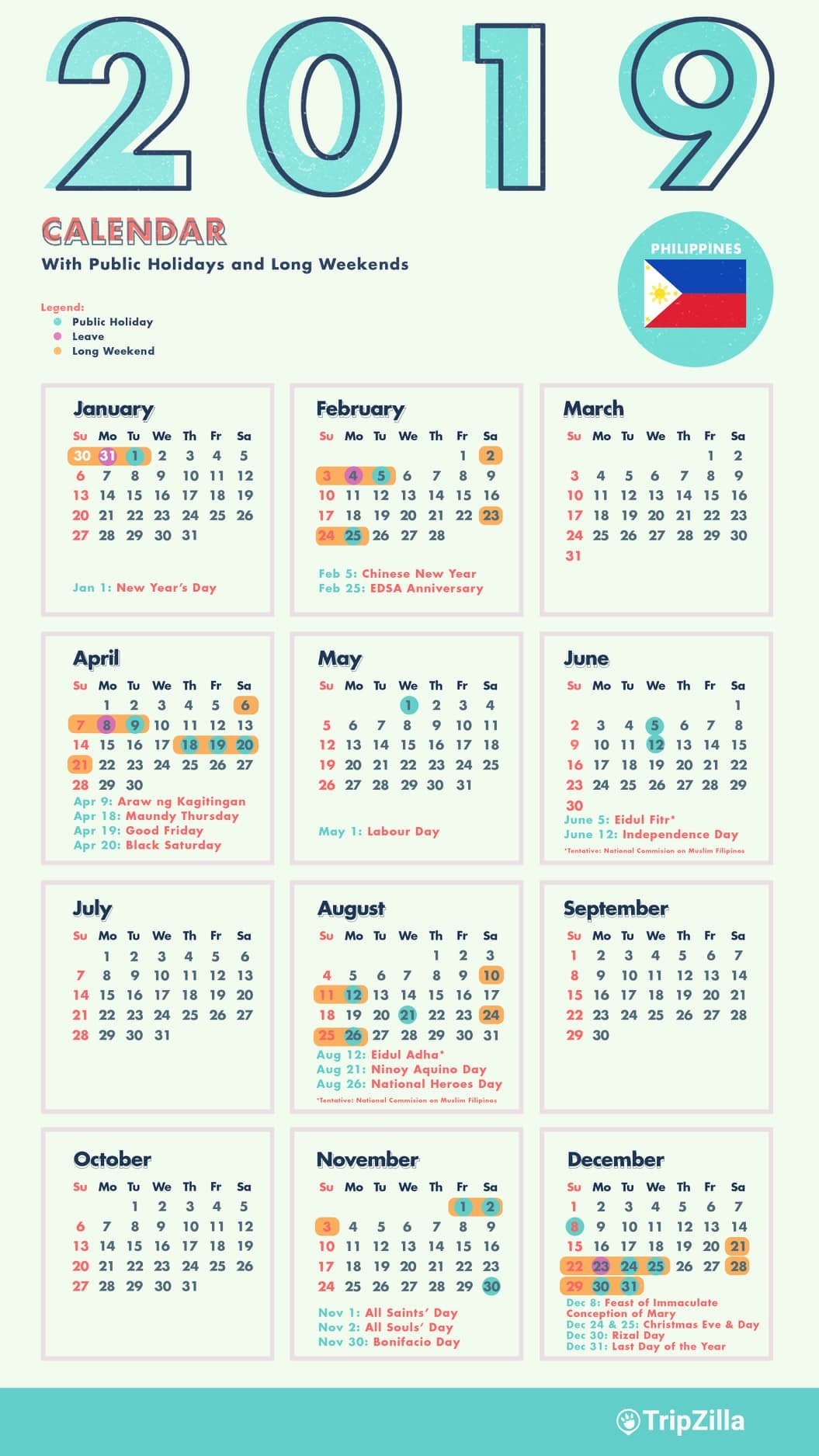 Do note that the dates for Eidul Fitr and Eidul Adha are still tentative. The official dates will be declared later by the National Commission on Muslim Filipinos (NCMF).
Make it 10 long weekends in 2019 by taking 3 leave days
Out of the Philippine holidays in 2019, there are actually only 7 long weekends, but if you take our advice in filing for vacation leaves on sandwiched holidays, you get to enjoy 10 long weekends! See our cheatsheet below:
You only have to file for a Monday leave before Chinese New Year (5 Feb 2019), Araw ng Kagitingan (9 Apr 2019) and Christmas Eve (24 Dec 2019) to enjoy all the 10 long weekends in 2019. But you can still stretch that to 13 long weekends if you are willing to take two days of leave before or after holidays that fall on a Wednesday – Labor Day (1 May 2019), Eidul Fitr* (5 Jun 2019), Independence Day (12 Jun 2019) and Ninoy Aquino Day (21 Aug 2019).
There you go! Be a wais traveller and file those vacation leaves ahead of everyone. Happy trip planning!
---
Need some inspiration for your next long weekend getaway? How about relaxing in one of the lovely hotels and resorts in the Philippines? If you're up for a quick trip abroad, check out some of the finest stays in Singapore, Malaysia, Indonesia, and Thailand, too!