Protesters gather on a Hong Kong street. This yellow umbrella symbolises the resistance against China | Featured image credit: Joël Gugler
Flight suspension, public beating, tear gas firing — this is Hong Kong today, far from what most of us know to be a city of pure, indisputable glamour and sophistication. Not the home of world-famous theme parks, upscale restaurants, world-class hotels, or luxurious shopping meccas. Not even of "efficient" public transportation systems, which many of us have associated with the city for years.
From time to time, you'll see photos and videos of the pro-democracy Hong Kong protests and realise how serious things have escalated in the city. At other times, you see the same form of media being posted by fellow travellers showing the "normal" Hong Kong, as though saying "F*** these protests, we paid for our holiday and we're going to have fun anyway!".
So, which is which?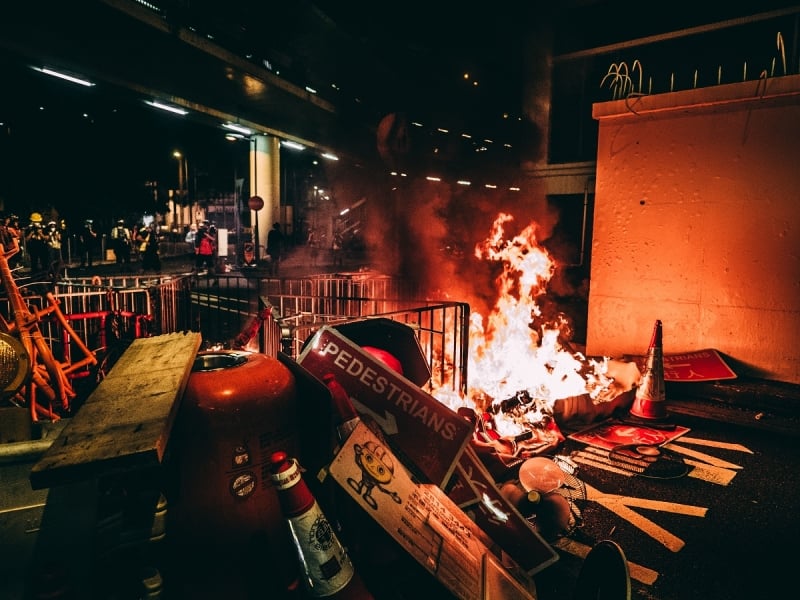 A few weeks ago, I travelled to this city with a photographer and hitchhiker buddy from the Netherlands. Both of us had heard of the protests when it first broke out in June, but not much about the root of the issue and how it has progressed through the weeks. Like those travellers, we were in the city merely to have fun. But when a local friend told him that there was going to be a new protest just hours after we arrived in the city, we didn't hesitate to join. If there was any chance for us to know more about what's happening in this side of the world, and perhaps to be part of something bigger than ourselves (or a typical Hong Kong holiday), this was it.
Also read: Hong Kong International Airport: Cancelled Flights, Protest Updates
What the Hong Kong protests are about
What are the Hong Kong protests about and how did it get to where it is now? Those are the first couple of things you might be asking yourself now, if you haven't figured out the answers these past weeks yet.
It all began with the proposal and eventual approval to amend the city's extradition law between February and April 2019. The basis? A murder case involving a Hong Kong couple vacationing in Taiwan in 2018. With the new bill, the Hong Kong government, which is currently dominated by pro-China legislators, would have the power to send criminal suspects to countries where the city doesn't have existing extradition agreements with. They include Taiwan and mainland China, a country known for having an unjust and even inhumane judicial system under the Communist Party. However, the Taiwanese government's dissent with the bill has led to speculations that the murder case (hence, the proposed amendment) is no more than the Hong Kong government's excuse to have China gain more control over the city.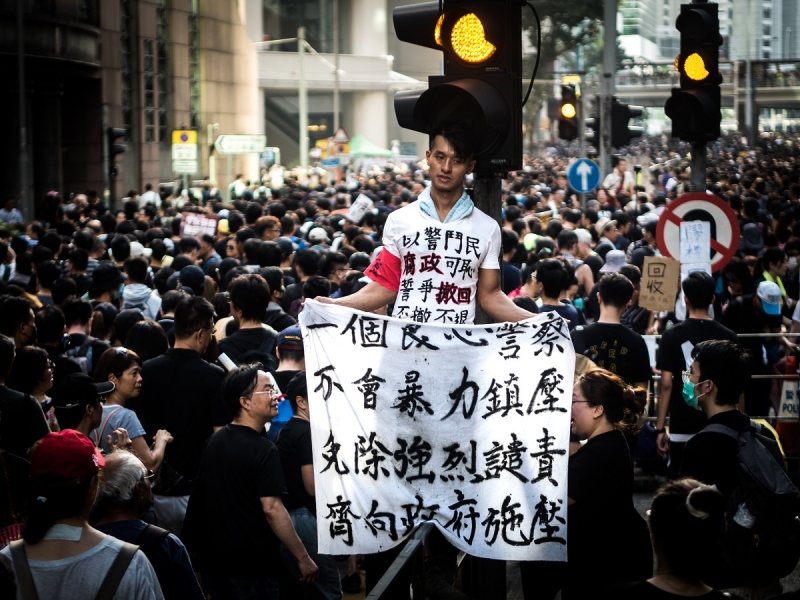 By June, critics of the bill took to the streets of Hong Kong Island, giving rise to Hong Kong's biggest demonstrations in years. Specifically, the protest on 9 Jun saw over one million attendees calling for the withdrawal of the bill. However, before midnight of the same day, Chief Executive Carrie Lam announced that they would, nonetheless, push for the second and third reading of the bill, thereby disregarding that day's cause. This caused tensions outside the Legislative Council building between the protesters and the police. In the same month, suicide cases by pro-democracy locals have been reported in Hong Kong. Such cases are practically unheard of in the history of the city, prompting even bigger and more meaningful protests in the succeeding days (attendee numbers went as high as nearly two million).
On 15 Jun, Carrie Lam made a motion to suspend the bill indefinitely, despite protesters' demands to have it completely withdrawn. No apology was given. Naturally, it prompted further mass events and conflicts, some even more violent than the previous as the police got more and more aggressive as well. Soon, the latter became the subject of succeeding demonstrations. From Hong Kong Island, the events reached other areas like Mong Kok, Sheng Shui, Sha Tin and Yuen Long. And, by the first weeks of August, these protests, and the violence that came with them, made it to the Hong Kong International Airport, causing several flight cancellations. Until Carrie Lam formally withdraws the bill (and even step down from post), these Hong Kong protests will continue to take place around the city.
What our protest experience was like
20 Jul 2019. My companion Joel and I had just checked in to our hotel in Ma Tau Wai after spending the past nights in Tsim Sha Tsui. But, rather than enjoying the new room, we immediately cleaned up, ate instant noodles for (late) lunch and made our way to where we heard that day's protests would take place in — Hong Kong Island.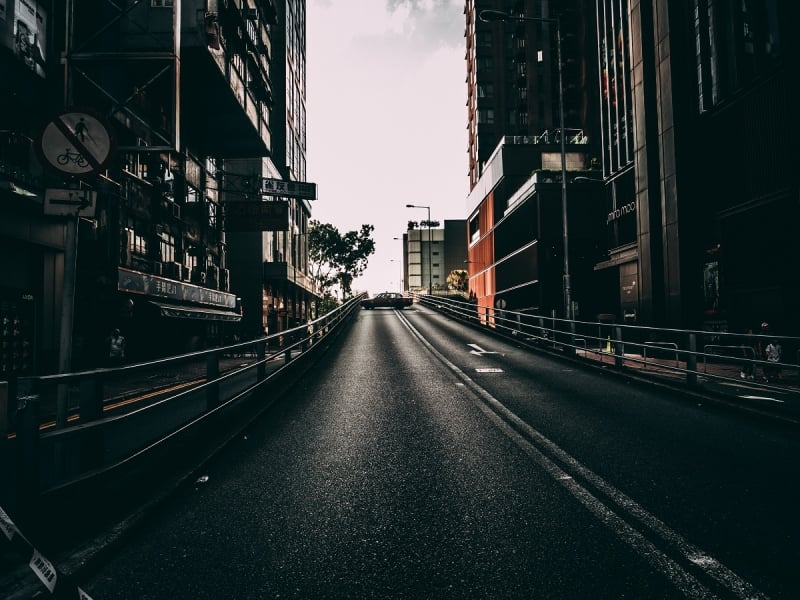 We rode a bus carrying passengers who were wearing black shirts, but I hadn't realised it until we got down in Causeway Bay where all of them started walking to the same crowd Joel and I were headed to. That's when it hit me: These weren't typical locals going on a Sunday shopping spree. They were demonstrators!
Joel set up his camera equipment and we ran towards the group, occasionally cutting across it so my companion could find a spot to document the events. With our white shirts (and my friend also sporting his signature suspenders), we stood out like sore thumbs, and we could've easily been involved in the clashes that would transpire in the coming days. But, right then, it was different.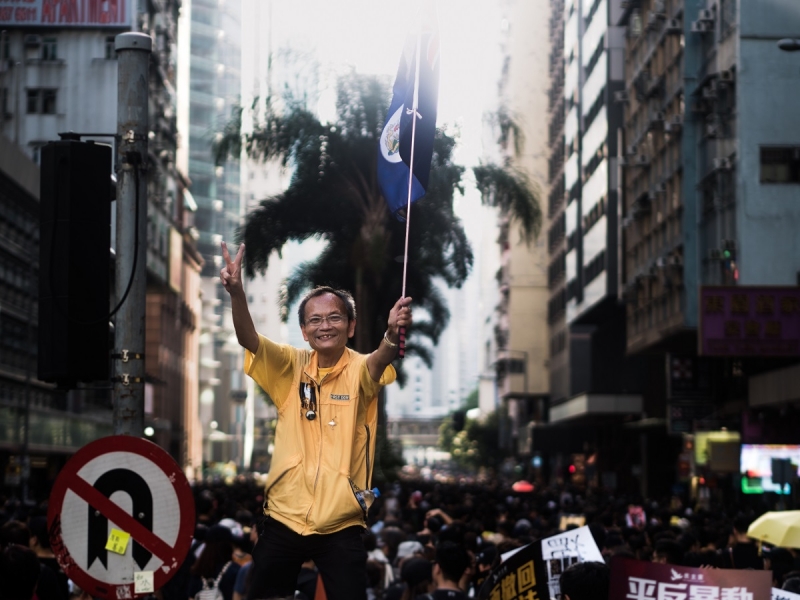 As I attempted to make out a few of the chants, my buddy, who was the better people person between the two of us, started talking with a couple of protesters taking a break on the sidewalk. "You are seeing history being made, document it", the man told Joel. He was trying to take photos of another man standing on a raised platform among the crowd while waving the old Hong Kong-England flag.
We followed the slow-moving crowd, hoping to find the very front to see how it was like. Along the way, we saw a smaller group of protesters, in the middle of the road, who turned out to be picking up trash. "How civilised", I thought to myself. On the other hand, there were tourists drinking at a bar like it was any other day. Well, maybe it really was to them.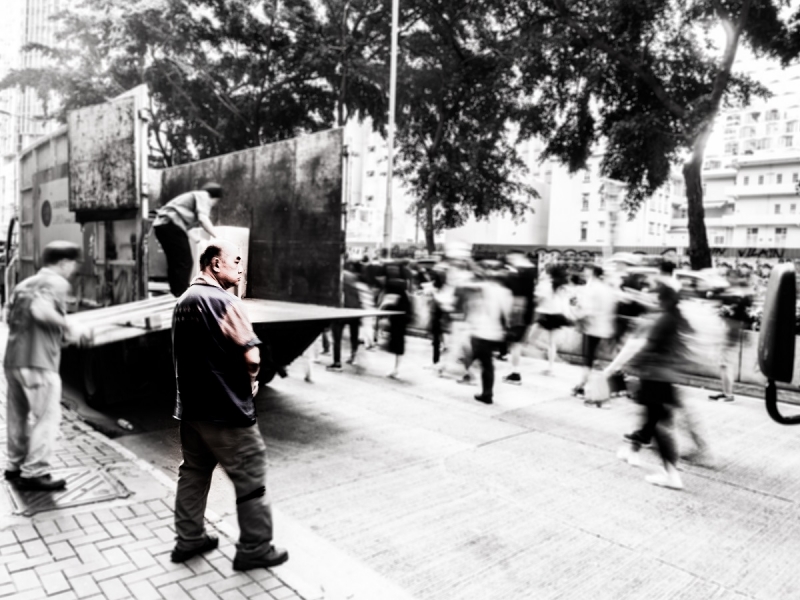 Soaked in sweat, we continued speed walking and running some more past the protesters until finally, we reached the very end of the march just around Central MTR Station. This was about two hours since we'd gotten off the bus in Causeway Bay. "That was it?", I wondered. In front of us, a small group of protesters were congregating and discreetly distributing face masks, helmets, goggles and all sorts of body protection.
We wanted to take a closer look, then realized we should probably just leave them to their business. "Okay, maybe that wasn't it then". Another protester standing beside us then told us the protests would resume by midnight. They're expecting yet another encounter with the police and this was why the group was handing out those items.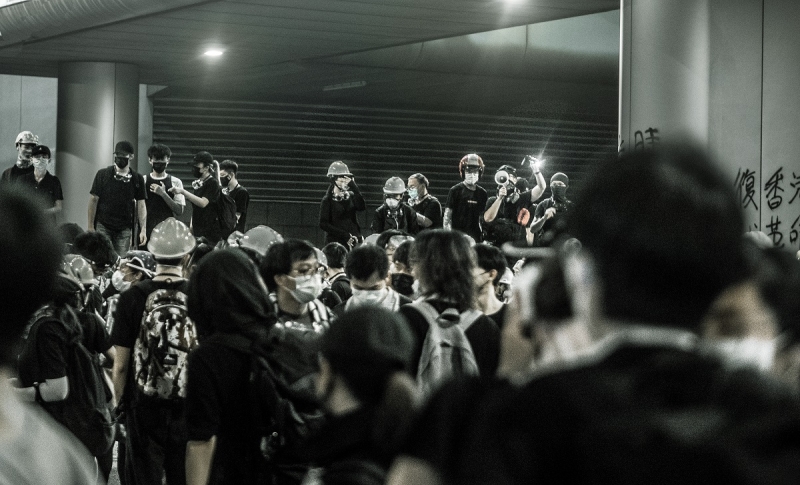 Not far away, another group was trying to block public buses in front of the World Wide Plaza by putting up barricades and tying them together. We moved closer, and just as Joel attempted to put up his camera to take photos, one of them objected. "Respect. Respect." There was nothing we could do at the time except to watch them while trying to call out other people from taking photos as well.
By 7pm, Joel and I agreed to head back to the hotel via the MTR as there were no buses or taxis nearby. After struggling to figure out our way out of Ho Man Tin MTR Station, a student protester offered to help us as he lives in the same area. He bought us beer and we talked about the day's happenings back in our hotel lounge while watching the local news. We learned that it was also his first protest. And, in clear English accent (he just spent time abroad), he told us how important attending these events is to him, and how he couldn't bear to see his home city go through such things because of China.
As we were about to finish our drinks, Joel had an idea: What if he went back to the protest? Knowing him, I knew he would do it and I was in no position to stop him from doing so. "But you have to calculate your risks", his Vietnamese friend told him online. At 10pm, he made his way back to Hong Kong Island as I stayed in our room reading about the extradition bill on my laptop. "Just don't die", I told him before he left. 
He might not have been hurt, but he was as wet as rain when he came back to our hotel about three hours later. He was high on adrenaline and unable to figure out things on his own, and because of that, I had to pick him up downstairs and lead him to the room. "I did what the old man said. I saw history being made, so I made my way to the frontline and took amazing photos of the protest!".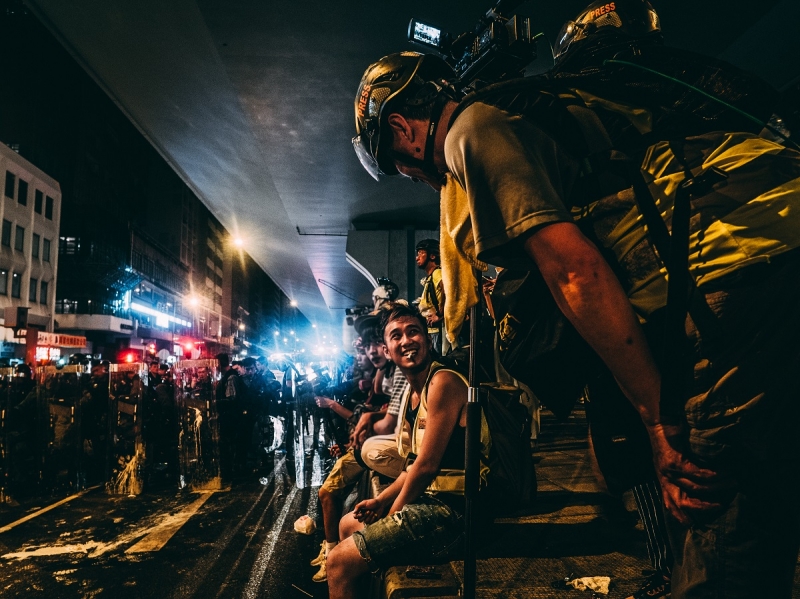 Three days later, we were walking around Harbour City when we came across four ladies in masks and black shirts handing out pamphlets. They were about the police violence that had transpired in the weekend and served as invitations to a new protest that upcoming Sunday. I knew right then that the previous demonstrations, and what we had just experienced, were just the beginning of it all.
Also read: Crossing the Hong Kong to Macao Bridge by Bus: A Quick Guide
So, is it still safe to travel to Hong Kong?
If you asked me this question back then, I would've straight up answered yes. The protests were peaceful and the most civilised I've seen, but then quickly turned violent in just a matter of hours, days. As of now, no one really knows when they will end. Its unpredictability alone can be a risk for tourists, but even more so for locals. However, here's what I can say.
The Hong Kong protests aren't happening for any small reason. More than the extradition bill itself, the people of Hong Kong are fighting for democracy and their freedom to remain semi-autonomous from mainland China. As guests, we should respect that, just as we ought to respect our safety.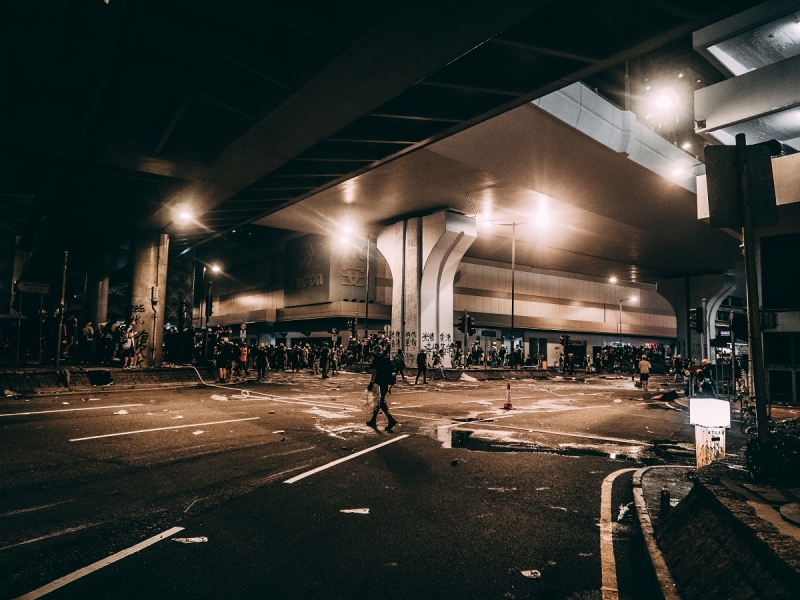 As of writing, the Hong Kong government hasn't given an official travel advisory that bans foreigners from going to the city for tourism, but that doesn't mean you shouldn't take extra precaution during your stay. It is safe to travel to Hong Kong amidst these protests so long as you stay away from them. They usually take place around government buildings, invisible from most tourist areas, which is why several travellers immediately report these events as non-threatening, or worse, a hoax.
To those travelling to Hong Kong in the next few weeks, make sure to add flexibility to your travel plans, if you don't intend to cancel them completely. Furthermore, the Hong Kong protests are often announced ahead on social media or by word of mouth, so stay connected at all times. As for the flights, remember to check with your respective airlines with regard to possible changes in your flight schedules and inquire about what you can do should these changes apply. For updates on the events surrounding the Hong Kong protests and the extradition bill, visit this page.