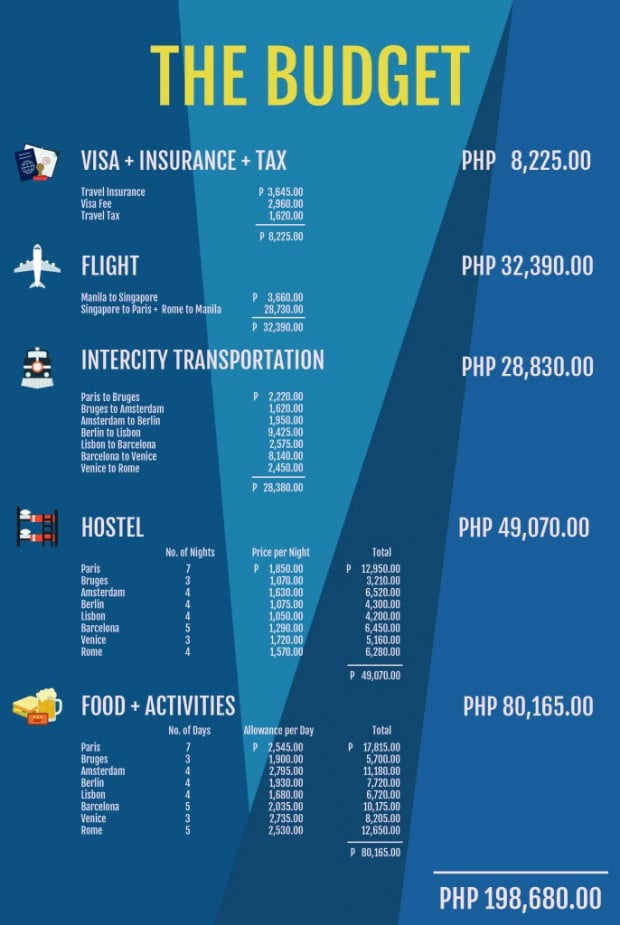 First off, I won't delve into the philosophical conundrum of why spending a large sum of money in a relatively short span of time would be worth it; but ask any ardent traveller and the answer would be a resounding yes.
Also read: 18 Invaluable Tips for Saving Money on your Europe Trip
I spent 35 days in Europe, landing in Paris and making my way down to Rome. The amount of money this sort of trip demands is no easy feat, so the best way to spend it is to make smart decisions. I wish that had always been the case, but God knows I've made a few rookie mistakes. Here's hoping I could help you make better choices and hopefully, save you a few bucks along the way.
Visa + insurance + travel tax
Not all countries are created equal. For us Filipinos, we have to jump through serious hoops before we get access to Europe. I applied for a Schengen Visa in the French Embassy. Granted or not, everyone pays EUR60 (approx. PHP3,000) for the application process.  They also require you to have travel insurance. Find one that gives the option of a refund in case the visa wasn't granted.
Before flying off, make sure you pay your international travel tax. Thankfully though, terminal fees are already included in the airfare since February 2015.
Flight
A big part of your budget would be your flight going in and out of Europe. I found mine using Skyscanner. It's a great resource to find cheap flights but I opted to book using the airline's own system. Though there are other cheaper airlines available, I chose Etihad Airways based on a friend's recommendation (and my mom's refusal to book infamous or unfamiliar airlines).
A direct flight from Manila to Paris will set you back pretty far. The best travel hack I did was to find nearby countries where flying into Paris would be cheaper. Simply add the cost of flying into that city and compare it with the direct flight.
My original route was Manila to Paris then Rome to Manila. This would cost me around Php 40,000. However, if I fly to Paris via Singapore, the combined cost of the two airlines is a little over Php 32,000 giving me quite a few savings. I have to consider the time in between flights though, as budget carriers have a reputation for being late.
Intercity transportation
The first leg of my trip was quite simple. Trains would be the most logical choice as the distance is relatively close. You can book your tickets 30 to 60 days in advance to get the best deal possible.
The second half is a bit tricky. I originally intended to go to Venice after Berlin. However, night trains are quite expensive. They might save you a night's stay but the cost of the train itself is pretty steep. The best alternative is to look at flights from budget carriers such as Ryanair, easyJet, or Vueling. Sometimes, flights are cheaper than trains plus they're a bit faster. You can actually compare trains, flights, and even buses using GoEuro.
Also read: Backpacking Central and Eastern Europe for 70 Days at SGD 7300
Hostels
The backpacker life isn't complete until you stayed (and partied) in a hostel. They're basically dorm style lodging filled with fellow travellers. You're basically paying for a shared room so the cost is quite cheap. It's also the best way to meet new friends and excellent beer buddies. I booked my hostels using Hostelworld.
The other cheap options for accommodations would be to use Airbnb or Couchsurfing. This option is best suited to meet locals and if you're lucky, you might get a free meal in the process.
Food + activities
If you're not picky with what you eat, you can survive with a budget of  EUR5 to 7 (PHP260-360) per meal. The backpacker's key to food survival is a good Doner Kebab. Remember that name. It's basically their version of shawarma in a hefty serving.
Hostels are usually equipped with a kitchen so you can also try pooling money with your roomies and cook your own dinner. You don't always have to eat in a restaurant. A good hotdog, sandwich, or kebab can be pretty satisfying after a full day of walking. Speaking of walking, try to join free walking tours as much as you can. The term "free" is loosely used as the payment is in the form of tipping. The good thing is that you pay for what you think the tour is worth.
The guys in red from Sandeman's New Europe Tours give a pretty amazing and informative tour. It's probably the best way to get a good introduction to the city and get the best advice and recommendations on which places to see, eat and party.
Every city has its musts. Paris has the Louvre, Amsterdam has the Anne Frank House and Berlin has its clubs. Find out what you absolutely must do and allot a budget for that. You don't have to map out every day throughout your entire trip but it's nice to have an idea on what to do.  Then again, if you're like me, you can go to a city and have absolutely no idea what to do.
Also read: Europe Travel Tips: Saving Costs on Transport, Lodgings and More
That's the beauty of travel though. Planning is all about being smart and decisive. But sometimes, the best days are spent being lost and clueless. Money is just one part of the trip. Don't let it limit you. I never got the chance to climb the Eiffel Tower, but what I do remember is getting drunk on the grass below it. Experiences aren't measured by how much you spend, but rather the profound impact it brings. You just have to know the difference between worth and value.
Contributed by The Basic Itch.